Do you want to know the best social media plugins you can install on your WordPress site?
Considering that more than half the world's population now uses social media, it's more important than ever to integrate social networks into your website.
But since there are tons of social media plugins available on the market, it can get confusing to choose the best plugins.
That's why in this post, we'll share with you the best WordPress social media plugins that you can use right away. By using these social media plugins, you can get more followers, boost your sales and grow your business in no time.
Here's a table of contents so you can better navigate this post:
Let's start by talking about what you need to look for in a great social media plugin.
3 Must-Have Features of a Social Media Plugin
When it comes to choosing a social media plugin for your WordPress site, one of the most important factors you need to consider is its performance.
Since these plugins extend the functionality of your site by loading social media content, it's vital that they're both lightweight and powerful so they won't slow down your website at all.
The social media plugins included in this article are built with performance in mind, so they won't negatively affect your user experience and page load time.
Next, you also need to figure out which social media platforms you want your plugin to focus on.
Do you want to show your social media profile from a specific platform like Facebook or Instagram? Or how about getting a single WordPress plugin that can show content from different social media channels?
Finally, you need to decide on what features you'd like your social media plugins to have.
Do you need it to display social media icons in your sidebar area? How about showing off your social media feeds on your website — does your social media plugin need to have this feature? Or should it add social sharing buttons to your blog posts?
With these in mind, let's check out some of the popular social media plugins you can install on your WordPress website today.
Best Social Media Plugins for WordPress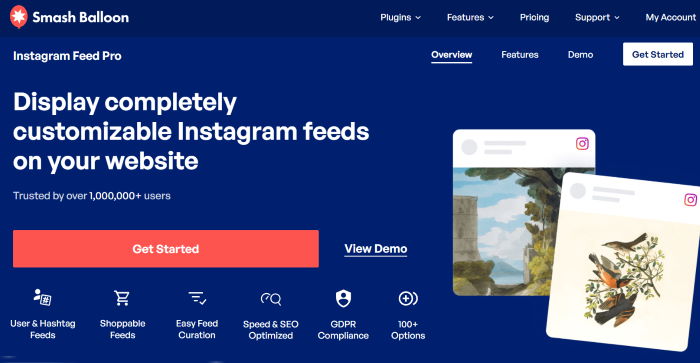 Instagram Feed Pro is the Instagram feed plugin of Smash Balloon, the best social media feed plugin suite for WordPress. It's the #1 tool to help you display beautiful Instagram feeds on your website.
The awesome thing about this plugin is that it's packed with lots of features, but it's also user-friendly. In fact, you can use it to create and embed your Instagram feeds in just a few minutes.
Instagram Feed Pro looks amazing right out of the box since it automatically copies your website's existing design.
Want to customize the way your Instagram feed looks like?
You can also easily do this with the plugin's built-in visual feed customizer. In fact, you can customize your Instagram feeds just by checking or unchecking options in the left side — no coding knowledge needed!
Plus, the right side of the feed customizer shows any changes you make in real-time so it's helpful to WordPress newbies, even without any designer experience.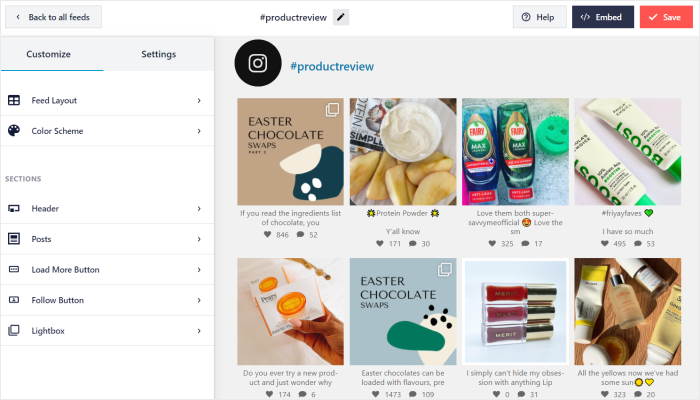 Looking for a free Instagram feed plugin? You can check out the free version of Instagram Feed Pro here. It can help you display your Instagram feed, but since it's a free plugin, it comes with a few limitations.
Want to unlock more features that can help take your business to the top?
The premium version of Instagram Feed Pro lets you add different types of responsive Instagram feeds on your WordPress, such as hashtag feed, tagged feed, Instagram carousel feed, shoppable Instagram posts, Instagram Stories, and more!
With its support for displaying tons of Instagram feed types on your site, the pro version is a must-have for everyone who's serious about using Instagram for business.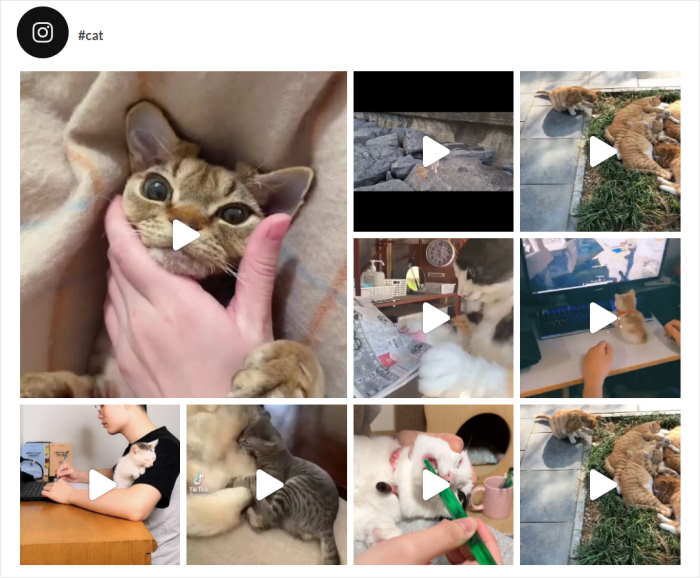 Ready to get more followers and sales from Instagram?
Get started with Instagram Feed Pro today!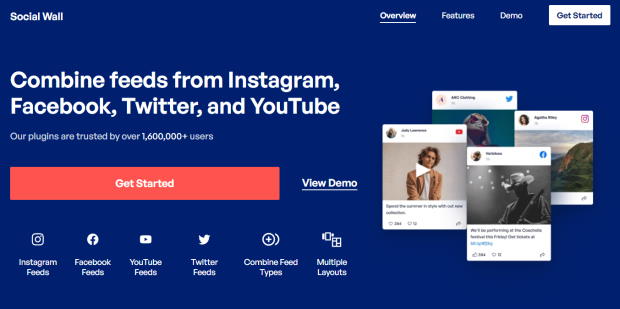 This list for the best social media plugins won't be complete without the best social media aggregator for WordPress: Smash Balloon's Social Wall Pro.
What's the purpose of a social media aggregator, you ask?
As a super easy-to-use social media aggregator, Social Wall Pro lets you combine your social feeds from different platforms such as:
Facebook
Instagram
Twitter
YouTube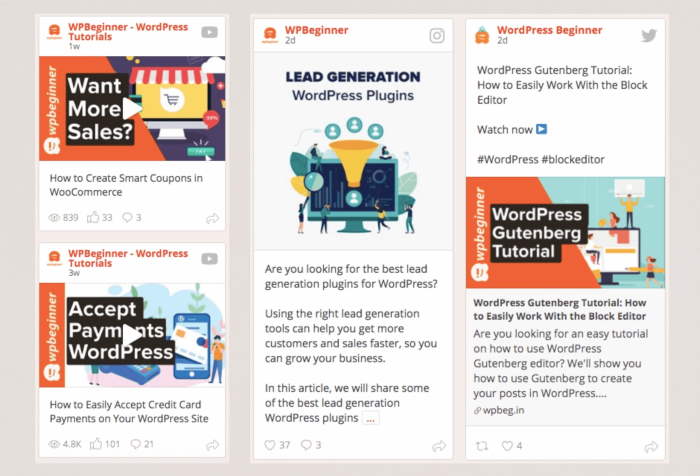 The cool thing about using Social Wall Pro?
It's beginner-friendly and easy to customize. In fact, you just need to click the customization options in Social Wall Pro's feed customizer to control the content you want to show. So, there's no need to tweak code snippets, add shortcode or hire a developer to help you.
Since the plugin organizes your social media feeds into a single feed, you can easily embed this on your WordPress website so you can boost your followers in not just 1, but 4 social media platforms!
And the best part about getting the Social Wall Pro plugin? If you get the discounted All Access bundle, you get access to all of Smash Balloon plugins, including:
Instagram Feed Pro
Custom Twitter Feeds Pro
Feeds for YouTube Pro
Custom Facebook Feed Pro (+ All Facebook Feed Extensions)
And did we mention that getting the bundle lets you use all of these best social media plugins on unlimited websites?
Increase your followers in 4 social media followers at the same time.
Get started with Social Wall Pro today!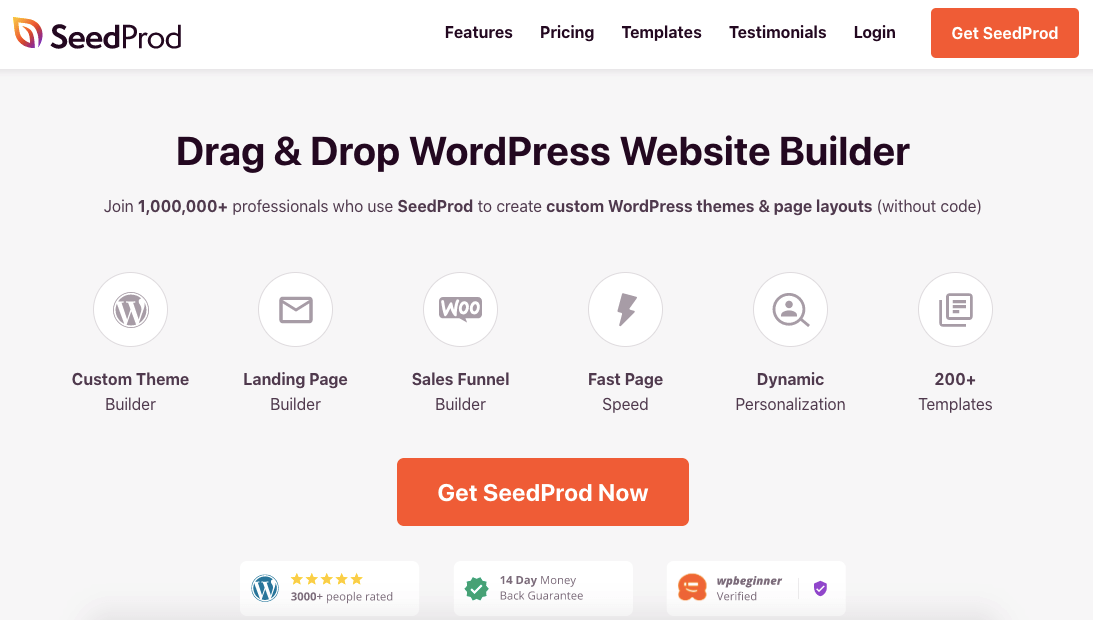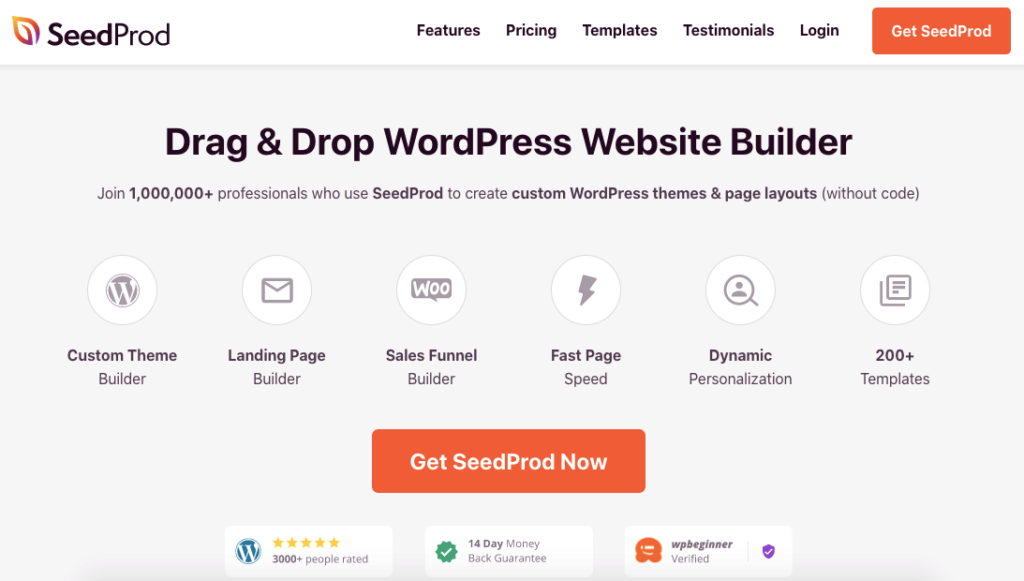 Another excellent plugin to help you show social media networks on your site is SeedProd.
As the most powerful WordPress website builder, you can use SeedProd to create custom WordPress themes for your website. With its powerful drag and drop builder, you can easily customize your site's themes without code.
That's not all.
Since SeedProd is also a page builder, it lets you make different page layouts for your site so you can use it to display social media content on your site with its social media blocks like:
Facebook Embed Block – embed a Facebook page on your WordPress site
Facebook Like Block – show this on your site to let users Like your content on Facebook
Twitter Embed Timeline – add a collection of tweets on your page
Twitter Follow Button – display a Twitter Follow button on your website
SeedProd is a great social media plugin if you need to add social feeds to your high-converting landing pages or custom themes. Plus, it doesn't require any coding so it's perfect for newbie and advanced WordPress users.
Get started with SeedProd here.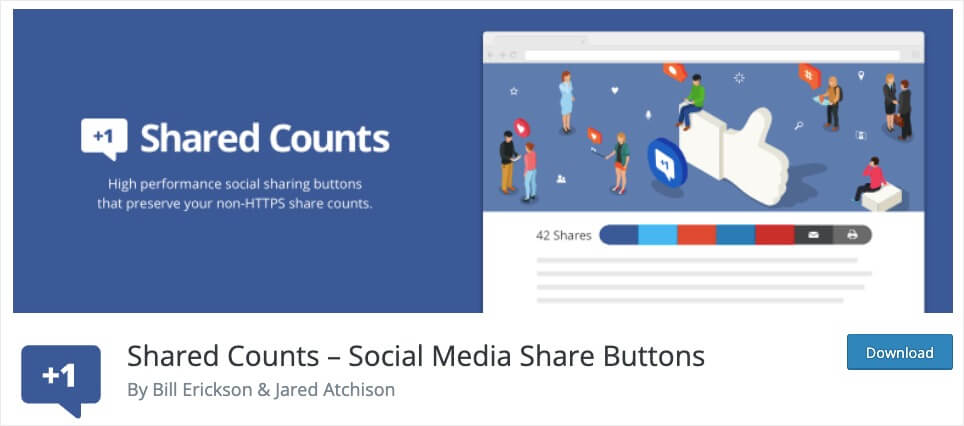 Next up on our list is a plugin that lets your readers share your posts to their friends on popular social networks: Shared Counts.
As one of the best social sharing plugins for WordPress, it comes with tons of sharing icons for:
Facebook Share button
Twitter Tweet button
LinkedIn Share button
Pinterest Pin button
And more
Plus, the plugin supports social count display and tracking so you can use the number of shares as social proof and convince more readers to share your posts with their own followers.
What sets this plugin apart from other social sharing plugins? It doesn't store any user data — and it doesn't use cookies or tracking scripts to help you with GDPR compliance.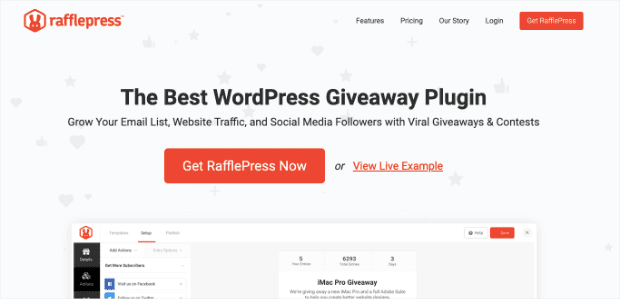 Another great social media plugin that can boost your followers is RafflePress, the best giveaway plugin for WordPress.
With its drag and drop giveaway builder, you can use RafflePress to create, design, and publish successful giveaway campaigns — without hiring a developer to help you.
Also, since more and more users are now joining contests via their phones, you'll be glad to know that the RafflePress giveaway widget is 100% responsive. This means that it works great and looks awesome on both desktop and mobile.
RafflePress comes with ready-made giveaway templates so you don't need to create your social media giveaways from scratch. This way, you can easily reward people for joining your online contest if they:
Like your post on social media
Share your post on their profiles
Follow your social media accounts
Subscribe to your social channels
You can even use the plugin's viral sharing feature so your users can refer your online contest to their friends. As a result, you can get more contest-joiners and more social media followers in no time!
Ready to create viral giveaways so you can get more followers?
Get started with RafflePress today!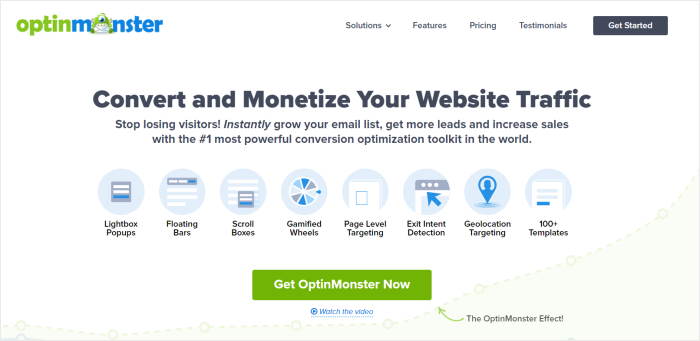 You may be wondering why OptinMonster, the best conversion optimization toolkit in the world, is on this list.
That's because it's also a wonderful tool to help you get more social media followers — right on your website.
In our OptinMonster review, we featured tons of campaign types you can use to encourage your site visitors to follow your social media accounts: floating bars, sidebar forms, lightbox popup, and more!
For example, here's a social media campaign template you can use to grow your followers on Facebook, Instagram, and Twitter.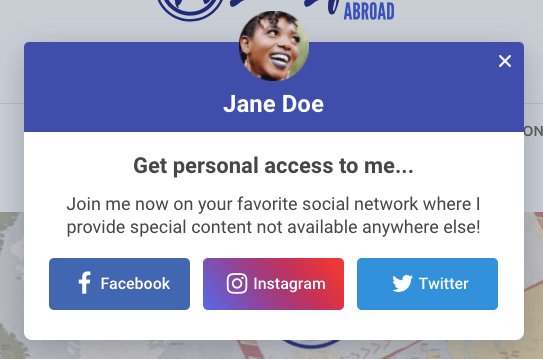 And with its quick drag and drop builder, OptinMonster lets you create mobile-friendly popups in just minutes, with no technical knowledge required!
Plus, OptinMonster optimizes your social media campaigns for the highest conversion rates.
So by using this solution, you can easily boost your leads, skyrocket your sales and increase your social media followers — all in just one tool.
Ready to take your business to the next level?
Get started with OptinMonster today!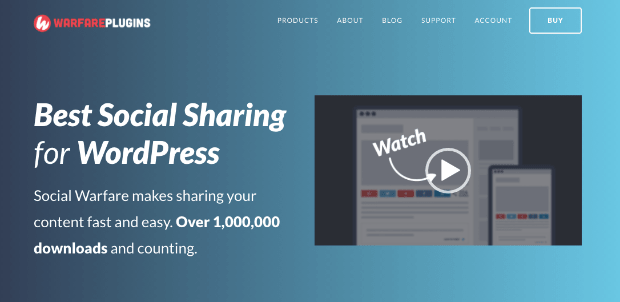 Social media is all about sharing, that's why we've included another social media plugin that can help you easily share your content in this list: Social Warfare.
As a popular social sharing plugin, you can use Social Warfare to add beautiful and lightning-fast social share buttons to your website. You can even use it to easily customize your social sharing buttons so their style is similar to your own brand.
And if you have a Google Analytics account, you can even use the plugin to track how your social shares are performing so you can focus on doing more of what works for your business.
Plus, with the plugin's custom title, custom images, and custom descriptions, you can control the way your visitors share your content to their social media platforms so you can drive traffic back to your own site.
One limitation when using this plugin? Social Warfare shows share buttons for your content alone — it won't share your social media feeds on your website.
As such, some users may find their $29/month pricing a bit costly.
Especially when you consider that other social media plugins like Smash Balloon display your multiple social feeds complete with comments and reactions, provide you with instant "like" buttons, boost your site's SEO, and many other social features for less than $29/month.
But if you're interested in a simple social sharing plugin for your WordPress site, then Social Warfare is a good choice to get started with.
Final Thoughts on the Best WordPress Social Plugins
And so, there you have it!
If you're looking for a user-friendly plugin to show Instagram content on your website, the best social media plugin is Instagram Feed Pro.
Want to use a powerful plugin so you can get viral on social media? Then RafflePress is the best social plugin you can start using today.
Now, you know the best social media plugins that you can install on your WordPress website right away. With the help of these plugins, you can experience explosive growth in your social media accounts over time.
So what are you waiting for?
Get Smash Balloon now so you can easily convert website visitors to social media followers.
And don't forget to follow us on Twitter and Facebook for more social media tips and tricks to grow your business.