Looking for the best way to embed multiple YouTube videos on your website?
Cross-promoting your YouTube videos on WordPress is a great way to boost user engagement and increase your subscribers.
Plus, if you display video testimonials on your website, you can also skyrocket your sales.
But embedding multiple YouTube videos on one page in WordPress can be overwhelming. Especially if you're not tech-savvy or an expert in coding HTML or other confusing scripting languages.
Here's some good news. It's actually easier and faster than you think — even if you're not a WordPress expert!
In this post, you'll learn about the easiest way to embed multiple YouTube videos on your site.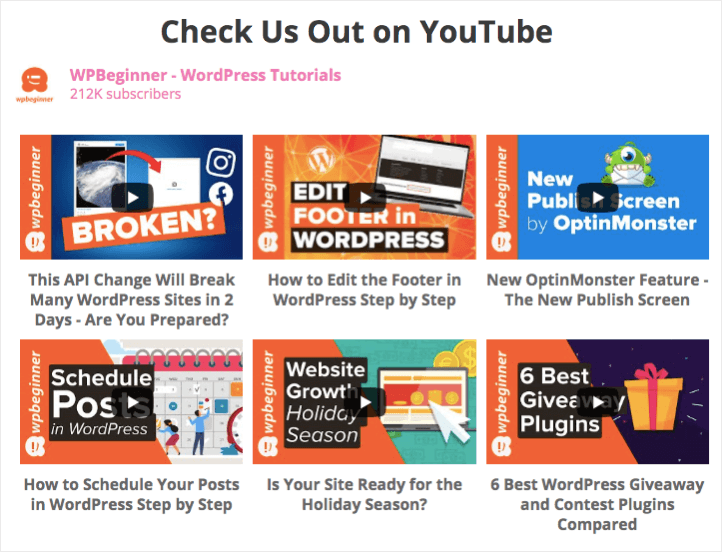 By following this guide, you can smoothly display multiple YouTube videos on one page in WordPress in just 5 simple steps.
Ready? Let's get to it!
Easiest Way to Embed Multiple Videos
To display multiple videos on your website, you can choose from 2 ways:
Automated: Use a trusted WordPress plugin to automatically display multiple videos. In just under 5 minutes, you can embed your YouTube videos on the same page and start promoting your content.
Manual: Get the YouTube video embed code, video URL, or video IDs of all the videos you want to add to your WordPress. Then you add videos by embedding their YouTube embed code manually, one by one, and switching between multiple web pages.
The easiest way to add multiple YouTube videos to your site? Use the 1st method. Get a helpful plugin like Feeds for YouTube Pro to do it for you.
As the fastest-growing and best YouTube feed plugin for WordPress, Feeds for YouTube Pro lets you display customizable YouTube feeds on your website.
It's used by some of the world's biggest brands to show social media feeds on their websites and grow their followers:

Using this plugin, you can embed your YouTube playlists and widgets to easily integrate social media on your WordPress.
And since the plugin is designed with users in mind, it's newbie-friendly. So, it's best if you want to upload multiple YouTube videos on one page on your website — no technical knowledge needed.
Meaning, you don't need to deal with confusing HTML code or div class code snippets just to display 2 or more YouTube videos at once on your site.
Also, the plugin looks great right out of the box. It automatically copies your existing theme's style and displays your video thumbnails consistently with your brand's design, after all.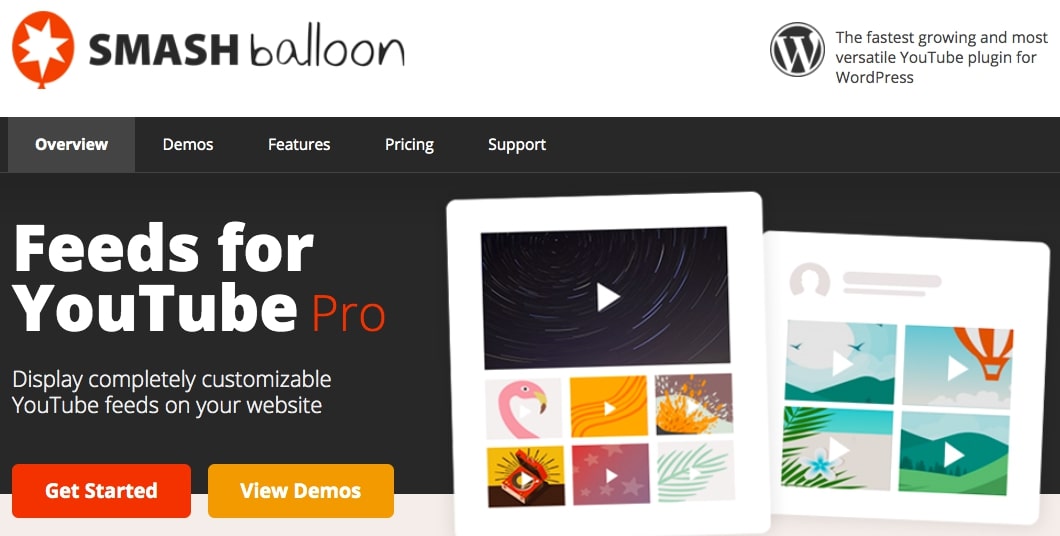 Another benefit of using a trusted plugin like Feeds for YouTube Pro?
You don't need to work with CSS, iFrame, JavaScript, HTML5, and other coding languages just to customize it. With just a few clicks, you can set up and style your YouTube feed to look the way you want.
Using Chrome, Safari, Mozilla Firefox, or others? You don't need to worry about the responsiveness of your video feeds.
Feeds for YouTube Pro makes your YouTube feeds automatically responsive.
This means that your YouTube video feeds look great on both desktop and mobile. And it also looks amazing, regardless of the browser or device you're using for your video plays.
So it's the perfect partner for you if you're embedding YouTube videos even if you're not an expert in coding or design.
See this screenshot as an example? With the help of Feeds for YouTube Pro, we were able to create and embed this responsive YouTube feed in just a few minutes!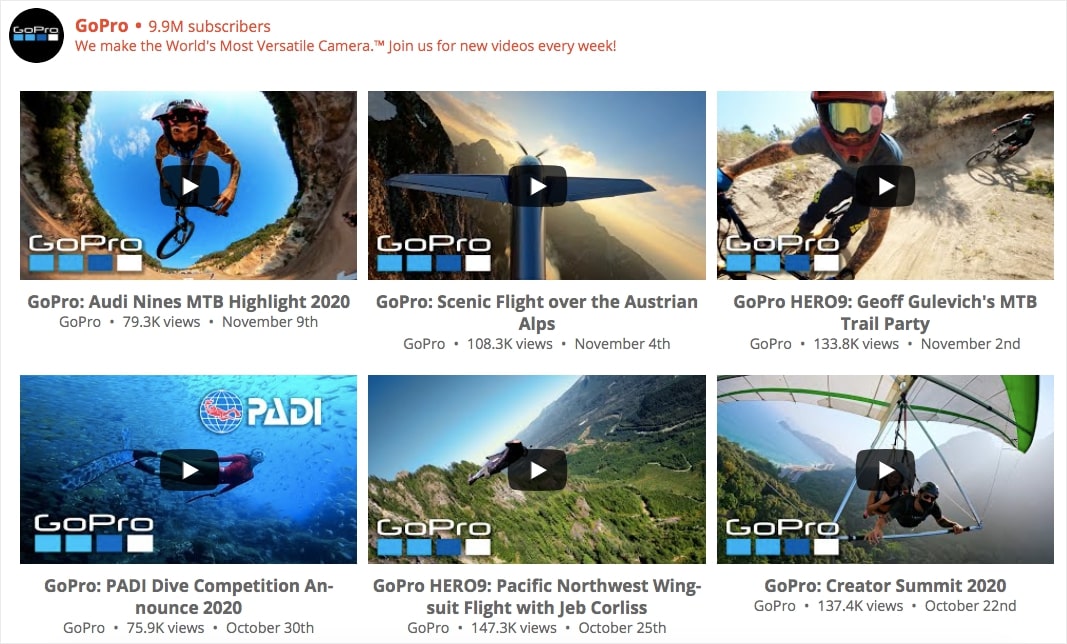 Easy-to-use and powerful, the plugin's ultra-fast as well so your YouTube feeds will load super fast. And a faster site means better SEO for your site.
The YouTube player doesn't do autoplay, so it will only start playing the videos once your users interact with them. This means that it won't slow down your website's page speed at all.
The best part? The plugin also comes with a team of fast and friendly WordPress experts who'll gladly help you embed multiple videos on your site — they're just a message away.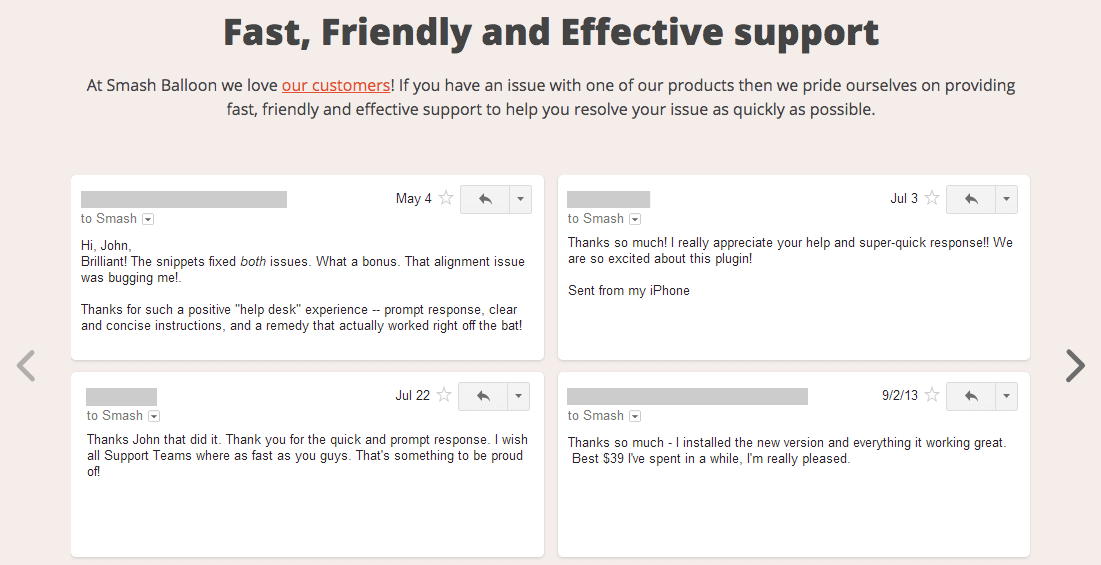 Now that you know what's the best YouTube feed plugin for WordPress, it's time to move on to how to start embedding different types of YouTube videos in the next section below.
How to Add Multiple YouTube Videos
Check out the following steps below to help you embed several YouTube videos on WordPress — easily, quickly, and hassle-free:
Step 1: Install Feeds for YouTube Pro Plugin
First, get your own copy of the Feeds for YouTube Pro plugin here.
Then, upload the plugin to your WordPress website by installing it. Follow these simple instructions on how to install a WordPress plugin.
Step 2: Connect Your YouTube Channel
The next step is connecting your YouTube channel to the plugin.
To start, go to the Feeds for YouTube menu on your dashboard. Then, under the Configure tab, click on the blue Connect to YouTube to Create a Feed button.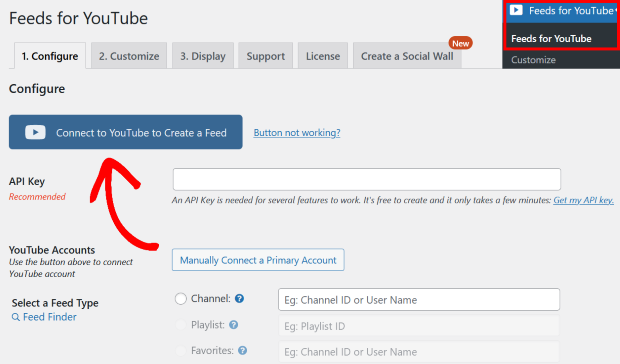 Next, to successfully link your account to the plugin, follow the succeeding popups and onscreen instructions.
Want to access more features? You can also add your YouTube API key in this section. Check out this helpful tutorial on creating and using an API Key.
Step 3: Choose Your YouTube Feed Type
Now it's time to choose from different feed types where your multiple YouTube videos will be sourced from.
To begin, just scroll down until you reach the Feed Type section. Next, click the radio button beside the feed type you choose. The plugin allows you to choose from 6 YouTube feed types, such as:
Channel: Embed several YouTube videos from a specific YouTube channel's videos.
Playlist: Embed multiple videos from your chosen YouTube playlist.
Favorites: Display videos marked as "favorites" by your selected YouTube channel.
Search: Embed multiple YouTube videos based on specific search words or phrases.
Live Streams: Embed multiple videos of upcoming or existing YouTube live streams.
Single Videos: Display specific videos sorted in order.
In this tutorial, we'll embed multiple videos from OptinMonster's YouTube channel. So, click on the channel feed type.

To get the YouTube channel's ID, go to www.youtube.com and visit the YouTube channel you'll add.
Then, check out the channel URL. This is the address that starts with https://www.youtube.com/. The characters after "user/" is the channel's ID or username.
Copy and paste it into the channel ID field.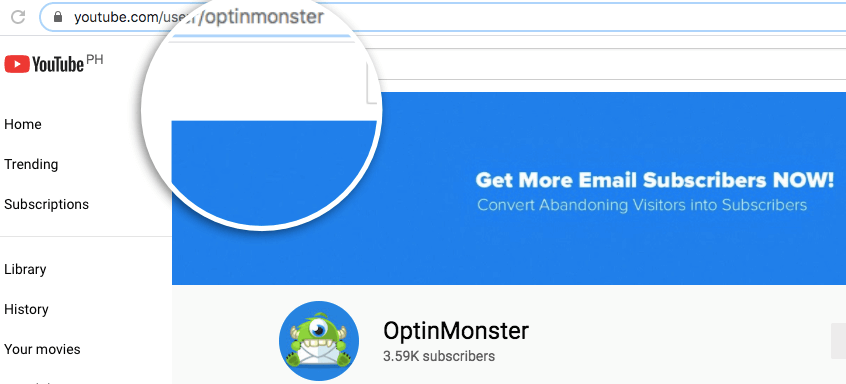 Click the Save Changes button. Then, move on to the next step below.
Step 4: Customize Your YouTube Feed's Design
The great thing about Feeds for YouTube Pro is it automatically copies your existing theme's design. So, it saves you time and effort in styling your feed.
And if you want to customize your YouTube feed's design, you can. With lots of choices to style your feed, you can easily design your feed the way you want — with just a few clicks!
To begin, scroll to the topmost part of your settings page. Next, click on the Customize tab. Here, you can easily change your feed's width, height, and background color.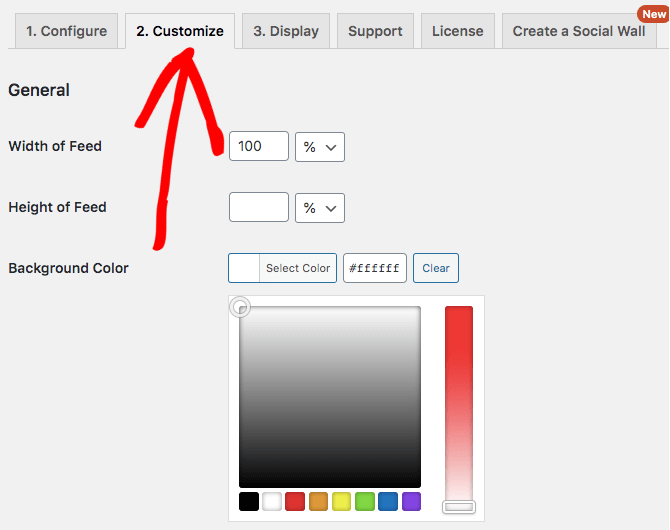 After you're done tweaking these settings, scroll down to the Layout section.
The plugin allows you to choose from 4 layout templates. Since you'll embed multiple YouTube on your site, you can customize how you want these videos to appear.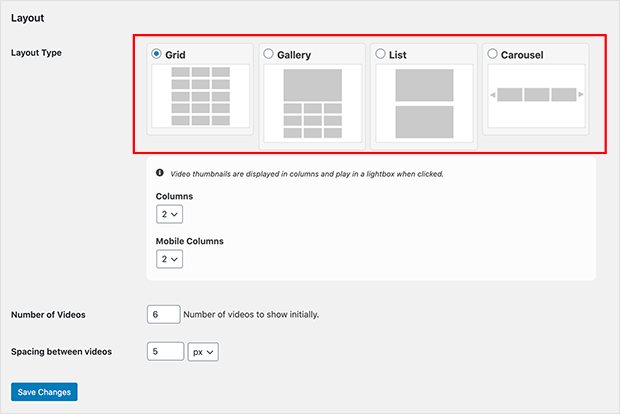 For example, if you choose the grid layout, your videos will be displayed in a uniform grid with square thumbnails. Here's how it looks like: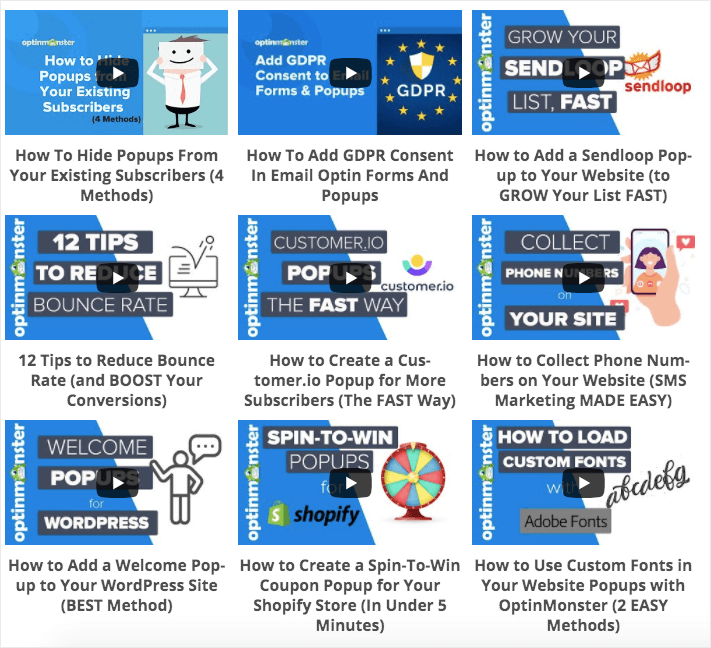 If you're displaying video testimonials on your website, you can choose the gallery layout for your videos.
This way, the first video is shown as a large thumbnail with several thumbnail images below to encourage your site visitors to watch more.
Take a look at this step-by-step tutorial on how to add a YouTube gallery to your WordPress for more details.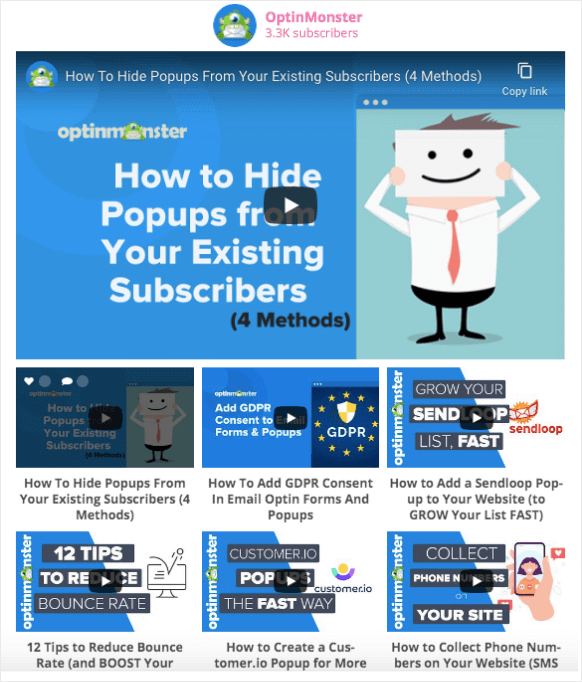 Want a simpler design to showcase your embedded YouTube videos? The list layout may be what you need to add your YouTube feed to WordPress: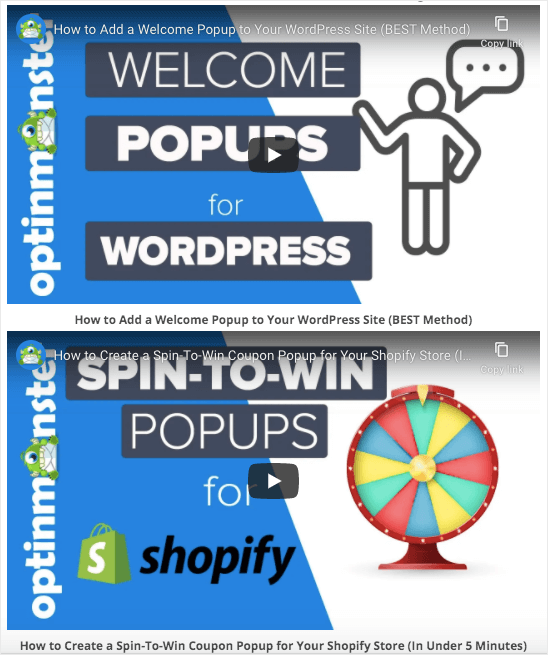 And finally, if you want several YouTube videos in a slideshow format, you can choose carousel layout, like this: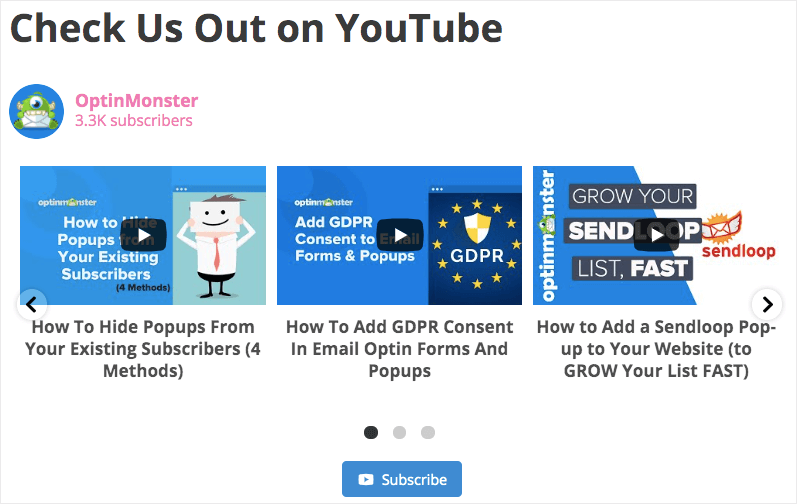 After choosing your feed's layout, click on Save Changes to finalize your customization changes.
Then, scroll further down to the Info Display section to hide or show certain details in your feed.
Here, you can easily control your feed's content. How? Just check the box to show the information, and uncheck it to hide. Easy, right?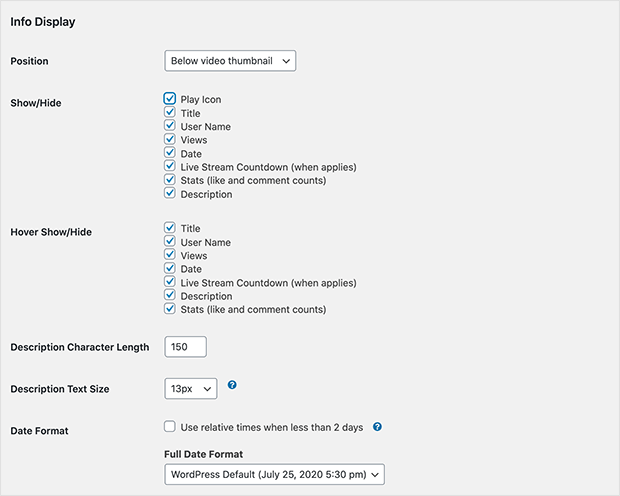 Once you're happy with how your YouTube videos feed looks like, you can move on to the final step below.
Step 5: Embed Your YouTube Videos Feed on WordPress
With the help of the plugin, you can easily embed your videos feed:
On your page or post in WordPress, or,
On your sidebar in WordPress
Let's talk about how you can do both options below.
Embed Multiple YouTube Videos on WordPress Page
First, create a new page. You can do this by navigating to Pages » Add New from your WordPress dashboard.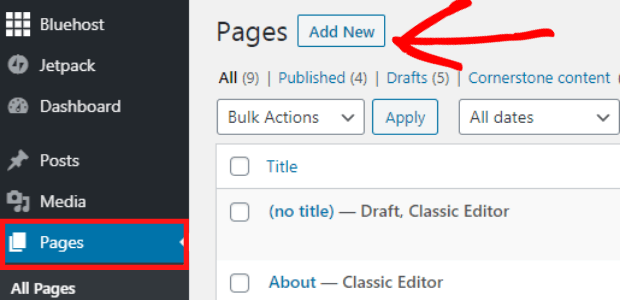 Using the classic WordPress editor? Just paste this shortcode directly into your page: [youtube-feed]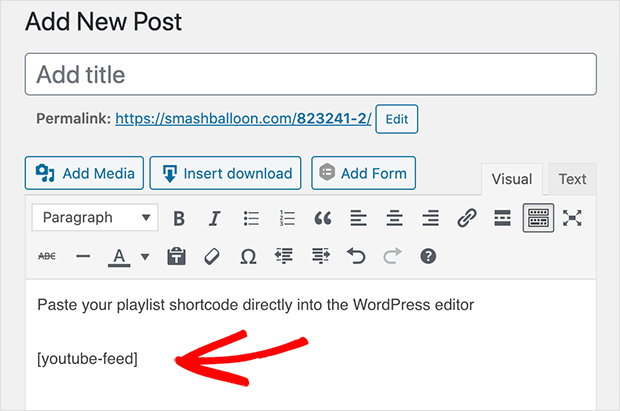 What if you're using the WordPress block editor instead? No worries. The plugin allows you to embed your YouTube feed using the block editor, too.
Inside your block editor, click the Plus (+) icon to choose a new WordPress block.
Next, type "youtube" into the search field. Then, click the Feeds for YouTube block to add it to the block editor, like this: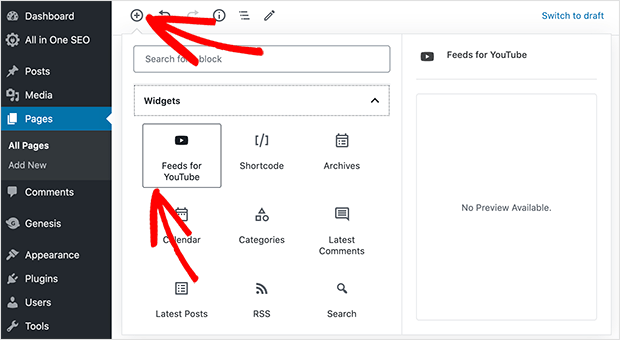 Your multiple videos feed will automatically appear in your block editor.
Have any changes in your feed's design? Just go back to the previous step to do this. If not, just click on Publish to make it live on your website.
You've now added multiple YouTube videos on one page of your website — with minimal effort on your part.
Embed Multiple YouTube Videos on WordPress Sidebar
You can also add your multiple YouTube videos on your website's widget-ready areas as a YouTube widget.
To embed your YouTube feed on your sidebar, go to Appearance » Widgets from your dashboard first.
Then, look for the YouTube Feed widget. Once you've seen it, just drag it to your chosen sidebar area. Finally, click the Save button to preserve your settings.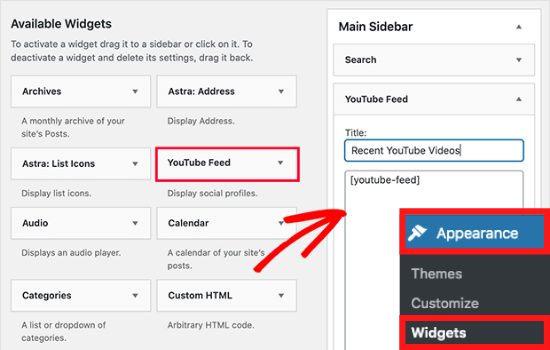 Now, your embedded video feed will appear on your sidebar when you go to the front end of your website. Here's an example of how it looks like below: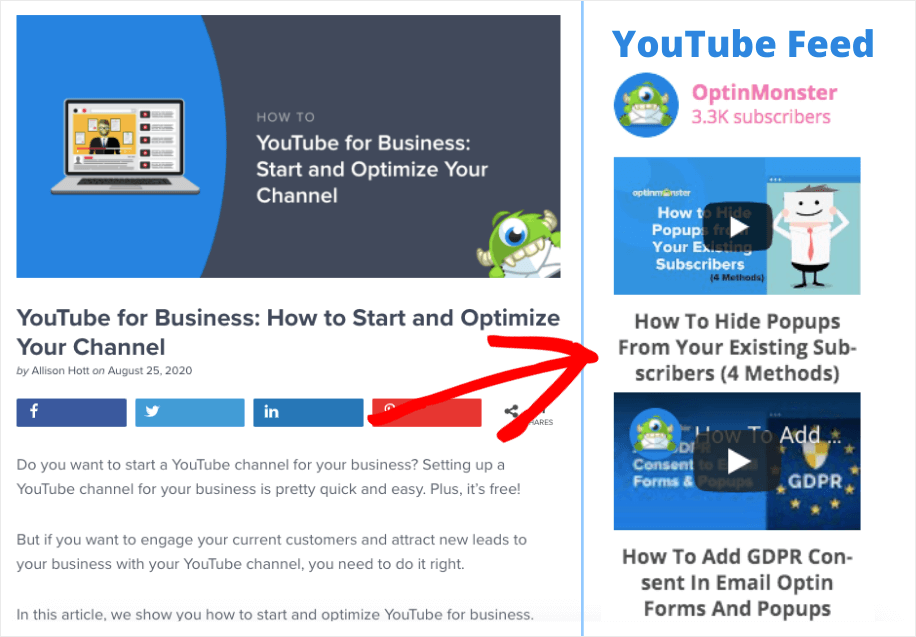 And that's it!
Now, you know how to embed multiple YouTube videos at once on your WordPress — in just a few minutes! Increased YouTube subscribers and more sales are now within your reach.
What are you waiting for?
Get started with Feeds for YouTube here.
Or if you want unlimited access to Smash Balloon plugins so you can use them on unlimited websites, go ahead and get the All Access bundle here.
If you want a simple way to add social media feeds to WordPress, Smash Balloon is easily the best option out there.
Plus, Smash Balloon plugins are trusted by the world's biggest brands, so you're in great company!

Smash Balloon's pricing method is awesome because you get a 100% money-back guarantee, so you can try out the best social media feed plugins first and decide if it's right for you.
Want more articles about YouTube marketing? You may want to read our next post on how to embed responsive YouTube videos on WordPress.
How about showing your videos from your Facebook page? Check out this tutorial on how to add Facebook videos to your website.
Finally, if you found this guide helpful, go ahead and follow us on Twitter and Facebook for more useful YouTube tutorials.