Do you want to easily display a horizontal Twitter feed on your WordPress?
Adding rotating tweets from your Twitter profile improves brand awareness and encourages your visitors to engage with you — without leaving your website.
But it can be confusing to embed a horizontal Twitter widget on your WordPress. Especially for beginners.
So in this tutorial, you'll learn the easiest way to embed your Twitter feed horizontally.
Ready? Let's dive in.
Easiest Way to Add a Horizontal Twitter Feed
You're free to manually embed a horizontal Twitter feed on your website. But, you should know that doing so carries lots of limitations, like:
Hard to set up: When you manually embed your tweets in a horizontal layout template on WordPress, you need to deal with lots of code like HTML, PHP, Javascript, or custom CSS. It gets confusing as well since you need to switch between different webpages.
Difficult to customize:

You're stuck with the default Twitter layout and design. So if you want to change your Twitter feed's layout to a horizontal scrolling feed, you can't. Unless you hire a developer to help you.

Risky: Ever tried to tweak your WordPress website's embed code? Just one tiny mistake, and you may see the dreaded "error" page which takes up a lot of your time and resources to fix.
Limited control over your tweets: Want to moderate your tweets to show only the content you want? Twitter doesn't allow you to do this, too.
No one to prioritize helping you: Messed up your site? Or don't know what to do? Twitter doesn't have a dedicated support team to help you. So you're on your own.
If Twitter makes it difficult to embed your Twitter feed horizontally on your site, then, what's the best way?
You can make everything easier and faster by using the highest-rated Twitter feed plugin for WordPress: Custom Twitter Feeds Pro.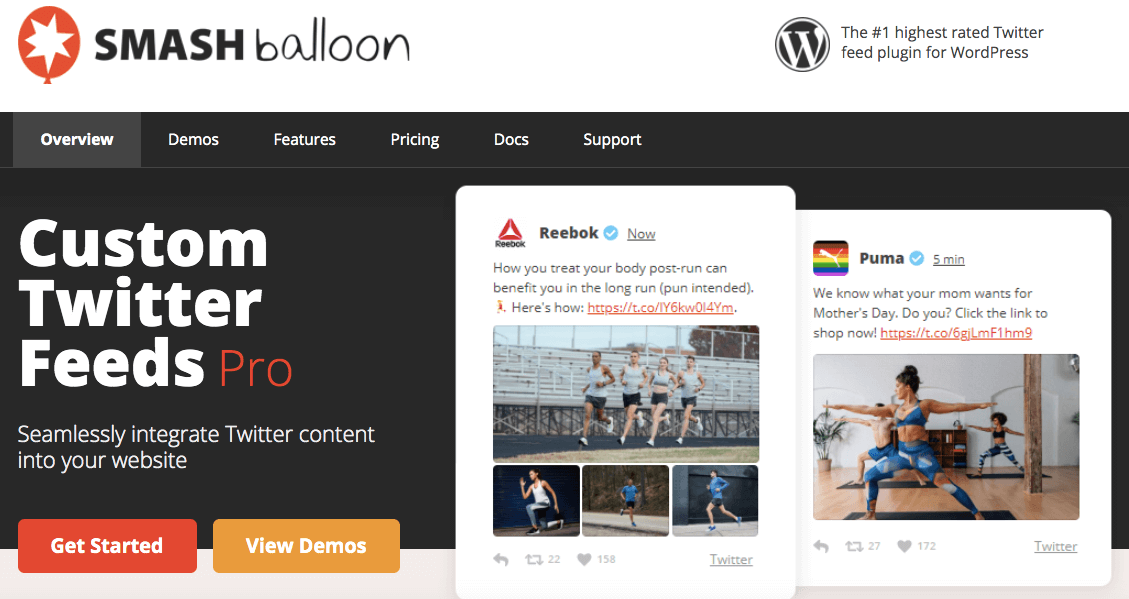 This beginner-friendly plugin helps you easily add your Twitter horizontal feed to your WordPress site.
Yes, you don't even need to tweak lines of code just to set it up.
And the best part? It has a built-in carousel layout. So you can easily display your Twitter feed horizontally, too.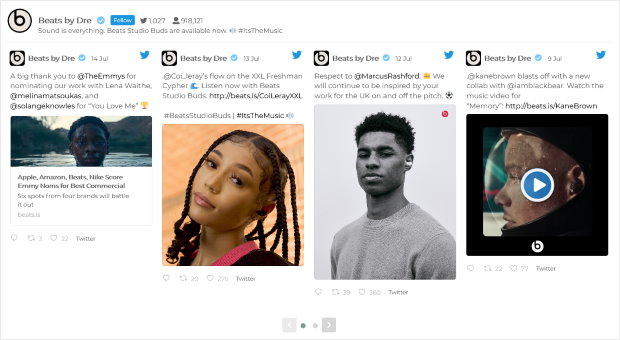 Also, since it's designed with the users in mind, you can be sure that the plugin's super fast-loading on your website.
And a faster website means better SEO so your site ranks higher in the search engine results.
Plus, with a solid 4.9/5 star rating, the plugin's happily recommended by over 100,000 active users.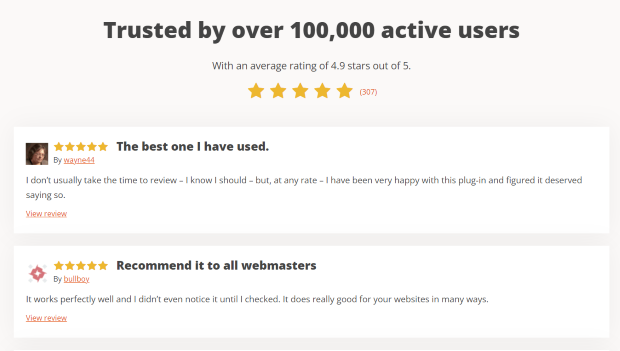 Custom Twitter Feeds Pro extends your website's functionality to display Twitter content on your site. Here are some of the plugin's best features:
Ultra easy to set up: Install the plugin, set it up and display your horizontal Twitter feed with just a few clicks — no technical knowledge needed!
Extremely efficient: Show your rotating tweets in under 5 minutes!
Looks great out of the box: The plugin automatically inherits your theme's design. So it's consistent with your brand's visual identity and existing WordPress theme.
Easily customizable: Want to customize what your Twitter feed looks like? You can easily enable the horizontal scrolling layout, change the colors, set the button layout, and much more.
Add your Twitter feeds without dealing with code: You can easily embed a scrolling Twitter feed widget on your sidebar or footer areas with the plugin's ready-made widget.
Gives you full control of your content: Only show tweets that you want on your custom Twitter feed with the help of the plugin's moderation feature.
And you know what else comes with the plugin? You can contact its friendly and helpful support team. They're dedicated to always helping you whenever you need someone to give you a hand.
Another cool part about using this plugin to integrate Twitter into your website?
Custom Twitter Feeds Pro is also happily trusted by the largest brands around the world, so you know you're in great company!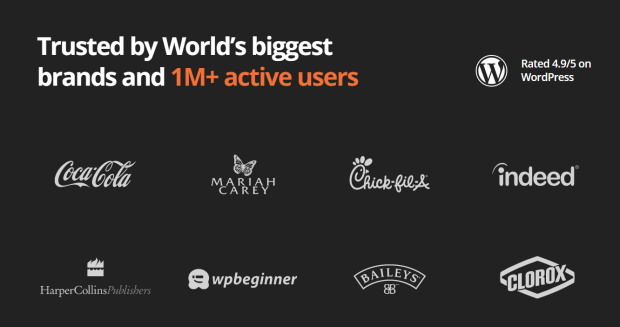 Want to start getting more user engagement for your brand's Twitter account? Embed a horizontal Twitter widget feed on your WordPress by following these steps.
How to Embed a Horizontal Twitter Feed in WordPress
Using this method below, you can set up your rotating tweets on WordPress in just a few minutes.
Let's get started:
Step 1: Install Custom Twitter Feeds Pro Plugin
First off, get your own copy of the Custom Twitter Feeds Pro plugin here. Download the plugin to your computer. Then, install and activate it on your WordPress website.
Need a refresher on installing WordPress plugins?
We've got you. Just follow this helpful tutorial on how you can install a WordPress plugin on your site.
It has step-by-step instructions so you can do this easily.
Step 2: Connect Your Twitter Account
Done installing and activating the plugin? Great work. Now, it's time to connect it to your Twitter account.
To begin, click on the Twitter Feeds menu on your WordPress dashboard. You'll be directed to the plugin's settings page. Under the Configure tab, you can click on the blue button, as you can see below: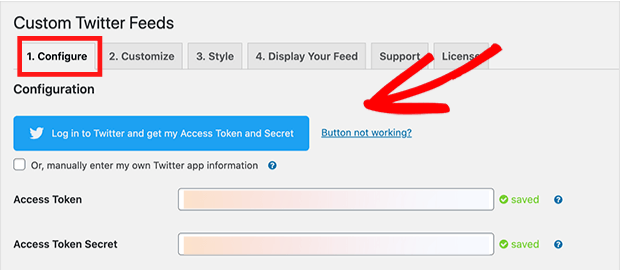 Just follow the onscreen instructions from the popup to connect your Twitter account. Then, remember to click on Save Changes and move on to the next step.
Step 3: Choose Your Twitter Feed Type
To continue embedding your horizontal Twitter feed, you need to choose your feed type.
How? On the same page, just scroll down to the Feed Settings section. Under this section, you can choose from 6 feed types:
User Timeline: Displays tweets and even retweets from your own Twitter timeline.
Hashtag: Displays tweets based on specific hashtags.
Search: Displays tweets from the results of an advanced Twitter search.
Home Timeline: Displays tweets from yourself and accounts you follow.
Mentions Timeline: Displays tweets that mention your Twitter username.
Lists: Displays tweets from your specific Twitter lists.
For this tutorial, we chose to show the user timeline of Smash Balloon's Twitter account, like this: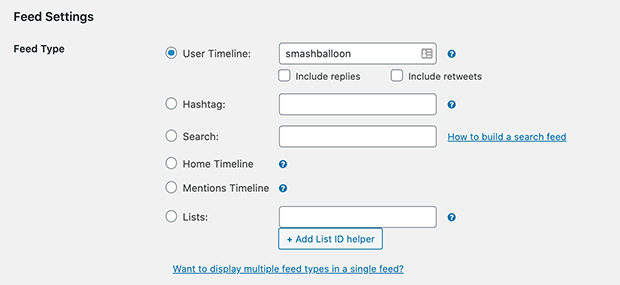 Once you've chosen the feed type, click on Save Changes. Then, move on to the next step below.
Step 4: Select the Layout of Your Scrolling Twitter Feed Widget
You can only display your Twitter feed horizontally if you choose the carousel layout. How to do this? Start by scrolling up to the top of the settings page. Next, click on the Customize tab.
The 1st section of the page, General, helps you set the width and height of your Twitter feed.
Your feed is responsive, so it automatically looks great on any device and screen size — but you can set these manually, too.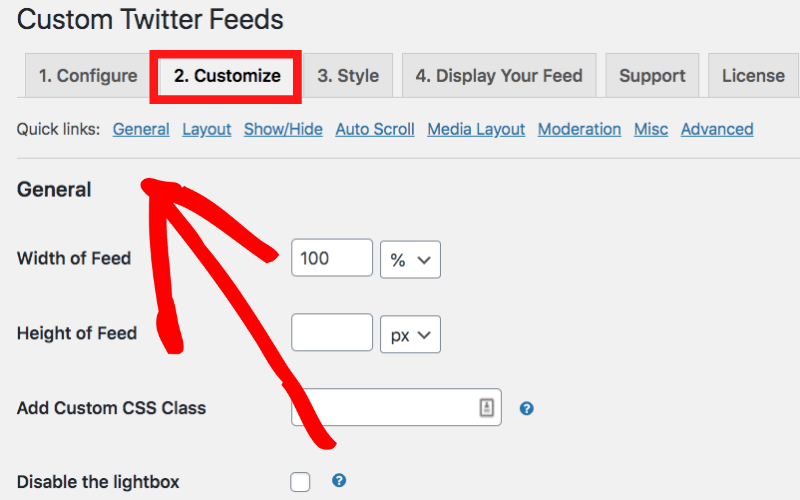 Scroll down a bit to see the important part. See the Layout section?
Make sure to choose the carousel layout so you can display a number of tweets in a horizontal scrolling Twitter feed widget.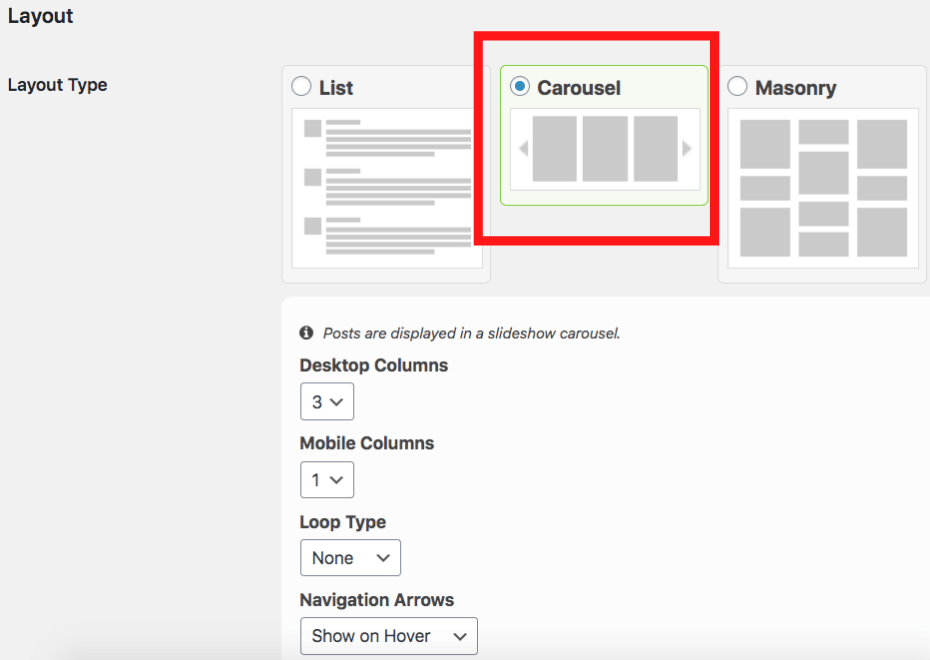 In addition to choosing your feed's layout, you can set the number of columns and visibility of your navigation arrows, too.
For example, here's what a Twitter horizontal feed with 3 columns and visible arrows looks like: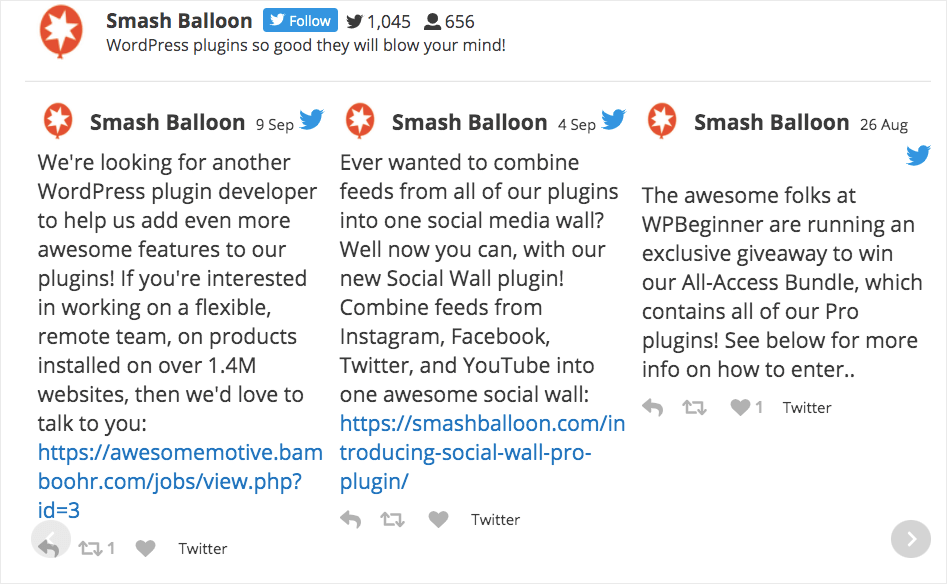 To save your choices and make sure your tweets will be shown horizontally, make sure to click the Save Changes button.
Step 5: Style Your Horizontal Twitter Feed
Done choosing the carousel layout for your WordPress Twitter feed? Great!
Next, you can control your feed's design by scrolling upwards and clicking on the Style tab.
If you want to customize your horizontal Twitter feed's color and font of text and links, you can do it under this section.
You can even choose to show or hide your Twitter bio.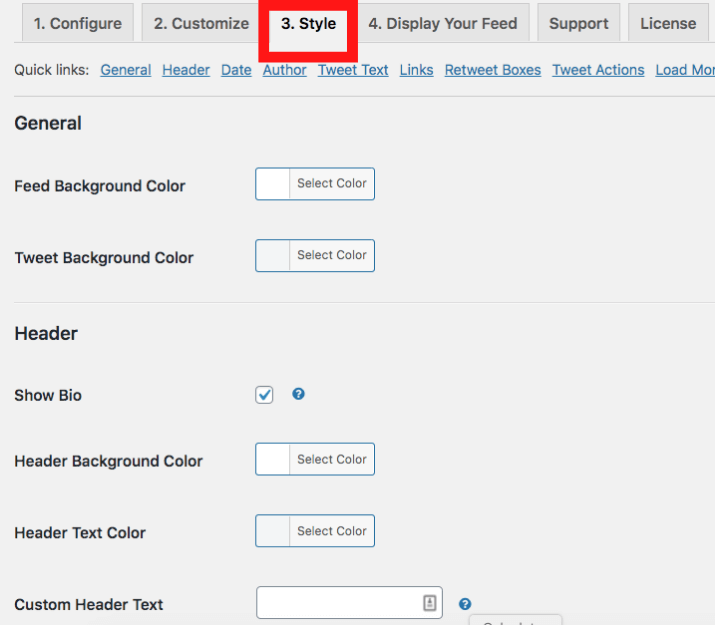 It's so easy to use — just click a few buttons and your feed will appear how you want it on your website. This means you don't need to deal with confusing code snippets or hire a developer to help you.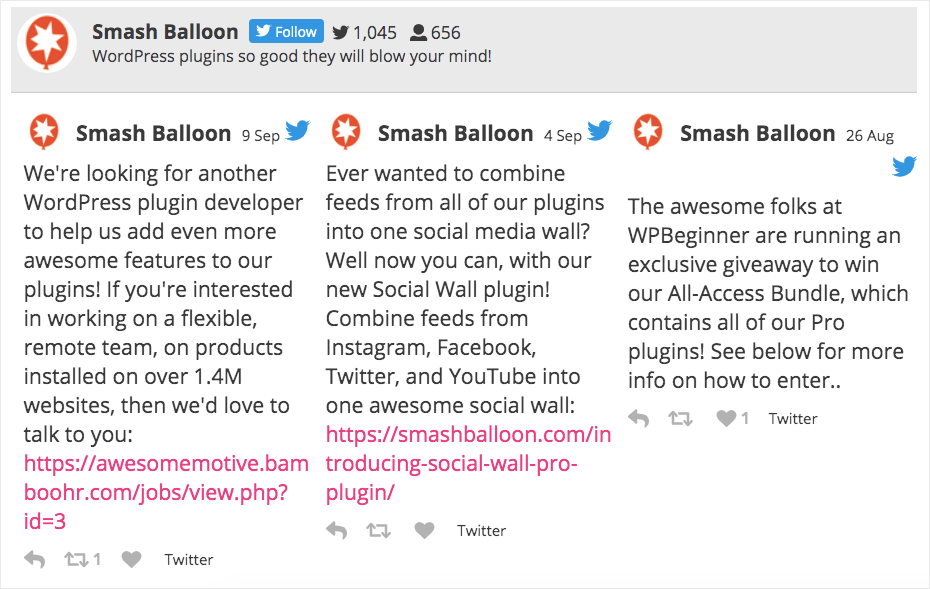 Once you're satisfied with the look of your horizontal scrolling Twitter feed, click the Save Changes button. Then, continue to the final step below.
Step 6: Embed Your Horizontal Twitter Feed on Your WordPress
Finally, you can now start embedding your horizontal Twitter feed on your website. You can display your feed on your website's page or sidebar area.
Embed Your Horizontal Twitter Feed on a WordPress Page or Post
To add a custom Twitter feed, you need to create a new page by navigating to Pages » Add New from your WordPress dashboard.
Once you've done this, you'll be directed to your new page using the block editor.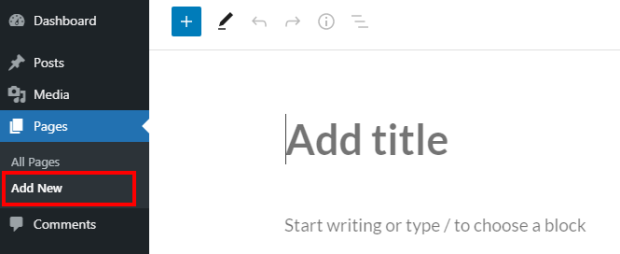 You can also use a WordPress post here instead if you want. For that, go to the Pages » Add New menu from your dashboard area.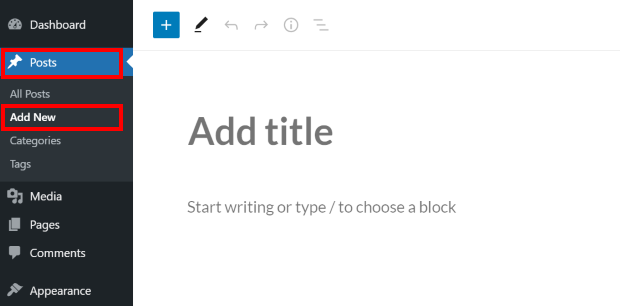 Next, click the Plus (+) icon so you can add a new WordPress block. Then, in the search box, type "twitter" and click on the Twitter Feed widget to add it to your page.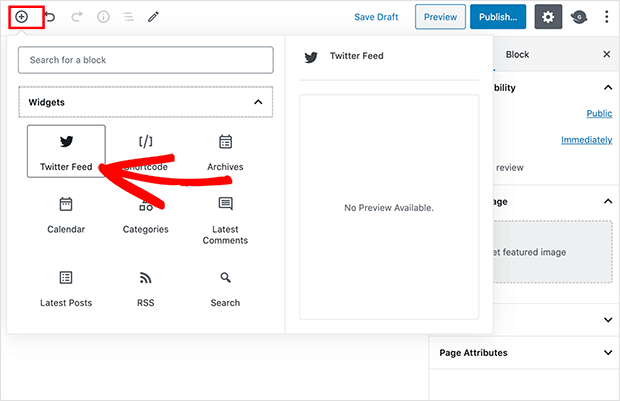 After clicking the Twitter Feed widget, your horizontal Twitter widget feed will automatically be added to the block editor, like this: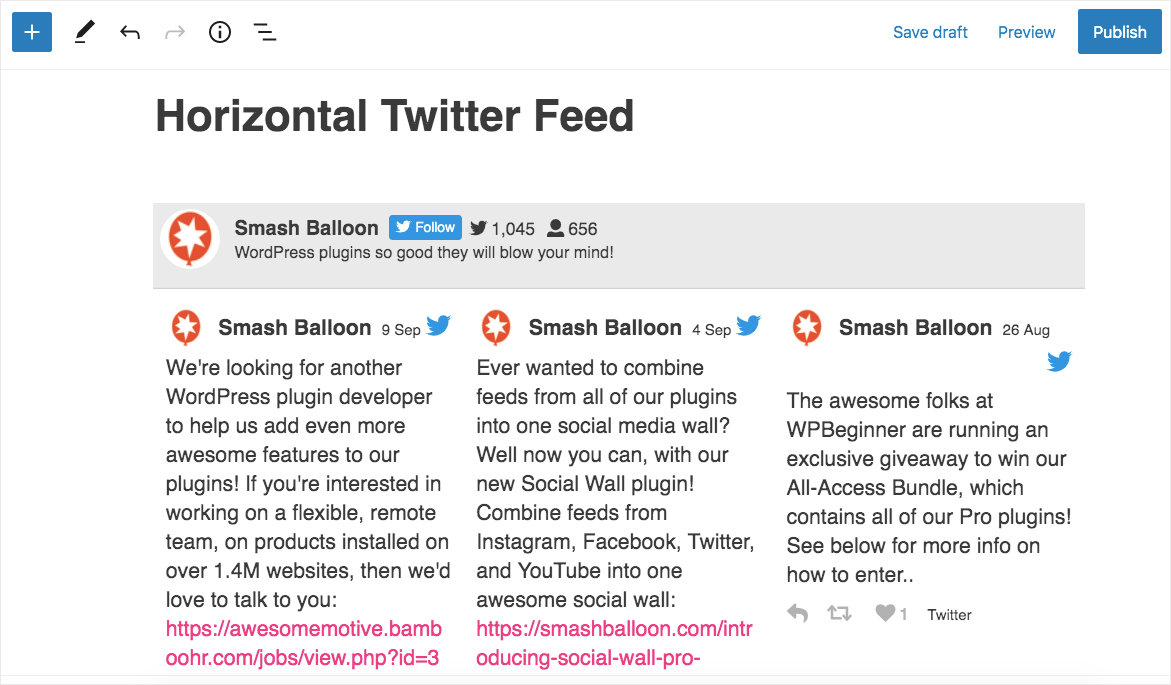 Feel free to edit the page's content and make sure everything looks great before you click the Publish button.
Once you've hit Publish, your website visitors can now see your horizontal Twitter feed whenever they visit your website.
Embed Your Horizontal Twitter Feed on Your Sidebar
If you'd like to add the feed on your site sidebar as a horizontal scrolling Twitter feed widget, you can do this, too.
Start by navigating to Appearance » Widgets from your dashboard.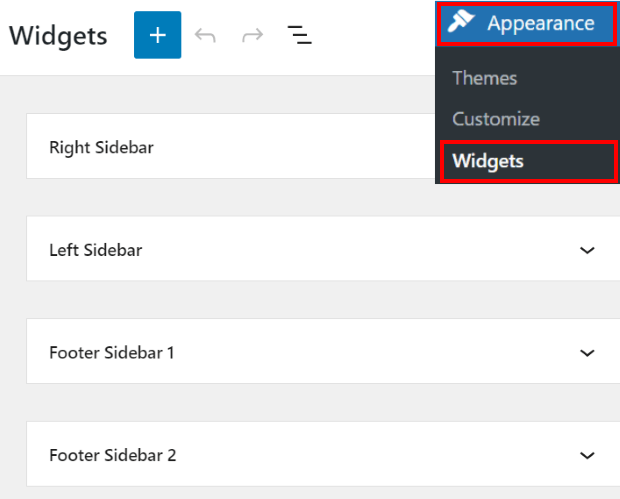 Here, click on a Sidebar panel if you want to add your Twitter widget there.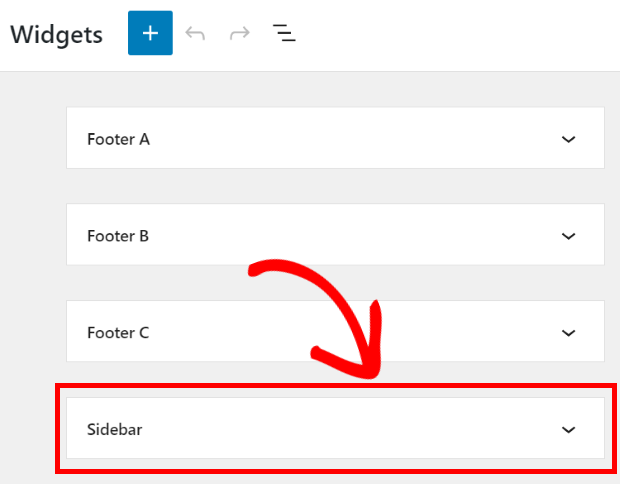 You can also click on a Footer panel if you prefer that location.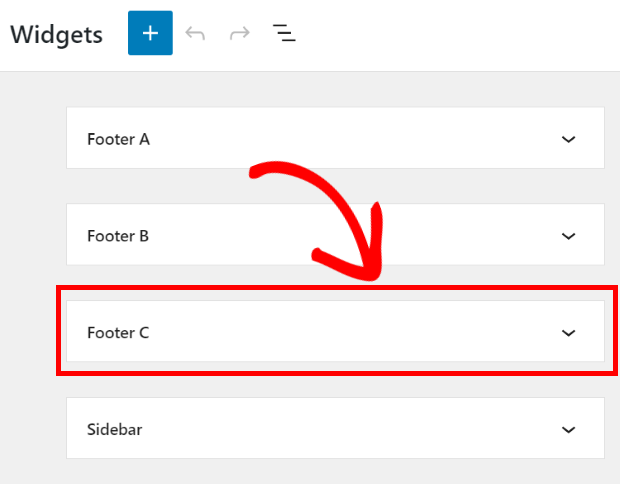 Now click on the plus icon (+) to add a new widget.
Then, look for the Twitter Feed widget and click on it.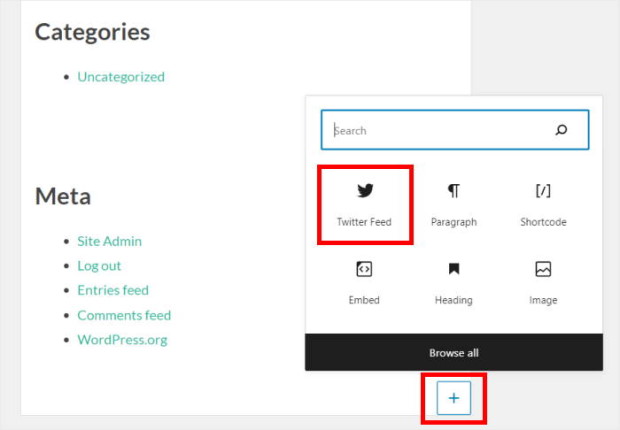 You'll see that the shortcode is automatically built-in inside the Custom Twitter Feed Pro widget, so it's super convenient for you.
You just need to click the Save button. Now, when your website visitors check out your website, they'll see your horizontal Twitter feed embedded on your sidebar area, like this: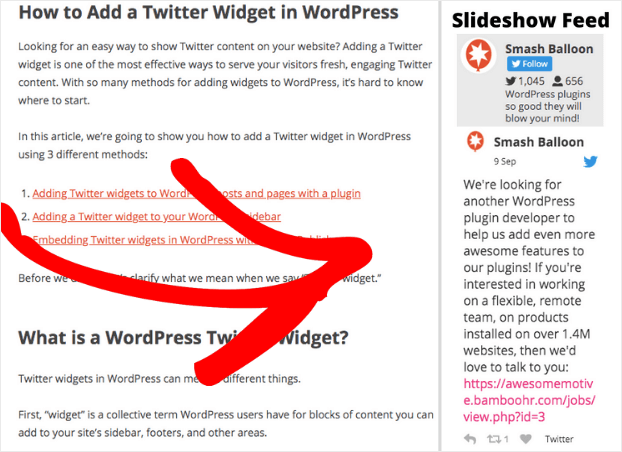 And that's it!
Congratulations. Now, you know how to easily add a horizontal scrolling Twitter feed on your website.
You can now display your Twitter feed to engage with your Twitter followers and increase brand awareness — so you can grow your business over the long run.
Start taking your social media marketing to the next level. Get started with Custom Twitter Feeds Pro today.
Pro-tip: take advantage of this amazing deal just for you.
Or if you want unlimited access to Smash Balloon plugins so you can use them on unlimited websites, go ahead and get the All Access Bundle here.
Smash Balloon offers a no-risk money-back guarantee so you can decide if the plugins are the right fit to help you boost your brand's growth.
And with over 1.6 million users trusting Smash Balloon, you know you'd be in great hands!
Want to know how you can display other social feeds to your website — fast, easy, and hassle-free? Check out this next article on how to add social media feeds to your WordPress.
Or, you can also take a look at this post on the best Twitter widget examples you can embed on your website today.
And if you enjoyed this article, connect with us on Twitter and Facebook for more helpful tutorials.