Looking for easy ways to make money on Twitter?
With millions of active users, Twitter is one of the biggest social media platforms out there and an amazing place for marketing.
But there are tons of marketers already making money off Twitter, so it can be tough to stand out from the crowd.
The good news? With the right strategy, you can boost your Twitter marketing and start making money in no time.
And that's what we're here for. In this post, we're going to show you our secrets to help you make money on Twitter right away.
Before we get to that, there are a couple of things you can check to make your Twitter marketing efforts more successful.
Before You Make Money on Twitter (Important)
The first step to making money using Twitter is to make sure your Twitter account is ready for marketing.
To prepare your Twitter account, you can just try the following:
Step 1: Create a Professional Twitter Profile
If you want to get started with making money on Twitter, having a professional Twitter profile can be a huge help.
That way, you're putting your best foot forward with your marketing efforts. Plus, people will be much less likely to dismiss your content as spam if you have a proper Twitter profile.
For a good example of a Twitter profile, you can take a look at this: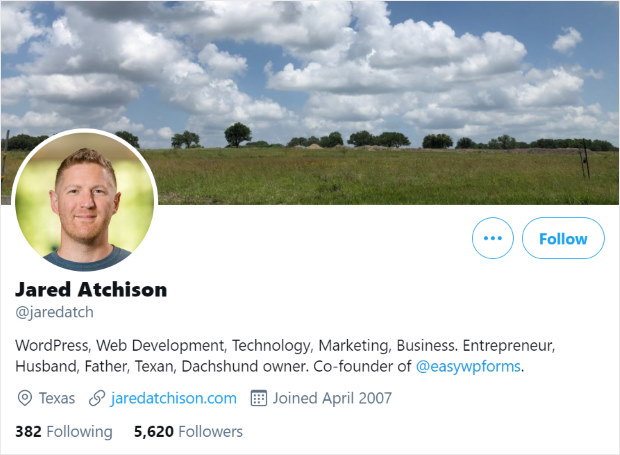 As you can see, this Twitter profile has a lot of useful information and also shows where people can go if they're interested in this person's content.
Plus, there's also a bit of personality here so it feels like an actual person wrote it.
Here are a few things you can take from this Twitter profile for your own.
Profile picture that has your photo or brand's logo
Short bio that shows your personality and interests
Your name or brand's name on the Twitter handle
Link to your website or blog
And your location
Make sure to add these to your Twitter profile and you can instantly make your account look more professional.
After that, you can create a much better impression so making money on Twitter will also be easier.
Step 2: Grow Your Twitter Following
Next, you can start growing your Twitter following so your tweets will be able to reach more people.
If you can get lots of Twitter followers who're interested in your content, then making money will also be much easier.
And to help you out, we've got this amazing tool that can easily boost your Twitter following: Custom Twitter Feeds Pro.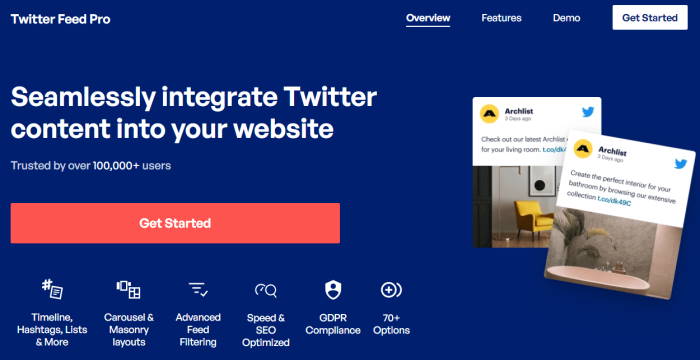 Custom Twitter Feeds Pro can help embed relevant content from Twitter on your site in just a few simple clicks — no coding needed.
By showing Twitter feeds, you can get tons of likes, replies, and follows from the people visiting your website.
On top of getting you more Twitter followers, you can also show engaging Twitter content to keep people interested in your website.
And if you show Twitter reviews, testimonials, or product demonstrations, it can work as social proof and even convince visitors to buy from you.
With Custom Twitter Feeds Pro, you can also pick from different Twitter feed types, including hashtag feeds, mentions feeds, search results, and much more.
That way, you can show a variety of Twitter content on your website.
Plus, the plugin is super lightweight so your Twitter feeds and website will also load fast. And a faster website means much better SEO.
The best part? You also get a team of WordPress experts who're always there to lend you a hand.
All these useful features have helped Custom Twitter Feeds Pro get a rating of 4.9 out of 5 stars and over 100,000 active users.
Plus, its userbase also includes some of the biggest brands in the world such as Coca-Cola, Baileys and more. As you can see, your business will be in good hands here.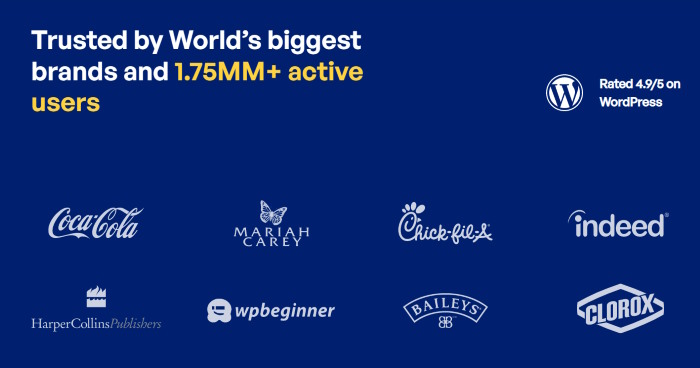 Get Custom Twitter Feeds Pro today and you can get tons of Twitter followers to help you grow your business.
Now, let's get started and see how you can easily make money on Twitter in no time.
7 Top Ways to Make Money on Twitter Easily
Today, we're bringing you our proven marketing hacks that can help you make money on Twitter.
Let's get started and check them out.
1. Post Sponsored Tweets
An easy way to make money on Twitter is by using sponsored tweets.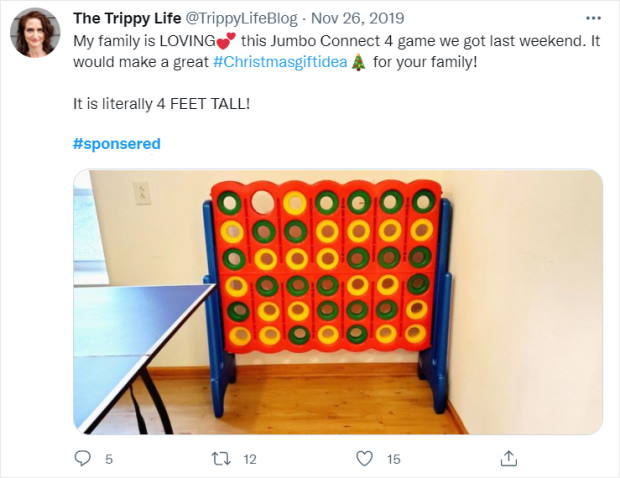 Once you have a large following on Twitter, you can find brands who'll pay you to promote their products or services.
For an easy way to reach businesses interested in sponsored tweets, there are even online platforms that you can check out.
A fantastic option that you can try is SponsoredTweets.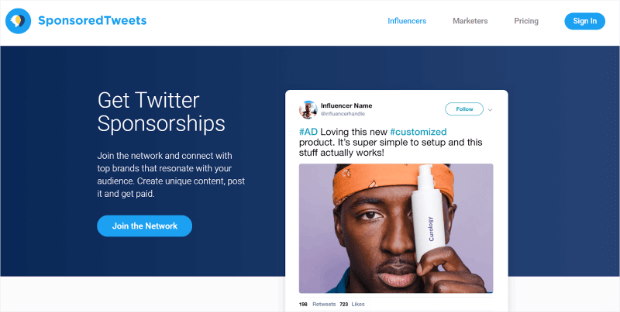 Using SponsoredTweets, you can quickly find companies that are looking for influencers with large Twitter followings.
Just sign up on their website and you can start connecting with brands who'll be willing to pay you for sponsored tweets.
Want your sponsored tweets to reach tons of people at once? You can embed those tweets on your website with the help of Custom Twitter Feeds Pro.
So, you can use your website traffic to make sure more people see your sponsored tweets.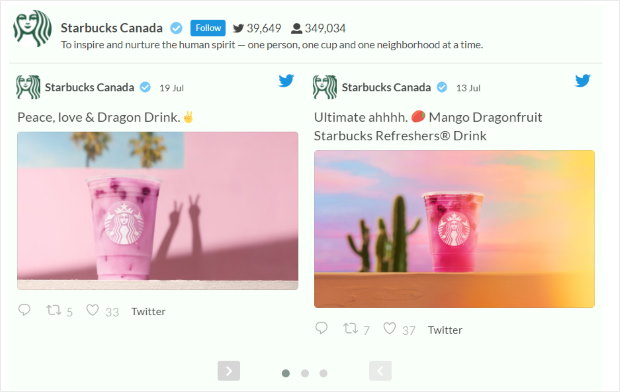 As a bonus, you can also get lots of followers from all the people visiting your site. That way, your future sponsored tweets can be even more effective.
Take a look at our tutorial on how to embed Twitter feeds and give your sponsored tweets a boost.
2. Use Affiliate Marketing
By promoting affiliate products on your Twitter account, you can have a convenient way of making money.
The whole thing is super easy. When people check out your tweet and decide to purchase an affiliate product, you can get a part of that money.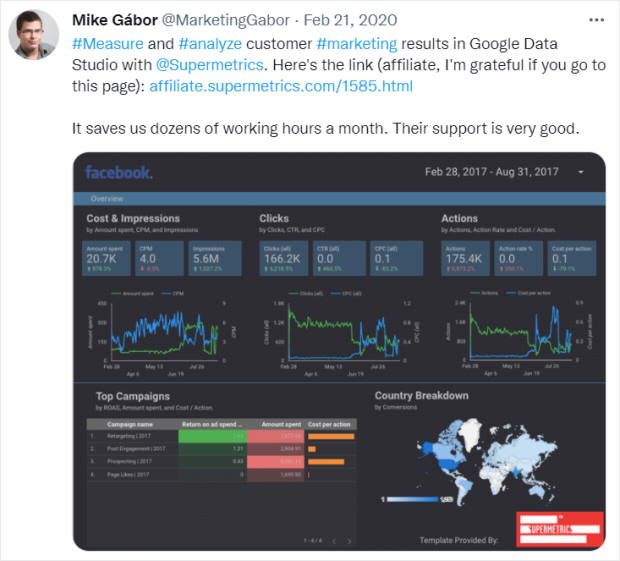 Since affiliate marketing is so simple, you can get started even if you're new to marketing on Twitter. In fact, you don't need a massive Twitter following either.
All you have to do is sign up for affiliate marketing networks such as:
Amazon Associates
ShareASale
Awin
LeadDyno
FlexOffers
If you want to make your affiliate marketing even more effective, you can try focusing on products that fit a specific niche.
For example, let's say you've got a Twitter account where you post about food, drinks, cooking, restaurants, and more.
In that case, you can promote affiliate products that fit those categories since your followers will also be interested in them.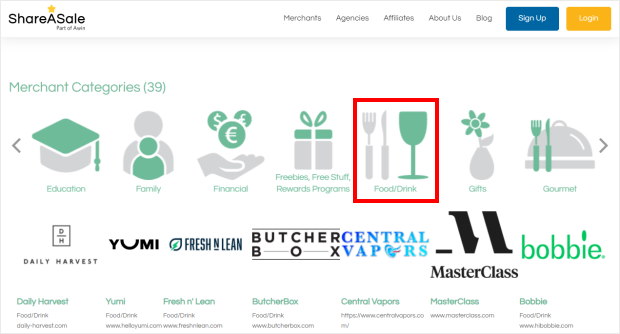 If you don't have a specific niche that you talk about, you can just pick a category that you're interested in.
That way, your followers can see you as a source of knowledge on that topic and turn to you for recommendations.
Just mix affiliate promotions into your content schedule for Twitter and you can start making money from your tweets.
If you want a headstart over your competition, we've also got a helpful guide on affiliate marketing for beginners.
3. Promote Your Brand's Products
Here's something interesting: 93% of Twitter users who follow small and medium-sized businesses are planning to buy from them.
If your brand has products or services, you can just use Twitter to promote them to your followers.
Since those people are already interested in your content, you'll have a much easier time promoting your products and getting tons of sales.
For a great example, you can take a look at this tweet from Louis Vuitton.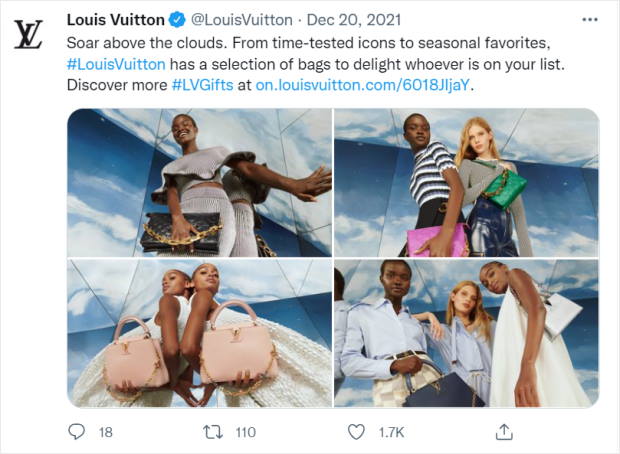 They've added engaging photos of people using their products, along with a description that tells you why you should buy them. Plus, there's also a relevant hashtag that promotes their brand.
Anyone who's interested can just click on the link there and purchase the product.
To get tons of sales at once, you can use Twitter to promote a sale or special discount. You can even encourage Twitter users to retweet your post to reach even more people.
But if you make too many posts only promoting your products, people might get turned off and even unfollow you.
To solve this problem, you can try using the rule of thirds:
First 1/3 of your posts to promote your brand
The second 1/3 of your posts to promote other people's content
The final 1/3 of your posts to interact with people
With that, you can start effectively promoting your products on Twitter and directly making money.
Want tons of people to check out your tweets when you promote your products?
You can just take a look at our guide on the best time to post on social media.
4. Run Viral Giveaways
Not only do viral giveaways help boost your Twitter following, but you can also use them to make money on Twitter.
Just check out this case study of SeedProd to see how easy that can be.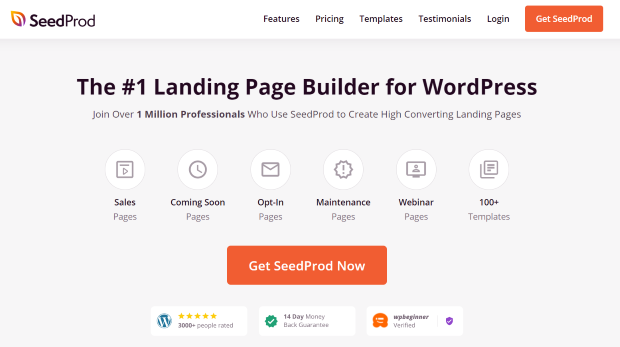 Their giveaway turned so many Twitter users into customers that they boosted their sales by 3X!
On top of that, the giveaway gave them thousands of interactions and shares on social media and helped improve their brand image.
If you want the easiest way to run giveaways on Twitter, all you need is RafflePress.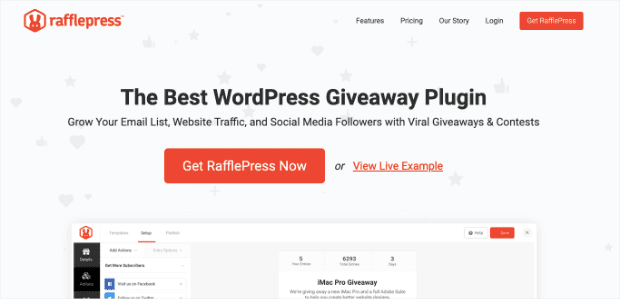 As the best WordPress giveaway plugin, RafflePress comes with a user-friendly drag and drop builder that makes it super easy to create and run online giveaways.
The plugin can set up the rules, start the giveaway, block fake entries, select the winners, and more – all with absolutely no coding needed.
To help you go viral on Twitter, RafflePress can even give bonus entries for retweeting your giveaway announcement.
In fact, you can even give extra entries to people for following you on Twitter, visiting your site, liking the tweet, and more.
As a bonus, you even get a special template just to run effective Twitter giveaways.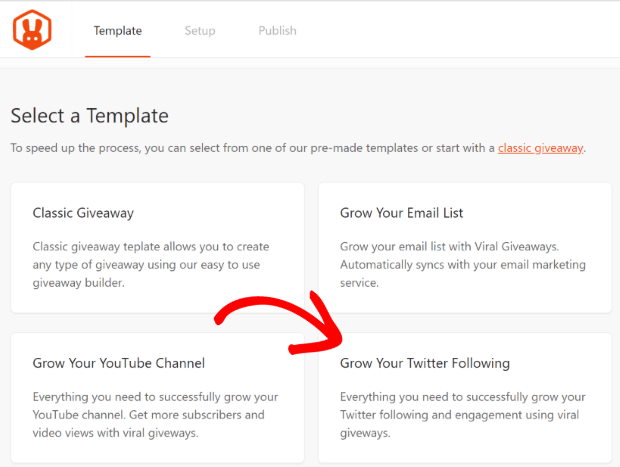 Once your giveaway is ready, just tweet the link to your RafflePress giveaway landing page and you can get Twitter users to join in.
To make it more effective, you can include engaging graphics or photos along with the giveaway details.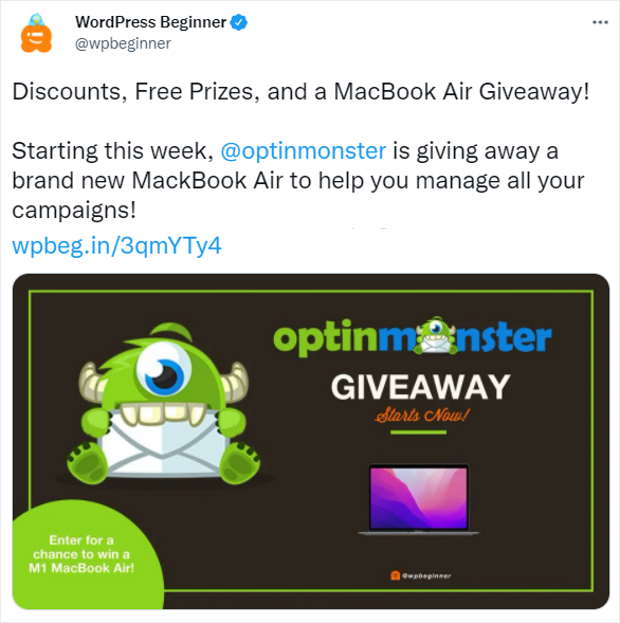 To start using giveaways to make money on Twitter, you can check out our guide on how to do a Twitter giveaway.
5. Grow Your Email List
Did you know that you can boost revenue by up to 320% just by using automated emails?
With email marketing, you have an easy way to find potential customers and generate sales.
You can directly message people and let them know about your sales, product announcements, updates, blog posts, and much more.
Before you can get started with email marketing, you'll first need an email list. It's simply a list of people who're interested in getting emails from you.
When it comes to building an email list, the most effective option is OptinMonster.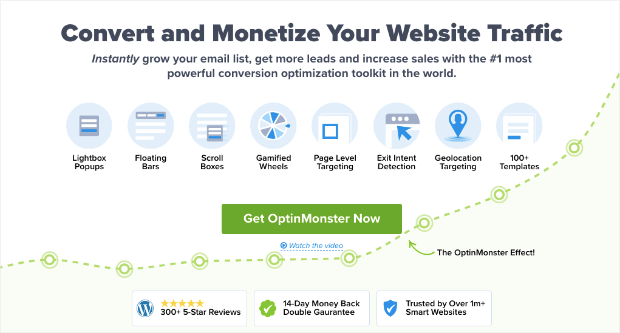 As the best lead generation tool out there, OptinMonster can help you add tons of people to your email list in no time.
Using OptinMonster, you can create marketing campaigns such as lightbox popups, spin-to-win games, countdown timers, and more.
Since the plugin is so user-friendly, you can just grab a pre-built template, edit the details using the drag and drop builder, and your marketing campaign will be ready.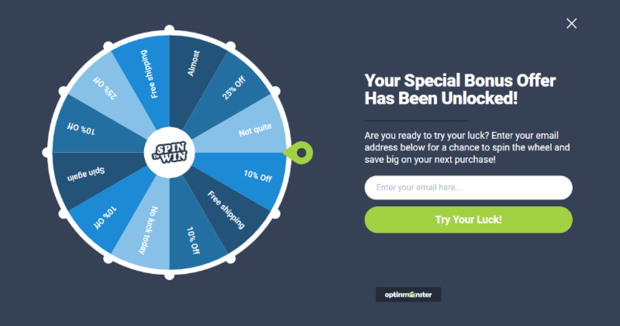 Next, add your marketing campaign on your landing page or blog post and share it on Twitter. That way, OptinMonster can add visitors from Twitter to your email list.
If you want to get started right away, you can check out our beginner's guide to email marketing.
6. Send Twitter Traffic to Your Website
With over 400 million active users, Twitter can be a great way to get tons of website traffic.
And more site traffic means more customers and more sales, so this can be another effective way to make money on Twitter.
To get more site traffic using Twitter, all you have to do is tweet links to your interesting blog posts and ask people to check them out.
You can also add relevant hashtags, and tag others if you want more people to find your tweets.
As a bonus, you can show relevant featured images if you want more people to click on your links.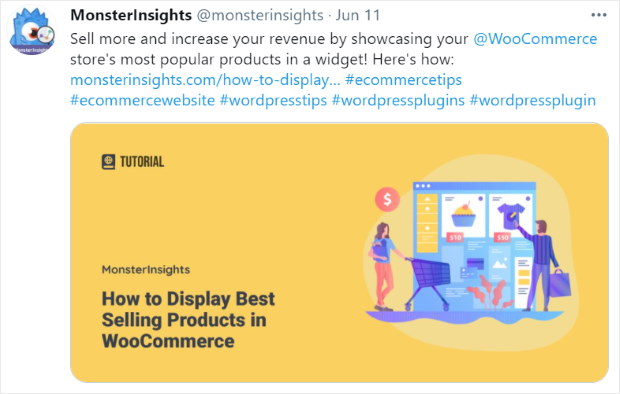 Since visual content can get up to 35% more engagement on Twitter, having an eye-catching featured image on your blog post can get you lots of clicks.
To create engaging featured images for your site, just check out our list of the best visual content creation tools.
7. Monetize Your Twitter Content
Like with YouTube, you can place ads and sponsorships on your Twitter content and make money.
To do that, just open up the Twitter Media Studio and you can monetize your videos on Twitter.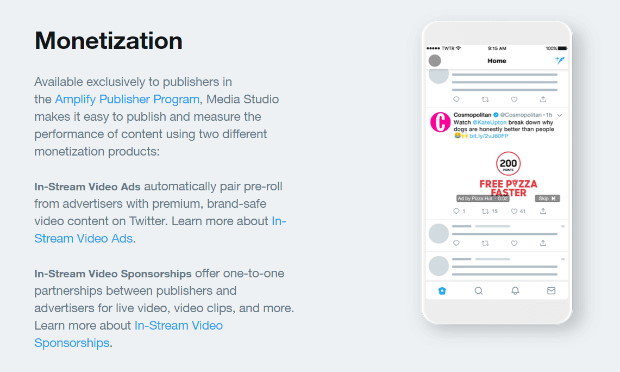 There are 2 ways you can monetize your Twitter videos here:
Amplify Pre-roll: Select a few tags and ads based on those tags will show up with your video content.
Amplify Sponsorships: Partner with some specific brands whose ads you want to show on your videos
Want your monetized videos to reach tons of people?
Using Custom Twitter Feeds Pro, you can embed Twitter feeds with your videos on your website.
That way, your website visitors can check out your monetized videos as well. And with more views, you can make much more money on Twitter.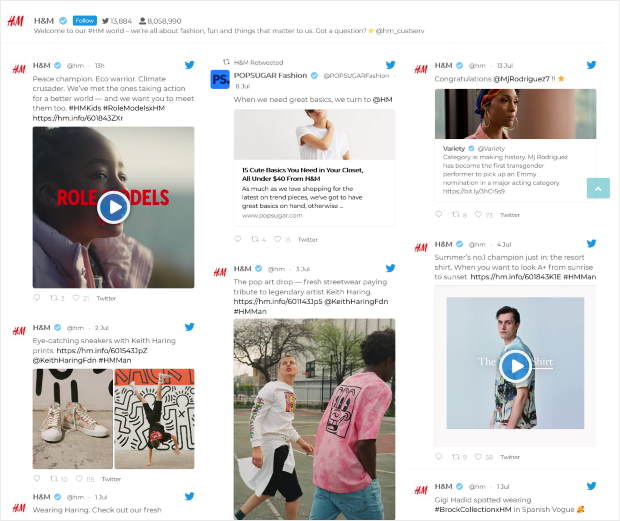 Go and get your copy of Custom Twitter Feeds Pro today and you can create engaging feeds to get tons of views for your Twitter content.
And that's it!
Now you know how to easily make money on Twitter. Just use our tried-and-tested hacks and you can give your Twitter marketing a boost starting today.
To make the whole experience much easier, you can also use Custom Twitter Feeds Pro.
As the best Twitter feed plugin in the market, you can use it to show engaging Twitter content on your site with ease — no coding needed.
As a result, you can get your website visitors to check out your marketing tweets. And with more people checking out your tweets, you can make more money.
Plus, you can even use this amazing tool to boost your conversions and directly get more sales.
So what are you waiting for?
Get Custom Twitter Feeds Pro right now and you can make the most out of Twitter.
Want to use Facebook marketing for your business as well? We've got a beginner-friendly guide on how to promote your business on Facebook.
To learn how to use Twitter with your website, you can check our post on the best ways to integrate Twitter with WordPress.
If this article helped you out, then follow us on Twitter and Facebook and you can get even more social media marketing tips and tricks.