Want to know how you can increase Twitter engagement?
As one of the major social media platforms in the world, marketing on Twitter is a great way to reach tons of new people who can potentially be your customers.
But with so much content out there, getting people to engage with your Tweets can be tricky.
In this post, we're going to show you our tried-and-tested social media marketing tips so you can increase your Twitter engagement starting today.
What is Twitter Engagement?
Simply put, Twitter engagement means the number of times users interacted with your tweets. These interactions can be in the form of:
Replying to your tweet
Saving or bookmarking your tweet
Quoting your tweet with their personal comment
Mentioning your Twitter @username in their tweet
Clicking a link, photo or video in your tweet
The more engagement your tweet has, the higher chance it has of being promoted to your followers and even non-followers, so you can reach a wider audience and promote your brand to more people online.
What is a Good Twitter Engagement Rate?
Like Facebook's engagement rate, Twitter's engagement rate is calculated as the total number of interactions a tweet receives divided by the total number of impressions on that tweet.
On Twitter, the average engagement rate is 0.045%.
This means if you have 10,000 followers on Twitter, you can expect just over 4 interactions for each of your posts.
Anything above 0.5% is a great Twitter engagement rate, so if you have 10,000 followers with 50 interactions per tweet, then that's already a high metric.
Benefits of High Twitter Engagement Rate
There are lots of benefits to having a high Twitter engagement rate, such as:
More brand exposure – Twitter prioritizes a tweet based on how people in your network are interacting with it. More interactions = more promotion.
More followers – Whenever your Twitter followers retweet or share your tweet, they're essentially promoting your brand to their own followers who may end up following you too.
More site traffic – You can get more site visitors whenever someone clicks on a website link that you shared in your tweets.
Now, let's talk about how you can start boosting your Twitter engagement rate today.
Best Ways to Increase Twitter Engagement
1. Tweet at the Best Time
The average lifespan of a tweet is just 15-18 minutes, so finding the right time to tweet is important to get more interactions for your Twitter post.
Research shows that you should post at least 6 times each day for active engagement.
Also, here are the best times to schedule your tweets to get the maximum engagement on Twitter:
Between 11 am to 1 pm EST on Monday or Thursday for businesses marketing to other businesses
Between 12 pm to 1 pm EST on Monday to Wednesday if you're promoting directly to your customers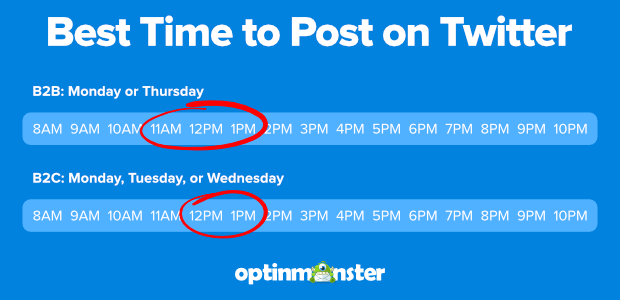 Now, knowing the best times to share content on Twitter is definitely crucial…
But what if I told you there's an easy way to extend your tweets' lifespan so more people can interact with your tweets even after a day or two?
Let's talk about this Twitter hack in the next tip below.
2. Showcase Your Twitter Feed on Your Site
Did you know that displaying your tweets on your site is an effective way to increase your engagement?
When you show your Twitter feed on your WordPress, your site visitors can follow your Twitter account with just a click so you can boost your followers.
Plus, adding your Twitter feed also lets your site visitors like, retweet, or engage with your tweets while staying on your website!
You can easily embed a Twitter timeline feed on WordPress with Twitter Feed Pro.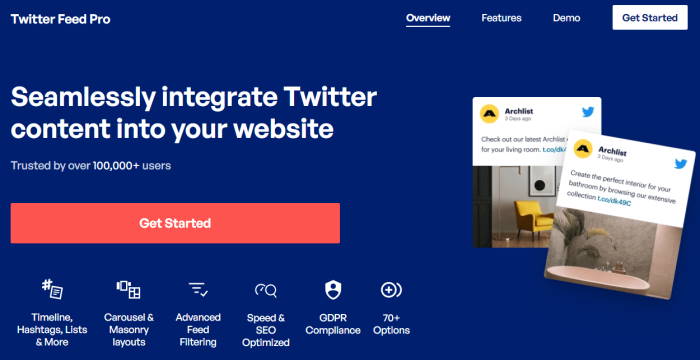 As the best Twitter feed plugin for WordPress, Twitter Feed Pro helps you create, customize and display your Twitter feed on your site in just a few seconds — no coding needed.
The awesome part about this plugin is your Twitter feeds automatically copy your site's theme so they match your visual branding perfectly.
Plus, you can always use Twitter Feed Pro's visual customizer to control your feed's design and content with just a few clicks.
As a result, you can have a visually stunning Twitter feed embedded on your site, even if you're a WordPress newbie.
For even more engagement, you can also use it to showcase Twitter widgets on your sidebar or footer area. This way, you can get more people to like or reply to your tweets, whichever page they are on your website.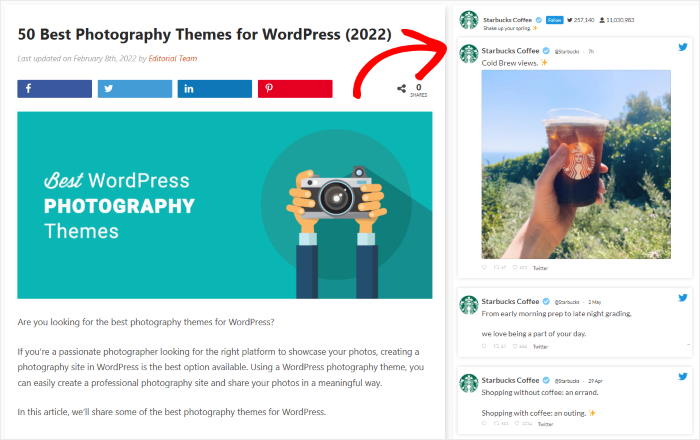 To get started, check out this helpful post on how you can embed a Twitter profile feed on your WordPress today.
3. Run Viral Twitter Giveaways
Another easy way to raise your Twitter engagement is by running a social media giveaway that's focused on the Twitter platform.
Everyone loves freebies — and the great thing about running your own giveaway is you don't need a large reward to get users interested in joining.
For your Twitter giveaway, you can offer prizes like vouchers, discounts, and free trials and in return, your business can get tons of likes, replies, retweets and follows from your giveaway entrants.
This helps expand your reach and even expose your business to hundreds, if not thousands, of Twitter users who can be your potential customers.
You can use the best WordPress drag-and-drop giveaway builder, RafflePress, to create a viral online giveaway in Twitter.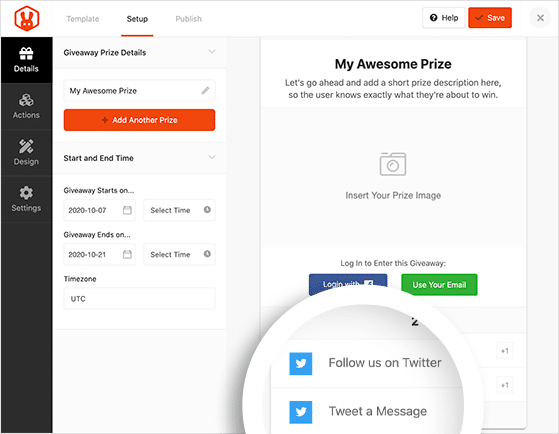 With its "Grow Your Twitter Following" template, you can easily run an online giveaway and get your participants to engage with your brand on Twitter with just a few clicks.
4. Engage With Other User's Tweets
Increasing your Twitter engagement doesn't mean you'll focus on your own tweets only. It also involves creating connections with your followers and actively engaging with them online.
You can interact with your Twitter community when you:
Retweet other user's relevant tweets
One simple tip to increase Twitter engagement is to retweet content that's relevant to your brand.
First of all, retweeting means you're showing content to followers even when you're not tweeting an original post yourself.
So, you'll maintain your presence in the Twitter feeds of your followers with no extra effort on your part.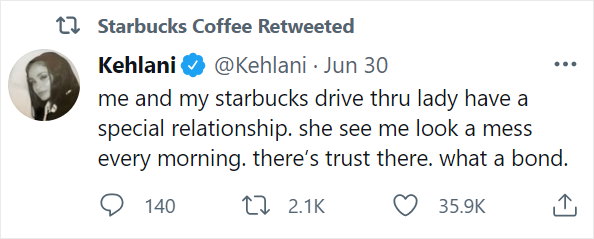 Also, retweeting shows that you'll share other people's content if it's relevant, so these people are now more likely to retweet your posts in return.
Pro-tip: Show all of your tweets and retweets to the people on your website. All you have to do is embed your Twitter feed on your website with Twitter Feed Pro.
Reply to users that @mention your username
Tons of customers turn to Twitter to directly communicate with the brands they love, so the engagement is already halfway there.
You simply need to respond to relevant tweets that mention your username for you to increase your engagement even more and boost your brand trust with your customers.
For more social media promotion tips, here's how you can improve your social media marketing game.
5. Post Visual Content
Another great hack to get more Twitter engagement is to post images. Posts that include photos get 35% more engagement from Twitter users.
Instead of relying on text-based posts to get engagement, you can add images to your tweets to get more replies, retweets and likes from your followers.
There's lots of options for visual content that you can choose from:
Funny memes related to your brand
Motivational quotes
Helpful infographics
Striking photos of your products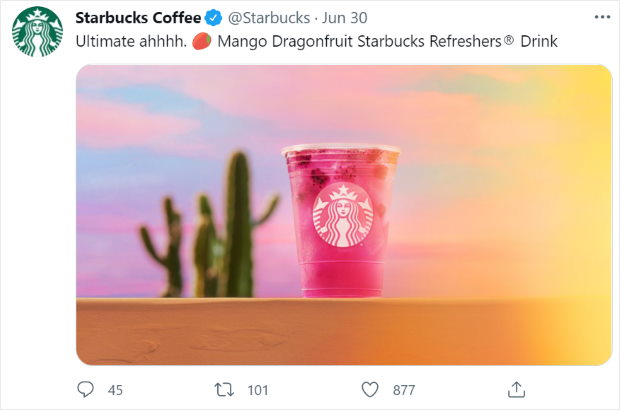 You can even add attention-grabbing featured images to all the links you post on your Twitter so they can stand out more.
Pro-tip: Use Twitter Feed Pro to embed visual Twitter posts on your website.
This lets your site visitors view and interact with your posts directly on your site. At the same time, it can also make your site look much more engaging.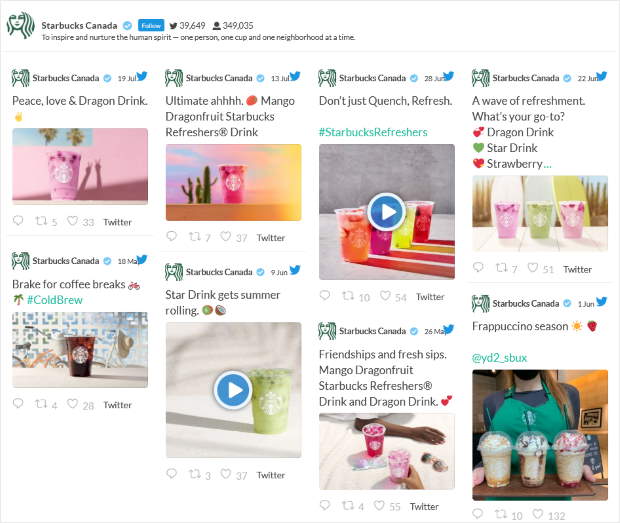 Here's how you can add Twitter cards to your website for more engagement.
6. Increase Tweet Exposure with Videos
Did you know that video posts are 6 times more likely to be retweeted compared to text-only posts?
If you want to boost your Twitter engagement, there is a huge potential in using video posts in your tweets so you can get more likes, replies and clicks.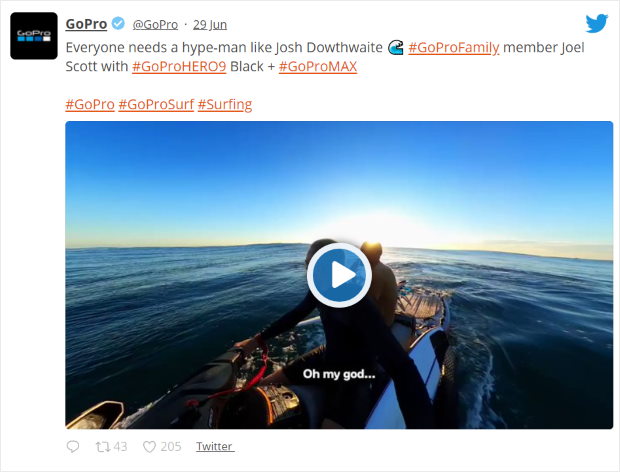 You have lots of options for your video tweets. Plus, many of these don't even require professional video making efforts or lots of expenses. In fact, you can do it just through your smartphone.
Make behind-the-scenes or teaser videos that provide sneak peek of upcoming events or product launches
Livestream videos for any important company milestones or limited-time sales
Demonstration videos so your followers can see how your products help improve your customers' lives
7. Get More Reach with Hashtags
If you want more people to find and interact with your tweets, a great way to do that is with hashtags.
Hashtags in Twitter play an important part in boosting your tweet's reach.
Since they categorize your tweets and make them easier to find, you can get discovered more easily when you add them to your posts.
Twitter recommends using just 1-2 hashtags per tweet as best practice.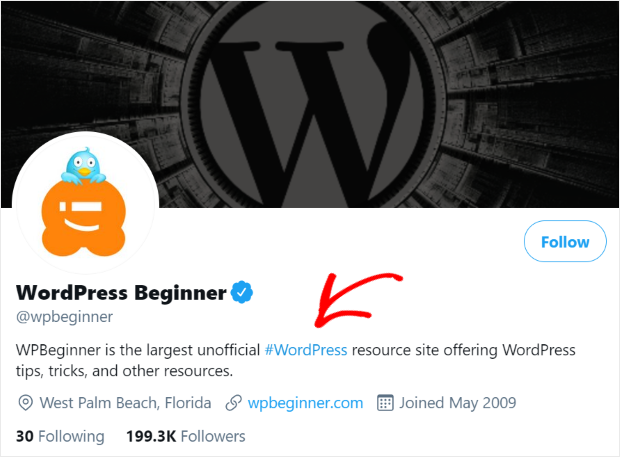 Pro-tip: You can even add relevant hashtags to your Twitter bio to make your profile easy to find. The easier it is to find your Twitter profile and tweets, the more users there are to engage with your content.
8. Take Advantage of Twitter Polls
People love sharing their opinions and feeling heard, so it's no wonder why posting Twitter polls is a sure-fire way to increase your engagement.
When people answer your Twitter polls, you can get a lot of interaction from the replies.
They're also more likely to be retweeted by your followers to spark discussions within their own community too.
On top of that, using Twitter polls can help you understand your target audience. You can ask your followers what they think of your new product or what kind of release they want to see next.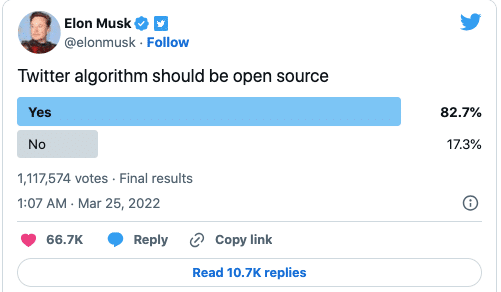 In addition to Twitter polls, here are the top types of tweets proven to grow your business.
9. Add Twitter Popups to Your Website
Another effective way to boost your Twitter engagement is by adding Twitter popups to your site.
This lets you use your existing website traffic to expand your Twitter account's reach and get more eyeballs and interaction on your tweets.
The best way to add a Twitter popup to your site is by using OptinMonster.
As the #1 popup plugin in the world, OptinMonster makes it easy for you to create online campaigns that increase your sales, improve your email list and boost your social accounts organically.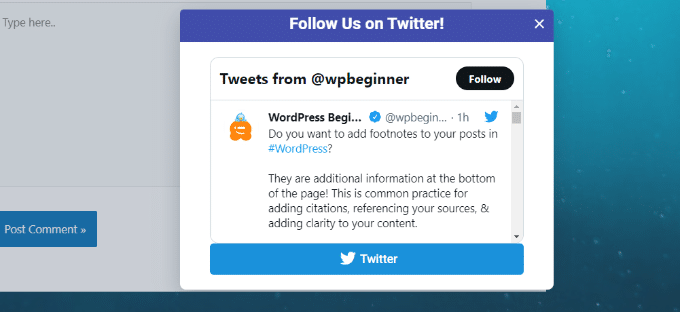 Check out our detailed OptinMonster review to see how it can help grow your business today.
10. Promote Your Twitter on Other Social Accounts
Want to target a group of people who are already interested in your business?
You can look at your existing followers in other social media platforms.
All you have to do is share your tweets to the other social media sites that you have an account on, so your followers there can see that you have a Twitter account and follow it.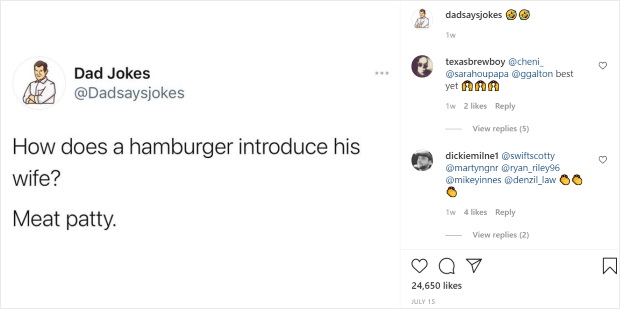 The more people see your Twitter profile, the more likely they are to follow you and engage with your tweets — so start sharing your tweets on your Instagram, Facebook, YouTube or TikTok accounts!
Pro-tip: To get more followers on your existing social media accounts, use the best social media aggregator plugin, Social Wall.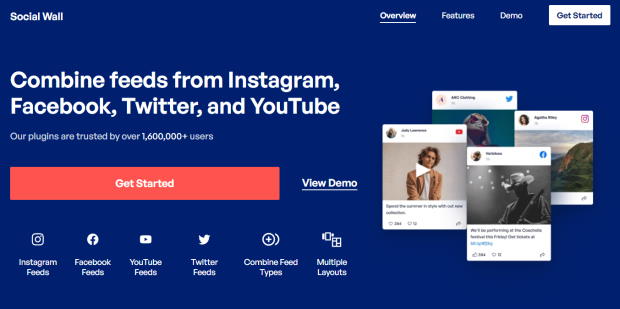 Social Wall helps you create, customize and display social media feeds from Instagram, Facebook, Twitter and YouTube in a single feed — no coding required.
When you showcase your combined social media feeds in your website, you can use your existing site traffic and convince your visitors to follow you on all of your social platforms.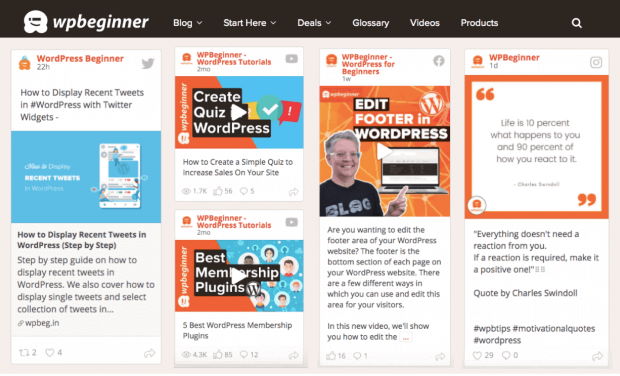 Another cool thing about embedding your social feeds on WordPress is that it gives your site visitors a chance to interact with your posts directly on your site, so they're more likely to click on your tweets, watch your Twitter videos or answer your poll questions.
Get more engagement on all of your social media accounts by checking out this guide on how to embed social media feeds on WordPress.
Start Getting More Twitter Engagement
And there you go! We hope this article helped you increase your Twitter engagement so you can promote your business better on this social platform.
Ready to get more Twitter interactions? Get started with Twitter Feed Pro and skyrocket your Twitter replies, retweets and bookmarks today.
Do you want to earn money with Twitter? Here are the best ways to make money on Twitter effectively.