Do you want the best WordPress giveaway plugin for your website?
For social media marketing, a great way to make your content go viral is by running giveaways. You can get more engagement, reach new customers, improve your brand image, and more in one go.
And if you want to build giveaways of your own, then you're in luck.
Today, we have a list of the best WordPress giveaway plugins that will make it super easy for you.
Why Use a WordPress Giveaway Plugin?
If you're looking for a way to market your business on social media, then giveaways are one of the best ways to do it.
With a giveaway, you're giving people a reason to engage with your content. Since they can win a prize, people are more likely to like, share, and help promote your posts.
And then, you can use this to grow your email lists, generate leads, and increase sales. You can also ask users to share the giveaway with their friends. This can help you boost your brand's image and get you more potential customers.
So, giveaways can pay off for your business in the long run. And the great news is that there's an easy way to do it.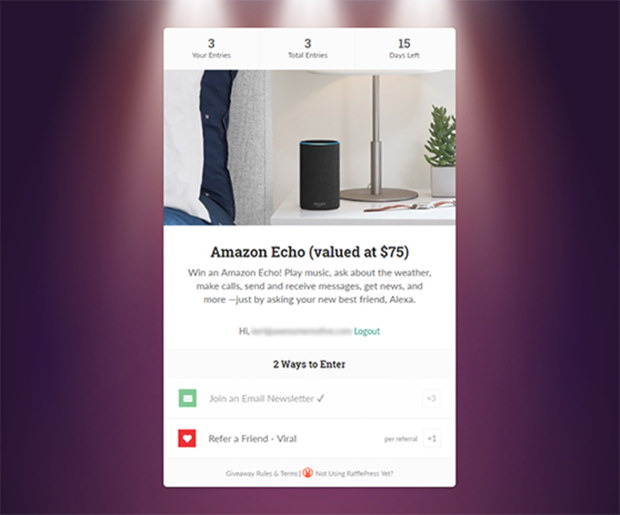 Using a WordPress giveaway plugin, you can run different kinds of giveaways on your website.
With forms like this, people can easily sign up for your giveaways without any extra hassle.
And there's no need to waste your time manually setting everything up, either. A giveaway plugin can manage it all for you.
But before you build giveaways, you have to find the right tool for the job. This means you'll have to pick the best WordPress giveaway plugin.
9 Best WordPress Giveaway Plugins for Your Site
Let's get started with the list of the best WordPress giveaway plugins for your website. With these, you'll have an easy time promoting your business.
RafflePress is one of the best WordPress giveaway plugins out there. With it, you can have a giveaway ready to go in just a few minutes.
You can also use the plugin's drag-and-drop builder to create, customize, and publish your giveaways without touching a single line of code.
With RafflePress, hosting your giveaways and contests will be effortless. Then, you'll be able to get more leads, grow your email list and boost your sales.
In fact, you can check out the case study on how RafflePress helped Smash Balloon grow our email list. Using this plugin, we got over 3,584 new subscribers, 300+ comments, and hundreds of followers!
Features:
Drag and Drop Page Builder: With RafflePress, you'll have a simple way of creating your giveaway contests. No need to code or hire a developer, just drag and drop the blocks into place and you're done.
Super Fast: Since the plugin is lightweight, your giveaway will be fast and snappy. And this means a smoother experience for your visitors and better SEO for your site.
Responsive: RafflePress has been optimized to work on all screen sizes. So, visitors from all devices will be able to join your giveaways, and you'll reach a lot more people.
Bonus Actions: Your participants can earn extra entries with bonus actions like following your account or liking the post. That means you can get more engagement from your contests.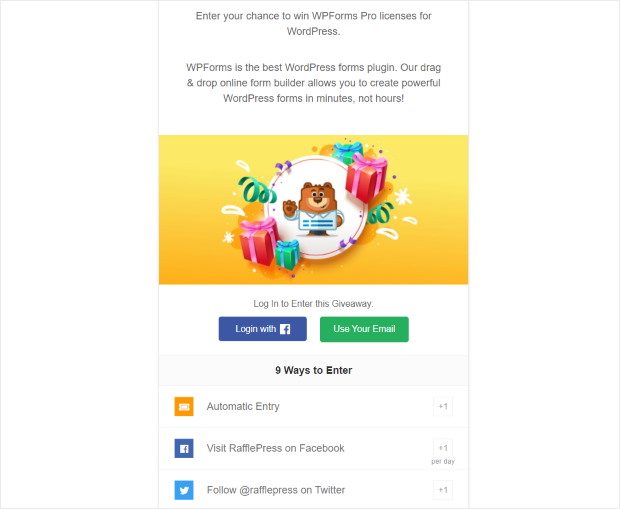 Pre-built Giveaway Templates: With so many templates to pick from, you can use RafflePress to create any kind of giveaway in just a few clicks.
Marketing Integrations: You can even integrate your giveaway with a range of great marketing tools like MailChimp and Constant Contact. You can then grow your email list from people joining your giveaways.
Refer-a-Friend Feature: You can encourage people to refer the giveaway to their friends for bonuses. This way, you'll have a much easier time reaching new people.
Pricing:
For RafflePress, the pricing starts at just $39.20/year, which is $3.26/month. And for a one-time payment of $199.20, you can get RafflePress for an unlimited time.
Grab your copy of RafflePress today, and you can build giveaways that will get you tons of engagement.
OptinMonster is a conversion optimization software that includes tons of features to help you turn your website visitors into your subscribers, leads, and customers. And that includes giveaways as well.
With it, you can build forms that use giveaways to help generate leads and grow your email list. At the same time, it has other features like targeted campaigns and analytics to make your giveaways even more effective.
Features:
Drag and Drop Page Builder: You create giveaway contests quickly and easily using the drag-and-drop page builder. No need to touch a single line of code.
Customization: You can select the background, images, typography, color, positioning of the elements, and more to create giveaway forms that look exactly the way you want.
Custom Success Message: With personalized success messages to your contest participants, you can start converting them into long-term customers.
Custom Effects: You can even add beautiful animations and sound effects to make your giveaway stand out from your competitors.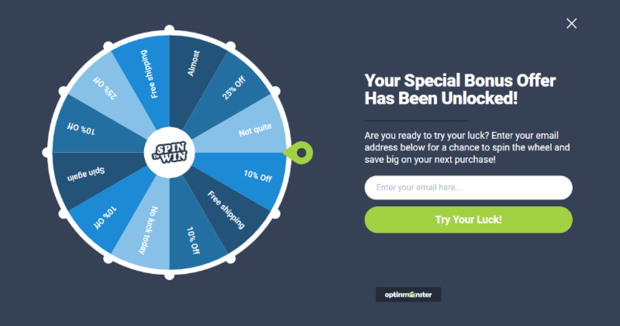 Device-based Targeting: OptinMonster allows you to create giveaways that adapt to all devices, including phones, tablets, and desktops. So you can reach more people easily.
Real-time Behavior Automation: OptinMonster can also recognize how visitors interact with your site and show your giveaway at the perfect time.
Pricing:
You can get OptinMonster, the lead generation tool, for as low as $9/month or $108/year.
If you want a powerful tool that can make your marketing much more effective so you can grow your business faster, give OptinMonster a try.
Another plugin that you can use for viral giveaways is TrustPulse. You can promote giveaways and then use social proof notifications to convince visitors to participate.
Using TrustPulse, you can display notifications whenever someone has signed up for your giveaway. That taps into the visitors' fear of missing out (FOMO) which can convince them to sign up.
Features:
Real-Time Tracking: TrustPulse allows you to track the contest activities in real-time. You can also show these activities to your site visitors as a form of social proof to convince them to join.

Flexible Design Options: You can use TrustPulse to create attractive notifications with flexible designs. You can customize the message, colors, images, and more to match the look and feel of your website.
Easy Setup: Setting up Trustpulse is super easy as well. It takes less than 5 minutes, with absolutely no coding needed.
On Fire Notifications: With TrustPulse, you can also show the number of people taking part in your giveaway contest in a given time. As a result, people will be motivated to join.
Pricing:
The price for the plugin starts at $5/month or $60/year for the Basic plan. For the Plus plan with analytics and action messages, the price is $10/month or $120/year.
If you want to use social proof to make your giveaway a massive success, check out TrustPulse.
Another fantastic plugin that allows you to create giveaways is WPForms. You can use this form builder plugin to create giveaway forms in just a few minutes.
Since it's the best form builder for WordPress, you also get some amazing features designed specifically to make your forms more effective. With it, you can make sure your giveaways are engaging for your visitors.
Features:
Drag & Drop Form Builder: You can use the drag-and-drop form builder to create a giveaway entry form in minutes without any coding.
100+ Form Templates: WPForms comes with 100+ pre-built form templates. This helps you save even more time as you can just edit the templates and have a giveaway ready to go online.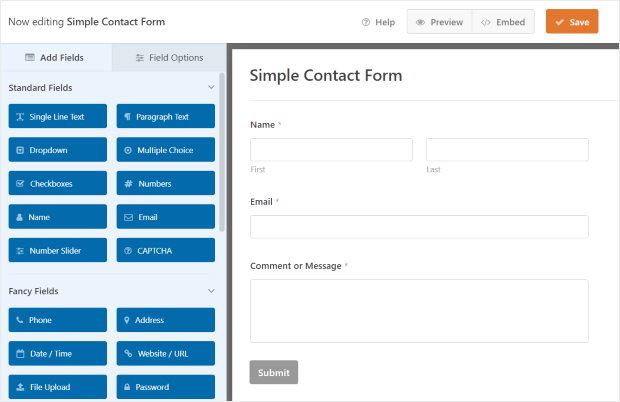 100% Mobile Friendly: WPForms works across all desktops, tablets, and smartphones. So, people can fill out the form from any device.
Conditional Logic: You can hide or show fields based on the user's previous answers. This makes the forms short and easy to fill.
Offline Mode: WPForms saves already filled out form details in case the person filling it out loses internet access. Once they get back online, they can submit their info and register for the giveaway contest without having to refill their form.
Geolocation: You can find out the location of visitors who are filling out your forms. You can then identify locations where there is more interest in your giveaways.
Pricing:
For the pricing, WPForms starts at just $39.50/year or just $3.29/month for the basic plan.
So what are you waiting for? Get your copy of WPForms, and you can build giveaway forms to get you more leads in no time.
With Contests by Rewards Fuel, you can easily build giveaways and contests right from your WordPress dashboard.
While you don't get a lot of design options to make your giveaway forms attractive, this plugin is super easy to use. Like with RafflePress, you don't have to worry about technical details here.
Features:
34+ Entry Methods/Actions: With Contests by Rewards Fuel, you can choose from over 34 different entry methods. They range from asking for social media follows/likes, page/product reviews, and much more.
Data Analytics: Want to know how your giveaway contest is doing? The plugin allows you to see the stats on who entered your competition and from where.
Target Location: You can run your giveaways in specific locations or regions with your customer base. You can also block specific regions as well.
Price:
You can get the premium version of Contests by Rewards Fuel for $11.63/month or $139.56/year.
As the name suggests, Easypromos can help you easily run giveaway contests and promotions on your social networks.
Sadly, you can't really run contests from your own website with Easypromos. As a result, you might lose out on SEO with this option.
Features:
Multi-network Giveaway: You can promote your giveaways on different social media platforms like Facebook, Twitter, and Instagram at once.
Mobile Friendly: The plugin is completely mobile-friendly, just like other options on this list.
Ready-made Templates: You can select from a range of ready-made templates to customize your giveaway, like in RafflePress. Then you can have a contest up and running in under ten minutes.
Pricing:
The cost for the Easypromos starts at $29/month or $348/year.
Woorise is another great WordPress giveaway plugin. Just like RafflePress, you get lots of customization options to create beautiful giveaways with no coding needed.
You can also use Woorise to create other forms of campaigns, such as quizzes and surveys.
Features:
Viral Share Feature: The viral share feature allows you to reward users with bonuses for referring their friends. Just like in RafflePress, this can help you reach more people.
Drag & Drop Builder: You can use the drag & drop builder to easily build a contest in a few minutes, just like with RafflePress or OptinMonster.
Pre-built Templates & Layouts: While it doesn't have as many templates as RafflePress, you don't have to build your giveaway contest from the ground up.
Pricing:
You can get Woorise for the price of $32/month, which is $384/year.
Another great option in this list, Gleam allows you to set up giveaway contests and marketing referrals.
You need to use a setup wizard to connect your social media profiles, email service, and then select actions for qualifying entries. Afterward, you can add a code snippet on your WordPress pages.
As you can see, it's not a beginner-friendly option despite being pretty powerful when it comes to features.
Features:
Google Analytics: You'll be able to check how well the giveaway contest works since it supports tracking through Google Analytics.
Email Verification & Progress Update: You can send regular email updates to your participants about their progress on the contest and keep them engaged.
Separate Landing Page: Gleam allows you to create a separate landing page on their website to market your contest.
Pricing:
For the premium plans, you have the Hobby Plan for $10/month or $120/year, but it comes with limited features. Plus, you'll also have to deal with the Gleam branding and logos.
To remove that, you'll need the Business Plan at $149/month or $1788/year.
KingSumo is another candidate for the best giveaway plugin for WordPress.
While this premium WordPress giveaway plugin lacks a simple drag-and-drop builder, you can still build your giveaways without having to code.
Pros:
Super Fast: You can use this app/plugin to very quickly set up and have your giveaway live in under 60 seconds.
Scheduled Giveaway: Like RafflePress, you can just schedule the start and end dates of your giveaway ahead of time. This means you can schedule a daily, weekly, or monthly giveaway for the future.
Social Sharing Option: You can use the social sharing options for Facebook, Facebook Messenger, Twitter, and Instagram to market your contest across these platforms.
Pricing:
For the KingSumo WordPress plugin, the price starts at $198 for a lifetime license.
Which is the Best WordPress Giveaway Plugin?
As you can see, there are a lot of amazing options for the best WordPress giveaway plugin. But there's one that stands out from the rest.
For the best WordPress giveaway plugin, RafflePress is the clear winner. While other options like OptinMonster and TrustPulse have their own advantages, RafflePress comes with everything you need to run successful giveaways.
You can just use the drag-and-drop builder, grab one of the templates, and have a giveaway ready in no time — all without any coding.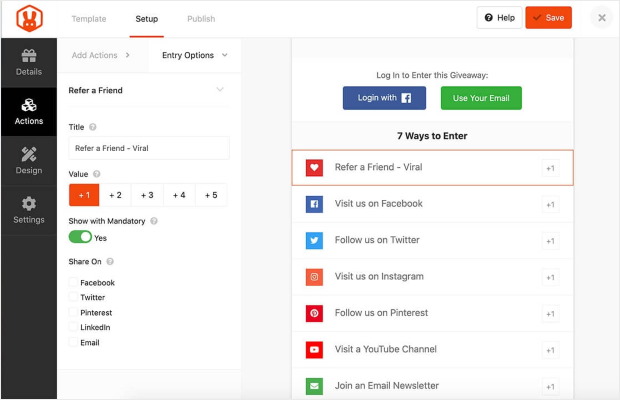 And with RafflePress, you can just set up the giveaway, and the plugin can handle everything for you. From managing the rules, to ending the giveaway at the right time and even protecting your giveaway from fake entries.
It even comes with features to encourage people to share your giveaways so you can reach more people.
So, we can safely say that RafflePress is the best WordPress giveaway plugin.
And there you have it!
Just go and grab your copy of RafflePress today, and you can run viral giveaways of your own!
And if you want some more amazing tools to help you market your business, check out our article on the best social media plugins for WordPress.
Found this list helpful? Then give us a follow on Facebook and Twitter for more helpful tips on social media marketing.