Are you wondering which page builder is the best for your site?
With the help of a page builder, you can create beautiful pages to engage your visitors – no need to bother with coding or hiring developers.
But there are tons of options when it comes to WordPress page builder plugins, so picking the right one can get tough.
The good news? We're going to help you out by showing you our list of the best page builder plugins for WordPress!
Before we get started, let's see how you can use page builders to grow your website.
Or you can click here to skip directly to the list.
Why Use a Page Builder Plugin for WordPress?
A great thing about using WordPress is that you can quickly change how your website looks using WordPress themes.
But if you want more options to change the looks of your website, just using themes can be limited. Plus, advanced customization with themes means dealing with a lot of code.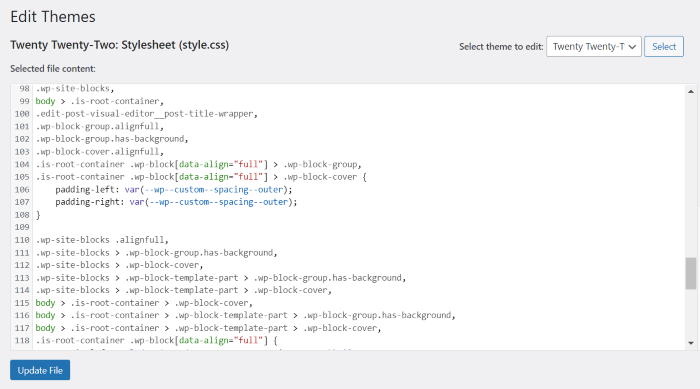 For more customization options, you might have to spend a lot of money on premium themes or hire a designer.
The good news?
For WordPress, page builder plugins can be used to build pages in just a few clicks without any coding at all.
Page builders are user-friendly tools that can help you create and customize landing pages, custom layouts, and even website themes with zero coding needed.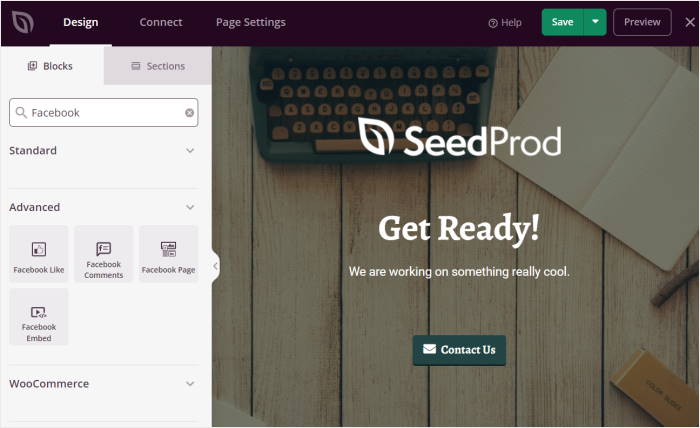 If you use a well-coded page builder with dedicated support like SeedProd, you won't have to worry about slowdowns or issues.
What's more, advanced users and developers also use page builders to create custom design templates. After all, page builders can give you a lot more control over your site.
Ready to get started? Let's go ahead and check out our best page builders list below.
6 Best Page Builder Plugins for WordPress
In this post, we're going to help you find the best WordPress page builder so you can easily create a beautiful website to promote your brand.
Let's get started:
As the best page builder plugin in the market, SeedProd is a user-friendly tool that comes with tons of useful features.
With its drag-and-drop editor, you can build beautiful pages for your website in a few simple clicks. Plus, you get a live preview as well, so building pages will be faster and more accurate.
To add content, you can simply drag content blocks and drop them on your page. This way, you can add photos, text, headings, buttons, forms, social buttons, giveaways, videos, and much more.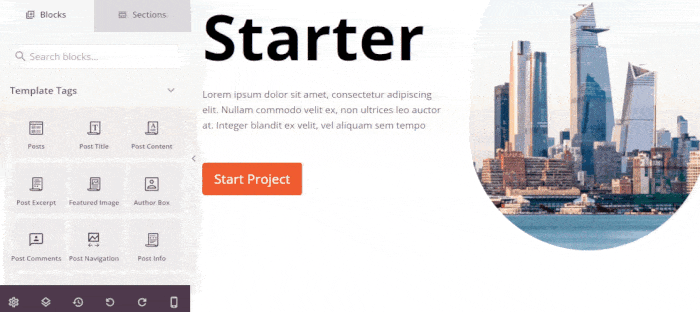 Since the interface is so simple, you can immediately start using this page builder even if you're a WordPress newbie.
To make things even easier, SeedProd comes with over 150 pre-built templates! You can use these templates to create landing pages for sales, maintenance mode, coming soon, 404 errors, announcements, and much more.
Just pick a template, add in your details, and your landing page will be ready.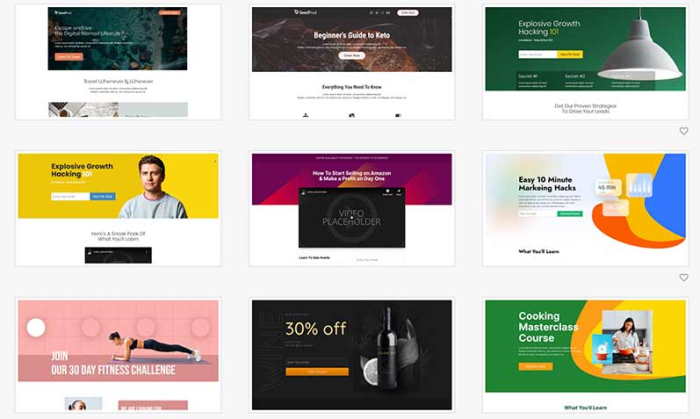 Another great feature that puts SeedProd above its competition is the powerful theme builder. You can use SeedProd to customize all parts of your website, including the sidebar, archive, footer, search page, and more.
On top of all that, SeedProd is lightweight, so your beautiful website will load super fast as well. And with a faster website, you can get much better SEO.
All in all, SeedProd combines powerful features with a user-friendly design which makes it the best page builder plugin for WordPress.
If you want to learn more, check out our full review of SeedProd here.
Why We Liked It:
SeedProd is the perfect option if you're looking for an all-in-one option that lets you create a beautiful site the easy way.
On all of our tests, SeedProd also turned out to be the most lightweight page builder on top of being feature-rich.
Pricing:
The price for SeedProd starts at just $39.50/year for the basic plan.
Ready to create an engaging website and grow your business? Grab your copy of SeedProd here.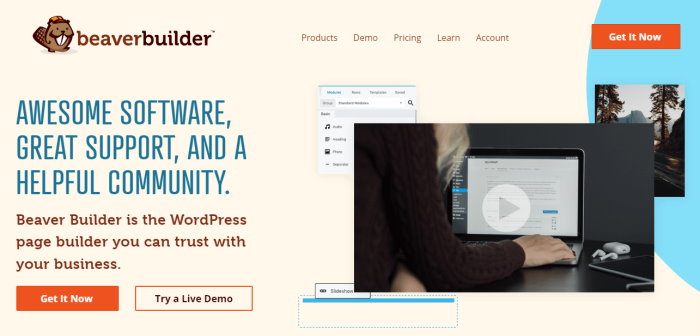 Using the Beaver Builder, you can engage your website visitors with mobile-friendly and lightweight pages.
To create and customize your website, Beaver Builder gives you a simple front-end editor. Like the other options on this list, you can check a real-time preview when editing your page.
Similar to SeedProd, you can create a website theme using Beaver Builder and set the design for your homepage, single posts, 404 error page, and more.
However, you'll need to get the Beaver Themer add-on to enable theme editing.
As a bonus, Beaver Builder has integrations for popular plugins, so you can add contact forms, translate your site, enable site memberships, and more with ease.
Why We Liked It:
Beaver Builder had some beautiful templates and a cool set of integrates that we really liked. Because of these, Beaver Builder can be an attractive option for some of the brands out there.
Pricing:
For $99/year, you can get the standard plan for Beaver Builder.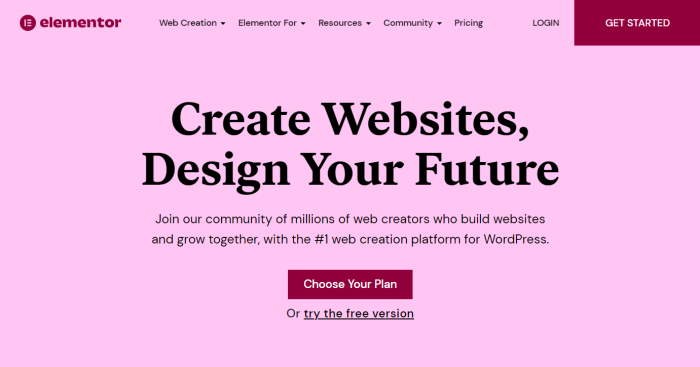 Elementor is the most popular page builder out there and another good option for WordPress.
To quickly build landing pages using Elementor, you can create a section and then divide it into different columns.
Next, you can just drag the Elementor widgets and then drop them into the sections. That way, Elementor makes it easy to add lots of content to your landing pages.
You even get widgets to easily add text, photos, videos, sliders, testimonials, icons, social media, and more to your pages.
Like SeedProd, you can import pre-built page templates to easily create landing pages for your website.
Why We Liked It:
Elementor turned out to be another solid option when it comes to WordPress page builders. While it's not the most feature-rich plugin, you'll be able to create a beautiful site with no coding.
Pricing:
You can get the free version, but it has limited features, so you'll need Elementor Pro for the full plugin with all the features.
For Elementor Pro, the price starts at $49/year for 1 website.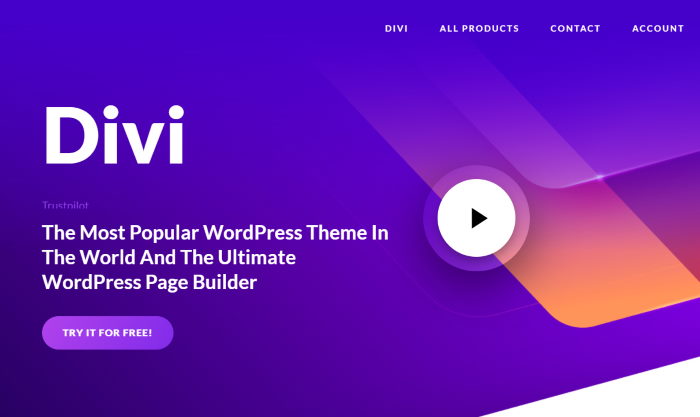 Created by Elegant Themes, Divi combines a powerful theme with a user-friendly page builder.
Since Divi comes with a WordPress theme, you already have a beautiful website that's ready to go online. You can then use the Divi builder to customize your website to fit your needs.
Similar to other options here, Divi comes with a WYSIWYG (What You See Is What You Get) customizer that shows a live preview of your website.
As a result, creating engaging web pages is easy, fast, as well as accurate.
For advanced users, Divi also has a feature-rich code editor that supports syntax highlighting, error reporting, auto-complete, and more.
Overall, Divi has a lot of great features to help beginners and power users get the most out of WordPress.
Why We Liked It:
Divi's unique selling point is that it's a combo pack that includes a theme as well as a page builder.
While it can take some getting used to for beginners, this combination can be super convenient for some users out there.
Pricing:
To start using Divi, you can pay $89/year for the yearly package.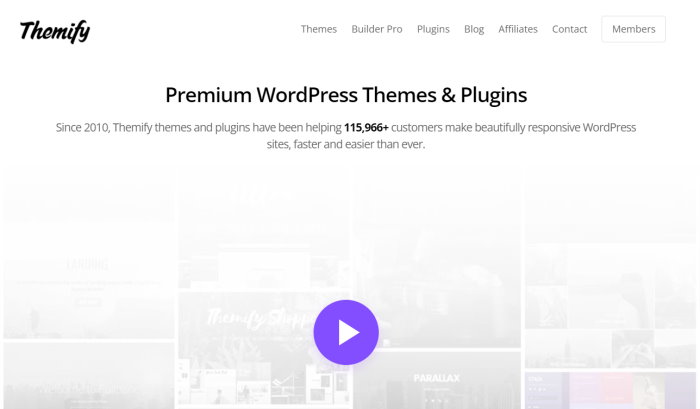 As one of the best free page builders for WordPress, Themify has lots of useful features in a lightweight package.
You get 40+ professional designs to start, so it's super easy to create amazing pages right away. Like SeedProd, you can simply import a template, add details, and publish the page for your visitors to see.
With Themify, you can build pages from the admin area of your website or use the frontend editor to get a real-time preview. As a result, you can pick the editor that you're comfortable with.
While it doesn't have as many features as SeedProd, Themify can be a good option if you want a simple and lightweight page builder for your site.
Why We Liked It:
Since Themify comes with 2 different ways of designing your pages, it can be a fantastic option if you're comfortable with the WordPress backend.
Pricing:
You can get Themify for completely free.
For features like WooCommerce support, contact forms, and more, you can get the premium add-on pack for $39.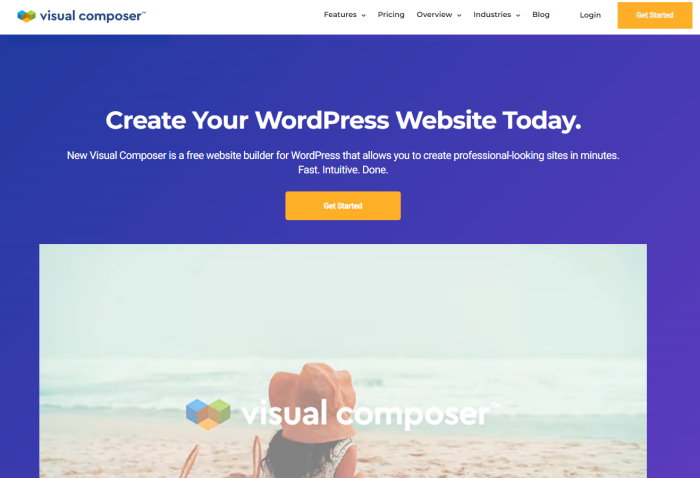 Visual Composer is another great option if you want to easily build websites without any coding.
Instead of just building pages, Visual Composer is a complete website builder with tools to edit all parts of your website with a live preview – just like SeedProd.
As a result, you can easily customize your sidebar, menu, footer, logo, and much more. What's more, you get tons of design options with over 500 content elements, templates, add-ons, and blocks to pick from.
Plus, Visual Composer also has an analytics tool that shows you important insights about your site. This means you can clearly see if your website design engages visitors and boosts your conversions.
If you get the WooCommerce module, you can instantly turn your website into an online store and start selling your products.
Why We Liked It:
Even though it's not as in-depth as Google Analytics, Visual Compose can give you some useful insights that will let you know if visitors are enjoying your new site design or not.
Pricing:
The price for Visual Composer starts at $49/year, which supports just 1 website.
Which Page Builder is the Best for WordPress?
Of all these page builder plugins, SeedProd stands out as the best with its powerful features and user-friendly design.
You can easily create an amazing website with SeedProd's simple page builder, pre-built templates, custom widgets, theme editor, and more.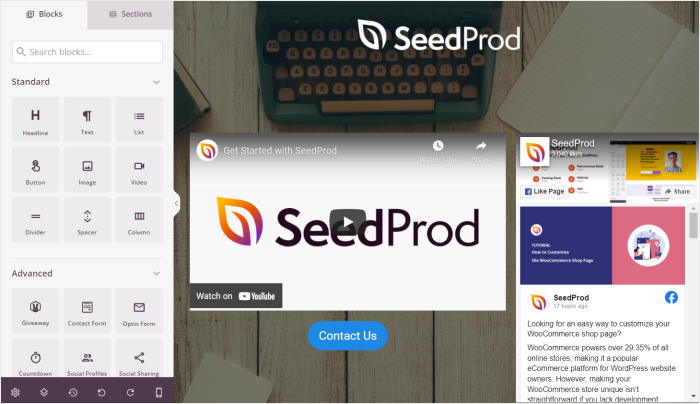 With a beautiful website, you'll have an easy time engaging visitors, boosting your sales, and growing your brand.
Plus, SeedProd also comes with a 100% no-risk money-back guarantee, so you can try out the plugin and see if it's the right option for you.
Ready to build a beautiful website and promote your brand? Get SeedProd for your site today.
And that's it!
We hope this list helped you find the best page builder plugin for your website. As you can see, there are many great options out there.
All in all, SeedProd is the best WordPress page builder if you want to create an engaging site with ease. It's lightweight, user-friendly, and has everything you need to promote your brand online with ease.
Want to reach more customers easily? Then check out our list of the best SEO plugins for your website.
Best WordPress Plugins and Tools (Smash Balloon Picks)
If you want more ways to supercharge your website, here are some of our best listings that you can look through:
Is this list helpful? Then give us a follow on Facebook and Twitter for more tips and tutorials.