Are you looking for the best YouTube plugins that can help you supercharge your subscribers? Then, this post is exactly what you need.
With over 30,000 hours of videos uploaded to YouTube every day, it can be tough to get more YouTube subscribers and grow your channel — without any help.
In this article, we'll talk about the best WordPress plugins so you can easily engage with your site visitors and boost your subscriber count in no time.
Ready to have a thriving YouTube channel? Let's get started.
How to Pick the Best WordPress YouTube Plugin
When it comes to YouTube plugins, there are tons of options out there with lots of different features. So, picking the best ones for your business can be tough.
To help you out, we'll show a quick guideline that you can use to select the right YouTube plugin.
Easy to Use: Your plugin should be easy to set up and start using so you can work on growing your channel right away. Plus, having a clean interface means you'll have a much better user experience.
SEO Friendly: If your YouTube plugin has been optimized for SEO, you can rank higher in search engine results and reach even more potential customers.
Lightweight: Having a lightweight plugin means your website will have shorter load times and work as fast as ever. Plus, better site speed also means better SEO.
Customer Support: High-quality customer support also makes it easier to grow your channel using the YouTube plugin. To check the support quality, you can simply look at the customer reviews.
Pricing Options: You can also check all the pricing options before buying and decide which plan will be perfect for your brand's budget.
Now that you know how to pick the best WordPress YouTube plugin, let's get started with our list.
5 Best YouTube Plugins For Your Website (Handpicked)
Below, we've listed our picks for the best YouTube plugins, along with the features, functionalities, and pricing options for each plugin:
Let's get started!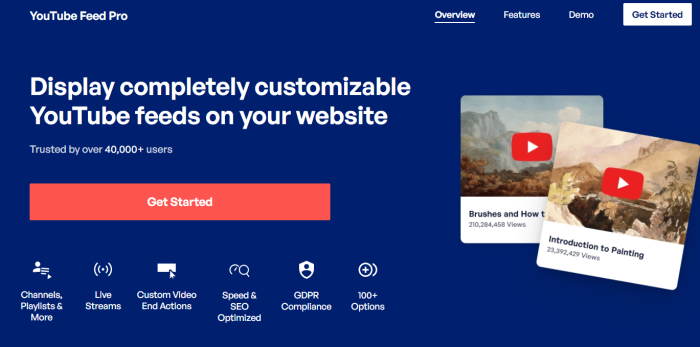 As the best YouTube feed plugin for WordPress, YouTube Feed Pro helps you display your YouTube videos, galleries, playlists, and more on your website.
By adding engaging YouTube feeds that match your site's theme, you can easily encourage your site visitors to subscribe to your YouTube channel right on your website.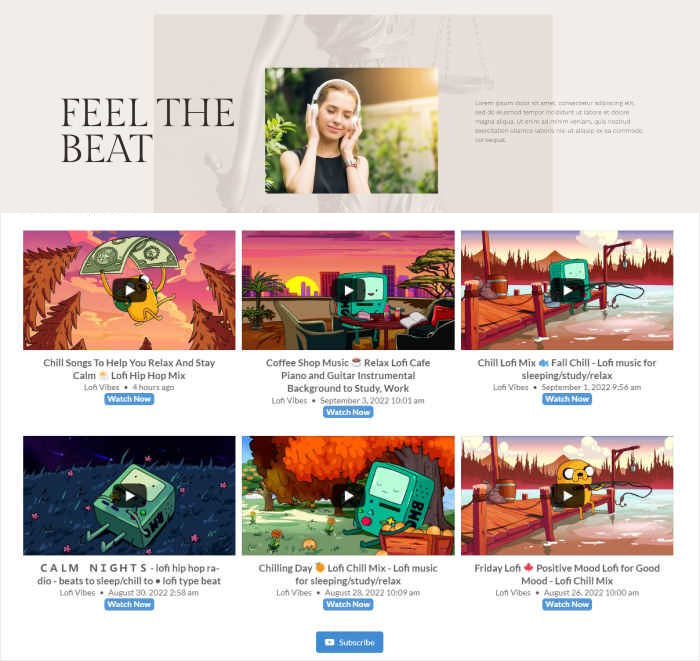 What's more, you can display relevant videos to keep visitors engaged or embed product reviews to get more sales from website visitors.
And the best part? The plugin comes with a team of WordPress experts who are always ready to lend you a hand or answer your questions.
For more details, just check out this tutorial on how to add YouTube feeds to your website.
Features:
Just follow the guided flow, and you can create, customize, and embed YouTube feeds on your WordPress in just a few minutes.
With the help of the plugin's simple WordPress Gutenberg block, you can easily add YouTube feeds to your pages, posts, sidebar, or footer.
With just a few clicks, you can also customize your YouTube feed's style, even without any experience in design — no need for HTML, CSS, Javascript, or any kind of coding.
To easily choose how your video thumbnails look, you can choose between the list, grid, carousel, and gallery layout.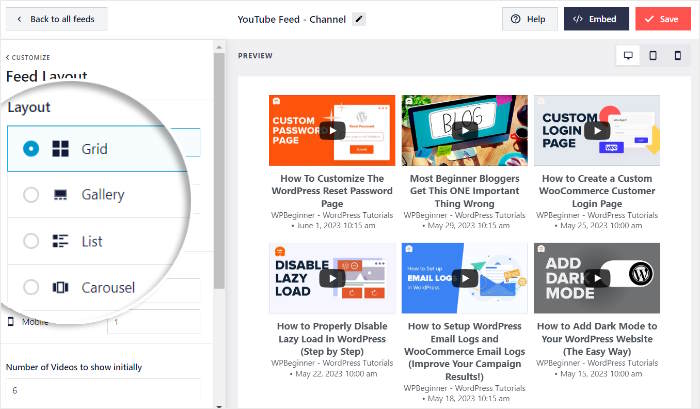 Since it's built with the users in mind, the plugin automatically copies your website's theme's design and looks great right out of the box.
YouTube Feed Pro is also fully responsive and touch-screen ready, so you can be sure your YouTube feeds look great on any device and any screen size.
The plugin also supports YouTube live streams, so you can get website visitors to join your streams and interact with them in real time.
With the plugin's lazy loading feature, your site won't autoplay and it'll only load a video when a user engages with your YouTube feed, so it's designed to be ultra-fast.
Why We Liked It:
All in all, YouTube Feed Pro turned out to be the best option for embedding YouTube content in WordPress. That way, we were able to get more views, likes, and subscribers with ease.
On top of having powerful features, the plugin is also super easy to use and has a highly-rated customer support team.
Pricing:
You can get YouTube Feed Pro for your WordPress site at a starting price of only $49/year.
Ready to embed feeds and grow your channel? Grab your copy of YouTube Feed Pro here!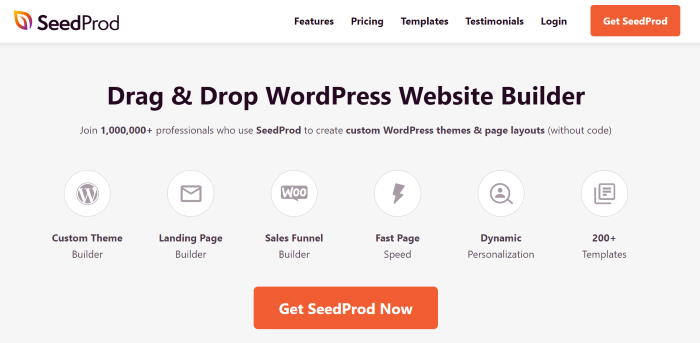 SeedProd is another fantastic tool if you want to promote your YouTube channel and get more subscribers.
As the best page builder for WordPress, SeedProd will let you create a beautiful YouTube landing page in just minutes.
Here, you can showcase your best videos, add call-to-action buttons, display subscriber testimonials, and more to grab people's attention.
Just like that, you can convert website visitors into YouTube subscribers.
To see what else the plugin can do, you can check out our full SeedProd review here.
Features:
SeedProd comes with a drag-and-drop builder that makes it easier than ever to create beautiful pages for your website.
You get tons of pre-built templates that you can import for your landing pages, including templates that were created specifically to showcase videos beautifully.
The plugin also gives you different ways of embedding videos on your pages, including widgets, full-screen parallax video backgrounds, and more.
To reach even more people, SeedProd comes with support for popular email marketing services such as Campaign Monitor, ActiveCampaign, and more.
There's also a convenient mobile view that'll let you check how your YouTube landing page will look to your mobile visitors.
Why We Liked It:
In just minutes, we were able to create an eye-catching page that had everything we needed to promote our YouTube channel effectively.
The best part? It took absolutely zero coding!
Pricing:
The premium price for SeedProd starts at $39.50/year only.
Want to build a beautiful landing page for your channel? Click here to get SeedProd today.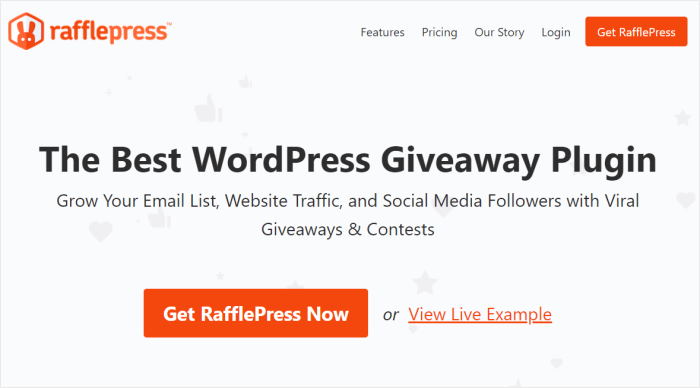 With the help of RafflePress, the best giveaway plugin for WordPress, you can grow your channel using viral YouTube giveaways and contests.
Running a YouTube giveaway is one of the best ways to increase your YouTube subscribers. People love free stuff, after all.
RafflePress is the perfect partner to help you since it lets you quickly build a giveaway landing page — even if you're a WordPress beginner.
Features:
RafflePress comes with a drag-and-drop builder that's so user-friendly that you can successfully launch your YouTube contest in under 5 minutes.
The plugin already has a YouTube template you can use to instantly create contests and giveaways where users need to watch videos or visit your channel to join.
Using RafflePress, it's also super easy to publish your giveaways in WordPress. It's as simple as adding the RafflePress widget to a new post or page in WordPress.
Since the plugin is designed for simplicity, it can automatically run the giveaway, manage the entries, pick the winner, and end the giveaway for you.
To keep your YouTube giveaways fair, RafflePress will automatically block fake entries, spammers, and bots.
Why We Liked It:
After some tests, it became clear that RafflePress isn't just an amazing YouTube plugin but the best giveaway plugin for WordPress overall.
If you want to quickly grow your channel or go viral, it's one of the best options out there.
Pricing:
You can get the premium plan of RafflePress for a price of $39.50/year.
Get your copy of RafflePress and build YouTube giveaways on your site today.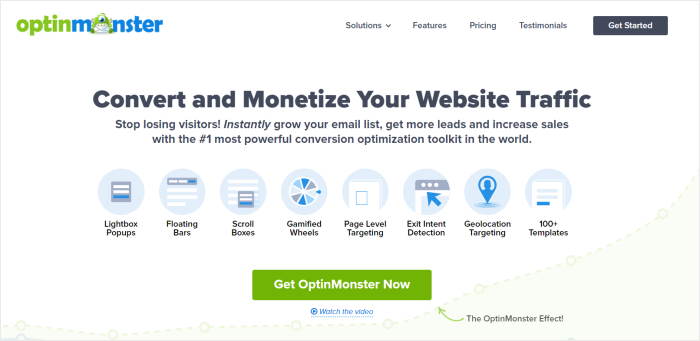 The best conversion optimization tool for your site, OptinMonster, is another great YouTube plugin to help you get more YouTube followers.
For example, you can use OptinMonster to create a lightbox video popup that you can display on your website. You can then show the video to your website visitors to get more views, likes, and subscribers.
Plus, you can add calls to action on your popups and convince more visitors to subscribe to your channel directly from your website.
Want to learn more? You can take a look at our OptinMonster review here.
Features:
OptinMonster comes with beautiful lightbox popups, floating bars, scroll bars, mobile-optimized banners, fullscreen popups, spin wheels, and more to grab people's attention.
You also get a simple drag-and-drop builder to create engaging popups or marketing campaigns to promote your YouTube channel.
This WordPress tool also has smart targeting that can help you show the plugin to the right user at the perfect time.
In addition to embedding your YouTube video on your popup, OptinMonster allows you to customize your message and add call-to-action text.
You also get in-depth analytics about your popups and other campaigns so you can see which ones are working well and which ones need improvement.
Why We Liked It:
Using OptinMonster, we were able to promote our YouTube videos in some unique ways. Plus, the smart targeting was a godsend and made it so much easier to convert visitors into subscribers.
Pricing:
To get started with OptinMonster, the pricing plans start at only $9/month for the basic plan.
Ready to build your YouTube popups? Go ahead and get OptinMonster for your site today!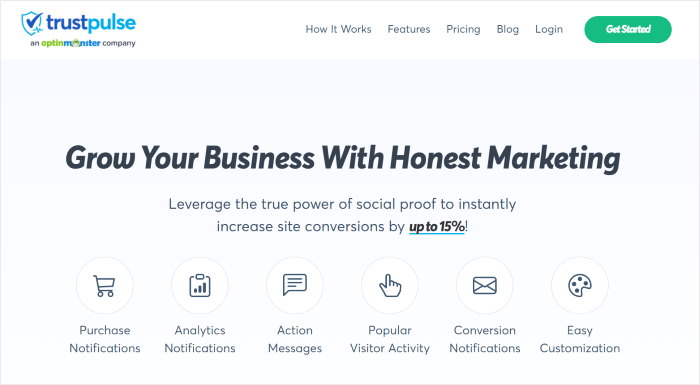 TrustPulse is the world's #1 social proof plugin and software for WordPress. It can help you grow your YouTube subscriber count by bringing social proof notifications to your website.
When a website visitor clicks on a button to subscribe to your YouTube channel, TrustPulse will show a notification to all website visitors, letting them know.
Doing this leverages FOMO (fear of missing out) by revealing that real people out there are engaging with your YouTube channel. So, your website visitors are encouraged to do the same and subscribe to you, too.
Features:
After your user clicks the subscribe button, TrustPulse will then display this real-time activity as a social proof notification in the form of a non-intrusive popup.
On top of creating notifications for YouTube subscribers, TrustPulse can also track sales, file downloads, newsletter signups, ebook downloads, and much more.
This plugin also comes with user-friendly design options to help you customize how your TrustPulse notifications will look to your visitors.
Like with the last option, TrustPulse will also show you helpful insights so you can track how effective your social proof notifications are.
Why We Liked It:
TrustPulse stood out from the other options by giving us a unique way of promoting our YouTube channel.
Instead of telling others to subscribe, you can simply show them that real people find your channel interesting and let FOMO do the rest.
Pricing:
For just $5/month, you can start using TrustPulse.
To create social proof notifications and promote your YouTube, grab TrustPulse for your site here.
And there you have it!
We hope this post helped you find the best YouTube plugins you need to grow your subscribers. As you can see, there are tons of amazing options with unique features.
For a quick and direct way to grow your channel, you can start out with YouTube Feed Pro. As a bonus, you can use this plugin to boost your engagement, get improved conversions, and much more.
Ready to embed your YouTube channel videos? Get started with YouTube Feed Pro today!
Interested in getting more YouTube subscribers? Take a look at this post on the types of YouTube videos to skyrocket your subscribers.
FAQs for Best YouTube Plugins
Have more questions? Here's what our readers have asked us about picking the best YouTube plugin and embedding YouTube videos.
How do I embed a YouTube channel in WordPress?
Using the YouTube Feed Pro plugin, you can embed your YouTube channel in WordPress with a few simple clicks.
Can you host videos in WordPress?
Yes, you can host videos on your WordPress site.
However, doing that takes valuable server space, and you're missing out on the chance to promote your brand to YouTube users.
How can I create a YouTube video gallery in WordPress without a plugin?
To create a YouTube video gallery in WordPress without a plugin, you can copy the embed code for each video and paste it on your site.
This method can be complicated, and you can't customize how your YouTube videos will look. For a simpler way, you can use a WordPress video gallery plugin like YouTube Feed Pro.
How do I make my YouTube video responsive in WordPress?
If you're using a high-quality plugin like YouTube Feed Pro or SeedProd, your YouTube videos will be responsive on your WordPress site.
More WordPress Plugins and Tools (Our Smash Balloon Picks)
Was this article useful? Go ahead and follow us on Twitter and Facebook for more useful YouTube marketing tips.