Are you looking for the best YouTube plugins that can help you supercharge your subscribers? Then, this post is exactly what you need.
With over 30,000 hours of videos uploaded to YouTube every day, it can be tough to get more YouTube subscribers and grow your channel — without any help.
In this article, we'll talk about the best WordPress plugins for YouTubers like you.
By using the best YouTube plugins listed in this post, you can easily engage with your site visitors and boost your subscriber count in no time.
Ready to have a thriving YouTube channel? Let's get started.
As the best YouTube feed plugin for WordPress, YouTube Feed Pro helps you display your YouTube videos, galleries, and even playlists on your website.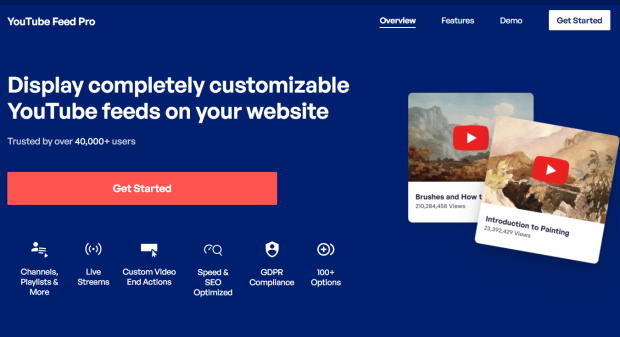 And the best part?
The plugin's so beginner-friendly that you can set it up and embed YouTube videos on your WordPress in just a few minutes — without coding knowledge.
Use the plugin to showcase as many feeds as you like, either on the same page or on different pages on your site.
With just a few clicks, you can also customize your YouTube feed's style, even without any experience in design. For example, use the plugin's visual feed customizer to select from 4 beautiful layouts to display your YouTube content: grid, list, gallery, or carousel view.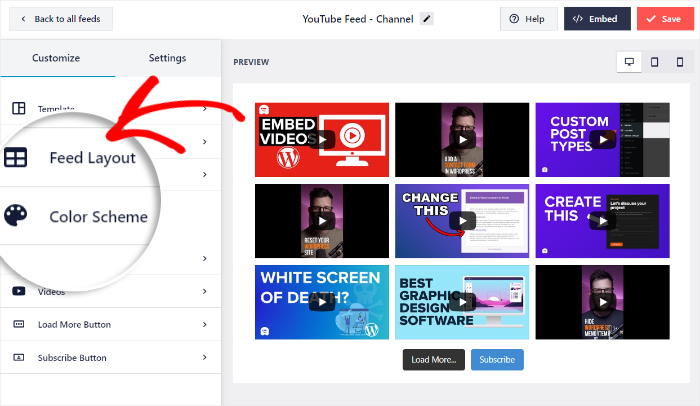 Since it's built with the users in mind, the plugin looks great right out of the box. This means it automatically copies your website's theme's design, so your YouTube feed's design is consistent with your brand's look.
By adding fantastic YouTube feeds that match your site's theme, you can easily encourage your site visitors to subscribe to your YouTube channel right on your website.
Responsive and touch-screen ready, you can use the plugin to make sure your YouTube feeds look great on any device and any screen size.
This is the best YouTube plugin to encourage visitors to follow your YouTube channel because it looks fantastic on both desktop and mobile.
Did you know that YouTube Feed Pro also lets you display a feed of your currently playing and upcoming live streams?
This means that users can view your live streams directly on your site. And because YouTube live streams encourage user engagement, there's a greater chance that your viewers will interact with and subscribe to you.
Finally, if you're worried about the plugin slowing down your website, then you don't need to be. It only loads a video when a user engages with your YouTube feed, so it's designed to be ultra-fast.
Another YouTube plugin that can help you get more subscribers is the YouTube Subscribe Bar.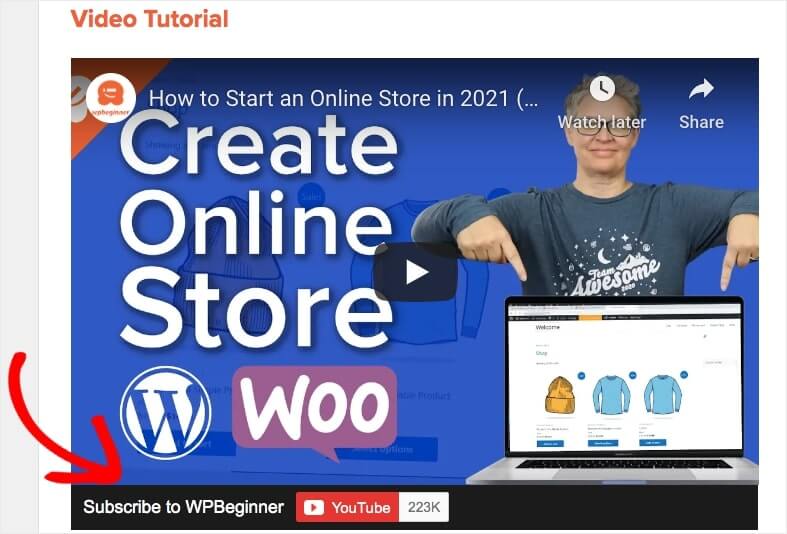 YouTube Subscribe automatically adds a "Subscribe to YouTube channel" bar below every YouTube video. This way, your site visitors can directly subscribe to your channel without leaving your website.
If you have embedded single YouTube videos on your WordPress, this plugin creates a ready-made subscribe button below your videos. You just need to add your channel ID.
Since it's also user-friendly, you can customize Subscribe Bar's design elements like button layout, theme, text, and background color.
The plugin also gives you full control over whether you'd like to show or hide your current subscriber count.
This is a helpful plugin, especially if your call-to-action in your blog posts is to get your readers to subscribe to your YouTube channel.
With the help of RafflePress, the best giveaway plugin for WordPress, you can grow your channel using viral YouTube giveaways and contests.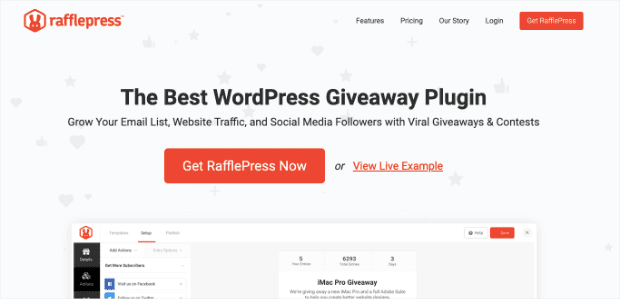 Running a YouTube giveaway is one of the best ways to increase your YouTube subscribers. People love free stuff, after all.
RafflePress is the perfect partner to help you, since it lets you quickly build a giveaway landing page using their drag and drop giveaway builder.
In fact, it's so easy to use that you can successfully launch your YouTube contest in under 5 minutes.
And the great part about it is that RafflePress already has a Grow Your YouTube Channel template you can use in your giveaway campaign.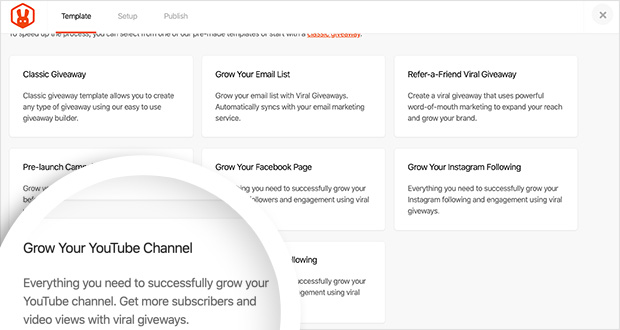 Using this template means that users need to watch your YouTube videos and visit your YouTube channel so they can enter your giveaway.
As a result, you get more exposure to your YouTube content and you drive more traffic to your channel.
The more people watch your YouTube videos to enter your giveaway, the more likely they are to subscribe to you.
Finally, once you're done creating and customizing your giveaway, the plugin makes it super easy to publish it on your WordPress. It's as simple as adding the RafflePress widget into a new post or page in WordPress.
The best conversion optimization tool for your site, OptinMonster, is another great YouTube plugin to help you get more YouTube followers.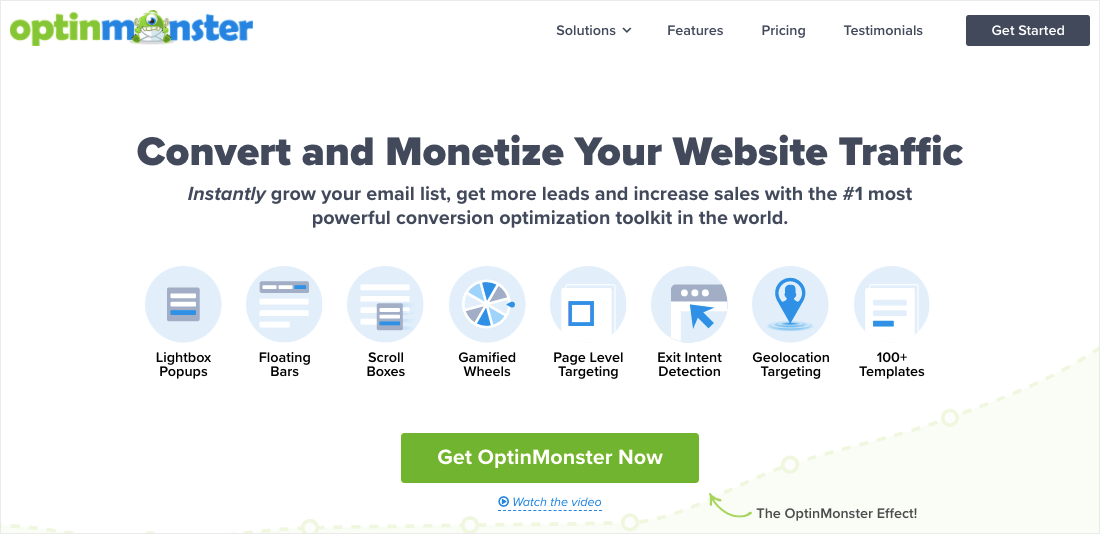 OptinMonster has several features such as lightbox popups, floating bars, scroll bars, mobile-optimized banners, and fullscreen popups that you can use to expose your YouTube channel to targeted traffic — your website visitors.
We recommend using the lightbox video popup that's suitable for viewing even on mobile devices.
For example, you can create a lightbox video popup that you can display on your website. Use the plugin's ready-made Theatre theme to add a YouTube video to your popup.
This video can be your channel's trailer or most popular YouTube content.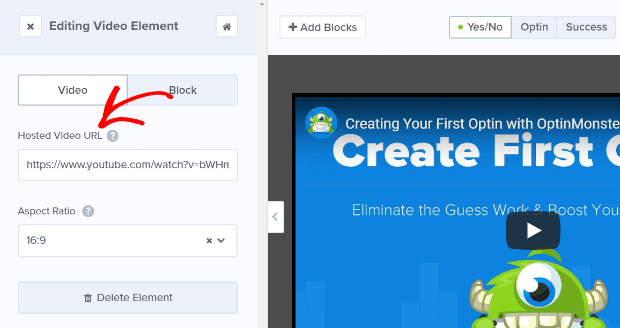 In addition to embedding your YouTube video on your lightbox popup, OptinMonster allows you to customize your message as well.
By adding a call-to-action text in your popup like "Subscribe to my YouTube Channel", you can encourage your users to follow your channel on YouTube right on your site.
TrustPulse is the world's #1 social proof plugin and software for WordPress. It can help you grow your YouTube subscriber count by bringing social proof notifications to your website.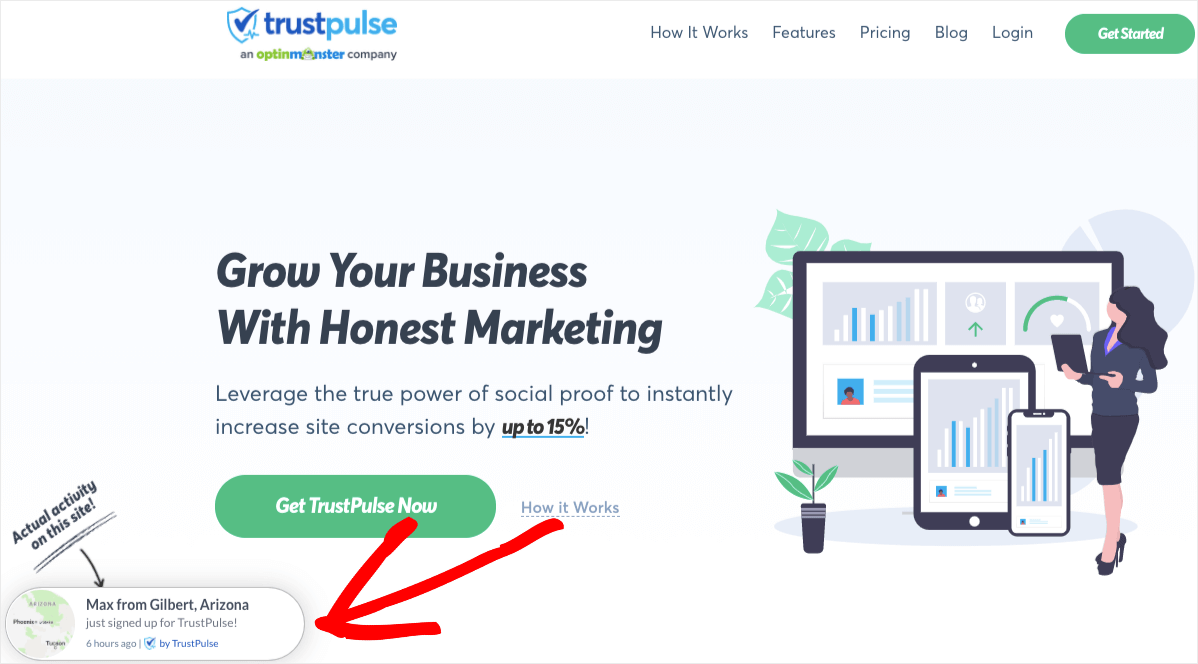 The plugin tracks events done by your users on your WordPress, such as clicking on a newsletter sign-up button or downloading your free ebook.
It can also track it when your site visitor clicks on the subscribe button on your website.
After your user clicks the subscribe button, TrustPulse will then display this real-time activity as a social proof notification in the form of a non-intrusive popup.
Doing this leverages FOMO (fear of missing out) by displaying real-time subscriptions to your YouTube channel. So, your website visitors are encouraged to do the same and subscribe to you, too.
And there you have it!
We hope this post helped you find the best YouTube plugins you need to grow your subscribers.
To get more subscribers by embedding YouTube videos on your site, get started with YouTube Feed Pro today!
Interested in getting more YouTube subscribers? Take a look at this post on the types of YouTube videos to skyrocket your subscribers.
You can also check out this article on how to embed a YouTube video in a blog post.
And if you found this article useful, go ahead and follow us on Twitter and Facebook for more useful YouTube marketing tips.