Do you want to build your email list to increase conversions and sales?
You need a powerful lead generation tool to do it successfully. Today, we're reviewing the most popular tool on the market – OptinMonster.
So if you've been asking yourself "Should I use OptinMonster?" or "How do you use OptinMonster?", then this is the article you've been waiting for.
In this detailed OptinMonster review, we'll take an in-depth look at its features, pricing, and results to see what makes it the best lead generation tool for WordPress.
Here's what we'll be covering in this post:
OptinMonster Overview
Launched in 2013, OptinMonster took the lead generation market by storm. It brought in so many new features that, at the time, weren't easily available.
Fast forward to a few years later, and it's now the most powerful lead generator tool, with millions of websites actively using it.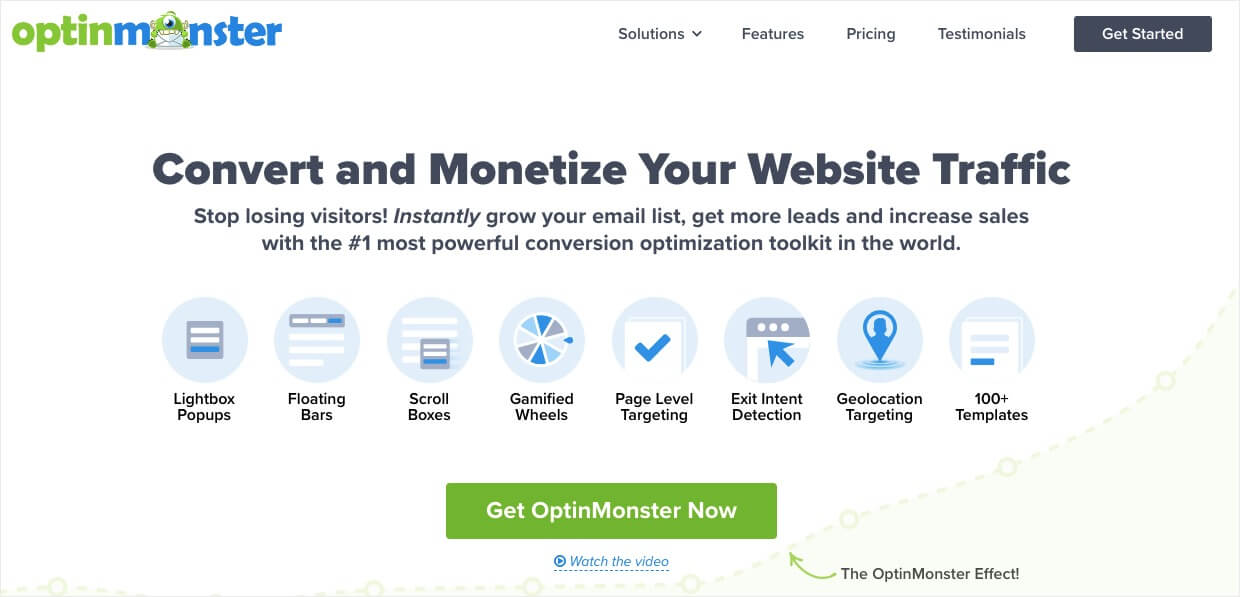 The developers of OptinMonster have added everything you could possibly need to successfully generate leads from your site.
And they consistently innovate and improve the tool which is probably why it's still the most popular popup plugin in WordPress.
OptinMonster has successfully helped many businesses grow their email signups, customer base, and revenue. So let's take a look at what it has to offer in this OptinMonster review.
What is OptinMonster Used For?
At its core, OptinMonster helps you build lead generation campaigns on your website to capture emails from your website visitors, such as popups, floating bars, sidebar optins, and more.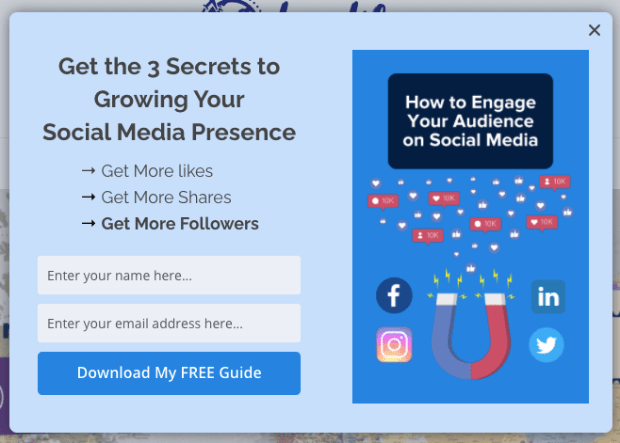 That said, it's a bit more complex than opt-in forms.
When popup campaigns first came about, they were overused and flagged as annoying. But tools like OptinMonster helped change all of that.
It introduced ground-breaking features that made it easy to create marketing campaigns that actually generate leads and optimize conversions — without being pushy.
The tool comes with 400+ pre-made templates, so you don't have to spend hours designing campaigns.
You can start creating an OptinMonster campaign and generating leads, getting more followers or increasing your sales right away!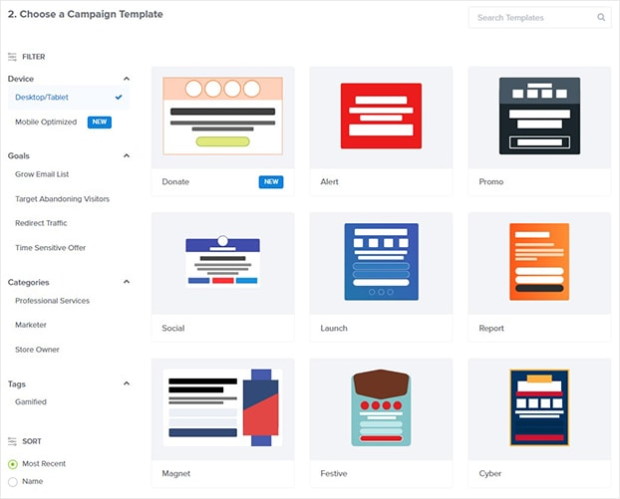 It also gives you full control over when, where, and to whom the campaigns are displayed.
So, instead of bombarding visitors with popups appearing at every click, scroll, or new page, OptinMonster lets you trigger well-designed campaigns where it's most likely to convert visitors into subscribers.
For instance, it comes with Exit-Intent® technology that detects when a visitor is leaving your site and triggers a campaign.
You can use exit-intent popups to prompt the user to sign up for your newsletter or offer them a discount if they complete their purchase now.
Tons of businesses have used OptinMonster to convert thousands of abandoning visitors into subscribers and customers every month.
Here are some of the things you can use OptinMonster for:
Turn first-time visitors into regular visitors
Reduce cart abandonment and browse abandonment rates
Grow your email list rapidly using email optins
Increase page views by promoting your pages and posts
Keep people on your website for longer and boost your SEO
Increase downloads of your eBook or digital products
Build momentum for upcoming sales and events
Make your site more fun and attractive with gamified wheels
Verify subscribers and retain genuine ones
And these are just a few highlights of what OptinMonster can do for you.
As we explore the OptinMonster features in our review, you'll see that it brings you endless opportunities to grow your leads and optimize conversions.
How to Use OptinMonster
One of the reasons why OptinMonster is so popular is because it's very easy to use.
In this section, we'll show you the main framework of OptinMonster. Bear in mind, that there are a lot of minor features of the tool that we won't be covering.
However, this should give you a good idea of how to use OptinMonster and the main features it offers.
1. Creating an Optin Campaign
First, you need to install OptinMonster on your site which is as easy as pointing and clicking.
Once that's done, you can access the OptinMonster dashboard from your WordPress admin area. You'll see that it comes with a clean and simple interface so even beginners find it easy to use.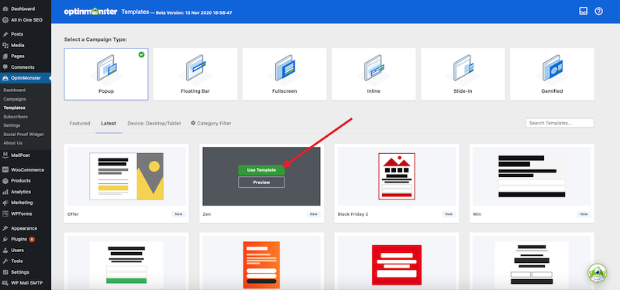 Next, you simply need to select a campaign type. OptinMonster gives you 9 types of campaigns to choose from.
Lightbox Popup
Fullscreen Welcome Mat
Slide-in Scroll Box
Floating Bar
Countdown Timers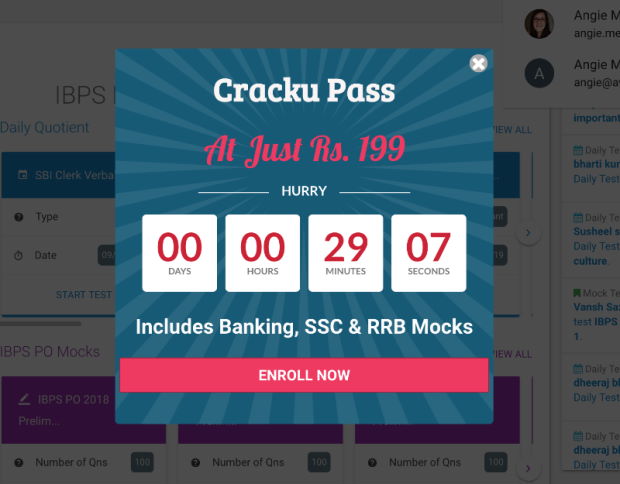 Sidebar Forms
Inline Forms
Content Lockers
Coupon Wheel Optins
After this, you'll see that OptinMonster comes with 400+ templates to choose from. This lets you create stunning and engaging campaigns in minutes without the need for coding, design, or hiring digital marketers.
If you want to start from scratch, the Canvas template lets you do that.
Once you've selected your template, a campaign editor will open. Here, you can use the drag-and-drop visual builder to customize your campaign.
This means you can create and design your optin popups as they would appear when it's live on your site.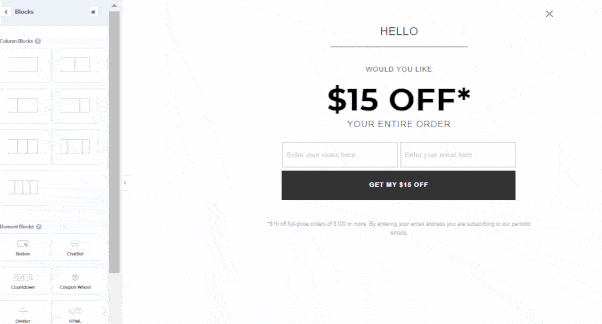 You can drag and drop blocks from the left panel to add more fields to your campaign. It's also easy to remove fields, or change the color and images to suit your campaign theme or brand.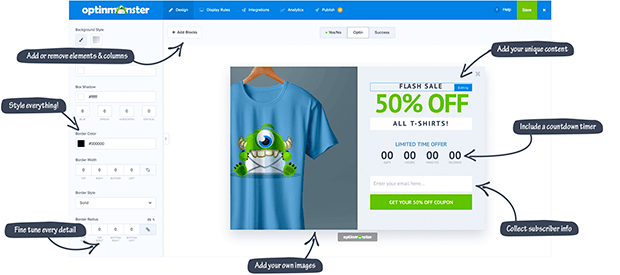 Once your campaign is ready, you can decide when and where you would like it to appear on your site.
2. Setting Display Rules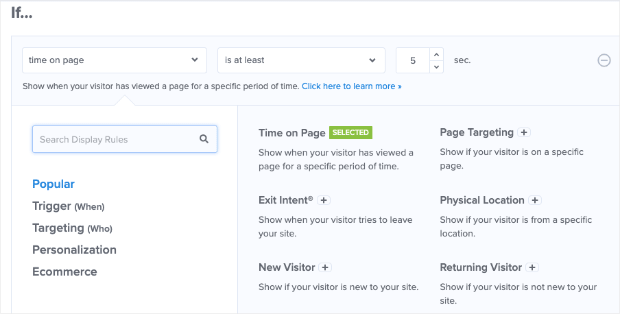 OptinMonster has tons of display options. We'll highlight just a few of the popular ones. You can set your popup campaign to appear when a visitor:
Is new to your site or not new to your site
Views your page for a specific period of time
Is from a specific location
Scrolls a percentage of the page
Is leaving your site
Is viewing a specific page or product
Clicks on a link, button, or image
Is coming from a specific website
You can also schedule popups by date and time, or show them on specific days of the week or months of the year.
With so many variations available, you have complete control over how the popups appear on your site.
3. Collecting Genuine Leads
As your visitors subscribe to emails, OptinMonster automatically stores them as Monster Leads™.
This allows you to easily access the list from your OptinMonster dashboard and see details of each subscriber.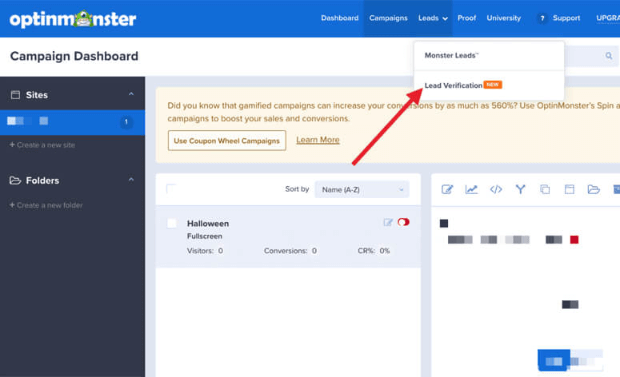 You can also use the TruLead™ verification tool to check if the email addresses are genuine. You can set custom rules to eliminate domain names, IP addresses, strings, and characters.
It prevents temporary and free email addresses that are used to send spam from being added to your list.
It filters out the junk and keeps the rejected leads for 30 days so you can review them. After that, they are automatically deleted from your OptinMonster account.

So, you can be sure you get genuine leads that truly add value to your online store and not an inflated subscriber list that doesn't do anything for you.
4. Email and eCommerce Integrations
This OptinMonster review won't be complete without mentioning its partnerships with lots of popular email marketing services in the market.
OptinMonster lets you seamlessly integrate your campaigns with popular email marketing services. Some of the platforms include MailChimp, Drip, AWeber, HubSpot, ConvertKit and Salesforce.
This lets you combine and automate your popup campaigns and email campaigns.
So when a visitor subscribes to your emails, you can send an automated series of emails to welcome and onboard new subscribers.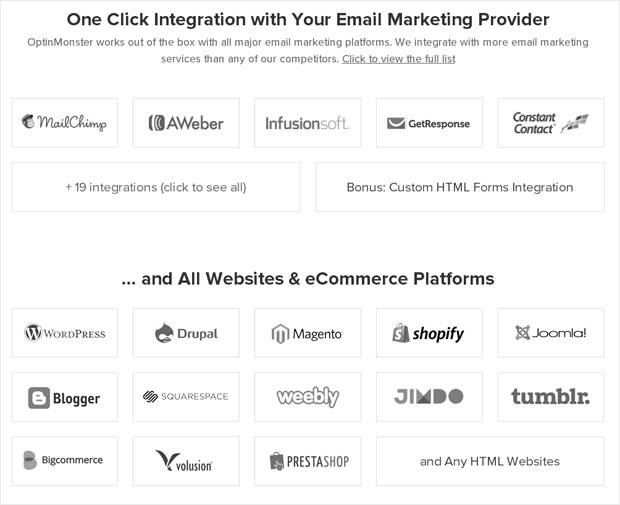 Added to that, you can also integrate with all major websites and eCommerce platforms to sell digital products.
A few platforms include WordPress, Magento, WooCommerce, Bigcommerce, Weebly, Easy Digital Downloads, Drupal, Blogger, and Tumblr.
With these integrations, the marketing possibilities become endless.
5. Test Campaigns and Analyze Results
When it comes down to it all, email marketing and social media marketing have one thing in common: you need to know if your campaigns are working or whether you're just wasting time and money.
OptinMonster has powerful analytic tools that give you all the data you need to track your campaign performance. It's easily accessible on your WordPress dashboard.
And the best part is that OptinMonster makes the reports easy to read. So you can quickly figure out what's working and where you need to improve to boost your conversion rates.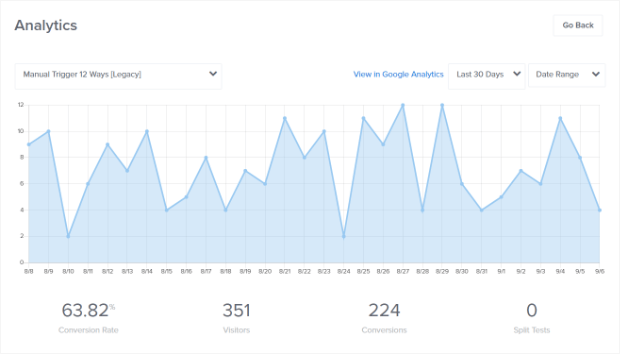 Plus, it lets you integrate with Google Analytics so you can track and measure conversion goals from your campaigns.
You can also use A/B split testing to run two versions of the same campaign to see which one your visitors respond to better.

So with OptinMonster, you won't be running campaigns in the dark. You get all the stats you need to optimize your campaigns and see incredible results.
How Does OptinMonster Stack Up Against the Competition?
OptinMonster is the most popular and powerful lead generation tool in the market.
However, it does have a few other tools that rival its features. So, how does it perform when compared to the competition? Let's find out in this OptinMonster review.
1. It's Beginner-Friendly
OptinMonster makes it so easy for anyone to run stunning and professional-looking campaigns.
Its drag-and-drop builder lets you create engaging campaigns in minutes. And since it's also a visual builder, you can see how your campaign will look as you design it.
Plus, it comes with 400+ pre-made templates, so you don't have to start from scratch and figure out what works.
The templates are tried-and-tested on successful opt-in campaigns, so you can immediately get started right. You just need to replace the text, choose your image, and your campaign is ready.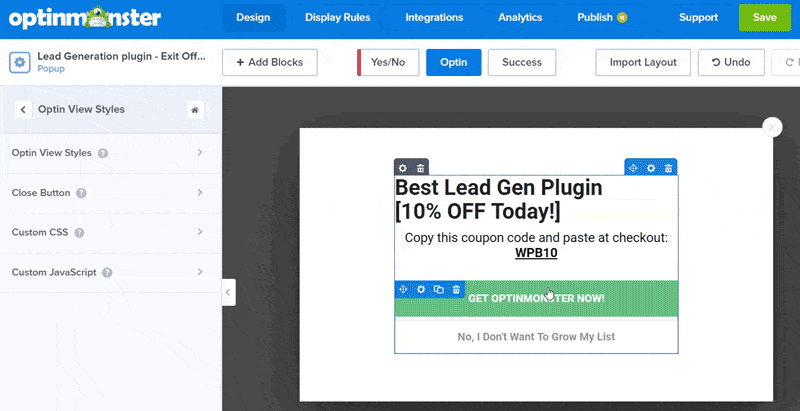 Plus, with seamless integrations with popular email marketing services, you can build an entirely automated lead generation campaign. This makes your marketing tasks easy so you can focus on other areas of business
2. It Suits All Kinds of Businesses
OptinMonster has features that suit just about any kind of business. So whether you're a publisher, a B2B business, a small business, or an eCommerce giant, OptinMonster proves to be really useful.
It also has different pricing plans so that businesses of all sizes can use OptinMonster.
3. It has Standout Features
OptinMonster has far superior features that are hard to find in other tools. Here are a few of them:
Exit-Intent® and InactivitySensor™
The Exit-Intent® technology detects when a visitor is about to leave the site. So you can trigger an exit campaign to try to convert them.
Plus, the InactivitySensor™ lets you trigger popups to grab a visitor's attention when they have been inactive for a while on your site. So you can nudge visitors to resume their shopping or visit your popular pages or videos.
Targeted campaigns
You can create campaigns to target different types of users, locations, and even times of the year.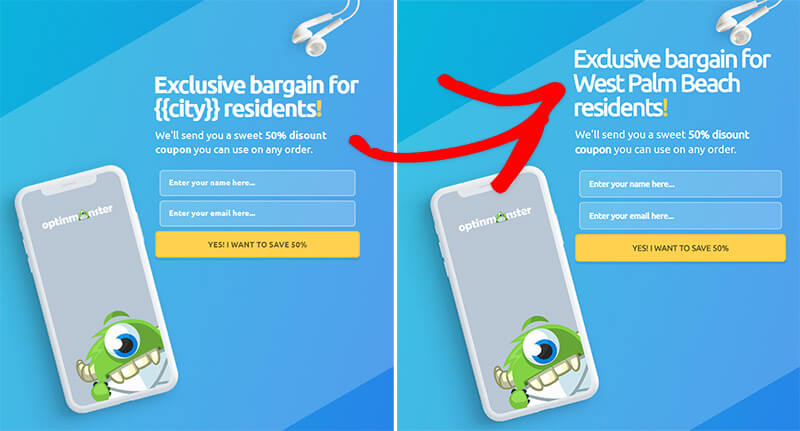 This lets you send out more personalized campaigns that have more chances of converting visitors into subscribers.
MonsterEffects™ and MonsterSounds™
This lets you add animation and sound effects to make your popups more eye-catching and appealing.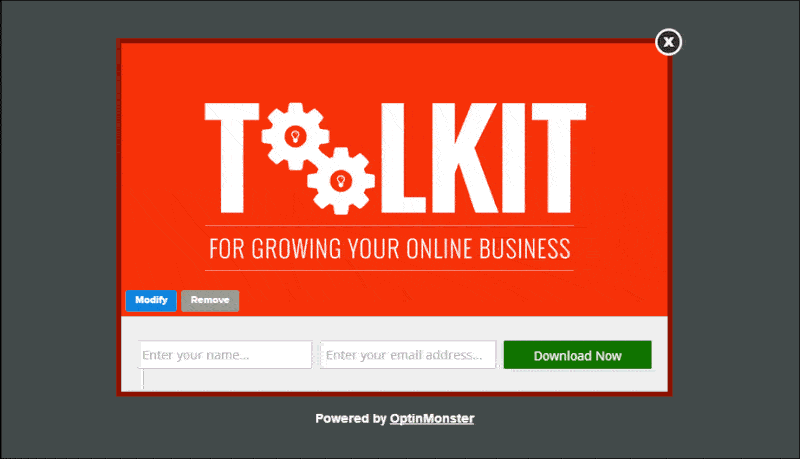 There are 26 in-built animation effects you can choose from. This can improve your user experience and make the popups appear lively and fun.
MonsterLinks™
You can trigger popups when a visitor clicks on a link or a button. This is helpful when you want to give users the choice to trigger a popup.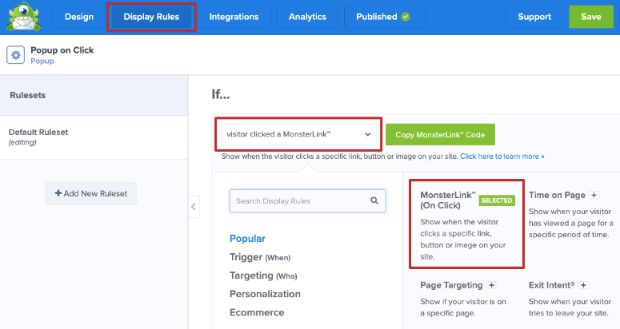 It works on the principle that those who initiate a process are more likely to complete it.
Since the user is the one in control and has triggered the popup on their own, they are more likely to subscribe.
Monster Leads™: and TruLead™
When you build an email base, more often than not, it gets flooded with spam email registrations. You end up with a list that doesn't convert and hampers your goals.
With Monster Leads™, you can keep track of the email addresses you collect. You can even view the details of each lead from your WordPress dashboard.
And with TruLead™, you can be sure that only genuine subscribers are on your list. So every campaign you create will generate actual leads and keep the spam out.
4. Lets You Optimize Campaigns
Finding what works with your visitors can be a real challenge. OptinMonster makes it easier for you.
With A/B testing and insights into the stats that really matter, you can quickly figure out what your users like and don't like.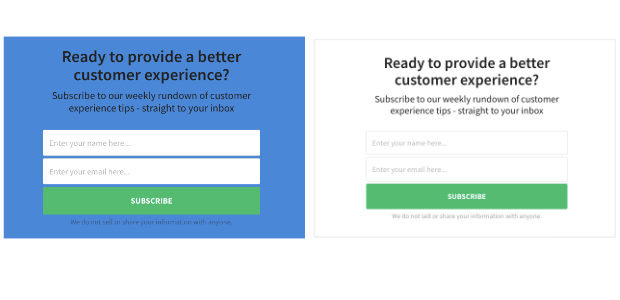 You can see which campaigns perform well and which ones are less successful. This enables you to optimize your results, so you don't miss any opportunities to convert visitors.
5. Doesn't Slow Down Your Site
OptinMonster is packed with features, so it's only natural to worry about the tool slowing down your site.
However, OptinMonster uses its own hosted platform. This means it doesn't consume your server resources.
Plus, it's designed while keeping high performance in mind. So the tool won't slow down your website or negatively affect its performance in any way.
OptinMonster Pricing & Support
There are 4 OptinMonster pricing plans, and each one is loaded with tons of amazing features.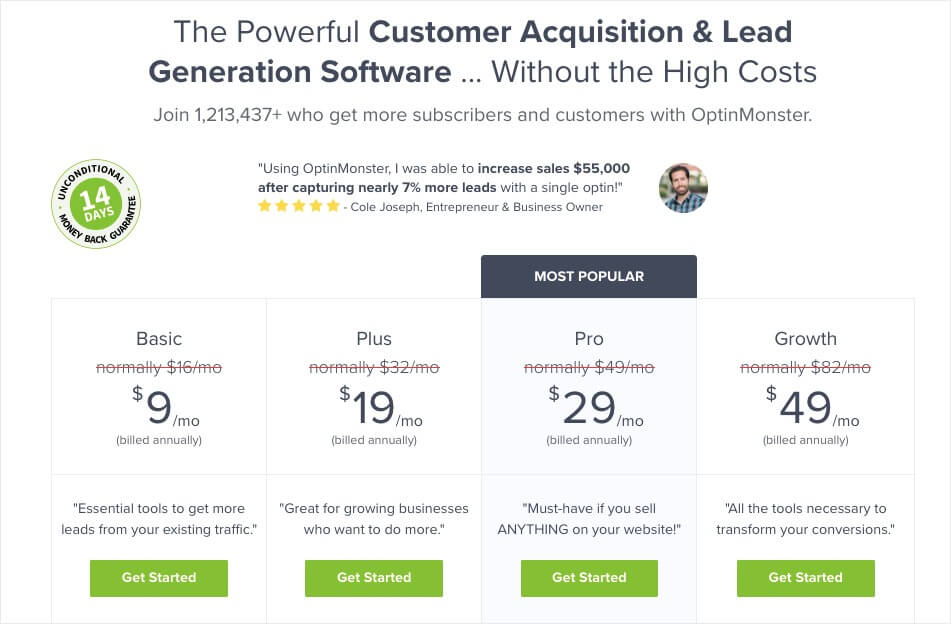 It starts at $9 per month for the Basic plan. This gives you a single site license and has all the essential tools you need to create engaging optin campaigns.
Their Plus plan for OptinMonster costs $19 per month and includes A/B testing, InactivitySensor™, and more targeting options.
The Pro plan, which is the most popular one, costs $29 per month. You get access to all the features of OptinMonster and the license can be used on 3 sites.
The Growth plan is priced at $49 per month and supports 5 sites. You get access to behavior automation, custom branding, unlimited sub-accounts, and advance reporting.
OptinMonster is a premium solution and comes with superior support. They offer a ticket-based system with a super-fast response time.
There's a friendly in-house support team that is ever-ready to help you resolve any issues you're facing.
OptinMonster also has extensive documentation to guide you through setting up and using the tool. There are plenty of "how to" guides, videos, and tutorials you can follow to learn more about the tool and get the most out of it.
Is OptinMonster Worth It?
After looking at all the OptinMonster has to offer and the results it delivers, we can confidently say that OptinMonster is the best lead generation software on the market.
It easily beats its competition in terms of features and ease of use. You can integrate it with so many popular platforms and services, so it's a breeze to add it to your existing setup.
Plus, if this OptinMonster review isn't enough, the tons of testimonials and case studies speak for themselves.
There's a remarkable team behind the tool, and it's easy to see why it's gained the top spot among lead generation tools.
Ready to grow your leads? Get started with OptinMonster now!
Interested in marketing tools for your WordPress website, so you can get more customers? You may also want to check out this post on how to add a social media review widget to WordPress.
Looking for the best landing page WordPress plugin? Find out if SeedProd is the right fit for your business in this detailed SeedProd review.