Are you looking for an easy way on how to embed Facebook albums on your website?
Displaying Facebook photos on your site is a great way to showcase your best visual content and engage your visitors.
But if you use the Facebook plugin to embed Facebook photo albums without any coding skills, it can be tricky.
So, in this article, we'll show you how to embed a Facebook album on your website with no technical knowledge required.
Before we start, let's explore the benefits of adding your Facebook album on your website.
Or, you can click here to jump to the tutorial on how to easily do this.
Why Embed Facebook Albums on Your Website?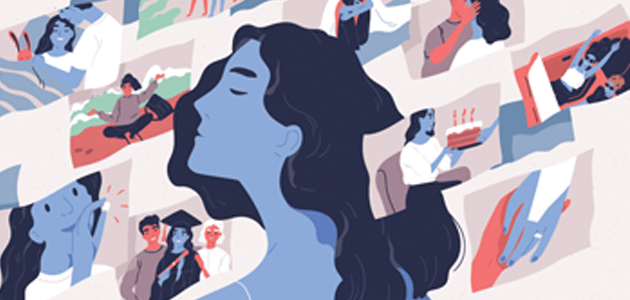 Visual content is essential these days, especially on digital marketing platforms like Facebook, where most posts have an image or Facebook videos attached.
But did you know that when people hear information, they only remember around 10% of it 3 days later?
When an information has a relevant image, people recall 65% of it, even after 3 days! This is also one of the reasons why Facebook posts with images get higher engagement than posts without photos.
So backing up your website posts with relevant visual content is one of the best ways to ensure your message sticks in people's memories.
And if you link your photos to your Facebook page, instead of just displaying a screenshot, it's easy for your site visitors to follow you for future updates.
Here are more benefits for displaying Facebook photos on your website:
Improves the appearance of your website with eye-catching images
Skyrockets your Facebook page engagement by cross-promoting it to targeted traffic
Increases interest in your business and the products your offer
Keeps people on your site for longer to improve your SEO
Displays user-generated content to increase social proof and encourage customer loyalty
When you embed a Facebook album on your website, you make it easier for potential costumers to engage with your brand and keep you in their memories for longer. When combined, this increases the chances of turning your visitor into loyal customers.
Methods for Embedding Facebook Albums on Your Website
As mentioned, displaying Facebook photos on your website can be difficult if you're not a technical person.
So, some of the methods for embedding Facebook albums on your site are likely outside your comfort zone and level of experience.
The 3 main ways to embed Facebook albums in WordPress are:
Share an album as a new post on Facebook, then paste the embed code into your website.
Generate a Facebook album embed code from a 3rd party website to paste on your website.
Use a WordPress plugin to connect your Facebook account and embed your albums with a few clicks.
The first 2 methods for embedding Facebook albums are pretty complex. They involve using multiple webpages and require you paste code snippets directly into your website.
They also make it difficult to customize how your albums look on your site, which can ruin your website's carefully designed branding.
Why? Because you'd need extensive HTML, iFrame or Javascript coding knowledge just to change your Facebook album's feed design.
What's more, if you run into a problem as you get codes or change code snippets, there's limited support available to get your issues fixed.
But if you use a WordPress plugin to embed a Facebook album on your website, you won't have those problems.
Instead, you can…
Display your Facebook albums in stunning photo galleries with no coding required
Control how your albums look and feel on your website
Customize the information displayed in your photo albums
Encourage people to follow your Facebook page with call-to-action buttons
Display multiple Facebook albums in different areas of your site
Get access to help and support from WordPress experts
Using a WordPress plugin to embed a Facebook album on your website gives you much more control over how you display your photos.
Below, let's talk about how you can easily display your Facebook photos, step-by-step, even if you're a complete WordPress newbie.
Easiest Way to Add Facebook Album to Your WordPress Website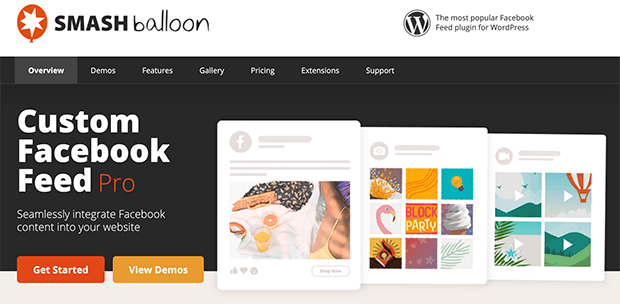 For this tutorial, we'll be using the Custom Facebook Feed Pro plugin from Smash Balloon.
Custom Facebook Feed Pro lets you seamlessly add your Facebook content to your website without requiring any technical work to make it look great.
No need for coding snippets featuring src and other confusing technical terms — you just need to check or uncheck options and you're done.
Also no need to use another platform like Squarespace — Custom Facebook Feed Pro makes sure it's easy for you to customize your album feeds on your website, even if you're not tech-savvy.
You can embed any type of Facebook content on your WordPress site and display it anywhere you like, including Facebook reviews, events, Facebook gallery, videos, and more.
And with powerful customization options, you can choose which parts of your Facebook content is displayed and keep the design consistent with your site's theme and branding.
Plus, with the Facebook Album extension, you can embed photos from specific Facebook albums on your site in stunning galleries.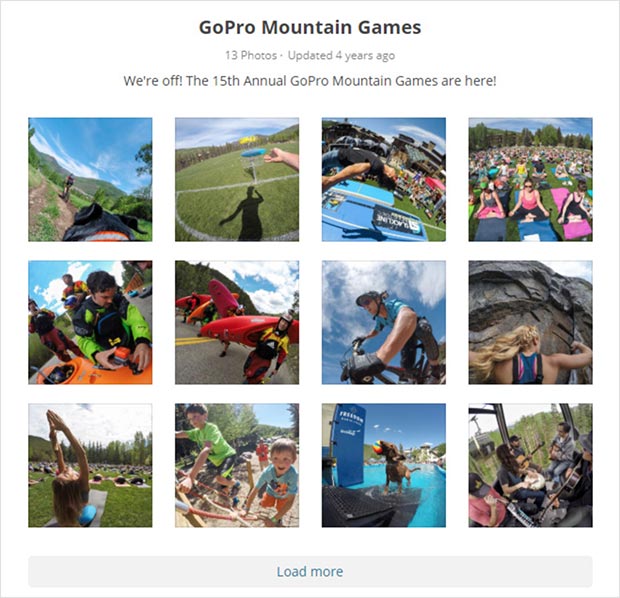 With that in mind, let's dive into setting up your Facebook albums in WordPress using the Custom Facebook Feed Pro plugin.
Step 1: Install The Custom Facebook Feeds Plugin
The first step is to get your copy of Custom Facebook Feed Pro here. You'll also need a copy of the Album Extension, which you can find here.
Once you've downloaded both plugins, follow these step by step instructions to install a WordPress plugin.
After you install Custom Facebook Feed Pro, navigate to Facebook Feeds » Extensions from your WordPress dashboard.
Then find the Album extension and click the checkbox to make it active and click the Save Changes button.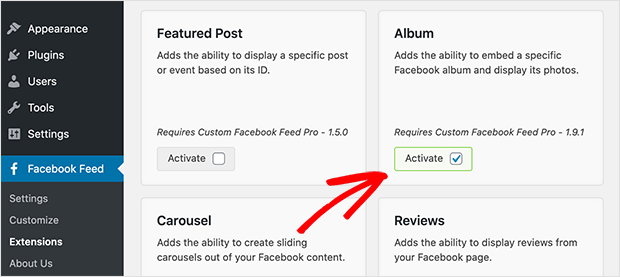 Step 2: Connect Your Facebook Account
The plugin seamlessly connects with Facebook API, so you don't have to do it manually.
To get started, navigate to Facebook Feeds » Settings. This is where you'll link the plugin to your Facebook page.
To connect your account, click the blue Connect a Facebook Account button and follow the instructions on-screen to link your account.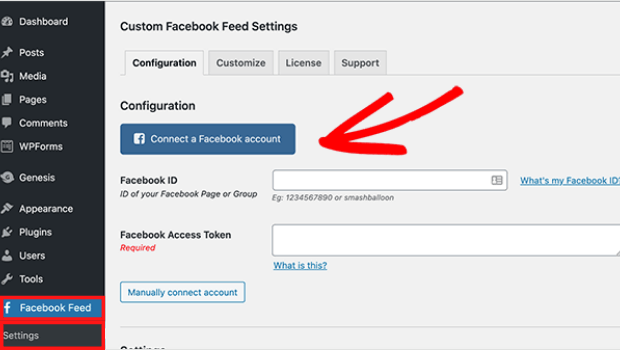 After, scroll down to confirm the settings for your Facebook feed which include:
Selecting if it's a page, group, or profile
Choosing whose posts to display such as yours and/or other peoples
The number of posts to display in your album feed
How often the plugin checks for new posts
Your language preferences
Your timezone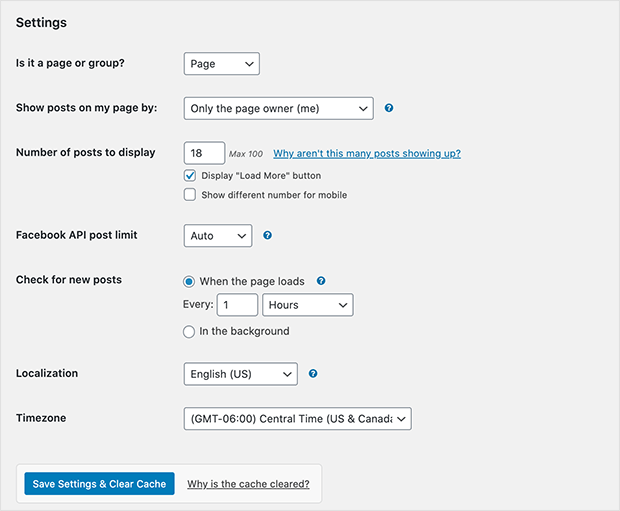 Once you've done that, click Save Changes, and we'll move on to choosing which type of post to display in your feed.
Step 3: Select the Album Post Type
Now navigate to Facebook Feed » Customize. Here you can change the width, height, and padding of your Facebook album feed.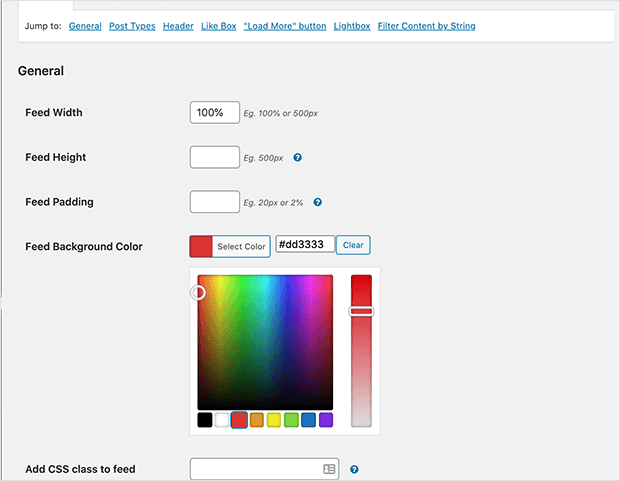 You can also set a custom background color and CSS classes to match the design of your website.
After that is the Post Types section. To display only a feed of photos from your Facebook albums, uncheck all the boxes apart from the Album option.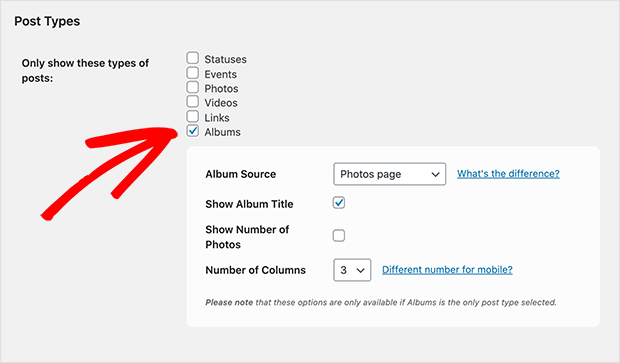 With the Album option checked, you can choose to source album photos from the photo's page or your Facebook timeline. You can show or hide the Facebook album's title and the number of photos. Then when you click the drop-down box, you can select how many columns your photo gallery displays.
Remember to click Save Changes to store your preferences.
Further down the page, you can enable the option to include a header on your album gallery and select the information you want to display including: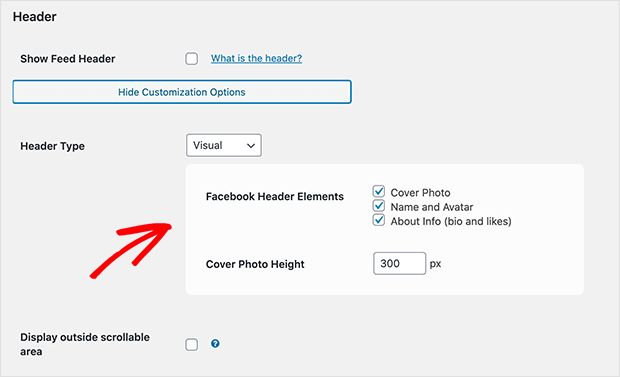 Your cover photo
Name and avatar
About info
You can also choose to include a Facebook Like box and Load More button below your album feed.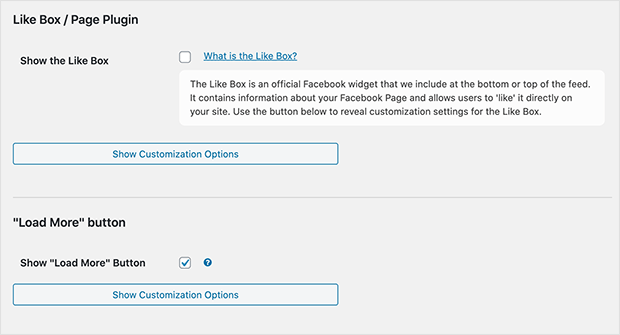 When you're happy with the settings, click the Save Changes button and move on to the next step.
Step 4: Find Your Facebook Photo Album ID
Before you embed your Facebook album on your website, you need to find the ID of the album you want to display.
You can find the ID of a Facebook album from its album URL.
Check out the address bar of your Facebook album. It is the set of numbers after the second period in the URL, as highlighted below: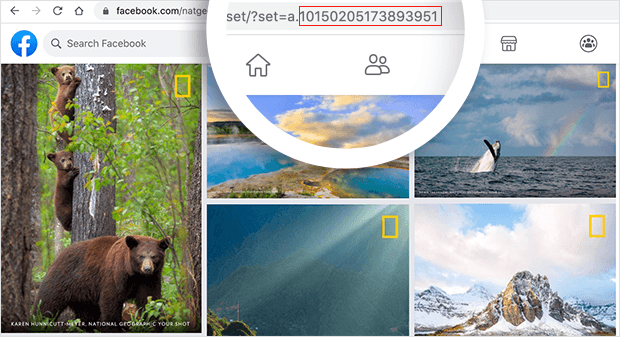 Copy the album ID and paste it into a notepad or blank document to use in the next step.
Step 5: Embed Your Facebook Photo Album on Your Website
There are 3 ways to embed your Facebook album on your website, which include:
Using the Facebook Feed WordPress block in the new WordPress block editor
Adding the Facebook Feed shortcode to the classic WordPress editor
Using a WordPress widget to display your feed in your sidebar
Let's look at all 3 options.
Embedding a Facebook Album in the WordPress Block Editor
It's super easy to add a Facebook album to a WordPress website, unlike websites live on Wix or Shopify.
To embed a Facebook album in your webpage page using the WordPress block editor first, navigate to Pages » Add New.
Then in the block editor, click the Plus (+) icon to add a new content block. Then in the search box type "feeds" to find the Facebook Feed content block.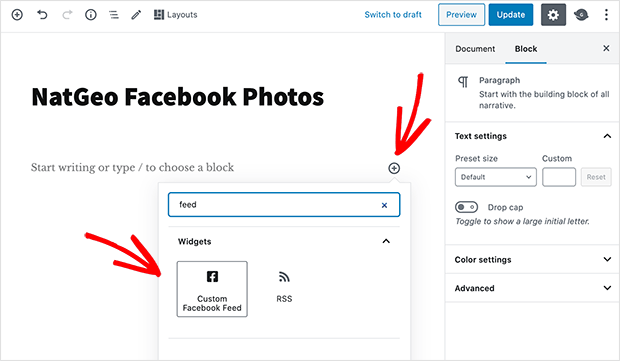 Clicking the block ads it to the content editor.
Now click the Facebook Feed block inside the editor. On the right-hand side of your screen, you'll see the Custom Facebook Feed shortcode settings.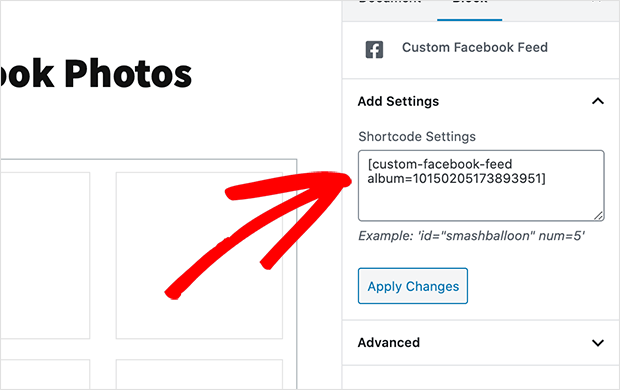 In the settings box, add this shortcode:
custom-facebook-feed album=xxxxxxx
Replace "xxxx: with the Facebook album ID you copied in the previous step and click Apply Changes.
Now when you click Preview, you'll see your Facebook album displayed in a beautiful grid of photos.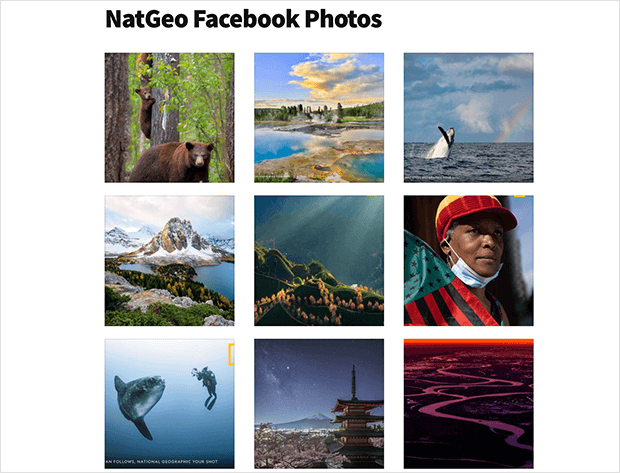 When you click any photo, it'll open in a distraction-free, lightbox popup to give your visitors a closer look.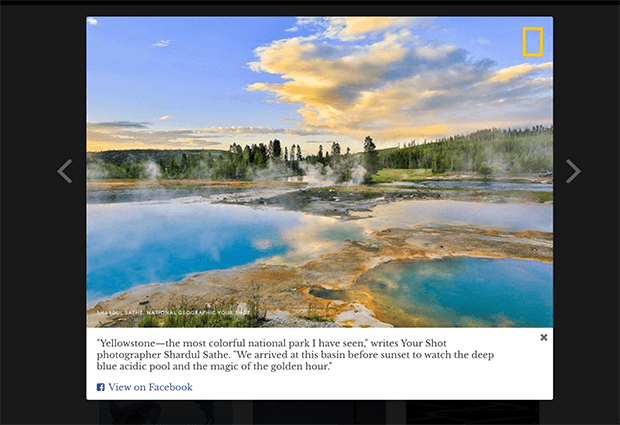 Embed a Facebook Album in the Classic WordPress Editor
If you're still using the classic WordPress content editor, embedding your Facebook album is just as easy.
First, follow the instructions in the previous step to add a new post or page. Then in the content editor, paste your shortcode as shown below.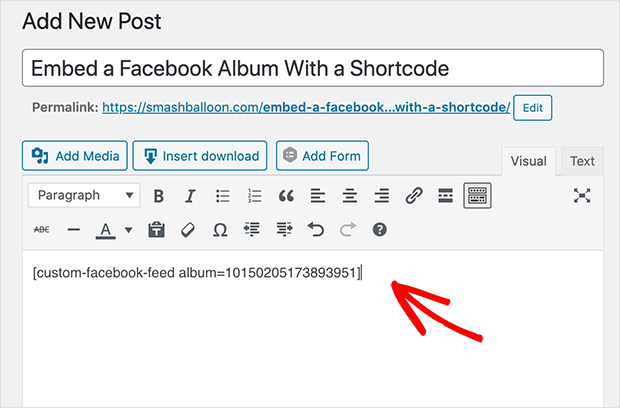 Display Your Facebook Photos in Your Sidebar
If you add your Facebook album to your sidebar area, your site visitors can see it when they check out your homepage — perfect for maximum exposure to targeted traffic!
To embed a Facebook album in your website's sidebar, you can use the WordPress Text widget and add a Facebook widget to your site.
First, navigate to Appearance » Widgets. Then drag a Text widget over to your sidebar area.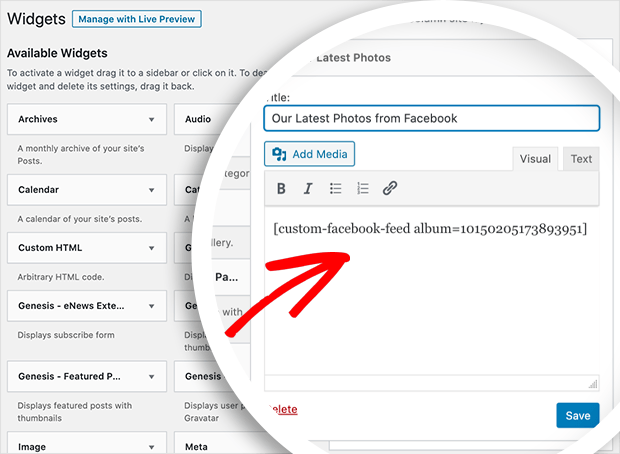 In the widget content area, paste the shortcode to display your Facebook album photos. Then click Save to store your settings.
When you navigate to your main website, your gallery of album photos will be displayed in your site's sidebar.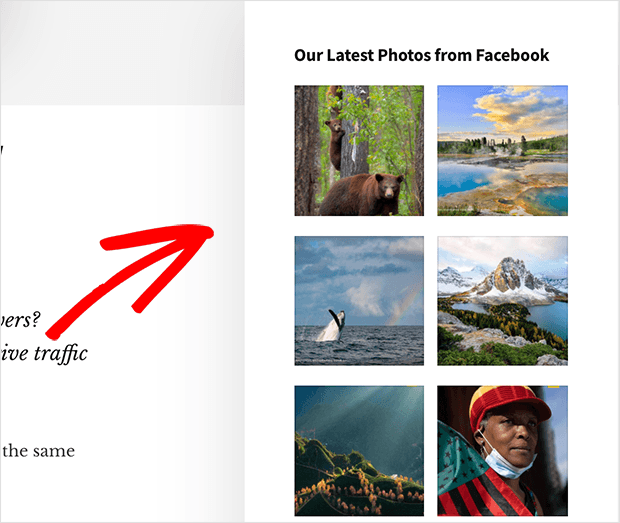 There you have it!
You now know how to embed a Facebook album on your website easily with a WordPress plugin.
By engaging your visitors with relevant visual content, you'll make it easier for them to remember you and increase chances of turning them into loyal customers that grow your business.
Get started with Custom Facebook Feeds today.
Or if you want unlimited access to Smash Balloon feed plugins so you can use them on unlimited websites, go ahead and get the Social Wall Pro bundle here.
Social Wall Pro lets you embed your social media feeds from Facebook, Instagram, Twitter and YouTube into a single social wall — no coding needed.
The great part about Smash Balloon's pricing method? It comes with a 100% no-risk money-back guarantee so you can try out the plugins first and see if it's a good fit for you.
Join some of the world's largest brands and get unlimited access to Smash Balloon plugins today.

Interested in Facebook marketing? You may want to check out this next article on why you should never buy Facebook followers (and what to do instead).
You can also check out this step-by-step guide on how to embed your Instagram feed on your website.
Finally, don't forget to follow us on Twitter and Facebook for more helpful social media content.