Facebook is one of the largest social networks globally, and collecting Facebook reviews is one of the many features that help business owners get ahead.
But encouraging customers to leave reviews on your Facebook page is often a struggle.
So in this article, we'll show you how to get reviews on your Facebook business page, so you can collect feedback and transform interested shoppers into paying customers.
Here's a table of content to help you navigate this article quickly. Click any section to jump right to it.
Now before we dive into our suggestions, let's examine the benefits of collecting reviews on Facebook.
What Are the Benefits of Facebook Page Reviews?
Getting feedback on Facebook helps:
Increase the organic reach of your posts by boosting Facebook page engagement
Make your brand more credible to potential customers
Gain the trust of your Facebook page fans and customers
Promote positive customer service directly on your page
Get to the top position in the Facebook professional services finder
By using the positive reviews of existing customers as social proof, you can use it as an opportunity to sell to new customers.
Plus, it comes with the added benefit of boosting your brand's reputation on the world's biggest social network.
Follow the Guidelines for Facebook Business Page Reviews
Before gathering reviews on your Facebook business page, it's important to check out Facebook's guidelines for business recommendations.
In short, reviews should…
Focus on the product or service offered by the business
Be based on the user's personal experience
Not be from anyone who manages the page for that business
If the recommendations you receive don't meet those guidelines, they may be removed.
How to Get Facebook Reviews
Now that you know why collecting and displaying Facebook reviews on your page is beneficial, let's move on to our tips for encouraging more feedback.
1. Display The Reviews Tab on Your Facebook Page
The first thing to do to get more Facebook reviews is to ensure you have the reviews tab activated on your business page.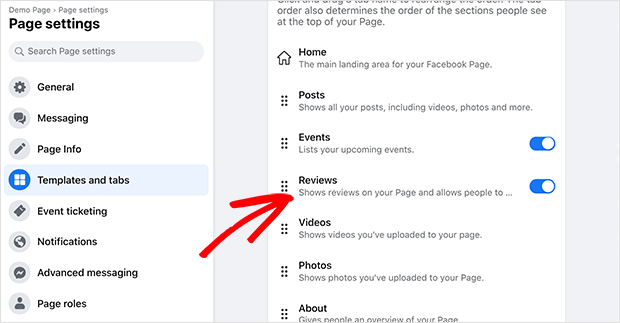 To show the Reviews tab on Facebook, follow these steps:
Visit your Facebook Business Page
Click Page Settings in the bottom left-hand column
Click Templates and tabs
Move the Reviews slider to the On position
That's it! You can now start collecting reviews and recommendations from your customers.
2. Promote Your Page on Other Social Media Platforms
If you're not telling fans on other social media platforms that they can leave reviews on Facebook, they might never find out.
So it's crucial that you cross-promote your Facebook page on the different social channels you own, including Twitter, Instagram, and YouTube.
It doesn't have to be anything fancy. A simple image and a link are enough to raise awareness for your page and encourage customers to write a review.
3. Embed Facebook Reviews on Your Website
Embedding Facebook reviews on your website is another way to get more reviews.
When people see that you highlight great reviews online, it encourages them to get involved and leave one themselves.
This works particularly well if the reviews include visual content like product photos and videos because customers will be eager to have their content featured.
It's easy to embed a feed of Facebook reviews on your website using Custom Facebook Feed Pro from Smash Balloon.
With a few clicks, you can seamlessly connect your page and display beautiful Facebook feeds styled to match your site design.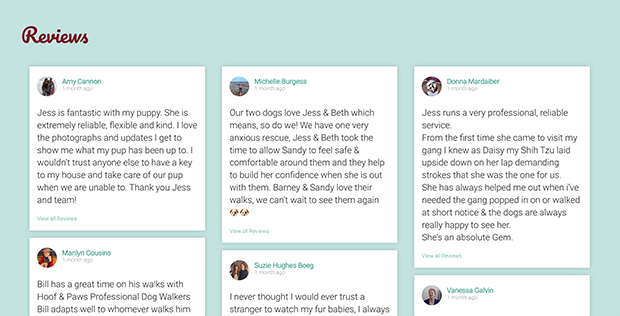 To help you do this yourself, we've put together this guide on how to add a Facebook reviews feed to your WordPress website.
4. Add a Call to Action on Your Website
Your website is where most of your customers head during the buying process, so making it clear they can leave reviews on your Facebook page is a must for securing their feedback.
The easiest way to do that is to add a call to action (CTA) in a prominent place on your site.
For instance, you can easily add your Facebook reviews feed to your sidebar area using Custom Facebook Feed Pro.
Then, you just need to edit the Facebook feed header to something that will encourage your site visitors to review your business, like this: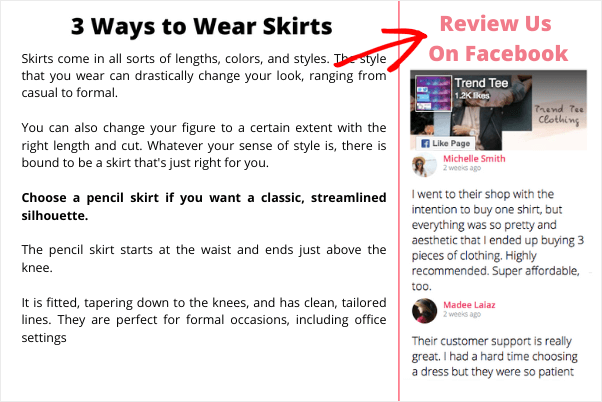 That means anyone browsing your feed only needs to click to visit your Facebook business page and leave a review.
You can do this for your own website, too. Check out how to add a social media review widget to your website today.
5. Send Email Invitations to Recent Customers
It's easy to forget about email when social media is at the top of everyone's minds.
But email has a massive advantage over social. The people on your list are already ready to open your messages and act on what you have to say. They did choose to receive your updates, after all.
It's easy to leverage your email list to get more Facebook reviews. Just filter your subscribers to include recent customers only and send them an email message, asking for a review.
You can even sweeten the deal by offering a discount for doing so.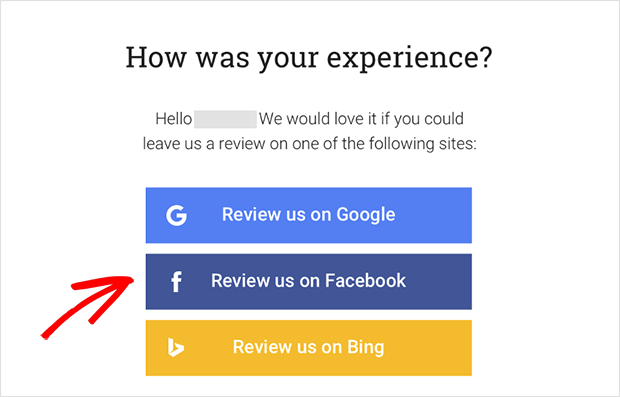 6. Write a Facebook Post Asking for Reviews
It's also true that many of your Facebook fans might not realize they can leave reviews on your page.
How often do you browse a brand's business page? The majority of users on Facebook stick to the news feed, so chances are they've overlooked your reviews tab and don't know it exists.
You can combat that by creating a new post on Facebook, reminding costumers to leave a review.
Plus, you can incentivize people by highlighting the best reviews on your other social channels, or even on your website.
7. Ask for Reviews via Facebook Messenger
Chatbots are getting more attention as the technology improves. And as they continue to make inroads in the customer service and marketing industry, they're proving pretty valuable.
The fact is, messages sent by chatbots tend to have higher open rates, and with customers getting used to them, they're tools worth utilizing.
Asking for a review on Facebook through a Facebook Messenger chatbot is a natural way to collect feedback.
Your customers are already using the platform, so they won't be surprised to get a message. That removes the friction involved in securing reviews and ultimately gets you better results.
8. Send SMS Messages Asking for Feedback
Did you know the majority of all searches for local businesses nowadays happen on mobile devices?
The truth is, much of the online world is navigated by mobile now, so collecting reviews in this way makes it super-convenient for your customers.
You can use the power of mobile to get more Facebook reviews, by asking customers to leave a review via SMS.
If customers have opted in to receive updates via text message, send them a short message containing a link to leave feedback on your Facebook page.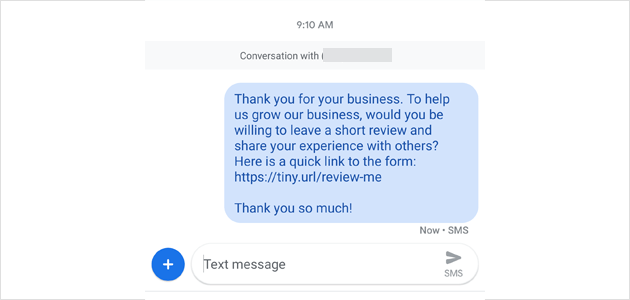 Just make sure you keep your messages to-the-point. You don't want to waste people's time.
9. Enable Notifications for New Reviews
Sharing the reviews you get on your Facebook page is a great way to encourage other customers to leave them too.
But what if you don't know when customers leave feedback? How will you be able to share it with your fans?
The easiest way to learn when someone leaves a review on your Facebook page is to enable notifications for new reviews.
To enable notifications for new Facebook reviews follow these steps:
Go to your Facebook page
Click Page Settings in the bottom left column
Click Notifications
Next to New Page review click Turn On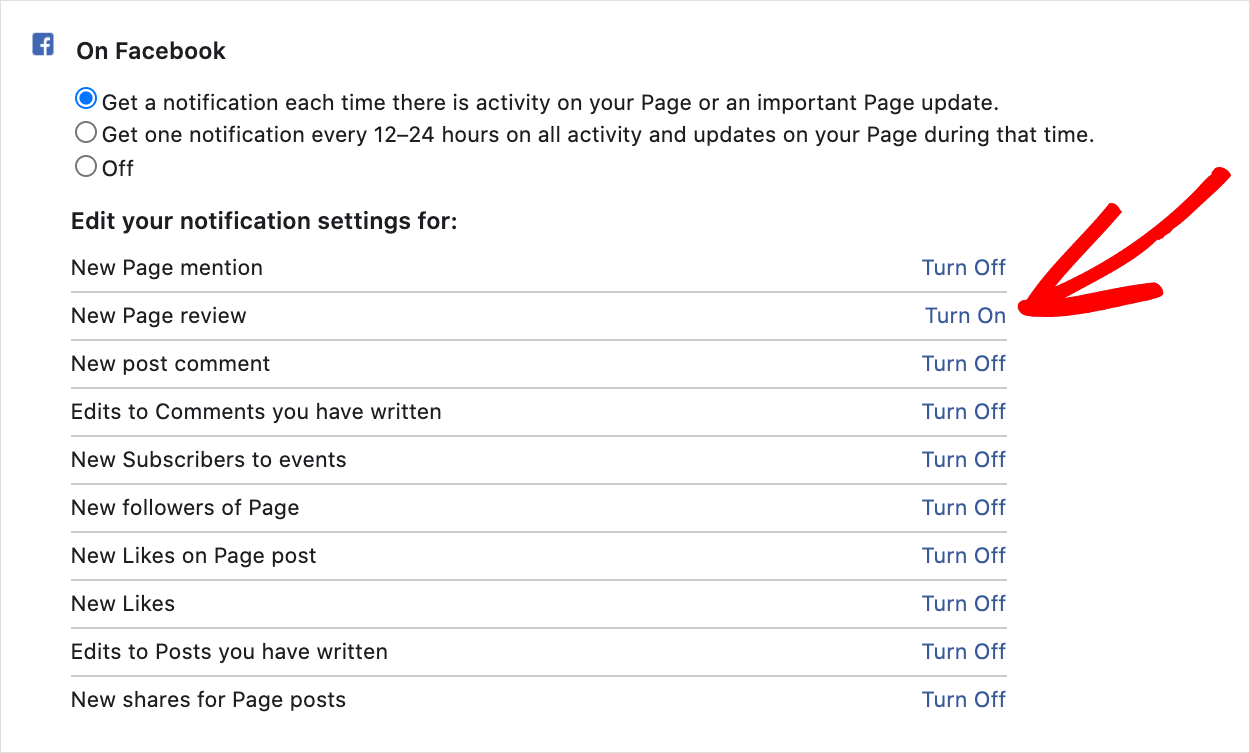 Once that option is activated, you'll get a notification whenever someone leaves feedback on your Facebook business page.
10. Respond To Negative Reviews
When customers have a less than perfect experience with a product or service, many take their grievances online. Not only do they use that space to express their dissatisfaction, but they're also looking to resolve their issues.
In situations where you have negative feedback on your Facebook page, you should take steps to rectify the situation.
Ignoring negative reviews will hurt your reputation and gives customers the impression you don't care.
If you respond in a non-confrontational way and help the customer solve the problem, you're telling fans you take them seriously and want to find a solution.
That paints you in a positive light and can encourage other costumers with issues to leave feedback too.
11. Answer Comments and Questions From Fans
Following on from responding to negative feedback, you should also reply to comments on your Facebook page and questions from potential customers.
If people see your page is busy with activity and conversations about your product, they're more likely to ask their own questions.
Plus, answering questions removes obstacles that prevent people from shopping with you.
Even better, if customers have a great experience with the buying process, they're much more likely to leave a review describing that positive experience.
12. Promote Stand-Out Reviews on Facebook
Actively highlighting the feedback you receive on Facebook is another way to draw attention to your reviews tab.
You can make it a regular feature of promoting the best reviews on your page to celebrate your customers, and add a call to action for others to leave their own feedback.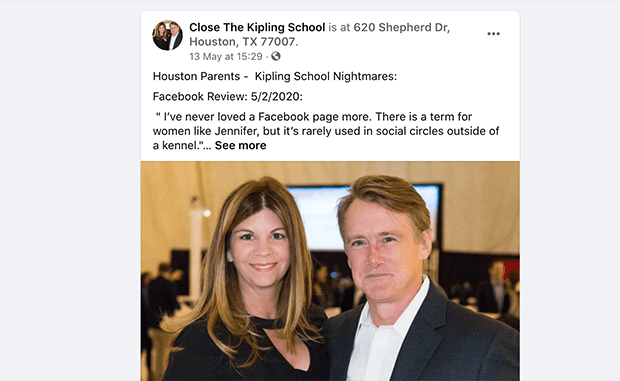 Why not run a Facebook Live stream where you read out your recommendations, making it an event your fans can rally around and engage with?
Pro-tip: Are your reviews presented as videos? You can also use Custom Facebook Feed Pro to embed Facebook videos on your website.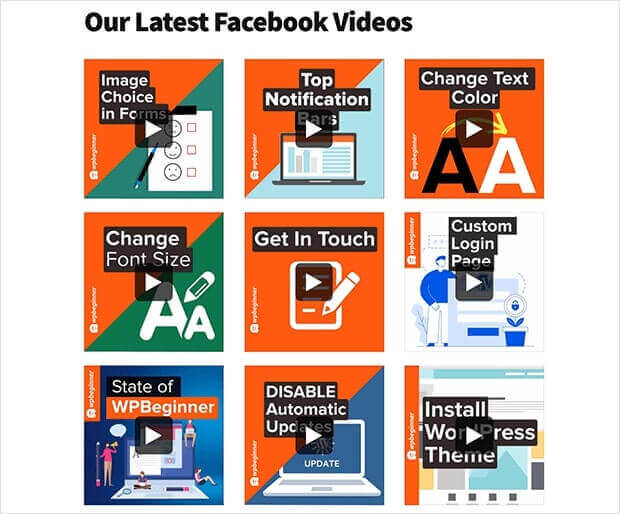 13. Encourage Facebook Check-Ins
The likes of Foursquare made virtual check-ins to business locations a viral trend.
Facebook took that functionality and added it to business pages where customers can check-in, notifying friends of their location.
Facebook's check-in functionality also has a nifty feature to help you collect reviews. After someone checks in, they receive a message from Facebook afterward, asking them to review the business.
While this might not work for every situation, it's another excellent way to get more reviews for your Facebook page.
14. Incentivize Check-Ins With Discounts
You can also incentivize people to check-in with your business. But be careful, offering incentives for reviews is forbidden in some states or requires disclosure.
Check your local laws to ensure you do the right thing.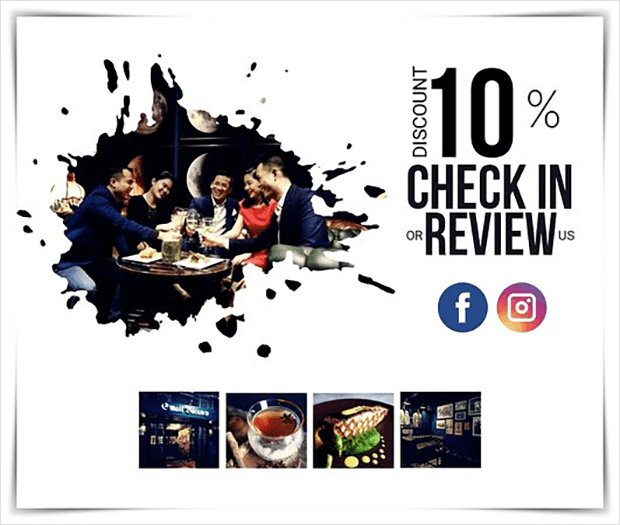 Here are a few examples of how you can incentivize Facebook check-ins:
Offer a discount
Enter people into an online prize draw
Provide free wi-fi at your premises
Offer free products
Experiment with your incentives to see which work best for your business. In some cases, it might be best to run your incentives for a limited time.
15. Remember to Ask for Reviews in Person
Most of the tips in this article focus on getting Facebook reviews online.
But let's not forget that if you have a physical business, you have the opportunity to speak face-to-face with your customers, leaving a more memorable impression.
So when customers shop in your store, remind them to leave a review on your Facebook page.
You can do that verbally and with reminders in store such as, adding the review URL on your receipts, hanging signs up in your store, and so on.
There you have it!
In this article, you've learned how to get Facebook reviews for your Business page so you can improve the trust of your customers, increase sales, and grow your business.
If you're interested in increasing your Facebook page engagement, check out our tutorial on how to display a Facebook Events calendar on your website.
And do follow us on Twitter and Facebook for more helpful content about social media marketing.