Wondering how to get Facebook reviews with ease?
Since it's the largest social network in the world, Facebook reviews can be a great way for your business to get ahead of the competition.
But getting customers to leave reviews on your Facebook page can be tough.
In this article, we'll show you how to get customer reviews on your Facebook business page and easily transform people into customers.
Here's a table of content to help you navigate this article quickly. Click any section to jump right to it.
Before we get started with our list, let's see how adding Facebook reviews can help your business.
What Are the Benefits of Facebook Page Reviews?
By getting Facebook reviews and testimonials for your brand, you'll be able to:
Make your brand's online reputation more credible to potential customers
Increase the organic reach of your posts by boosting Facebook page engagement
Gain the trust of your Facebook page fans and potential customers
Promote positive customer reviews directly on your page
Get to the top position in the Facebook professional services finder
Positive reviews act as social proof, which convinces more people to buy from you
Follow the Guidelines for Facebook Business Page Reviews
Before gathering online reviews on your Facebook business page, it's important to check out Facebook's guidelines for business recommendations.
According to these recommendations, Facebook reviews should:
Focus on the product or service offered by the business
Be based on the user's personal experience
Not be from anyone who manages the page for that business
If your reviews don't meet these guidelines, you can request them to be removed.
With that, let's take a look at the easiest way to get Facebook reviews and boost your sales.
Easiest Way to Get More Reviews for Your Brand
For a simple way to get tons of reviews, you can embed review feeds on your site using a WordPress plugin.
And the best option that you can use is the Reviews Feed Pro plugin.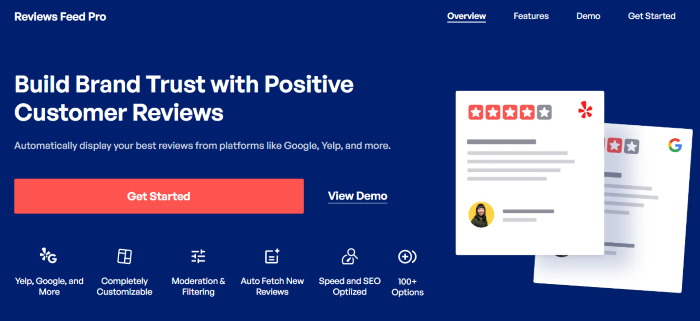 Business owners like you use this plugin to create, customize, and embed review feeds on your website in just a few simple clicks — no coding needed.
On top of showing Facebook reviews, you can show feeds with reviews from highly trusted platforms, like Tripadvisor, Yelp, and Google Reviews.
With the plugin's visual customizer, you can quickly and easily customize the templates and design of your Facebook review feeds using the customization options on the left-hand side.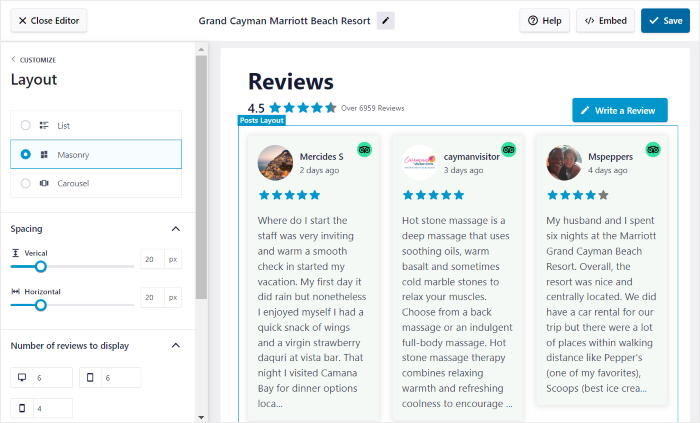 Plus, Reviews Feed Pro automatically copies the design of your WordPress site. So, your review feeds will perfectly match your branding and look beautiful right away.
The best part?
Reviews Feed Pro comes with a helpful support team who are always ready to lend their expertise and help you out.
Ready to get more Facebook reviews with ease? Grab your copy of Reviews Feed Pro here.
To learn more, you can look at this guide on how to embed Facebook reviews on your WordPress website.
How to Get Facebook Reviews (15 Proven Ways)
Now, let's go ahead and look at our tried-and-tested methods that you can use to get more Facebook reviews for your brand.
1. Enable Reviews for Your Facebook Page
The first thing to do is make sure you're allowing visitors to see and leave Facebook reviews.
To do that, first, start managing your Facebook business page and click on the Settings option on the left.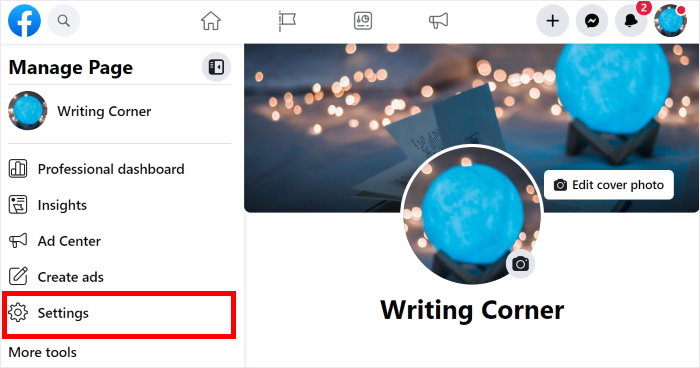 Doing that will allow you to change the settings of your Facebook page.
Next, click on Privacy to change your page's privacy settings.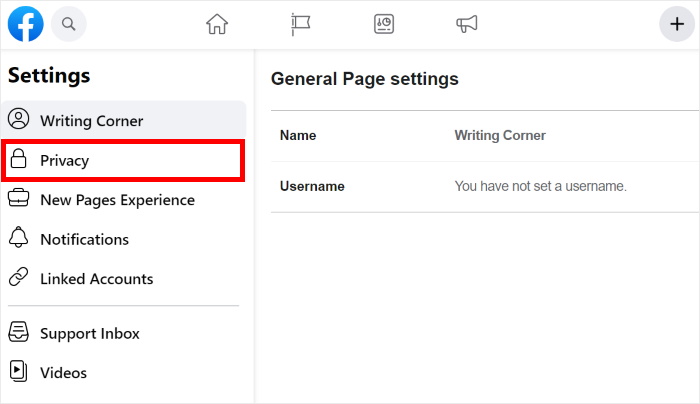 On the left, click on the Page and tagging option to continue.
Finally, look for the option labeled Allow others to view and leave reviews on your Page? and toggle it on.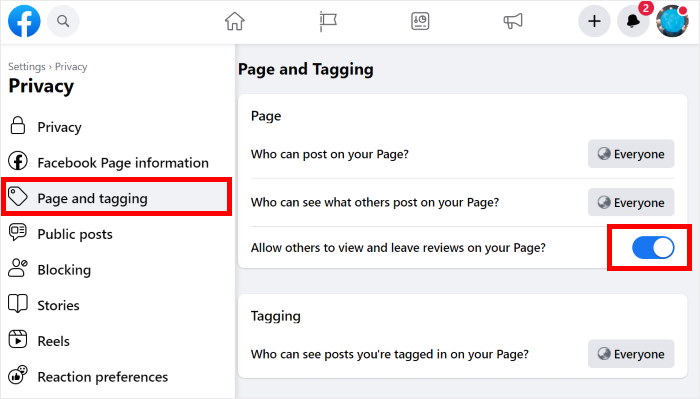 You can now start collecting reviews and recommendations from your customers, which will be displayed on your Facebook account's Reviews tab. Then, you can also add a short call-to-action in your posts to encourage customers to review your business.
For more details, you can look at this tutorial on how to create the perfect call-to-action.
2. Promote Your Page on Other Social Media Platforms
If you're not telling fans on other social media platforms that they can leave reviews on Facebook, they might never find out.
So it's crucial that you cross-promote your Facebook page on the different social channels you own, including Twitter, Instagram, and YouTube.
It doesn't have to be anything fancy. You can simply promote your page or group on other social platforms and ask people to join you.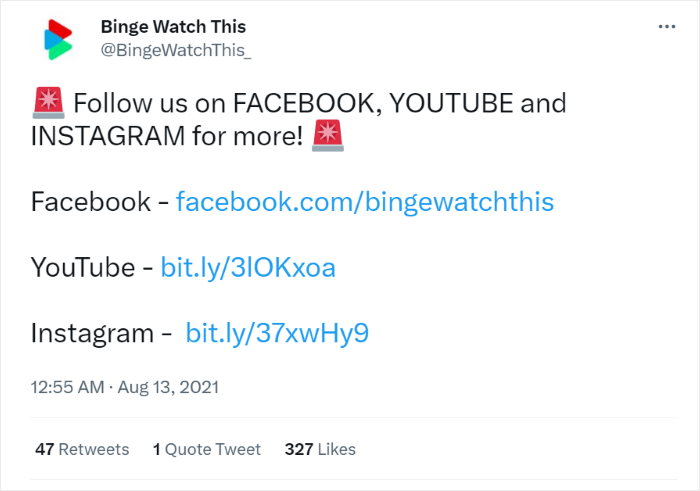 That way, interested people can follow your brand on Facebook, where they can leave reviews and testimonials.
Want to kickstart your social media following on all these platforms?
You can embed social media feeds on your website so visitors can interact with your posts and follow you for more.
3. Embed Facebook Reviews on Your Website
By embedding Facebook reviews, you can encourage website visitors to leave more reviews of your brand.
After all, you're showing people that you check your reviews and listen to what they have to say.
The best part?
It's easy to embed a feed of Facebook reviews on your website. All you have to do is use the Facebook Feed Pro plugin from Smash Balloon.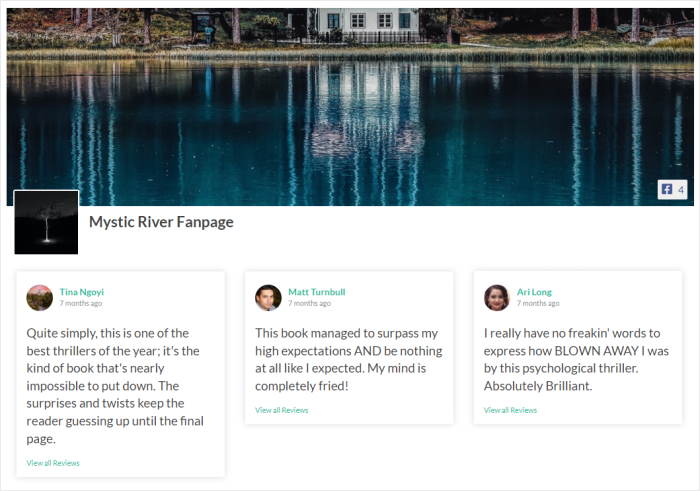 With a few clicks, you can seamlessly connect your page and display beautiful Facebook feeds styled to match your site design.
To help you do this yourself, we've put together this guide on how to add a Facebook reviews feed to your WordPress website.
4. Add a Facebook Review Widget
Another way to convince people to leave reviews is to embed a Facebook review widget.
That means anyone browsing your feed only needs a click to visit your Facebook business page and leave a review.
For instance, you can easily add your Facebook reviews feed to your sidebar or footer areas using Facebook Feed Pro.
Then, you just need to edit the Facebook feed header to something that will encourage your site visitors to review your business, like this: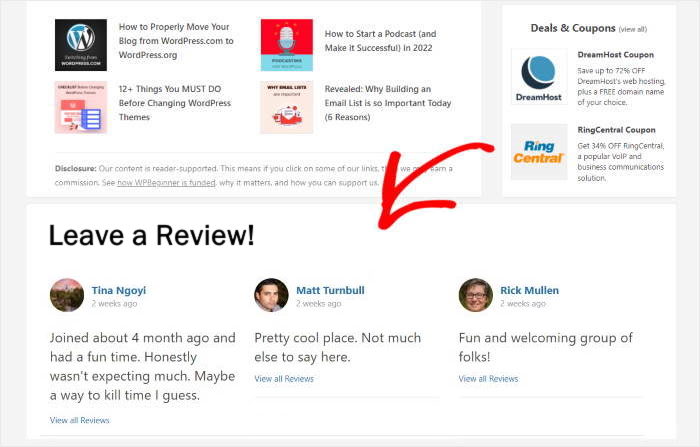 Using Reviews Feed Pro, you can even create widgets to show reviews from other major platforms like Tripadvisor, Yelp, and Google Reviews.
The best part is that you can do this for your own website — even if you're a WordPress newbie.
Check out how to add a social media review widget to your website for more information.
5. Send Email Invitations to Recent Customers
Did you know that email marketing can return $36 for every $1 you spend?
Email marketing can be a fantastic way to promote your brand, convert visitors, and get reviews.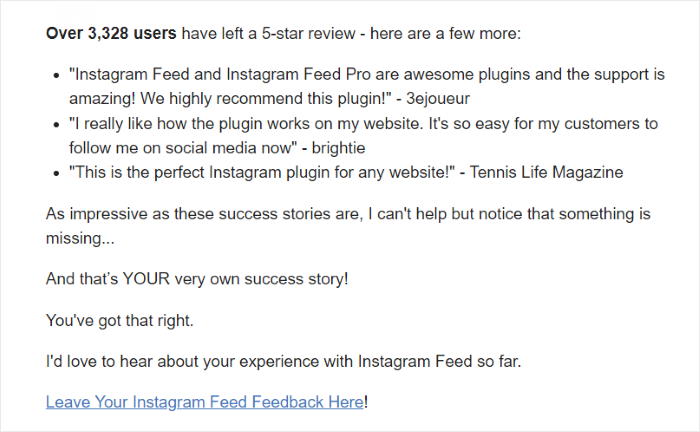 You can directly send an email to your new customers and ask them to drop you a review on Facebook. To sweeten the deal, you can try offering discounts, coupons, free trials, and more.
If you want to get started with email marketing, here are some great ways to grow your email list.
6. Write a Facebook Post Asking for Reviews
Sometimes, satisfied customers on your Facebook page might have just forgotten to leave a review.
To fix this, you can create a new post on Facebook and remind your customers to leave a review.
You can also add an engaging image to the Facebook post so you'll have an easier time grabbing people's attention.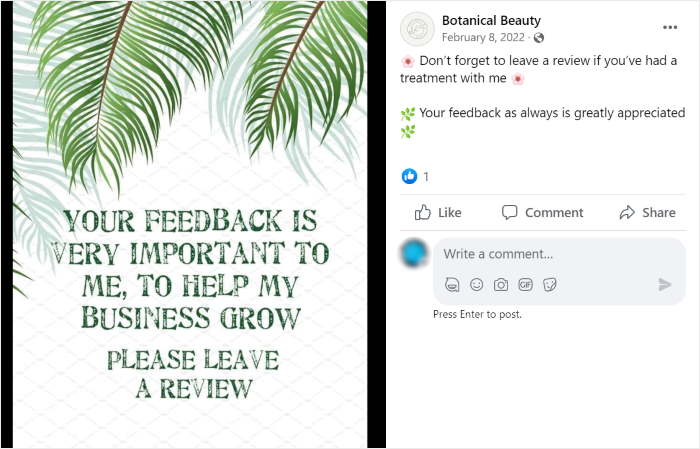 As a bonus, you can also use Facebook Feed Pro to embed photos and remind website visitors to leave reviews.
7. Set Up a Chatbot on Facebook Messenger
Chatbots are getting more attention as technology improves. And as they continue to make inroads in the customer service and marketing industry, they're proving pretty valuable.
The fact is, messages sent by chatbots tend to have higher open rates, and with customers getting used to them, they're tools worth utilizing.
Asking for a review using a Facebook Messenger chatbot can help you reach lots of new people easily. And that means more reviews for your business.
If you think a chatbot can be helpful, check out our full list of the best Facebook marketing tools.
8. Send SMS Messages Asking for Feedback
Did you know the majority of all searches for local businesses nowadays happen on mobile devices?
The truth is, much of the online world is navigated by mobile now, so collecting reviews in this way makes it super convenient for your customers.
You can use the power of mobile to get more Facebook reviews by asking customers to leave a review via SMS.
If customers have opted in to receive updates via text message, send them a short message containing a link to leave feedback on your Facebook page.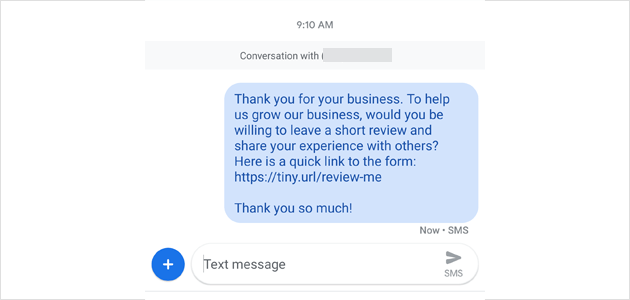 Just make sure you keep your messages short and to-the-point, so people are more likely to read through them.
On top of Facebook pages, you can use SMS messages to grow your Instagram account, Facebook group, Twitter page, and more.
9. Enable Notifications for New Reviews
If you aren't notified when people leave new reviews, you can't respond to them or share them with others.
The easiest way to solve this is to enable notifications for new reviews. That way, Facebook will let you know whenever someone leaves a new review.
To enable notifications for new Facebook reviews, follow these steps:
Go to your Facebook page
Click Settings on the left column
Click Notifications
Next to New Page review, click Turn On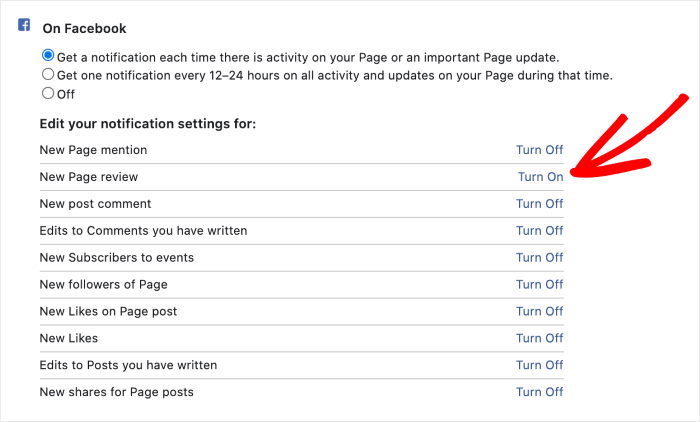 Once that option is activated, you'll be notified whenever someone leaves feedback on your Facebook business page.
And if you get negative Facebook reviews, you can now respond to them immediately.
10. Respond To Negative Reviews
While bad reviews can harm your brand, there are ways you can turn them into positive reviews.
Here are the steps you can take when faced with a negative Facebook review:
Respond to the review as fast as you can
Start by politely apologizing for the problem
Offer them ways to reach out to your support team
Remind them to change the review score if you helped solve the issue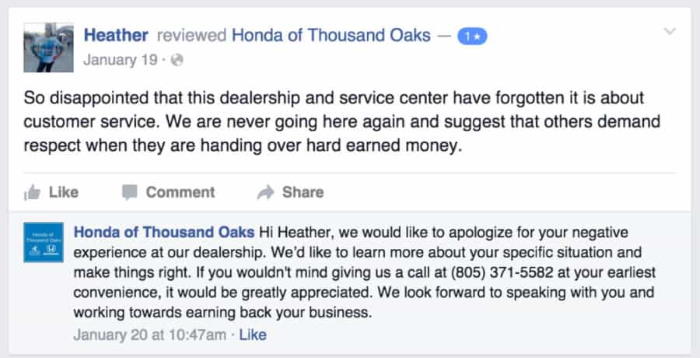 By helping a customer with a problem like this, you can improve your brand's reputation and encourage others to leave their feedback as well.
We've got a full article on how to handle negative Facebook reviews here that you can check out.
11. Answer Comments and Questions From Fans
Following on from responding to negative feedback, you should also reply to comments on your Facebook page and questions from potential customers.
If people see your page is busy with activities and conversations about your product, they're more likely to ask their own questions.
Plus, answering questions removes obstacles that prevent people from shopping with you.
Even better, if customers have a great experience with the buying process, they're much more likely to leave a review describing that positive experience.
You can also embed Facebook posts on your website to show these interactions to your visitors.
12. Promote Stand-Out Reviews on Facebook
Actively highlighting the feedback you receive on Facebook is another way to draw attention to your reviews tab.
You can make it a regular feature to promote the best reviews on your page to celebrate your customers and add a call to action for others to leave their own feedback.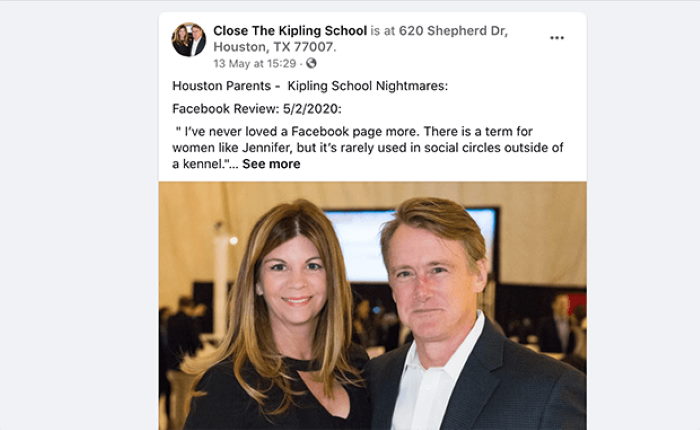 Why not run a Facebook Live stream where you read out your recommendations, making it an event your fans can rally around and engage with?
Pro-tip: Are your reviews presented as videos? You can also use Custom Facebook Feed Pro to embed Facebook videos on your website.
13. Encourage Facebook Check-Ins
The likes of Foursquare made virtual check-ins to business locations a viral trend.
Facebook took that functionality and added it to business pages where customers can check-in, notifying friends of their location.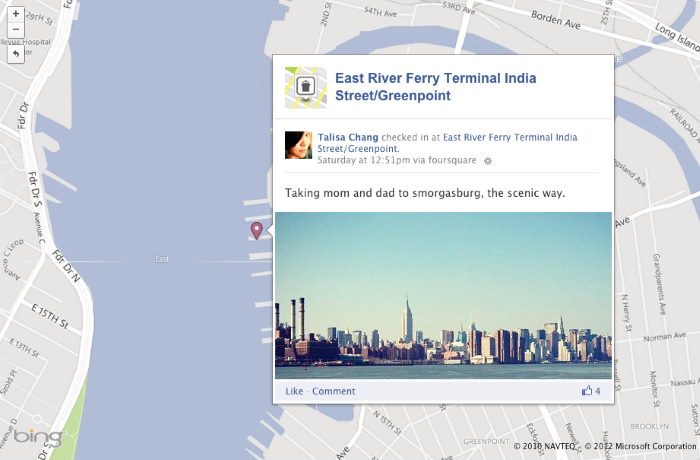 Facebook's check-in functionality also has a nifty feature to help you collect reviews. After someone checks in, they receive a message from Facebook afterward, asking them to review the business.
For a lot of business pages on Facebook, it's another excellent way to get more reviews for your Facebook page.
On top of getting new reviews, you can also get tons of Facebook likes for your page this way.
14. Remember to Ask for Reviews in Person
Most of the tips in this article focus on getting Facebook reviews online.
But if you have a physical business, you have a great chance to remind them to leave a review on your Facebook page.
You can do that verbally or with reminders around your store. For instance, you can add the review URL on your receipts, hang up signs in your store, and so on.
We've got a list of the best visual content creation tools to help you design beautiful signs with ease.
15. Offer Discounts and Rewards
You can also give out discounts or rewards to people in exchange for Facebook reviews.
Here are a few examples to help you get started:
Offer a discount coupon
Enter people into an online giveaway
Give out free product samples
Offer a free trial of new products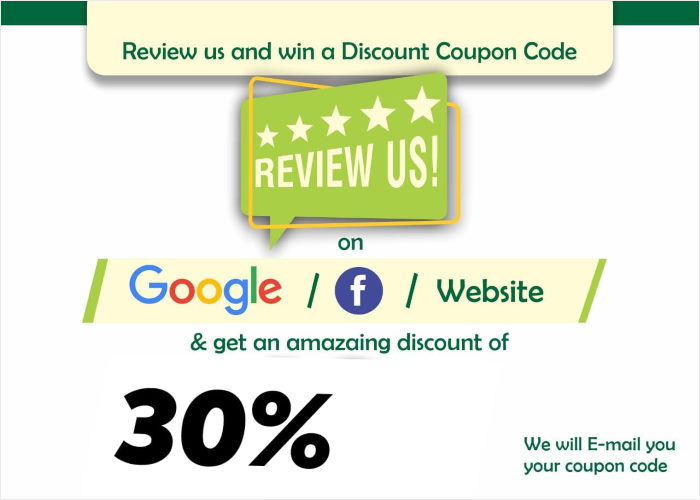 Give these offers a try, and you can see which works best for your business. In some cases, it might be best to run your incentives for a limited time.
In some states, offering incentives for reviews is forbidden or requires disclosure, so make sure to check your local laws.
If you want to run a giveaway for people who leave reviews, check out our list of the best WordPress giveaway plugins.
There you have it!
In this article, you've learned how to get Facebook reviews for your business page. Give these a try, and you can improve the trust of your customers, increase sales, and grow your business.
For a simple way to get lots of Facebook reviews, you can embed a reviews feed on your website. As a result, you can easily grab people's attention and remind them to leave a review.
Ready to embed Facebook review feeds? Get your copy of Reviews Feed Pro here.
If you're interested in increasing your Facebook page engagement, check out our tutorial on how to display a Facebook Events calendar on your website.