Want to learn how to deal with negative Facebook reviews?
Customer reviews can be an amazing way to convert people into customers — but if you're getting negative reviews on Facebook, it can actually hurt your business, especially if you don't respond to them in the right way.
In this post, we will show you how to deal with negative Facebook reviews so you can boost trust in your brand and grow your business.
Why Are Facebook Reviews Important?
With almost 2.91 billion users, Facebook is easily the biggest social media platform.
Since there are billions of Facebook users, you can use this social network to reach tons of potential customers and get lots of reviews to help you promote your business.
Other benefits of showing Facebook reviews for your business are:
Build social proof — When people see a positive review of your brand, it can work as social proof and convince them to buy from you, since you're showing that real Facebook users are enjoying your products or services.
Boost brand trust — 74% of shoppers say that reviews increase trust in a company.
Increase your sales — 92% of buyers are more likely to purchase after reading a trusted review.
As you can see, it's pretty easy to grow your brand with online reviews if you have positive social proof.
Unfortunately, not all ratings you get on your Facebook business page will be positive — so what can you do if your business receives a negative feedback on Facebook?
Best Ways to Deal With Negative Facebook Reviews
Here are the most effective ways on how to deal with bad reviews on Facebook so your business can continue getting tons of customers online.
1. Turn On Facebook Review Notifications
Do you get notified each time you receive a Facebook review? You should, so you can easily manage your brand's online reputation on Facebook.
To make sure you keep track of the reviews your business receives, set up your Facebook page to receive notifications every time you get a review.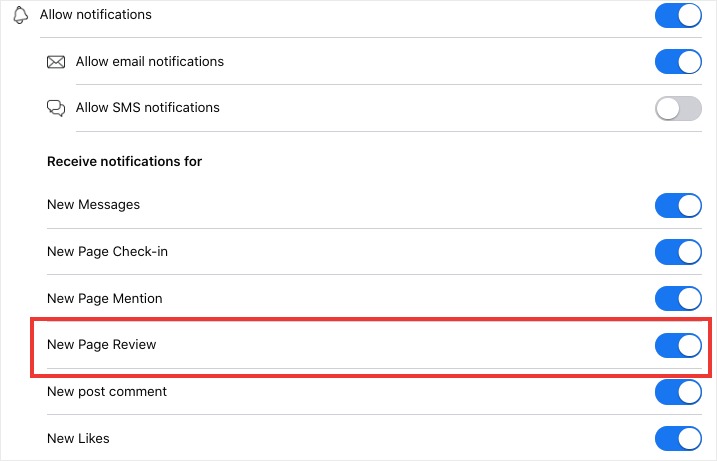 The next step in dealing with negative customer feedback is to pay attention to them. After all, doing nothing about negative reviews can harm your brand's image.
Here's an important fact: 53% of people who leave reviews expect to hear back from you within a week.
When you don't respond, it can damage your relationship with the reviewers since they'll feel ignored.
Plus, they can go on and leave more negative reviews on other social media accounts if they're still unhappy. In the long term, it means more people get a bad impression of your business.
How do you respond to a negative Facebook review, you ask? Let's talk about that in the next step below.
2. Respond to the Negative Review
When customers leave bad reviews about a business, they expect a response.
If you get bad business reviews on Facebook, the best option is to respond to that social media review professionally and politely within 0-4 hours.
Not sure how to respond to a bad Facebook review?
To respond to a Facebook review, start by addressing your customer's concern: apologize for the problem and sympathize with the reviewer.
Once you've done this, you can ask the reviewer to send you a private message about the issue…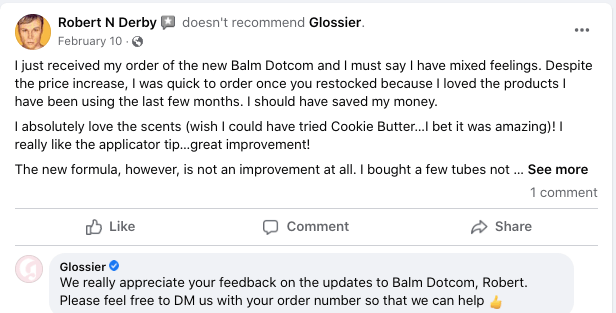 Or you can also give out your direct hotline or email address and offer a refund or product replacement like what Outlaw Soaps did here: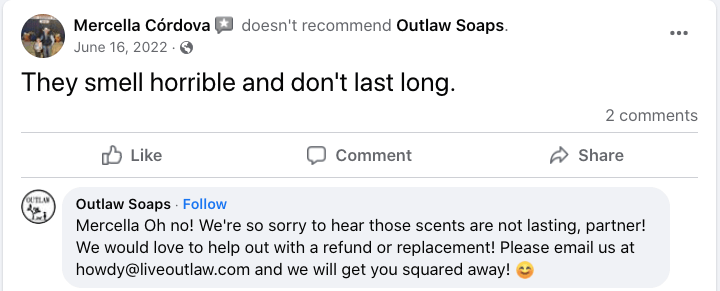 We know how terrible it feels when you receive a not-so-good review on your business page, but your review response can actually improve your brand reputation!
In fact, 56% of shoppers had changed how they viewed a business based on how the business responded to a review.
When replying to a negative review, make sure to respond empathetically to make your customers feel seen and heard. This helps you improve your connection with your customers and increase trust in your brand.
Even better, your customers can become your brand ambassadors because you handled their review positively.
3. Get More Positive Facebook Reviews
As a business owner, another fantastic way to handle negative Facebook reviews is to encourage more customers to leave positive reviews on your page.
This will pull the focus away from negative reviews so that potential customers visiting your Facebook page will see that you've got a lot of satisfied customers.
And the best part is that you can get positive Facebook reviews from your users just by asking them.
When someone purchases your product, you can send a follow-up email after a while and ask them to leave their customer experience in a Facebook review.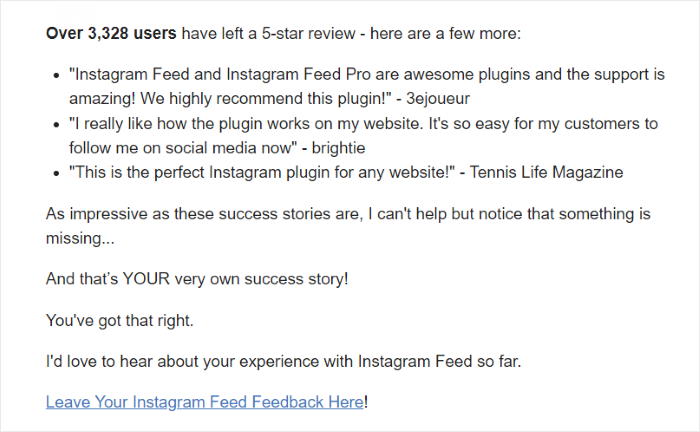 Want to encourage more positive Facebook reviews? Check out this guide on how to get Facebook reviews for your business.
4. Report Reviews Which Violate Facebook's Rules
While negative reviews can be helpful sometimes, you can also get reviews that go against Facebook's rules.
These rules are known as Facebook's community standards, and they protect your page or Facebook group against content that:
Promote violence and criminal activities
Have hate speech, bullying, or harassment
Promote fraud and spam
And more
How to Remove Negative Facebook Reviews
If you've ever asked yourself, "Can I remove a bad review on Facebook?", then you may be surprised to know that the answer is no.
Don't lose hope just yet. If your Facebook reviews violate the community standards, you can report them to Facebook so that these reviews will be removed.
As a result, you can keep your business page free from harmful content and fake Facebook reviews.
You can take a look at the Facebook community standards here for the full list of rules.
5. Display Positive Facebook Reviews on Your Website
Does your business have an official website?
While you can't completely control the reviews you show on Facebook, you can show your business in a positive light by managing the reviews you show on your brand's website.
Embedding positive Facebook reviews on your site can improve your brand's reputation, establish confidence in your business and convert visitors into customers.
You can use Reviews Feed Pro to automatically display your best reviews from Facebook, Google, Yelp and more.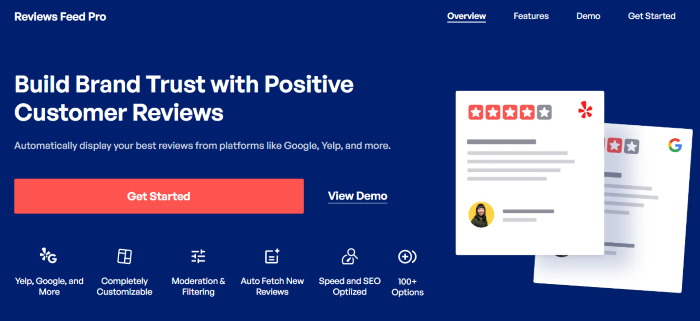 As the best reviews aggregator plugin for WordPress, Reviews Feed Pro lets you showcase positive Facebook reviews on your WordPress — no coding needed.
The best part?
You can use the plugin's visual customizer to have complete control over the reviews that are displayed on your site. With just a few clicks, you can easily:
Show your Facebook reviews with highest star ratings at the top
Filter out reviews with extremely low 1-star or 2-star ratings or negative comments
Remove Facebook reviews that contain specific words or phrases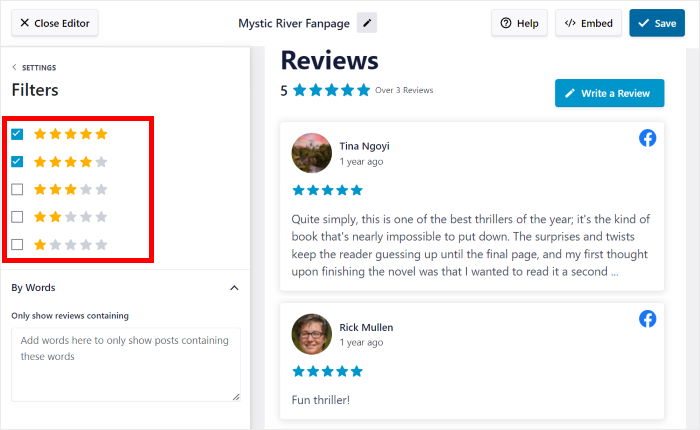 Check out this handy tutorial on how to embed Facebook reviews on your WordPress site to get started.
And that's it! We hope this showed you how to deal with negative Facebook reviews for your business. Using these simple hacks, you can easily handle negative reviews so you can use social proof to skyrocket your brand's growth.
Ready to grow your business using online reviews?
Get started with Reviews Feed Pro today!
Want to make the most out of Facebook? You can take a look at our list of the best Facebook plugins to grow your business.
Are you a local business with a Google listing? Here's how you can embed Google reviews on your website.
While you're here, you can also check out our guide on how to display Yelp reviews on WordPress.
Found this helpful? Then follow us on Facebook and Twitter for more helpful posts and latest updates.