Are you looking for easy ways to display Facebook events calendar on your website?
Showing your Facebook page's events calendar on your WordPress site is a great way to inform visitors about important dates such as product launches or upcoming promotions.
But embedding a Facebook events calendar on your website involves several steps that can be confusing for beginners.
So in this article, we show you how to display a Facebook events calendar in WordPress, step-by-step, using these methods:
To start, let's talk about why it's important to embed a Facebook events calendar on your website.
Or, you can click here to skip ahead to the easiest way to add a Facebook events page to your site.
Why Embed Facebook Events on Your Website?
There are several reasons why your business needs to display a Facebook events calendar on your website.
The most obvious is to tell site visitors about upcoming events so they can join in.
More importantly, if your visitors aren't already aware of your Facebook page, showing your page's events encourages them to like your page for more updates.
Here are a few more reasons for embedding Facebook events in your WordPress website:
You can promote your events to a relevant audience outside your Facebook community to boost attendance.
A Facebook events calendar encourages visitors to engage with and explore your Facebook page leading to more followers.
You can boost Facebook page engagement and help your content appear higher up in the news feed, raising awareness and increasing traffic to your page.
Displaying Facebook events on WordPress keeps people on your site for longer. The longer people stay on your website, the better your site's rankings can be. It also increases the chances of your visitors to convert into paying customers.
Now that you know the benefits of embedding a Facebook events calendar in WordPress, let's look at how to do it.
To use the solutions below, you should first ensure your business has a Facebook page set up. You also need to set up Facebook page events tab.
When you've done that, come back to this guide to move on with adding Facebook events to your website.
Display Events With the Facebook Page Plugin Widget
The 1st method for displaying Facebook events on your website is to use the Facebook page plugin widget. This is Facebook's official developer tool for embedding aspects of your Facebook page on your website.
This method involves copying and pasting code snippets to WordPress. So if you're not comfortable with doing this on your site, try the other techniques in this article that don't require that.
Want to continue doing this manually? Let's get started with the first step below.
Step 1: Use the Facebook Page Plugin Code Generator Tool
The first step in adding a Facebook event calendar widget to your website is to visit the page plugin code generator tool here.
Next, enter your Facebook page URL and in the Tabs field, delete "timeline" and enter "events," as you can see below:

A preview of your page's events appears in the box below to give you an idea of how it will look live on your website.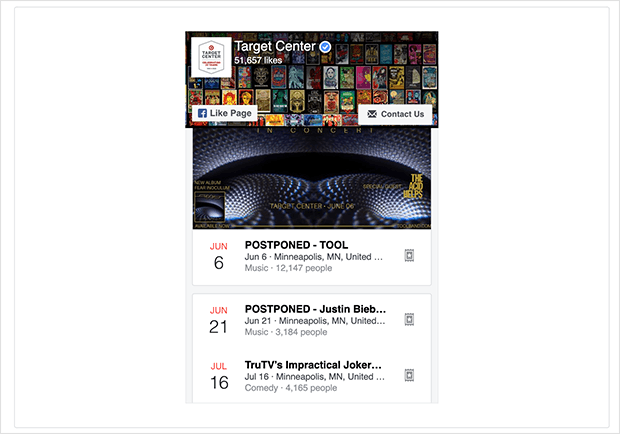 Step 2: Generate the Facebook Event Code
Once you've entered your page details, click the Get Code button. This shows the embed code needed to display your events in WordPress.
Along the top of the code box, you have the option of choosing JavaScript or iFrame.
The JavaScript code requires you to edit your site's theme files, while the iFrame code lets you embed the code in your posts, pages, or widget-ready areas.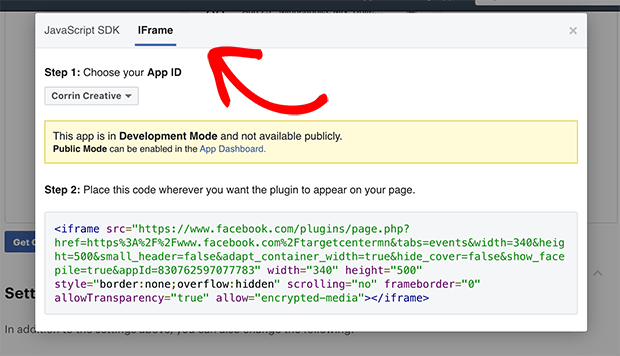 For this example, select the iFrame option and copy all of the code in the box. You might want to paste the code into a blank text file or notepad on your computer so you don't lose it.
Step 3: Paste the Facebook Event Code on Your Website
The next step is to embed the Facebook event code on your website.
In WordPress, head to your admin area and decide where you'd like to display your Facebook events calendar.
For this tutorial, we'll add our calendar to a widget in our site's sidebar. To start, head to Appearance » Widgets for an overview of your widgets and sidebars.
Then drag the Custom HTML widget to your chosen sidebar. Give the widget a title to inform visitors what it's for and paste the code you copied earlier into the box.
Then click Save and Done to save your changes.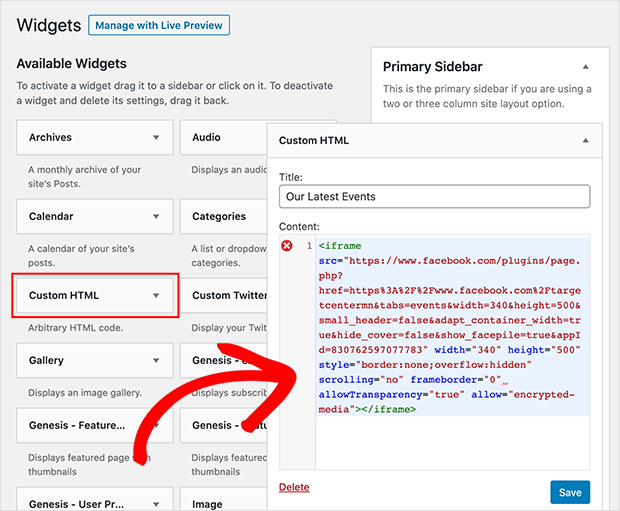 You'll see your Facebook events displayed in your sidebar when you navigate to your main website.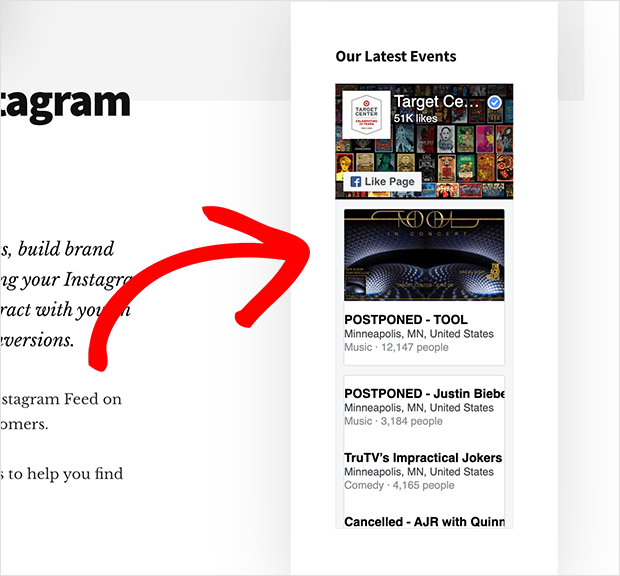 In our example, we changed the iFrame code's width, so the widget fit our sidebar better.
But what if you're not comfortable with editing code, and you'd like a more straightforward and customizable option?
The next method is so easy to get up and running — even complete beginners can embed their Facebook events calendar on their website with a couple of clicks.
Display Facebook Events with a WordPress Plugin
For the next method, we're using a WordPress plugin to display Facebook events on a website.
WordPress plugins extend the functionality of WordPress without the difficulty of manually coding your website.
Just upload the plugin file, activate it, and click a few settings to get going. No need to deal with CSS or other coding languages, so it's newbie-friendly!
For this example, we'll use the Custom Facebook Feed Pro plugin from Smash Balloon.
It's the best Facebook feed plugin for WordPress. Using it can help you seamlessly integrate your Facebook content with WordPress in a few clicks.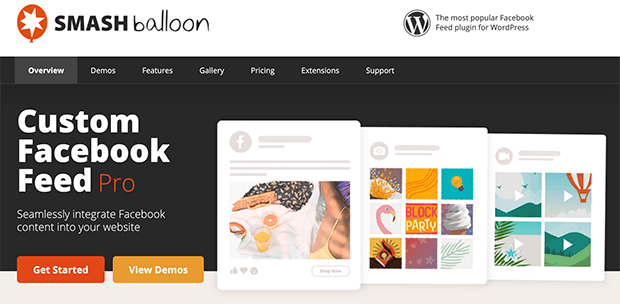 Besides displaying Facebook events on your site, this Facebook feeds plugin has the following features:
Display multiple Facebook feed types on your site, including posts, photo, video feeds, and more
Control the information displayed in your feeds such as headers, dates, descriptions and more
Easily manage and display multiple Facebook account feeds on a single website
Completely customize your feeds' look and feel with layout choices like Facebook slider and styling options to match your website branding
Display your feeds beautifully on mobile devices with the mobile-friendly design
Show Facebook reviews on your website to establish social proof and increase sales for your business
And much more!
Even better, you can do all that without having to write a single line of code, making it super-easy for beginners to get started with.
What's more, the Custom Facebook Feed Pro plugin will automatically connect to the Facebook API for you so you can start displaying your Facebook events on your site. Yes, even if you're a WordPress newbie!
Just install the plugin and let it do all the hard work for you.
Step 1: Install the Custom Facebook Feed Pro Plugin
The first step in adding Facebook events to your site with a plugin is to get your copy of Custom Facebook Feed Pro. After that, follow these steps to install a WordPress plugin.
Next, navigate to Facebook Feed » Settings where you can connect your Facebook account to WordPress.
To do that, click the blue Connect a Facebook Account button and follow the instructions to link your Facebook page.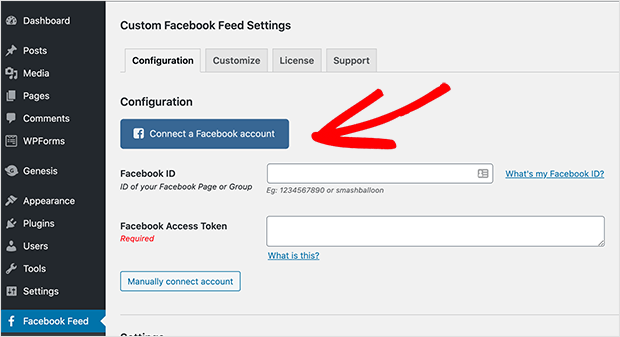 On the same page, you can continue setting up the plugin.
Just click on a setting and a drop-down will appear. With just a few clicks, you can choose how many posts to display in your feed initially, your date and timezone settings, and how often the plugin should check for new posts.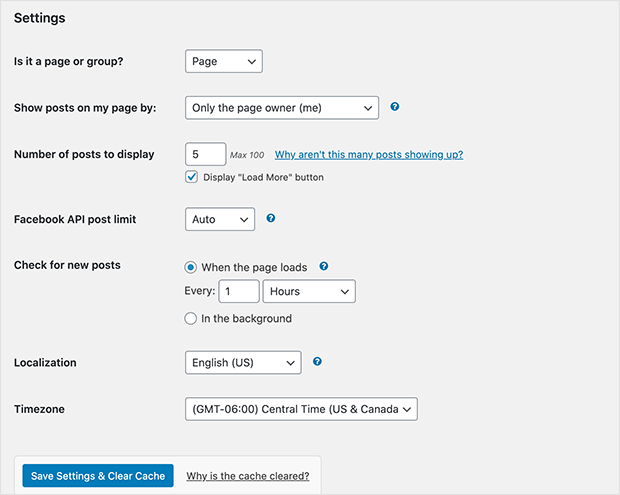 After that, click the Save Changes button and move on to the Customize tab.
Step 2: Configure the Post Type Settings
On the Customize page, you're faced with several General settings for choosing how your feeds display on your website.
These include changing your feed's width and height and setting the padding, background colors, and columns.
The next section is for the types of posts you'd like to display in your Facebook feed. Since you want to show your Facebook events feed, untick all the boxes apart from the Events checkbox.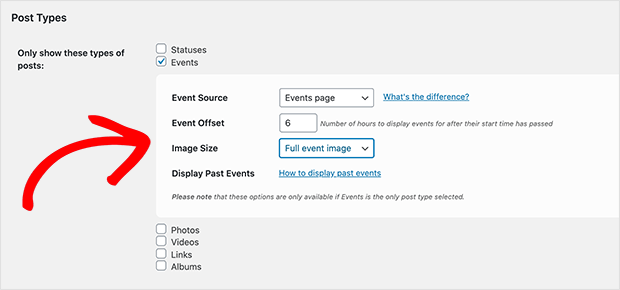 Then set your Event Source as the Events Page and choose how many hours you'd like to display events for after their start times.
Here, you can also set the image size in your feed as the full event image or a square cropped image.
Click Save Changes when you're finished.
Step 3: Choose Your Facebook Event Calendar Layout
Now it's time to choose the perfect layout for your event feed. This is simple to do, since the plugin's customization options let you do this with just a few clicks.
From the Customize page, click the Post Layout tab to see the different layout options available to you.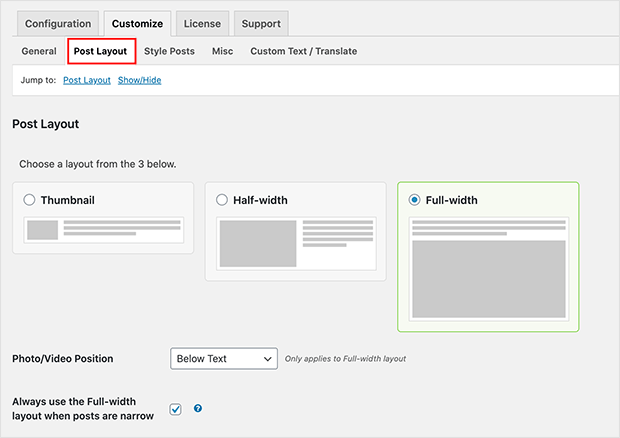 There are 3 different layouts you can choose from, including:
Thumbnail: Show a small thumbnail image with event details to the right.
Half-width: Display your event image at half the width of your content, with the details on the right-hand side.
Fullwidth: Show a fullwidth event image with the details either above or below.
Further down the page, you can show or hide specific details from your Facebook event feed, including post actions, the author name and avatar, and much more.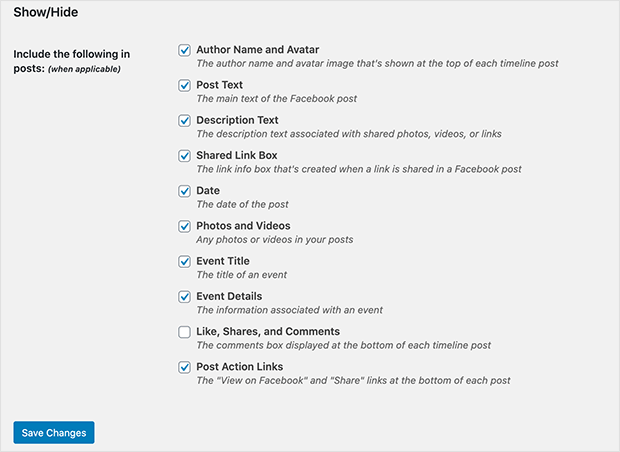 Just remember to click Save Changes before you move on to customizing further elements of your feed.
Step 4: Customize Event Posts in The Feed
Next, click the Post Styles tab at the top of the page.
Here, you can customize how your events posts look when they're displayed in the Facebook feed on your website.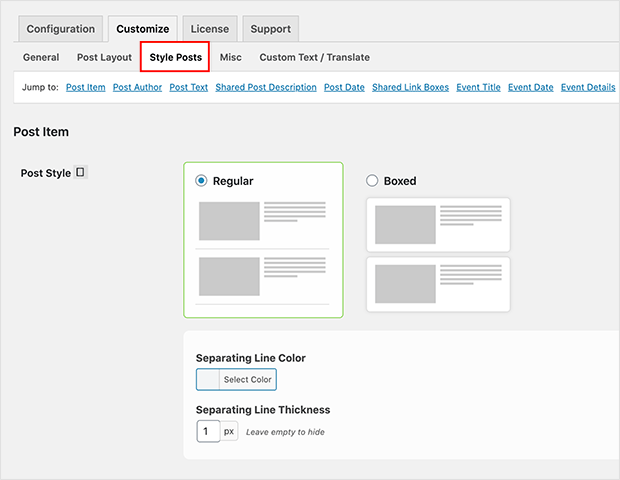 There are 2 post styles to choose from, including the regular style with a line separating posts and the boxed style. The boxed style separates posts in your event feed with individual boxes.
On this page, you can also customize the text, link colors, and event title and details.
Step 5: Embed Your Facebook Events in WordPress
Now that you've set up the Facebook feed plugin, and configured all your settings, it's time to embed your Facebook events calendar in WordPress.
To embed a Facebook events page on your website, navigate to Pages » Add New from the WordPress admin area.
Then once you've given your page a title, click the Plus (+) icon to add a new content block.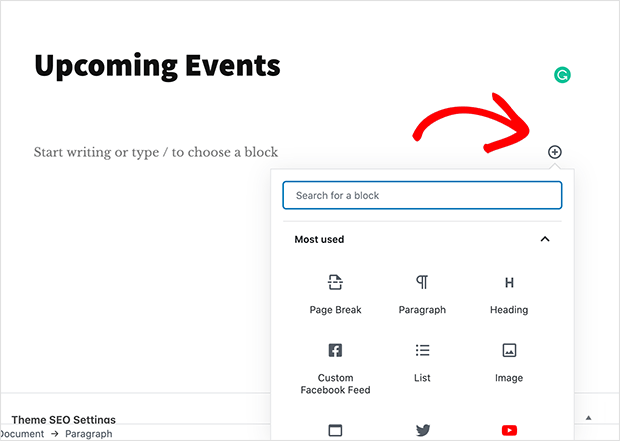 In the search box, type Facebook to bring up the Facebook Feed content block and click it to add it to your new page.
You'll see a preview of your events feed in the WordPress editor so you can check out how it looks before publishing.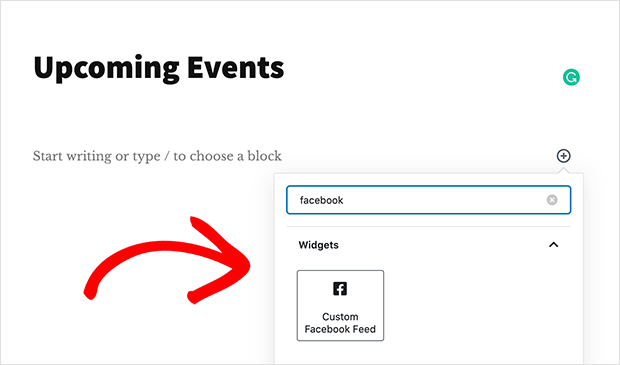 Then once you're happy with your Facebook feed, click Publish.
And when you preview the page, your Facebook events calendar will be live for your visitors to browse.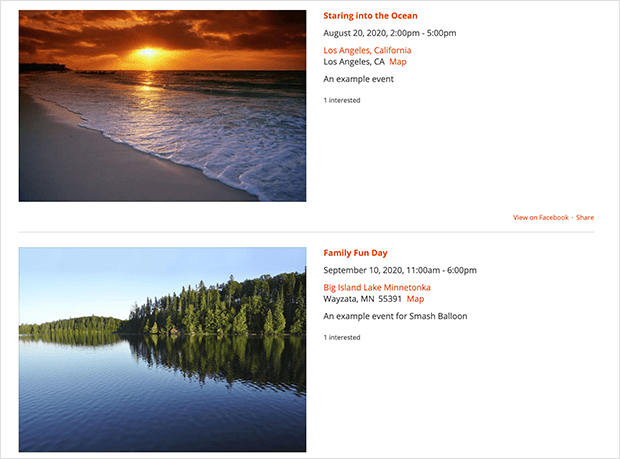 For help with more Facebook events feed settings, see the documentation here.
And that's it!
We hope this article helped you learn how to display a Facebook events calendar on your website.
What are you waiting for?
Get started with Custom Facebook Feed Pro now!
Or if you want unlimited access to Smash Balloon plugins so you can use them on unlimited websites, go ahead and get the Social Wall Pro bundle here.
As the best social media aggregator, Social Wall Pro lets you combine your social media feeds from Facebook, Twitter, Instagram and YouTube into a single feed.
The great part about Smash Balloon's pricing method? It comes with a 100% no-risk money-back guarantee so you can try out the plugins first and see if it's a good fit for you.
Plus, Smash Balloon plugins are trusted by some of the world's greatest brands:

Interested in more tips on Facebook marketing? You may want to check out our next article on how to get more likes on your Facebook page.
And do follow us on Twitter and Facebook for more helpful content about social media marketing.