Are you looking for a way to add a Facebook feed carousel to WordPress? If so, you've come to the right place.
In this article, we're going to show you the easiest way to add a Facebook carousel to your website.
It might sound complex, but no need to worry. Just follow this guide, and you can have a beautiful Facebook feed carousel without having to mess around with codes.
Let's get started.
Why Embed a Facebook Feed Carousel
It's easy to see why someone would want to add their Facebook feed to WordPress. With more than 2.7 billion users, it's hard to ignore it if you want to grow your website.
Since Facebook is such a popular website, it also means that many people are trying the same thing. With so many people to compete with, you're going to have to take some special steps to stand out.
This is where Facebook feed carousels come in. Instead of the usual way, you can show your feed in a carousel slider.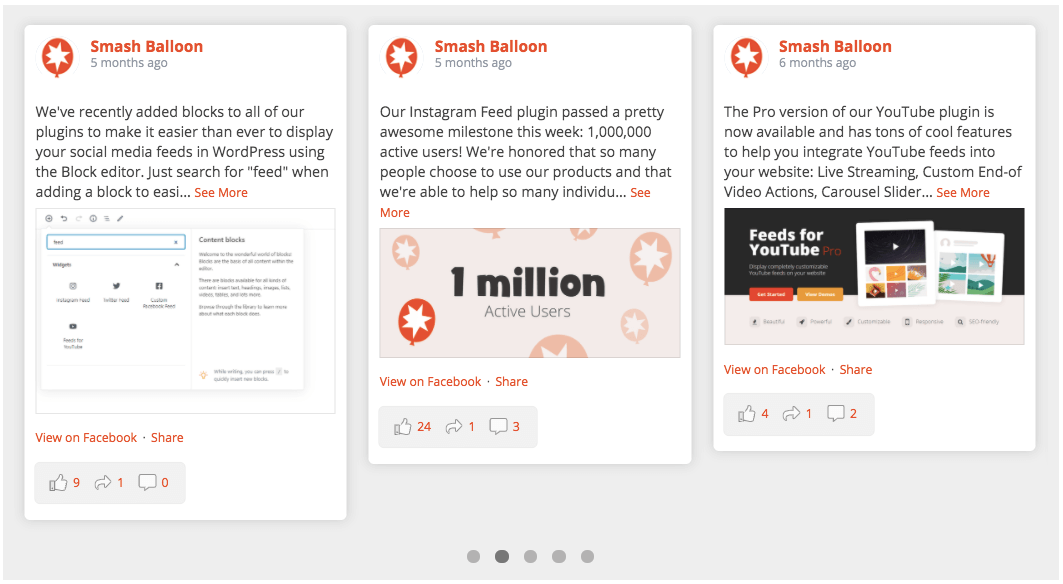 With a Facebook feed carousel, you can nicely show off all sorts of content. There's absolutely no limit to the type of post you can add there, from photographs to testimonials to user reviews.
Not only are they pleasing to look at, but you can also display a lot of content in a smaller amount of space. There's no need for your Facebook feed to cover a large chunk of your page!
All in all, a Facebook feed carousel is one of the best ways to display content on your web page. It's efficient, engaging, and best of all, easy to do with the right tool.
Easiest Way to Add a Facebook Feed Carousel
Now, you might be wondering how to add a Facebook carousel slider to WordPress.
Adding a Facebook feed to WordPress without a plugin is quite hard. While it is possible, people without technical knowledge can have a tough time there.
For one, you can't customize the design of your feed without coding. If you're not comfortable with coding, then it's going to be very confusing.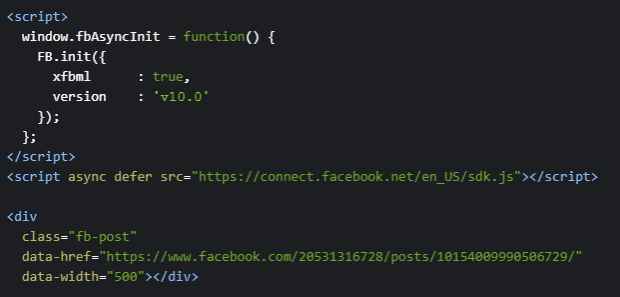 On top of that, you'll also have to manually change code snippets and add the code directly to your WordPress site. A small mistake here can even accidentally break your website.
What if you want to use Facebook's Page plugin? Sadly, Facebook's Page plugin has no carousel option, so this is tricky as well.
Luckily, there's an easy solution with Smash Balloon's Custom Facebook Feed Pro plugin. All it takes is a few clicks, and you'll have a beautiful Facebook carousel feed on your website.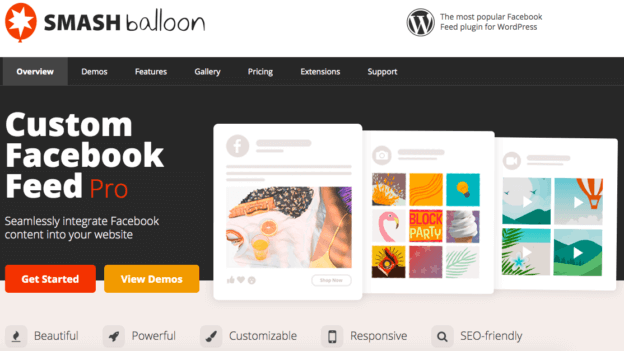 Of course, there are also some essential extensions that you can't afford to miss. With them, you can have many unique features, including support for carousels, reviews, multi-feed, and much more.
Still not convinced? Here are a few things that make it the best Facebook feed plugin for WordPress:
User-friendly: Just about anyone can get started with using it, with no technical knowledge required. In fact, it's so easy to use that you can set up your Facebook feed in just a few minutes.
Customizable: With Custom Facebook Feed Pro, you can also get creative with your feed design. The plugin lets you easily set the background color, header style, text color, link color, and more, so your feed will match your brand perfectly.
Lightweight: No need to worry about social media embeds slowing down your site. The plugin has been optimized so your Facebook feed carousel loads as fast as possible, which is great for SEO.
Top-notch customer support: Ran into any issues while adding a Facebook feed to your website? Smash Balloon's dedicated support team will be there to help you out. The plugin has a 4.8/5 star rating, which speaks for itself.
And that's just the start. You can read everything that Custom Facebook Feed Pro can do for your business here.
Creating a Facebook Feed Carousel in WordPress
With that out of the way, let's get to the main part. Below, we'll show you how to add a Facebook feed carousel to your website.
Step 1: Install the Custom Facebook Feeds Pro Plugin
First things first, you can get your own copy of the Custom Facebook Feeds Pro plugin here. Then, you can also download the Carousel extension here.
Once you're done downloading both plugins, simply install and activate them on your WordPress website.
If you're stuck, we also have a handy guide on installing a WordPress plugin.
Step 2: Enter Your License Key
With the plugins installed and activated, the next step is to activate your license key.
Just check your email inbox, and you can find a message from Smash Balloon that contains your license key. Remember to copy it to your clipboard.
After that, go back to your WordPress dashboard and navigate to Facebook Feed » Settings on the sidebar. Now click on the License tab at the top.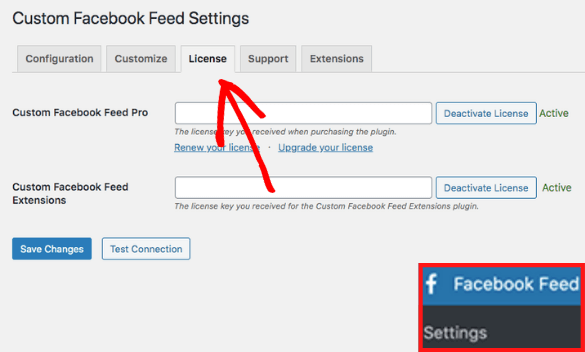 All you need to do now is enter the license keys for Custom Facebook Feed Pro and click on the Activate License button.

You should now be able to see a label that says Active to the right of the button. Just do the same for Custom Facebook Feed Extensions below.
Once you've done that, click on Save Changes.
Step 3: Add Your Facebook Account to the Plugin
Your plugin is now ready to go. Now, you can finally go ahead and connect it to your Facebook account.
It's pretty simple and straightforward, so no need to worry. In fact, you can easily connect your Facebook account to the plugin with just a few clicks
First of all, navigate to Facebook Feed » Settings on the sidebar. On this page, just click on the large Connect a Facebook account button.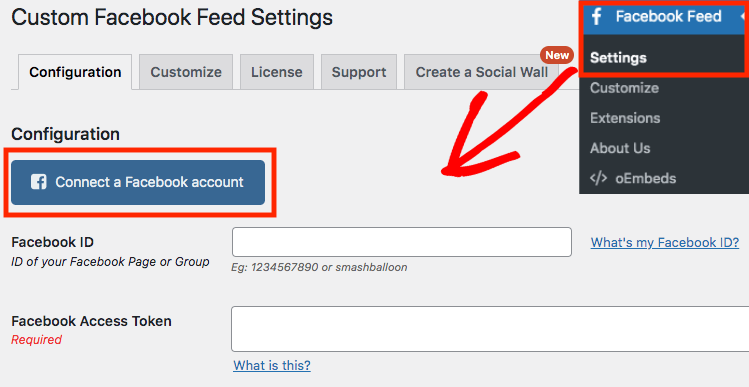 Doing that will bring up the option to choose what you'd like to display. After all, this Facebook feed WordPress plugin supports pages as well as Facebook groups.
Using the drop-down list, just choose whether you'd like to connect a page or a group and then click on Continue.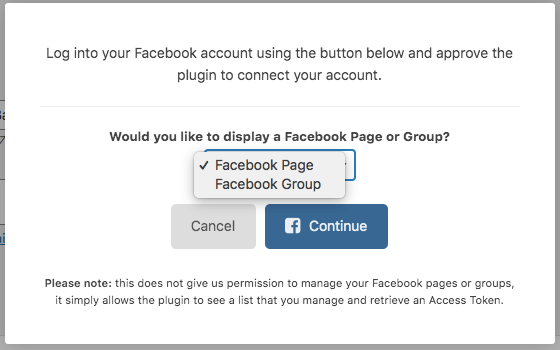 Doing that will redirect you to Facebook, where you need to confirm your decision to add the account. Don't worry, the plugin has read-only access, so it can't post anything on your Facebook pages.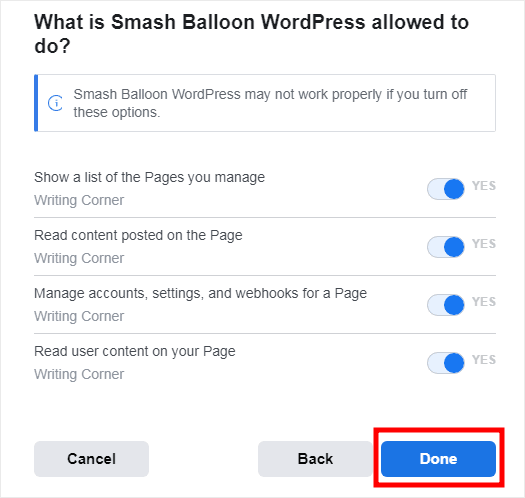 Once you do so, you'll be brought back to your site. Here, just select the pages or groups and click on Next to connect them below.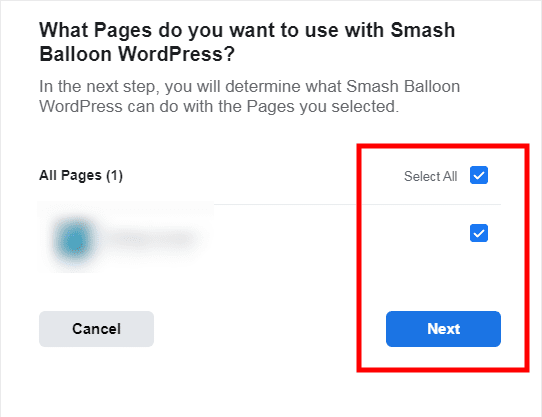 And that's it!
Step 4: Select the Carousel Layout
So far, you've installed the needed plugins and connected your Facebook account. Now it's time to get to the main event — activating the carousel extension so you can add Facebook carousel feeds to your WordPress.
First, on your WordPress sidebar, go to Facebook Feed » Extensions. 
On this page, just look for the Carousel section and click on Activate. Finally, remember to click on Save Changes once you're done.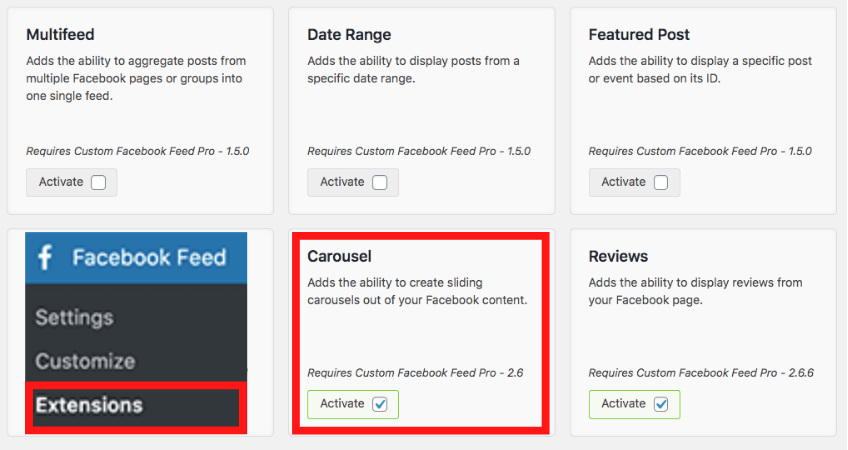 After that, go to Facebook Feed » Customize from the sidebar and select the Post Layout tab.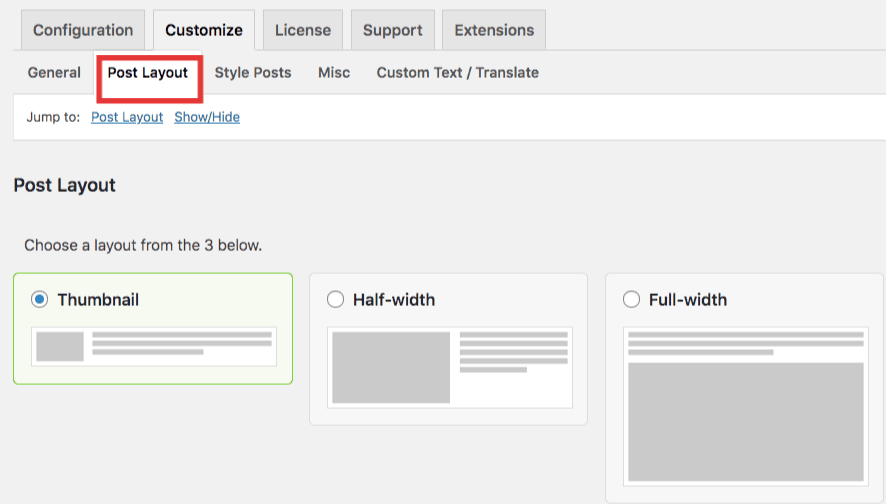 Just scroll down on this page to find the section titled Carousel. This is the place where you can enable the Facebook feed carousel and change its settings.
Here, check the box next to the Set Carousel as the Default option field.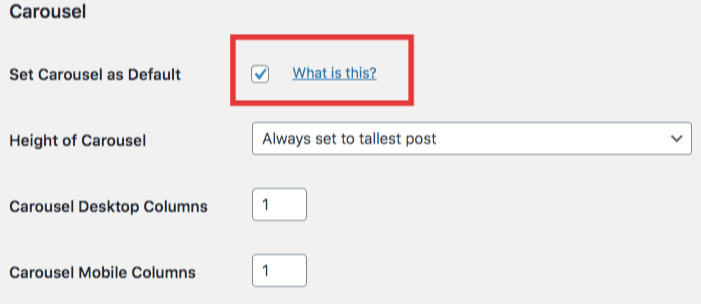 Click on Save Changes, and you're done! Now all the Facebook feeds you post will be shown as a carousel.
Step 5: Customize Your Facebook Feed Carousel
On the same page, you can also see the options for customizing the carousel feed.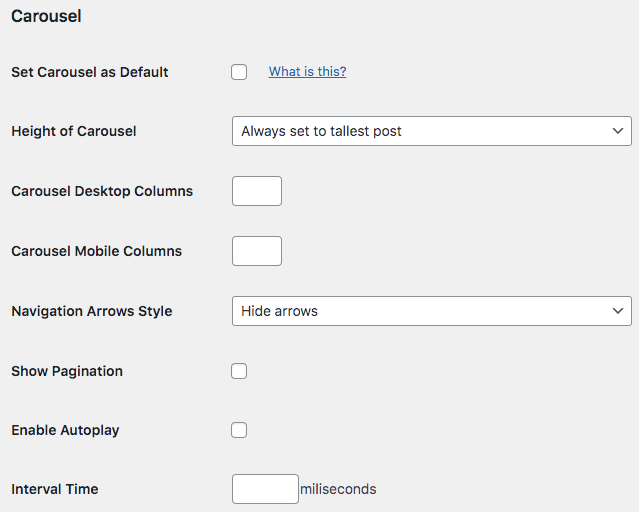 Height of Carousel: Choose how tall your carousel feed should be.
Carousel Desktop Columns: Set the number of columns visible for desktop users.
Carousel Mobile Columns: Set the number of columns visible for mobile users.
Navigation Arrows Style: Select the position of the navigation arrows.
Show Pagination: Toggle the pagination below the feed.
Enable Autoplay: Choose whether the carousel automatically plays or not.
Interval Time: Select the time it takes for the slides to change.
Once you've edited everything to your liking, click on Save Changes.
And that's just the beginning of the customization process. A great thing about this WordPress plugin is the fact that making custom Facebook feeds is super easy.
As a result, you can edit almost every part of the feed, so it'll look perfect for your website. You can start customizing your Facebook feed by going to Facebook Feed » Customize and clicking on the General tab.
Just play around with the other options in the customization page and decide what works for you.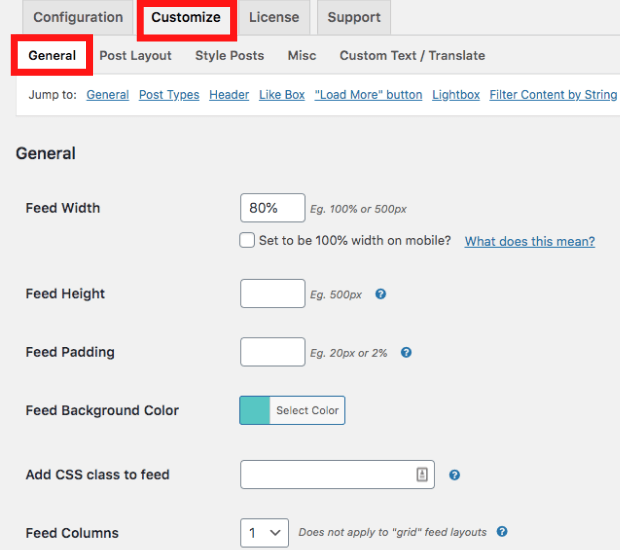 Once you're satisfied, remember to click on Save Changes before going to the next step below.
Step 6: Embed the Facebook Feed Carousel on WordPress
Finally, it's time to show off your carousel on your website. Don't worry, it's pretty straightforward to do this.
Add Facebook Carousel to Your WordPress Page
Custom Facebook Feed Pro lets you add your Facebook carousel feed to your WordPress pages or posts.
In this tutorial, we'll show you how to add your Facebook feed to your WordPress page.
First, go to your WordPress dashboard. Next, navigate to Pages » Add New to create a new page.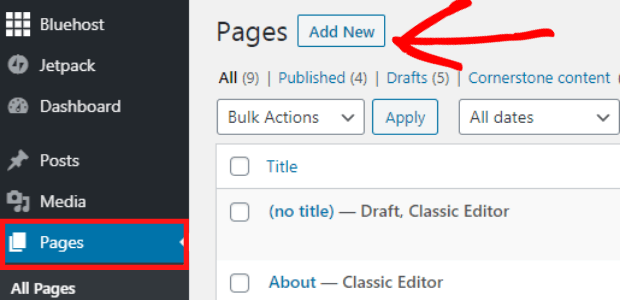 This will open up a new page editor for you.
The plugin works seamlessly with both the classic and block editor.
If you're using the classic WordPress editor, you can just copy this shortcode and paste it into your page: [custom-facebook-feed]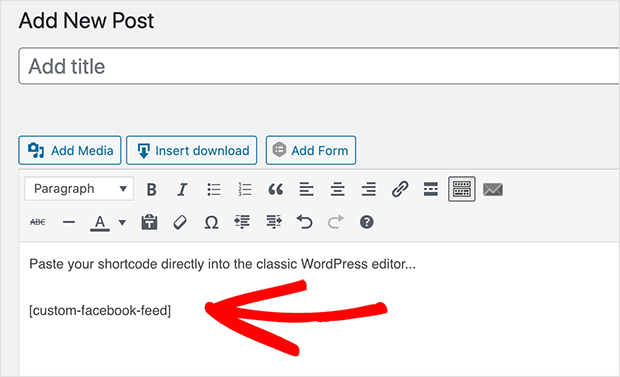 It's really that simple.
If you're using the block editor instead, then the plugin has you covered as well.
Inside the block editor, click the Plus (+) icon. Then, type "facebook" into the search field and click on the Custom Facebook Feed block to add it to your page.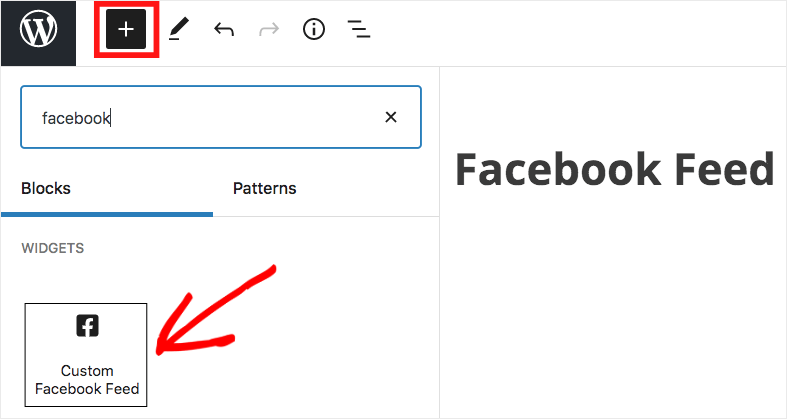 You can also tweak the page title or change your Facebook feed's customization settings if you'd like.
Happy with how it looks like? Click Publish to successfully embed your Facebook feed on your WordPress page.
With this, your WordPress Facebook feed is now beautifully displayed as a carousel on your page.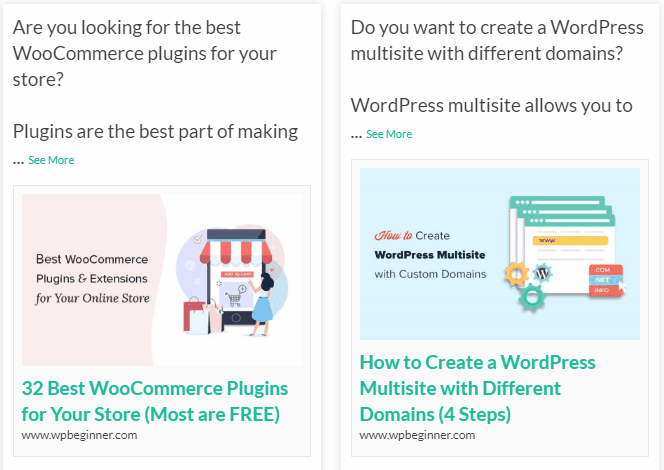 Add Facebook Carousel to Your WordPress Sidebar
Of course, your Facebook feed carousel doesn't have to be limited to just posts and pages. You can add the Facebook feed widget to your sidebar and footer areas as well.
To do that, go to Appearance » Widgets from your dashboard. Here, you should be able to find a list of widgets available for your website.
Look for the Text widget and drag it to your sidebar area.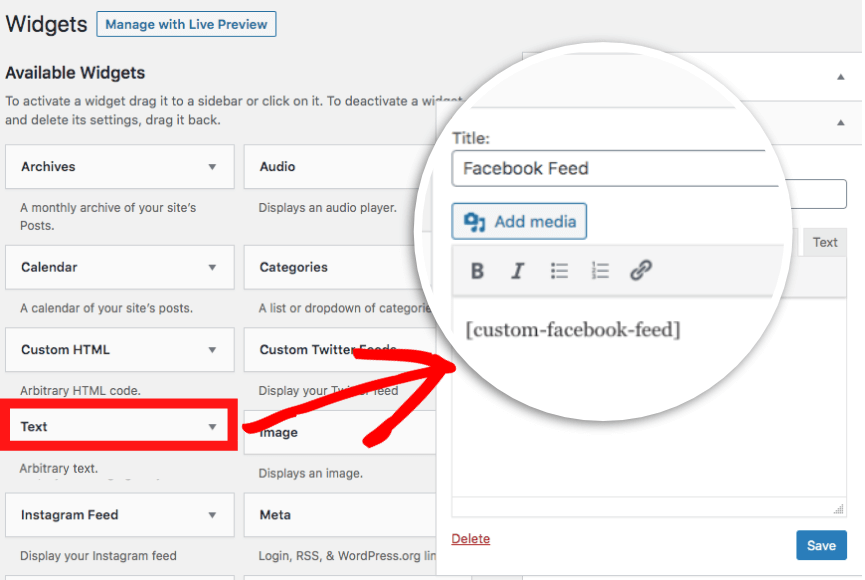 Inside the text editor, just paste the same shortcode as above: [custom-facebook-feed]
Then, just click on the Save button.
And you're done! After that, you can just open up your site and you'll see the carousel displayed on your sidebar area.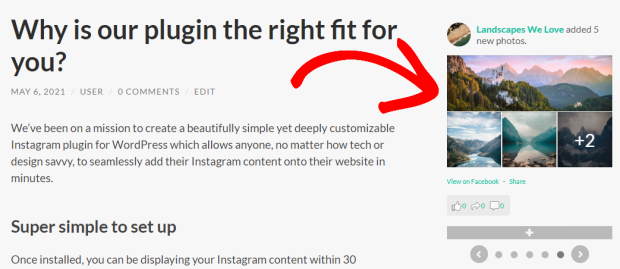 Now you should know how to add a Facebook feed carousel to your WordPress site. It's pretty easy, as you can see. No need for complex codes, all you need is the right plugin.
Just click here to get started with Custom Facebook Feeds Pro today.
You can also grab the Social Wall Pro bundle and get unlimited access to Smash Balloon plugins.
Interested in Facebook marketing? You can check out this next post on how to get more likes on your Facebook page.
If this article helped you out, you can follow us on Twitter and Facebook for more helpful guides and tutorials.