Do you want to display customer testimonials on your website?
With positive reviews and testimonials, you can start building customer confidence and get more sales for your brand.
But finding ways to display testimonials pages on your website is difficult — especially if you don't have a lot of design experience.
Today, we'll show you how to display testimonials on your website, along with screenshots of awesome examples that you can copy for your site.
11 Great Testimonial Examples Proven to Boost Sales
Here are great examples of website testimonials that you can show to boost your conversions and increase your sales.
Some of these examples come in the form of landing pages or website testimonials widgets — we'll cover both types below.
We'll also show you how to display testimonials on your website with ease.
Let's get started:
1. Dedicated Website Testimonial Page
The most common place to put happy customer testimonials on your website is on a dedicated testimonial page. You can then show your best endorsements to your website visitors and convert them into new customers.
In this customer testimonial example, the Toast Cafe created a separate web page to embed Facebook reviews.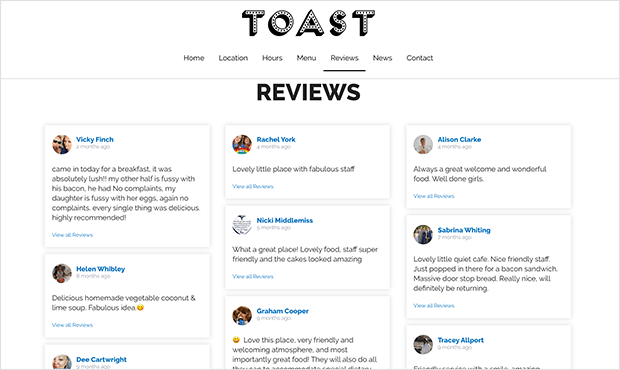 As you can see, they're showing a feed that matches the branding and minimalist design of their website. This creates a look that's appealing and consistent with the brand's image.
And with a plugin like Reviews Feed Pro, you can create a Facebook testimonial page for your own website in just minutes.
Plus, the plugin automatically will automatically copy your website's design, so your feed looks beautiful and fits your branding right away.
Check out this simple guide on how to add Facebook reviews to your website here.
2. Testimonials on Your Home Page
Another way to use testimonials from your Facebook page is to display them on your website homepage.
As a result, anyone visiting your website can see how customers view your service. It's a great way to create a great first impression and convert visitors into customers.
You can also highlight your active community and encourage your visitors to follow you.
In the example above, MAS Youth Centre combines Facebook reviews alongside its Twitter feed. So, their presence on various social platforms.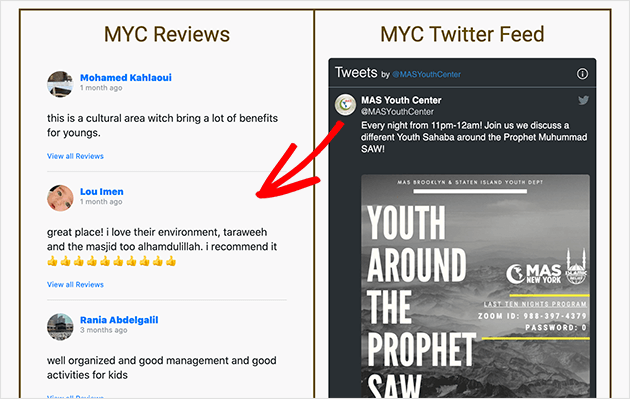 As a bonus, a testimonial like this can help you engage website visitors by showing a variety of social media content.
If you want to show reviews and testimonials from lots of platforms, Reviews Feed Pro can be a great option.
With this plugin, you'll be able to show reviews from the biggest review sites out there: Facebook, Tripadvisor, Yelp, Google Reviews, Trustpilot, and WordPress.org.
To learn how to do that, you can look at our guide on how to embed a social media review widget.
3. Twitter Testimonials in a Scrolling Carousel
The next example is from the retailer Casper which specializes in mattresses and bedding. They use their reviews page to display several types of reviews, but what stands out is their slider of testimonials tweets.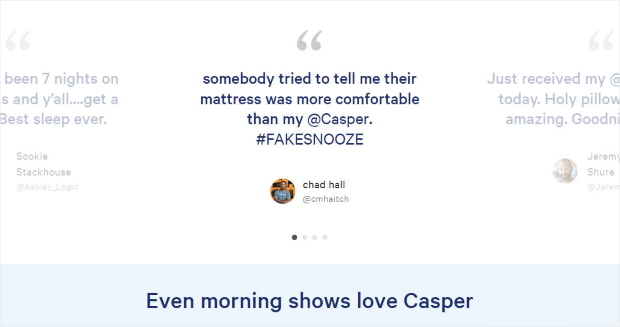 The carousel slider cycles through reviews pulled directly from real Twitter posts. This is a great way to demonstrate social proof while highlighting positive comments about their products.
What's more, you can also display your product pages underneath, so there's a proper CTA (call-to-action) to encourage more sales.
You can recreate Casper's example by using the Twitter Feed Pro plugin and using the carousel template.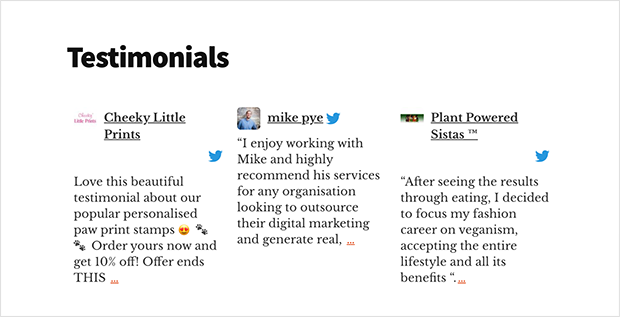 Then, you can use Twitter hashtags or an advanced search to filter content and find customer quote testimonials for your website.
Plus, showing fresh content from Twitter this way can actually be great for your SEO.
For more types of social media carousels, you can use the Reviews Feed Pro plugin.
Learn how to add a Twitter slideshow to your website here — it'll take you just a few minutes to do this!
4. Instagram Photo Testimonials in Your Footer
Customer testimonials can also be visual content like photos and videos. And they're a great way to engage your visitors while showing real customer stories and positive experiences.
Fabletics demonstrates this wonderfully with an Instagram feed of user-generated content (UGC) in their website footer.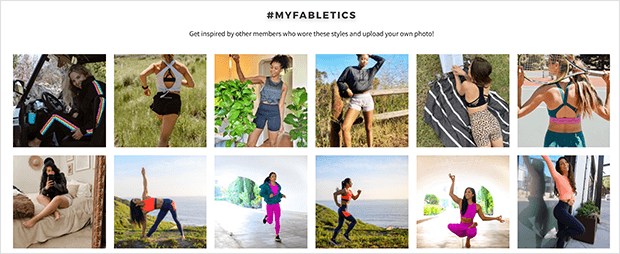 The feed shows content from satisfied customers, using their branded hashtag #myfabletics to filter the results.
When potential customers see those examples, they get an idea of how to use the product in real life, giving them a nudge toward making a purchase.
You can recreate this example yourself using the Instagram Feed Pro plugin and adding the Instagram Feed widget to your website's footer area like this: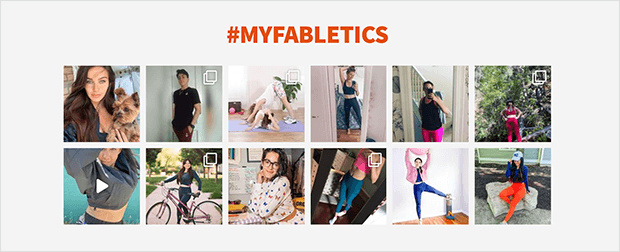 Follow these instructions on embedding an Instagram feed in WordPress to try it for yourself.
Want to add an Instagram feed to your widget area? Check out this post on how to display testimonials on a website footer from Instagram.
5. Video Testimonial Page
Testimonial videos also play an essential role in converting visitors into paying customers.
Instead of reading a written account of customer experiences, you get to see the body language and emotions of customers, which is a lot more convincing.
Plus, you can even highlight some use cases for your products.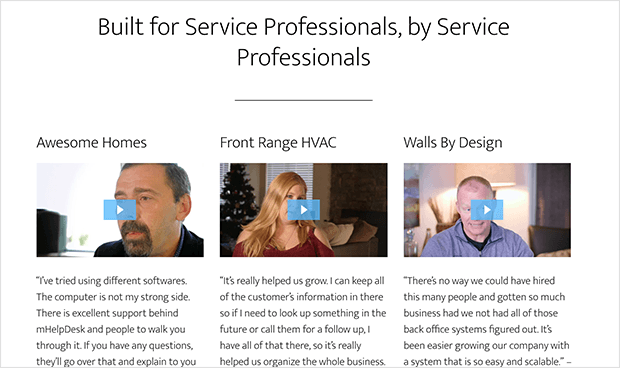 Plus, you get extra points if you feature a customer success story or two in your videos.
In the above example, this business highlights client testimonials in an interactive video feed providing written descriptions below each video.
You can copy this design easily with the YouTube Feed Pro plugin by displaying testimonials from YouTube in a beautiful feed on your website.
Simply choose your preferred layout and display your videos with their thumbnails by selecting a specific YouTube playlist, search term, or single video ID.
Here's how we recreated the above example using the YouTube Feed plugin.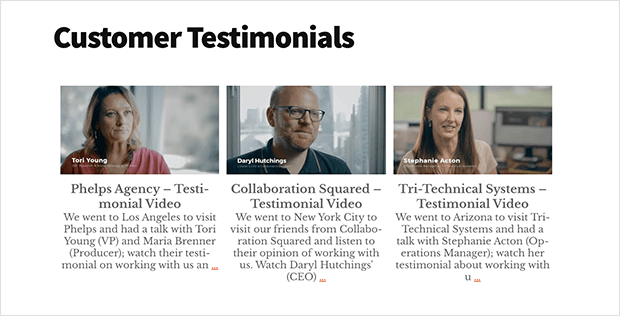 And if you're interested in getting more testimonials, check out this helpful tutorial on how to create powerful video testimonials.
6. Sidebar Testimonial Widget
When working out where to put testimonials on your website, don't forget about your sidebar.
This is an area that's often overlooked, but it's the ideal space to highlight testimonials alongside your other content.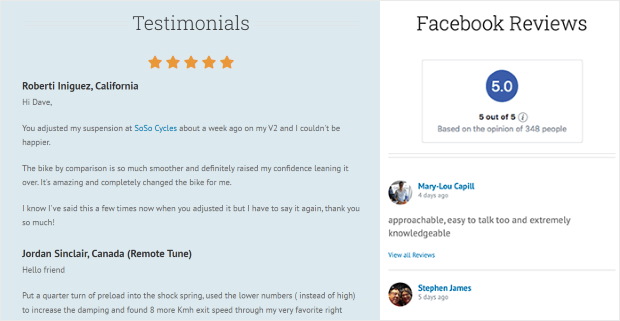 Want a Facebook review feed like in the above example? With the Reviews Feed Pro plugin, you can create, customize, and embed review widgets in just minutes.
By showing reviews from the biggest platforms out there, you can add variety to your site and draw people's attention.
Want to display a Facebook review widget on your sidebar? Follow this simple guide on how to create a social media review widget today.
7. Testimonials in Image Galleries
Visual content is the perfect way to create more exciting and inviting pages.
It's easier for people to skim pages with high-quality images, breaking up large walls of text. And pictures are often easier to understand for visual learners.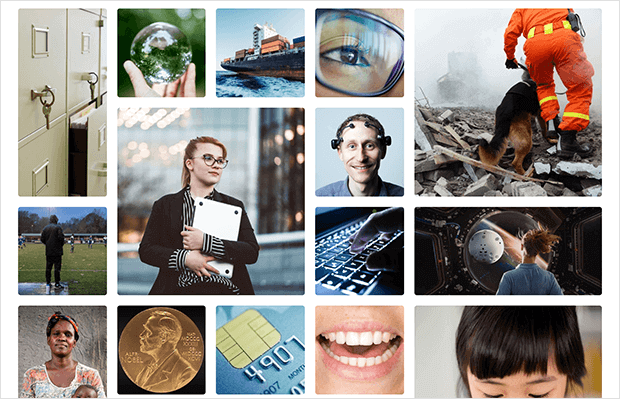 IBM uses the power of visual content to display the best testimonials from the type of customers they serve.
Plus, they showcase that content in stunning image galleries to a significant effect.
It might seem tricky, but you can create a similar effect using our Instagram Feed plugin. Just choose the type of content you want to display in your feed and set the layout to the highlight option.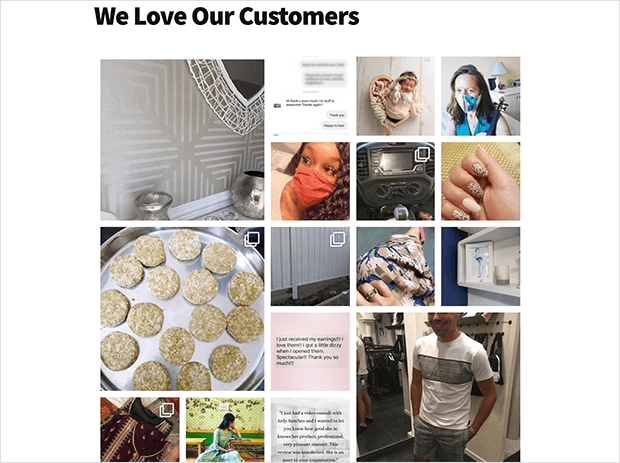 Here's a version we put together to show how easy it is — we did this in just under 5 minutes without any web design experience at all!
Why not give it a go yourself? You can follow these instructions for adding an Instagram gallery feed to your WordPress website.
8. Testimonials on Your Contact Page
Your contact page is where potential customers turn to ask questions about your products or services.
Most websites only add their company logo, contact form, and contact information here, but you can make that page more useful to visitors by putting testimonials there.
That's what The Chandeliers did by importing testimonials from their Facebook page using our Reviews extension.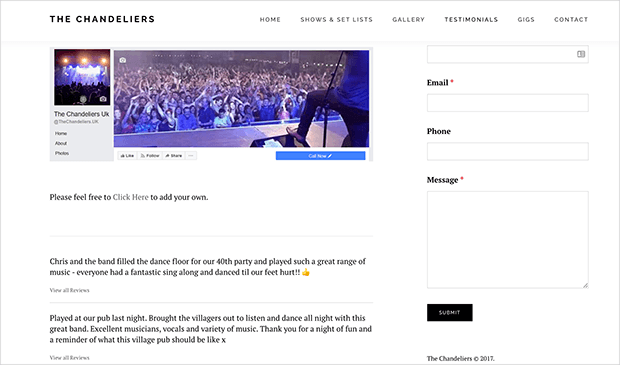 Even better, they give a way for customers to add their online reviews. That way, they can collect customer feedback with ease.
For instance, this feed of Yelp reviews created using Reviews Feed Pro allows users to add new users directly from the site.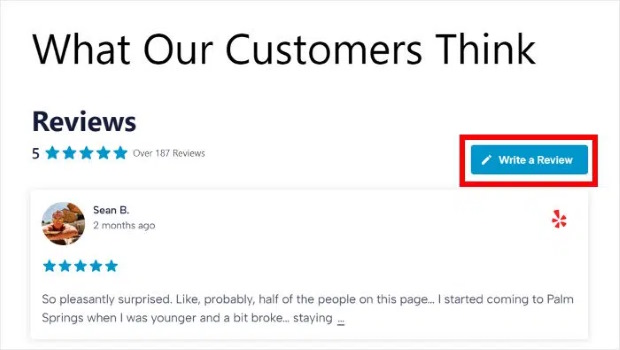 Want to try this out for your own business? Check out this helpful post on how to embed Facebook reviews on your website today.
9. Single Video Testimonial on Your About Page
Like your contact page, your About page is where your target audience learns more about your business. It's also where visitors form their first impressions, so you must make that page as informative as possible.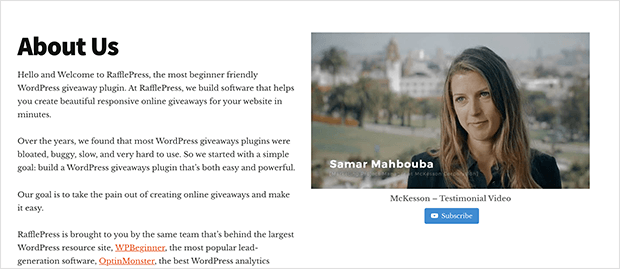 In this example, an individual video testimonial is used to illustrate the 'About' page. This is a great way to combine different types of testimonials with your brand's info.
Follow the instructions here to add a YouTube feed to your website. To add a single video to your website, you can just choose the Single Videos feed type.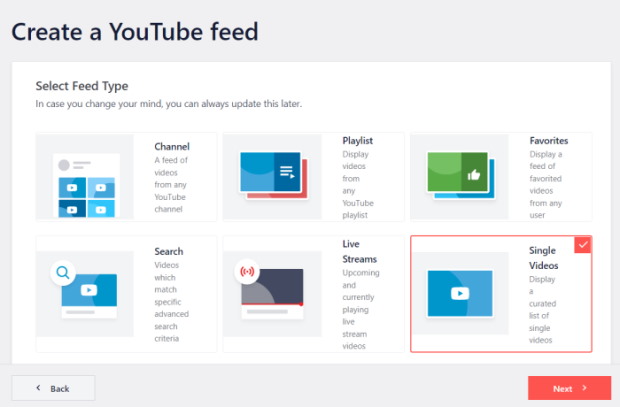 Just like that, you can highlight a YouTube video testimonial to increase conversions and grow your website.
Ready to embed YouTube videos with ease? Get your copy of YouTube Feed Pro to get started.
Then, if you'd like to change your video testimonial layout, follow the step-by-step tutorial on how to embed a YouTube gallery on your website here.
10. UGC Testimonials on Product Pages
As we mentioned earlier, UGC is a great way to add diversity to your website and showcase how people use your products in real-life.
And with the rise of Instagram, UGC is finding its way onto more important website pages like product pages.
Tarte Cosmetics redefines UGC's use in eCommerce by displaying their website testimonials on high-performance product pages.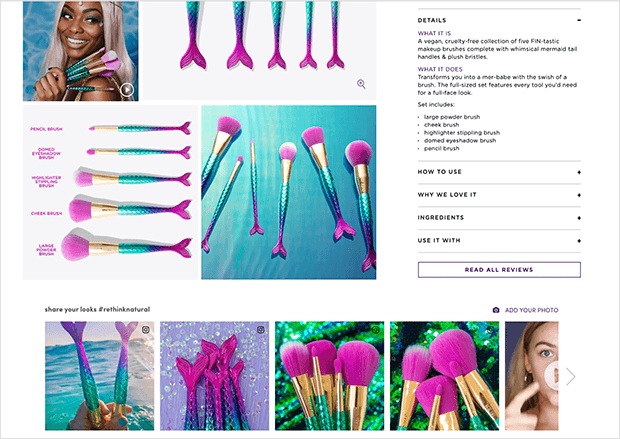 Doing this helps boost the conversion rate, so users are more likely to buy from you. That's because real customer reviews authenticate Tarte's products and help build trust.
The best part?
You don't need to get a separate account at Shopify to do this. With the help of Reviews Feed Pro, it's easy to show UGC from trusted websites like Yelp or Tripadvisor.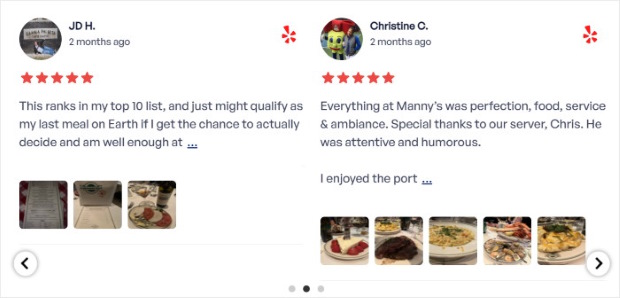 On top of that, the plugin's moderation functionality can help you choose which reviews show up on your testimonial website. You can then make sure you're showing the best UGC to convert visitors into customers.
Want to find more amazing tools like Reviews Feed Pro? We've got a list of the best social media feed plugins here.
11. Checkout Page Testimonials
It's sad to see prospective customers get to your checkout page only to abandon their cart and leave your website.
Shopping cart abandonment is a real problem for eCommerce stores, resulting in lost sales and a lot of money left on the table.
But similar to product pages, adding effective testimonials to your checkout page can significantly influence potential customers' purchase decisions and reduce cart abandonment.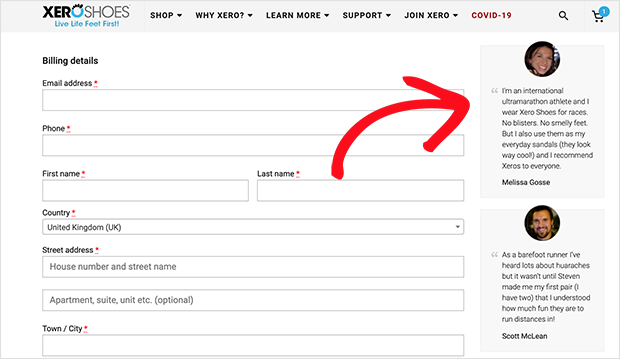 When shoppers see social media posts with positive reviews and success stories on the checkout page, it's proof your product or service has value.
And this can be the right push they need to commit to buying.
You can recreate the above example by using any of Smash Balloon's social feed plugins to filter and display testimonials on your checkout page.
For instance, you can use Reviews Feed Pro to add a sidebar widget with Yelp reviews. Then, you can add filters so you're only showing reviews with high star ratings.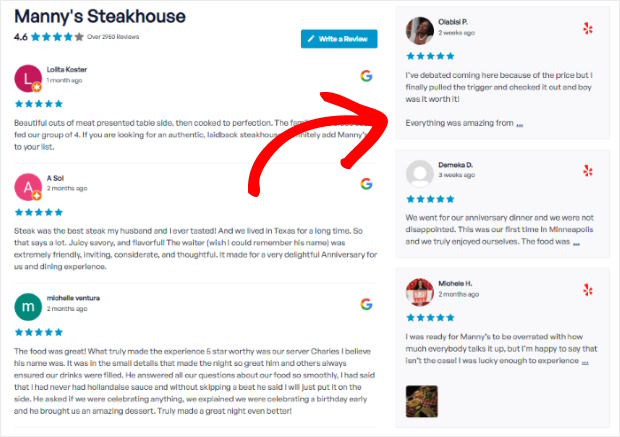 For more details, you can learn how to integrate social media into your website here.
That's it!
We hope this article helped you learn how to show testimonials on your website so that you can convert visitors into customers.
As you can see, Reviews Feed Pro can be a massive help for all business owners out there. If you want to show social media testimonials to increase your sales.
Ready to show engaging testimonials on your site? Get your copy of Reviews Feed Pro here!
Interested in content marketing using emails? Check out our review of the best lead generation tool, OptinMonster.
And don't forget to follow us on Twitter and Facebook for more social media marketing tips and tricks.