Want to know how to boost your customer conversions by using testimonial pages effectively?
In today's world, where everyone looks at reviews first before buying, displaying your testimonials on your website is a must.
To help you get started and increase your sales, we've handpicked lots of great testimonial page examples in this post.
Just copy these testimonial page examples for your own website, and you can raise customer trust, convert visitors to customers and grow your business with ease.
This is a long article with lots of high-value examples and tips, so we've organized them into categories for you. You can click a category below to skip ahead:
Ready to take your testimonial page to the next level? Let's jump right in.
Inspirational Video Testimonials
Did you know that 80% of marketers confirmed that video helped increase sales?
That's why displaying video testimonials on your brand's website is a powerful way to boost customer conversions.
Below, you can find great testimonial page examples that use the power of video marketing to boost sales:
1. Xero
Business and accounting software Xero effectively displayed video testimonials under their "Why Xero" menu. Instead of the company showing off a generic sales copy, they chose to let their customers' stories do the talking for them.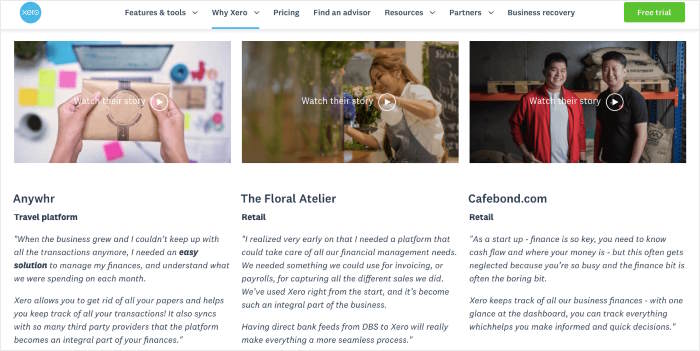 Video marketing in itself is already effective enough. Xero made it more convincing by including the industry of each customer they served.
This way, prospects in similar industries will have an easier time relating to the stories.
Why? Because 61% of people find information from "a person like me" to be super trustworthy.
As a result, website visitors will be much more likely to try out Xero's services.
2. Codecademy
Coding seems like an overwhelming topic for Internet newbies. That's why in Codecademy's testimonial page, they didn't talk about confusing coding jargon or complicated programming processes.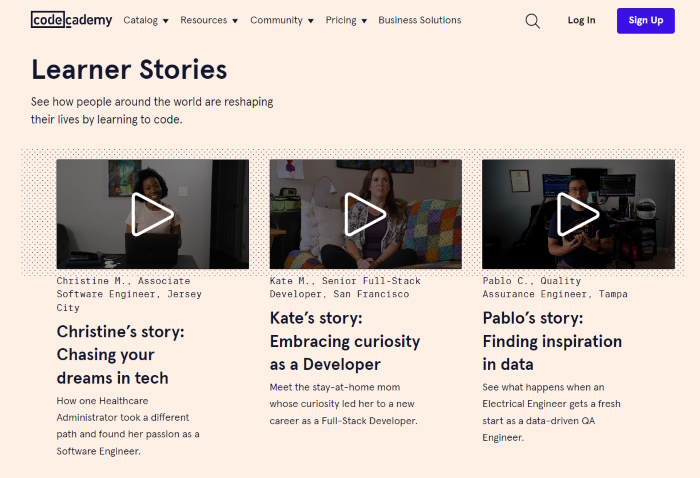 Instead, their customer testimonials focused on how Codecademy helped improve the lives of their customers. There is a name and a talking person with a life story behind the testimonials — that's what made them more influential.
Bonus point: Codecademy also answered a common customer objection, fear of starting, in their video testimonials.
3. Airbnb
When it comes to finding local accommodations when traveling, Airbnb is the go-to option for many people.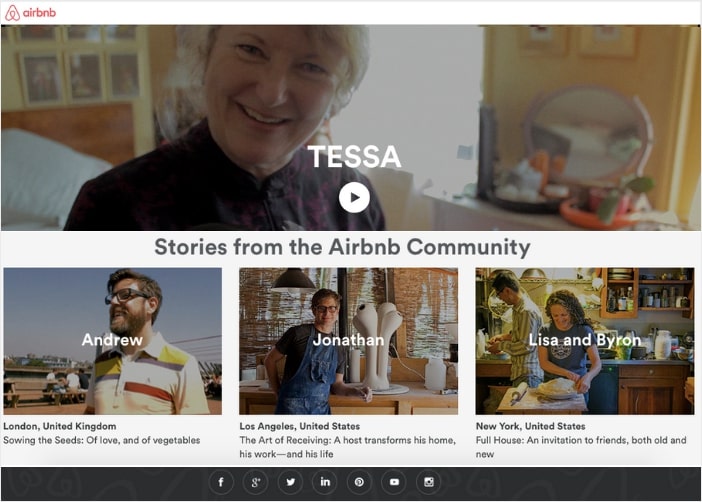 Their branding, "belonging anywhere", is about living in a place that you'd like to call home — even during traveling. It's why Airbnb decided to film their video testimonials in the actual homes of their customers.
Kudos to them for also showing off their customers' smiles in their video thumbnails. What better way to send the message of "belonging" than enjoying your time inside your warm and cozy home?
How to Use Video Testimonial on Your Website:
So far, you've seen different types of effective video testimonial examples. But how do you apply them to your own WordPress site?
By using the YouTube Feed Pro plugin, of course. With it, you can easily display an engaging YouTube feed to showcase customer video testimonials on your website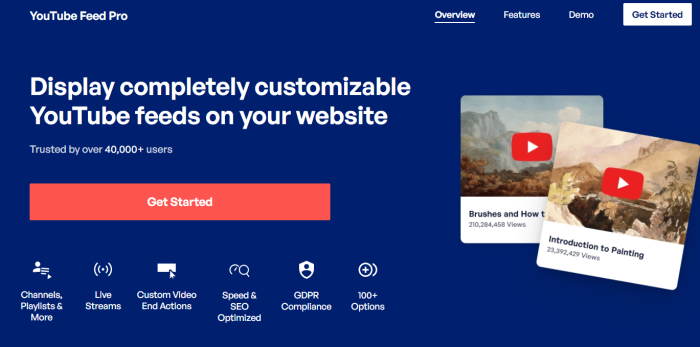 The best part? It's beginner-friendly, so it can be perfect the perfect choice if you're not a techie.
After installing the plugin, you can just follow the 3-step guided flow that'll take you through the process of creating, customizing, and embedding YouTube feeds.
Here's how we recreated Airbnb's testimonial page by using the YouTube Feed Pro plugin: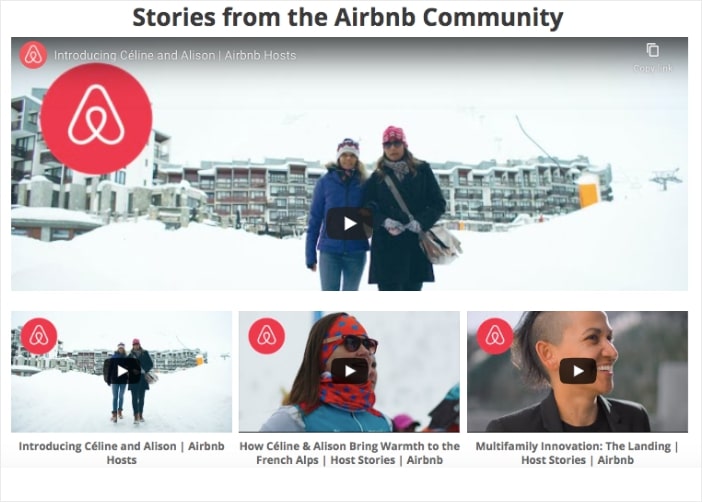 Want to do this for your website, too? Check out this helpful tutorial on how you can embed a YouTube playlist on your WordPress.
You may also want to check out this ultimate guide on how to make great customer video testimonials to get started.
Quote Testimonials from Happy Customers
As the name suggests, quote testimonials pull a quote directly from a customer's review about a product or service.
Since 92% of shoppers read online reviews before buying, they're an effective way to increase your sales. Here are a few testimonial page examples using quote testimonials:
4. 99 Designs
As a popular service for graphic design, 99 Designs knows how effective quote testimonials can be at capturing people's attention.
And for their website, they're showing a testimonial feed containing quotes from their customers.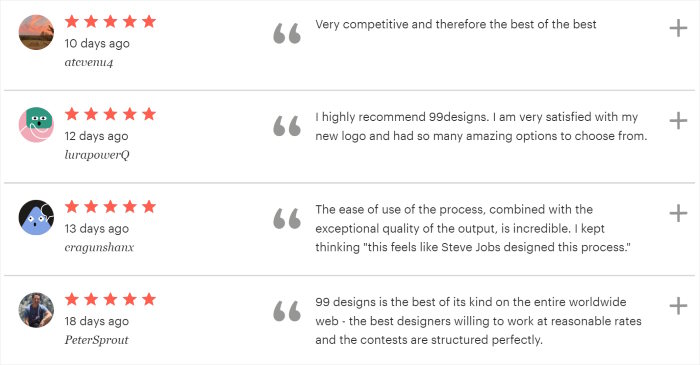 To build trust, testimonials page has a star rating as well as a positive quote about their brand.
They even included the company logos or profile pics of the reviewers. As a result, the embedded testimonial quotes feel more personable.
Want to show similar quotes and star ratings on your testimonials page?
You can use a plugin like Reviews Feed Pro to embed reviews from trust-worthy platforms like Yelp, Tripadvisor, Google, and Facebook.
5. Dribbble
A self-promotion and social networking platform for digital designers, Dribbble's testimonial page is refreshing and functional.
Did they place "Testimonials" as its heading? No, Dribbble chose to go with "Community Love", which appeals to their target market: creative professionals and digital designers.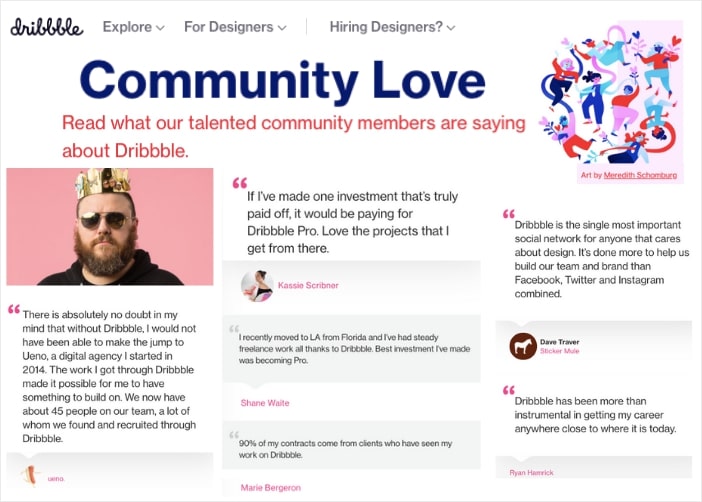 Plus, their testimonials are from both corporate and individual customers, so site visitors can see that Dribbble is fully capable of serving both types of customers.
6. OptinMonster
Lead generation software powerhouse OptinMonster cleverly uses quote testimonials on their page by using the heading, "See What Others Are Saying".
This adds a conversational tone to the testimonials page, so the site visitors feel like they're just reading a friend's review of the company.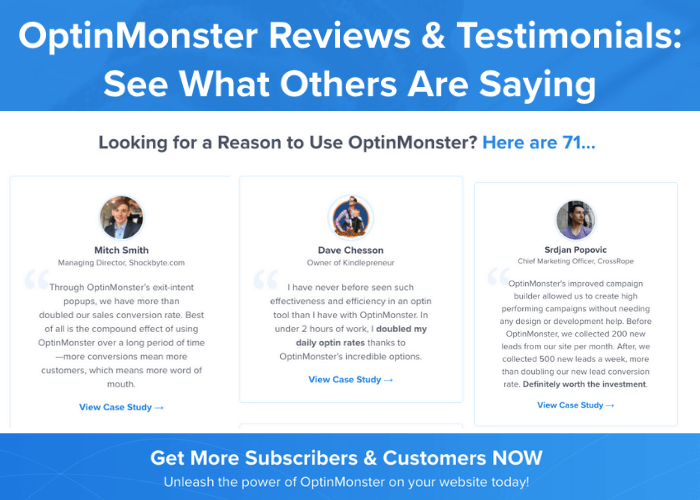 Plus, their testimonial page design is sleek and minimalistic. It's easily skimmable, so you're more inclined to browse, stay longer and read the testimonials.
Lastly, they made sure to include the customer's full name, position, company and picture — all factors using the power of authentic social proof to encourage more sales.
7. Expo Movers
If you want a simple and effective way of building consumer trust, you can look at the example of Expo Movers.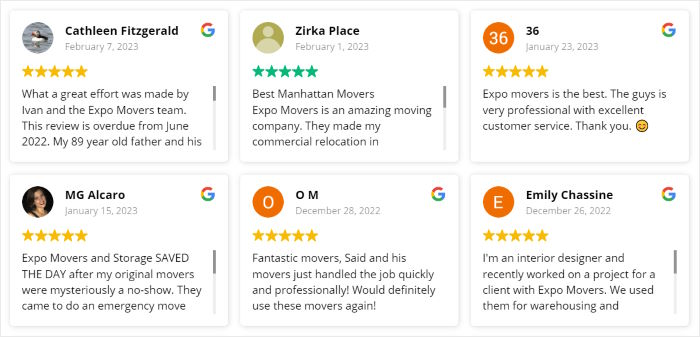 To convert visitors into customers, they're showing positive reviews of their brand from Google on their site.
Since Google is such a popular platform for user reviews, a lot of people are going to trust embedded Google testimonials.
And with a feed of Google reviews on your website, you can show everyone that tons of people are publicly vouching for your brand.
All you need is a plugin like Reviews Feed Pro, and you can have a similar review feed on your website.
In fact, we recreated the Google reviews feed in just a few simple clicks below.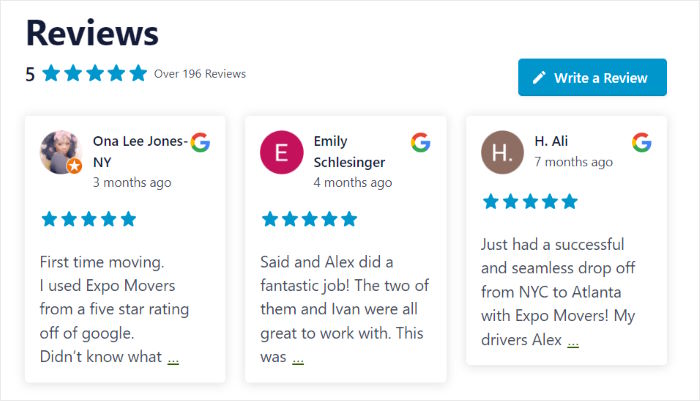 To make the feed more engaging, we used the moderation feature of Reviews Feed Pro to only display specific reviews.
Using this feature, you'll have an easy way to hide reviews from trolls or spam bots.
Ready to get started with Reviews Feed Pro? Check out our guide on how to embed Google reviews on your website.
How to Display Quote Testimonials on WordPress:
Since Facebook is still the biggest social media platform out there, posting Facebook reviews on your website can get you ahead of the game.
Once you get Facebook reviews from your customers, the next logical step is to display them in your testimonial page.
If you want the easiest way to embed Facebook reviews, the Reviews Feed Pro plugin has you covered.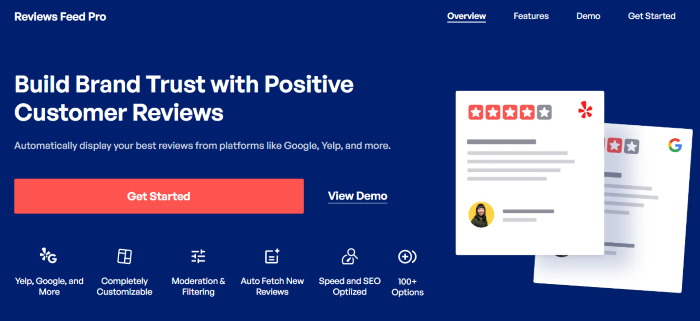 Even without any technical knowledge, Reviews Feed Pro helps you display engaging Facebook reviews in just a few simple clicks.
On top of embedding Facebook reviews, you can use this plugin to display reviews from other trusted platforms like Tripadvisor, Yelp, and Google.
The best part? Reviews Feed Pro allows you to control which reviews show up on your website.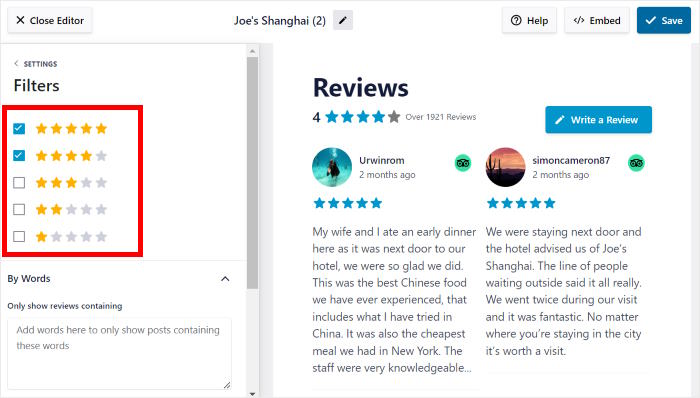 You can choose to show reviews with specific ratings, block posts with banned terms, or even manually select which reviews to display.
Here's a Facebook reviews feed that we quickly created using the plugin. For this example, we've set up the feed to only show 5-star reviews.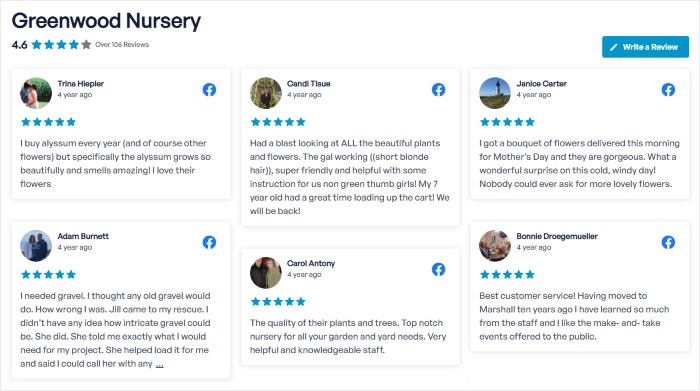 Why not try it out for your own site?
After getting your own copy of Reviews Feed Pro, follow this step-by-step tutorial here to embed your social media review widgets.
User-Generated Content from Hashtags
The great thing about user-generated content (UGC) is that your customers' visual posts do all the talking for you.
These photos of your real customers actually using your products can add authenticity to your brand.
Since 86% of consumers are saying that authenticity is important to them, showing UGC on your site can help you sell more.
Here are some testimonial page examples that effectively use hashtags to show UGC:
8. Dove
As one of the biggest personal care brands out there, Dove is no newbie when it comes to to showing off UGC in their marketing campaigns. In their latest project, #ShowUs, Dove encouraged their customers to show — not tell — their actual experiences in using Dove products in their daily lives.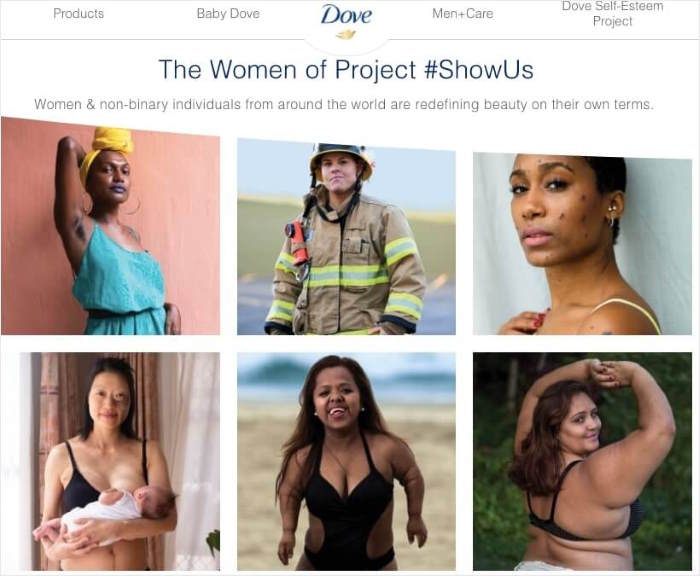 Dove's testimonials appeal to their target audience because they show different kinds of beauty. In addition to its authenticity, Dove also made use of the "community" factor in social proof: the more their audience sees UGC, the more likely they are to try out the products for themselves.
9. Fenty Beauty
Another brand that perfectly executes UGC in their marketing is Fenty Beauty by Rihanna. In their homepage, they also encouraged their customers to upload their own photos and videos of Fenty Beauty products.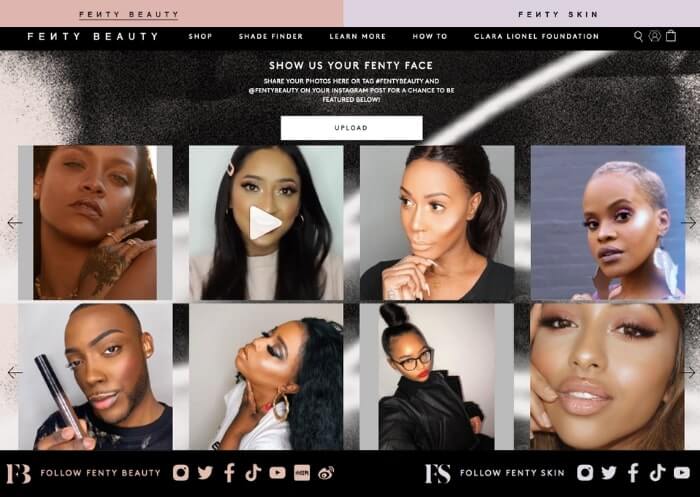 What made their testimonial page more convincing? It's the "Upload" button that's cleverly located within the Instagram feed.
Since it's easy to upload your own media, there's less friction, so more people are likely to do it. It's also a great way to encourage more sales.
10. Puffin Packaging
UGC marketing isn't limited to only personal care and beauty products. Puffin Packaging, an eco-friendly packaging solution, effectively used it in their testimonials page as well.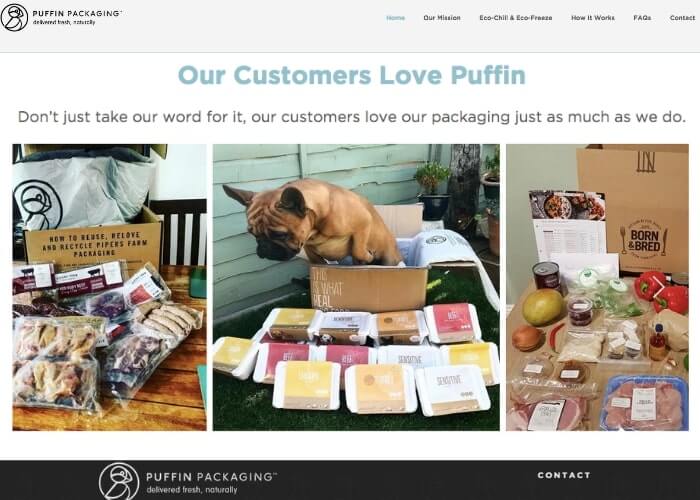 Instead of showing a feed of the company's Instagram posts, they displayed a feed of their customers posting about their product.
And since their testimonials were embedded in their homepage as an Instagram feed in the footer area, their site visitors can immediately see it when they check out their website.
Because UGC is seen as more genuine and inviting, this type of testimonial is effective in convincing prospects to do business with you. Of course, the pet pictures didn't hurt, either!
11. Fabletics
Sportswear subscription retailer Fabletics is another advocate of using UGC marketing in their testimonials page.
For that, Fabletics makes it super easy for their users to submit their photos. They can manually upload it or add #MyFabletics on their own Instagram posts.
As a result, it's easier for the company to generate authentic social proof.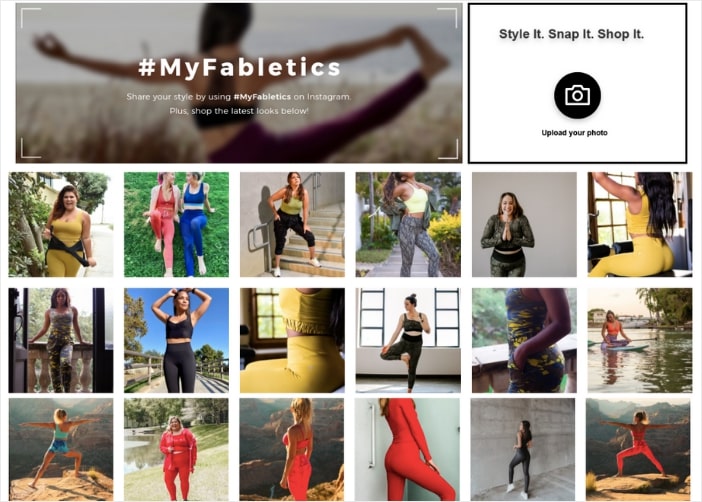 Not yet convinced? Data shows that when UGC is placed on a site, there's a 90% increase in time spent browsing your website. That's why UGC is powerful in skyrocketing your sales.
How to Show Instagram Testimonials for Your Brand:
Using the Instagram Feed Pro plugin, we recreated the testimonial page of Fabletics.
It's simple: just install the plugin and choose the Instagram hashtag you want to display a feed of. Then the plugin will do the rest, so all that's left is to embed your Instagram hashtag feed.
In just a few minutes, we were able to produce our own version. See below for the example: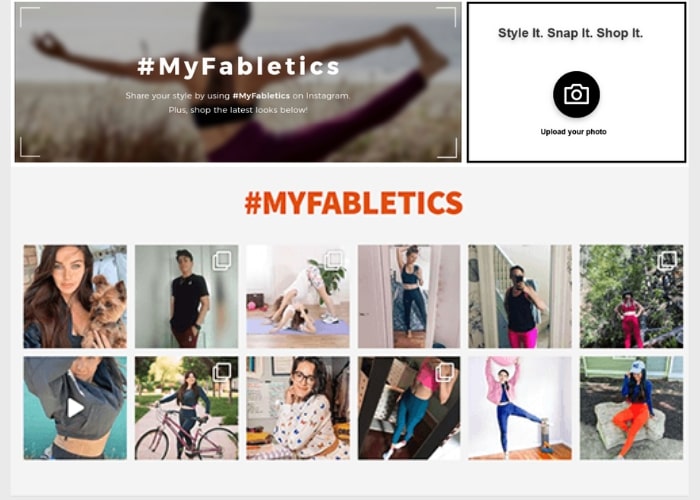 As the plugin is ultra-fast and user-friendly, it's trusted by over 1.4 million users from all over the globe.
Want to give it a go yourself?
Just follow these step-by-step instructions on how to add an Instagram hashtag feed to your own website.
Testimonial Tweets from Happy Customers
According to a study from Microsoft, the average human now has an 8-second attention span.
The best way to capture your audience's attention and effectively hold it? Display short but straightforward testimonials in the form of tweets. Here are a few examples you can copy for your own brand:
12. SeedProd
As the #1 landing page builder in WordPress, SeedProd's testimonial page is sleek and functional.
SeedProd leverages Twitter to collect testimonials from their happy customers, so the testimonials are bite-sized in structure but huge in impact.
Of course, to make the tweets more credible, SeedProd also included the customer's name, position and company.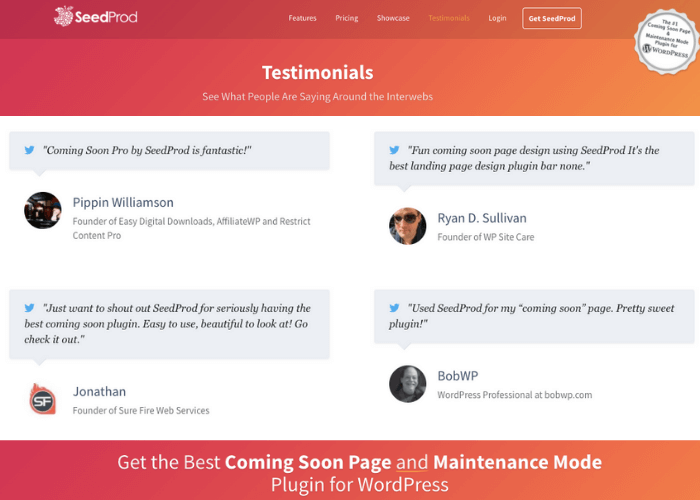 In addition to the list of customers who publicly praised SeedProd in social media, they added a call-to-action banner that encourages users to try their plugin.
This way, site visitors can easily sign up to experience the best landing page builder for WordPress themselves.
13. Bizzabo
Another company that cleverly uses tweets in their testimonial page is Bizzabo. As an event platform, Bizzabo recognizes their customers' struggle to capture their audience's attention. That's why they used the heading, "You are the center of our Universe," with a cute doodle of an astronaut beside it.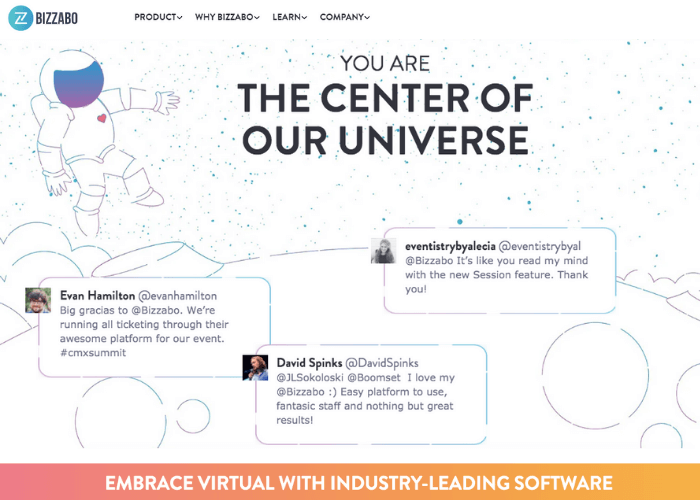 To add the power of social proof in their testimonials, Bizzabo also included tweets in their testimonial page. The sources seemed more credible as well because the testimonials came from actual people with real Twitter accounts.
How to Embed Twitter Testimonials on Your Website
Instead of posting a screenshot of tweets that praise your brand, why not embed the actual tweets on your website?
By displaying your Twitter feed with real tweets, you can even boost the credibility of your sources. After all, their names and avatars are displayed together with their tweets.
Plus, if your site visitors want to verify the testimonials, they can simply click on the usernames to check the user's account.
We replicated SeedProd's testimonial page example using the Twitter Feed Pro plugin.
After installing the plugin, we just searched for the tweets with the term "seedprod" and included them in our feed. Using the masonry layout type, we were able to create a beautiful and interactive Twitter feed like this: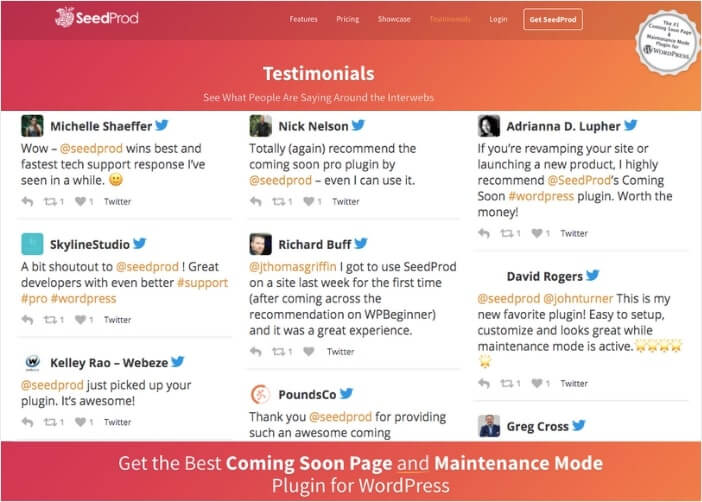 Want to embed a Twitter feed on your website, even if you're not tech-savvy? Learn how you can add an interactive Twitter feed on WordPress here.
Combining Reviews From Different Platforms
Finally, one of the best ways to show social proof and skyrocket your sales is by showing testimonials from lots of platforms at once. And this is exactly what these brands did.
14. Downtown B's Indian Kitchen
For their testimonial page, Downtown B's Indian Kitchen take their social proof in a new direction by displaying all the review platforms they're using.
So, visitors can check out whichever platform they trust the most to verify the quality of the business.
By giving people different options to choose from, this brand can create a much better impression.
Want to take things a step further? You can use Reviews Feed Pro to embed Yelp reviews, Facebook reviews, Google reviews, as well as Tripadvisor reviews.
As a result, your visitors can see that your brand has a positive reputation across all these trustworthy platforms.
Plus, you can use the plugin's moderation options to highlight specific reviews that you know people will love.
In fact, we created a reviews feed to showcase this brand's reviews from all these different platforms.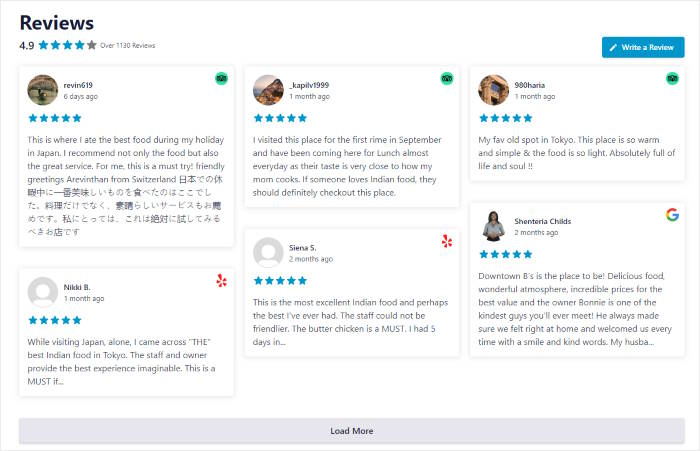 As you can see, Reviews Feed Pro gives you an easy way to showcase your best reviews from the biggest review platforms and convert visitors into customers.
15. Fog Harbor
Displaying testimonial from a single platform can help boost your sales, right?
So imagine how much more powerful it would be if you showed testimonials from lots of different platforms like Fog Harbor did.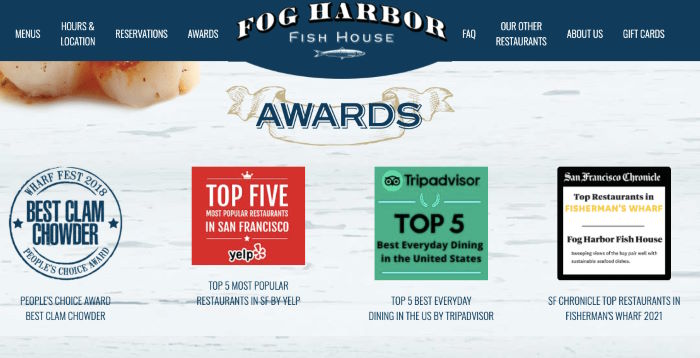 In this example, Fog Harbor is showing visitors that different people from different sites have positive impression of their brand. As a result, the tesitmonials will appear a lot more genuine.
If your brand has pages on 2 or more review sites, you can use Reviews Feed Pro to combine them into one social media feed and display it on your WordPress site.
How to Combine Reviews From Different Platforms for Testimonials Page
Want to combine reviews from the top platforms out there and show an interactive feed in your testimonial page?
You can spend lots of time and resources doing this manually.
Or, you can do what we did and use Smash Balloon's Reviews Feed Pro to easily combine reviews from different platforms into a single feed.
By using Reviews Feed Pro, we were able to create this testimonial page below: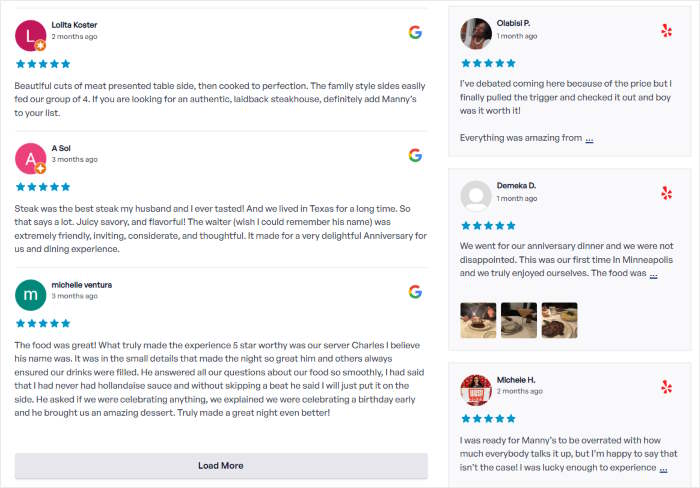 The best part? No need for manual embedding, so you can easily do this in a few minutes. Just follow the guided flow, select your options, and your reviews feed will be ready.
That's it!
By reading this article, we hope you learned about the best testimonial page examples and how you can easily apply them to your own website.
Now, you're on your way to converting more customers and generating more sales for your business.
Ready to embed reviews and testimonials with ease? Grab your copy of the Reviews Feed Pro plugin today.
Want to cross-promote your social media content on your site so you can get more engagement and sales? Check out this next post on how to integrate social media into your website.
And don't forget to follow us on Twitter and Facebook for more social media tips and tricks.