Want to know how you can easily integrate social media into your website? You're not alone. With over half the world's population now using social media, it makes sense for you to use its power to promote your brand and grow your business.
Since there are lots of confusing resources online, it can be hard to integrate social media into your website. Especially if you're not tech-savvy.
So, in this post, you'll learn different ways to embed social media feeds on WordPress. For your inspiration, you'll also see great examples of social media feeds added to websites. Social media integration is just a fancy way of saying cross-promoting your social media content on your website, after all.
Plus, each example has links to step-by-step tutorials so you can easily embed them on your site — even if you're a WordPress newbie!
Ready to boost user engagement and supercharge your sales by effective social media integration? Let's dive into it.
5 Ways to Integrate Social Media into Your Site
When it comes to social media integration into your site, there are several ways you can do this for your own business. Here are 5 powerful examples of embedded social media feeds on WordPress:
1. Social Media Review Widget
With the rise of social media accounts, there's no reason for you to display faceless and nameless reviews on your website's testimonials page. Instead, use the power of social media in creating positive social proof for your brand by embedding social media reviews on your site.
Here's an example of Smash Balloon's social media reviews feed from Twitter. Using this social media feed on your testimonials page, you can display relevant tweets that mention your Twitter username to proudly present reviews from your happy customers.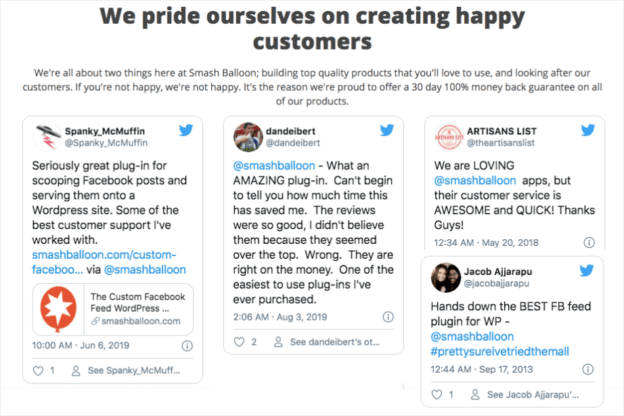 Since Twitter doesn't let you embed your mentions timeline on your site, there's a better way.
You can use the highest-rated Twitter feed plugin for WordPress, Custom Twitter Feeds Pro, to add a Twitter feed of your mentions timeline. Check out this helpful tutorial on how you can add a mentions timeline to your website — with just a few clicks!
What if your social media reviews are from Facebook instead? We've got you covered. With the help of Custom Facebook Feed Pro plugin, you can easily embed real Facebook reviews to your WordPress sidebar, just like this: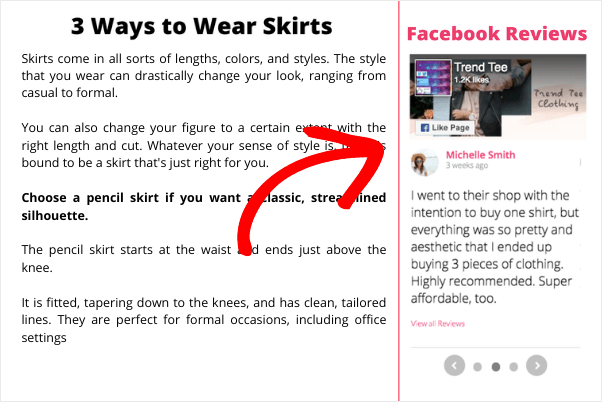 Want to create a social media review widget for your own business? Here's the complete step-by-step tutorial on how you can add a social media review widget to WordPress. And if you're a newbie? No worries! Custom Facebook Feed Pro plugin is super easy to use, so feel free to get started today.
2. YouTube Video Testimonials
Persuasive video testimonials can boost conversions and generate more sales for your business. It's also a popular marketing strategy because of how effective it is — 80% of marketers confirm that videos helped increase sales for their brands, after all.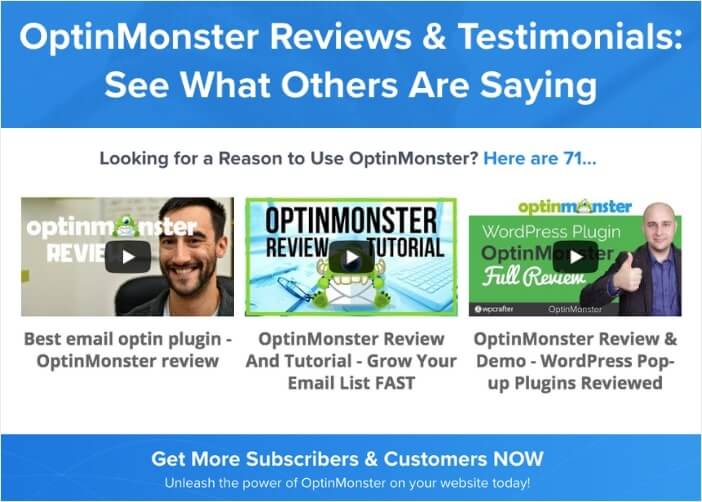 Airbnb recognizes how powerful videos are in growing their business, so they integrated social media videos into their official website. Since Airbnb's brand is about travelling and living in a local's home, they featured the stories of their top hosts in the form of videos.
Plus, to add user engagement to their videos feed, the company also included their social media channels at the bottom of their site.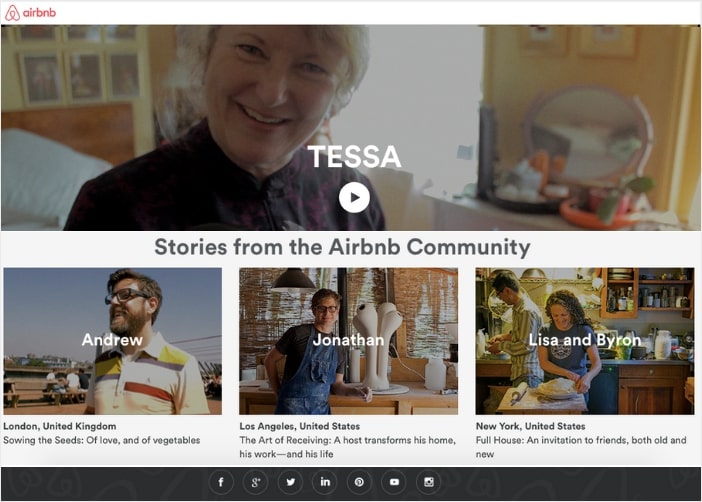 At first glance, it may seem tricky to embed social media videos on your own website. But with the help of Feeds for YouTube Pro plugin, you can easily do this in just under 5 minutes. Using the plugin, here's how we recreated Airbnb's social media videos feed — no technical knowledge needed: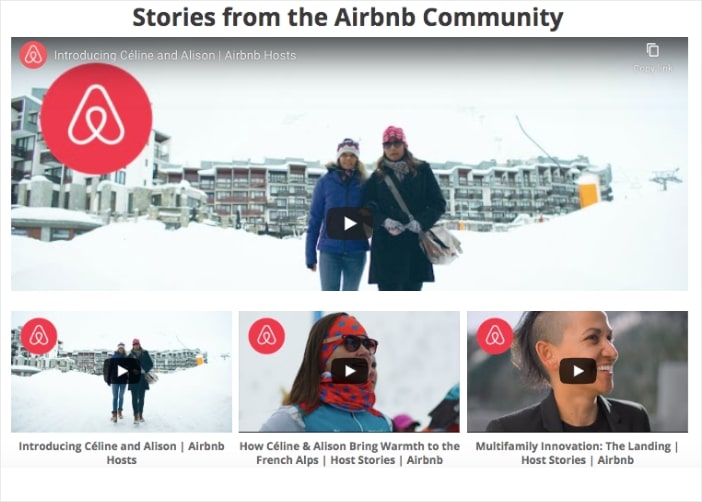 Have 5 minutes? Then you can easily create an engaging videos feed for your own brand. Just follow this newbie-friendly tutorial on how you can embed a YouTube gallery on WordPress for your guidance.
3. Live Social Media Feed
Another great way to integrate social media into your website is by embedding a live social media feed. This way, you're not just linking your social media channels — you're showing actual social media content on WordPress while your feed is regularly updated.
The best part? If you use a social media feed aggregator like Social Wall Pro, your site visitors can readily engage with your social media content without leaving your site!
Let's take a quick look at how you can easily add a social media feed on your website below.
Connect Your Social Media Accounts
To start, get your own copy of Social Wall Pro here. Next, once you've downloaded the plugin, check out this tutorial on how you can install WordPress plugins to your site.
Finished installing the Social Wall Pro plugin? Great. Now, it's time to go to your WordPress dashboard to set up the plugin. From your WordPress dashboard, click on the Social Feeds menu.

Then, simply follow the setup instructions to connect your Facebook, Instagram, YouTube and Twitter accounts to the Social Wall Pro plugin.
Once you've connected your social media accounts to the plugin, click on the Create a Social Wall menu. Here, you can just check the social media accounts you want to display on your social media feed. For this tutorial, we'll show the social media feeds from all 4 channels: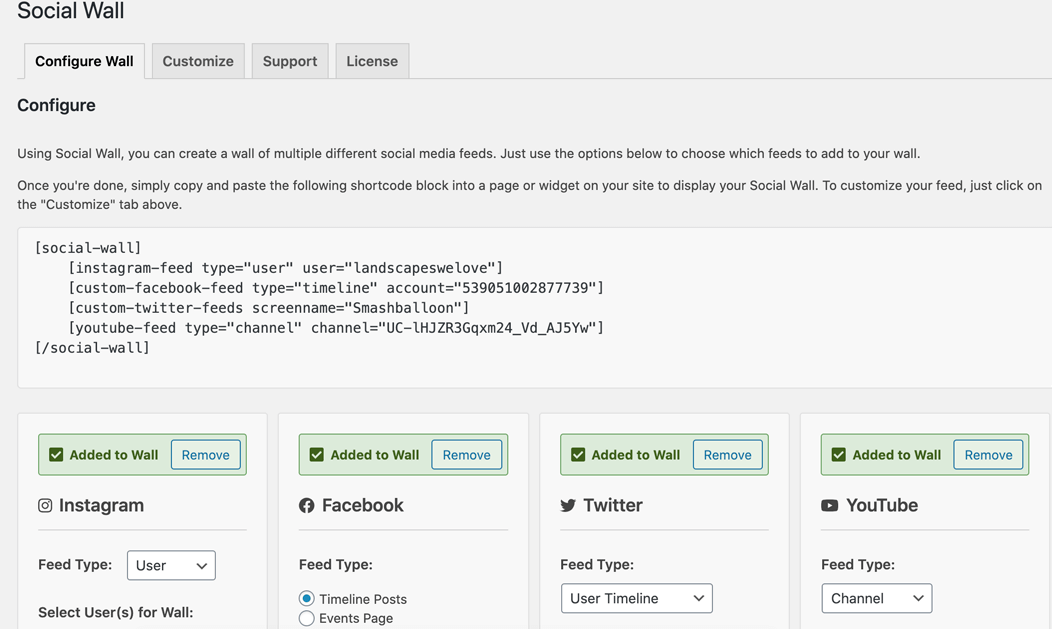 When you're happy with the social media content you'll display, you can now move on to customizing your social media feed.
Customize Your Social Media Feed
To control how your feed looks like on your site, click on the Customize tab at the top of your settings page. From here, you can specify how many posts to show in your social media feed. Plus, you can choose from different layout types, too. In this example, we'll choose the masonry layout.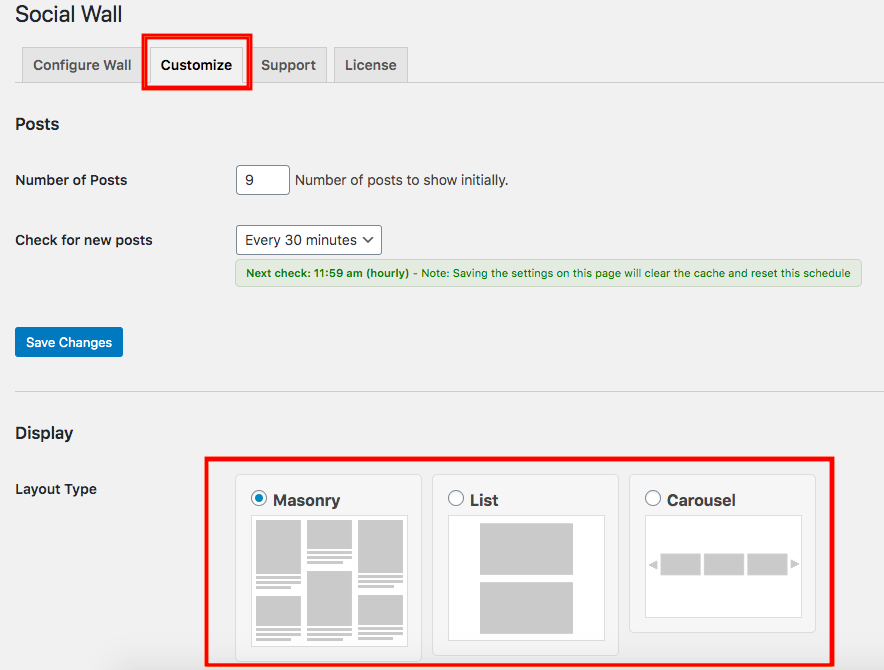 Once you're done customizing your feed, click on Save Changes and move on to the final step below.
Display Your Social Media Feed
It's super easy to display your social media feed on your website.
To start, from your WordPress dashboard, navigate to Social Feeds » Create a Social Wall. See the shortcode that the plugin automatically made for you? You just need to copy it: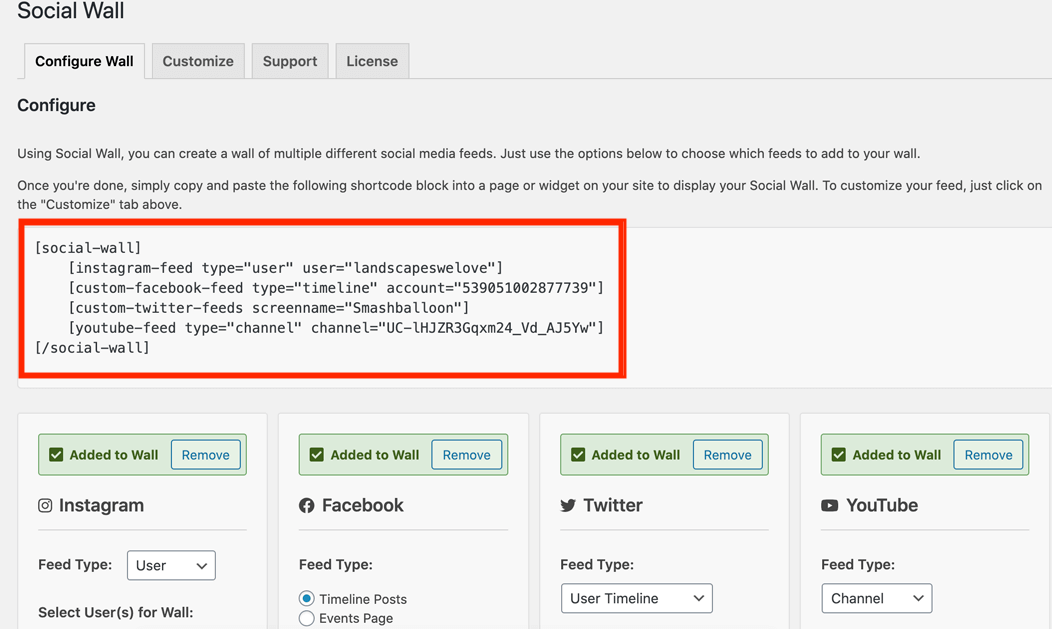 Then, navigate to Pages » Add New Page from your WordPress dashboard.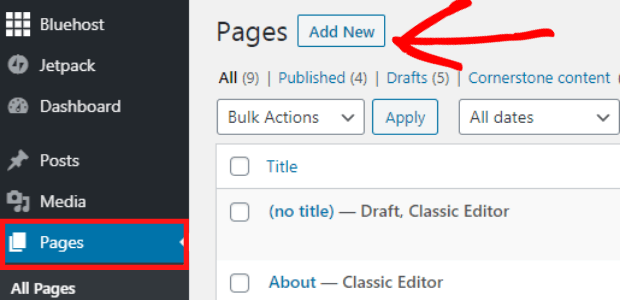 Paste the shortcode you copied on your new WordPress page. Once you're satisfied with how it looks like, click on Publish to make it live on your website, like this: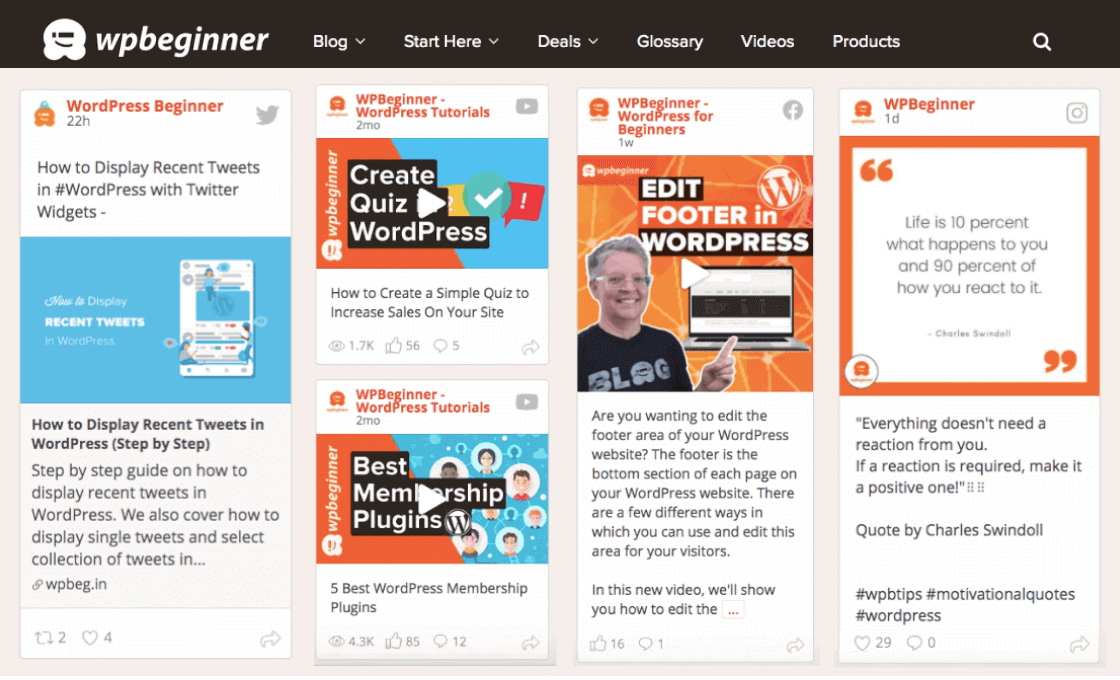 4. Social Media Feed Slideshow
What's the best way for you to display interactive social media content that's easy for your site visitors to consume?
You can use an interactive carousel layout to show your social media posts in a slideshow. This way, your site visitors won't feel overwhelmed when they check out your social media feed. Instead, they can take their time in reading your content as they click on the navigation arrows in the slider, like this: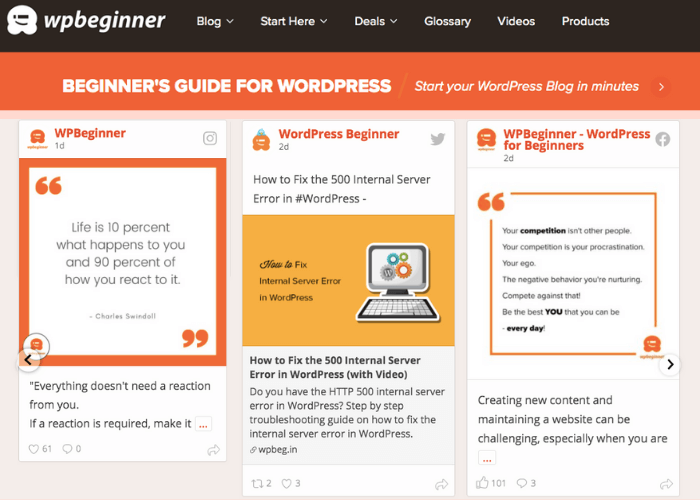 How can you easily embed a social media feed slideshow on WordPress? It's easy: just install Social Wall Pro and choose the carousel layout. The plugin does all the hard work for you, so you can display your social media feed in WordPress in just a few minutes!
5. Branded Hashtag Feed
Finally, you can't talk about social media integration into your website without mentioning Instagram feeds. As a highly visual platform, Instagram is the top social media choice of most brands when it comes to showcasing user-generated content (UGC) on their official websites.
Fenty Beauty, a popular skincare and makeup line, cleverly integrated social media into their site's homepage by displaying a beautiful Instagram feed. With their branded hashtag, #FentyBeauty, the company featured its customers using their products in their daily lives.
Displaying a branded hashtag feed from Instagram is a great way to encourage more sales since 79% of shoppers consider UGC to be highly influential in their their buying decisions.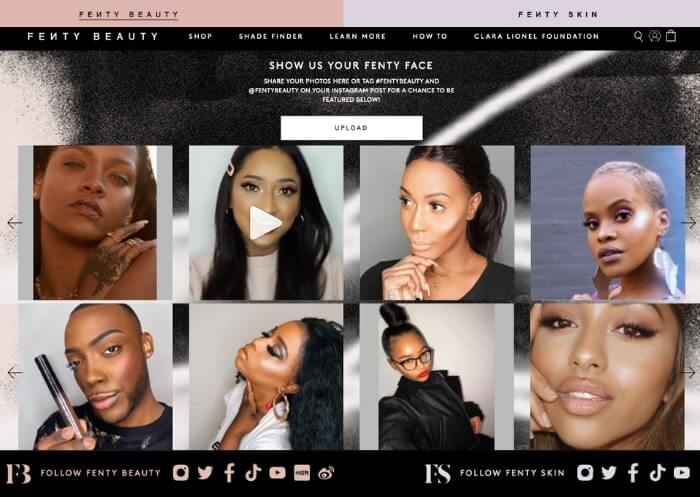 Using Instagram, you can only embed single posts on your website. Want the perfect partner to help you add a branded Instagram feed on WordPress? With 1,000,000+ users under its belt, Instagram Feed Pro plugin is your best choice.
With the plugin's help, we were able to recreate the branded hashtag feed of Fenty Beauty in just a few minutes. Since the plugin is newbie-friendly, you don't need to deal with confusing code as well. Plus, you only need to check or uncheck options while using it — so you won't accidentally break your site.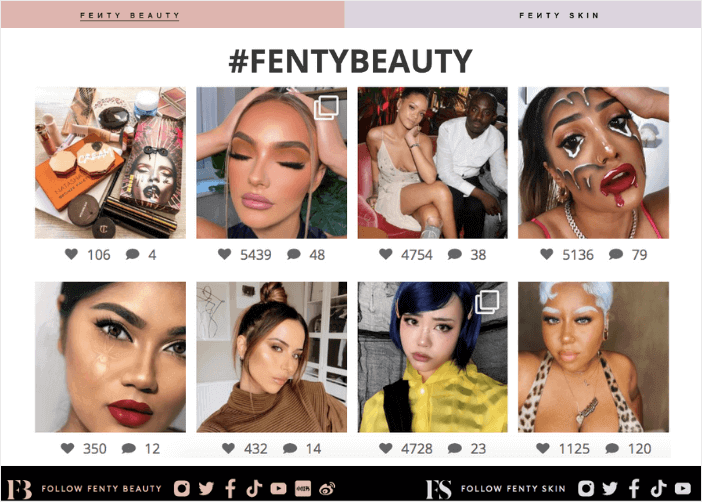 To experience how easy the plugin is, why don't you try embedding your branded hashtag feed on your own site, too? Check out this nifty tutorial on how you can add an Instagram hashtag feed on WordPress today.
So, there you have it!
Now, you've already learned about the different ways you can integrate social media into your website. Now, you just need to follow the linked tutorials so you can easily embed social media feeds on your own WordPress, too.
Ready to take your social media marketing to the next level?
Get started with Social Wall Pro today.
Enjoyed this article? Feel free to follow us on Twitter and Facebook for more social media marketing tutorials to help you effectively grow your business.