Looking for an easy way to display your YouTube gallery to your WordPress site? You've come to the right place.
As the 2nd most visited website after Google, YouTube is the world's largest video-sharing platform.
And with over 500 hours of video uploaded to YouTube every minute, it makes sense to optimize your cross-promotion of your YouTube videos so you can get more subscribers.
Bad news? YouTube doesn't give an easy way for you to add a gallery of your videos to your site.
Great news? There's an easy way! And you don't need to be tech-savvy to do it.
In this guide, you'll learn the simplest and easiest way to show your YouTube gallery in your site.
Let's dive in.
Easiest Way to Display a YouTube Gallery
Not a developer? YouTube makes it a bit confusing for people to display video galleries on their websites. Using the platform, you can only add single YouTube videos to WordPress.
No problem. By using a YouTube plugin for WordPress, you can still easily embed a YouTube gallery on your site.
With the help of a newbie-friendly plugin like Smash Balloon's Feeds for YouTube Pro, you can easily display your gallery of videos. Yes, even if you're not an IT expert!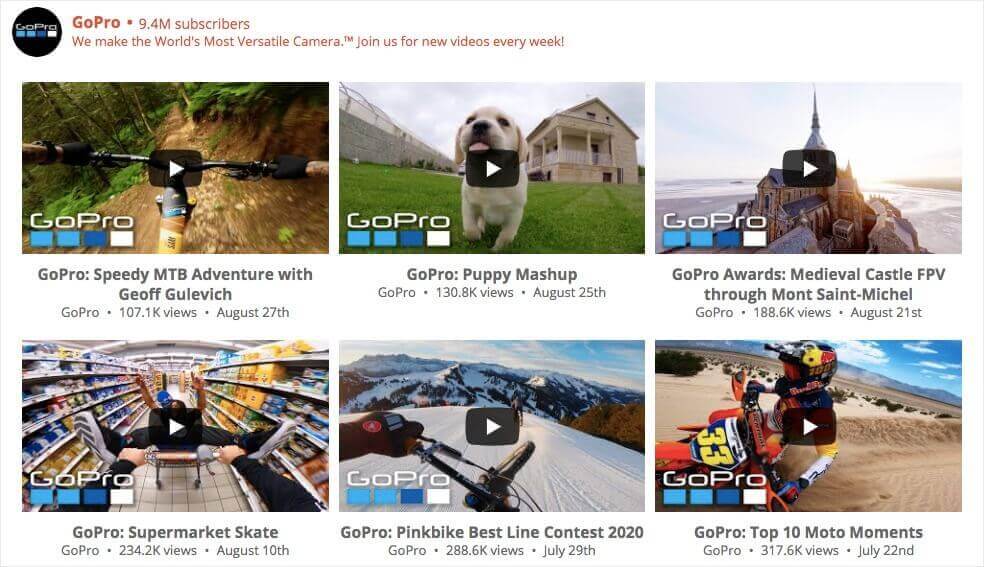 Worried that plugins slow down your site? Feeds for YouTube Pro is designed with your site visitors in mind, so it's ultra fast.
Plus, the plugin is newbie-friendly. This means no confusing code or accidentally messing up your site. Just install Feeds for YouTube Pro and it'll handle all the hard work for you. So if you're looking for the easiest way to show a customized YouTube gallery on WordPress, it's the perfect tool to help you.
Still on the fence? Here are other useful features of the plugin:
Super easy to set up: No need to tackle confusing code here. After installing and activating the plugin, you can display your YouTube gallery in under 5 minutes!
Responsive: Your YouTube feeds are responsive, so they look great on any device and on any screen size. It's also optimized for mobile.
Multiple YouTube feeds: Want to display more than 1 YouTube gallery? You can.
Livestream promotion: Automatically display a feed of upcoming livestreams from your channel. Have a livestream that's currently playing? You can show this on your website, too.
Completely customizable: You can control how your YouTube gallery looks like. Just by ticking or unticking options, your YouTube feed can easily match your brand visuals.
Using a WordPress plugin to create your YouTube gallery in WordPress gives you more control over how to display your videos. Ready to boost your subscribers and increase social engagement for your videos? Check out the following steps below.
Step 1: Install and Activate Feeds for YouTube Pro Plugin
To start creating your YouTube gallery, get your own copy of the Feeds for YouTube Pro plugin here.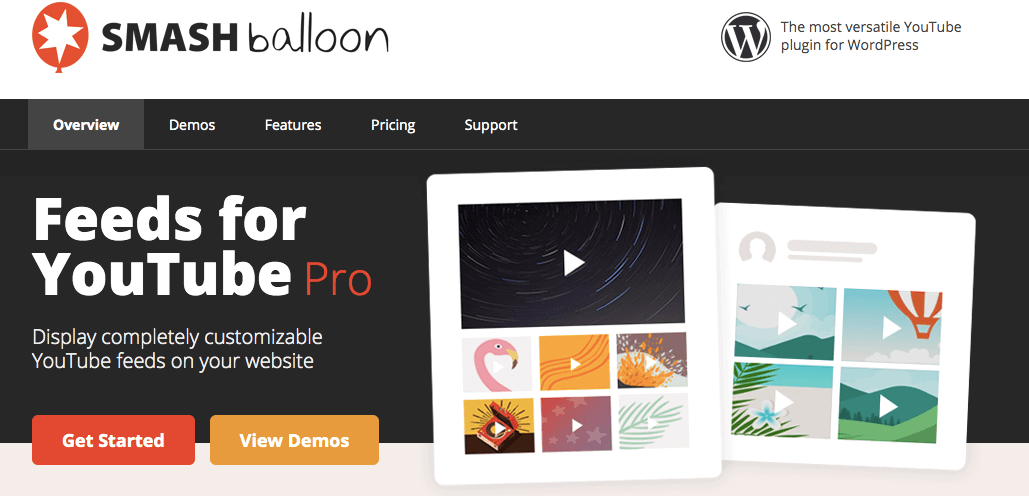 Once you've downloaded the plugin, add it to your WordPress site by installing it. Need a refresher on how you can do this? Check out this step-by-step tutorial to install a WordPress plugin and follow the instructions.
Step 2: Connect Your YouTube Channel
Successfully installed and activated the plugin? Great. Next, connect to your YouTube account by navigating to Feeds for YouTube. Under the Configure tab, click on the blue Connect to YouTube to Create a Feed button.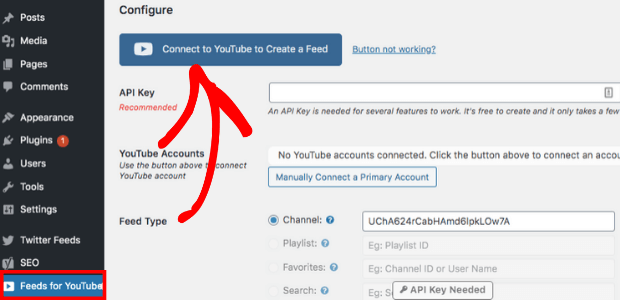 You can also add your API key under this section. Since you need API Key to get access to more features, check out this helpful guide on creating and using an API Key for more details.
Step 3: Choose Your YouTube Gallery Feed Type
Now that you've connected your YouTube account, the next step is choosing your YouTube gallery feed type.
To do this, scroll down to the Feed Type section. Here, you can select the type of YouTube videos you want your gallery to display. Choose among:
Channel: Show a feed of your selected YouTube channel's videos.
Playlist: Show a feed of specific playlists by entering the YouTube playlist ID
Favorites: Show a feed of videos marked as "favorites" by your chosen YouTube account
Search: Show a feed of videos based on specific search words or phrases
Live Streams: Show a feed of upcoming or currently playing lives streams of your chosen YouTube channel
Single Videos: Show a feed of individual videos

To choose your feed type, click on the radio button beside your chosen feed type. Don't forget to click the Save Changes button.
In this tutorial, we selected the Channel feed type. So, your YouTube gallery will show a feed of your specified YouTube channel's videos.
To find the username of your chosen YouTube channel, go to the YouTube channel you want to display on your WordPress. Then, look at the channel's URL. The characters after "channel/" is the channel's ID or username.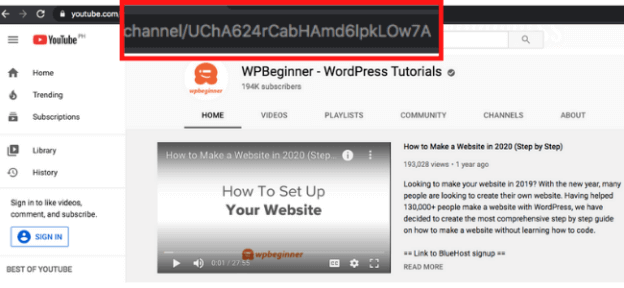 Step 4: Customize Your YouTube Gallery
Yes, the plugin looks great on your site right out of the box. It copies the same fonts, colors, and other styles that your WordPress theme uses, after all.
And if you want more control over the way your YouTube gallery looks, the plugin offers you customization options as well!
To start, scroll to the topmost part of the settings page. Then click on the Customize tab. Under this section, you can freely change your YouTube gallery's width, height, and background color.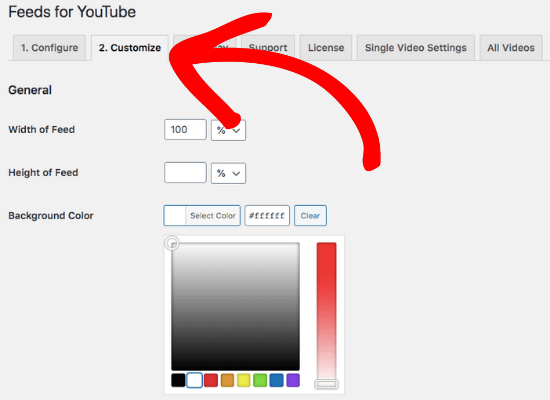 Want more options to customize your YouTube feed's visuals? Just scroll down and you'll see the Layout section.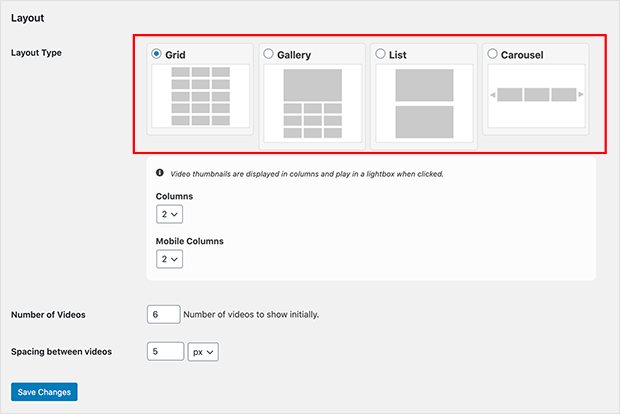 Here's an example of how your YouTube gallery would look like on your WordPress, depending on different layout types.
Grid Layout
Using this layout, your YouTube gallery shows your videos in a uniform grid of square-shaped thumbnails.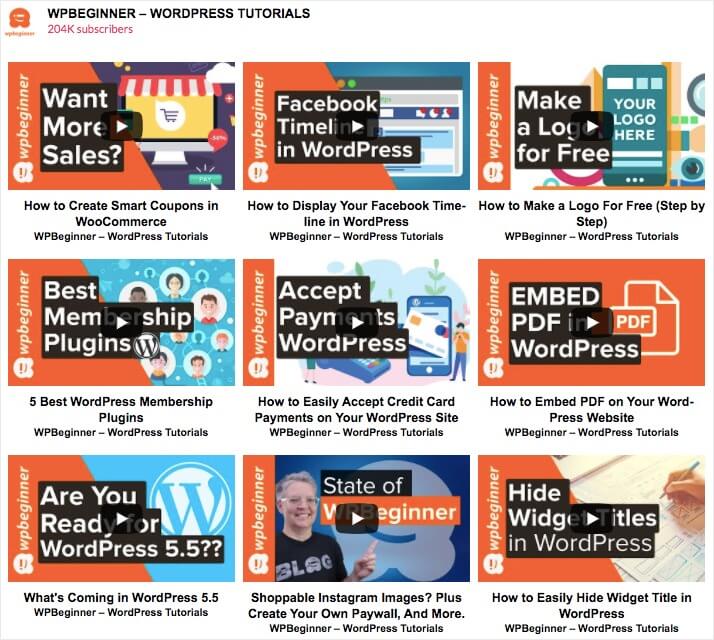 Gallery Layout
If you want your YouTube gallery to have a more traditional layout, choose the gallery layout. It'll display 1 large video that plays when clicked. It also has video thumbnails underneath so your visitor can watch more.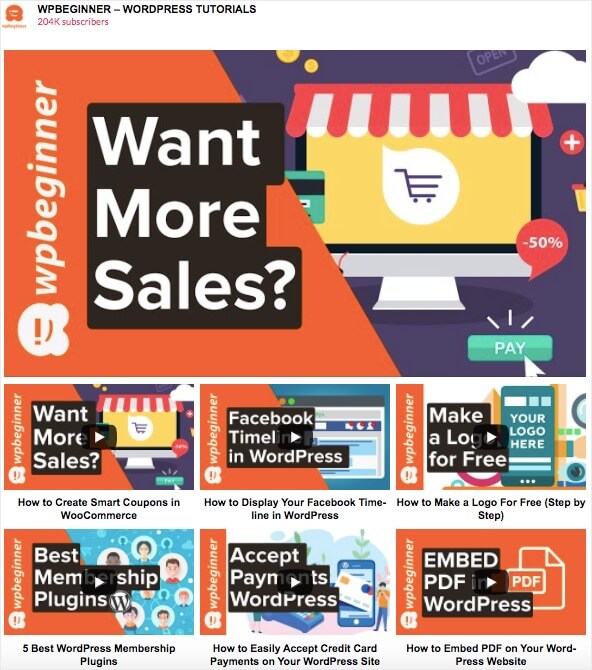 List Layout
This layout displays your YouTube gallery in a single column.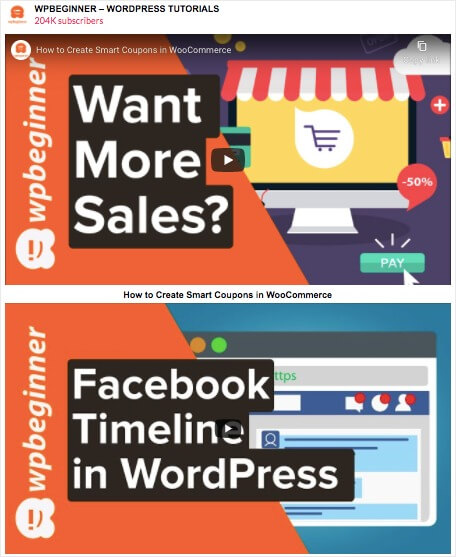 Carousel Layout
Finally, if you want to show your YouTube videos in a horizontal slideshow carousel, this layout achieves that goal.

Happy with your YouTube gallery's visuals? Great! To further control the type of data you want to show in your feed, scroll down to the Info Display section. Simply check the box to show the information, and uncheck it to hide.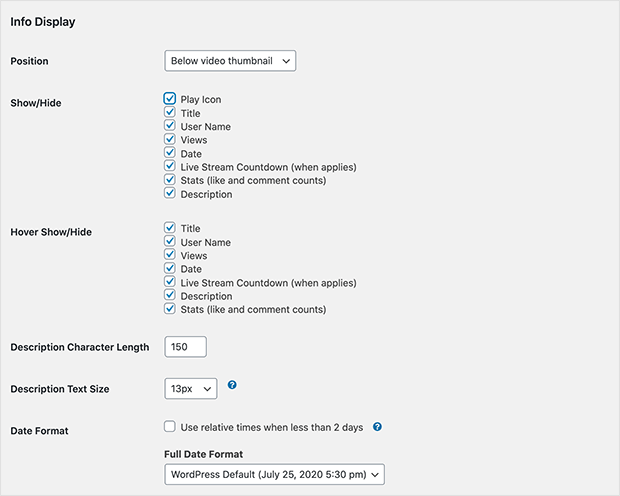 Once you're done customizing how your YouTube gallery looks like, it's time to move on to the next step below.
Step 5: Embed Your YouTube Gallery on WordPress
You can display your YouTube channel gallery on WordPress in 2 ways, including:
YouTube Feeds WordPress Block: Add your YouTube gallery to posts or pages using the WordPress block editor.
YouTube Feeds Widget: Add your YouTube gallery to your sidebar or footer using the plugin's ready-made widget.
Add YouTube Gallery to Your Website Using WordPress Block
Start by navigating to Pages » Add New to create a new page.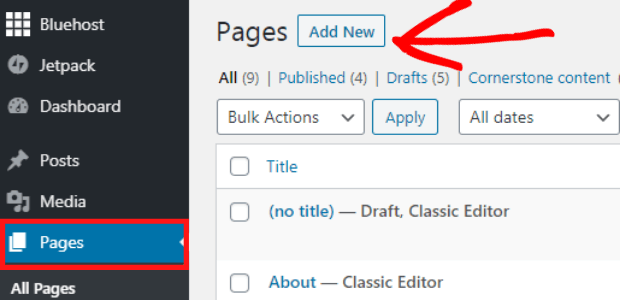 Next, within the block editor, click the Plus (+) icon to choose a new WordPress block. Type "youtube" into the search field and look for the Feeds for YouTube block. Click on it to add to your post.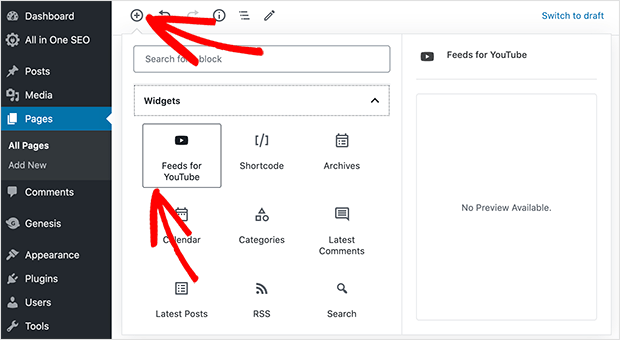 Once you've added the block, it'll be automatically displayed in the editor. Make the necessary changes, if you have them. Finally, click on Publish to make it live on your website.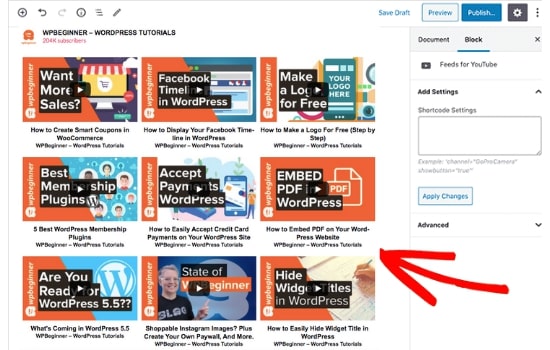 Add YouTube Gallery to Your Website Using Widget
You'll be glad to know that the plugin also comes with a ready-made WordPress widget. By using it, you can easily add your YouTube gallery to your website's sidebar areas such as your sidebar or footer.
Start by going to Appearance » Widgets to view your available WordPress widgets.
Then, look for the YouTube Feed widget and drag it to your chosen sidebar area. Remember to click Save to preserve your settings.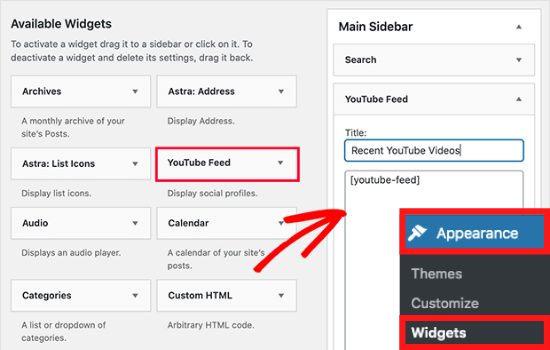 After this, your website visitors can readily see your YouTube gallery displayed on your website's sidebar.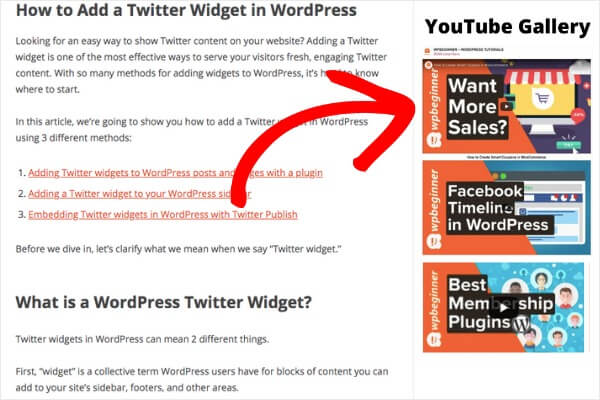 And that's it! Congratulations. You've learned the easiest way to add a YouTube gallery to your WordPress using a plugin. Now, you can start increasing your subscribers and skyrocketing your channel's growth.
Get started with Feeds for YouTube here.
Or if you want unlimited access to Smash Balloon plugins so you can use them on unlimited websites, go ahead and get the Social Wall Pro bundle here.
The great part about Smash Balloon's pricing method? It comes with a 100% no-risk money-back guarantee so you can try out the plugins first and see if it's a good fit for you.
For further reading about YouTube marketing, you may also want to read this next post on the best types of YouTube videos to skyrocket your subscribers.
Finally, if you found this guide helpful, go ahead and follow us on Twitter and Facebook for more useful YouTube tutorials.