Do you want to embed an Instagram widget to your WordPress?
When you embed Instagram feeds to WordPress, you make it easier to turn your website visitors into Instagram followers.
It's also engaging content that can improve the experience of your site and take your social media marketing to the next level.
In this article, we're giving you a step-by-step guide on how to embed an Instagram widget on your WordPress site so you can convert visitors into loyal fans and followers.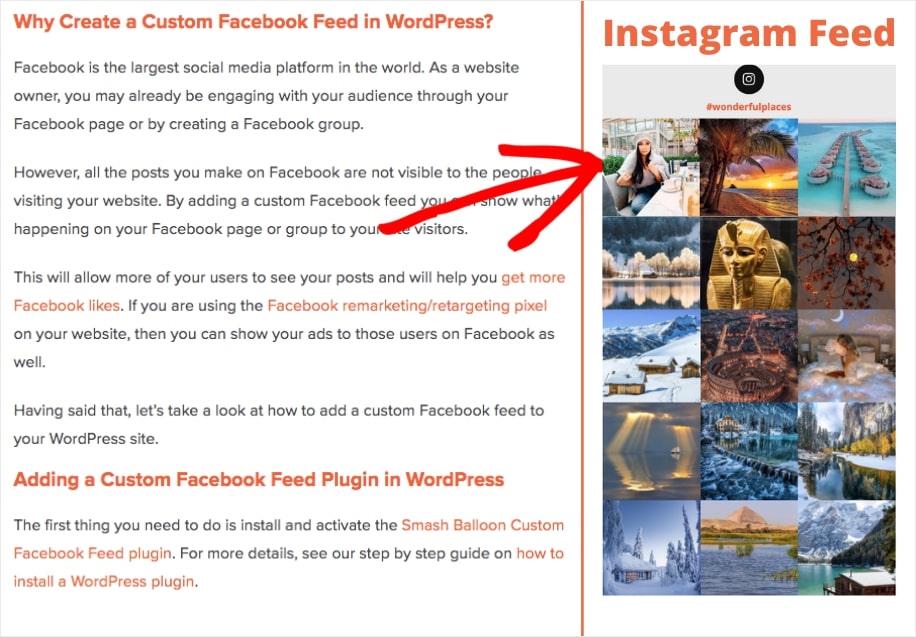 Here are the steps for adding an Instagram widget to WordPress to help you navigate:
Let's start by talking about why you need to embed an Instagram widget to WordPress.
Or, you can click here to skip ahead to the tutorial.
Why Add an Instagram Widget to WordPress?
Embedding Instagram in WordPress and showing it on your website has several advantages:
Building trust: Your social feed makes your site looks fresh and up to date. So your customers can see that your business is active and thriving.
Better engagement: It's a great way to increase social engagement and get new followers so you can promote your business on Instagram better.
Consistent branding: Your Instagram photos can act as a branding element reinforcing your company's image — and if you display user-generated Instagram images on your website, it's a great way to use social proof to boost brand awareness.
More sales: If you display shoppable Instagram posts on your website, you make it easier for your site visitors to discover your products and buy from you.
Even better, when visitors enjoy your images, they'll spend more time on your site.
And the longer people stay on your site, the more it sends valuable ranking signals to search engines, which can boost your website's SEO more.
As you can see, you can display posts from Instagram on your site to give your business a boost.
Easiest Way to Add an Instagram Widget to WordPress
The easiest way to add an Instagram widget to WordPress is to use a WordPress Instagram plugin.
The best WordPress plugins enhance the functionality of your website and let you add new features without needing to hire a developer.
A plugin that comes in handy and makes the task (and your life) easier is the Instagram Feed Pro plugin by Smash Balloon.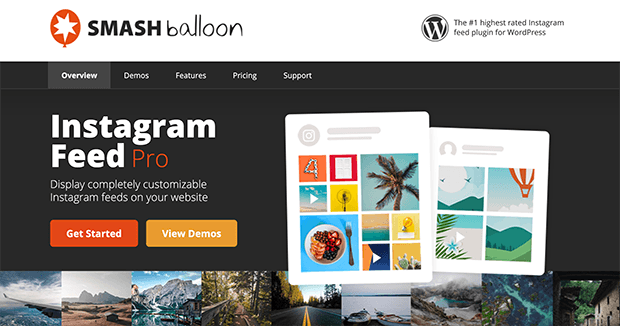 Smash Balloon's Instagram Feed Pro is the best Instagram widget plugin for WordPress.
You can embed it directly on the new WordPress block editor, add it as an Instagram widget for WordPress, or paste it as a shortcode right where you need the feed.
What's more, you can filter your feeds in the widget settings to show Instagram hashtag feeds and content from multiple Instagram accounts.
Instagram Feed Pro also lets you embed Instagram TV (IGTV) videos on your website.
The plugin also doesn't require any coding background or knowledge in CSS, JavaScript, or HMTL.
Also, you can use it even if you don't have an Instagram Developer account, so it's perfect for newbies — simply connect your Instagram account to it!
After, the plugin will connect to the Instagram API and help you show your Instagram feed on your website in just under 5 minutes.
Plus, since the plugin's designed with its users in mind, it's built to be ultra-fast. And with an average rating of 4.9/5 stars, it's happily recommended by over 1 million users all over the world.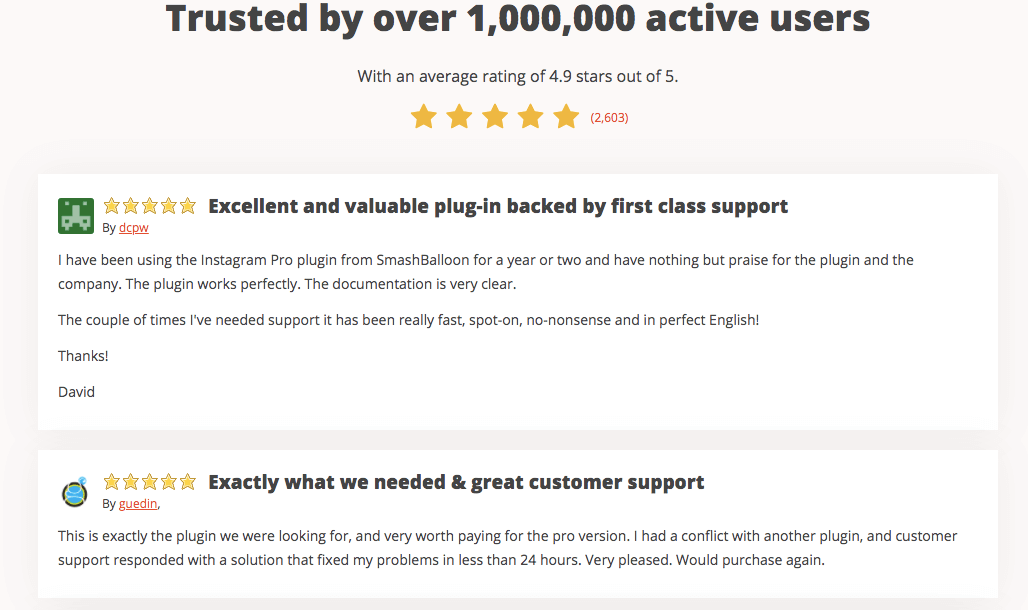 With a few clicks, you can use the plugin to access its powerful Instagram features:
Customizable layout: Choose between a classical grid layout mimicking the look of Instagram, an Instagram slideshow widget, or highlight specific photos
Responsive design: Your feeds are mobile-friendly and responsive, so they look great on both desktop and mobile
Follow buttons: Make it easy for your visitors to follow you with a simple click
Social engagement: Display Instagram stories and Instagram photo thumbnails right on your website in a pop-up lightbox. You can even show your latest Instagram posts

with comments and likes from Instagram users in your embedded Instagram feed.  

Instagram shopping: Using the plugin, you can add shoppable Instagram posts and display its feed as an Instagram widget on your WordPress website's sidebar.
Reduced load time: Thanks to reliable data caching, you don't have to worry about the plugin slowing down your website. Plus, it can still display photos from Instagram even if the social media platform is down.
Multi-display: Add multiple Instagram feeds to different areas of your site showing specific types of Instagram posts
Smash Balloon, the best social media feed plugin to display different feeds from your social networks, is also trusted by the largest brands all over the world, so you're in great company!

With these in mind, let's move on to the actual process of how to embed Instagram widgets on your WordPress website.
How to Add an Instagram Widget to WordPress
Ready to add an Instagram widget to your WordPress site? Dive in by following the steps below.
Step 1: Install the Instagram Feed Plugin
To begin, click here to get started with Instagram Feed Pro. Then download the plugin to your computer.
After that, you need to upload it to your WordPress website and activate it. If you need a refresher on how to install a WordPress plugin, check out this step-by-step guide.
Step 2: Connect Your Instagram Account
The next step is to link your Instagram account to WordPress.
First, go to your WordPress admin panel and click on the Instagram Feed menu so you can access the plugin's settings page.
This brings you to the Instagram Feed dashboard, where you can click the blue Connect an Instagram Account button to get connected.
After clicking this, the plugin will automatically get an access token linked with the Instagram account you're using.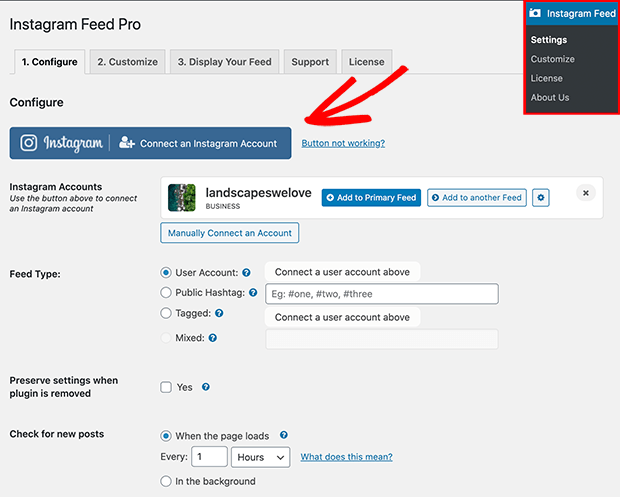 A popup will ask if you want to connect your personal or business Instagram profile. For some types of feeds, such as hashtag feeds, a business account is required.
If you don't have a business account but want to use these features, we have a handy guide teaching you how to change a private Instagram account into a business profile.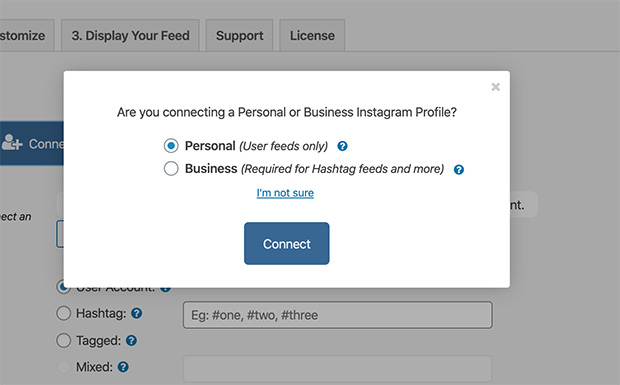 After that, click Connect to confirm your choice. Your Instagram account is now connected!
This is great, especially if you're not familiar with WordPress. Why? Because the plugin will connect to the Instagram API for you, you don't need to manually connect to it anymore.
You'll see your account name and the buttons Remove from primary feed and Add to another feed. This allows you to have several customized feeds displayed on your site at once.

Now you're ready to customize what types of Instagram posts you want to include in your embedded Instagram feed. Let's talk more about this in the next step below.
Step 3: Choose Which Instagram Content to Show
As you configure the plugin, Instagram Feed Pro allows you to choose from different Instagram feed types, such as:
Feeds filtered on specific hashtags
Photo feeds of Instagram posts that you're tagged in
Shoppable feeds where you can link image captions to product pages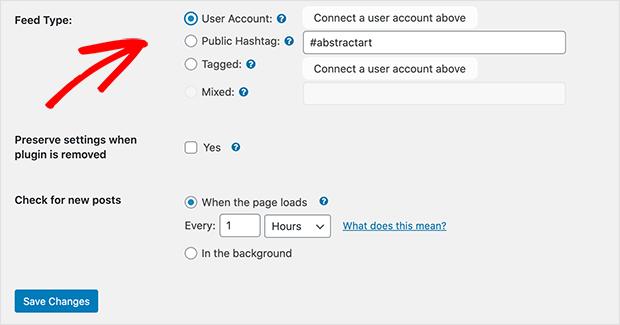 Maybe you want your standard Instagram feed in your site's footer on all pages and a shopping carousel on your e-commerce page?
How about an Instagram slideshow with branded photos of you on your About page?
Or an Instagram feed showing your branded hashtag posts so you can use it to display testimonials on your website?
Once you've chosen your preferred feed type, click Save Changes.
Step 4: Select Your Instagram Widget Layout
The great thing about this plugin is it offers you tons of customization options you can easily set up with just a few clicks — no technical skills needed!
To start customizing your Instagram widget's design, from the Instagram Feed settings page, click the Customize tab at the top.
Here, you can freely change the following:
Dimensions of your feed
Background color
Show/hide your Instagram bio
Your header button
Display a follow button
Layout type
Number of photos to show
More importantly, this is where you can choose the layout template for your Instagram widget.
With 4 different layout types, you can create beautiful Instagram galleries that showcase your photos in the best way.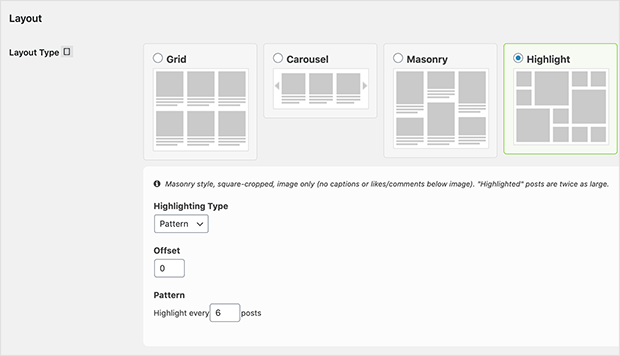 The different layout types include:
A standard grid with fixed square image sizes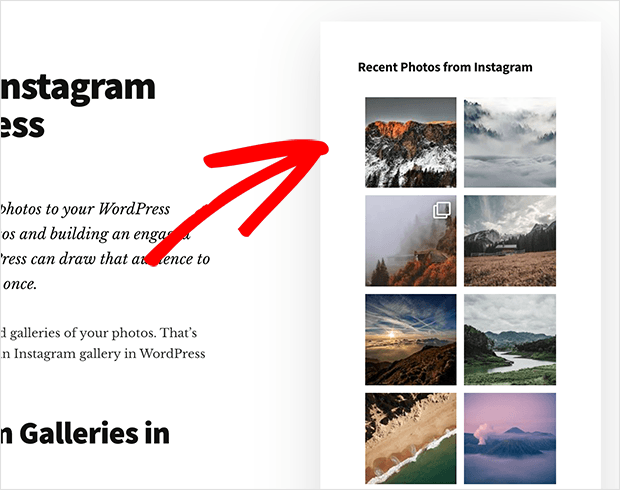 Scrolling carousels with rows, pagination, and navigation arrows to show.a horizontal Instagram feed 
Masonry galleries showing photos in their original horizontal or vertical format
A highlight gallery showing specific photos larger in the grid
To choose a layout type, simply click the radio button and click Save Changes to preserve your settings.
Step 5: Add Your Instagram Widget to WordPress
Now you're ready to add your Instagram widget to your WordPress site. The Instagram Feed plugin offers 3 different ways to embed your feed, including:
WordPress Block: Use the new WordPress block editor to add an Instagram widget to posts or pages easily.
Shortcode: Use the simple shortcode to display your feed in the classic WordPress editor, or elsewhere within your WordPress theme.
Instagram Feed WordPress Widget: Use the built-in widget to display your Instagram feed in a WordPress sidebar area.
Don't worry if you're not sure which option to choose. We'll show you how to do each method.
Embed an Instagram Widget With the Instagram Feed Block
Instagram Feed Pro makes it super easy to add your Instagram widget to your WordPress site.
To add your Instagram feed to a new page using the WordPress block editor, navigate to Pages » Add New.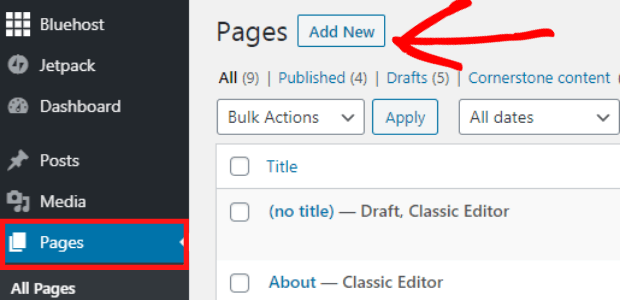 Then in the block editor, click the Plus (+) icon to search for a WordPress block.
In the search bar, type "Instagram" to show the Instagram Feed WordPress block. You can then click it to add the block to your page.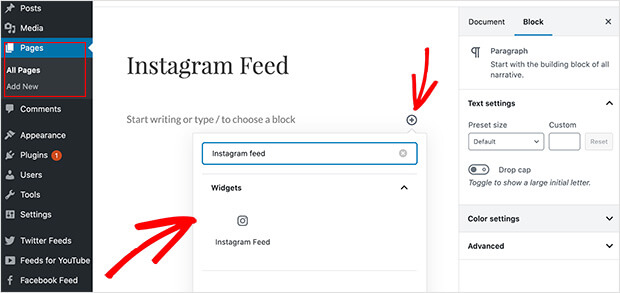 This gives you a preview of how your Instagram feed will look so you can tweak your settings to get things looking right.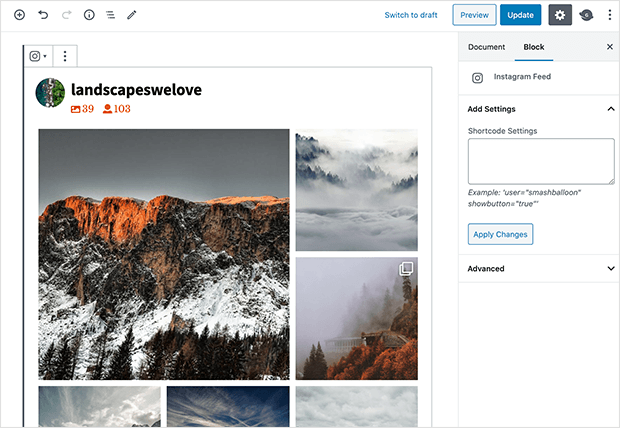 Then you can go ahead and publish your page. When you preview your published page, your feed will look similar to the example below.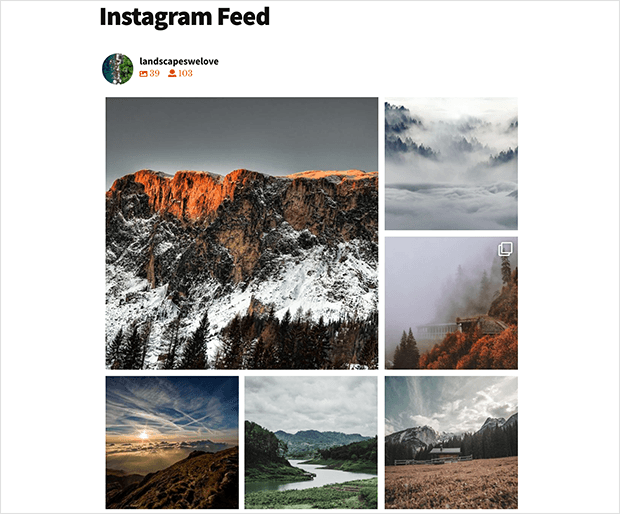 Add an Instagram Widget to WordPress with a Shortcode
To add your Instagram widget in the classic WordPress editor, simply paste your Instagram Feed shortcode directly into your post or page editor.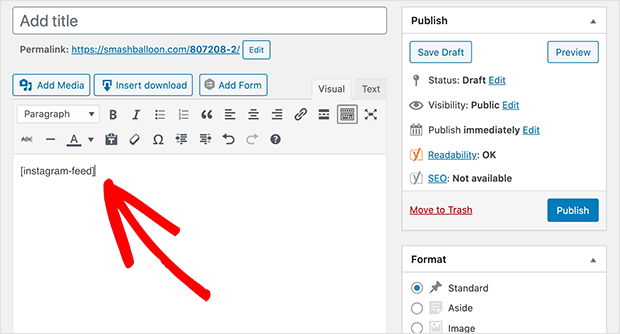 You can find different variations of the shortcode by clicking the Display Your Feed tab on the feed settings page.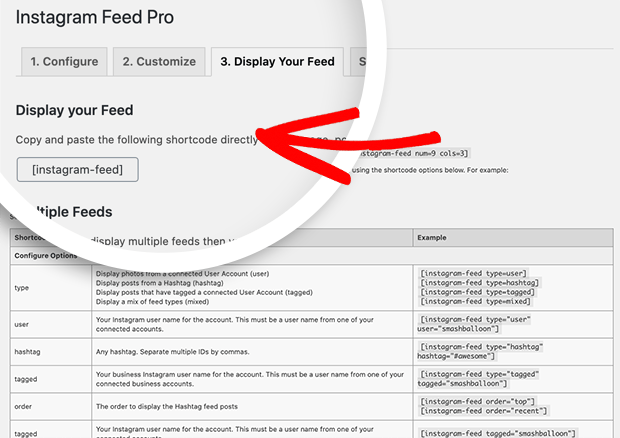 Add an Instagram Widget to Your WordPress Sidebar
Like WPZOOM Social Feed Widget and other popular feed plugins, Instagram Feed Pro also lets you display your Instagram widget on your widget areas, like the sidebar and footer.
To show your Instagram widget in a widget-ready area like your footer or primary sidebar, you can use the built-in Instagram Feed widget.
First, navigate to Appearance » Widgets. Then find the Instagram Feed widget and drag it over to your chosen widget-ready sidebar.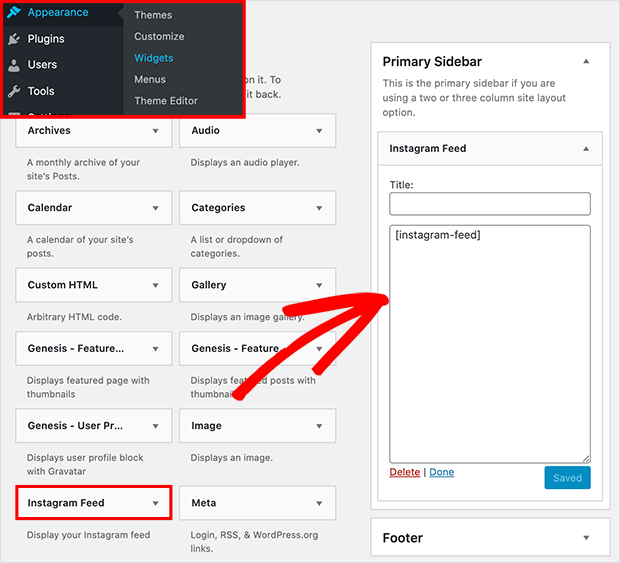 Remember to click Save to preserve your settings.
Then when you preview your website, you'll see your Instagram sidebar widget.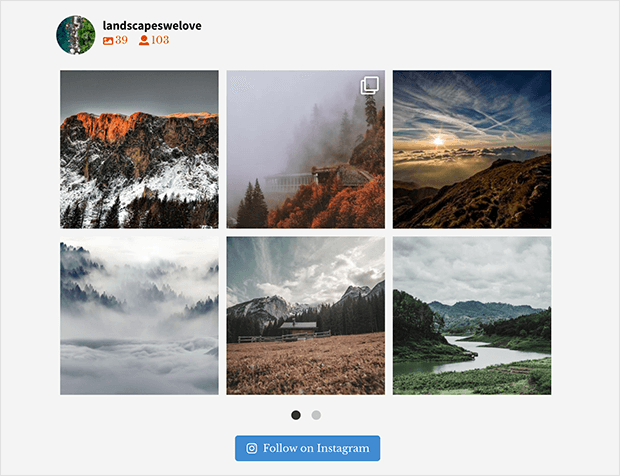 Or if you'd like, you can also embed your Instagram widget on your WordPress footer area. Simply go to Appearance » Widgets. Find the Instagram Feed widget and drag it over to your footer area.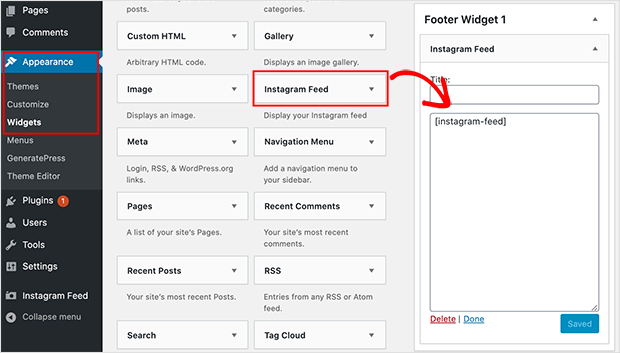 Once you click Save, you can now see your Instagram footer widget added to your WordPress, like this: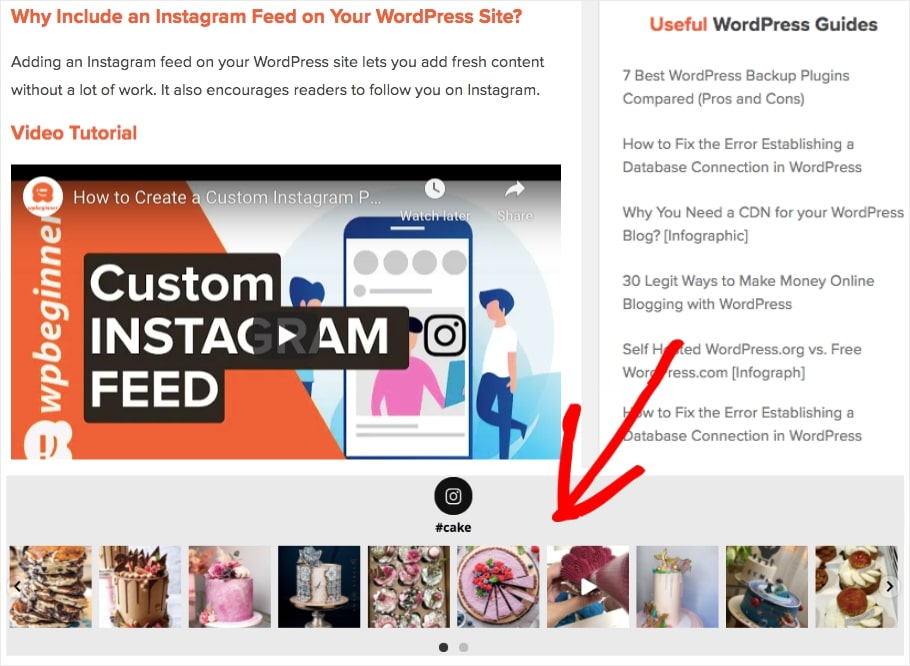 There you have it!
You've just added an Instagram widget to your WordPress site. Now you can engage your visitors with relevant visual content, transforming them into loyal Instagram followers.
So what are you waiting for?
Get started with the premium version of the plugin, Instagram Feed Pro by Smash Balloon today and you can embed engaging Instagram feeds on your site with ease.
Pro-tip: take advantage of this GREAT deal just for you.
Want unlimited access to Smash Balloon plugins so you can use them on unlimited websites? Go ahead and get the All Access bundle here.
Smash Balloon offers a no-risk money-back guarantee so you can decide if the plugins are the right fit to help you boost your brand's growth.
And with over 1.6 million users trusting Smash Balloon, you know you'd be in great hands.
No room in your budget yet? You can also check out here how to get Social Photo Feed, the free version of the Instagram Feed plugin. It comes with limited features, though!
Want to display other social media feeds on your website — fast, easy, and hassle-free? Check out this next article on how to add social media feeds to your WordPress.
Or you can also take a look at this post on how to add a Facebook widget to WordPress.
And if you enjoyed this article, feel free to follow us on Twitter and Facebook for more helpful tutorials.