Do you want to know how to get Instagram followers fast?
Getting ahead on Instagram can be tough, especially if you have tons of competition and you can't seem to hit your target engagement metrics in the platform.
If only there were proven tips to increase your Instagram followers authentically…
Luckily there are! In this article, we'll show you how to increase Instagram followers with a few of our secret tips and tricks.
Before we dive right in, let's talk about whether you should buy fake Instagram followers or not.
Should You Buy Instagram Followers?
Tell me if you've seen the following search terms on Google before:
"How to get 1k followers on Instagram in 5 minutes?"
"Cheat on how to get Instagram followers?"
"How to get fake Instagram followers?"
With over 1 billion users, Instagram remains one of the most popular social media networks in the world.
Competition in Instagram is tough, and it's one of the reasons why some brands want to take shortcuts in growing their followers.
In the same way that buying fake Facebook followers isn't worth it, getting fake Instagram followers for your account can also result in:
Low User Engagement – Most fake followers are robots or spam accounts, so they will never like or comment on your Instagram posts.
Decreased Brand Trust – Is your follower count high, but your engagement metrics are low? Then it's painfully obvious to your audience that some fake followers are involved, so they're less likely to trust you.
No Potential Customers – Since the followers you bought are spam accounts or bots, there's zero chance that they'll do business with your brand. Yikes.
If buying Instagram followers isn't a good idea, can you increase your account followers authentically without following hundreds of profiles daily?
How to Increase Followers On Instagram Without Following Everyone
You can grow your Instagram followers without having to follow everyone. After all, Instagram lets you follow up to 7,500 accounts only.
It's even easier when you use Instagram Feed Pro to display custom Instagram feeds on your WordPress site. As the #1 highest rated Instagram feed plugin for WordPress, it lets you easily add stunning Instagram feeds to your website. No coding needed!
Instagram Feed Pro is also super-simple to set up, which is perfect for beginners with little design experience.
Ready to start getting more real Instagram followers — without buying fake followers or following every account you see? You can click any of the Instagram marketing tips below to skip ahead.
Or, you can continue reading this ultimate guide to increasing your Instagram followers.
Top Tips to Increase Instagram Followers Fast (Organic Ways)
1. Improve Your Instagram Profile
One of the easiest ways to get more Instagram followers is to make sure your Instagram account is set up properly.
Your Instagram profile bio is the most important real estate of your account. It's from there that users get to know more about your brand, your website and your overall online presence.

Make your bio as interesting as you can to get more Instagram followers with some of these tricks:
Display a recognizable profile picture, like your photo or brand logo
Add relevant hashtags to make it easier for people to find your profile
Include your website URL so people can learn more
Choose words carefully to describe your brand using as little space as possible
Add emojis to convey emotion, character, and personality
To help you optimize your Instagram profile, see this useful post on how to use Instagram for business.
2. Curate Your Instagram Feed
Another hack to increase your followers organically is to develop a unique style and theme for your account.
Because there are so many people all vying for attention on Instagram, you need to stand out to get noticed. A clear visual content style sets you apart from the competition and makes it easier for people to recognize your brand.
For example, Rosie Clayton does an excellent job with her Instagram theme of bright, color pops. And with over 100,000 followers, her style choice certainly paid off.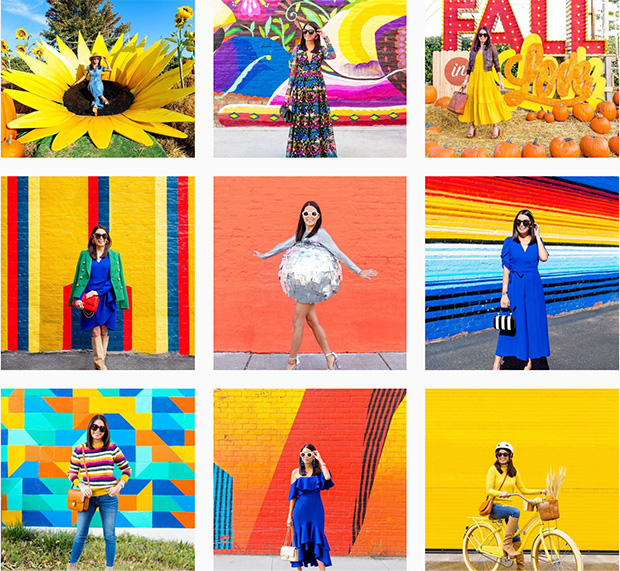 Optimizing your Instagram gallery doesn't stop at deciding on a theme or color palette you'll be using for your Instagram profile. Since Instagram is a media-heavy social media platform, it's crucial you pay particular attention to media quality as well.
Great quality content can draw in tons of traffic, engagement, and followers. But blurry photos or videos that look thrown-together can drive people away from your profile.
You don't need expensive equipment to take great photos for Instagram. Your smartphone camera will do the trick if you're careful with lighting, props, and filters, like this shot below.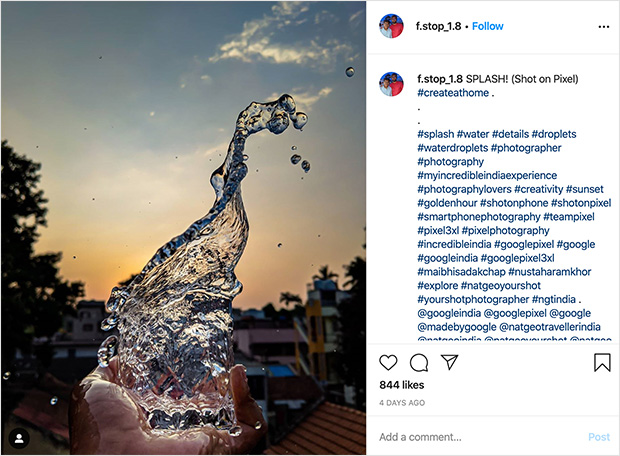 You need to think like an online marketer whenever you curate your feed. Here's a helpful guide on Instagram marketing tips guaranteed to boost your business to help you get started.
3. Take Advantage of Instagram Reels
Did you know that posting Instagram reels on your account can help you get more followers fast?
Considering that 9 out of 10 users watch Instagram videos daily, it's clear that this type of content can actively reach more audience in the platform.
The more people your Instagram reels can reach, the more people you can convert to Instagram followers for your brand.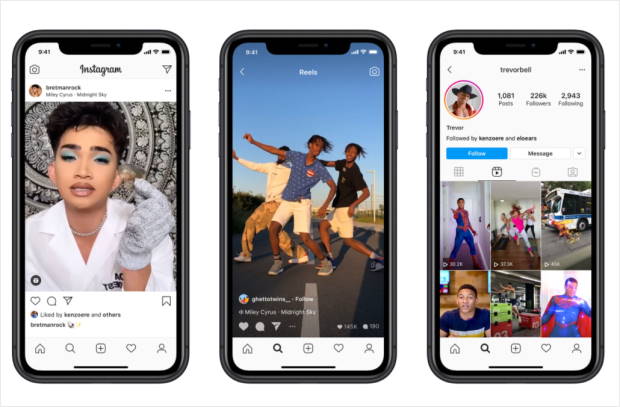 Check out this post for the ultimate guide on how you can get more views on your reels. It includes tried-and-tested tips that experts like Starbucks, Neil Patel and Cinnabon use to increase their viewers.
Even better, you can extend further the reach of your account when you show Instagram reels on your website — which brings us to our next tip below.
4. Display Instagram Feeds on Your Site
One of the easiest ways to increase your Instagram followers is to make the most of your website's traffic.
If every site visitor can see your Instagram content embedded in your WordPress site, you have a higher chance of converting them into followers versus not showing your Instagram feeds at all.
For example, if your website gets 3,000 unique visitors daily…
And at least 1% of them follow your account just because your Instagram feed is displayed on your site…
That's 30 Instagram followers added daily to your account!
With the help of Instagram Feed Pro plugin, you can easily add your Instagram feed on your website with just a few clicks.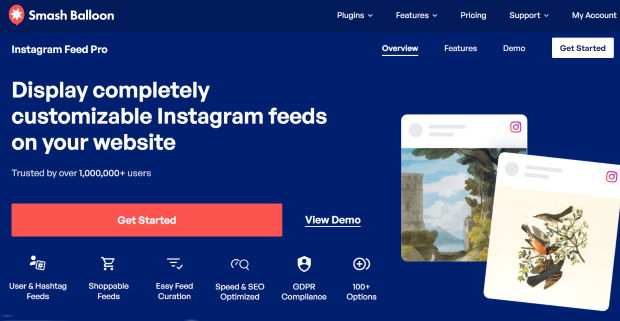 It's the best Instagram feed plugin to help you make, customize and show engaging Instagram feeds on your site — even if you're not tech-savvy. It's trusted by over 1 million users with a high rating of 4.9/5 stars, after all.
With this plugin, you can easily embed your Instagram feeds on your site's:
About page
Reviews page
Products page
Blog page
and more…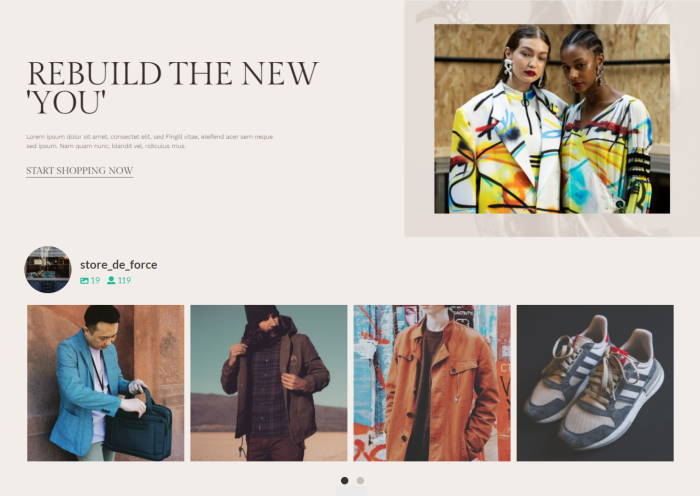 Your site visitors have already shown an interest in your brand by visiting your website. The next step? Gently nudge them to follow you by displaying your Instagram posts anywhere on WordPress.
To do this for your business, see this step-by-step guide on how to embed Instagram feeds on your website.
Pro-tip: You can also make sure that your Instagram feed is accessible on every page of your site by adding it to your footer area. Check out the steps here on how to add Instagram footer widget to WordPress.
5. Use Niche-Related Hashtags on Your Posts
Hashtags are an excellent way to help other Instagram users find your posts and follow you.
And if you add a range of topical and popular hashtags to each post, there's a high chance you'll get more engagement and followers for your account.
For example, you can combine topical hashtags like #makeup and #ootd with a few popular choices such as #Instagood, and #photooftheday to encourage more people to click through and follow your brand.
Pro-tip: Want more exposure for your branded hashtags?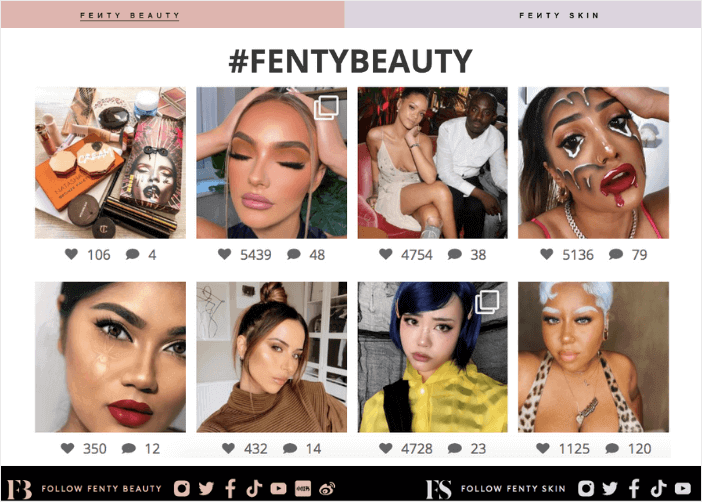 You can curate content relevant to your industry and display it in tailored hashtag feeds on your website.
That way, site visitors get to see fresh, relevant content, and you develop the reputation of being an influencer on those topics. And as you may already know, influencers and brand ambassadors can have massive sway over their followers' purchase decisions.
When you use Instagram Feed Pro, adding a tailored hashtag feed to your website to boost your following is quick and easy. Just select the Publish Hashtag feed and customize your feed to your liking in just a few minutes.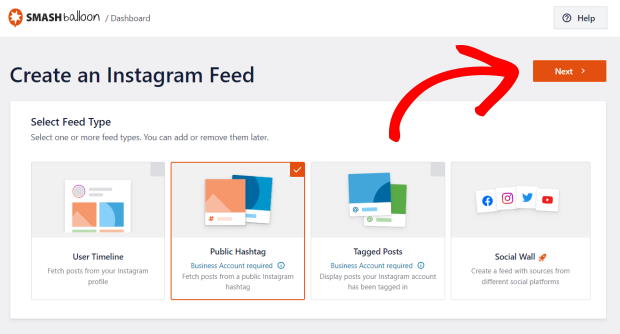 When you publish your feed, there'll be a fresh stream of your chosen hashtags on your website.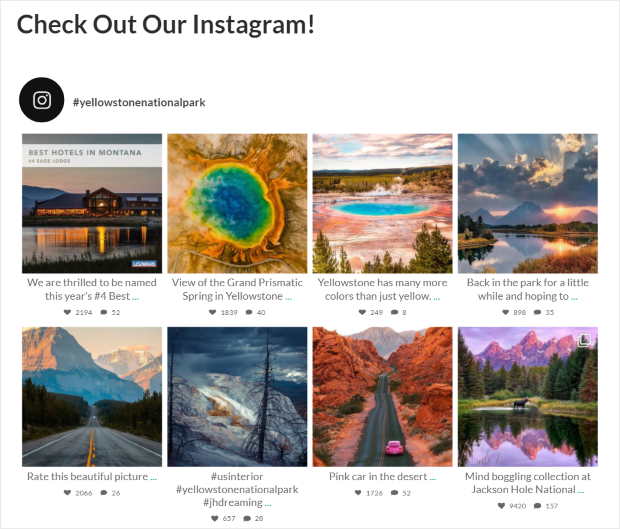 Pretty easy, right? For more details, see our step-by-step guide on how to embed an Instagram hashtag feed on WordPress.
6. Optimize Your Post Captions
Here's another trick you can use to grow your Instagram organically: get creative with your captions.
Even though we've talked about the power of images on Instagram so far, it doesn't mean you should ignore the words you use.
Your Instagram post captions are a great place to engage with your audience and use persuasive language to encourage them to follow you.
Use captions as a way to tell a story about your photo or video. That way, you can tap into readers' emotions and build an emotional connection with them, which makes it easier for them to like and trust you.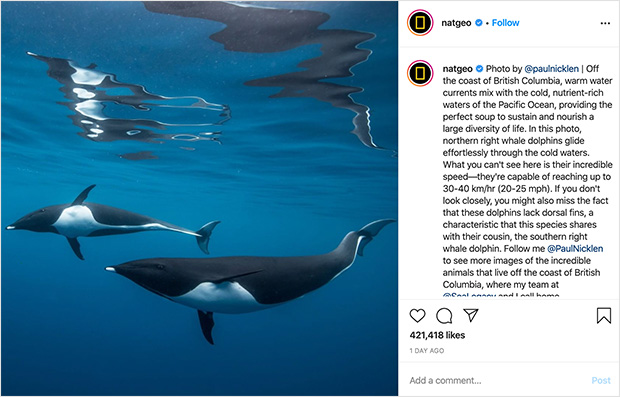 Chances are, if they enjoy what they read, as well as what they see, they'll come back for more and follow you.
Another way to optimize your captions is by adding calls to action (CTA) either in the captions of your posts or in the images or videos you upload.
CTAs tell people what action you want them to take next, so if you want them to follow your profile, it's worth giving them a nudge in the right direction. If you don't ask, you won't find out, right?
In this example, the CTA is to help the author come up with a title for their new book, which shows how a clear CTA can spur people into action.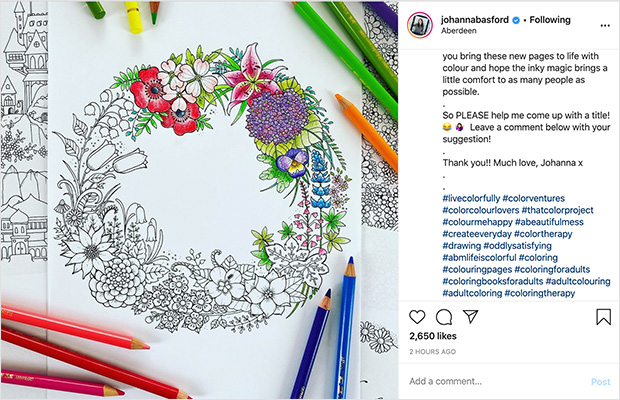 7. Engage With Your Existing Followers
It doesn't matter if you want to get 100 Instagram followers or 1,000 — the idea behind this Instagram marketing tip is the same.
For you to increase your followers fast, you need to interact with your existing followers regularly.
Boosting your account's engagement influences Instagram's algorithm to show your account to even more people. As a result, a larger audience can view your Instagram account and potentially follow you.
Here are some of the best ways to interact with your audience:
Respond to their comments on your posts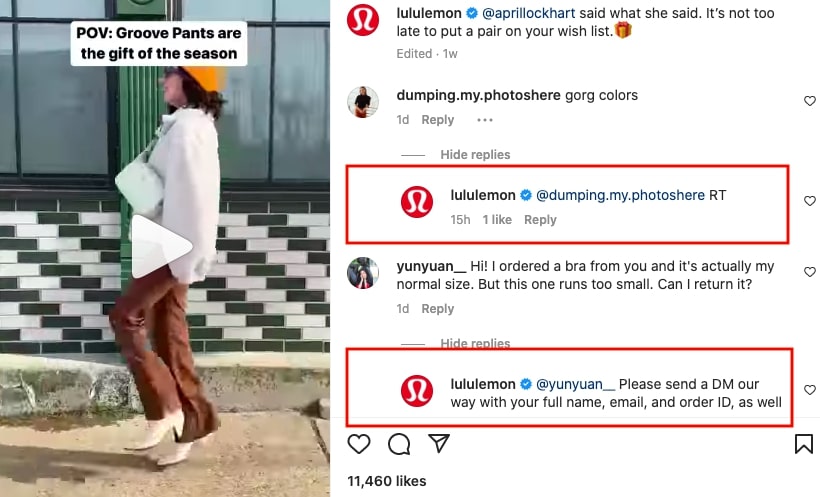 Go to your followers' walls and leave a relevant comment on their posts

Regram your followers' posts about you and credit them via tags
Chances are you've got a bunch of posts you're tagged in from other Instagram users. Even better, you can go the extra mile and display tagged feeds on your WordPress site so you can use the power of social proof to get more Instagram followers.
Using Instagram Feed Pro, you can easily choose the Tagged Posts feed so your site's Instagram feed will show only the photos you're tagged in.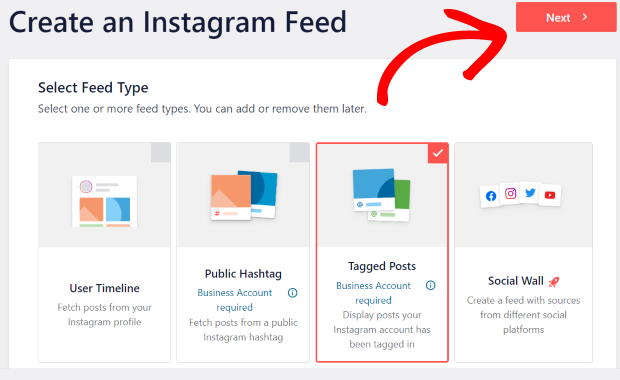 For more details, you can read this detailed post on how to add a live Instagram feed to your site.
8. Highlight Product Review Posts
Speaking of social proof, this next hack to increase your followers can also boost your sales.
We're talking about building trust with your target audience using customer reviews and testimonials.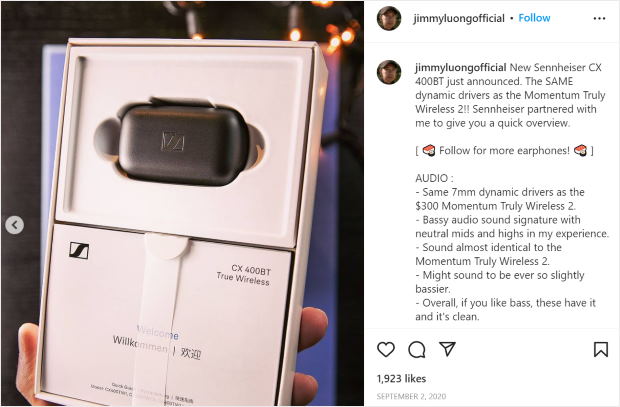 Simply put, if people trust you more, they're more likely to engage with your content and follow your profile.
An excellent way to build that trust is to display product reviews on your website. Product reviews offer real-life testimony for your products.
Right now, many people choose to express their feelings about a product or service on Instagram.
So what better way to improve trust and get more followers than by displaying specific Instagram review posts on your WordPress?
With Instagram Feed Pro, you can highlight specific product review posts and photos with our smart Visual Moderation system, which is guaranteed to improve trust.
Using the plugin's live feed customizer, you can set this up on the Filters and Moderations settings.
From here, simply click individual posts to hide them from your feed. That way, you can display only the product review posts you'd like to include. No coding needed.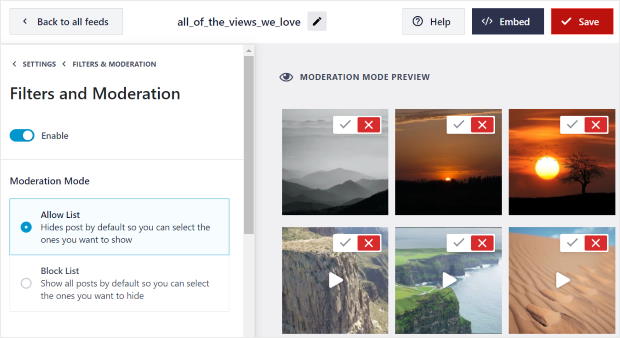 For full instructions on how to moderate your Instagram reviews post, see our documentation here.
9. Show Your Instagram in Relevant Platforms
Are you interested in how to get Instagram followers fast — but in an authentic way?
Then you need to take advantage of all the communication channels your business has. After all, the more platforms you use for Instagram promotion, the more people you can reach and potentially convert into followers.
Here are a few ideas you can use when marketing your Instagram:
Collaborate with a partner brand on Instagram
You can tag them on your account, and they'll tag you on theirs. As a result, your followers can check them out and their followers become your Instagram fans as well.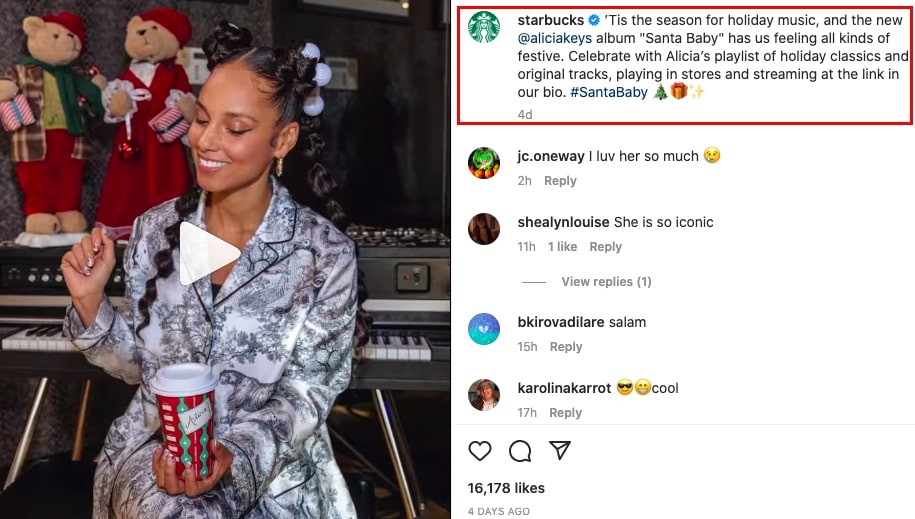 Make sure your embedded Instagram feed has a "Follow us on Instagram" button
This makes it easier for your website visitors to find your business on Instagram, especially if you use Instagram Feed Pro to quickly display your Instagram on your site.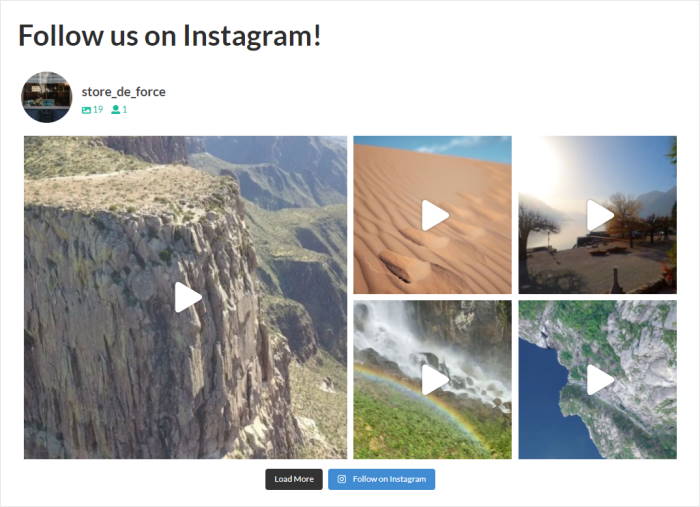 Add your Instagram account to your email signature: This way, everyone who gets your email can be a potential follower.
Display Instagram popups on your site
You can use OptinMonster, the world's best lead generation and conversion optimization tool, to create an Instagram popup and add it to your site.
Even better, OptinMonster has a built-in "Social" template you can tweak to help grow your social media followers — without starting from scratch.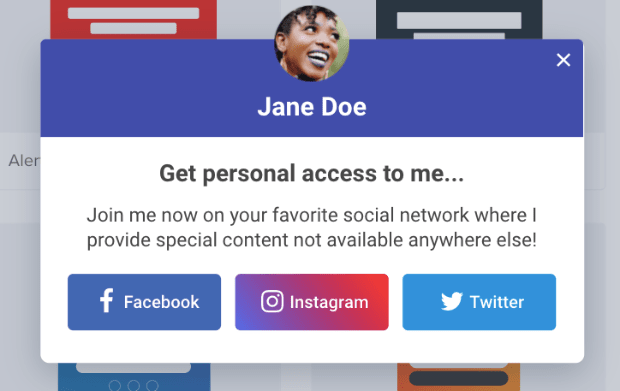 Check out this comparison post on the best Instagram plugins for WordPress for more social media marketing tools like this.
10. Cross-Promote on Other Social Media Platforms
If you're like most business owners, chances are you have at least one other account on the top social media marketing platforms like Facebook, YouTube, and Twitter.
After all, your online presence needs to be active on more than one platform so you can optimize your social media marketing efforts. This means cross-posting content from one social media platform to another.
The great news is that Instagram makes it super easy to cross-promote your content on other social media accounts.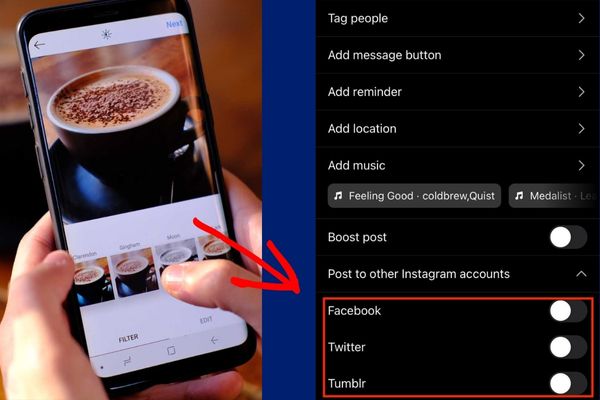 Here's a time-saving tip you can use:
After you've edited your photo on Instagram, it's now ready for publishing. Before publishing a post on Instagram, though, make sure to:
Mention your Instagram account in the post caption
And toggle the options so you can automatically post on Facebook, Twitter and others as well
As a result, your followers on other social media platforms can see that you have an existing Instagram account, so they can check out your profile and follow you.
Pro-tip: Want even more exposure for your social media posts?
If you have accounts on all major social media platforms, you can display all your social media feeds in a single wall using Social Wall Pro. It's the best social media feed aggregator for WordPress.
With the help of Social Wall Pro, you can integrate your social media into your website in just a few minutes, even if you're not tech-savvy.
This lets you add engaging social media feeds that combine posts from your Facebook, Instagram, YouTube and Twitter accounts like this: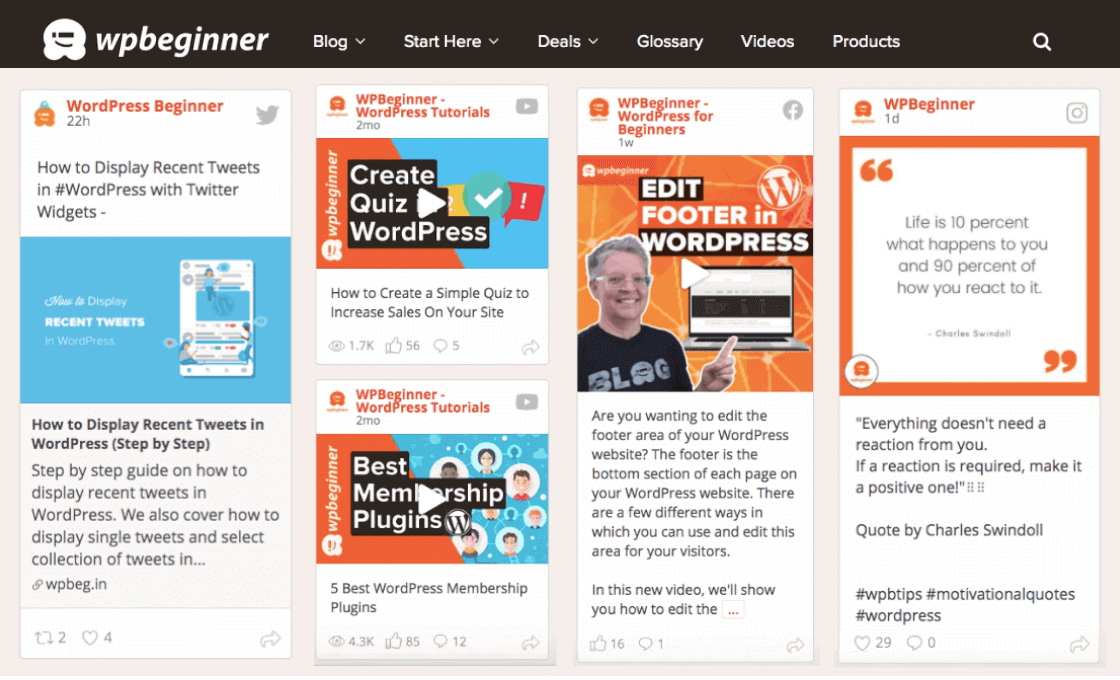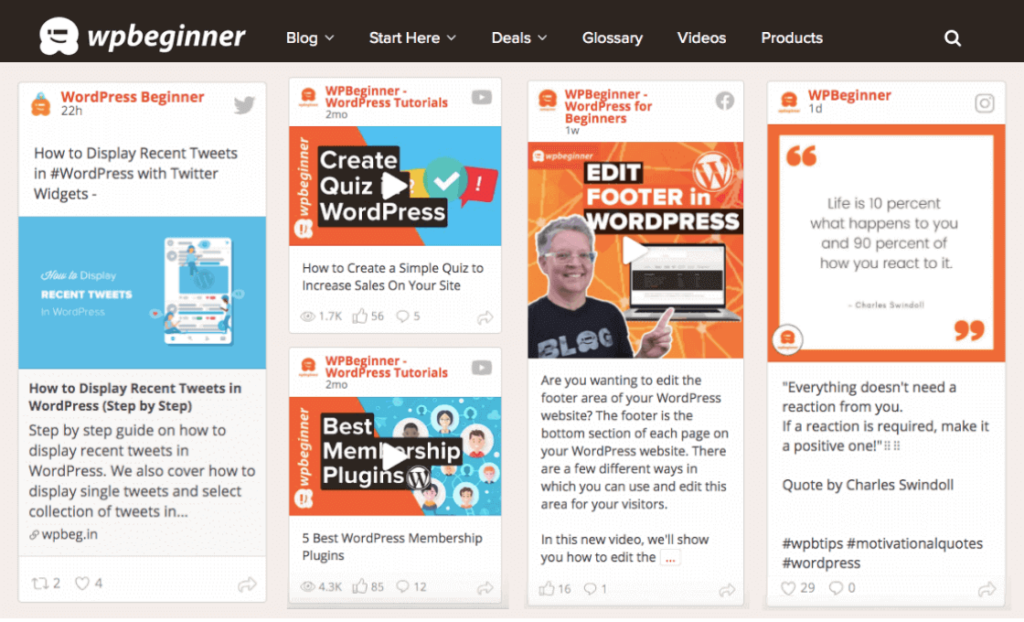 Ready to get more social media followers? Here's a step-by-step guide on how to display social media feeds to your WordPress site.
11. Run Viral Instagram Contests
Our next secret tip for increasing your Instagram followers is to run a viral contest from your website.
Giveaways and contests attract tons of traffic to your site, as well as helping to skyrocket your social media follower growth in Instagram.
RafflePress, the best contest plugin for WordPress, lets you create Instagram contests without the hassle.
RafflePress has ready-made Instagram contest templates that automatically populate your contests with powerful entry methods. These help you grow your Instagram followers with a few clicks, even if you're not an expert designer.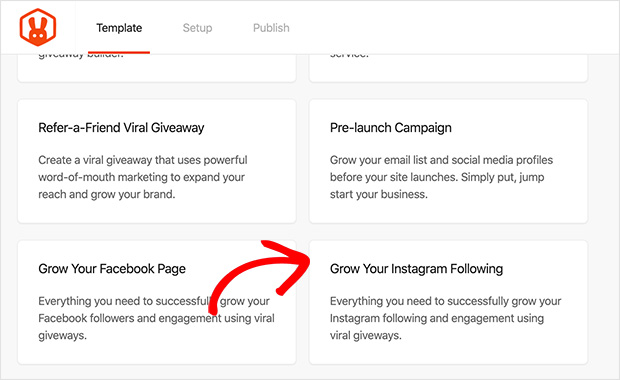 And when it comes to publishing your giveaway, you can embed it in WordPress using the handy contest widget block. Or for a distraction-free experience, you can craft a giveaway landing page to encourage tons more entries.
And the result?
Loads more Instagram followers, engagement, brand awareness, and traffic to your website.
See this handy post on how to run successful Instagram giveaways to get started.
12. Monitor Your Instagram Analytics
Our final tip on how you can get more Instagram followers is about basing your marketing strategy on data from your Instagram analytics dashboard.
Using Instagram Insights, you can learn which marketing strategies specific to your brand may generate the best results.
For example, if you want to find out when's the best time to post on Instagram, here's what you can do.
First, visit your Instagram profile on your phone and tap Insights. Next, click on total followers.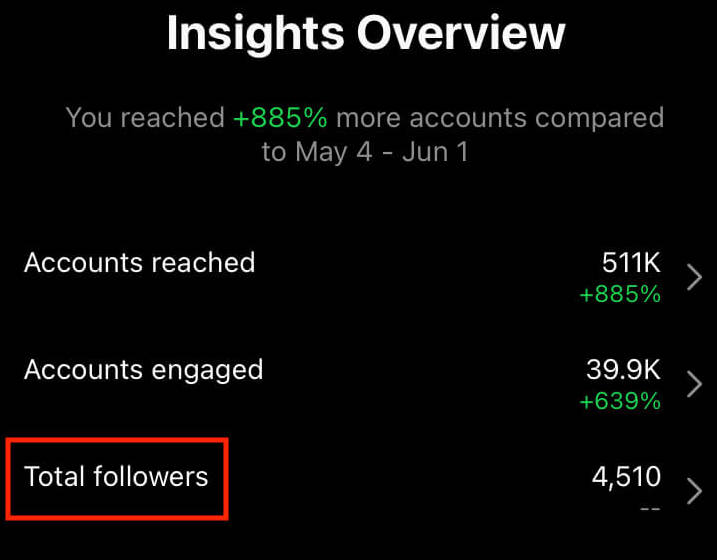 From the Insights dashboard, you can now see relevant data about your follower activity. To know when your followers are most active, scroll down to the bottom of the Insights page.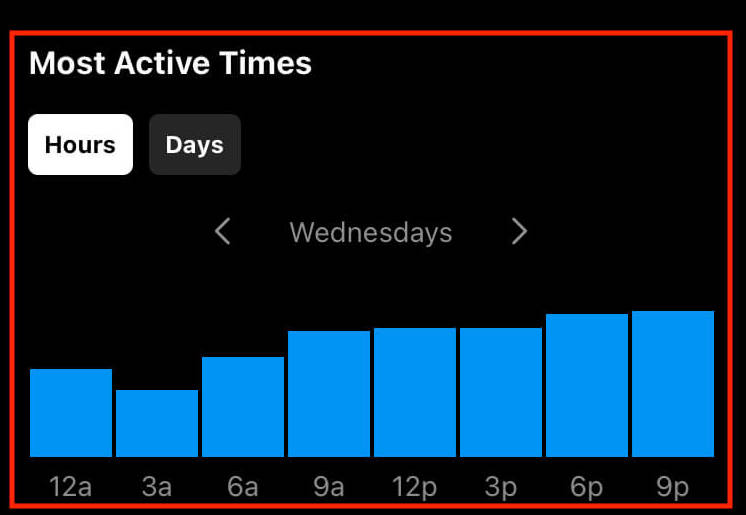 For you to get maximum engagement on your Instagram posts, you need to post videos or images during the peak activity times. This way, you'll get more people who will interact with your posts.
And you know what this means! More post interactions means you'll have a higher chance of being promoted by Instagram to other users who are more likely to follow you.
Start Getting More Real Instagram Followers
And that's it, folks! We hope this article helped you how to get Instagram followers fast so you can promote your business better on Instagram.
Want to dominate Instagram marketing? Get started with Instagram Feed Pro and increase your followers today.
Do you want to add Instagram walls to your site? This post on showcasing Instagram feed walls on WordPress can help.
If you enjoyed this article, feel free to follow us on Twitter and Facebook for more inspirational content.