Struggling to get more Facebook followers for your online business? You're not alone.
Because 90 million small businesses use Facebook today, it's natural for you to think about getting ahead of the game by growing your Facebook page. It's good for building social proof, after all.
But is growing your Facebook page by buying fake followers really the answer?
Spoiler alert: It's really not.
In this article, you'll learn about the 5 real reasons why buying Facebook followers can actually damage your business. Plus, we'll show you how to create an engaging relationship with your customers by growing your Facebook page organically.
But first, let's talk about what we mean by "buying Facebook followers", shall we?
What Does "Buying Facebook Followers" Mean?
When we say "buying Facebook followers", we don't mean paying actual people to like and follow your Facebook page. We're talking about a more not-so-ethical marketing plan:
Paying real money for a third-party provider to give Facebook likes or followers to your page, to make your business look more trustworthy and well-followed than it really is.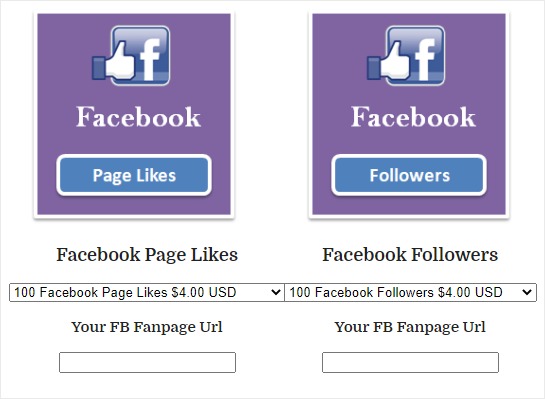 At first glance, buying Facebook followers seems like a nice idea to give a good impression to your customers. But, it's actually not a great business tactic to do, if you want to have a sustainable business.
Now that you know what buying Facebook followers means, let's move on to the 5 real reasons why it's never okay for you to do this.
5 Real Reasons Why You Should Never Buy Facebook Followers
1. You're Pouring Your Ad Budget Down the Drain
When you buy Facebook followers for your page, you're just wasting money because the "people" who like your business page are usually robots, spam accounts or fake users on Facebook.
Imagine going to a room and talking about your business — even if no one's there to listen to you. It's the same thing as posting on your Facebook page and not reaching anyone.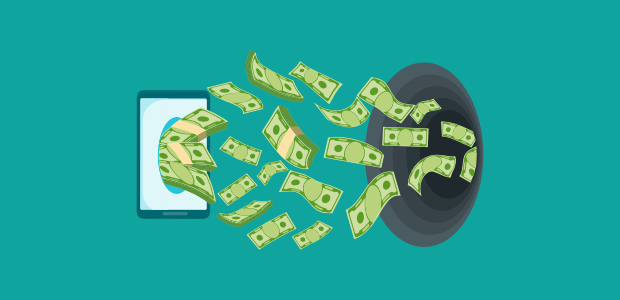 What's the difference between advertising on Facebook and buying Facebook likes?
When you advertise on Facebook, you're spending money to reach your target audience.
But, when you buy Facebook followers instantly, you're spending money to not reach your target customers at all.
Takeaway: You're better off spending money in doing activities that can give a positive return on investment for your company to increase your engagement. Wasting money on buying fake accounts isn't one of them.
2. You Can't Create a Lasting Relationship with Fake Accounts
AdEspresso even tested this out by creating 3 Facebook pages. For the 1st page, they advertised on Facebook. Then, they bought fake Facebook likes for the 2nd and 3rd pages.
The result? Compared to buying followers at $0.01 per like, Facebook advertising seemed more "expensive" at $0.08 per like.
But is buying Facebook followers "cheap" if they don't really engage with your company's Facebook posts?
Compared to the 1st Facebook page that grew by Facebook advertising which had 152 comments, buying followers resulted to a total of 0 comments for the 2nd Facebook page.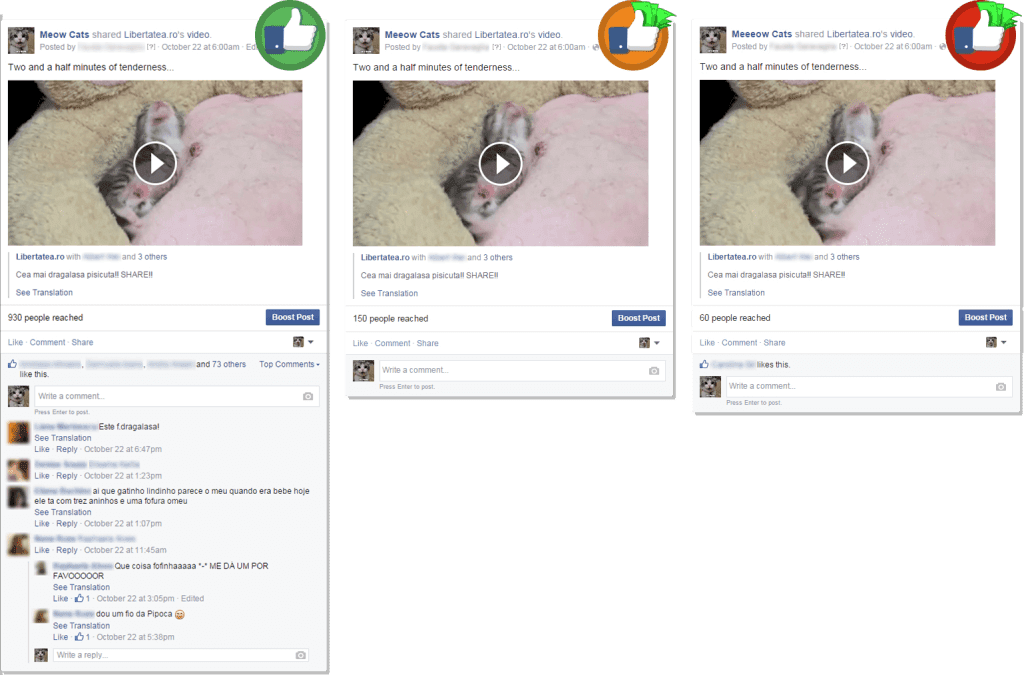 In the end, the Facebook page which had followers for $0.01 per like delivered a total engagement of 20. While the page that used Facebook advertising ended up as the most successful page with a total engagement of 4,846!
Takeaway: When you buy Facebook followers, you can't create any lasting relationship with them. At all.
3. You Look Like You're Trying to Trick Your Customers
If the average engagement rate per Facebook post is 0.09%, surely a Facebook page with 1 million followers has at least 90,000 reactions, right?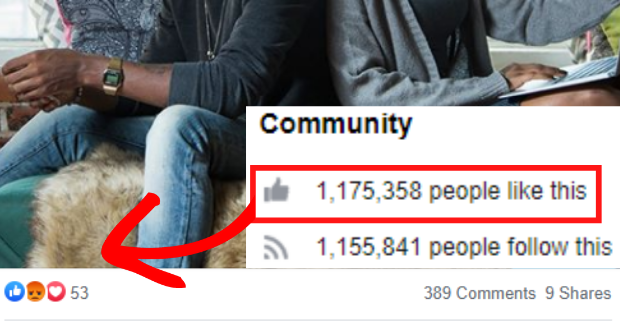 As a customer, then, what comes into your mind when you see a Facebook page that has 1,000,000+ followers — but only 53 reactions on their latest post?
"Something's not right."
"That doesn't make any sense…"
"How trustworthy really is this brand?"
When you buy fake followers instantly on Facebook, you're sending the wrong message to your customers. It hurts your brand's integrity and makes you look desperate. Like you'd do absolutely anything to win.
Ask yourself this: as a customer, do you want to do business with a brand that's desperate to win — they'd even cheat the process just to come out on top?
You don't need to look far to find the answer to this.
Once your real customers sees the disconnect between the number of your Facebook followers and the number of your posts engagement, they can't help but think: "They've already lied about their followers. So, if I become their customer, what's stopping them from lying to me more?"
Takeaway: It's easy to cheat the system, hurt your brand's integrity and destroy your customers' trust. All at the same time, when you buy Facebook followers.
4. You Can Get Punished by Facebook…or Worse, Banned
Is it illegal to buy Facebook likes for your page?
To answer your question, did you know that Facebook recently settled with a company that sold fake likes on Instagram? The 3 people involved in this operation are banned from Facebook services. Plus, they had to pay $500,000 in settlement.
Facebook's director of platform enforcement and litigation, Jessica Romero, said Facebook planned to target "anything that impacts our user safety whether it be because of privacy reasons, fraud or misleading information on our platforms."
You'll just get punished by Facebook, too.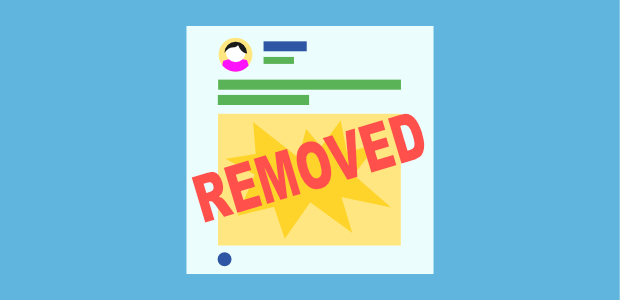 Since you broke Facebook's guidelines, your spam followers will be deleted by Facebook.
Remember the AdEspresso experiment mentioned earlier? When they followed up with their experimental Facebook pages after almost 2 years, they found out that Facebook had deleted a lot of the followers they bought from third-party companies.
This isn't surprising, considering that Facebook deleted over 1 billion fake accounts in 2018 alone. Yikes.
Takeaway: Facebook's getting serious about enforcing its guidelines against spam and fraud. Don't waste money buying fake followers since Facebook will delete them — and punish you — anyway.
5. It's Harder For You to Reach Your Real Customers on Facebook
Once you start with Facebook advertising, you need to list down the overall profile of your target audience. You want to make sure the right people see your ads, of course.
Ideally, you can easily do this by using the profile of your existing Facebook followers.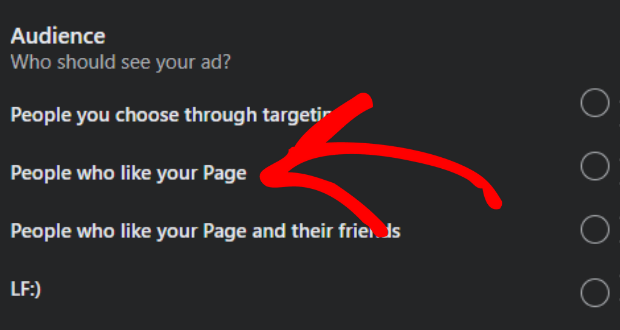 But if you got your Facebook followers by buying them cheaply and instantly, you can't really use this data since your existing followers are mostly robots or spam accounts.
And robots or spam users don't really engage with your posts or click links to your website, right? They can't meet your ad's goal, so it's useless to spend money advertising to them.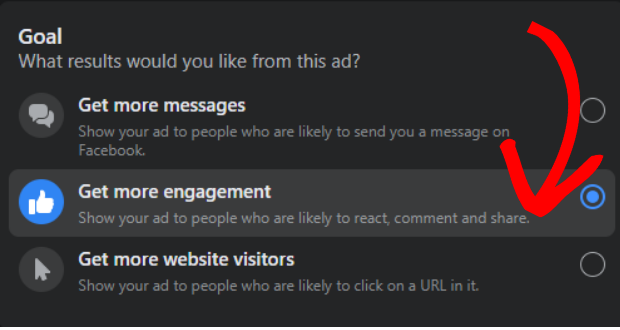 Want to know something more alarming? Once you realize you want to set things straight and grow your page organically instead, you can't delete your page's fake followers yourself.
Instead of spending money buying Facebook followers…
…and spending money again getting rid of them once you realize they weren't supposed to be bought in the first place..
…why not grow your Facebook page organically instead? In the next section, we'll talk about how you can organically grow your Facebook followers to build a loyal and long-lasting relationship with your customers.
3 Hacks to Get More Facebook Followers Organically
1. Post Photos to Boost Your Engagement with Your Followers
Since Facebook users tend to favor videos and images, it's better that you post these kinds of content, instead of just posting plain text.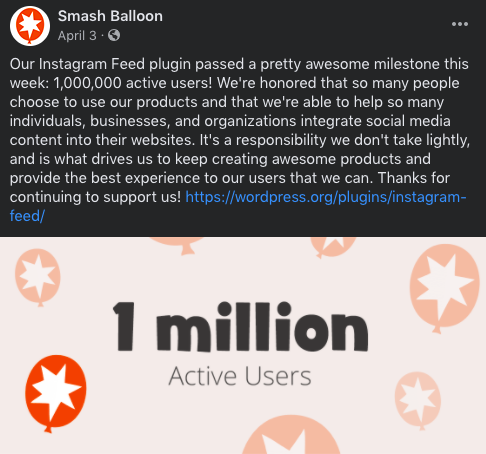 Want more evidence to back this up? Facebook photos get 53% more "likes" and 104% more comments than an average post, according to a recent study by HubSpot. And if you're not great with graphics, don't worry. You can use a free tool like Canva to help you make beautiful images for posting.
The more engaging your Facebook posts are, the more likely Facebook shows your posts to your existing Facebook followers. This strategy allows you to grow your page organically and form long-lasting relationships with your potential customers.
2. Host Relevant Contests and Giveaways
Post useful and attractive giveaways on your Facebook page and encourage your existing followers to share your post on their timelines. Since people usually love freebies, you'll receive a boost in page visits and followers due to your viral giveaways.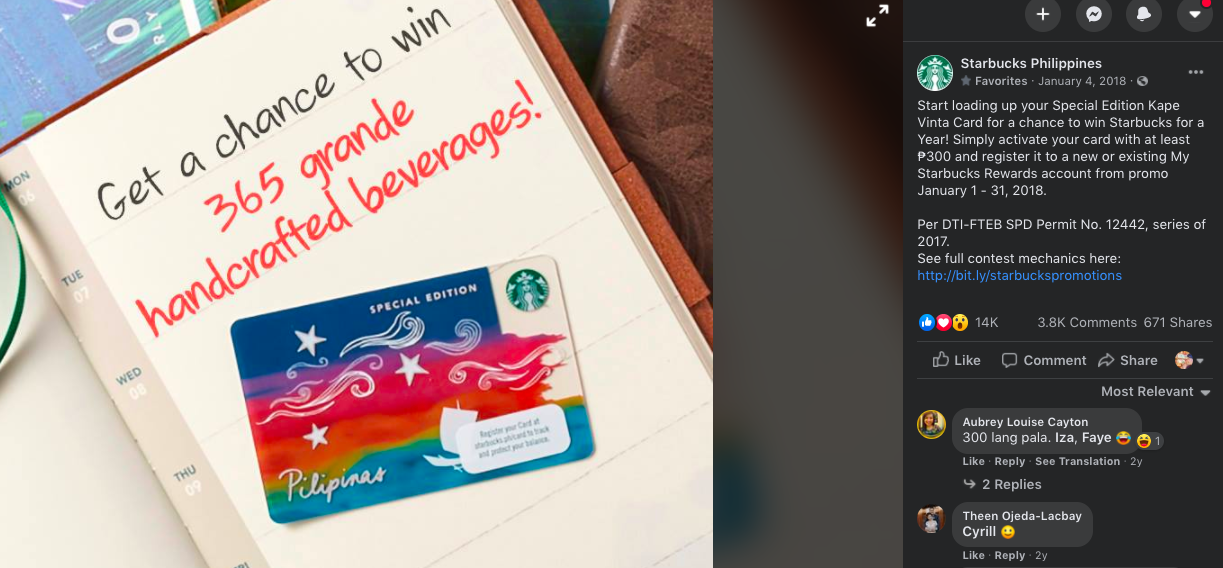 This doesn't need to be super expensive. Even a $10 gift coupon or discount code can be the prize, as long as it's relevant to your brand.
If you're a newbie at creating contests, you can easily do so by using a helpful tool like RafflePress, the best WordPress giveaway plugin. Use RafflePress to ask people to share your post. And, you can also ask them to "refer-a-friend" so your contest can be seen by as many people as possible.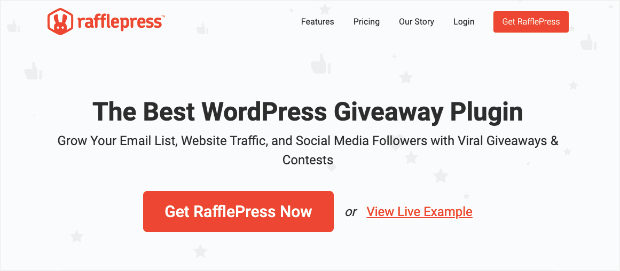 3. Display Your Facebook Page on Your Official Website
Check out your website analytics and find out how much unique visitors you get per day.
100? 500? Or even 1,000 unique visitors per day?
And if you're not posting your Facebook feed on your website, you're missing out on the valuable traffic you get from it.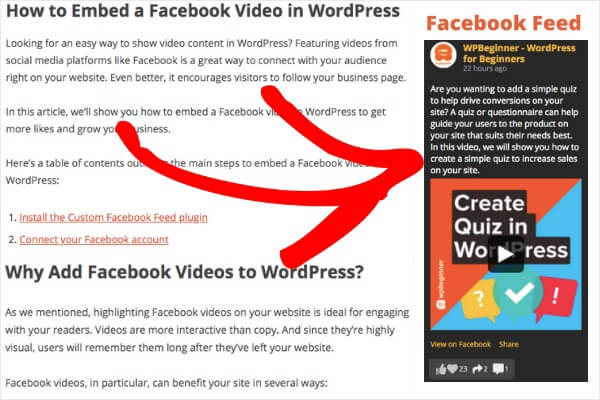 Imagine if at least 1% of your daily unique visitors follow your page just because your Facebook timeline is displayed on your WordPress.  That's 10 followers per day for every 1,000 unique visitors.
The best part? You can use Smash Balloon's Custom Facebook Feed plugin to easily embed your Facebook Page on your website.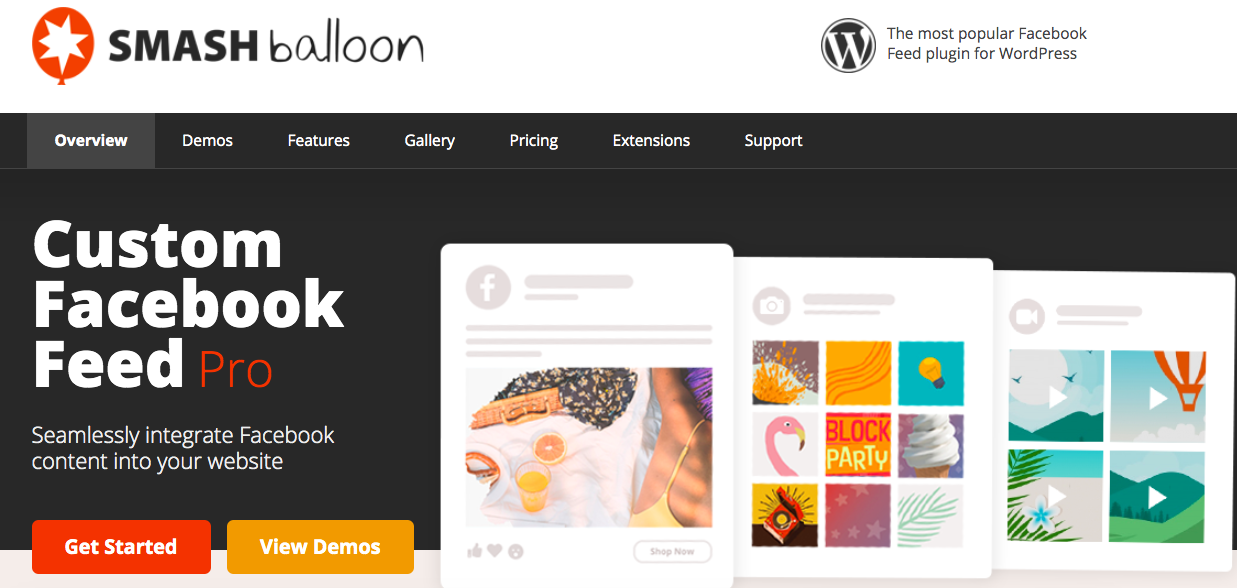 This way, you have an extra opportunity to showcase your Facebook Page to as many people as possible. And they're not just random people — they're actually potential customers who are already browsing your website.
Meaning, since they find your business relevant, they're more likely to engage with you and become loyal customers over the long run. It's like hitting two birds with one stone, right?
For more details on how you can add your Facebook content your website, check out this post on how to put a Facebook feed on WordPress today.
And, there you have it!
By now, you already know why you should never buy Facebook followers for your page. You've also learned some of the hacks you can do to grow your page organically.
Looking for more helpful tips? Check out this post about social media marketing hacks and start growing your Facebook followers.
And if you seriously want to get more followers — actual people — on your Facebook page, why wait?
Get Smash Balloon's Custom Facebook Feed plugin today!
Feel free to follow us on Twitter and Facebook for more helpful content about social media marketing.