Looking for the correct Facebook image sizes for all your posts?
As the #1 social media platform on the internet, Facebook is a fantastic place to market your business and reach tons of customers.
And if you want to make engaging Facebook posts, knowing the correct image size is important.
With so many posts out there talking about different Facebook image sizes, finding the right option can be tough.
In this post, we'll help you out by sharing our ultimate Facebook cheat sheet. Here are the image sizes that we'll cover:
Let's get started with our guide.
Facebook Image Sizes for Pages
If your Facebook image size isn't correct, it'll be stretched out or cut off and create a worse impression of your brand.
The good news is that you can avoid this with ease. All you have to do is use the image sizes below:
Profile Photo
Minimum size: 168 x 168 px
Recommended size: 761 x 761 px
Maximum size: 2048 x 2048 px
Also known as a profile pic, your profile photo is displayed at the top of your page.
Your profile pic will also be shown whenever you create a post from your Facebook page. As a result, it's important to choose a photo that's recognizable and correctly sized.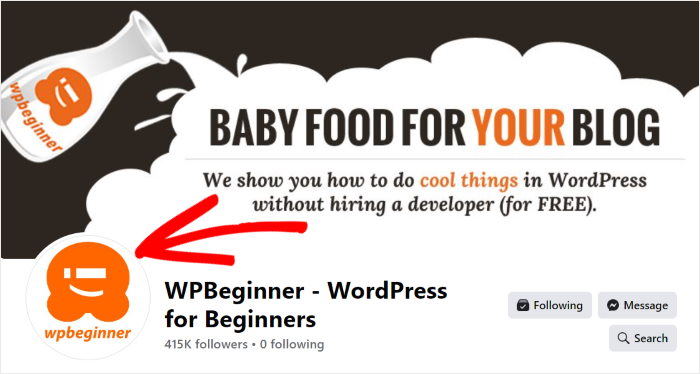 In most places, the corners of the profile image will often be cropped out. So, your photo should be clear even when its corners aren't visible.
Page Cover
Minimum size: 851 x 315 px
Recommended size: 1125 x 633 px
Maximum size: 2037 x 754 px
Also called the Facebook banner, your cover photo is the first thing Facebook users see when they visit your page.
So, picking a Facebook cover that fits your brand's visual identity can help you convert people easily.
Another thing to note is that your cover photo will also be slightly overlapped by the profile photo. To make sure everything is visible, you can place the important elements in the middle area.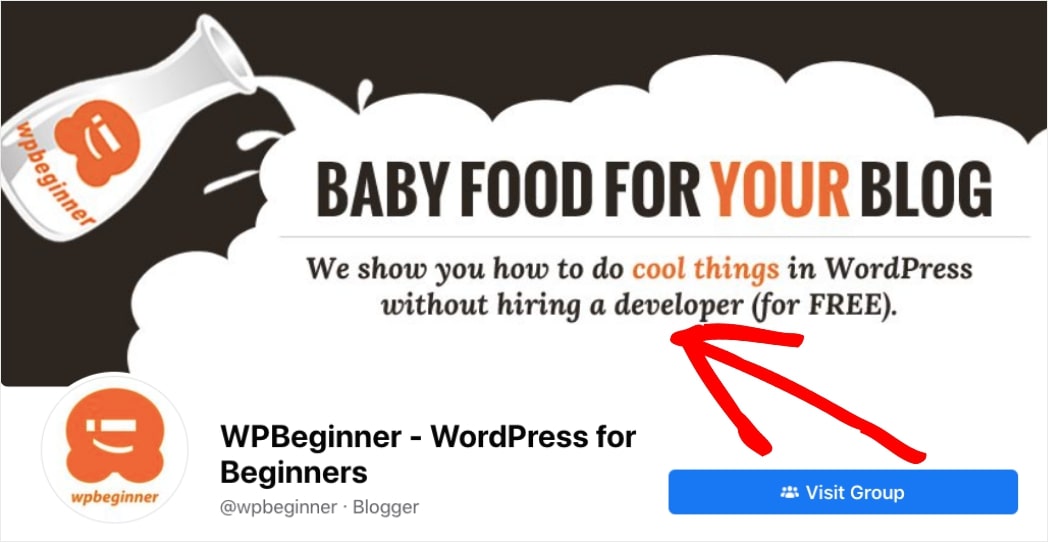 While cover photos have a minimum size of just 851×315 px, Facebook can actually store and display a much larger image.
If you go for an 1125×633 px image, your Facebook cover can look beautiful on modern smartphone screens as well.
Want your Facebook cover to load fast? You can use a JPG image file, then.
Pro-tip: On top of optimizing Facebook images, you can also check out our guide on how to get more likes for your Facebook page.
Facebook Image Sizes for the News Feed
In this section, we'll look at the best image sizes for the regular Facebook posts you make on your news feed.
Let's get started:
Photo Post
Minimum size (Square): 492 x 492 px
Minimum size (Landscape): 492 × 738 px
Minimum size (Portrait): 492 × 276 px
Maximum size: 2048 px height or width
While the minimum size makes your image visible on desktop and mobile devices, you might have to deal with pixelation and loss of quality.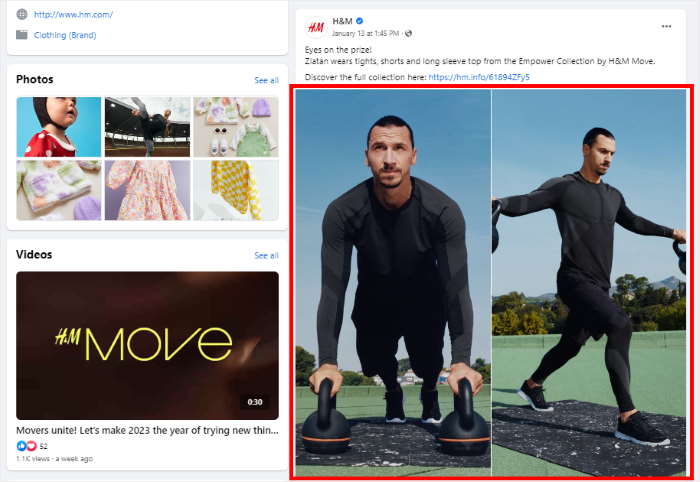 If you want your image to be clearer, you should use an image that's closer to the maximum size of 2048 px.
Plus, you can also experiment with different aspect ratios depending on the type of image you want to display.
After all, Facebook comes with different aspect ratios that you can choose from:
1.91:1 (landscape)
1:1 (square)
4:5 (portrait)
As a result, you can show beautiful images and create a great impression of your brand.
Link Post Image Size
Minimum size: 600 x 315 px
Recommended size: 1200 x 630 px
When sharing a link on Facebook, you can also attach an image to grab people's attention and convert them into visitors.
By showing a high-quality image, you can get even more people to click the link.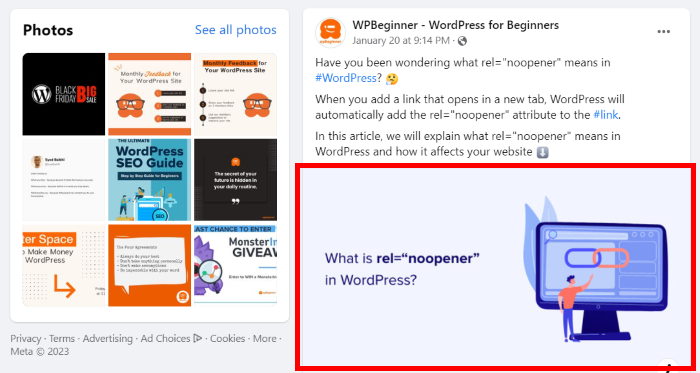 You should also keep the 8 MB size limit when choosing your image. If the file size is too large, your image can take more time to load properly.
Facebook Image Sizes for Group Covers
Minimum size: 820 x 332 px
Recommended size: 1640 x 922 px
You can also place a cover photo at the top of your Facebook group. That way, your visitors can immediately see what your Facebook group is about.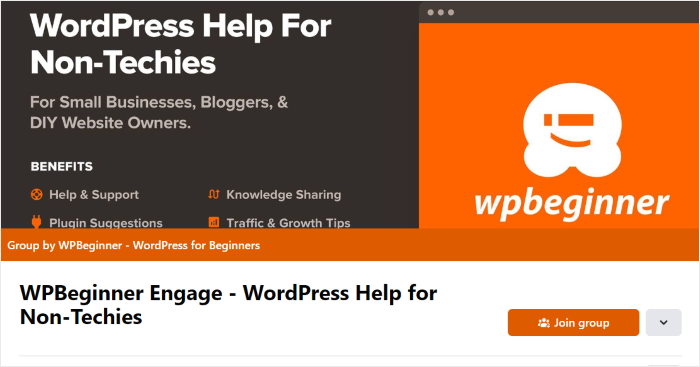 For mobile visitors, Facebook will crop the top and bottom of the image. As a result, you should put safety margins of 96 pixels at the top and bottom parts of the image.
You can then showcase why people should join your group using this image. Like the profile photo and page cover, your group cover photo should also reflect your branding
Pro-tip: To get more people to join as members, you can check out this helpful tutorial on how to embed a Facebook group on WordPress.
Facebook Image Sizes for Event Covers
Minimum size: 500 x 262 px
Recommended size: 1000 x 524 px
Using a Facebook event cover, you can show what your event is about and inform people about the time, date, venue, and more.
As a result, you can get creative when working on it to encourage more people to attend your event.
Plus, the event cover also appears as a small thumbnail on many pages. So, you should pick an image that looks good even when reduced in size.
Want your Facebook events to reach as many people as possible? You can just embed your Facebook events on your website.
To learn how to do that, you can follow this step-by-step tutorial on embedding Facebook events.
How to Embed Facebook Photos on WordPress
Want tons of people to check out your Facebook photos?
With the help of a Facebook feed plugin, you can embed your Facebook content on your website. As a result, your website visitors can check out your images and follow you for more.
And for you, the best option out there is Facebook Feed Pro.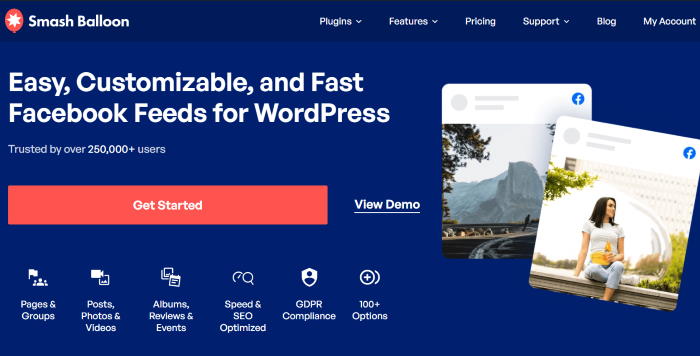 You can use Facebook Feed Pro to create, customize, and embed beautiful Facebook feeds on your site with ease — no coding needed!
Using this plugin, you can embed Facebook page timeline, photos, albums, groups, videos, events, reviews, and much more.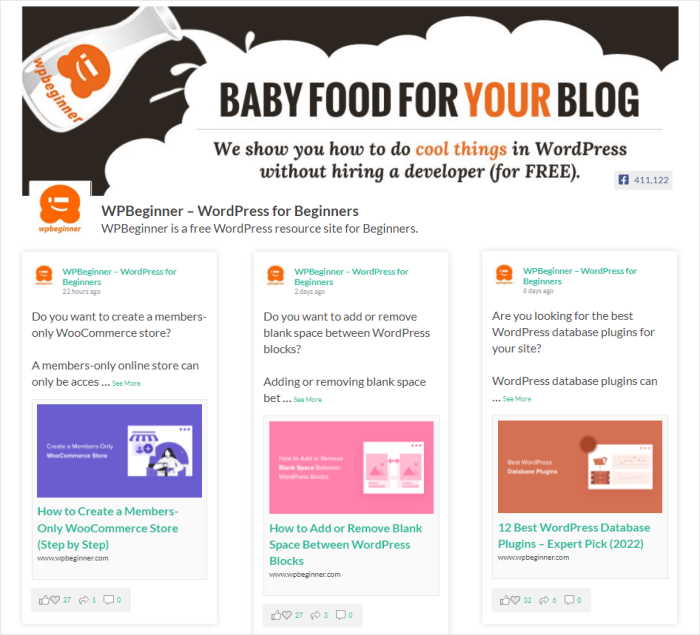 Since the plugin was designed for speed, you can embed as much Facebook content as you want, and your site will be as fast as ever.
Facebook Feed Pro will also copy your website's design automatically. That means your Facebook feeds will perfectly match your branding right out of the box.
You also get lots of ways to customize how your Facebook feed looks. With the live feed editor, you can customize your feed's layout, color scheme, header design, post style, button design, and much more.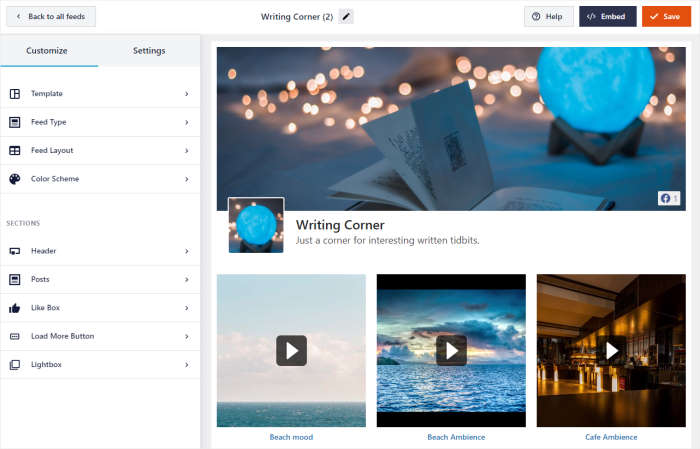 Since it's so easy to use, you can have a beautiful Facebook feed ready to go in just minutes.
The best part? The Facebook Feed Pro plugin comes with a team of experts who are always ready to lend you a hand.
With their help, it has become the best Facebook feed plugin, with a rating of 4.9/5 stars and over 250,000 active users.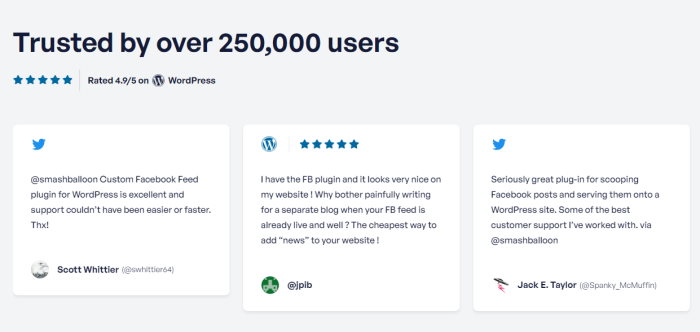 Ready to engage your website visitors with Facebook feeds? Get Facebook Feed Pro today.
It's the perfect chance to grab the #1 Facebook feed plugin and grow your brand's Facebook marketing with ease.
To help you get started, we also have a guide on how to embed Facebook feeds on your WordPress website.
So, there you have it!
We hope this post helped you find the best Facebook image sizes whenever you upload media on the platform.
If you want even more people to check out your Facebook images and follow you, an easy solution is to embed Facebook feeds on your site.
Grab the Facebook Feed Pro plugin, and you can display beautiful Facebook feeds with ease.
You may want to check out our next post on how to get Facebook posts on your website automatically.
Finally, don't forget to follow us on Twitter and Facebook for more helpful content about social media marketing.