Looking for easy ways to add custom Twitter content to your website?
Displaying custom Twitter feeds on your website is an excellent way to engage your audience with content tailored to their interests.
It's also a great way to encourage sales by positive social proof so you can grow your business using Twitter.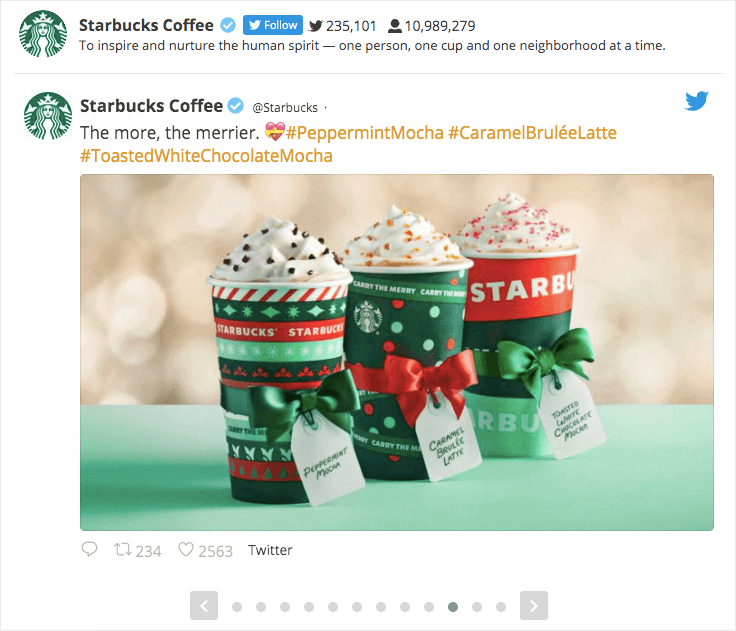 Many of the solutions online on how to embed a Twitter feed in your website can be confusing for beginners.
So if you've been asking yourself, "How do I add a custom Twitter feed to my website?", then look no further.
Because in this article, we'll show you the easy way to display your personalized Twitter content on your WordPress.
Before we start, why should you add custom Twitter content to your site? Let's find out!
Or, you can click here to skip ahead to the step-by-step tutorial.
Why Add Custom Twitter Feeds to Your Website?
As you may already know, a Twitter feed is a collection of tweets from a specific Twitter profile.
And while it's a great start for helping people get to know more about your business and get more leads, there's not a lot of variety.
Visitors to your site will lose interest quickly if your embedded timeline isn't relevant or engaging.
So customizing your Twitter feed with content they'll enjoy keeps them around for longer on your website, even if they're not Twitter users.
And the longer they're on your website, the more likely they are to read your blog, sign up to your email list, and check out your products.
Plus, embedding a custom Twitter feed on your website can help improve your SEO. It's a great way to add relevant and updated content to your blog — with minimal effort on your part.
Custom Twitter feeds come in many shapes and sizes. For instance, you can…
Create a custom Twitter feed based on hashtags related to your brand
Customize your Twitter feed to include mentions to show visitors what people are saying about you
Showcase a Twitter carousel feed on your website
Display a custom Twitter feed with results from an advanced Twitter search to serve tailored content to educate your visitors
But what's the best way to add custom Twitter feeds to your website? We'll tackle that next.
Should You Add Custom Twitter Feeds Manually or With a Plugin?
There are 2 main ways to display customized Twitter content on your WordPress website.
Manually embed the Twitter embed code
Use a WordPress plugin to do it all for you
With the official Twitter embed code, you need to visit their web page, choose your embed type, and enter the URL, or hashtags for the content you want to display.
Then you'll need to paste the generated Twitter embed code into your website.

That's a lot of steps to keep track of!
For people with little to no experience with coding, it gets overwhelming to copy and customize your Twitter embed code — especially if you have lots of tweets for embedding.
More importantly, there are no easy ways to customize your feed. You're stuck with Twitter's default styling and layout.
Want your Twitter feed to match your website's branding?
You'd need to be an expert in coding languages, HTML or JavaScript to tweak code snippets for customization.
If not, you'd probably need to hire a developer to personalize your custom Twitter feed for you.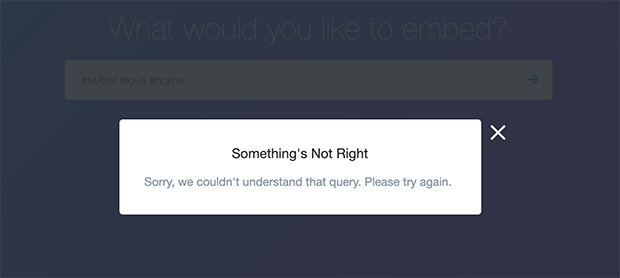 The filtering options with manual Twitter feeds are also limited.
For example, you can't manually filter Twitter feeds based on more than 1 hashtag, multiple search terms, or more than one user.
All these complicated tasks — and you can only embed a single tweet from your latest tweets. Yikes.
On the other hand, a great Twitter feed WordPress plugin can take all those complicated tasks and embed your Twitter feed for you with a few clicks.
So how about we learn how to put a custom Twitter feed to your website using a WordPress plugin?
How to Add a Custom Twitter Feed to WordPress
Now you may be asking, "How do I add a Twitter feed to my website?"
There are several Twitter feed plugins for WordPress you can use. But the highest-rated and most versatile option is Custom Twitter Feeds from Smash Balloon.
This non-techie plugin makes creating custom Twitter feeds in WordPress so easy even complete beginners can use it.
With no technical knowledge required, you can build deeply customizable Twitter feeds that engage and delight your audience. Plus, the styling options let you display your feeds however you want.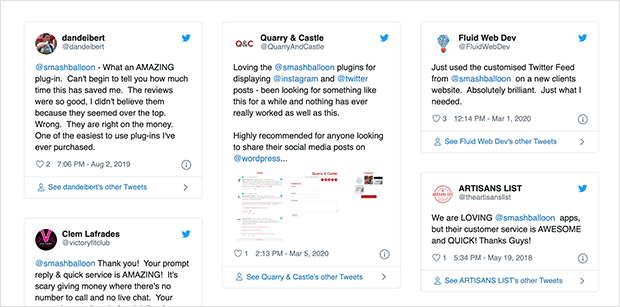 So get started with Custom Twitter Feeds, and once you have your own copy of the plugin, you can move on to learning how to set everything up.
Step 1: Connect to Your Twitter Account
Once you've downloaded the Custom Twitter Feeds plugin, you'll need to install and activate it on your website. To help with that, follow these simple instructions for installing a WordPress plugin.
After, navigate to Twitter Feeds » Settings from your WordPress dashboard. This is where you'll connect your Twitter account and configure your feed.
To log in and get your access token from Twitter, click the blue button as highlighted below. Then follow the instructions on-screen to connect your account.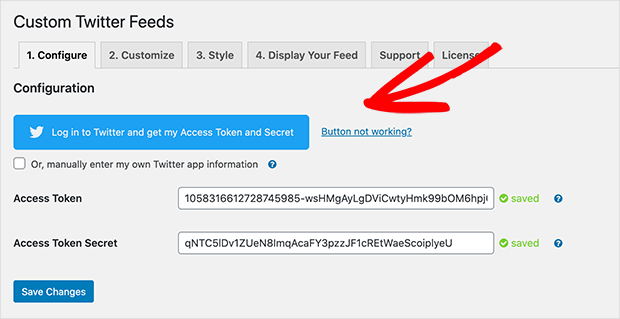 Step 2: Choose Your Custom Twitter Feed Type
To add Twitter to your WordPress, the next step is to choose the type of feed you want to display on your website. The Custom Twitter Feeds plugin has 6 different feed types which include:
User timeline
Hashtag
Search
Home timeline
Mentions timeline
Lists
These are how you'll add a custom Twitter feed to your site, so let's look at each option in more detail.
User Timeline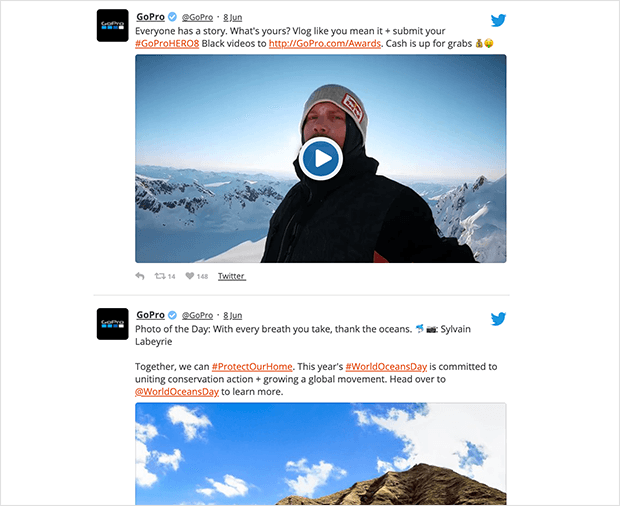 With this feed type, you can enter any Twitter screen name to create a timeline of that user's feed. This is an excellent way to give your readers more insight into what other business employees do.
The user timeline option also lets you include replies and retweets in your feed to add additional context to your tweets.
Hashtag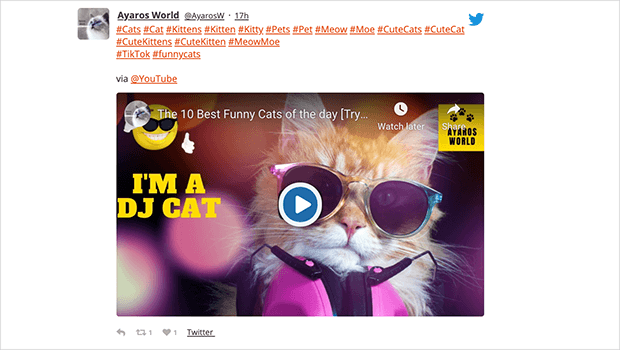 The hashtag feed type lets you display a feed of tweets from specific hashtags.
It's an excellent choice for businesses that use branded hashtags as it allows you to gather your branded Twitter content in one place.
For example, you can show a feed of branded hashtags to display reviews of your products or services.
Search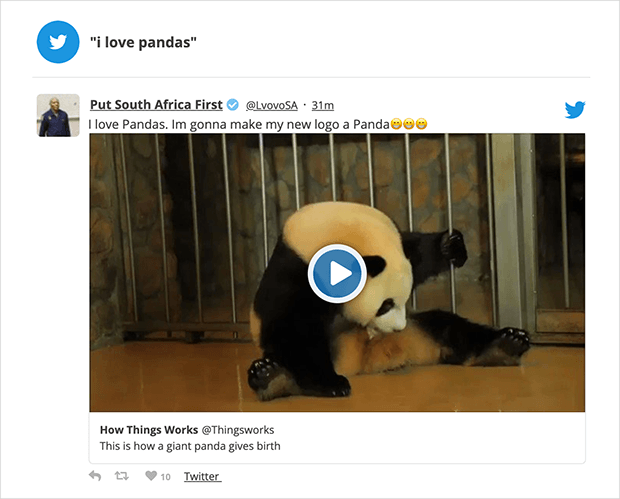 With the search feed type, you can create a Twitter timeline feed containing various terms and search filters.
For instance, you can combine #hashtags, @mentions, words, and "phrases" to build a wholly tailored feed of content.
Want to display a feed of Tweets from people who love cats to visitors of your pet store? Just enter "I love cats" #fact into the search term box, to show tweets containing both the hashtag and phrase.
Home Timeline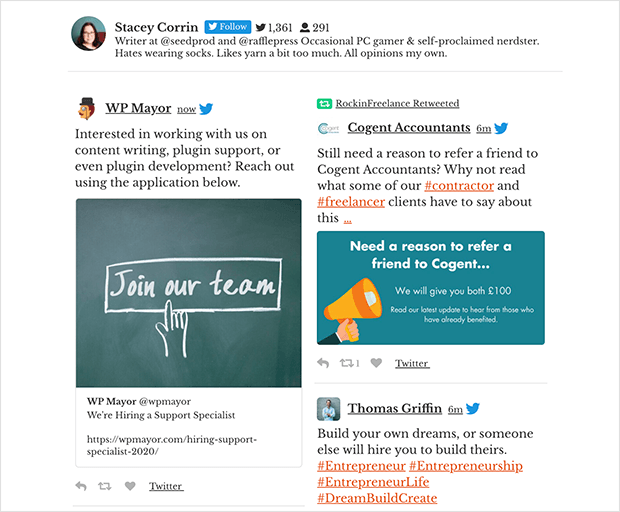 The home timeline embeds a Twitter feed on your website with tweets from yourself and the people you follow, including replies and retweets.
It's ideal for giving visitors an overview of the type of content your company talks about online.
Mentions Timeline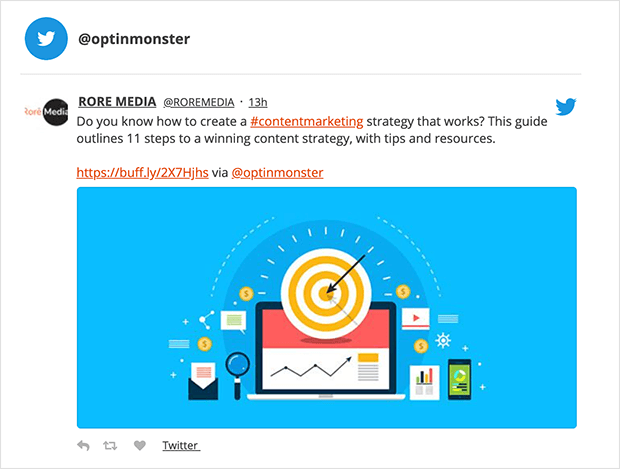 Similarly, the mentions timeline only includes a feed of tweets that mention your Twitter handle.
If you embed this Twitter feed on your website's About page, it's a great way to enlighten visitors on how other people view your brand.
Lists

The list feed type lets you display tweets from the timelines of specific lists. Just enter the list's ID or use the Add List ID Helper tool to add them to your website.
This is a fantastic way to integrate Twitter into your website by showing your visitors content from a curated list of experts, bloggers or industry leaders on a specific topic.
Once you've picked your custom Twitter feed type, you can also scroll down the settings page to control the number of tweets you want to display and the frequency of updating your feed.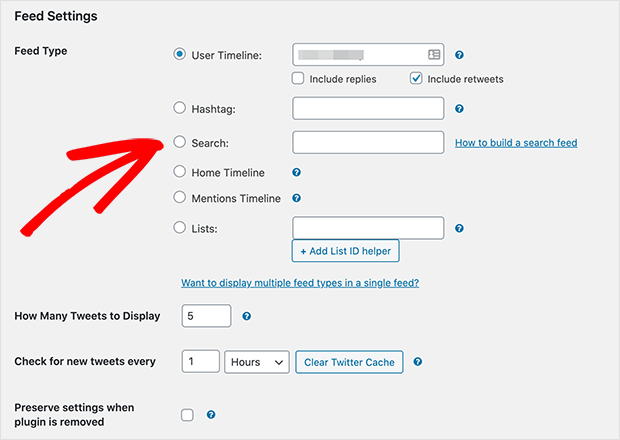 Then, click the Save Changes button and move on to styling and customizing your custom Twitter feed.
Step 3: Customize & Style Your Custom Twitter Feed
For a more engaging Twitter feed, Custom Twitter Feeds comes with tons of customization options to style feed to match your site's theme and branding.
To configure your feed layout, navigate to Twitter Feeds » Customize. Here you can set your feed's width, height, and custom CSS.
After you can choose from 3 different layout settings including:
List: a Twitter feed displayed as a full-width list of tweets
Carousel: posts in a carousel are displayed in a scrolling Twitter slideshow
Masonry: a Twitter feed with posts shown in columns with no space in between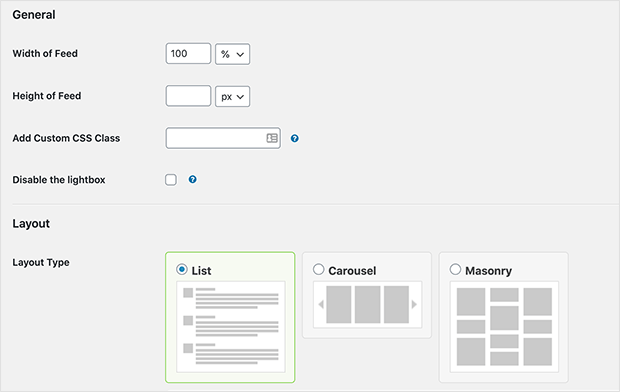 Once you've selected your layout type, the next section lets you choose which information you'd like to hide or include in your feed. That includes information like Twitter cards, avatars, usernames, and more.
Continuing down the page are further options to configure if you'd like more control over how the content appears. And clicking the Style tab reveals settings for styling your feed's posts.
You can learn more details about those settings in our guide to embedding a Twitter feed in WordPress.
Step 4: Add Your Custom Twitter Feed to Your Website Post or Page
Now that you know how to create custom feeds, let's look at how to add a custom Twitter feed to your website.
To add your custom Twitter feed to a WordPress post or page, navigate to Posts or Pages, and click Add New.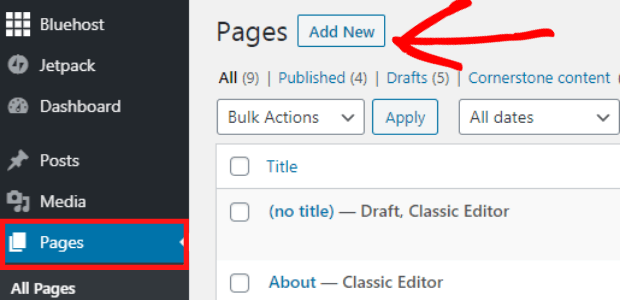 Then in the WordPress editor, click the Plus (+) icon to add a new content block.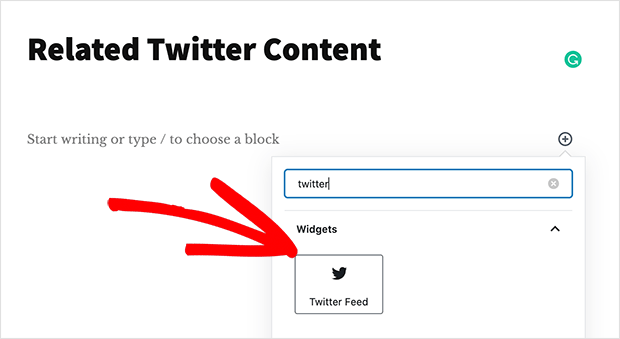 In the search box type "feeds" to locate the Twitter Feed block and click to add it to the WordPress editor.
After that, your custom Twitter feed will automatically appear in the content area — no need to deal with confusing Twitter embed codes at all!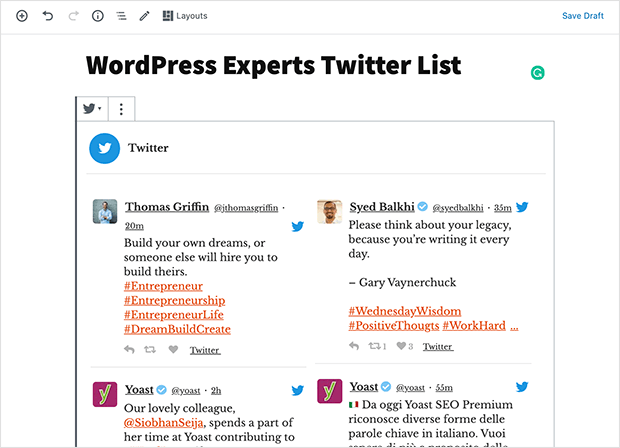 Now, when you click the Preview button, you'll see how your feed will look to your website's visitors.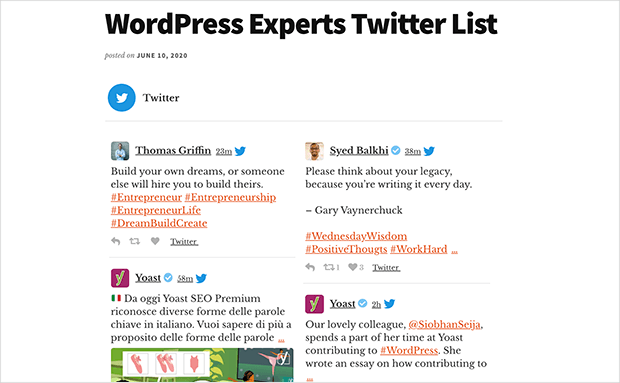 Step 5: Add Your Custom Twitter Feed to Your Website Sidebar Widget
Smash Balloon's Twitter feed plugin also lets you embed multiple Twitter feeds in several places on your website. It's a great way to show different types of Twitter widget examples in other areas of your site.
Let's go back to our pet store example. If you've recently written an article about caring for cats, you can use that blog post to show even more relevant content on that subject to your readers.
To do that, you could add a custom Twitter feed, filtered to include content on cat care to your blog's sidebar. Then when people read your blog post, they'll see the Twitter content alongside it.
Here's how to add a Twitter timeline widget to your website's sidebar.
First, navigate to Appearance » Widgets from your WordPress dashboard. Then find the Custom Twitter Feed widget and drag it to your sidebar.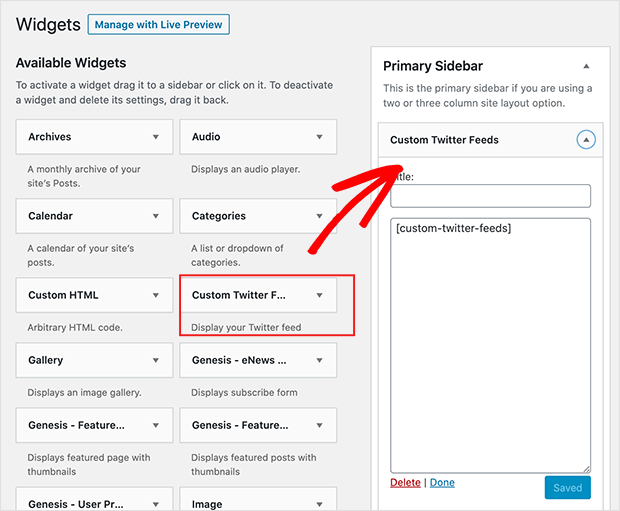 Since the plugin already fills in the shortcode for you, you don't need to do anything else. Just remember to click Save to preserve your settings.
Now when you visit a page on your website with a sidebar, you'll see your custom Twitter feed embedded for your visitors.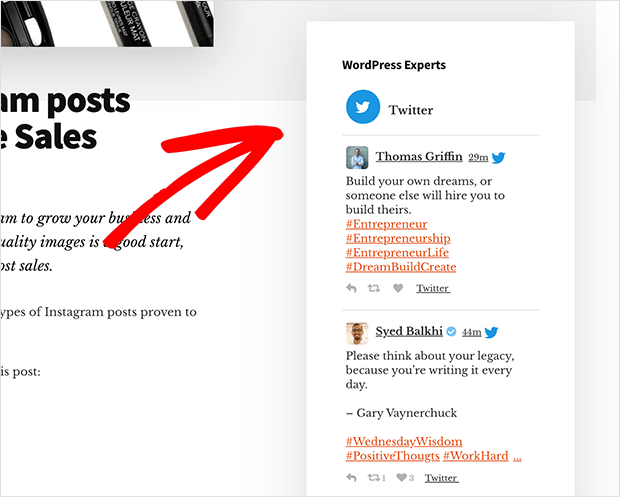 And that's it!
We hope this article has helped you learn how to add a custom Twitter feed to your website.
Now all that's left is for you to create one yourself so you can engage your audience, grow your Twitter followers, and improve your business.
Get started with Custom Twitter Feeds today.
Or if you want unlimited access to Smash Balloon plugins so you can use them on unlimited websites, go ahead and get the Social Wall Pro bundle here.
Social Wall Pro lets you combine feeds from different social media platforms into a single wall.
The amazing part about Smash Balloon's pricing method? It comes with a 100% no-risk money-back guarantee so you can try out the plugins first and see if it's a good fit for you.
Want more Twitter-centered content?
You may want to check this next post on the best types of tweets proven to grow your business right now.
Or this article on how to embed a Twitter hashtag feed on your website may be useful to you.
And if you enjoyed this article, feel free to follow us on Twitter and Facebook for more social media marketing tutorials.