Want to know what to post on Twitter for business?
With over 330 million monthly active users, Twitter gives you a huge pool of potential customers you can engage with and convert over time.
Even though posting well-thought-out tweets is a great start, it's not enough to boost user engagement and attract more customers who can help increase your brand's sales.
After all, Twitter mentioned that its users are "savvy shoppers".
That's why in this post, you'll learn about the best types of tweets guaranteed to grow your business in no time.
Plus, each type of tweet also has examples so you can start creating them for your brand today.
What Types of Tweets Work Best for Twitter?
As an online business that wants to skyrocket its sales by successful social media marketing, it can be tough for you. Especially in creating fresh content for your Twitter marketing campaigns.
We've got your back! Here are 9 types of tweets guaranteed to encourage user engagement and drive more sales for your business.
Ready? Let's get started.
1. Product Teaser Tweet
Did you know that 4 out of 10 Twitter users shopped for a product after seeing it on Twitter?
That's why product teaser tweets are great in helping you grow a sustainable business. They build product excitement and establish strong brand awareness at the same time.
How can you make product teaser tweets more effective? You can reveal a series of teasers that provide new information with each post.
For example, Samsung Mobile started by posting this vague sneak peek tweet in the earlier phase of their marketing campaign.
Once the company has successfully generated buzz for their upcoming product, they started posting more sneak peek tweets to make their customers want more details about it.
Then, just 1 day before the product launch, Samsung Mobile posted a countdown tweet featuring their brand ambassadors for their newest product — getting over 180,000 likes and over 50,000 responses in total!
Pro-tip: The next time you're about to launch a new product, you can post about it on Twitter for your followers to see.
And if you want to expose it to more targeted traffic, you can even display a Twitter hashtag feed on your website's sidebar! This way, your website visitors will know more about it when they check out your website.
With the help of the best Twitter feed plugin for WordPress, Custom Twitter Feeds Pro, here's how we recreated Samsung Mobile's product teaser feed in under 5 minutes!
Since Samsung used a branded hashtag, it's super easy to add to your sidebar.
Want to try it out for your own brand? Check out this step-by-step tutorial on how you can easily embed a Twitter hashtag feed on your WordPress.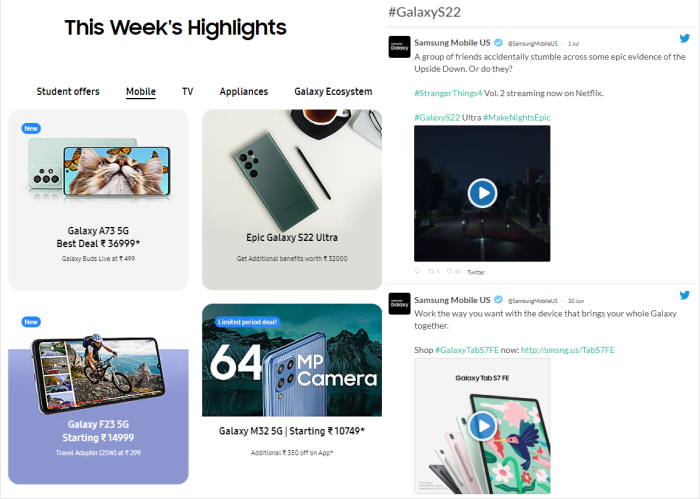 2. Viral Giveaway Tweets
Another type of tweet that can help you generate more sales for your business is a viral giveaway tweet. After all, 1/3 of contest participants are open to receiving more details about your brand.
The more they're open to engaging with you, the more likely they are to trust you and do business with you over time.
What can you do to increase your giveaway tweet's conversions?
Make it as easy as possible to join.
Take Domino's Pizza's giveaway tweet, for example. To enter the giveaway, the user just needs to retweet for a chance to win the prize. This giveaway tweet is short, simple, and super effective — with over 2,500 retweets in total!
Pro-tip: If you're a newbie at creating giveaways, don't worry. You can use RafflePress, the best WordPress giveaway plugin for creating viral contests.
To create a viral giveaway with just a few clicks, use its drag-and-drop giveaway builder. Then, choose the "Grow Your Twitter Following" giveaway template from RafflePress: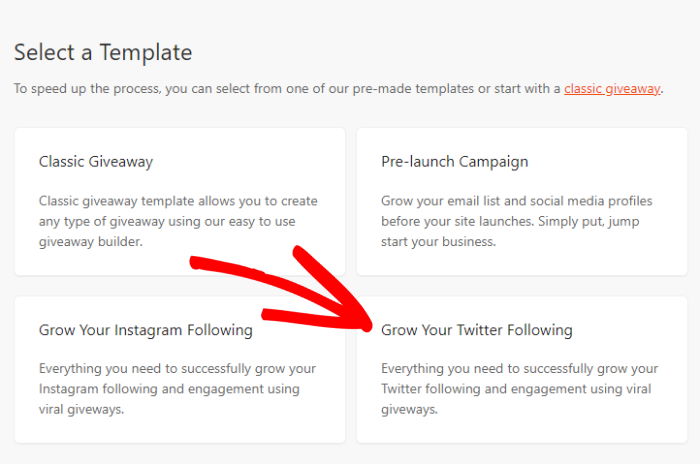 Even better, this Twitter giveaway template automatically adds the option for users to follow you on Twitter and tweet a message to enter your contest — no need for you to spend lots of time in adding them!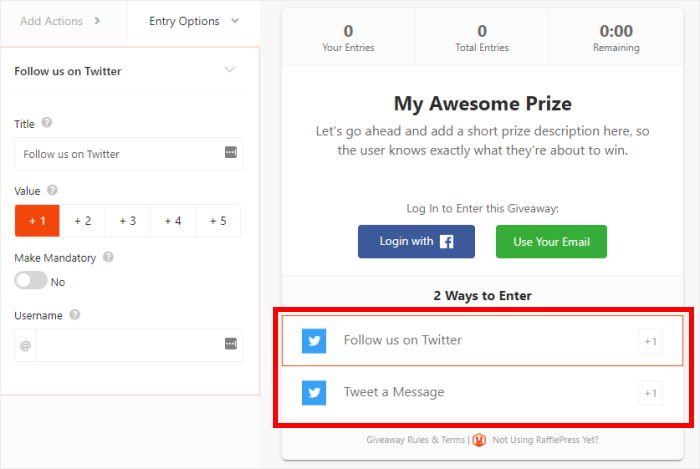 Want more Twitter giveaway ideas? Check out this ultimate guide on creating viral Twitter promotions to boost your brand's growth effectively.
3. Product Placement Tweets
Here's something that can convince you to promote your products on Twitter: 93% of people who follow businesses on Twitter plan to buy from them in the future.
So, why not give them a nudge and let them know about your best-selling products? After all, they're already following you so they already know about your brand.
In the example below, Starbucks does this type of tweet best with their product placement tweet.
By promoting their seasonal drinks in their tweets, Starbucks encourages their existing users to buy from them.
Instead of asking them directly to make a purchase, Starbucks offered 2 drink options to give their followers more control over what they wanted to buy.
Pro-tip: In addition to promoting your products to your Twitter followers, why not promote them to your website visitors as well?
By using Custom Twitter Feeds Pro, you can easily show a Twitter feed of your existing products on your sidebar area.
Here's an example of Starbucks' Twitter feed displayed on a website's sidebar. And the best part? It took us under 5 minutes to make this visually appealing widget.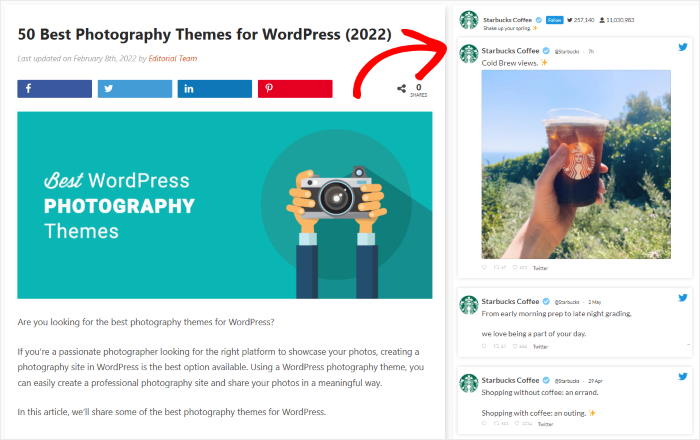 Not tech-savvy? Not a problem! Check out this full tutorial on how you can easily add a Twitter widget to your WordPress website so you can promote your products to a wider audience today.
4. Limited Time Promotion Tweets
Holding a special sale in-store or online? Make sure to let your Twitter followers know by tweeting about it!
After all, 52% of users follow a brand on Twitter because they want to get notified of upcoming sales and promotions.
To generate more sales for their breakfast meals, Wendy's posted a limited-time promotional tweet for their Twitter followers. In partnership with a delivery service, Wendy's is offering 30% off any of their breakfast orders.
Since their offer will expire after 2 days, more users are likely to get the discount so they won't miss out. This is exactly what FOMO (fear of missing out) marketing is all about.
Use FOMO to boost your sales and grow your business by checking out these effective FOMO marketing examples in this article.
5. Customer Testimonial Tweets
In today's world where online shopping is a part of life, customer reviews are king — 97% of shoppers say reviews influence buying decisions, after all. That's why this type of tweet can supercharge your brand's growth.
The simplest way to post customer reviews? You can monitor your mentions timeline and retweet testimonials so they'll be displayed on your own Twitter timeline:
By posting this type of tweet, you're letting your existing customers know that you appreciate their feedback.
Plus, it's a great way to boost customer conversion — if your customers are happily recommending you, then your prospects are more likely to try out your brand.
Pro-tip: Want your customer testimonials to promote your brand for you? By using Custom Twitter Feeds Pro, you can easily display your testimonial tweets on your reviews page with just a few clicks: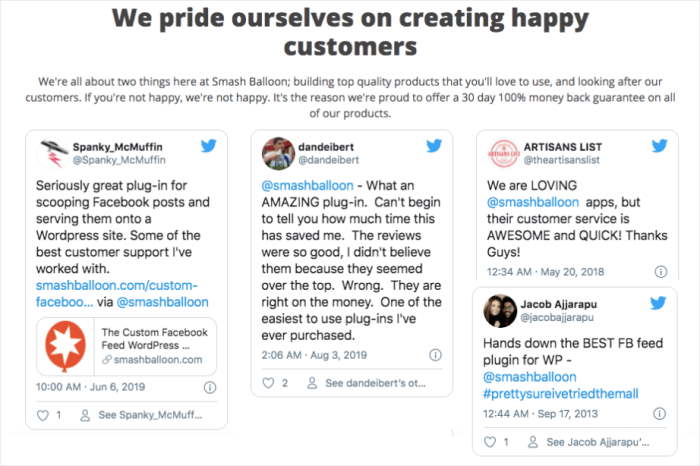 Looking for more details on how to create powerful testimonial pages for your business? Check out this helpful article to get more ideas for your own site.
6. Media Mentions
Ever been featured in several publications before? Good job! You can use Twitter to retweet any notable media mentions of your brand to leverage the power of social proof.
It's a great way to boost brand credibility and encourage customer trust. Especially if you're associated with thought leaders in your industry, like this example of Syed Balkhi featuring Smash Balloon on Twitter.
Pro-tip: Already retweeted media mentions on your Twitter timeline?
Why not go the extra mile and display an interactive media mentions timeline on your own website? With the help of a newbie-friendly plugin like Custom Twitter Feeds Pro, we recreated Smash Balloon's mentions timeline below: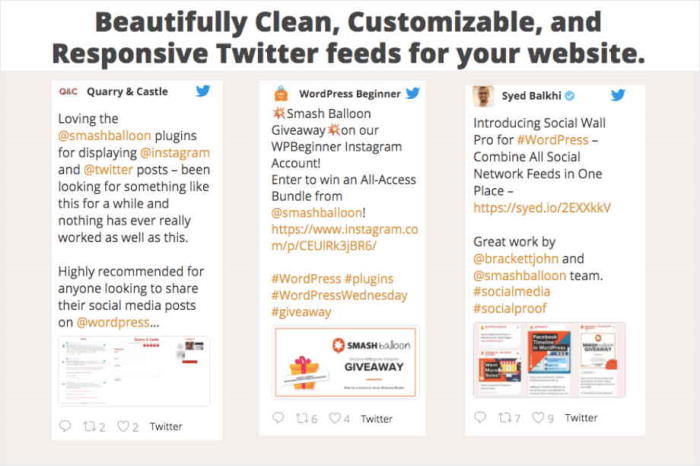 This isn't the only type of social proof that can help you increase your profits. For more types of social proof that can help skyrocket your sales, check out this full post.
7. User Engagement Tweets
Customers want to be heard. And they want to be listened to and responded to — fast!
40% of shoppers expect brands to reply within the first hour of reaching out on social media. That's why responding to user tweets is an effective way to encourage brand loyalty and increase sales over the long run.
In managing your Twitter account, spend a few minutes each day monitoring your timeline for customer feedback so you can promptly address them.
Doing this lets your existing and potential customers know that you're a transparent business worthy of their trust.
And this type of tweet isn't limited to negative feedback only. You can also use this to reply to positive customer comments on Twitter, just like what WPBeginner did in this example below:
8. Share Relevant User-Generated Content
What do top brands like Starbucks, PlayStation, and GoPro have in common on Twitter?
They all share user-generated content (UGC) on their own timelines.
And with shoppers saying that UGC is almost 10 times more effective in influencing their buying behavior than influencer content, retweeting UGC can help your business grow more.
Good news: this type of tweet is actually easy to curate.
Just encourage your customers to submit them to you so you can share them on your own timeline — with proper credit to the original content owner, just like what GoPro did below:
9. Twitter Polls
The great thing about an active social media platform like Twitter is you don't need to go very far just to get valuable opinions from your target audience.
With Twitter's built-in polling feature, you can ask your followers about their product preferences and get results in just a few hours!
This is a win-win situation for you and your followers: you get information about their product preferences and your followers feel more included in helping you generate ideas to help improve your business.
Pro-tip: Want more users to respond to your Twitter polls?
You can embed your Twitter feed on your WordPress so your website visitors can see your questions and respond to them in a timely manner.
Here's the full tutorial on how you can add a custom Twitter feed to your website.
And that's it!
We hope that by reading this post, you've now learned what types of tweets you can start posting today so you can supercharge your brand's growth and boost your sales in no time.
Ready to upgrade your Twitter marketing campaigns? Get Custom Twitter Feeds Pro today!
Interested in more Twitter marketing tips? You may want to check out this next post on the best Twitter widget examples you can embed on your website.
Finally, if you enjoyed this article, feel free to follow us on Twitter and Facebook for more social media marketing tutorials and tips to help your business succeed online.