Do you want to show YouTube playlists on your website?
Showcasing your embedded playlists on WordPress can help you show fresh content to visitors and boost your subscribers for your YouTube channel.
The methods for embedding a YouTube playlist in WordPress are often confusing, though. If you're not tech-savvy, it can be hard to display your YouTube videos how you want.
That's why in this article, we'll show you how to embed a YouTube playlist gallery with thumbnails in WordPress with 4 different methods, including the easiest way to do this!
Here's a summary of the different methods. Click any option to jump straight to the section you need:
But first, let's get started with why you need to embed YouTube playlists in WordPress.
Or, you can click here to skip ahead to the tutorial.
Why Embed a YouTube Playlist in WordPress?
Adding a YouTube gallery of your playlists to your WordPress site lets you update fresh video content without a lot of work.
It's also a great way to encourage visitors to subscribe to your YouTube channel.
Instead of adding video playlists manually to your website, you can upload them to YouTube, and they'll appear on your website every time you upload a new video in your YouTube playlist.
You can also filter the embedded videos shown in your playlist using specific keywords.
This is a great way to highlight videos of people using your products, which offers valuable social proof to secure new customers.
Finally, if you have customer video testimonials, you can group these videos as a playlist and embed the YouTube playlist on your website's sales page to encourage more sales for your business.
How to Find Your YouTube Playlist
Embedding YouTube video playlists means you don't need to manually embed single YouTube video IDs on your website.
Before you embed a YouTube playlist with thumbnails in WordPress, you need to find it. After all, several methods covered in this article need your playlist's URL to make the embed work.
To find your playlist URL, head to https://www.youtube.com/ and expand the menu in the top-left corner of the screen.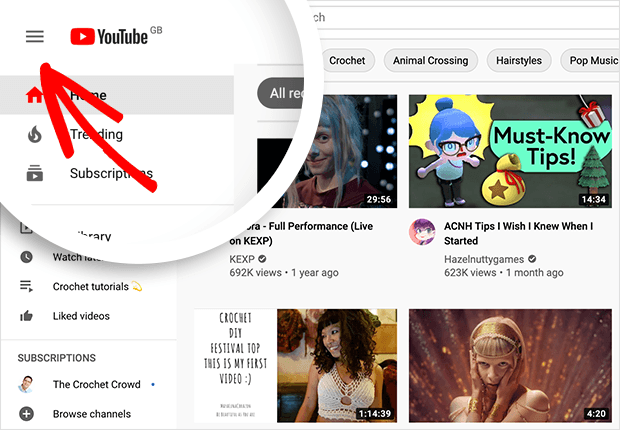 Then, under the Library heading, select the playlist you want to embed.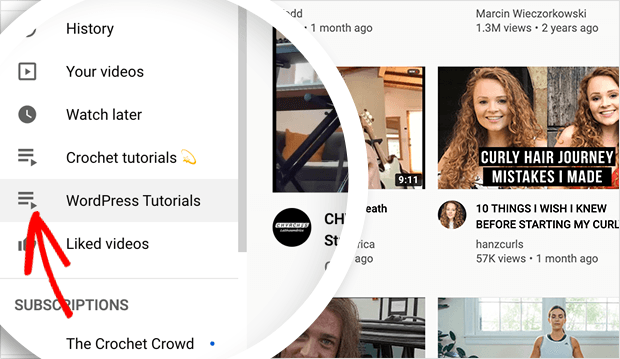 Clicking the playlist takes you to the playlist page. On that page in your browser's address bar, you'll see the playlist's URL, which looks similar to this: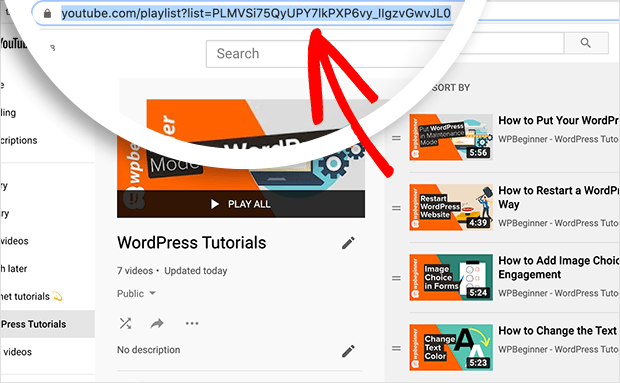 Copy the URL and save it to a notepad or document to use later.
Or, if you're watching a YouTube video that's part of a playlist, you'll see the playlist title on the right-hand side of your screen. If you click the title, it takes you to the same main playlist page to copy the URL.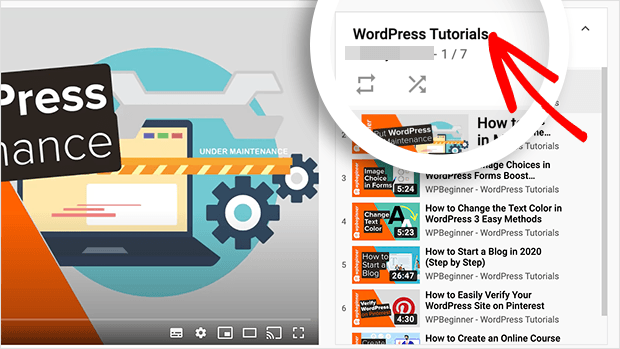 Now that you know how to find your YouTube video playlist, let's look at the different ways to embed it on your WordPress website.
We'll start with the easiest and best YouTube playlist embed options first.
1. How to Embed a YouTube Playlist on WordPress
The easiest way to embed a YouTube playlist in your WordPress site is with a WordPress YouTube plugin.
With solutions like Feeds for YouTube Pro by Smash Balloon, you don't need to mess around with code snippets or switch between multiple web pages like with other popular embed methods.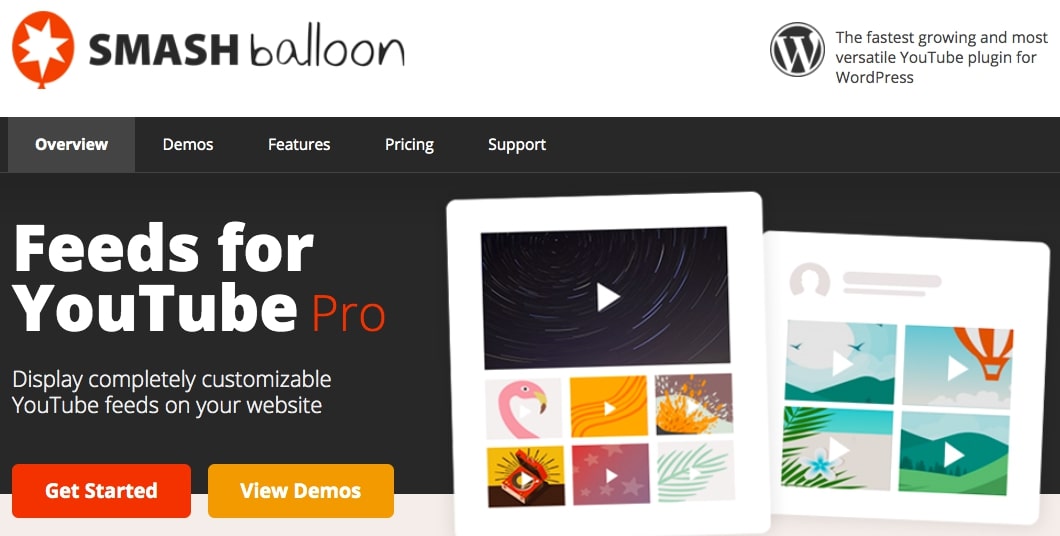 Instead, you can add your YouTube playlist to WordPress with a few clicks, resulting in simple, yet deeply customizable video feeds. No need to have HMTL or Javascript knowledge!
With the Feeds for Youtube WordPress plugin, you're not limited to showing only playlists. The plugin has lots of other features that can help take your YouTube channel to the top.
For example, you can show as many video feeds as you like throughout your site. Plus, you can customize the content to show only live streams or videos from an advanced search.
What's more, you can customize your YouTube feeds to perfectly match your site's theme and branding — just by clicking. No HTML code or other coding skills needed.
This is something the other methods on this list don't offer without a lot of code tweaking.
Also, you don't need to manually tweak code snippets to make your YouTube playlist feed responsive. Feeds for YouTube Pro automatically makes it responsive for you, right out of the box!
You're also in great company when you use the plugin, since Smash Balloon plugins are trusted by the world's largest brands:

And the best part? Unlike other YouTube feed plugins, Feeds for YouTube Pro doesn't do autoplay.
This plugin's YouTube player only starts playing your videos after your visitors engage with your playlist. This improves your page speed and user experience on your website.
As a result, you'll have a much faster site and better SEO.
With these in mind, let's look at how to embed a YouTube playlist in WordPress with a plugin — it's the easiest way, after all.
Step 1: Download and Install the Feeds for YouTube Plugin
To get started, simply download and install the Smash Balloon Feeds for YouTube Pro plugin first.
For more details, see this step-by-step guide on how to install a WordPress plugin.
After that, navigate to Feeds for YouTube » License from your WordPress dashboard and enter your license key.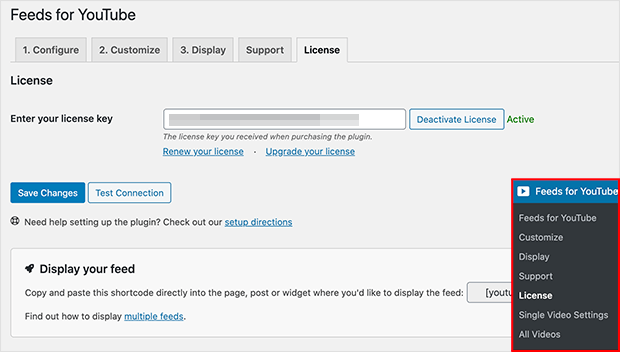 Remember to click the Save Changes button and move on to the next step.
Step 2: Connect Your YouTube Account
Next, in your WordPress admin panel, click the Feeds for YouTube menu so you can visit the Configure page of the plugin.
Click the blue button to "Log into YouTube and connect an account."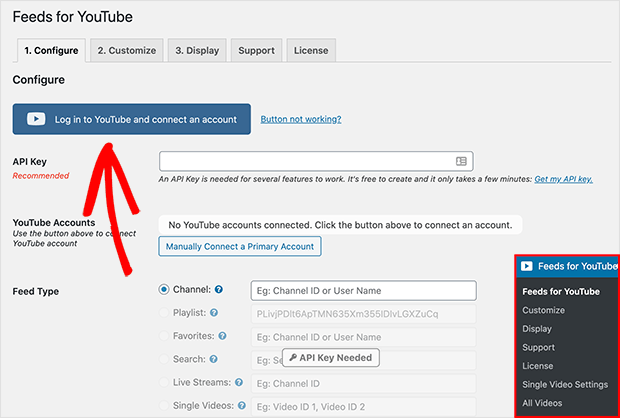 Then, the plugin will ask for permission to connect to your Google account.
With this permission, it can only read your posts and can't make any changes. So, Feeds for YouTube Pro is completely safe.
After following the on-screen instructions and confirming, you'll be sent back to the Configure page with your YouTube account connected.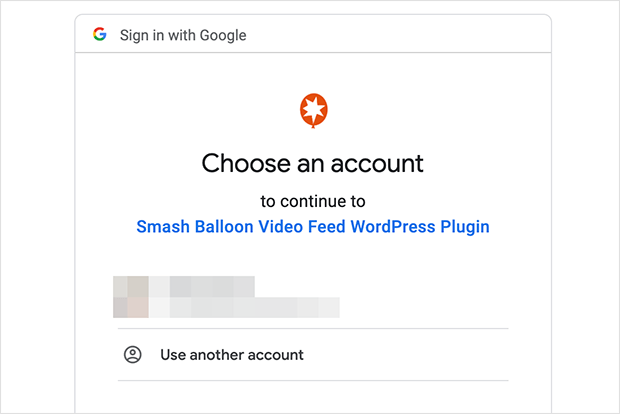 Several features of the plugin need your YouTube API Key to work properly. For example, you need to enter your YouTube API key to embed a playlist feed on your website.
Don't worry, we've created this documentation for creating and using an API Key to help you get started.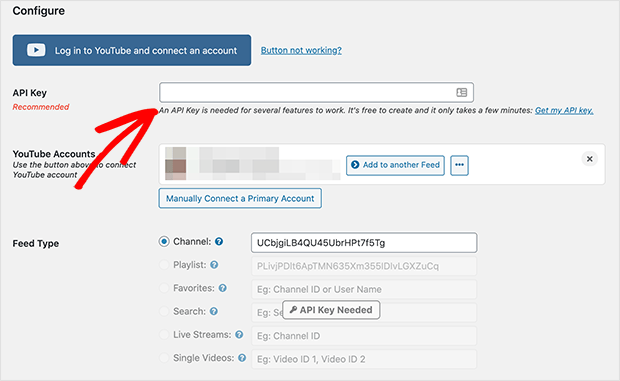 Once you've entered your API key, you can access different feed type options, which we'll explain in the next step.
Step 3: Choose the Playlist Feed Type
The Feeds for YouTube plugin offers 6 feed types you can show on your website, including:
Playlist
Favorites
Search
Live Streams
Single Videos
To display a YouTube playlist in WordPress, click the Playlist feed type, and enter your playlist's ID.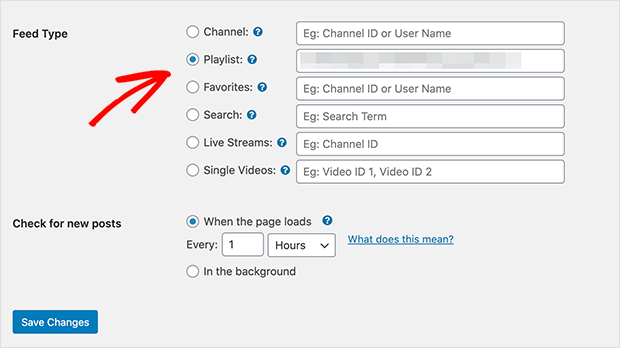 The ID is a string of letters and numbers shown after the "=" symbol in your playlist's URL.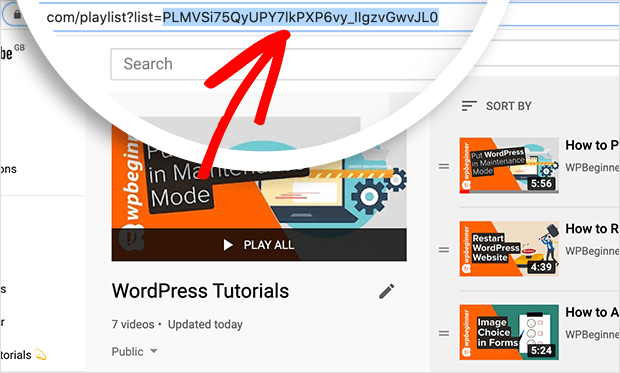 Once you've added your playlist ID, click the Save Changes button.
Step 4: Select a Playlist Layout
By default, your YouTube feed displays a simple grid of videos on your website.
Clicking the Customize tab allows you to choose from a total of 4 different feed styles: Grid, Gallery, List, and Carousel.
This way, you can show your YouTube playlist feed in a layout that works best for your site.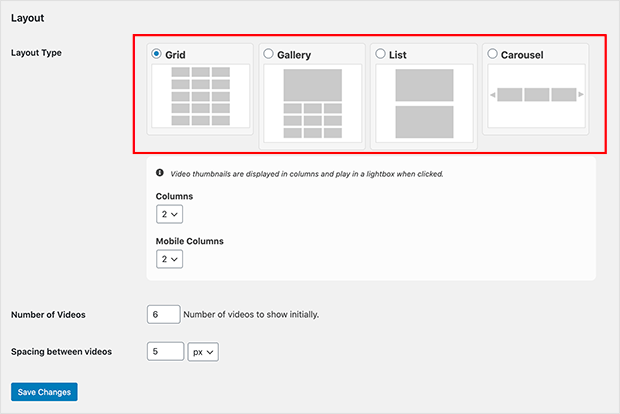 For example, clicking the Gallery option lets you show your first video in a full-width layout at the top of your feed, and smaller thumbnails in a grid below.
Here's a screenshot of how your YouTube playlist will look like using the gallery layout: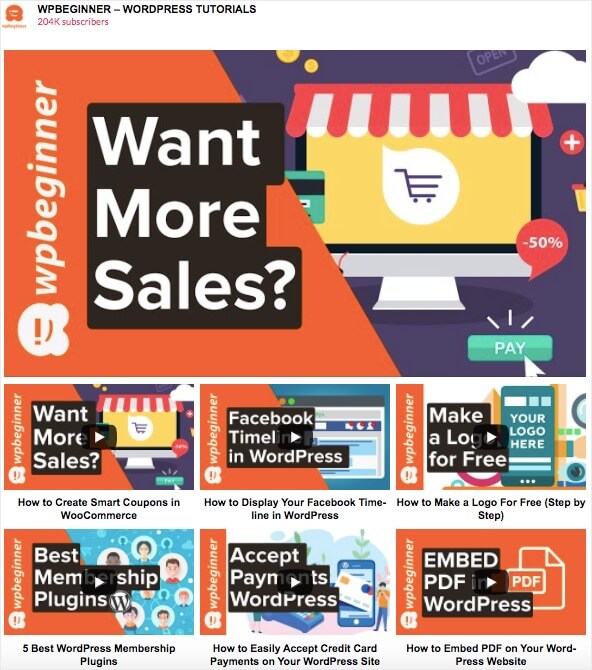 When you're happy with your chosen layout and have entered your preferred number of columns and posts, click Save Changes. Then you can move on to embedding your feed.
Step 5: Embedding a YouTube Playlist in WordPress Posts or Pages
The next step is to add your YouTube feed to a new post or page in WordPress. We're going to create a new page under Pages » Add New for our playlist feed.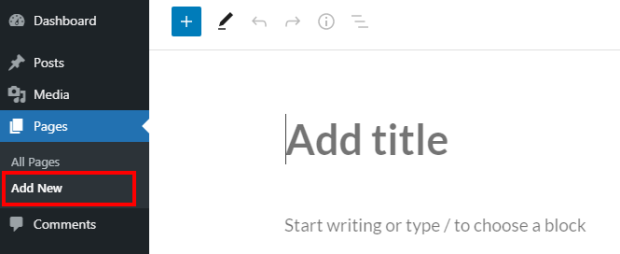 On your new page, click the Plus (+) symbol to add a new WordPress block. Then, select the Feeds for YouTube block from the Widgets section.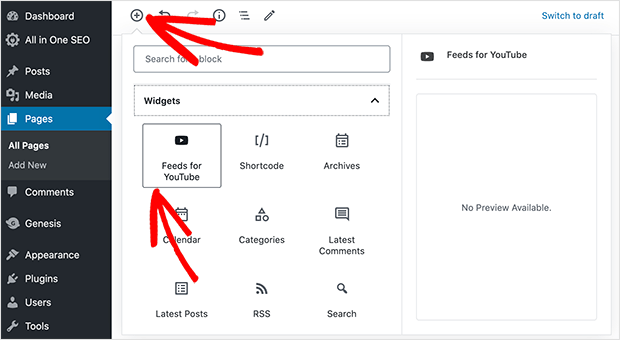 Your YouTube playlist is then instantly added to your page with the layout and button options you selected earlier.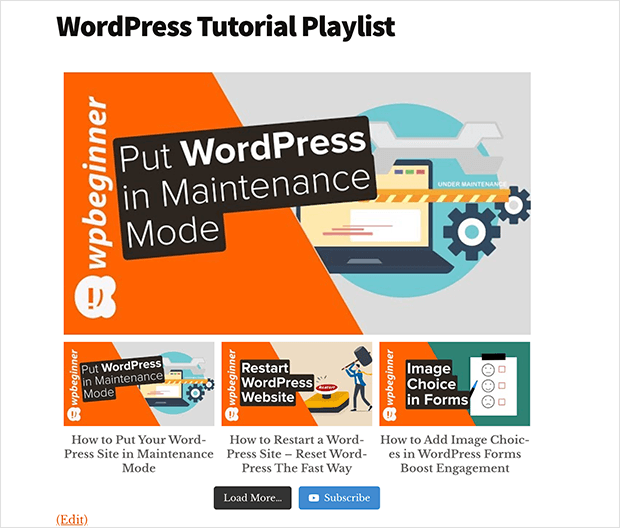 If you're using the classic WordPress editor, simply paste your feed's shortcode directly into the page.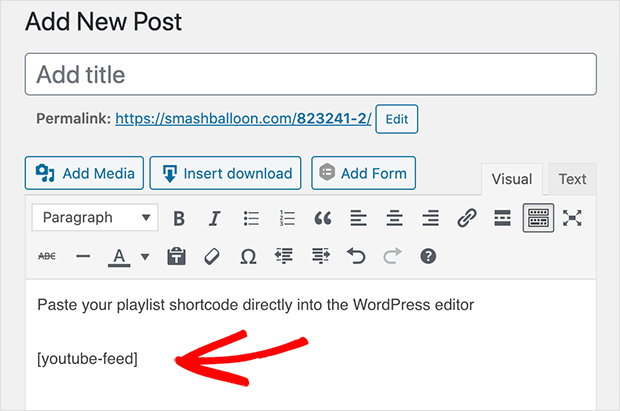 If you want, you can embed your YouTube playlist in your website's sidebar area. We'll show you how to do that in the next method.
2. Embed a YouTube Playlist on WordPress Sidebar
For this method, we'll continue using the Feeds for YouTube plugin to embed your YouTube playlist widget in your WordPress website's sidebar or footer widget area.
First, follow the steps above to connect your account and choose your layout.
Then, from your WordPress admin panel, navigate to Appearance » Widgets to view your available WordPress widgets and sidebars.
Next, find the YouTube Feed widget and drag it to your chosen widget area. You can drag it to your sidebar or footer area. In this YouTube playlist tutorial, we're adding ours to our footer widget area.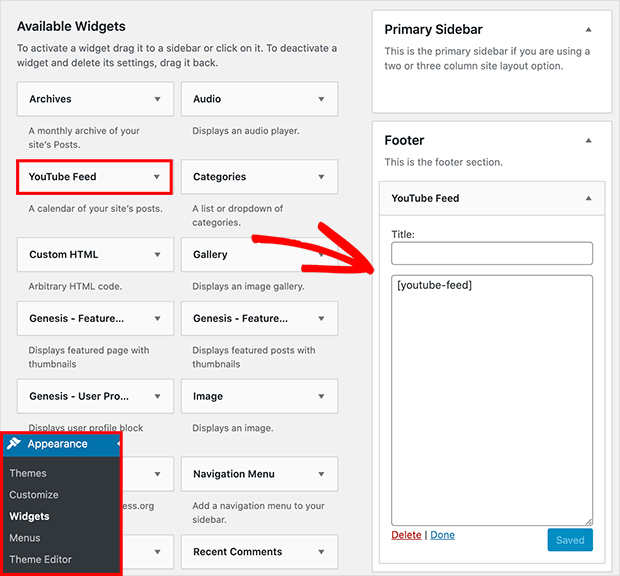 Remember to click Save to preserve your settings.
After, you can navigate to your website and see how your embedded YouTube playlist looks like.

3. Embed YouTube Playlists With oEmbeds
Don't want to take advantage of the customization options and ease-of-use of a WordPress plugin?
There are other ways to embed videos from your playlist.
They'll just be harder to follow and more complicated to customize, though. Plus, you won't have access to top-notch customer support.
To add a very basic version of your playlist in WordPress, copy the playlist's URL and paste it directly into your page or post editor.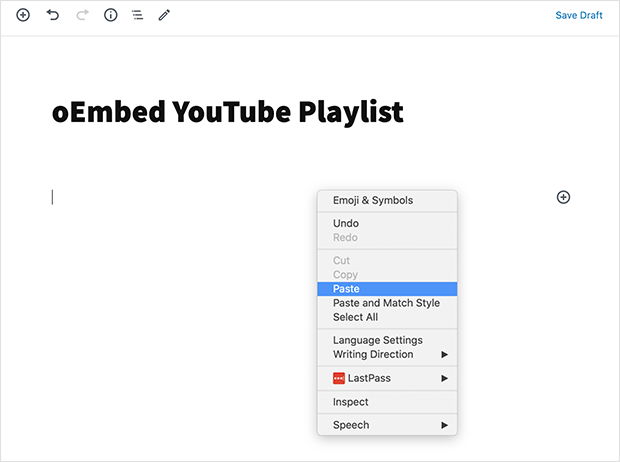 WordPress will fetch your playlist from YouTube and automatically display it in your post using a technology called oEmbed.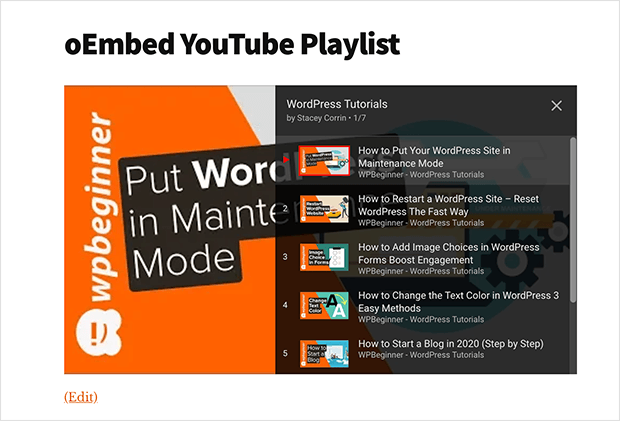 The result is a single video with a menu you can click to reveal other videos in the playlist.
Want to customize how your YouTube playlist looks like?
Using this method, you need to manually tweak code snippets or hire an expensive developer to help you.
That's why it's not the best option if you're a WordPress beginner who's not familiar with CSS or other coding languages. It's also not for you if your social media marketing budget is limited.
4. Embed a YouTube Playlist Using <iframe>
The final method for embedding your playlist in WordPress involves using an iFrame embed code.
To do this, navigate to your playlist's YouTube page and click the Share icon, as you can see below: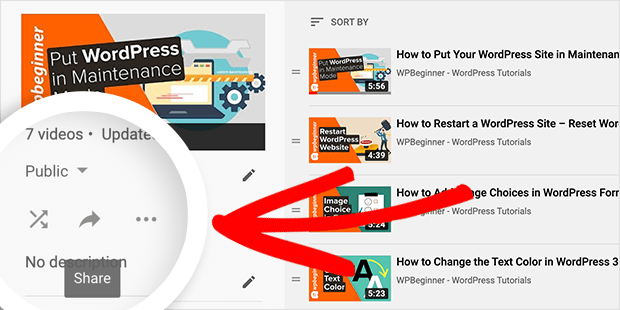 Then choose the Embed option from the lightbox popup.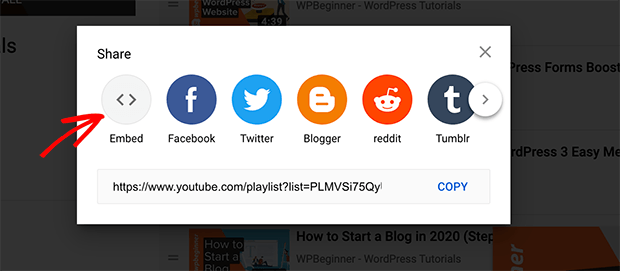 A lightbox popup containing a video and your video embed code appears on the screen. Highlight all of that code and copy it to your clipboard.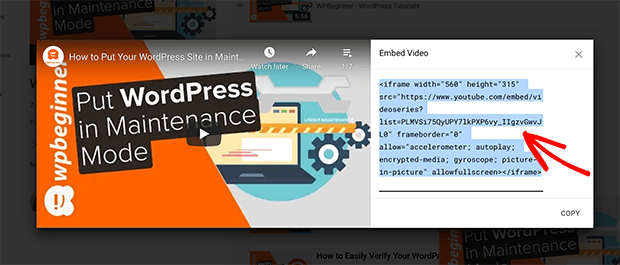 Then navigate to your post or page in WordPress and click the Plus (+) symbol to add a new content block.
Now click the Custom HTML block, which you can find in the Formatting section.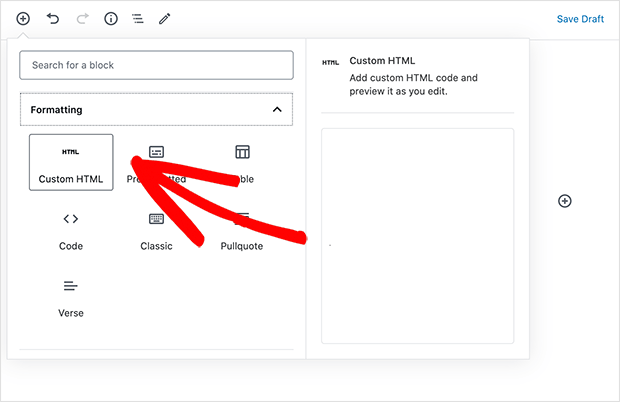 Within the block, paste the iFrame embed code you copied from YouTube and click on the publish Publish button on the top right corner.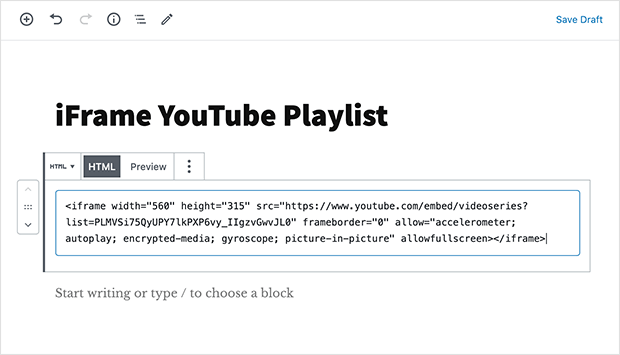 When you preview the page, you'll see your playlist displayed in a similar format to the previous method.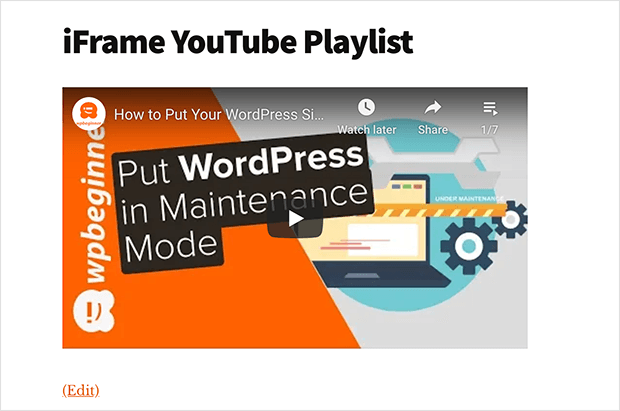 The Best Way to Embed YouTube Playlists
In this article, we've covered how to add YouTube playlists in 4 different ways. As you can see, you have lots of options to embed YouTube playlists in WordPress.
Out of them all, using the Feeds for YouTube plugin is by far the best way to get your playlists working and looking exactly how you want.
All it takes is a few clicks and you can embed the best YouTube playlists to engage your website visitors.
On top of that, the plugin also lets you add different types of YouTube content to your website, so it's an easy way to delight your audience with relevant videos and boost your subscribers.
Get started with Feeds for Youtube by Smash Balloon today!
Want to get access to unlimited plugins by Smash Balloon? You can use all the best social media feed plugins on unlimited websites by getting the Social Wall Pro's All Access bundle.
The All Access bundle is a discounted package that lets you create, customize and embed social media feeds from Facebook, YouTube, Instagram, and Twitter on your website.
The great part about Smash Balloon's pricing method? It comes with a 100% no-risk money-back guarantee, so you can try out the plugins first and see if it's a good fit for you.
Interested in getting more subscribers? You may want to read this next post on the best YouTube plugins to increase your subscribers right now.
Or you can check out this article on how to grow your YouTube channel from 0 to 1,000 subscribers today.
And if you enjoyed this article, feel free to follow us on Twitter and Facebook for more social media marketing tutorials.