Looking for different Twitter widget examples that you can easily display on your website? You've come to the right place.
Embedding Twitter feeds on your WordPress website can help boost engagement and grow your business in no time.
After all, major brands recognize that Twitter can influence the buying behavior of shoppers worldwide.
But Twitter only lets its users embed limited Twitter feeds, so you can't optimize it and make it an effective marketing tool for your brand.
That's why in this post, we're going to show you 7 examples of different Twitter widgets for your website.
Plus, every embedded Twitter timeline has links to step-by-step tutorials. So you can easily add them to your WordPress — in just under 5 minutes. Yes, even if you're a complete newbie!
Ready to find out the different Twitter feeds you can integrate on your site? Let's get started.
1. Home Timeline
When you display your home timeline on your WordPress, you embed a Twitter feed with tweets from yourself and the Twitter users you follow.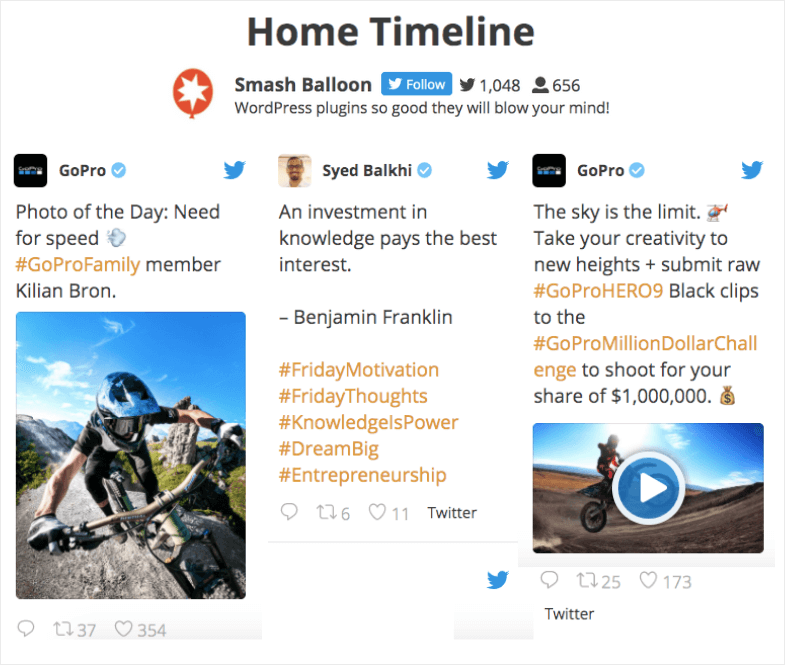 How can you use the home timeline for Twitter marketing?
Since this feed lets you embed tweets from other people you follow, you can follow the Twitter accounts of your brand ambassadors to establish strong brand awareness for your business.
This is effective, especially when the Twitter profiles of your brand ambassadors mention your brand in their bio as well.
Sadly, using Twitter's platform won't allow you to embed your home timeline on WordPress.
But don't worry. You can make everything easier and faster by using the highest-rated Twitter feed WordPress plugin: Custom Twitter Feeds Pro.
You can easily show your home timeline by using this beginner-friendly plugin — no need to deal with confusing coding language, HTML, or JavaScript!
Just follow the step-by-step tutorial here to start embedding your home Twitter feed as a Twitter widget for your own brand.
2. Profile Timeline
This example of a Twitter feed on your website displays the latest tweets and even a retweet or two from a public Twitter profile.
If your account is verified on Twitter, your profile timeline will show your special symbol attached next to your username, too: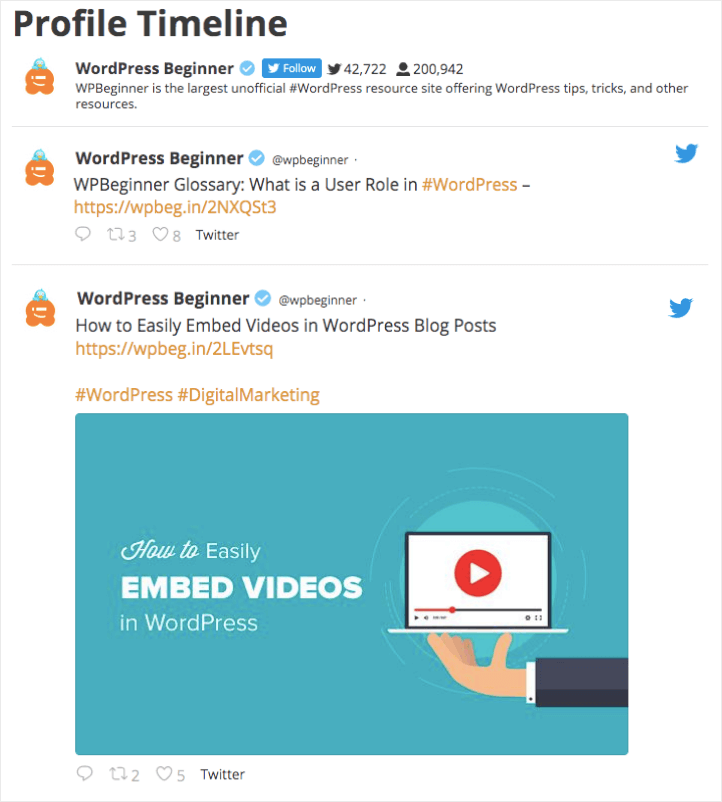 Embedding a Twitter feed of your profile timeline on WordPress is a great promotional tool because this timeline displays all the tweets from your own user account.
So, if you have an upcoming sale and you tweeted about it, it'll be shown to your website visitors as long as your profile timeline is embedded on your site, too.
You can also use the profile timeline to drive traffic to your content, such as when you've recently published a blog post, released a new podcast episode, or launched a giveaway for your customers.
To embed your profile timeline on your website, you have 2 options:
Manual: It's hard to embed your Twitter feed manually since you have to deal with confusing code or CSS. Plus, you can accidentally break your website if you don't have any technical knowledge, so it's risky for beginners. You'd also need to switch between different webpages.
Automatic: You can automatically add your profile timeline by using Custom Twitter Feeds Pro plugin. Here, you just need to set up the plugin, and it'll do all the hard work for you. In just under 5 minutes, your profile timeline will be displayed on your WordPress.
Want to add a Twitter widget to your website? Learn how you can automatically embed your profile timeline in this tutorial.
3. Mentions Timeline for Testimonials
Want to use the power of social proof to boost your sales and supercharge your business' growth over time?
This is where displaying your mentions timeline for effective customer testimonials enters the picture. With Twitter testimonials, you're showing user-generated content that promotes your brand.
As a result, you can effectively convert visitors into customers.
With this Twitter widget example, you can embed Twitter feeds containing any relevant tweet that mentions your Twitter username.
Then, you can display this embedded timeline as a testimonials grid to increase your conversions. Especially if you embed this Twitter feed on your sales page.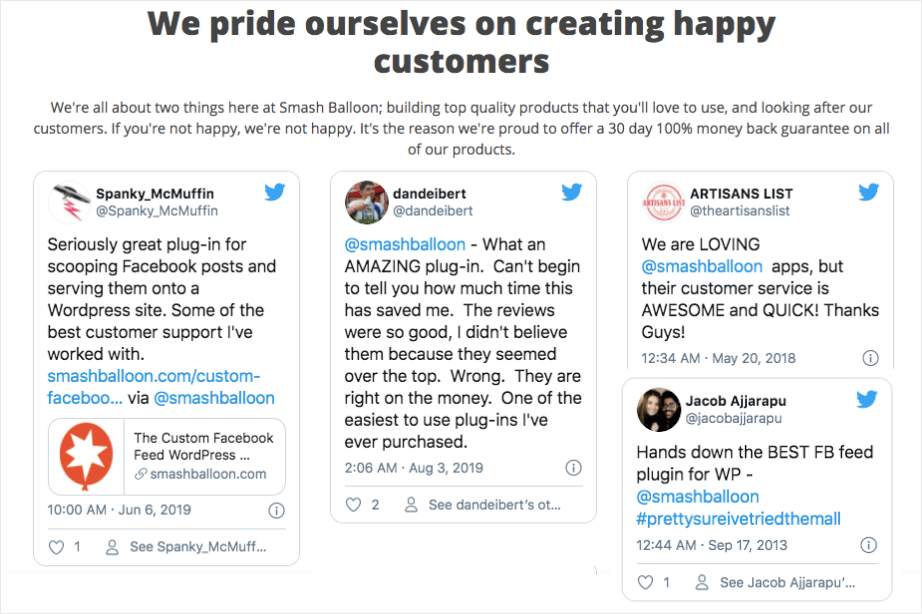 Usually, Twitter doesn't let you embed your mentions timeline on your website while you use the platform — it doesn't have this option.
Instead, you can use Custom Twitter Feeds Pro to display a live Twitter feed of your mentions timeline on WordPress.
Check out this handy guide for full details on how you can add a mentions timeline to your website.
4. Twitter Slideshow
To present your content in an interactive feed, do you want to add a Twitter slideshow to your WordPress?
By displaying your tweets in an interactive carousel layout, you're encouraging your users to engage with your brand — even without leaving your website.
Plus, when you use this horizontal Twitter layout, you give your website visitors more control over how they choose to digest your tweets.
Instead of seeing a whole Twitter grid that looks overwhelming, they can take their time and read your Twitter content by clicking on the navigation arrows included in the slideshow.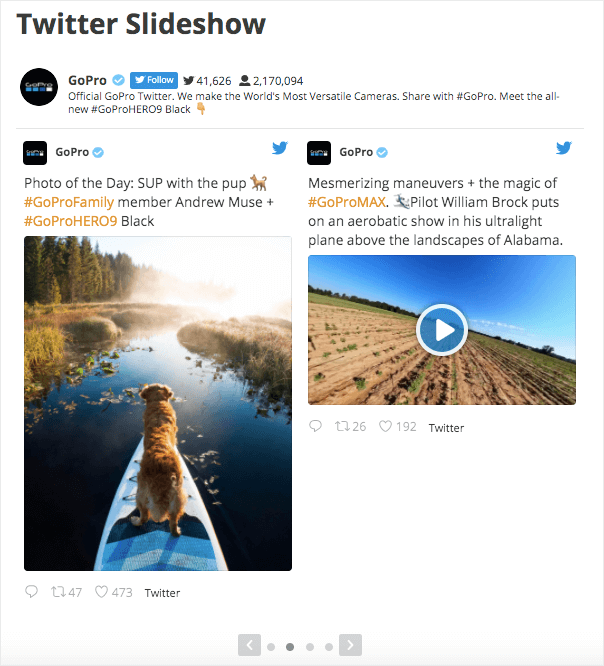 Twitter doesn't allow you to change your feed's layout into a slideshow, though.
Also, it's difficult to customize Twitter code without hiring a developer. So, what can you do instead?
It's simple.
Just install Custom Twitter Feeds Pro and let the plugin automatically embed a Twitter slideshow on your site. The plugin's customization options let you do this with just a few clicks.
Check out this tutorial to learn how you can easily display your tweets in a sliding carousel layout on your website.
5. Hashtag Feed
Does your business have its own branded hashtag on Twitter?
Or how about a seasonal item that you'd like to promote for a limited time only?
In addition to showing company-generated tweets about it on your Twitter feed, you can also show a Twitter hashtag feed widget and display this on your website for targeted product promotion.
The great thing about embedding a Twitter hashtag feed widget is that most tweets about your branded hashtag are user-generated.
So, you're leveraging the power of social proof to increase sales. After all, if lots of customers and Twitter followers are tweeting about it, then it must be good, right?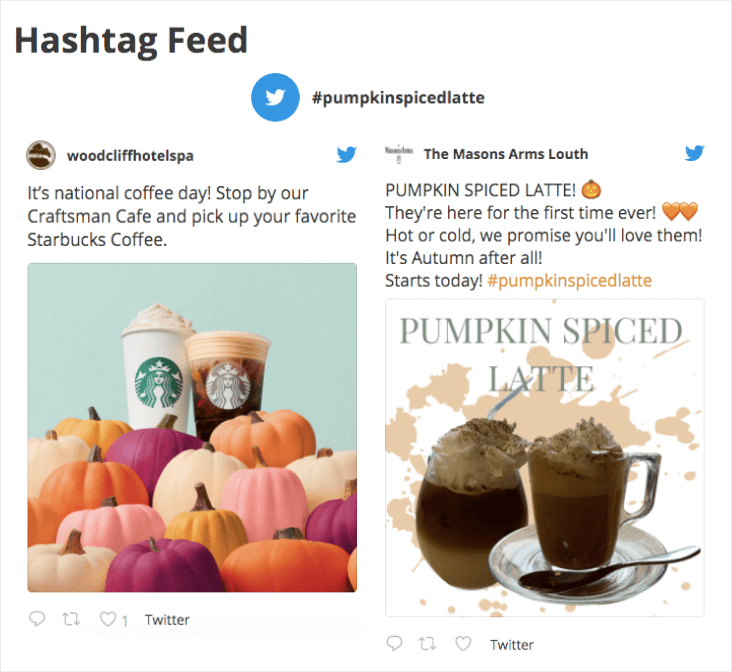 How can you display a Twitter hashtag feed widget on your website?
Using Twitter's platform, you'll see that it doesn't have an option to do this.
So, to make your life easier, the best way is to get your own copy of Custom Twitter Feeds Pro plugin and follow this detailed tutorial on how you can easily embed a hashtag feed on WordPress.
6. List Timeline
Want to use Twitter lists for your business?
Lists are a simple way to group together similar Twitter accounts based on something they have in common.
In the Twitter list timeline displayed below, Lululemon made a Twitter list of the leading fashion publications worldwide. But the list feature isn't limited to industry experts alone.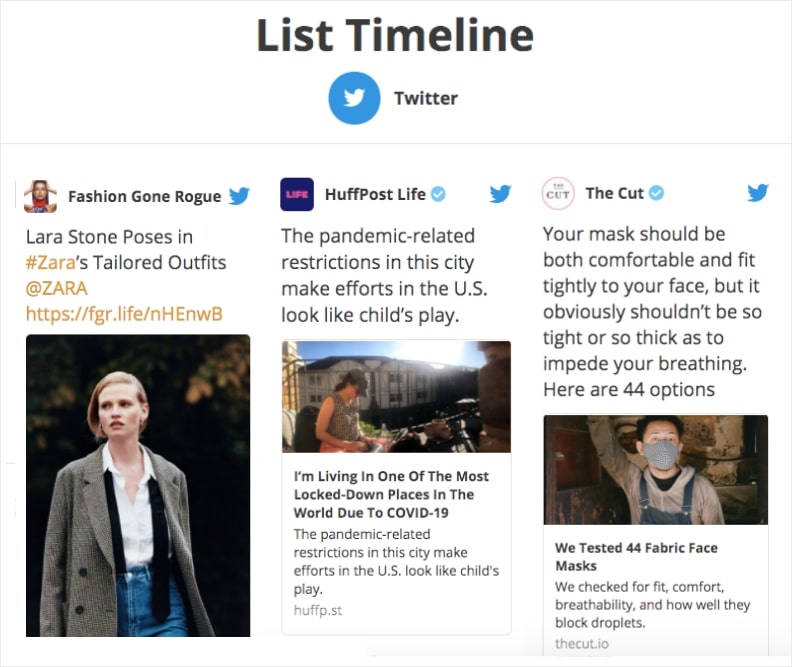 For example, you can create a Twitter list for your brand ambassadors, your target clients, or even your clients categorized by their locations.
Then, embed this Twitter feed widget on your website's sidebar, footer, or blog post areas for maximum exposure.
Twitter's platform allows its users to embed list timelines on their website, but you'd have to deal with several pieces of code like this: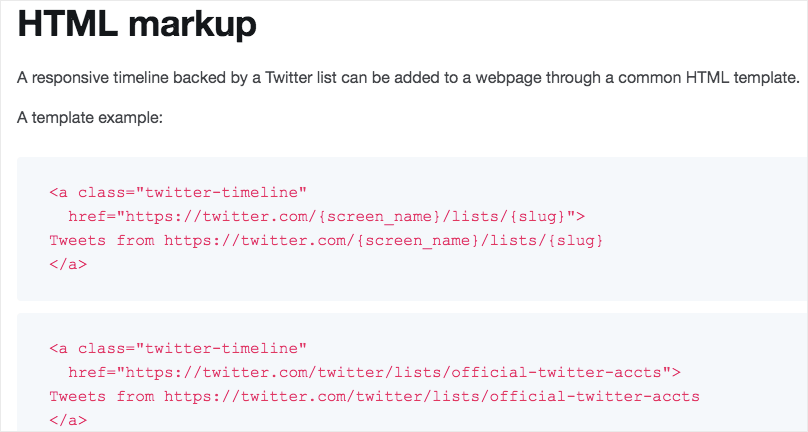 Plus, to customize your Twitter feed to copy your existing theme's style, you need to hire an expensive developer to do it for you.
If you don't want to risk accidentally breaking your website, you can always install Custom Twitter Feeds Pro and follow this beginner-friendly guide on how to embed a list timeline of your own brand's Twitter account today.
7. Twitter Sidebar Widget
Want to learn how to show tweets on website sidebar areas? The good news is you can just embed a Twitter widget on your website for that.
This way, you can increase user engagement to your Twitter account and establish brand awareness.
Plus, when you display a Twitter timeline widget, your customers can see it while checking out your product catalog or blog posts.
So, it's effective in giving them that small nudge to finalize their purchase with your business.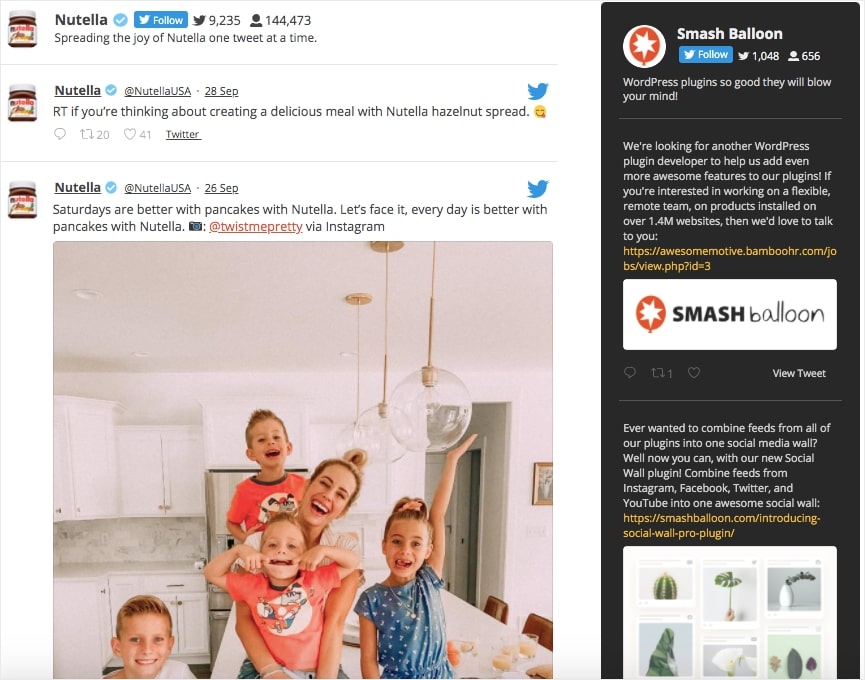 Not comfortable working with embed codes in Twitter?
Use a trusted feed plugin like Custom Twitter Feeds Pro to display your Twitter widget in your sidebar area.
By following the steps on this tutorial, you can set up the plugin and add a live Twitter widget on your website in just a few minutes!
And that's it!
By reading this post, you've hopefully learned about the different types of Twitter widget examples that you can display on your WordPress.
Now, all that's left is for you to follow the linked tutorials so you can easily recreate these examples and show a collection of tweets on your own website.
Ready to level up your Twitter marketing strategy?
Get started with Custom Twitter Feeds today.
Or, if you want unlimited access to Smash Balloon plugins so you can use them on unlimited websites, go ahead and get the Social Wall Pro bundle at a discounted price here.
Social Wall Pro is the best social media aggregator in WordPress. It lets you combine social media content from different social media platforms like Twitter, Instagram, YouTube, and Facebook.
So, you can show them all in a single social media feed.
The great part about Smash Balloon's pricing method? It comes with a 100% no-risk money-back guarantee so you can try out the plugins first and see if it's a good fit for you.
Smash Balloon plugins are happily used by some of the greatest brands all over the globe:

Interested in more articles about Twitter marketing? You may want to check out this next post on the best Twitter plugins to promote your business on WordPress.
If you want to get more out of Twitter, you can also take a look at this guide on how to get more Twitter followers for free.
And if you enjoyed this article, feel free to follow us on Twitter and Facebook for more social media marketing tutorials.