Do you want to know the best Instagram WordPress plugins available for your website?
With 80% of its users stating that Instagram influenced their buying decisions, it's smart to cross-promote your Instagram posts on your website.
This helps increase your user engagement, Instagram followers, and even your sales over time.
With the help of the right Instagram plugins, you can extend the functionality of your website and display your Instagram content — without being an expert in coding.
But since there's tons of Instagram WordPress plugins to choose from, it can get overwhelming to choose which tools to use on your website. Especially if you're not tech-savvy.
So in this post, we'll share the best Instagram plugins for your WordPress website. Using these plugins can help drive more followers and sales for your business.
Ready to upgrade your Instagram marketing? Let's get started.
As the world's best Instagram feed plugin for WordPress, Instagram Feed Pro lets you create, customize and display Instagram feeds on your website — no need to deal with any shortcode or coding languages.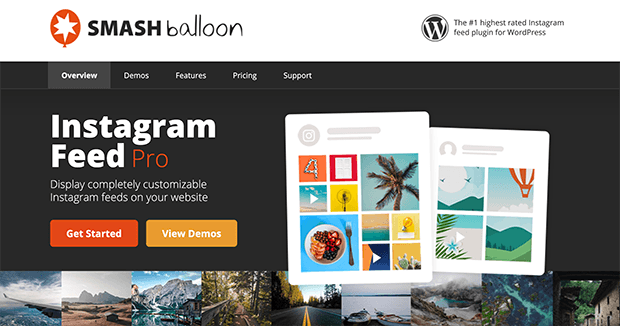 With just a simple click, you can connect this top-rated plugin to your public Instagram account.
As a result, you can use it to embed different types of Instagram feeds, such as hashtag feeds, tagged feeds, shoppable Instagram feeds and even multiple Instagram feeds.
Unlike other Instagram plugins, you can even use Instagram Feed Pro to show your Instagram stories right on your website.
This means that your site visitors can view your Instagram stories in a beautiful lightbox popup, even if they're not an Instagram user.
As the best WordPress Instagram feed plugin, over 1 million users love how easy it is to use Instagram Feed Pro's features.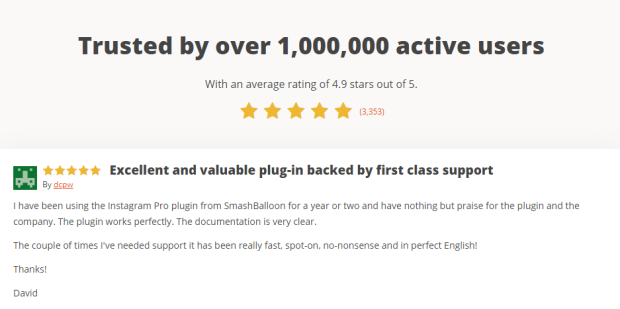 Just by checking or unchecking options, you can add a customizable Instagram feed to your WordPress site in just a few minutes.
Instagram Feed Pro also has tons of customization options that let you have full control over your feed's background color, font, buttons, headers, and more — even if you're a WordPress newbie.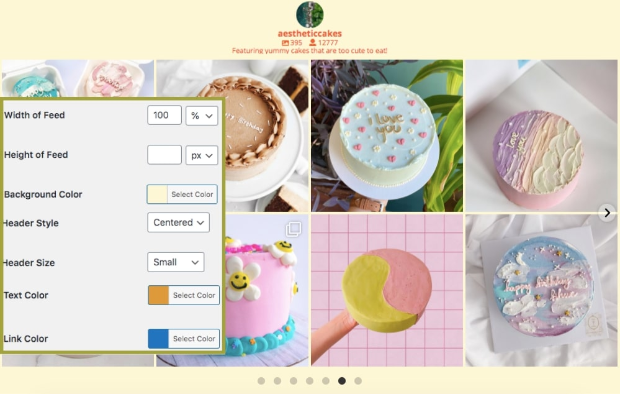 Don't want to spend lots of time designing your feed?
No worries.
With the best Instagram feed plugin, your Instagram feeds will automatically copy your existing WordPress theme and style elements.
This means you can rest easy knowing that your Instagram widget will look consistent with your brand's design. Yes, even with no extra effort on your part.
The pro version of the plugin comes with multiple layout options: grid layout, masonry, highlight or Instagram slider widget.
Want to hide specific photos on your Instagram feed? You can also use Instagram Feed Pro's visual moderation feature to help you easily do this.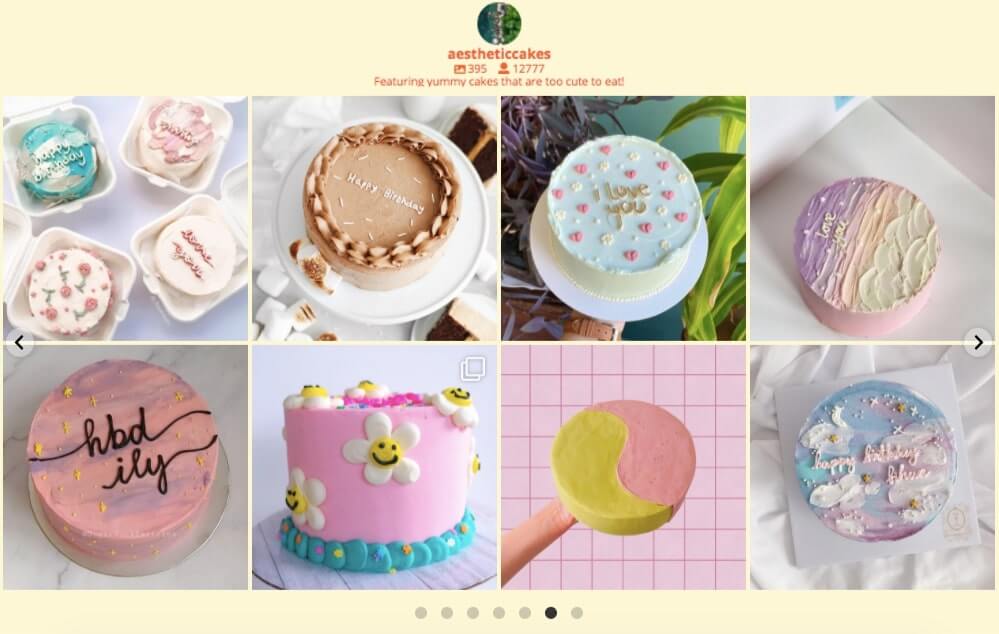 Plus, the plugin automatically makes your feeds fully responsive. This means that your Instagram feeds will look amazing on both desktop and mobile.
Finally, since Instagram Feed Pro is regularly updated, it's guaranteed to be consistently compatible with both Instagram and WordPress.
So, your Instagram feeds will continue to be displayed on your website without any issues.
Get started with the premium version of Instagram Feed today!
If you want to cross-promote multiple social media platforms on your website including Instagram, then Social Wall Pro is the perfect tool to help you.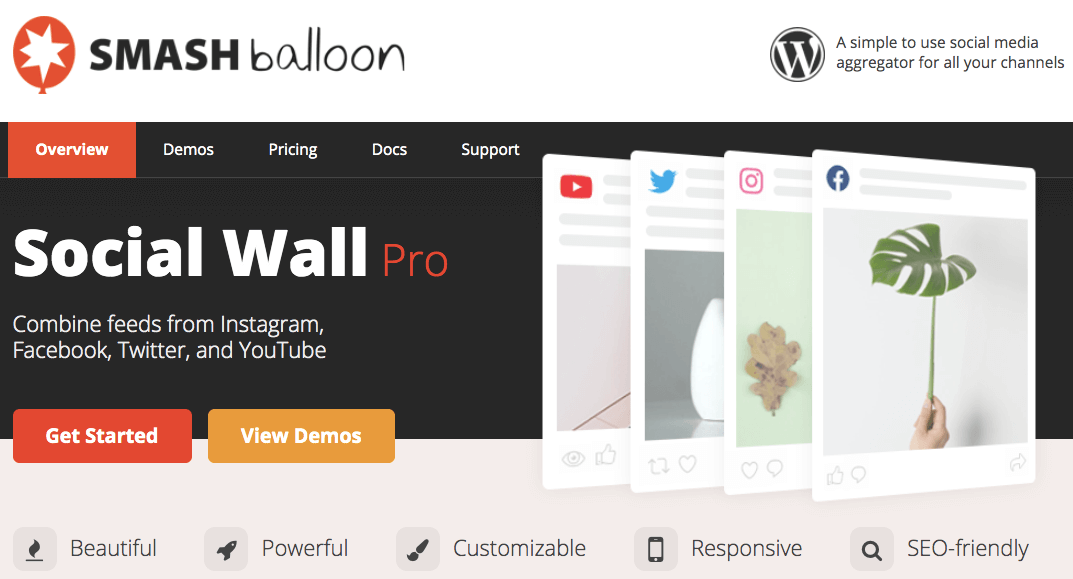 As the #1 social media aggregator on the market, Social Wall Pro lets you display social media feeds on your website. You can use it to combine feeds from different social channels, such as:
Social Wall Pro is super easy to set up. You can simply add or remove social networks just by clicking — no need to deal with confusing code.
In addition to customizing your content, this easy-to-use social media aggregator lets you customize your social feed's design as well. It comes with different layouts you can choose from: grid, list or carousel.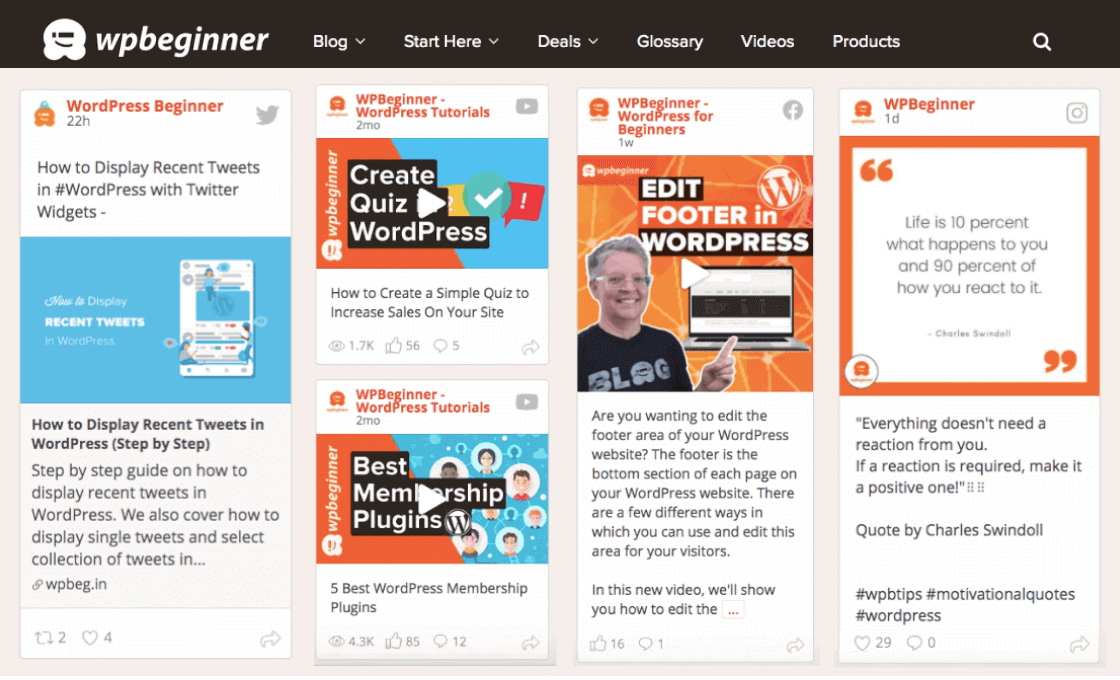 Finally, like other Smash Balloon plugins, Social Wall Pro is also ultra-fast, so it won't slow down your website at all.
Because it loads your social feeds as fast as possible, your page speed is optimized to boost your site's SEO.
Unlock unlimited access to Smash Balloon plugins and use them on unlimited websites by getting the Social Wall Pro bundle here!
The cool part about Smash Balloon's pricing?
It comes with a 100% no-risk money-back guarantee so you can try out the plugins first and see if it's a good fit for you.
Looking for a simple tool to help you add social sharing buttons to your website? Then, Simple Social Icons may be what you're exactly looking for.
With over 200,000 users worldwide, Simple Social Icons is a great WordPress plugin that allows you to add social media icons that link to your social media profiles, including Instagram.
By using this free plugin, you can improve the audience reach of your business, so more people are likely to follow you and eventually buy from you.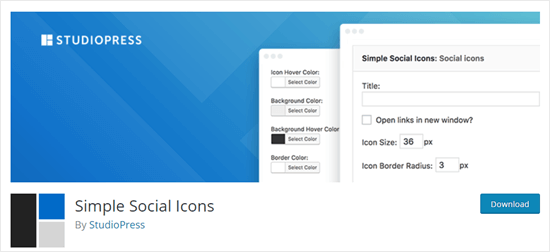 Simple Social Icons comes with basic customization choices, such as changing the color, size, and alignment of your social media icons.
Of course, you can also change the social profile you want to link to, so if getting more Instagram sales is your goal, you can use the plugin to link to your Instagram accounts.
Get started with Simple Social Icons today.
As the world's best giveaway plugin for WordPress, RafflePress can help you boost your Instagram sales via viral giveaways and Instagram contests.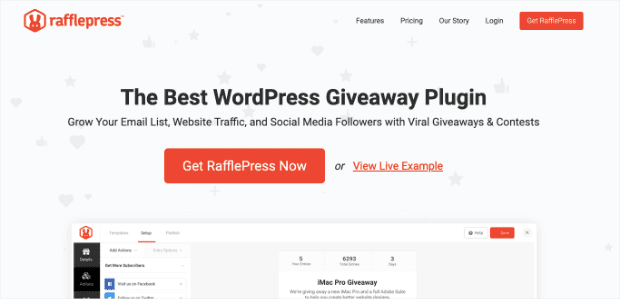 RafflePress is perfect for WordPress newbies. It can help you create Instagram giveaways in under 5 minutes — right on your website.
Also, with its drag and drop builder, you can easily make your contests even if you don't have any technical knowledge or background in design.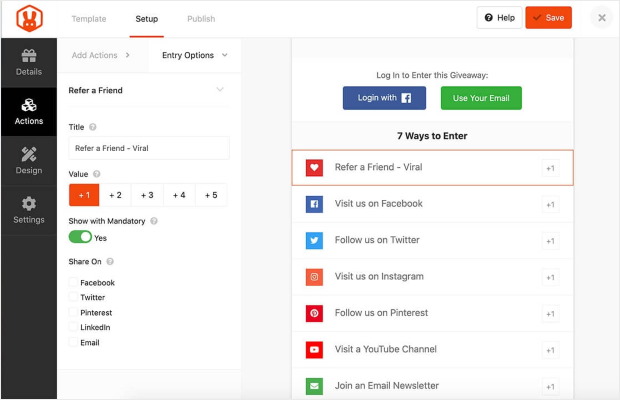 RafflePress comes with a ready-made Instagram contest template that you can use so you don't need to create your giveaways from scratch.
By using this pre-built template, you can encourage your users to visit and follow your Instagram profile.
And the more Instagram followers you have, the more chances you have to promote your products and services.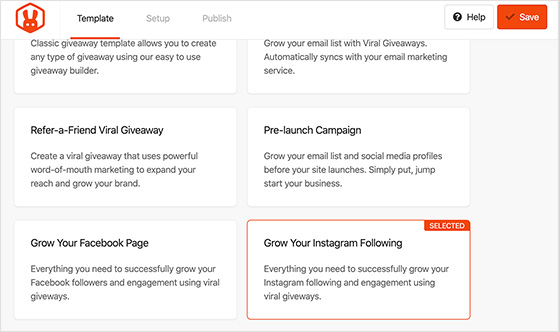 For more details on how you can use Instagram giveaways to skyrocket your sales, check out this post on the best examples of Instagram giveaways you can try right now.
Get started with RafflePress today!
As the best WordPress gallery plugin, Envira Gallery lets you create and display engaging Instagram photos and video galleries on your website.
By using its easy-to-use drag and drop builder, you can easily create beautiful photo and video galleries with just a few clicks.
And the best part? There's no need to manually change code snippets to do this.
Envira Gallery is also 100% responsive, so your media galleries seamlessly work on mobiles, tablets, and desktop devices.
You can also use the plugin to organize your galleries into albums. Plus, you can set the pages and tags of your photos and video galleries, depending on your choices.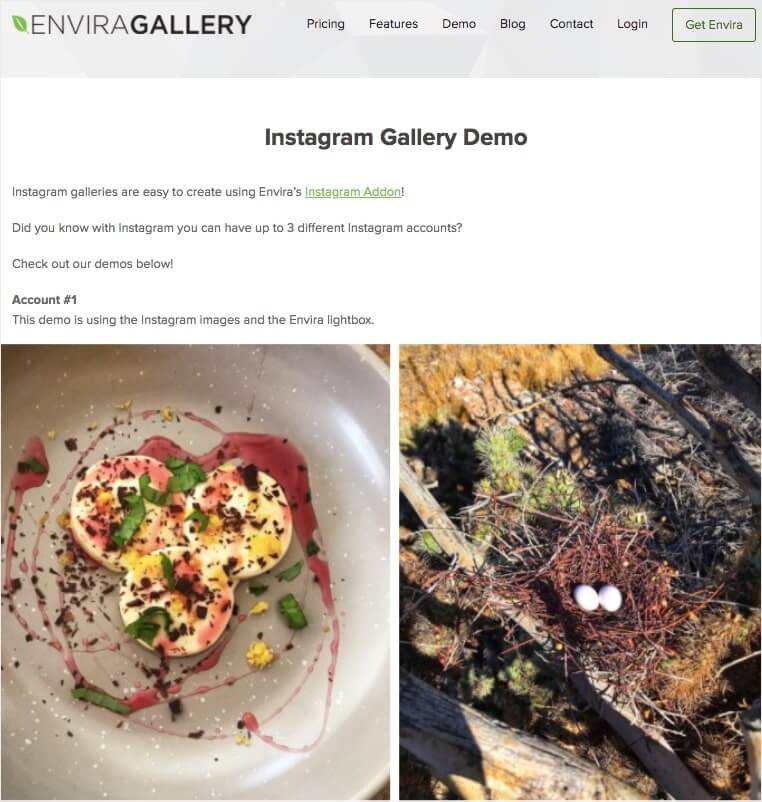 The plugin comes with an Instagram addon. This addon helps you import your Instagram images to your WordPress.
As a result, you can link to your Instagram images directly on your website, so you can boost user engagement and followers.
You can also use Envira Gallery to supercharge your sales by letting your Instagram images open in a lightbox. You can add this photo gallery to your testimonial pages to drive more sales.
And when you also use Instagram Feed Pro to display your shoppable Instagram feeds on your site alongside your Envira Gallery photos?
You can capture your audience's attention and encourage them to click on your sales pages.
This way, your customers will have an easier way of buying from you.
Get started with Envira Gallery today!
So, folks, there you have it.
We hope this post helped you find the best WordPress Instagram plugins you need to grow your followers and sales in no time.
As you can see, Instagram Feed Pro can help you turn website visitors into Instagram followers, boost your conversions, and get tons of engagement.
Grab Instagram Feed Pro today and start using the best Instagram feed plugin to boost your website.
Interested to start, but no room in your budget for the premium version of Instagram Feed Pro yet? Find out how you can download Social Photo Feed, the free version of Instagram Feed, here.
Do you want to get more sales? Check out this next post on how to set up Instagram shopping on your website.
Want to add your Instagram feed to your sidebar? Read our next post on how to display Instagram widgets on your WordPress website.
And if you found this article useful, go ahead and follow us on Twitter and Facebook for more useful tutorials and Instagram marketing tips.