Are you wondering how to integrate WordPress with Instagram? Then this article will help you do just that.
Adding social media feeds to your website is an excellent way to boost your online presence. You're showing some great content to engage your visitors and promote your business.
And by integrating WordPress into Instagram, you can show off beautiful images and videos and engage your viewers.
At the same time, you can use it to grow your business with Instagram.
There are different ways that you can integrate WordPress with your Instagram content. In this post, we'll share with you how to do this easily and quickly, even if you're not tech-savvy!
Ready to start integrating WordPress with Instagram to get more followers and sales? Let's get started.
1. Hashtag Testimonials
Testimonials are pretty effective marketing tools when used right. Showing regular people praising your product can help convince your visitors to give it a chance.
Customers will spend up to 31% more on a business with good reviews! That's more than enough reason to give it a shot.
One easy way to do so is by adding a feed of hashtag testimonials from Instagram.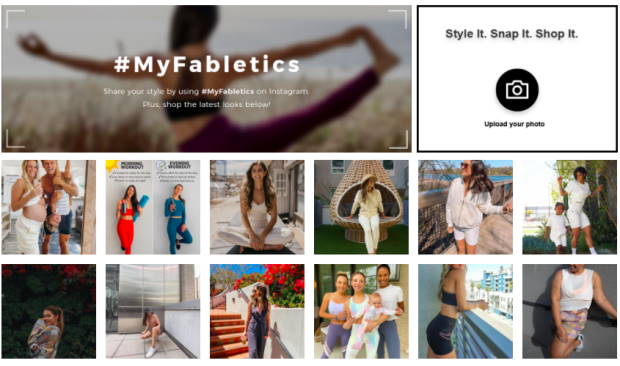 As you can see here, Fabletics made sure to embed their Instagram hashtag feed on their website for social proof.
After all, showing real people enjoying the product gives a positive impression of the brand. Plus, you can do it for yours as well.
Seems complex? Well, it really isn't. All you need is the Instagram Feed Pro plugin for WordPress.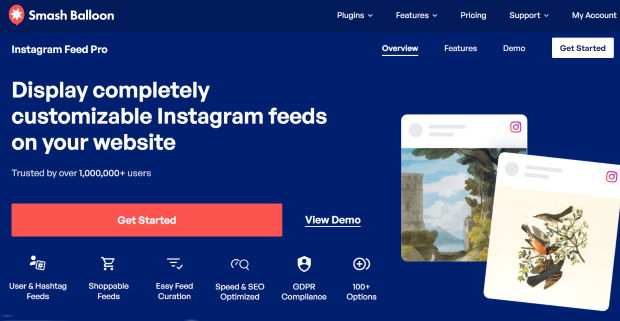 With just a few clicks, you can connect your Instagram account to your website. Once that's done, it's just a matter of selecting a fitting hashtag and inserting the feed into a post.
Using the plugin, we recreated this brand's hashtag feed in just 5 minutes — no coding needed!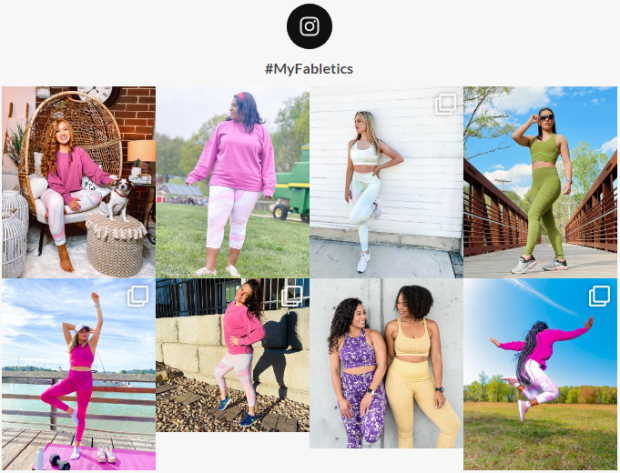 If you want to know more, check out this article on how to add a hashtag feed to WordPress for more details.
2. Instagram Video Reviews
Like testimonials, user reviews are also a trusted source for people who are interested in a purchase.
It's pretty normal to browse the web to check what others think of a product before making the final decision.
In that case, you can make it easier for potential customers by bringing the product reviews to them. This way, you get to choose what kind of impression to make.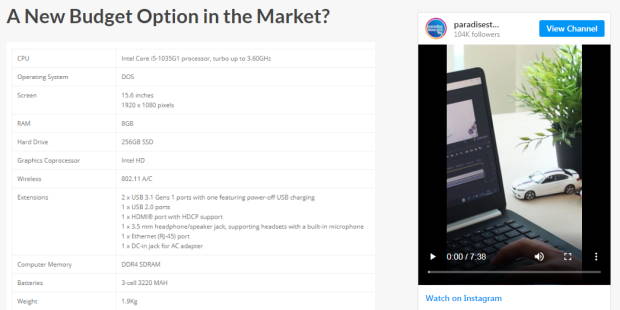 A great way to do that is to add Instagram videos to your website. Not only does it liven up the page, but you can also use a positive review to encourage your website visitors to buy from you.
The best thing is, you can do that just by posting the right Instagram video testimonials — no need to make one yourself.
Now, you might be wondering how to add an Instagram feed of video testimonials to WordPress. Well, it's pretty easy.
To do so, you can just use the Instagram Feed Pro plugin here as well. Using the plugin, you can freely add video reviews to any part of your website — no technical knowledge required.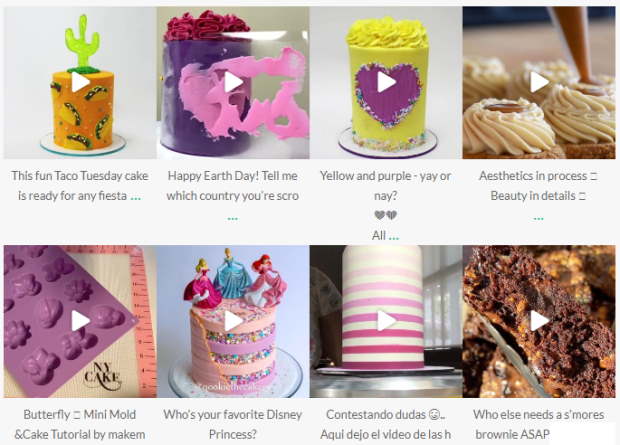 In just a few minutes, you can have a beautiful feed of Instagram videos on your website.
If you want to do this, check out this article on embedding Instagram videos on your website.
3. Live Instagram Feed
When you integrate WordPress with Instagram, it doesn't just mean showing other people's content. You can also add your own Instagram feed to your website.
There are many advantages of doing that. For one, it helps drive traffic from your website to your Instagram page. It's a really effective way of social media marketing.
Similarly, you can also add your live Instagram feed to make your website more engaging.
After all, the more engaging your Instagram feed is, the longer your site visitors will stay on your website — which is great for boosting SEO.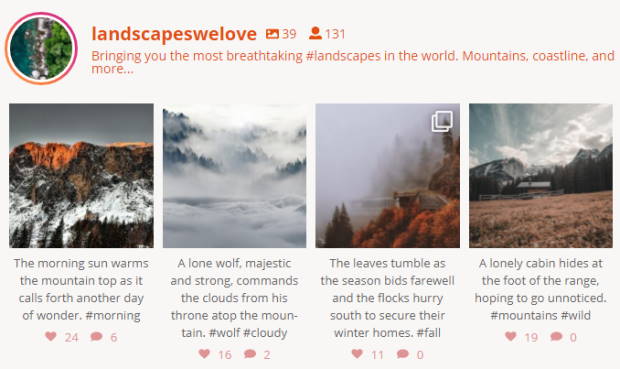 Adding your live Instagram feed is pretty straightforward. With the Instagram Feed Pro plugin, you can quickly set everything up in just a few minutes.
To find out more, check out our handy article on how to embed a live Instagram feed on WordPress.
4. Instagram Carousel
Of course, there are many different ways to add an Instagram feed to your WordPress site. The Instagram Feed Pro plugin even comes with tons of fantastic customization options.
As a result, you can get creative and post your Instagram content in different layouts. For example, you can display your Instagram feed in a carousel layout.
With an Instagram carousel, you can have a beautiful slideshow of images and videos on your website. It's a great way of posting visual content since it takes less space and is more dynamic.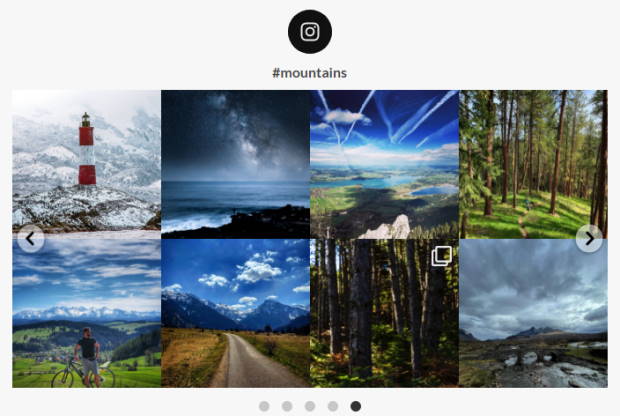 Plus, it's effortless to add one to your site. Just grab the Instagram Feed Pro plugin, which comes with a built-in carousel option.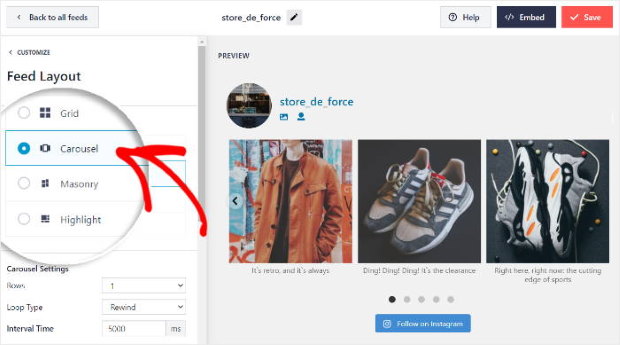 In just a few clicks, you can mesmerize your visitors with an Instagram carousel that grabs their attention.
Want to learn how that is done? Take a look at our article on embedding Instagram carousels into WordPress.
5. Tagged Instagram Feed
Social media isn't just about posting content of your own. A large part of it involves interacting with others, reacting to other people's content, and seeing how others respond to you.
That's why to boost your Instagram presence, posting photos and videos is one part of it. We also need to engage with our followers by liking their comments and interacting with them.
Want to post engaging Instagram feeds on your website? Then you might want to give tagged Instagram feeds a shot.
Tagged Instagram feeds feature other people's posts that tag or mention your Instagram username.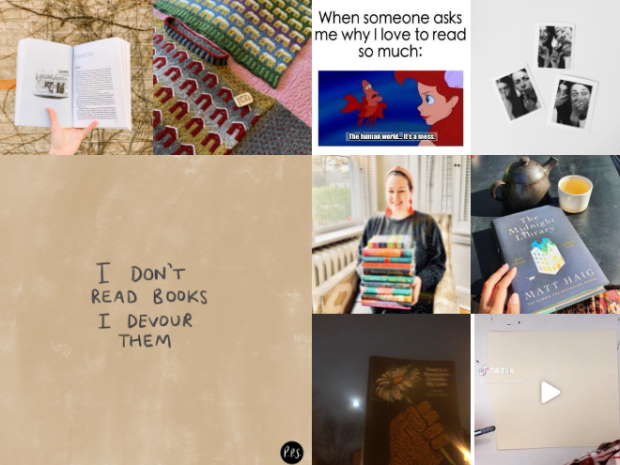 As a result, a tagged Instagram feed shows how people have been responding to you. This is pretty important since it's a great way to show that people have engaged with your content.
It's pretty easy to do as well. If you want to see it for yourself, Instagram Feed Pro comes with the feature. All you need to do is create your Instagram feed, and then pick "Tagged Posts" as the feed type.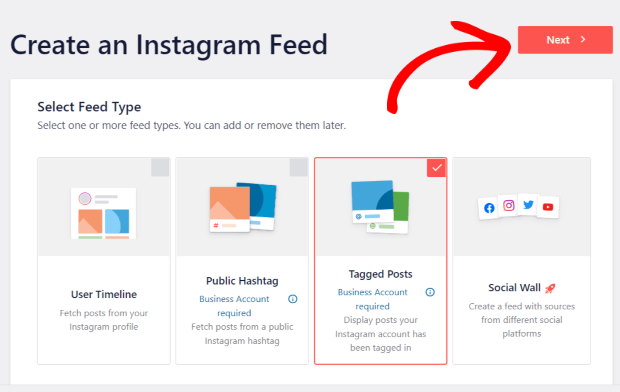 For more details, see this next post on how to embed Instagram mentions feed on your WordPress website.
And that's it!
This was our list of 5 amazing ways to integrate WordPress with Instagram. Hopefully, this helped you figure out how to make the best of your Instagram and WordPress.
As you can see, the Instagram Feed Pro plugin is an amazing tool when it comes to social media marketing.
Want the best Instagram feed plugin for WordPress? Get started with Instagram Feed Pro today!
Do you have Instagram reels? Here's how you can get more views on your Instagram reels.
Finally, if you enjoyed this article, feel free to follow us on Twitter and Facebook for more social media marketing tutorials.