Looking for tips on how to effectively use the power of social media to boost your website's search engine rankings?
You're not alone.
With over half of the world's population using social media now, it makes sense to optimize your social media marketing so you can improve your website's organic search campaigns.
Competition is tough, after all — with over 380 websites created every minute and almost 5 million blog posts published every day!
That's why in this guide, you'll find out the latest details on the relationship between social media and SEO. Plus, you'll learn about actionable tips you can do today to get search ranking benefits from your social media channels.
By the end of this post, you'll know how to effectively use social media to improve your website's SEO performance.
Does Social Media Directly Affect SEO?
Before we talk about the actionable social media tips, let's find out the relationship between social media and SEO.
Or, you can click here to skip ahead to the social media tips to skyrocket your site's SEO.
Back in 2014, Google's Matt Cutts explained in a video that social signals — like the number of your Facebook fans or Twitter followers — do not directly affect search rankings.
Case closed?
Not really.
Because even though he said that social media doesn't directly affect search rankings, Matt also mentioned in the same video that social media is a great way to "drive visitors and traffic to your site".
And that's not all.
There's tons of evidence showing that even though social media isn't a direct factor, it's still strongly influential in SEO rankings.
For example, based on Cognitive SEO's study, they found out that the higher a website's search ranking is, the stronger the website's social presence is.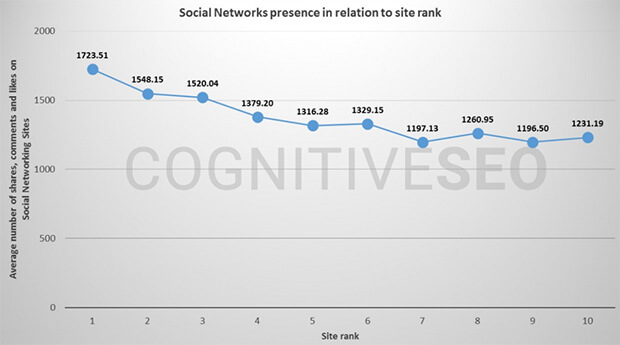 Another study done by Hootsuite proved the strong correlation between social activity and search rankings.
First, they compared the SEO rankings of articles with and without social media promotion.
In their result, they found out that articles with top social media shares got an average 22% boost in ranking during the experiment.

Finally, Searchmetrics' white paper on ranking factors is straightforward:
"The correlation between social signals and ranking position is extremely high… The top-ranked websites in Google's rankings displays vastly more social signals than all other pages…"
It's correlation — not causation.
This means that social media may not directly affect SEO rankings…
…But it has a pretty big impact on several factors that do affect rankings, such as website traffic and links.
Final answer?
Social media can indirectly influence your website's search engine rankings. That's why it's important that you know how to optimize your social media channels to get SEO benefits from them.
Social Media Tips to Boost Your SEO
Now that you know about the big role social media plays in influencing your search engine rankings, it's time to learn about the actionable tips you can do today to skyrocket your SEO.
You can use social media to enhance your SEO results when you:
1. Publish Relevant and Readable Content
Did you know that bounce rate is included in the list of 200 ranking factors outlined by Google?
Bounce rate measures the number of your site visitors who leave your website after viewing only 1 page.
When a user visits one of your site's pages and leaves without visiting other pages on the same domain, that's a bounce.
Based on a recent study by SEMRush, the higher a website's rank is, the lower its bounce rate is.
Meaning, the more people click on your page and go back to the search results, the harder it is for your site to rank higher in search engines results.
How can you reduce bounce rate by using social media? By publishing relevant and readable content, of course!
Google obviously recognizes that your social media profiles are relevant to your brand. After all, they're often ranked on the first page of the search results.
For example, look at how WPBeginner's Twitter profile, YouTube channel, Facebook page and Facebook group dominate the 1st page in a branded keyword search.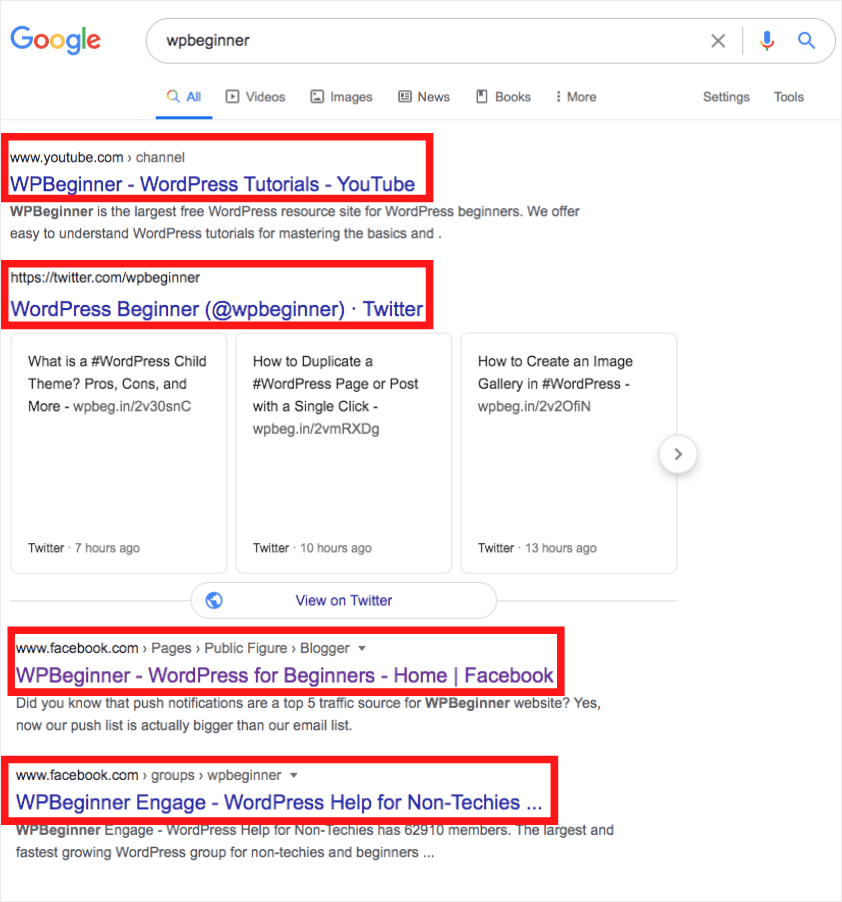 Since social media accounts rank high in branded search rankings, they can help your website rank higher when you add relevant social media content.
Pro-tip: Instead of adding a plain social media button, you can embed your actual social media feed on your WordPress.
And the best tool to help you do this? Use Facebook Feed Pro plugin to display your content on your website in just under 5 minutes!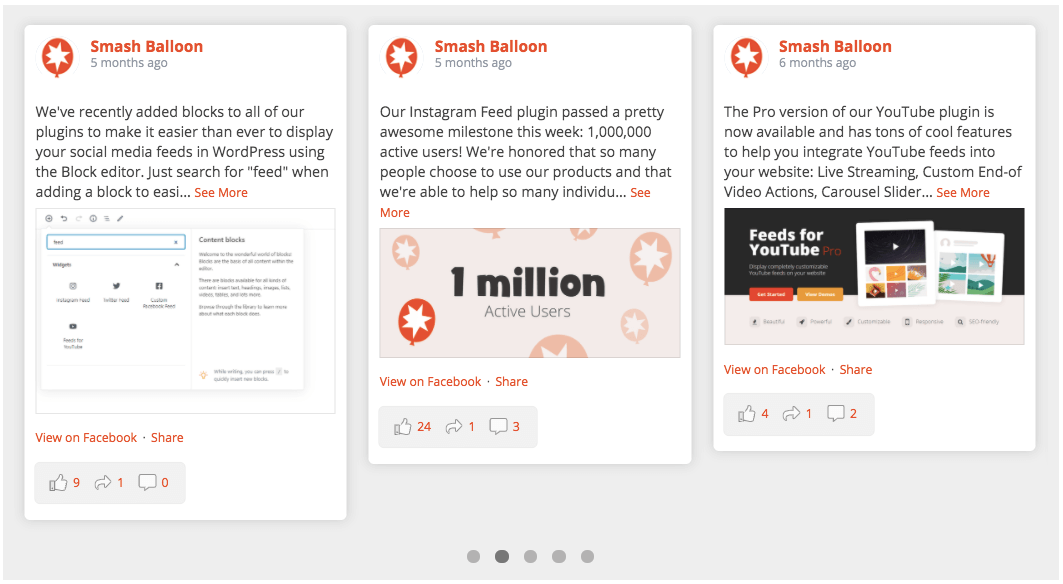 This easy-to-use plugin boosts your SEO by embedding your Facebook content directly into your page.
Other plugins like Facebook's official widget use JavaScript or iFrames. So if you use them, your Facebook content won't load at the same time Google bot is crawling your website.
That's why these plugins can't add any SEO benefits to your site.
But Facebook Feed Pro is different.
Since the plugin uses server-side code, your Facebook content is already available while Google bot is crawling your site. So, Google bot can read your Facebook content and treat it like it's a blog post.
The result? It adds dynamic, search engine crawlable content directly to your site.
You can add your Facebook feed on a new post or page in WordPress.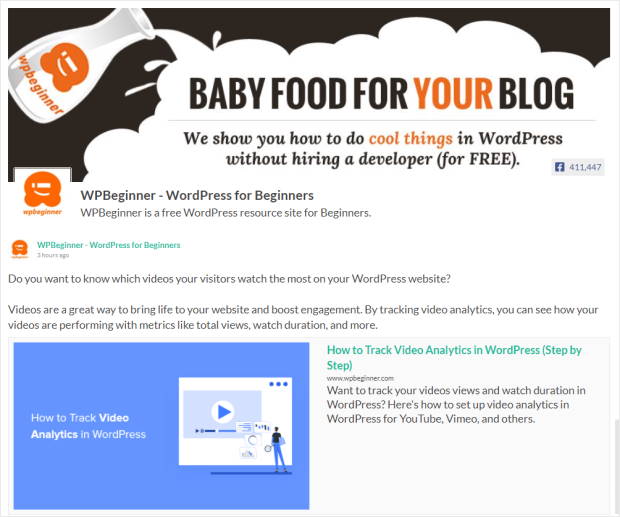 And because this content is relevant to your brand, it can help reduce bounce rate and encourage people to check out other pages when they visit your website.
It's super easy to do this for your own business. For the step-by-step instructions, check out this helpful tutorial on how to embed a Facebook timeline on your website.
2. Make People Stay Longer on Your Site
Google also considers your dwell time as an important ranking factor.
Dwell time measures how long visitors stay on your site when coming from a Google search. Put simply, Google measures how long searchers spend on your page.
The longer your dwell time is, the more valuable your website is in Google's eyes.
And Google rewards valuable websites with a rankings boost in search results.
So, how can you easily boost dwell time? It's simple: embed relevant videos on your website.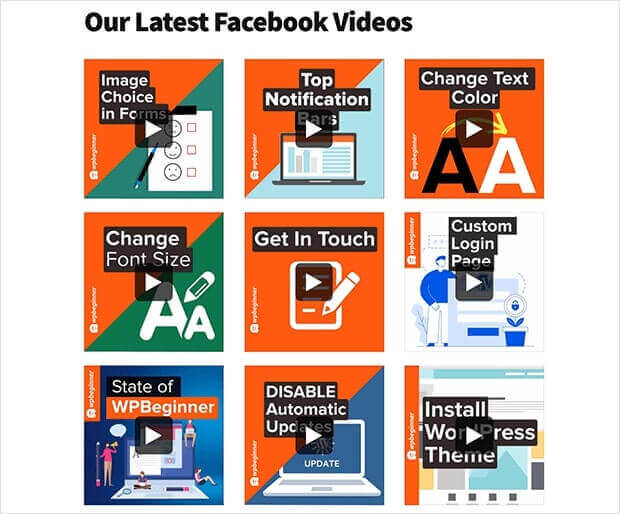 In fact, the Wistia blog skyrocketed their dwell time by a whopping 260% just by adding video to their content!
The more people watch your videos embedded directly on your site, the longer your dwell time will be.
For example, check out WPBeginner's blog post below. Here, they made sure to embed a relevant video tutorial together with their blog post to give more value to their readers. It's a nifty tip that helps increase their dwell time, too.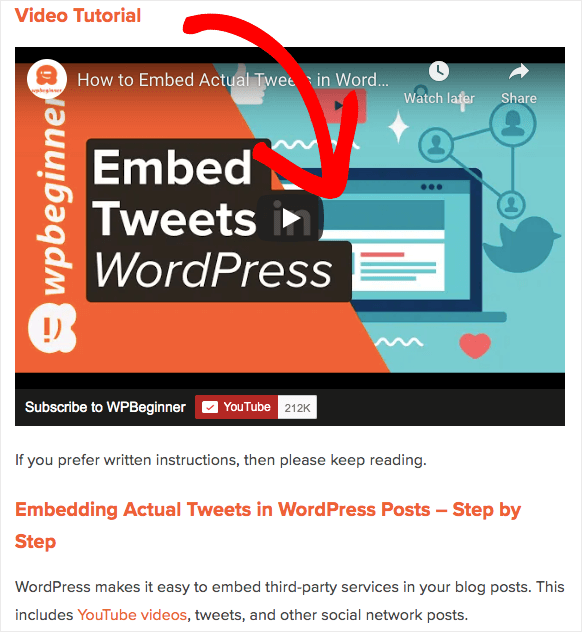 Pro-tip: With the help of Facebook Feed Pro plugin, you can easily embed your Facebook videos on your website. Yes, even if you're not tech-savvy at all.
Just follow the instructions in this newbie-friendly tutorial on how to embed Facebook videos on WordPress for full details.
Want to embed YouTube videos on your site instead?
We've got your back. YouTube Feed Pro, can easily help you with this, too.
YouTube videos are also helpful in boosting your site dwell time and even your sales by displaying video testimonials.
Using the YouTube Feed Pro plugin, you only need a few minutes to create a beautiful videos feed.
For example, here's how we recreated Airbnb's video testimonial page with just a few clicks: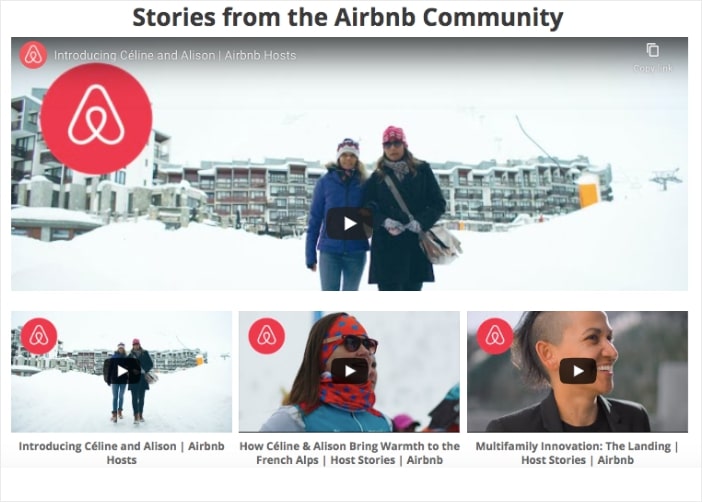 Want more users to engage with your content without leaving your website? Check out this tutorial to learn how you can easily embed YouTube videos in WordPress.
3. Promote Your Posts on 2 Platforms
Finally, social media can supercharge your website's SEO by sharing your content on various social channels.
It's an effective way to make sure your content reaches as many people as possible.
Take WPBeginner's Facebook page, for example. To reach a wider audience, WPBeginner posts links of their blog posts on their official Facebook page.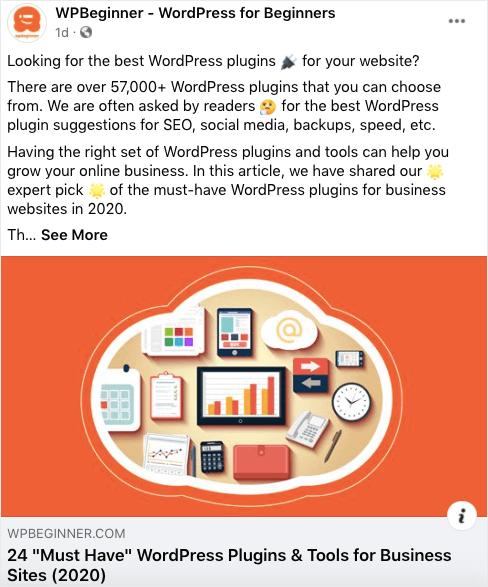 Pro-tip: In addition to sharing your blog posts on your Facebook account, you can use Facebook Feed Pro to display your Facebook feed on your website's sidebar, like this: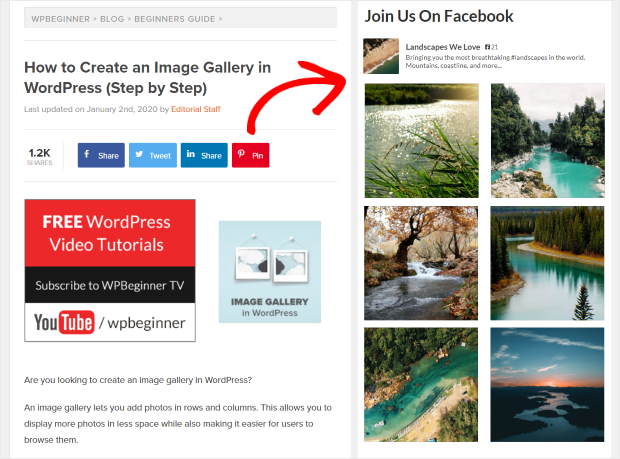 This way, you can promote your blog posts on both your Facebook page and website's sidebar — at the same time!
Sharing your blog posts will give them maximum exposure to your audience.
Plus, when you use the plugin, you don't need to promote your blog posts separately. Just share on your Facebook page, then share your Facebook page's feed on your website.
The best part? When you promote your blog posts on your website, they're already exposed to targeted audience who have shown interest in your business.
After all, they're already visiting your website and consuming your content.
Have 5 minutes? Then head on over to this tutorial so you can find out how to easily embed your Facebook page feed on WordPress.
And that's it! Finally, you now know the real deal between social media and SEO.
Plus, you've also learned actionable tips you can do today to skyrocket your site's SEO with the help of social media.
So, what's next for you?
Click here to get started with Facebook Feed Pro by Smash Balloon today!
Want to learn how you can embed more social feeds to your WordPress? Check out this next step-by-step tutorial on how you can add your Instagram feed to your website.
To boost your SEO even more, you can also take a look at this list of the best SEO plugins for your site.