Are you looking for a way to show a social feed on your website?
Well, no need to look any further. Today, we've got a collection of some amazing social feed plugins to help you out. With them, you'll be able to integrate social media feeds into your website in no time.
Before showing you the best plugins in the market, let's first take a step back and talk about what you need to look for in a social media feed plugin.
How to Choose the Best Social Feed Plugin
With a quick Google search, you can see that there are tons of options if you want a social feed on your website. Now the question is, how do you separate the good from the bad and make the right choice?
It's pretty simple once you know what to look out for. Here's what you need to consider:
Supported Platform: One plugin can't support all the social media platforms out there. So, you need to check if it actually supports your favorite social media before you choose.
Speed: If you choose the right plugin, the social feed on the website will be snappy and fast. Plus, social media feeds that load faster are much better for SEO.
Ease of Use: Of course, you can't pick a plugin without checking if it's user-friendly or not. No need to deal with a confusing interface or complex codes. A good plugin is easy to use, even if you are a WordPress beginner.
Design: Your social media feed design is going to be super important if you want to match your feeds to your website's design. A well-designed plugin with a nice set of customization options can be a massive help there.
Customer Support: If you ever have any issues with the plugin, good customer support can be a massive help. So, always remember to check the support options, rating score, testimonials, and user reviews.
Keep these in mind and you can have beautiful feeds social media feeds on your website in no time at all.
5 Best Plugins to Embed Social Feeds on Your Website
If you want to add a Facebook feed to your site, then you can't go wrong with Custom Facebook Feed Pro.
Among social media platforms, Facebook is still the king with 2.8 billion active users. And with this plugin, you can use your WordPress site for social media marketing and connect to that large audience.
Features:
It's very user-friendly as well. So you don't need to have any technical knowledge. All it takes is a few clicks, and you can start showing Facebook social feeds on your website.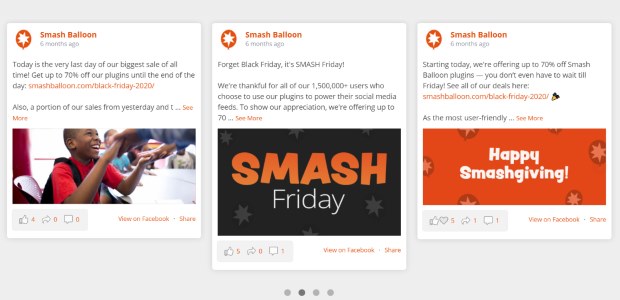 As an example, here's a feed of our Facebook posts, created in under 5 minutes with no coding whatsoever.
As you can see, integrating Facebook and WordPress is super easy with this plugin. It's no wonder that Custom Facebook Feed Pro has over 200,000 active users and a rating of 4.8 stars out of 5.
Get started with Custom Facebook Feed Pro today!
Building a Twitter following can be much easier than you thought, with plugins like Custom Twitter Feeds Pro to help you out.
Now, you can easily integrate Twitter social feeds on your website to drive people to engage with your Twitter account.
You can also use it to display social feeds on your company website and show actual people talking about your product or services. Genuine interactions can help a lot if you want to grow your business.
Features:
Different Types of Feed: Your Twitter feeds can show user timelines, hashtags, mentions, lists, and much more. There's a lot of flexibility here.
Pop-up Media Lightboxes: With the help of beautiful lightboxes, your visitors can see the media on your Twitter feed without leaving your site.
Like, Retweet and Reply Actions: Your visitors can even interact with your Twitter feed right from your site. The buttons for Like, Retweet, and Reply aren't just for show here.
Multiple Twitter Feeds: This plugin has no limits for the number of feeds. You can make as many social feeds as you want and even combine them with custom feeds.
GDPR Compliant: Custom Twitter Feeds Pro will also respect your visitor's privacy since it follows the GDPR regulations. All you need to do is add a GDPR consent plugin to your site.
Just install the plugin, connect your Twitter, and you can have beautiful Twitter social feeds on your website. It only takes a few minutes and the results are more than worth it.
Check out this masonry style Twitter feed that combines posts from a few of sports-related accounts.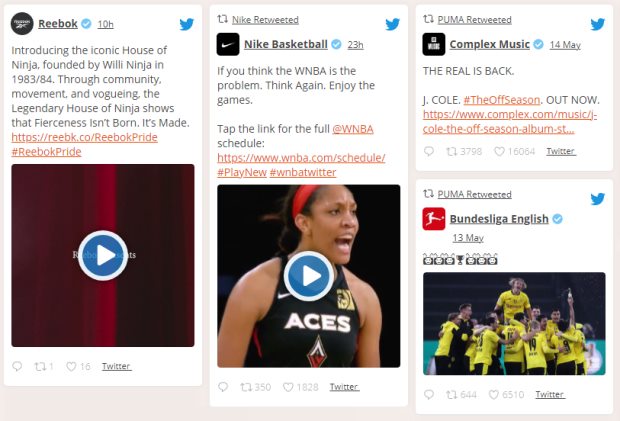 With Custom Twitter Feeds Pro, you'll be able to create one that matches your brand identity perfectly.
With an average rating of 4.9 stars out of 5 and over 100,000 active users, it is the best Twitter feed plugin for WordPress. You can't find a better option if you want to add a Twitter social feed on your website.
Engage your readers with Custom Twitter Feeds Pro today!
If you want a memorable website, then adding photos and videos can go a long way. This is where Instagram Feed Pro comes in.
There's no need to bother with coding or anything time-consuming. You can integrate Instagram with WordPress without writing any code.
In just a few minutes you can embed Instagram content and start to build a following. It has never been this easy to display social media feeds on a website.
Features:
Customization Options: Since the plugin is highly customizable, you can personalize your social feed to match your website. Also, you have 4 different layouts, including carousels and masonry grids.
Instagram Stories: The plugin isn't just for Instagram posts. You also can show Instagram stories on your feed with a handy pop-up lightbox.
Instagram TV (IGTV) Support: You can boost your reader engagement even further with this plugin and add a feed of IGTV videos.
Smart Data Caching: Worried about all those images slowing your site down? Well, smart caching means your site won't waste time by constantly asking Instagram for data so your feeds load much faster. Plus, if Instagram ever goes down, your feeds will still stay online.
Post Filtering: You can just filter out certain words or hashtags for more control over your content. There's even a useful moderation system to help you manage your feeds.
Shoppable Feeds: With shoppable feeds, you can link your Instagram posts to your store's products pages. So, your visitors can use the links to go and buy your products.
And this is just the start. You'll get a lot more features, and a lot more options with the plugin. The average rating of 4.9 stars out of 5 and over 1 million active users says a lot about its quality.
Let's take the example of a travel or photography website. With an Instagram feed of some gorgeous scenery, like the one below, the website can be more engaging to look at.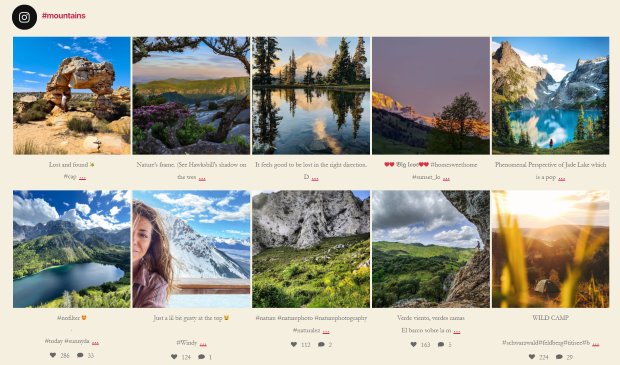 Just add the Instagram social feed on your website, and you can show engaging content to your visitors. At the same time, it'll also help you leverage site traffic and get more followers.
So what are you waiting for?
Get Instagram Feed Pro right now!
If we're talking social media, then YouTube also deserves a mention. And with Feeds for YouTube Pro, your website can have all kinds of video content, taken straight from YouTube.
You'll have no issues adding YouTube videos to your posts, pages, and widgets, once you get this plugin. So, you won't have to waste valuable server space by uploading the videos yourself.
What's more, the videos in the feed are regularly updated. It's all automatic, so no extra effort required on your part.
Plus, it's also really easy to set up and use, even if you're a WordPress beginner. It won't take long before the YouTube social media feed for your WordPress site is ready.
Features:
Smart Loading: If you're worried about the videos slowing things down, then there's no need to be. This plugin will only load the videos once the visitor interacts with them. So, your webpage will load as fast as possible.
Custom Video Pause and End Action: Here, you can choose what happens when the video is paused or when it ends. You can show other videos to play, or even add a call-to-action button with a link.
Live Streaming: You can also show current or upcoming YouTube live streams on your social feed with this plugin. It's convenient for you since you won't have to manually post the links once you go live.
Fully Responsive: It doesn't matter what the screen size is. Your YouTube videos are going to play smoothly, with no hiccups.
Adding YouTube videos and playlists is pretty easy. All you need is this plugin and you're set.
Feeds for YouTube Pro can be a big help if you want to drive traffic towards your videos to increase subscribers. Also, it's also a great tool if you just want to spice up your website.
Add some videos that will interest your visitors, so they can spend a lot more time on your site. For example, if you're a music blogger, a simple video feed can be a great addition to your site.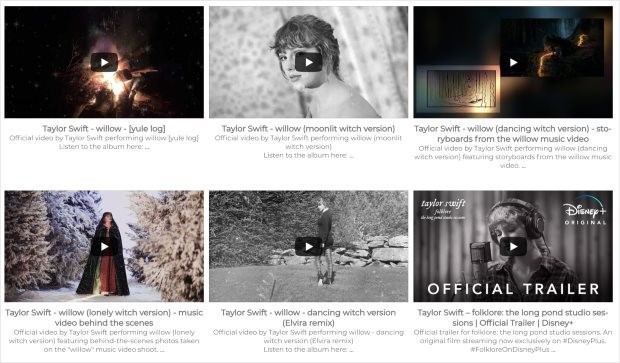 Not just that. Adding a YouTube social media feed to your website can also make the design better. You'll have a lot more variety for your content.
There are just so many uses for this plugin, and other users seem to agree as well. Right now, it has an average rating of 4.9 out of 5 stars.
So start embedding fantastic videos with Feeds for YouTube Pro!
We've discussed some great options so far but Social Wall Pro brings something completely new to the table.
With this social media aggregator, you can have content from Facebook, YouTube, Twitter, and Instagram, all in one feed.
Just add Social Wall Pro to your website, and let it do its job. In no time, you'll have social media feeds so you can cross-promote your social media content to your website.
This way, you can boost your followers and get more engagement across all 4 platforms — at the same time!
It's perfect if you were looking for a way to market across several platforms at once. In fact, Social Wall Pro supports all the platforms that we've discussed so far.
Features:
Easy Setup: Despite supporting all the different platforms, you will have no problems setting up Social Wall Pro. It's easy, straightforward, and best of all, doesn't require you to do coding.
Post Caching: Worried about your site speed? Well, Social Wall Pro has post caching, so it doesn't need to constantly take data from the social media sites. Which means, less time wasted and much faster loading.
Supports Different Platforms: Unlike everything else so far, it supports more than one social media site. You can use it to add content from YouTube, Facebook, Instagram, as well as Twitter.
Content Filter: Its filters will allow you to choose what to display and what to block on your social media feed.
Customization Options: With Social Wall Pro, you can edit tons of major and minor details on your feed. From the overall layout options to the small details like the color scheme, post background color, and spacing.
A huge advantage of Social Wall Pro is that you can show that you're not limited to just one social media platform.
This way, adding a live social media feed on your website can give a nice boost to your brand image.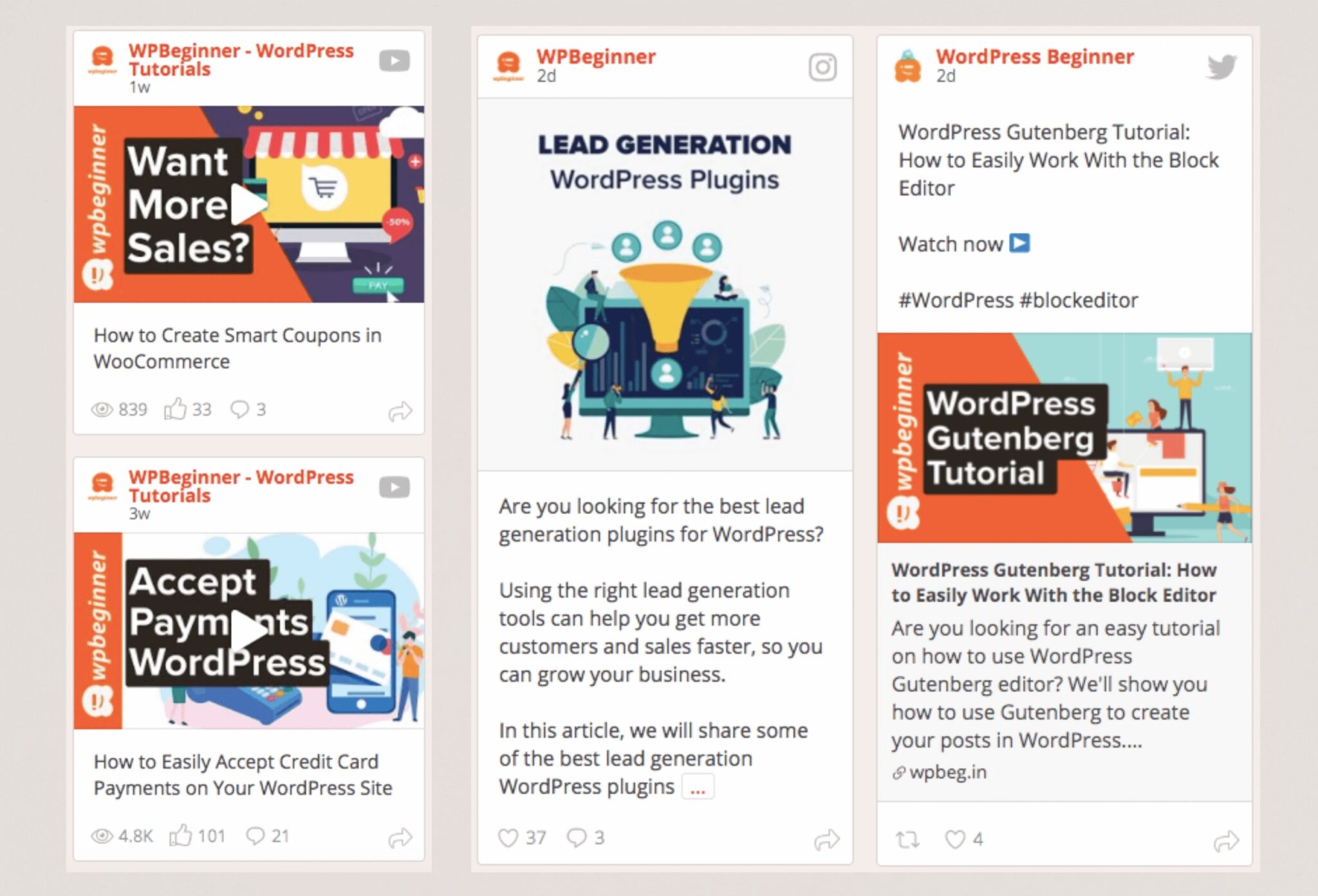 Not only that, you can also use it to show a more varied collection of content on your website. You can show videos, pictures, text posts, events, and more, all at once.
If you want a complete package, then it doesn't get any better than Social Wall Pro. Ease of use, features, customer support, and much more — it really is the best social media feed aggregator.
Start connecting with Social Wall Pro today!
And that's it! This was our list of the best plugins to embed social media feeds on your website.
So what are you waiting for? Pick the right social media feed plugins and get started with social media marketing right away.
That's not all! With the All-Access Bundle, you can get an amazing deal with all the plugins on this list thrown in as well.
Some of the biggest brands from all over the world use Smash Balloon plugins. So, you'll be in good company.

If you thought this was helpful, why not follow us on Facebook and Twitter for more informative articles and updates?