Do you want to grow your social media followers? And are you struggling to attract your ideal audience? Don't worry; we've picked loads of social media marketing hacks that will increase your followers in no time.
By using these social media hacks, you can raise brand awareness, reach your ideal audience, grow your followers, and much more.
Since this is a long article with a ton of valuable tips, we've organized them into categories to make it easier to browse. Just click the section you need to jump right to it:
Ready? Let's jump in and get started with growing your followers.
Basic Hacks: Setting Up Your Social Media Accounts
Tackling the basics is always a good place to start. Choosing the right social media networks and optimizing them for your target audience will help you attract followers that will engage with your brand.
To start, put your best foot forward by choosing the social media networks that matter most to your business.
1. Focus on The Networks That Matter
The beauty of social media is that each network attracts a particular kind of audience. This makes it easier to target the platform that works for your business and the type of audience you want to reach.
Here's an overview of the top 4 social media platforms and their primary users:
Facebook: Users on Facebook are mostly adults of a higher income bracket. Over half are female, and the majority of users browse on mobile devices.
Twitter: Like Facebook, Twitter users are often adults with higher incomes, although genders are split evenly between males and females. Twitter also has a broad international audience.
Instagram: This platform tends to have a younger, highly educated audience with a majority of female users. They also fall in a range of different income brackets and, like Twitter, has a pretty big international audience.
YouTube: YouTube users are mostly millennials with much of what they watch determined by YouTube's recommendation algorithm. Over half of users are men, with mobile devices as the preferred medium.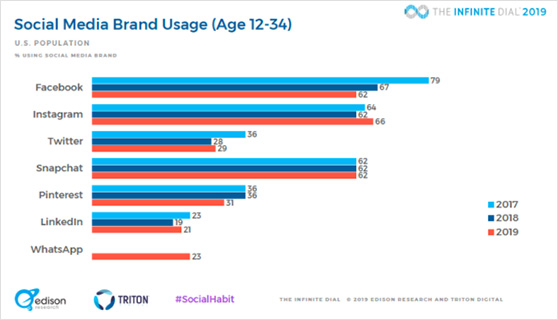 If you need more information take a look at these social media marketing statistics to help you decide which platforms to choose.
While this gives you a snapshot of the main audiences on those platforms, it's a smart idea to reach out to your existing audience for more details. That way, you can get actionable insights on which platforms your customers use. Then you can tailor your social media marketing strategy around your findings.
You can ask existing customers about their preferred platforms by sending surveys using a form builder like WPForms.
WPForms helps you build smart survey forms in a matter of minutes. And with interactive elements like star ratings, multiple-choice questions, and Likert scales, you can tailor your surveys to meet your specific needs.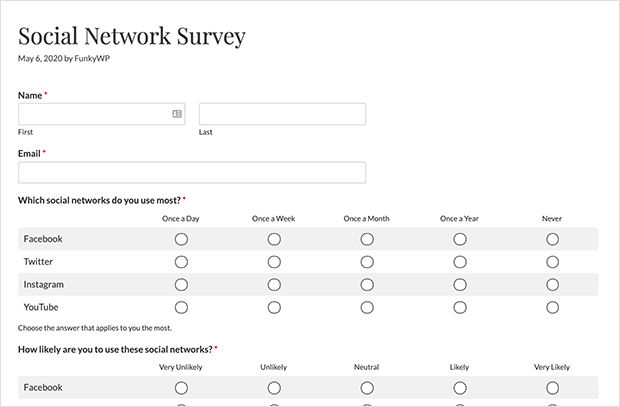 When you've put your survey together, make sure you read these tips for increasing survey response rates.
2. Optimize Your Social Media Profiles
Once you know where to find your target audience on social media, you should optimize your profiles to encourage people to follow you.
The most obvious optimizations involve the images you use. Your header and profile images should be the right dimensions for each network; otherwise, you run the risk of looking unprofessional.
Header Image Sizes
Here are the header image dimensions for the key social platforms:
Twitter Header Dimensions: 1500px by 500px
Facebook Cover Dimensions: 820px by 312px
YouTube Channel Art Dimensions: 2560px by 1440px
When you design your header image, think about how you can use imagery to tell potential followers more about your brand. It might be an image of your team so users can see the face of your business. Or it could be a high-quality collage of your most popular products to demonstrate what you sell.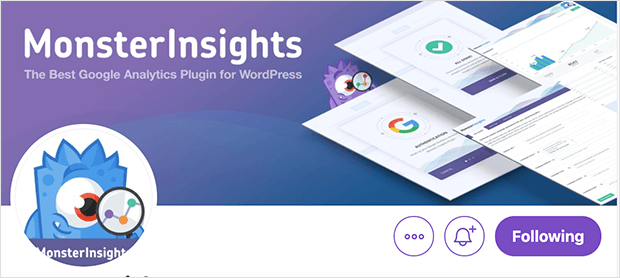 The key is ensuring it reflects your brand, so it's instantly recognizable across all your social media accounts.
Profile Photo Size
Your profile photos should also ensure your brand is memorable. Most businesses use variations of their logos or brand mascots on a background that helps it stand out from the rest of the feed.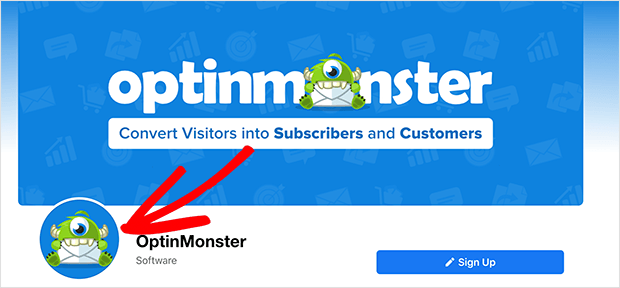 Dimension sizes aren't as important for profile photos as most platforms crop images to the right size. The main thing to remember is to use square images of at least 800px by 800px to ensure the picture is clear, and the cropping process doesn't cause any pixelation.
Profile Fields
With your images in place, turn your attention to the information fields. This is where you can provide more details about what your business is about, what you do, and how users can find you online.
Fill in all the fields provided, such as adding a website URL, your business location, details about what you do, and topical hashtags to help users find you. And don't be afraid to use emojis to convey your personality.
3. Use The Same Profile Image on All Networks
It's tempting to change your image on social media, especially when you have a presence on more than one platform. No-one likes seeing the same picture all the time, right?
Strictly speaking, that's not true. The more you change your profile photo, the harder it is for followers to remember who you are. So the best practice is to keep your profile picture the same across all your channels.
Imagine you're scrolling through the fast-moving Twitter feed, and you see an image you recognize. Instantly, the brand it belongs to comes to mind, reminding you of what they do. Then when you head to Facebook and see the image again, you're curious enough to check them out and follow them.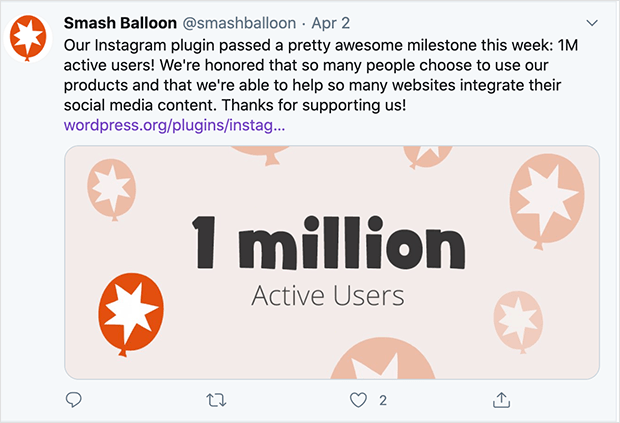 As you can see, having a consistent profile image helps you stand out from crowded feeds. And if users keep seeing you pop up in their feeds, it's easier to recognize you, making you the brand people think of before your competitors.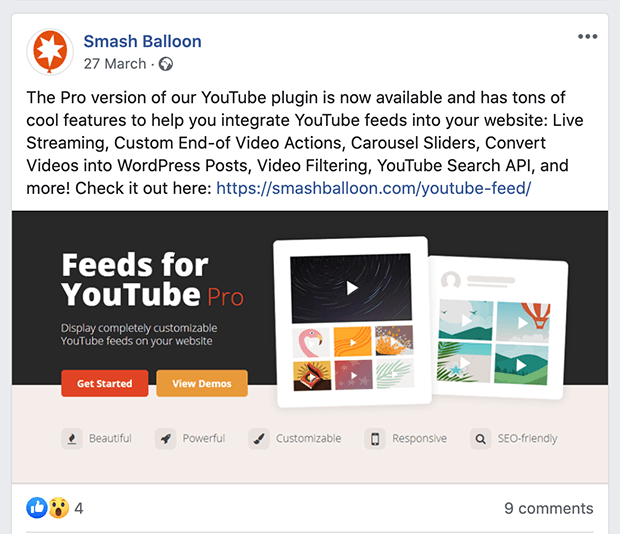 4. Untag Yourself From Inappropriate Content
Now all your details are filled out, and your profile is optimized, there's something else you should do to ensure users get the best impression of your business.
Carefully go through all your social accounts and look at the content you've published and in which you're tagged. If that content is irrelevant to your audience, it reduces the chances of them following you. So remove that content and untag yourself from posts with inappropriate content.
Offensive content not only makes you look amateur instead of the professional you are, but it also gives people a poor impression of your business. As a result, you could lose followers.
Content Hacks: What to Share for More Followers
Optimizing your social media profiles is the first step towards more followers. The next logical step is to work on the content you share.
Your content should address what your audience likes to consume, as well as information that'll help solve their problems.
With that in mind, let's dive into what types of content to share on each social media network.
5. Match Your Content to Each Network
When you look at the demographics on each platform, it's easy to see that audiences on different networks like to see different types of content.
Different content formats also perform better or worse on each platform. So you should tailor your content to each social channel.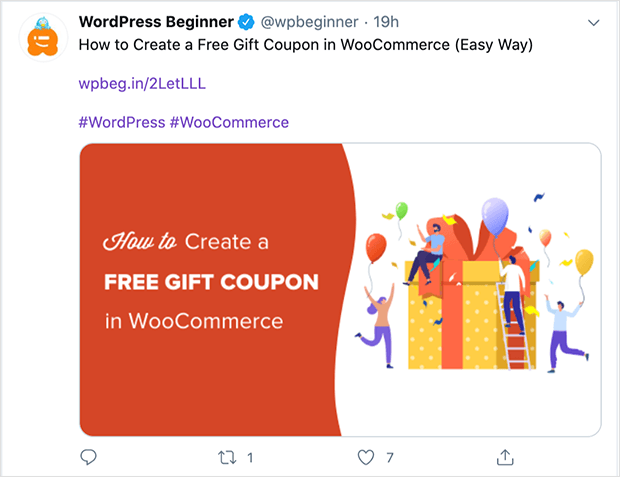 Let's look at what works best for each platform:
Facebook users tend to favor curated content like blog post links, questions, and videos.
Instagram users love high-quality photos, image quotes, and stories.
Twitter is pretty well-known for news updates, GIFs, and links to blog posts.
YouTube is a video platform that loves unboxing videos, vlogs, gaming reviews, challenges, and best-of round-ups.
Now you know which content types work best for each social network, it's time to start sharing.
6. Share Your Most Popular Content
When you start sharing content on social media, it's smart to identify existing content that's popular with your audience. If something's popular, it's likely relevant and addresses a particular need or pain point. And that makes it ideal for sharing with your social media audience.
An easy way to keep track of your most popular content is by using MonsterInsights. MonsterInsights is a Google Analytics plugin for WordPress. It gives you an actionable report of your top performing posts, categories, tags, and more, right in your WordPress dashboard.
With MonsterInsights reports, it's easy to understand your audience at a glance.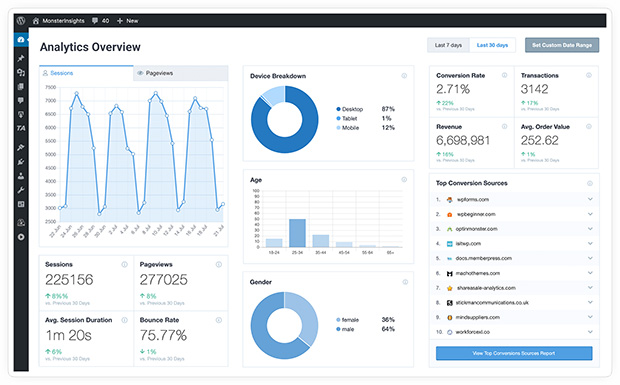 You can follow this tutorial on how to properly set up Google Analytics on your WordPress site to get started.
Once that's done, you can find the best performing landing pages on your website in the Publishers report by clicking Insights » Reports.
Then from the top menu, click Publishers, and the first report is your top landing pages. From there, you can view the content types with the most traffic.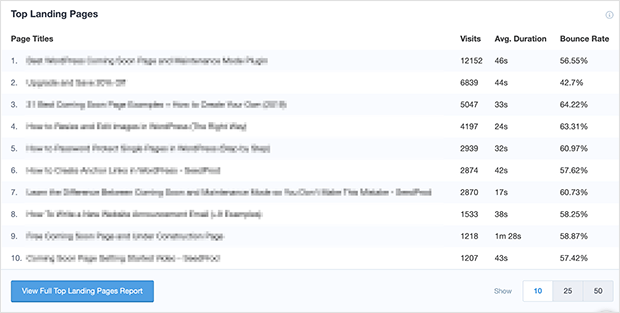 Let's say you're a home decor website that posts a variety of content, including tutorials, reviews, and gift-guides for seasonal products.
Yet, in your reports, you see that your review posts get more traffic than your gift guides. Since reviews turn out to be more popular, you can share more of this type of content because you know your audience prefers it.
But remember to match the format of your posts to the appropriate channels. For instance, video reviews on YouTube and links to your posts on Twitter.
7. Repurpose Popular Content
Besides creating and sharing new content on social media to improve your followers, you can repurpose existing content to share. This saves you a ton of time coming up with new, exciting topics to cover, and extends the life of your older material.
Here are some suggestions for repurposing your content:
Turn popular blog posts into hands-on guides with more detail and actionable steps.
Transform written content into podcast episodes addressing each section in more depth.
Use internal data you've gathered to create case studies demonstrating the use cases of your products.
Combine information from interviews into an ebook offering tips and advice to customers in your industry.
Simplify long, and complex content into infographics with bite-size information readers can easily understand.
Gather top-performing blog posts and use the information to build a free course teaching your audience a valuable skill.
Turn tutorial blog posts into a series of quick, actionable emails.
Take your last webinar and transform it into an article for people unable to attend.
While repurposing content isn't technically brand new, it still offers your readers high-value content in the format they prefer, which is key to securing more followers.
8. Cross-Post Your Content To Different Social Networks
Cross promoting your content to other social media platforms is another way to extend your content's life while helping audiences on other networks discover it.
For example, you can post visual content from Facebook and Twitter to Instagram, where images are the main content-type. And the same can be said for sharing video content from your other channels to YouTube, where videos reign supreme.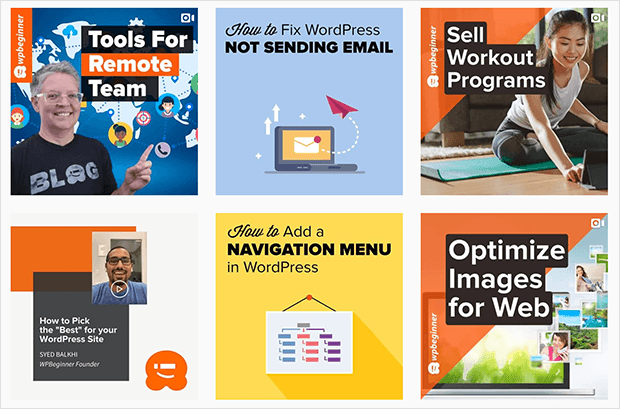 Content from YouTube, on the other hand, works on most social channels because videos are the most engaging content types for almost all platforms.
9. Curate and Share Trending Content
It's not only your own content you should share on Social Media. Posting relevant trending content from other sources is an excellent way to keep your audience engaged.
But how much of yours versus other people's content should you share? What's the right balance?
It's an important question, and there's a handy rule you can use called the 70/20/10 rule, to figure out how much of each you should share.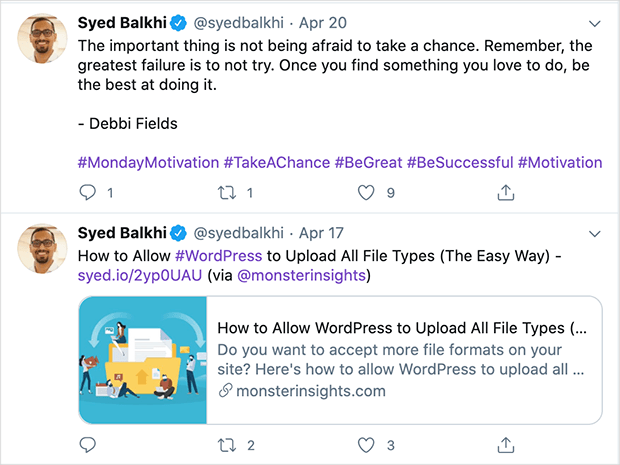 The rule breaks down into the following percentages:
70% of your content should relate to promoting your brand and building your audience.
20% of the posts you share should be a mix of relevant content from other sources.
10% of the content should be personal or conversational posts to engage your audience.
With this combination of promotional, trending, and personal content, you have the ideal mix for getting users interested in your brand and following your updates.
10. Share Visual Content
Different people respond to different formats of the information they consume. And the same is true for the content you share on social media. What works best for you might not resonate with the audience you're trying to reach.
That's why visual content is a crucial element of any social media marketing strategy. Instead of telling users about your content, visual content shows them the information. And this is perfect for those of us with visual memories because images stick around a lot longer than words.
When putting your social media marketing plan together, consider the types of visual content you can share to engage your audience, and secure more followers.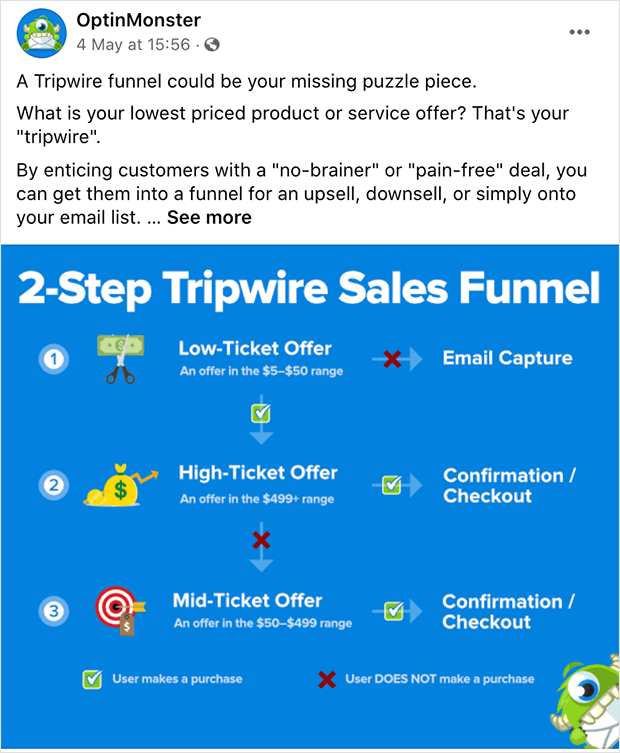 Visual content can include the following design formats:
High-quality images
Animated GIFs
Instructional videos
Infographics breaking up complex data
Emojis used to convey emotions
Graphs consolidating information
Memes for adding humor
11. Share Geotagged Content
GeoTagging is where you link a social media post or image to a physical location. When you tag your location, other users can click that link to see where you're located, along with other posts tagged with the same place.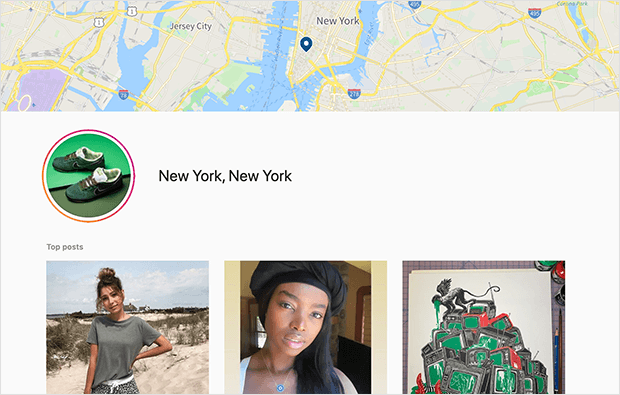 This is an excellent way to help people discover your content when they might not even be trying. And if they like what they see, they might follow your account to see what else you post.
You can also use GeoTags to connect with users local to your business to build a strong local community. And chances are potential customers near you will follow you for local updates.
12. Share Discounts and Promotions
There's no reason why you can't encourage more social followers by offering incentives.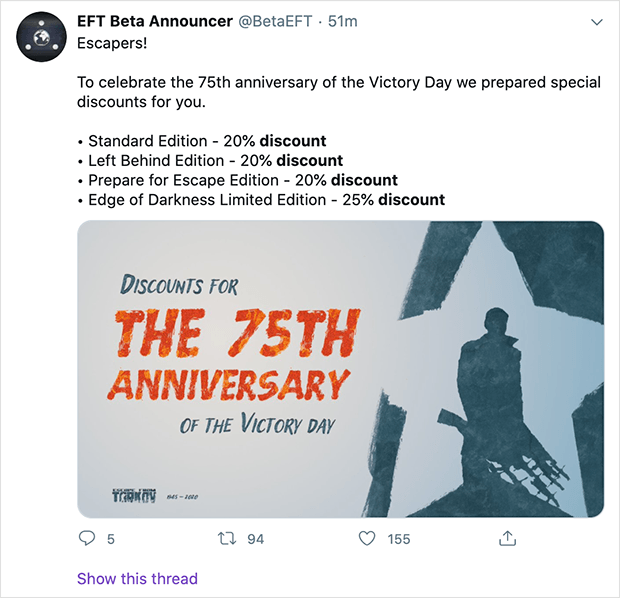 Look at it this way, who are you more likely to follow? An account posting an endless stream of blog posts, or someone offering valuable content with a mix of exciting promotions you can benefit from?
Securing money off coupons and percentage discounts are excellent reasons for people to follow you. Just make sure it's clear what you want people to do in return for the offer.
13. Have a Regular Sharing Schedule
Having a regular social sharing schedule ensures as many people see your content as possible. But figuring out how often to post isn't exactly straightforward.
Depending on your chosen platforms, here's a general idea of how often you should post:
Facebook: 1-2 times per day for the most engagement. Any less and your engagement could drop.
Twitter: 5-10 times per day. Twitter is a fast-moving platform, so more posts give you more exposure. But don't post all at once. Try to spread your posts out through the day.
Instagram: 1-2 times a day. The top-performing brands on Instagram post up to 1.5 times a day.
YouTube: Once a day. Unlike other social networks, 1 post a day on YouTube should help increase engagement and followers for your channel.
It's also true that if potential followers see you have an active social media account, they're more likely to take the leap of following you.
Now you know how often to post, what about the times?
14. Share at The Right Times
The best times to post on social media largely depend on your audience, timezone, and when people are active.
Visit the analytics for each network and look at when you share your updates. Then view how much engagement you get for each post. With that information, experiment with posting times to see if you can increase engagement and follows.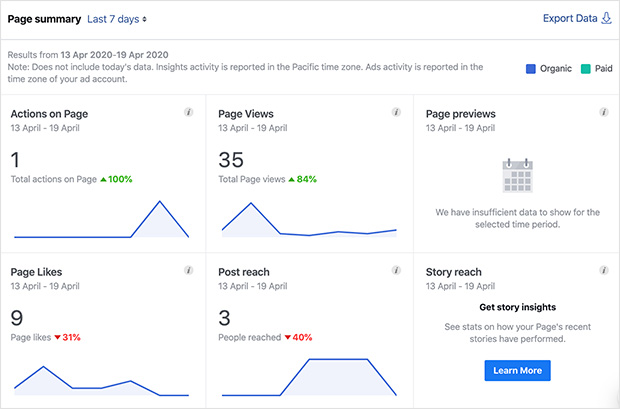 Here's how you can find the analytics for your platforms:
Facebook: Find your page analytics by clicking the Insights link.
Instagram: Tap the menu icon on your profile page, and tap the Insights option.
Twitter: Click More on the left-hand sidebar and select Analytics.
YouTube: Visit the YouTube Studio for your channel and click Analytics in the left-hand sidebar.
15. Use the Right Hashtags
Hashtags sort and organize social posts into searchable categories, so it's easier for users to find what they're looking for. When you upload a post to social media, use the # symbol beside a word or phrase that best describes your content.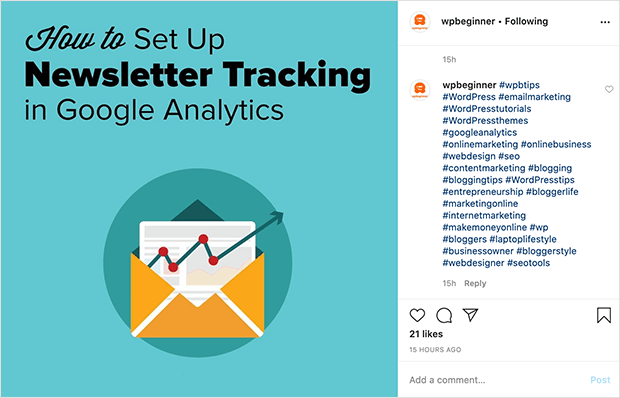 Some of the most popular hashtags are around a theme such as:
#throwbackthursay
#motivationmonday
#caturday
And they tend to attract tons of impressions.
But to attract targeted followers, you'll need to mix them with topical hashtags relevant to your industry such as:
#socialmediamarketing
#contentmarketing
#digital content
There are, of course, hashtags designed to help you grow your social media followers like #followfriday, and it doesn't hurt to try them once in a while. But use them sparingly; otherwise, you'll end up with loads of followers uninterested in what you have to say.
16. Use Paid Advertising to Reach The Right Audience
If you have a big enough budget, it's always worth trying paid advertising to boost your followers.
All the major social media networks have paid advertising options to help you reach the right audience. But the key is to build your advertising strategy around engagement rather than self-promotion.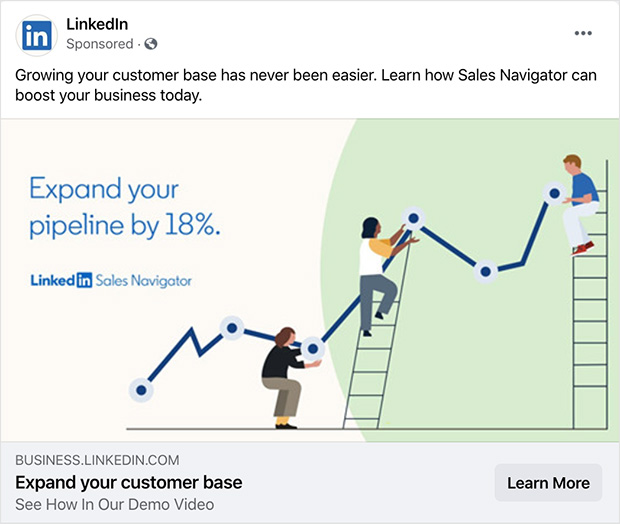 A good ad should offer valuable information without sounding pushy. It should also include plenty of ways to engage, like a link to learn more, options to like or share the post, and a clear call to action.
In essence, you want to give people something they want without coming off as too eager. Because if it's obvious you're desperate for attention, users will see through it and avoid you.
Relationship Hacks: Interact to Grow Your Followers
The nature of social media is that it's well, social! You can't expect to grow your followers if you're not having conversations with other users and building valuable relationships.
So the next section focuses on how you can build and nurture those relationships so you can transform social acquaintances into followers.
17. Follow Relevant Accounts
It's pretty hard to grow your social media followers if you don't do any following yourself. So take the time to identify accounts relevant to your niche and follow them.
When people see that someone new has followed them, they'll follow back as a gesture of goodwill. Even better, when you follow people on Twitter specifically, you could show up as a recommended account for that profile's followers. This makes it much easier for people to discover accounts similar to those they already follow.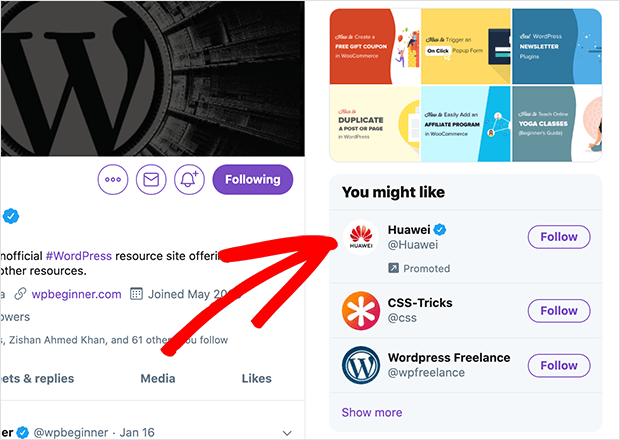 But don't rely on following back as your only source of new followers. Social media is a two-way street, which we'll explain next.
18. Talk to Other Users
As we mentioned in the introduction to this section, social media isn't just about broadcasting your latest content to the world, it involves socializing with others.
To get more followers on social media, you need to talk to other users to build relationships. That way, they can get to know you, your brand, and what you can offer.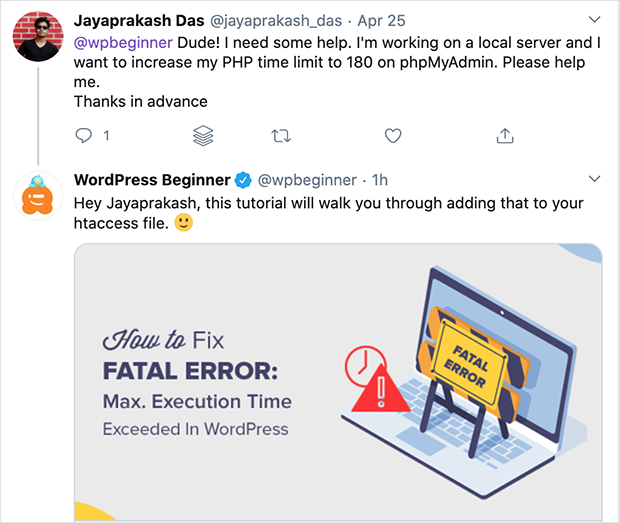 Here are a few ways you can spark conversations on social media:
Comment on other people's posts with your thoughts and insights.
Ask leading questions about their content.
Offer help and advice by answering questions other users ask.
Share and repost relevant content from others to your audience.
Social media users are more likely to follow you if they know you're interested in the material they share. What's more, it gives them a good impression of the type of business you are.
19. Tag Other Users in Your Content
Another social media marketing hack that can grow your followers is to tag other users in your content.
Let's say you're sharing an article with tips from industry experts. If you tag the social accounts of contributors in your post to let them know the article is live, chances are they'll share your post with their own networks.
Because those experts are relevant to your field of interest, their audience will be too, which exposes you to tons of new potential followers.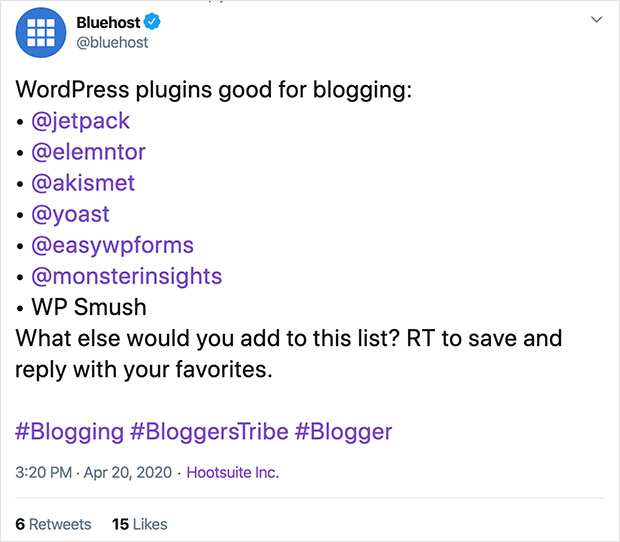 Tagging other users can help in all kinds of situations. So let's look a few instances where tagging is appropriate:
When customers leave reviews or testimonials on your website, share it on social media, tagging them in the post (if that information is provided).
If a user asks an excellent question, post the answer, while making sure to tag their account.
When you discover particularly useful content to share with your audience, tag the source to give them credit.
As you can see, tagging is excellent for telling people that you like their content. But don't go overboard. Keep tagging to situations and times that make sense.
If you tag the same people over and over, they'll grow irritated, which can leave you with the reputation of a business that's needy and unprofessional.
20. Connect With Influencers
It's common practice now for businesses to get influencers to promote their brand. And that's because influencers have a vast network of engaged fans who are influenced by their choices.
But working with influencers isn't as simple as sending a quick message and seeing the followers roll in.
First, you need to find them. Using a tool like Buzzsumo, you can discover the key influencers in your niche. Simply enter a topic and click the Influencers tab to filter your results by social network. From there, you can discover top influencers in your industry.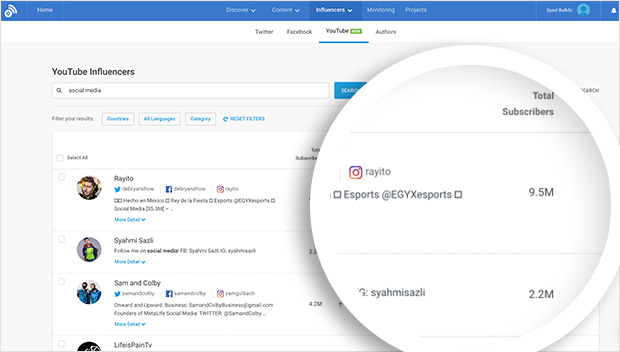 Next, start building relationships with influencers to help increase their trust in your brand. Don't bug them with pleas to share your content, as this will drive them away. Instead, show you're passionate about your business and offer something they'll value in return.
Here are a few tips for nurturing your relationships with influencers:
Follow all their social media accounts.
Share their content from your own networks.
Subscribe to their blog posts and leave meaningful feedback.
Mention them in your content and tag them when you publish.
Only when you've established a stable relationship with trust on both sides, can you move on to asking them to promote your business.
21. Host a Social Media Take Over
A social media takeover is another smart social media marketing hack that involves influencers. It works by giving influencers access to your social accounts for a set period to excite and entertain your followers.
Social media takeovers work because they engage your existing followers with new, relevant content. And chances are, the influencer's followers will join in, exposing your account to a broader audience.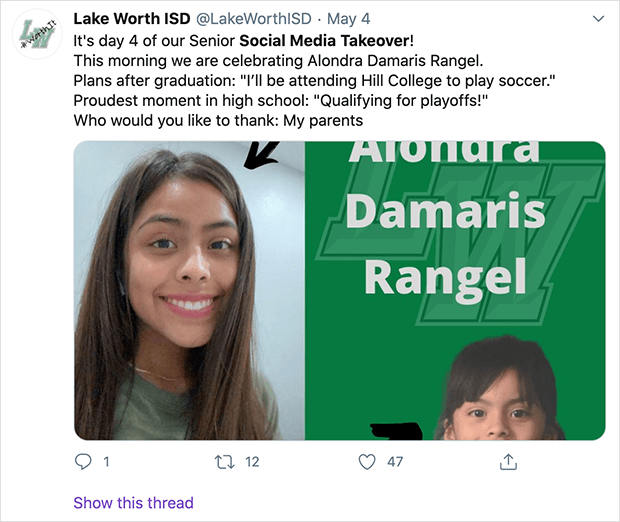 But don't forget to promote the takeover leading up to the event. You'll want to create enough of a buzz to attract a decent number of followers.
22. Participate in Social Media Communities
Many social networks have group functions that draw like-minded people together so they can chat and swap ideas. With that in mind, it's important you join those groups to get an idea of what your target audience needs help with, and how you can offer that help.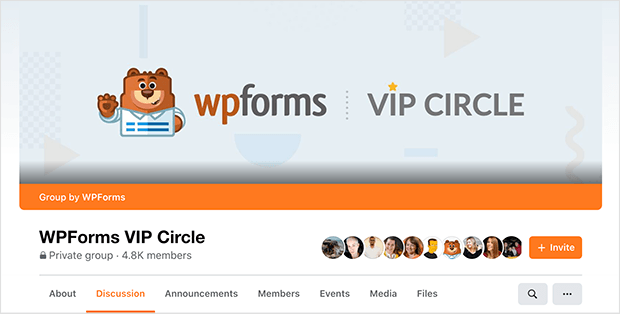 You can find some of the best social media communities in the following places:
Facebook Groups
LinkedIn Groups
Twitter Chats
Topical subreddits on Reddit
Industry-specific message boards
When you've found communities that align with your business, get involved by offering tips, help, and advice. Through sharing helpful information with no strings attached, you're showing you're an expert on your topic. And it's natural for people to want to follow you to see what else you can help them with and to keep up with your updates.
23. Answer Relevant Questions
Another way to grow your followers is to answer questions as well as posting new content. When you answer questions relevant to your brand, you're demonstrating you care about others, helping you build a good reputation.
You can find questions related to your niche by searching in places like Quora or Reddit. Then if you see something you're able to answer, you can respond with a detailed explanation and a link to your social media channels for people to learn more.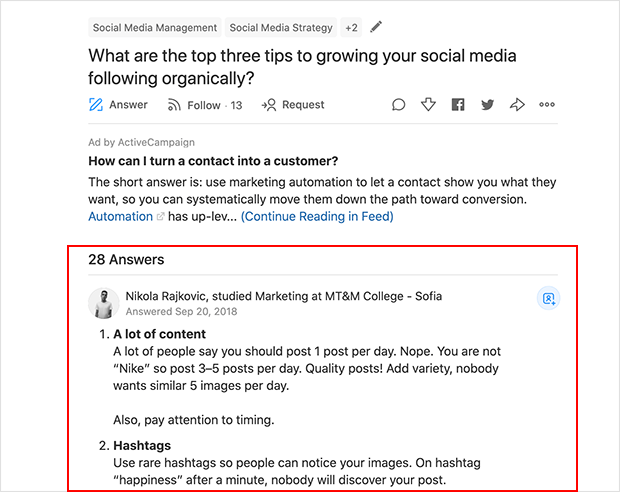 By answering those questions, you're offering valuable content while promoting your social media channels at the same time, making people more likely to follow you for expert advice.
Website Hacks: Get More Followers OFF Social Media
So far, we've discussed all the hacks you can try on social media to grow your followers. But your website is crucial for attracting an audience too.
There are tons of things you can do to promote your social media profiles off social media on your website, and each one has the potential to skyrocket your followers.
Let's jump in.
24. Add Your Main Social Media Feeds to Your Website
Adding your social media feeds to your website is an excellent way to highlight your profiles and give visitors a snapshot of the type of content you produce. When you use the Smash Balloon social feed plugins, you can show as many feeds on your site as you like, including:
That way, you can showcase different types of content from various platforms that appeal to your whole audience.
Did you know you can even add Facebook event calendars to your website with Smash Balloon?
Multiple Account Feeds
Imagine you're a tattoo shop with a group of talented tattoo artists, and you want to grow your followers on Instagram.
First, you could add an Instagram feed on the individual pages for each artist by connecting their Instagram profiles to the plugin. Below each feed, you can include a call to action button, asking people to follow each artist on social media to see more of their work.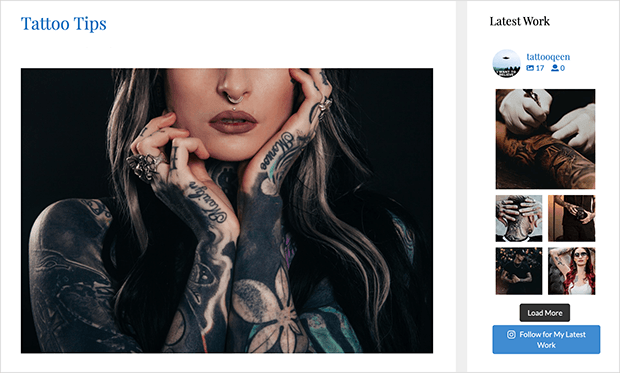 Hashtag Feeds
Using the same example, on your testimonials page, you can add a hashtag feed to display posts from happy customers who use your branded hashtag (like #SBtattoos) to show off their new ink. You can then add a call to action for users to follow your profile to see more testimonials.
To ensure the quality of those posts, you can use visual moderation to remove posts you want to exclude.
To enable moderation, go to Instagram Feed » Settings » Customize and click the Moderation tab. Then under the Moderation heading, click Visual and Save Changes.

Now when you view a published Instagram feed, you'll see an orange Moderate Feed button, as shown below.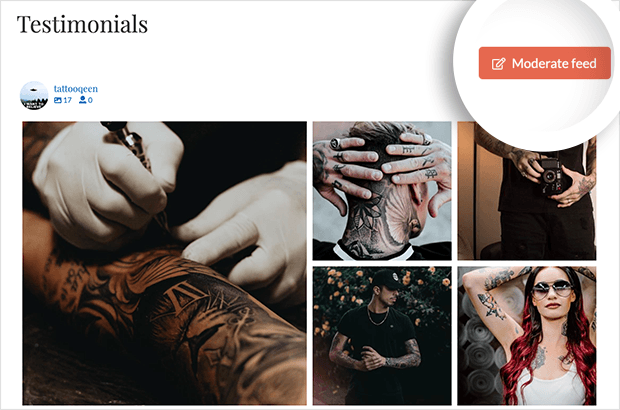 When you click the moderation button, a window opens, allowing you to click any post in your feed to hide it. As you can see below, the red crosses indicate the posts you've hidden in your feed.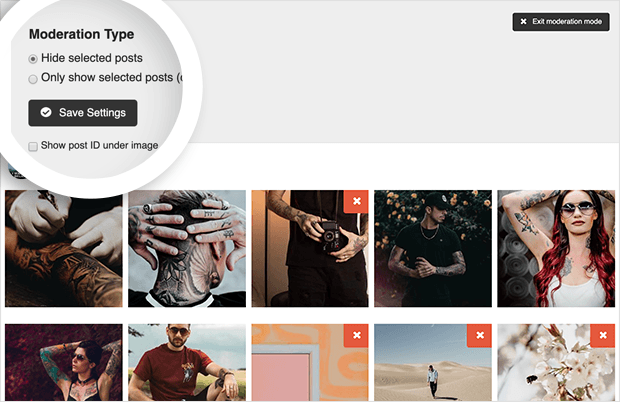 Combined Feeds
What if you want to display feeds on your homepage? And you want to feature content from all your artists to demonstrate the broad range of talent at your business?
You can do that with a combined Instagram feed using a customized shortcode, including all your artists' individual Instagram accounts. But the key is to filter the feed only to include posts tagged with your branded hashtag. This avoids filling your feeds with personal, unrelated content.
Here's what your shortcode might look like:
[ instagram-feed user= "Sally, Sam, Bob" includewords=" #sbtattooshop" ]
But visitors to your site will see a stunning feed of your team's best work, with a call to action to follow you for more fantastic examples.
If you're looking for more information on how to display multiple Instagram feeds on your website, check out this tutorial.
25. Run Contests and Giveaways
Another social media marketing hack to grow your followers is to run viral contests and giveaways.
People love freebies, and they flock to giveaways in massive numbers, boosting both your traffic and your following.
It's pretty easy to create an online contest with tools like RafflePress, the best WordPress giveaway plugin. RafflePress lets you build sleek giveaways without needing any technical know-how. So you can be up and running in a matter of minutes.
With powerful social media integrations, you can make it a requirement for people to follow your social media profiles in return for extra entries. Plus, the viral refer-a-friend action uses word-of-mouth marketing to share the news about your contest to relevant audiences.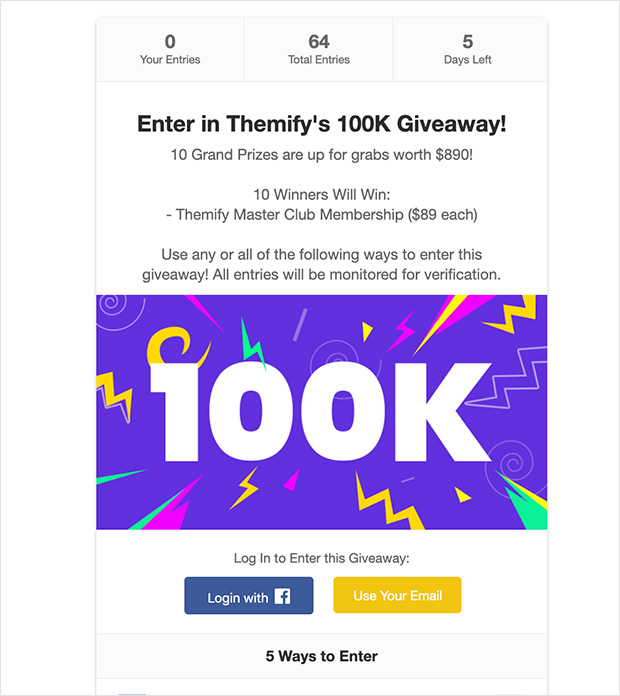 After that, it's simply a case of publishing and promoting your giveaway to your audience. Why not take a look at these proven contest promotion ideas to help with that.
You can even display a feed of recent contests on your contest page to give visitors an idea of what to expect, with a call to action to follow you for updates on the next giveaway launch date.
26. Add Social Share Buttons to Every Blog Post
Now take a look at your latest blog post and ask yourself if there's an easy way for people to share it. If there isn't, you need to add social buttons on every post to make it happen. If you're not sure how to do that, you can learn to add social share buttons to WordPress here.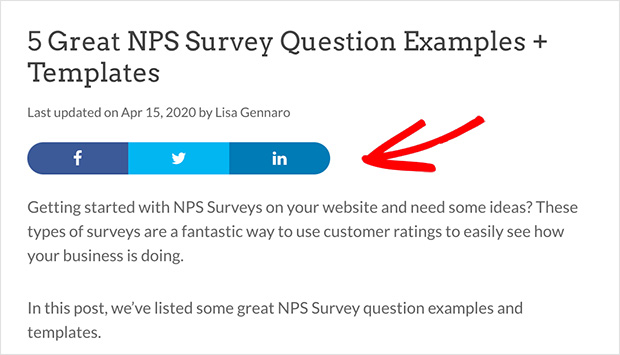 Most social sharing tools nowadays let you automatically add your social handle to the message people share, exposing your account to more people. But if you really want to laser target audiences, add filtered social feeds to the sidebars of specific blog pots with a call to action to follow for similar content.
Here's an example:
Let's say you have a pet store with articles covering topics on how to care for different pets.
On articles about caring for dogs, you can add a hashtag feed showing popular content about dog care using the hashtag #dogcare.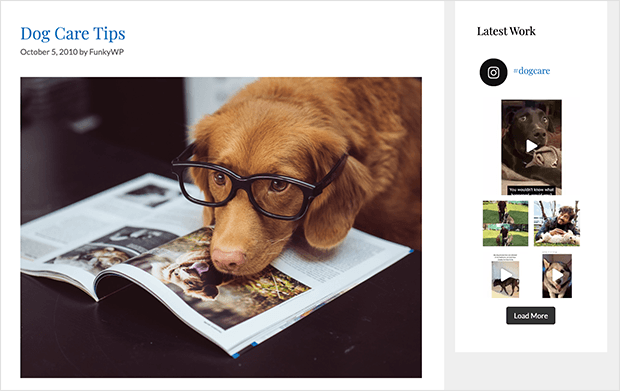 For articles about cats, you can filter your feed to cat-related content, and on each feed, add a button to follow you for more quality content.
In each instance, you're targeting visitors already interested in that topic, making it more likely they'll convert to become your next new follower.
27. Use Popups To Highlight Your Social Media Channels
Chances are you've seen many websites asking you to subscribe to their email list with a popup. But have you considered using popups to drive social media followers too?
It's actually pretty easy. OptinMonster, the most powerful lead generation platform for marketers, makes building popups for your site effortless. With the drag and drop campaign builder, you can design any campaign without needing to know any code.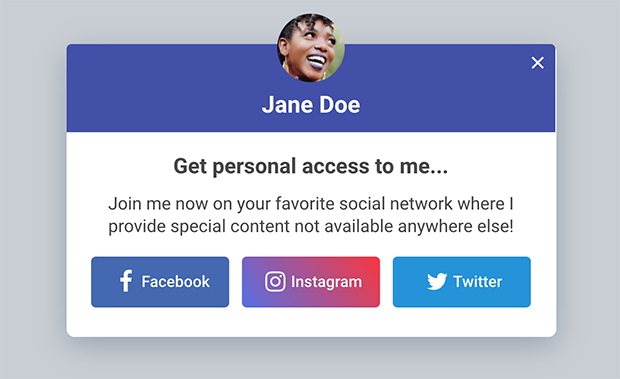 Then when you've finished building your popup, you can trigger it to display at just the right time with smart campaign triggers like Exit-Intent®.
Instead of adding a call to action to subscribe to your email list, you can add social media icons linked to your profiles to encourage users to follow you there. To sweeten the deal, you could offer a discount in return.
28. Ask Your Email List to Follow You
Speaking of email lists, cross-promoting your social media channels to your newsletter subscribers is one of the oldest social media marketing hacks in the book.
The thing is, the people on your list, might not know about your other channels, and the content you send via email may differ from what you post on social media.
So the next time you send an email to your list, ask your subscribers to follow you. You can make it easier by adding links to your profiles in your email signature.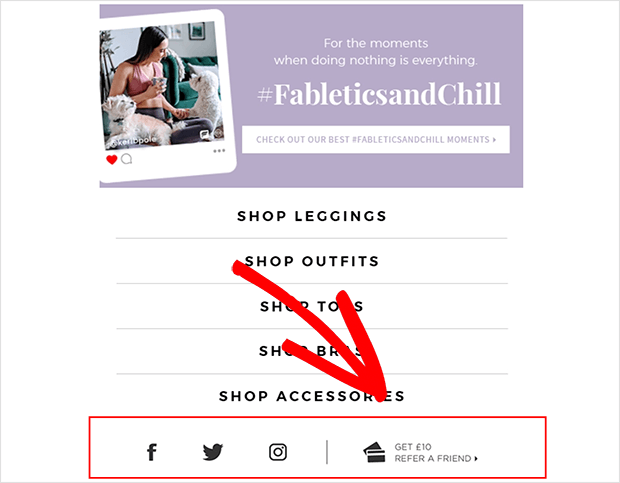 To make your emails even more actionable, include links to pages on your website that highlight what your list can expect from following you.
For example, you can showcase a Facebook events feed on your band's event page to highlight up and coming gigs. Then you can link to it from your email, giving readers a call to action to follow you for the latest performances.
29. Link to Your Profiles in Guest Posts
It's easy to overlook the practice of writing for other websites when you're trying to market your social profiles. But guest blogging is a powerful way to expose your brand to a much bigger audience.

Most websites include an author bio for guest bloggers, with space to link out to a site of your choice. So if your goal is to grow your followers, link to your channels from there.
30. Discuss Social Media Conversations on Your Blog
Another hack you can use away from social media to grow your followers is to talk about social media conversations on your blog.
By building articles around exciting conversations, you're demonstrating you're active on social media and care about what people have to say. It's also a fantastic way to draw readers' attention to essential topics around your business without them having to dig through tons of comment threads.
To make showcasing your conversations more interactive, include them in social media feeds added to your blog post. This is ideal for lengthy conversations like Twitter chats as it collects all the information in a single place. All you need is to filter the feed by the hashtag used in your chat to reveal all the content.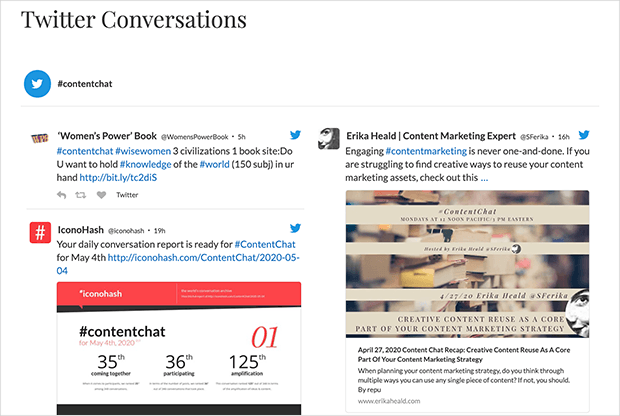 Then to round off the post, add a call to action for readers to follow you to continue the conversation on Twitter.
31. Track Your Social Media Traffic
Our final social media marketing hack is probably the most important, and that is tracking your social traffic with Analytics. Analytics helps you discover how well you're performing, so you can figure out ways to improve your marketing efforts in the future.
You can start by using the native analytics and insights tools for each social network. They will give you an overview of who's interacting with you, and which content is driving the most follows.
Then you can go a step further by tracking social traffic with Google Analytics.
Here are a few benefits of analyzing your social traffic:
View which social site sends the most visitors and which ones need more work.
Find out how engaged visitors are so you can match your content to suit their needs.
Compare new vs. returning visitors, so if people aren't coming back, you can change up your strategy for more engagement.
And that's it!
We hope you found these social media marketing hacks to grow your followers helpful.
And if you're serious about getting more followers, what are you waiting for?
Get Smash Balloon Social Feeds today!
Feel free to follow us on Twitter and Facebook for more helpful content about social media marketing.