The social media landscape is continually changing. Just when you think you're making progress on 1 platform, the algorithms change, and you're left rethinking your entire approach.
That's why you must keep up with the latest trends. Because then you can identify gaps in your marketing strategy and take your business to the next level.
With that in mind, we've gathered the most recent social media marketing statistics, so you can better engage with your audience and grow your business faster than ever.
Today we'll cover the following topics:
To kick things off, let's start with some general stats that apply to all social media platforms.
General Social Media Marketing Statistics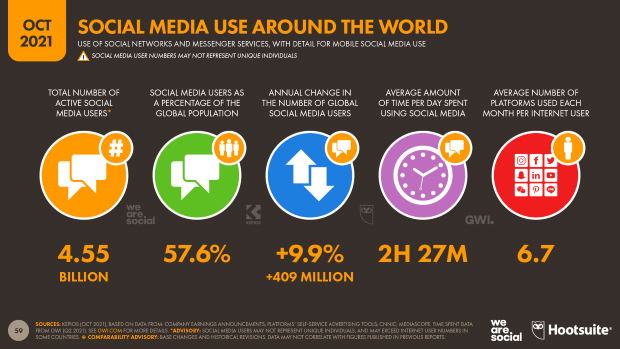 When you look at social media on a global scale, the numbers are staggering. With more than 3.96 billion users worldwide in 2022, social media makes up approximately 51% of the world's total population.
How do these social media users behave when it comes to using their social media profiles? Let's take a closer look:
The average user has accounts on more than 8 social media platforms.
Users average around 2 hours and 29 minutes on social media every day.
99% of users access social media via mobile devices.
43% of social media users access social networks for work purposes.
43% of people use social media to research things to buy.
Discovering funny and entertaining content is one of the top reasons for using social.
That said, video still reigns supreme as the most popular format on social media.
With 90% of users saying they watch video online at least once a month, it's easy to see why marketers see video as their most valuable content marketing assets.
After all, vlogs have now overtaken podcasts in popularity.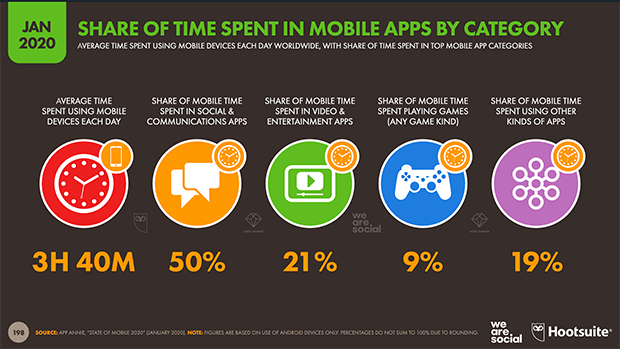 Despite more people using social media, the statistics show that we're now more conscious about privacy. Around 63% of people say messaging apps are where they feel more confident sharing and talking about content.
So as 2022 progresses, brands will need to adapt to how they reach their target audience while ensuring users are comfortable with their messaging.
Learn how to add a social media feed to your website here.
Now that you have an idea of the more prominent social media picture, let's dive deeper into the social media marketing statistics for the 4 big platforms.
Social Media Statistics for Facebook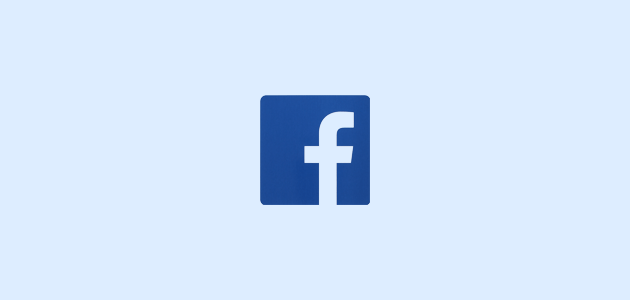 How many Facebook users are there in 2022?
Facebook is a social platform with over 2.74 billion monthly active users. Ads can reach around 1.95 billion of those users. That's about 32% of everyone in the World over 13 years of age.
So when you ask the question…
Is Facebook Still Popular in 2022?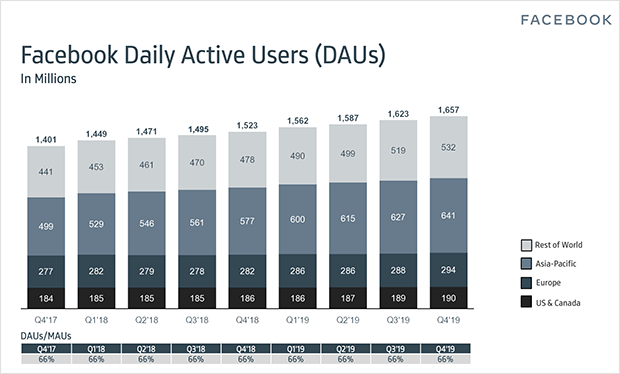 The answer is a resounding, yes! Facebook is still the undefeated champion reaching 66 percent of internet users.
And along with its growing user base, Facebook has also seen an increase in revenue. In the 3rd quarter of 2021, it generated $29.01 billion in total.
That said, around 5% of Facebook's worldwide monthly active users are fake accounts. Between July to September 2021, Facebook disabled over 1.8 billion fake profiles.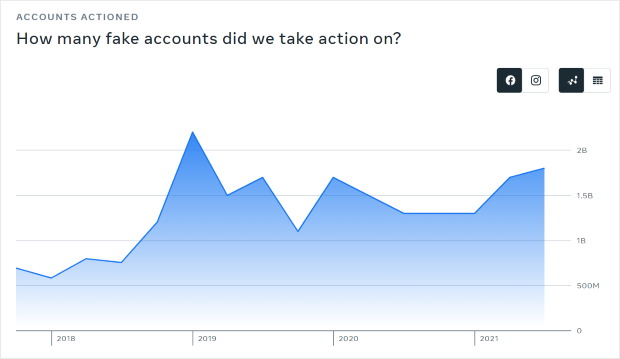 They also estimate that there are over 255 million duplicate accounts, representing 11% of its global monthly users. And with many of those accounts supposedly created in Vietnam and the Philippines, marketers must adjust their expectations when trying to reach that particular audience.
Facebook Demographics
Facebook is used by a broad range of users of all ages. 86% of Facebook users are between the ages of 18-29, while 77% are aged 30-49 years old. More than half of those users are female, with only 46% identifying themselves as male.
But what does that picture look like across different countries?
Facebook Users by Country
India is leading the way in terms of its' Facebook audience size, with over 349 million users. To give you an example of that in context, if India's Facebook audience were a country, it'd be ranked 3rd in terms of the biggest population worldwide.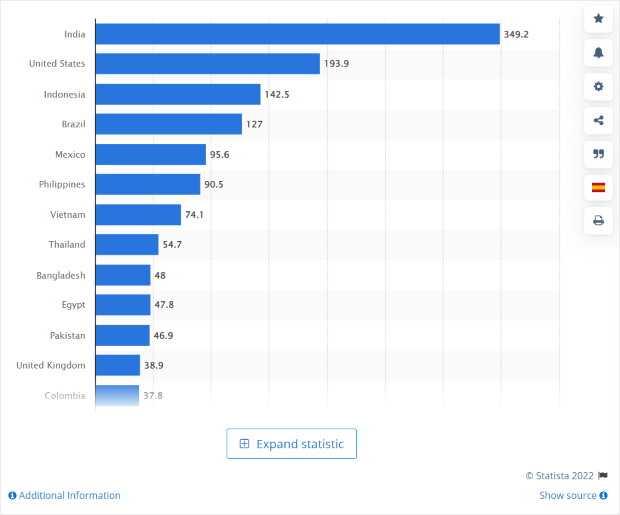 Besides India, there are other countries with more than 100 million Facebook users each:
The United States with 193 million
Indonesia with 142 million
Brazil with 127 million
What is Facebook Mainly Used For?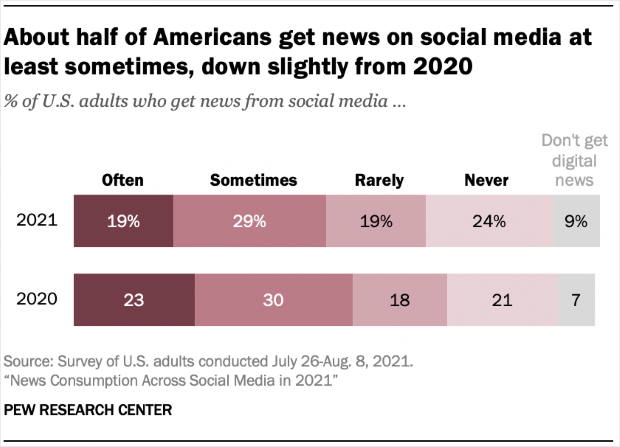 When you look at the statistics, it's surprising to learn that 53% of American adults get their news from Facebook, especially with the cries of fake news we face daily.
But that's not all. Around 15% of Facebook users in the United States use the platform to shop for products.
Stories are also on the rise on Facebook now that more people have discovered them. With 300 million people using Facebook Stories daily, marketers can reach a substantial audience with a different messaging format.
But let's not forget about Facebook Groups. 1.4 billion people use Facebook groups. And with more than 10 million groups in existence, there's plenty of conversation happening for you to tap into.
You can even create a Facebook group for your brand, but it's essential to focus on providing value as opposed to pure self-promotion to see those groups thrive.
Instagram Social Media Marketing Statistics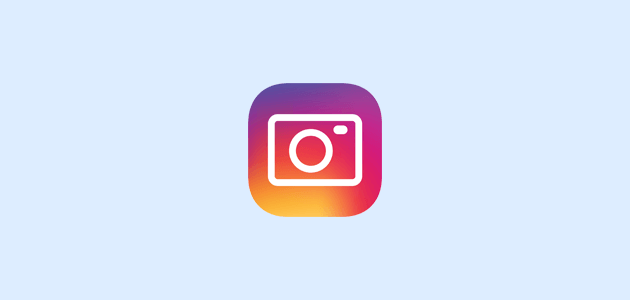 Since we've tackled the Facebook behemoth, let's move on to its sister, Instagram, which has seen an explosion in growth over the years.
How Many Instagram Users in 2022?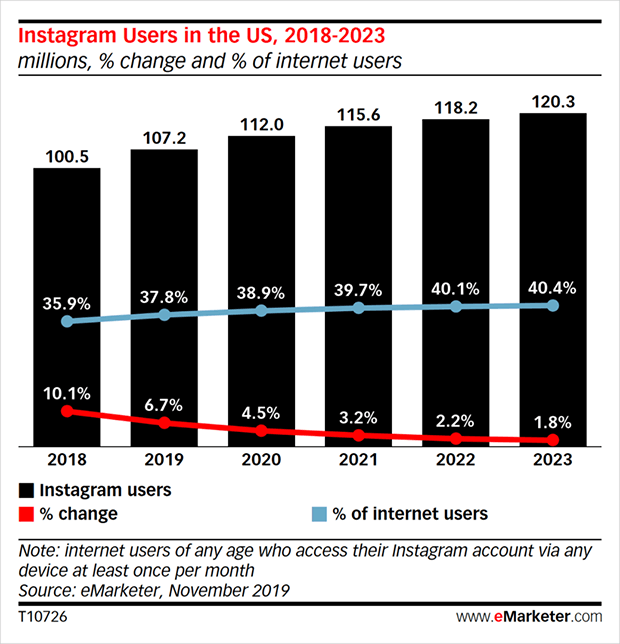 Based on research from eMarketer, Instagram has seen around 26.9 million users join the platform by 2022. This is almost twice the predicted growth of other social media platforms. And when you consider that Instagram is the second-most downloaded free app in the Apple app store, it's easy to see that trend growing through the year.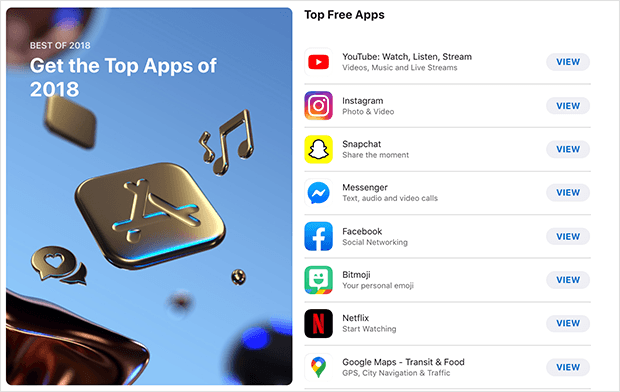 As it stands, about 1 billion people use Instagram each month. This puts it in 2nd place behind Facebook.
When it comes to identifying Instagram users by gender, 510 million Instagram users are female, and 490 million are male.
Instagram Demographics
Generation Z takes center stage as the most extensive Instagram user base. This is only followed by millennials who have also made a massive impact in shaping the app.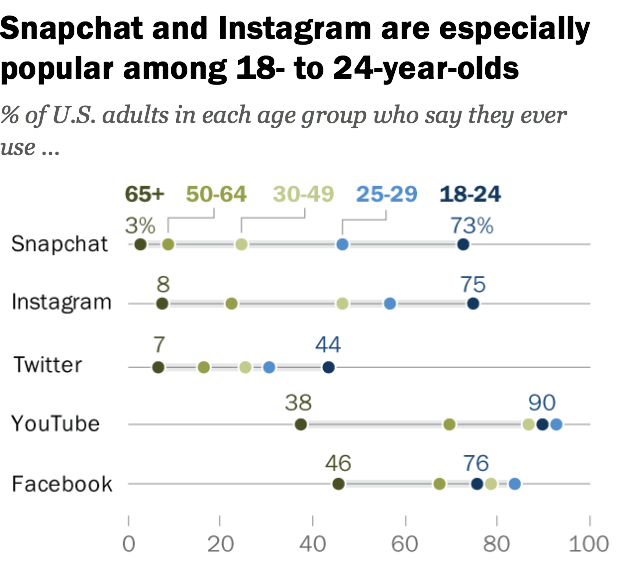 To put that into figures, Instagram is most popular with younger users. 67% of 18 to 29-year-olds use the platform, which is up from 59% in 2016.
According to Piper Jaffray's 2019 Taking Stock With Teens survey, 85% of teenagers choose Instagram as their preferred social network.
This is then followed by Snapchat. That's huge when you compare it to 2017 when only 24% said they preferred the site.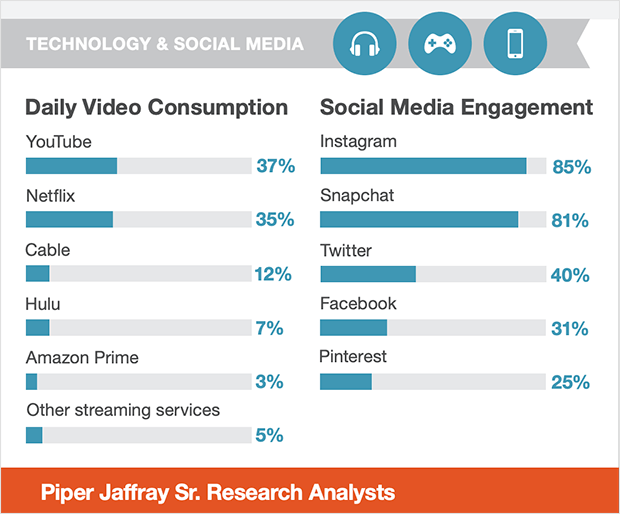 But it isn't just younger people using Instagram, though. 23% of 50-to 64-year-olds say they're using the platform, which is up from 18% in 2016.
Instagram Users by Country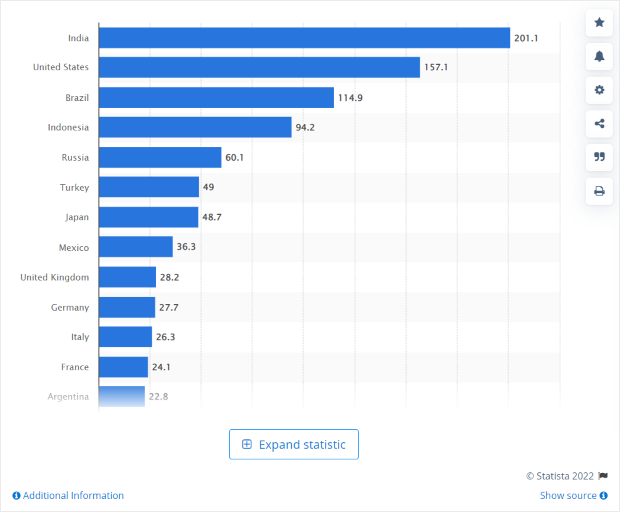 India tops the rankings of countries with the most Instagram users. Over 201 million people access the app as of 2022.
The United States came 2nd with over 157 million Instagram users, which was ahead of Brazil with 114 million users.
What is Instagram Mainly Used For?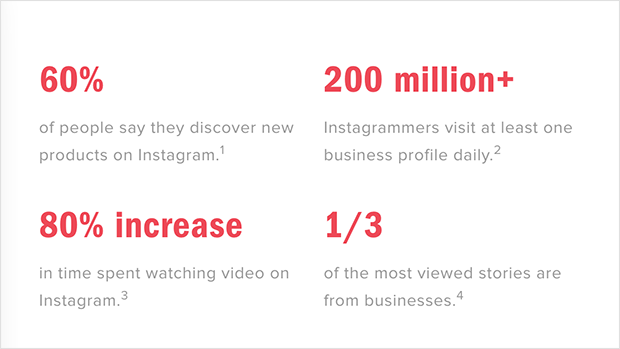 A large portion of the Instagram user base, spend their time checking out business profiles. To be exact, 200 million Instagram users visit at least one business profile each day.
So if you're eager to reach an audience of savvy youngsters, it's worth stepping up your Instagram game and learning how to increase Instagram followers.
More importantly, 11% of social media users in the U.S. use Instagram to shop. And with 81% of people using Instagram to research products and services, you might want to start looking into adding shoppable posts into your marketing strategy.
Speaking of shoppable posts, 130 million Instagram users tap on shopping posts every month. That suggests that more and more people are making purchase decisions directly on the Instagram platform.
Instagram Business Account Statistics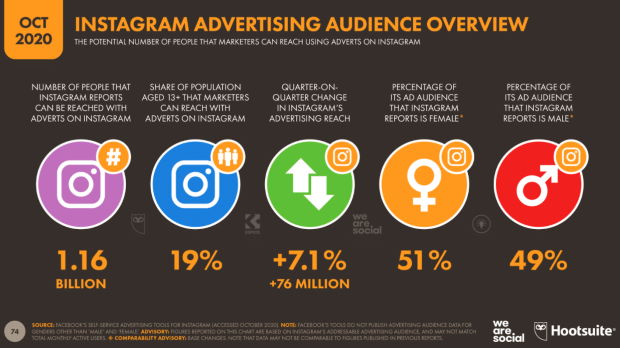 Instagram's advertising reach is about 1.16 billion users, which is around 14% of adults aged 13 and over. When you put that in perspective, advertisers can reach a young audience of 52.9 million.
Since influencer marketing is synonymous with the Instagram platform, tapping into that audience could significantly boost your sales.
With that in mind, here's a quick look at what brands pay Instagram influencers to advertise their businesses: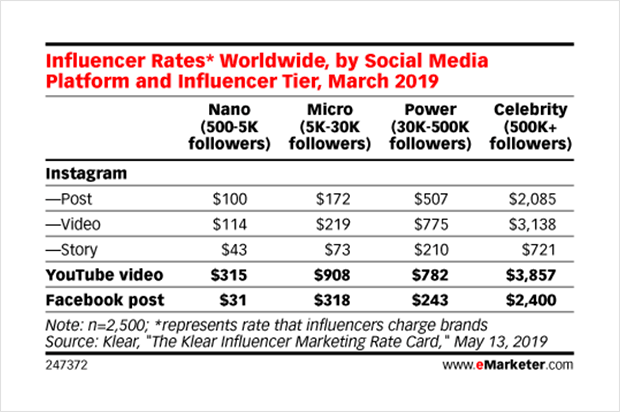 $114 – $3,138 for videos
$43 – $721 for stories
Twitter Social Media Statistics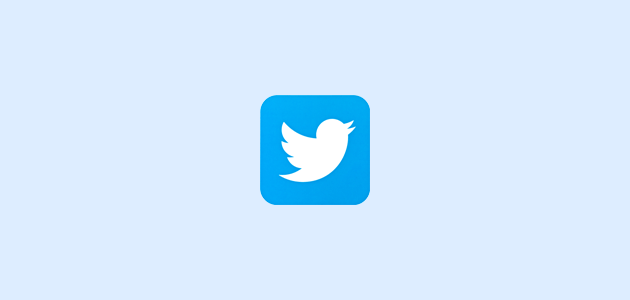 Twitter might seem like a risky choice for marketing your business, with the political discussions and stories of cyberbullying grabbing the headlines. But for brands that really understand the platform, there are plenty of rewards.
So how about we look at some vital statics for Twitter next.
Is Twitter Still Popular in 2022?
Even though Twitter's growth has been leveling out for the past few years, the number of monthly active Twitter users is almost 400 million in 2021.
That means it's still a popular platform for businesses looking to target specific audiences.
That said, by 2022, 26.5% of the U.S. social media population are expected to access the social networking service.
Twitter Demographics
Based on information from Statista, 30 million of Twitter's daily users are American. That makes Americans the most substantial proportion of Twitter's user base.
When we break the data down by age group, things are a little more interesting. 44% of U.S. 18 to 24-year-olds use Twitter, which means Gen Z is more likely to be using the platform. This makes Twitter more popular than sites like Reddit, WhatsApp, and LinkedIn for that age group.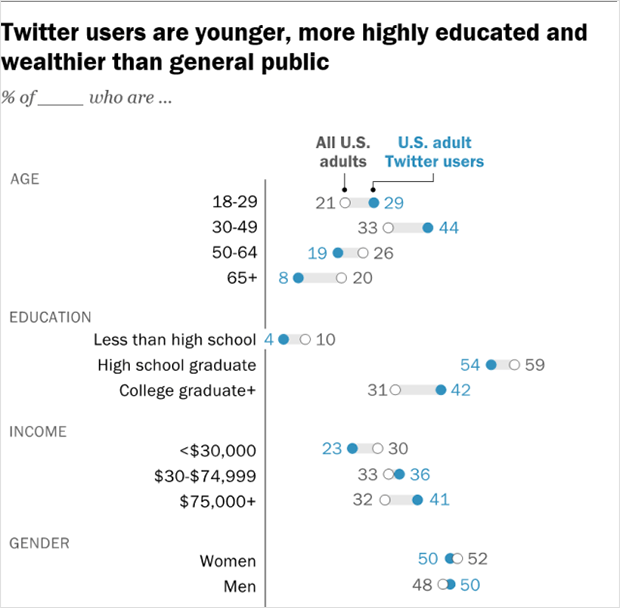 (Pew Research)
In terms of other demographics U.S. based Twitter users are younger, more educated, and wealthier than the rest of the U.S. population.
But there are a few key differences which are as follows:
The median age of U.S. Twitter users is 40, while the national age is 47
42% of U.S. users have a college degree, while just 31% of the rest of the U.S. population does.
41% of U.S. Twitter users report an income above $75,000. For the rest of the national population, only 32% do.
As we mentioned earlier, Twitter is pretty political. It's the most political of all social media platforms. And that trend is reflected in the political orientation of Twitter users.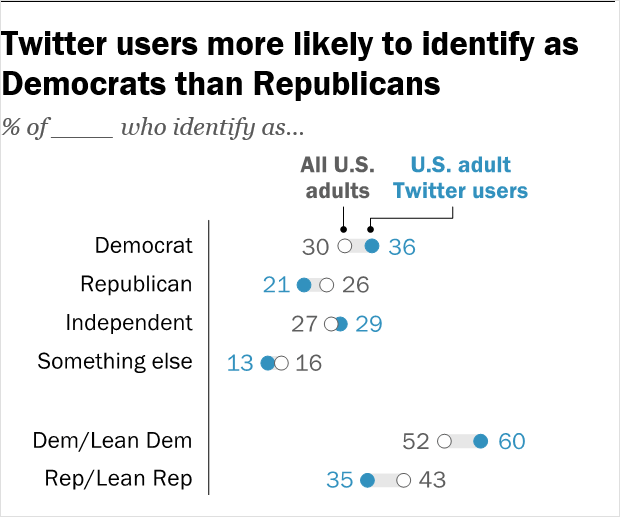 According to Pew Research, 36% of U.S. Twitter users are Democrats, with 30% of Americans identifying that way. On the other hand, only 21% of Twitter users are Republican, although 26% of Americans identify as one.
What is Twitter Mainly Used For?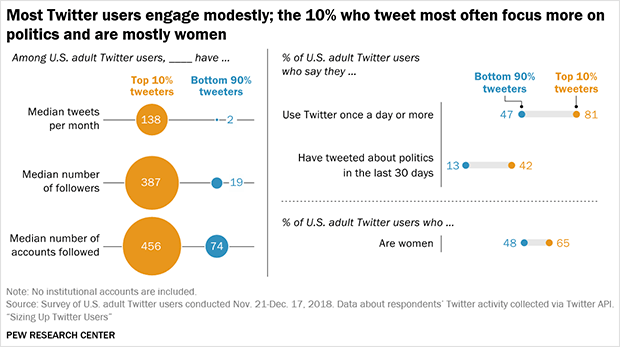 Continuing with the political theme, 10% of U.S. Twitter users tend to be women tweeting about politics. But that said, 71% of American Twitter users use the platform to read news updates.
So with politics aside, Twitter seems to be the ideal place for businesses to broadcast newsworthy topics and links to other educational content like blog posts.
But keep in mind that Twitter users are more likely to like brands that are inclusive and transparent.
50% of people think brands can become relevant by being inclusive. And for Twitter users, that number grows to 60%.
According to the study linked above, 47% of Twitter users prefer culturally relevant brands, compared to 39% of the U.S. population.
Number of Twitter Users by Country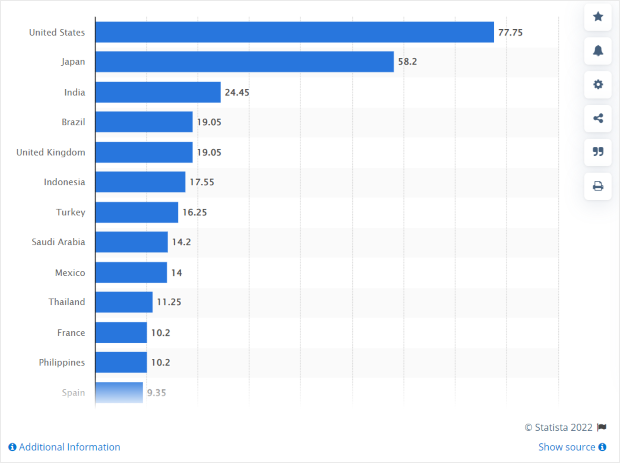 As you can see from the previous stats, Twitter is massively popular in the United States, while as of October 2021, it reached an audience of 77.75 million users.
Japan and India came 2nd and 3rd with 58.2 and 24.45 million users, respectively, which probably has a lot to do with the tweet bots and political rallying that made headlines recently.
Social Media Marketing Stats for YouTube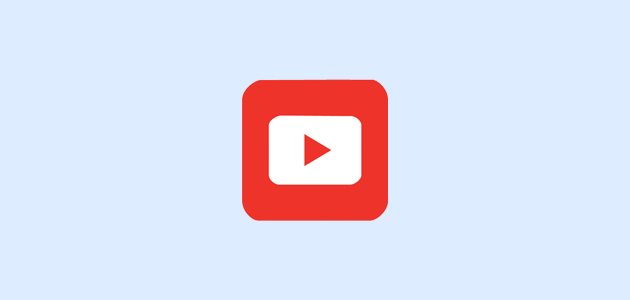 Now let's take a look at the mother of all video platforms, YouTube. With the rise in popularity of video content, YouTube has the power to springboard your business into the limelight.
And with YouTube content now more prominent in search results, it's one platform you'll definitely want to add to your marketing strategy.
Is YouTube still growing?
With over 2 billion logged-in monthly users, YouTube's user base is still growing year on year. Since the overall user population was only 1.8 billion in May 2018, a steady trend in growth is clear.
Who Uses YouTube The Most?
When looking at who uses YouTube, it's important to note that 80% of YouTube users come from outside the U.S.
If your key demographic is Americans, you'll need to diversify your marketing efforts across a range of different platforms.
That said, Americans do make up a good proportion of YouTube users as you can see below: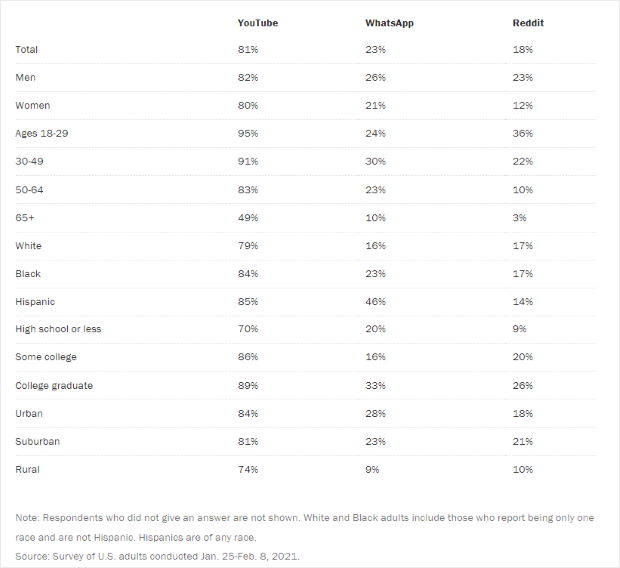 81% of U.S. adults use YouTube
Of the urban adults, 84% use YouTube compared to only 74% of rural adults
82% of adult males and 80% of adult females are using YouTube
Let's break that down by country.
YouTube Statistics by Country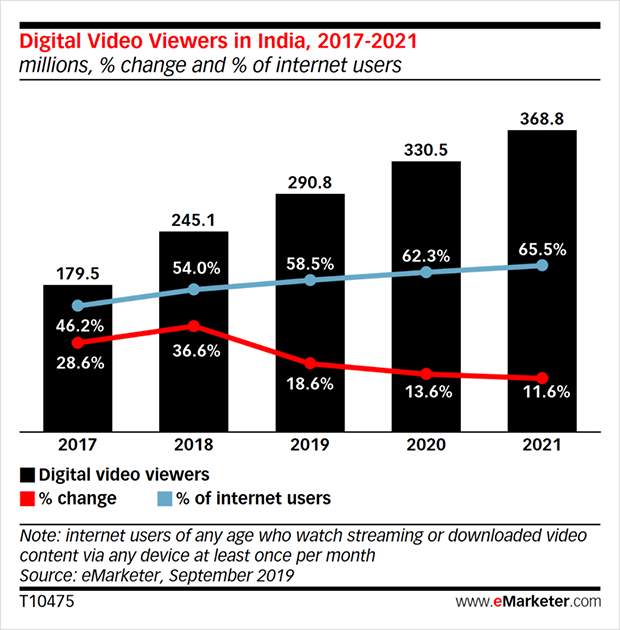 It might be surprising to learn that 93% of people watching YouTube videos come from India.
And with only 33% of YouTube videos released in English, it goes to show that the translation of the platform into 80 different languages is paying dividends to those users.
When you compare those stats to Netflix's market share in India, which is around 3% of individuals who watch videos online, it's clear that YouTube is the favorite platform of choice.
What is YouTube Mainly Used For?
With over 500 hours of video added to YouTube every minute, competition is fierce. And when you consider that 10% of the most popular content attracts 79% of the views, it might seem impossible trying to reach your target audience on the platform.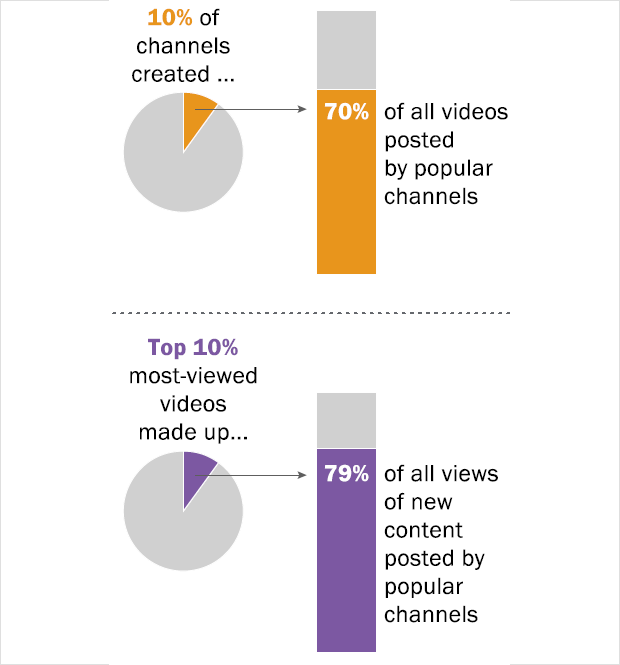 But when it comes to what people watch on YouTube, you might have more luck by focusing on these areas:
Product review videos: Think With Google estimated 50,000 years of Youtube product review videos have been watched in the past two years.
How-to Videos: users are 3x more likely to watch a Youtube how-to video than read a product's instructions.
Music videos: Out of all the most popular videos on YouTube, music videos top the list most often.
Gaming videos: If you go by subscribers alone, video game channels still top the list, examples including Pewdiepie with a total subscriber base of 110 million.
Wellness videos: Interest in videos related to relaxing is rising, with watch times increasing over 70% in 12 months.
So there you have it!
We hope this roundup of the most important social media marketing statistics has helped you identify engaging ways to grow your business in the future.
And it's worth noting that utilizing social media can be one of the best ways to turn your website visitors into brand ambassadors, which we explain in this article.
While you're here, don't forget to follow us on Twitter and Facebook for more social media tips and tricks.