Do you have a bustling Instagram account, but your YouTube subscribers are growing much slower? In that case, converting your Instagram followers into YouTube subscribers would be the next logical step.
But using Instagram to grow your YouTube channel is more difficult than it looks. Your audience on both networks is different. So luring followers from one platform to another doesn't provide the results you want.
Yet, with a little creativity, you can learn how to use Instagram to Increase your YouTube subscribers. So, we'll explain how to do that in this article.
Here's a table of contents to help you navigate this post:
Easiest Way to Get More YouTube Subscribers
Before learning how to use Instagram to increase your YouTube subscribers, you need to ensure your channel is easy to find.
To increase the visibility of your channel you can…
List it on all your social media networks
Add YouTube follow buttons to your website
Work with influencers in your industry
You can also use some of these ideas to get subscribers on YouTube.
But the easiest way to get more YouTube followers is to add your YouTube channel's feed to your website. Then visitors can see the type of content you create for YouTube and subscribe with the click of a button.
Even better, when you use the Feeds for YouTube WordPress plugin, you can display your video content however you like.
For example, you can show as many feeds as you like throughout your site. One page can show your channel's main feed, while other pages display your favorites or a feed of your live streams.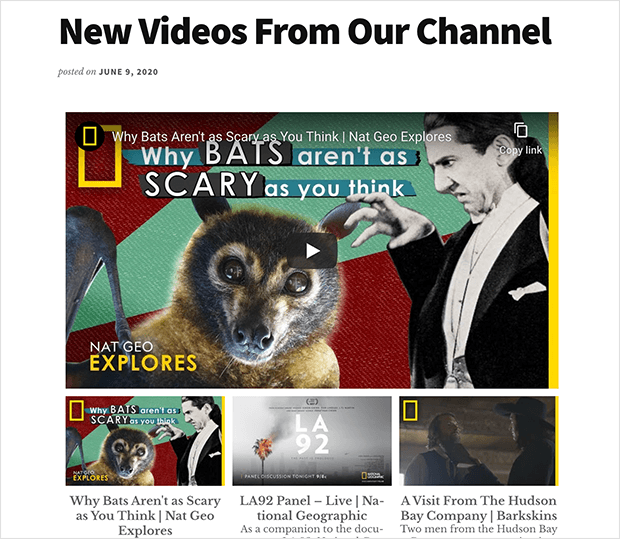 That way, you can target different groups of people with the content they're most likely to enjoy. And happier, engaged visitors translates into more subscribers for your channel.
Click here to learn how to add a YouTube feed to WordPress using Smash Balloon.
Using Instagram to Increase YouTube Subscribers
Now you know how to increase YouTube subscribers using your existing content, let's move on to leveraging your Instagram audience.
As mentioned earlier, your Instagram followers are different from your YouTube fans. What motivates one audience won't be the same for the other. Your task is to bridge the gap between both platforms by figuring out what both audiences have in common.
The following tips use the common interests of both networks to entice your Instagram audience to subscribe on YouTube.
Post to Instagram for Every New YouTube Video
The easiest way to get your Instagram followers to subscribe to your channel is through cross-promotion. Every time you publish a new video on YouTube, advertise it on Instagram.
You can use…
Your YouTube video thumbnail
A screenshot of your YouTube video
A short clip of the video
But the most important thing is to include the videos' URL so users can watch the full video. The most popular way to do that is to add the video link to your Instagram bio. Then in your post's caption, add a short note for fans to click your bio link.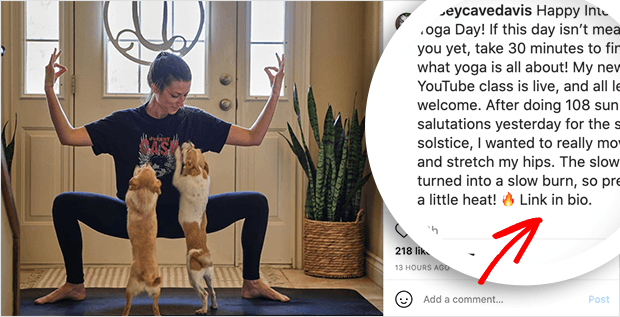 By regularly updating Instagram with your latest YouTube content, you keep your channel top of mind. It also shows your channel is active and that you have a growing community on other platforms.
Create a Web Page for Instagram and YouTube
Another way to draw your Instagram followers' attention to YouTube is to showcase both networks in the same place.
If you display feeds for both platforms on a single web page, it tells visitors that each platform is important. It also associates your brand with both YouTube and Instagram, making it more likely visitors will follow you on each site.
The easiest way to do that is to use the Feeds for YouTube and Instagram Feed plugins from Smash Balloon. Then you can display both feeds side by side on your website.
Here's a quick tutorial on how to do that.
Install Smash Balloon Instagram and YouTube Plugins
First, get started with the Instagram Feed plugin here, and Feeds for YouTube here.
Then install both plugins in WordPress. If you need a refresher on how to do that, follow these instructions for installing a WordPress plugin.
Connect Your Instagram and YouTube Account
To connect your Instagram account, navigate to Instagram Feed » Settings from your WordPress dashboard.
Then click the blue Connect an Instagram Account button and follow the instructions to link your account.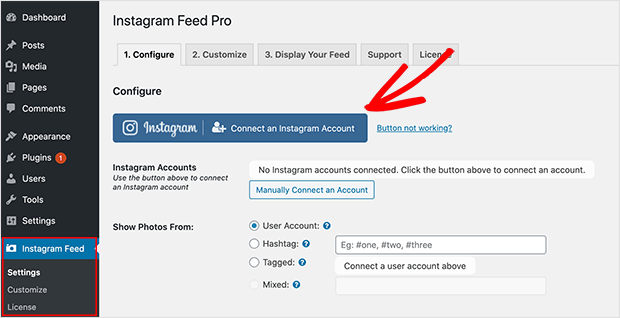 By default, the plugin displays posts from your Instagram user account. You can, however, display multiple Instagram feeds on your site by following these instructions.
Remember to click the Save Changes button to preserve your settings.
Now connect your YouTube account by clicking the Feeds for YouTube link in your WordPress admin area. From there, click the blue button to log in to YouTube and connect your account.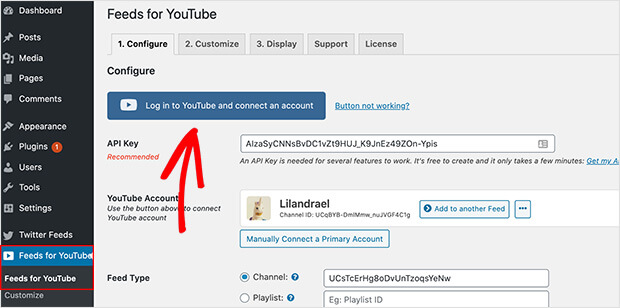 Again, by default, the plugin displays your main channel feed on your website. Now click Save Changes.
Customize Your Instagram and YouTube feeds
The next step is to customize the layout of your feeds. For Instagram, navigate to Instagram Feed » Customize.
Then choose the layout type that suits your website best.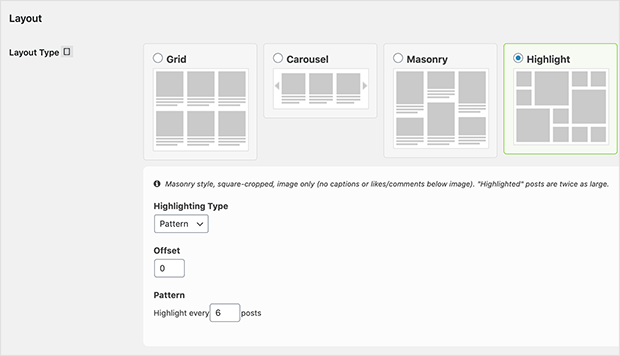 The different layout options include:
Grid: A uniform gallery of cropped Instagram images.
Carousel: A scrolling slideshow of Instagram posts.
Masonry: An Instagram post gallery with images in their original aspect ratio (landscape or portrait).
Highlight: A gallery of square images with specific photos shown 2x bigger.
Choose your preferred layout and use the settings beneath to customize the number of rows, posts, and columns in your feed.
When you're happy, click the Save Changes button.
To choose your YouTube feed layout, navigate to Feeds for YouTube » Customize. Similar to the Instagram plugin, you have several layout options to choose from.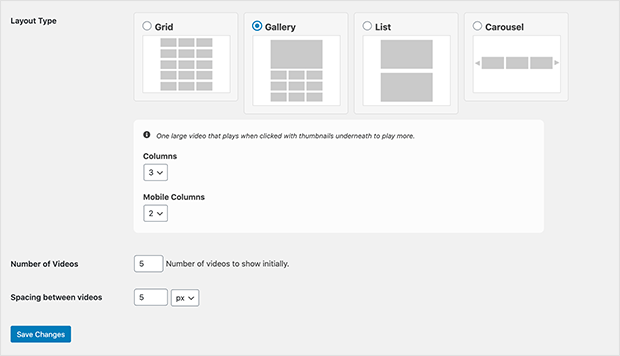 The different layouts for you YouTube feed include:
Grid: A uniform list of video thumbnails shown in a grid.
Gallery: 1 large video shown first, then smaller thumbnails displayed in a YouTube gallery beneath.
List: A single column of videos shows as a list with large thumbnails.
Carousel: Videos displayed in a scrolling slideshow.
Click any layout to choose it for your feed and customize the number of posts, columns, rows, and other post settings beneath.
When you're finished, click Save Changes.
Publish Your Instagram and YouTube Feeds on a Single Page
To create a new page to display your Instagram and YouTube feeds, navigate to Pages » Add New from your WordPress dashboard.
To display your feeds side-by-side, click the Plus (+) icon to add a new block to your page. Then under the Layout Elements section, choose the Columns block.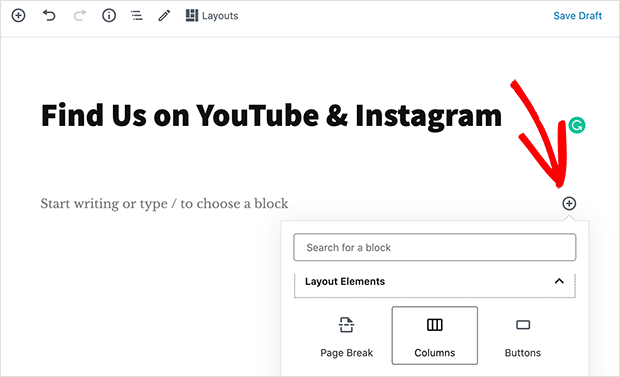 For this example, we'll choose 2 columns split equally. Click your preferred column layout to add it to your page.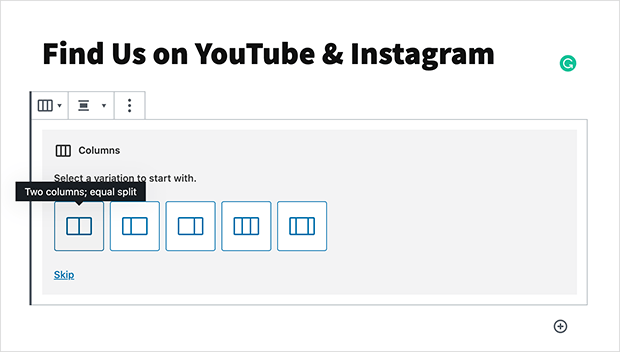 Next, we'll add a new content block to each column by clicking the Plus (+), as shown below.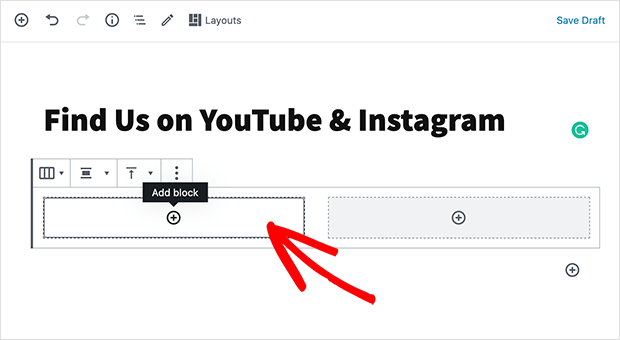 To embed your Instagram feed, type "instagram" in the search box. This locates the Instagram WordPress block. Simply click to add it to your page.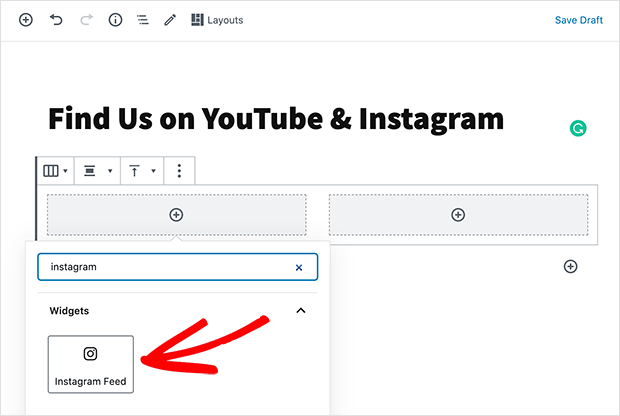 Now follow the same process in the second column. But this time, search for "youtube" and choose the YouTube Feed WordPress block.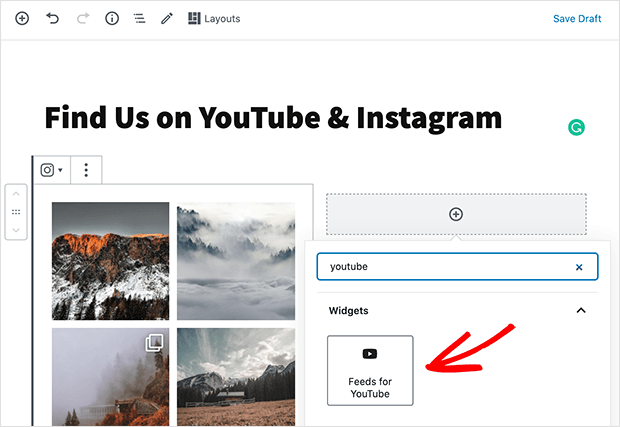 As before, click the block to add it to your page. Smash Balloon automatically shows a preview of your feeds before you publish. This helps you experiment with the different layout and post settings to get the best look for your website.
When you're happy with your page, click Publish. Now when you view the live page, both your Instagram and YouTube feeds are visible side-by-side. This makes it easier for visitors to view your content for each platform and subscribe for future updates.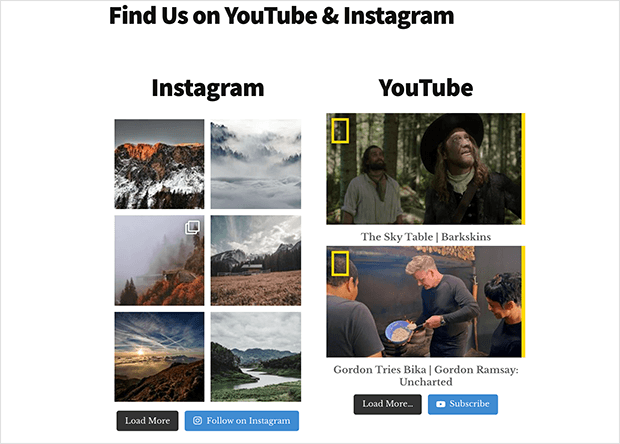 Use Hashtags to Increase Your Visibility
Hashtags are the backbone of social media, especially for Instagram. They're great for grouping content into categories to make searching easier. Plus during the process, they increase the visibility of your posts.
The best way to use hashtags on Instagram for your YouTube content is to search for YouTube specific hashtags. This makes it easier for people to find your posts if they're looking for content related to YouTube.
Here are the most popular YouTube specific hashtags you can use:
| | | |
| --- | --- | --- |
| Top 10 YouTube Hashtags | YouTube Category Hashtags | Other YouTuber Hashtags |
| #youtube | #youtubegamers | #youtubestar |
| #youtuber | #youtubeyoga | #youtubemarketing |
| #youtubers | #youtubermakeup | #subscribe |
| #youtubevideos | #youtubegaming | #youtubepagepromotion |
| #youtubewtf | #youtubeblogger | #youtubespotlight |
| #youtuberewind | #youtubefamily | #youtubelikes |
| #youtubekids | #youtubecouple | #youtubefans |
| #youtubechannel | #youtubefitness | #youtubecontent |
| #youtubeuse | #youtubevlogger | #youtubepost |
| #youtubebr | #youtubetorial | #youtuberlife |
You can also add an Instagram hashtag feed to your website to display YouTube specific Instagram content.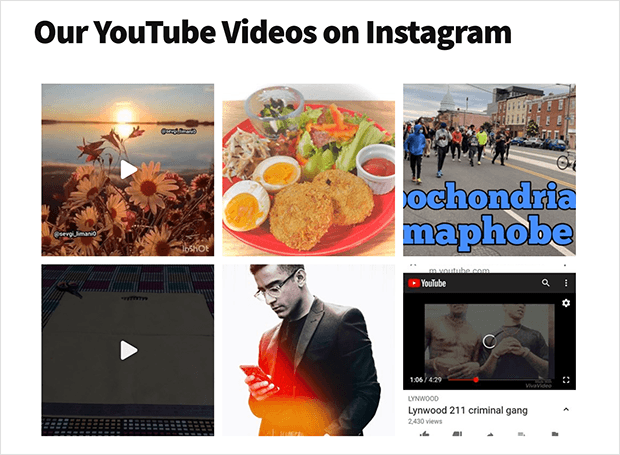 If more people can find your Instagram posts through hashtags, they're more likely to engage with the YouTube content you publish there and subscribe to your channel.
Put Your YouTube Channel Link in Your Instagram Bio
As mentioned earlier, adding a link to YouTube in your Instagram bio, is an effective way to point potential subscribers in the right direction. Your profile is like a billboard for your information, so it makes sense to get the most out of this area.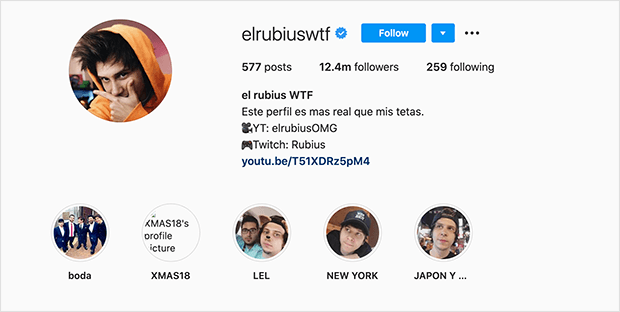 You don't have to place it in the traditional "website" field either. Instead, you can put your main channel link in the body of your bio and video-specific links in the website field. That way, you'll have 2 links to YouTube right on your profile page.
Plus, when you use the Instagram Feed plugin to show your content on your website, you can show your profile information at the top of your feed. Then site visitors will see those links too.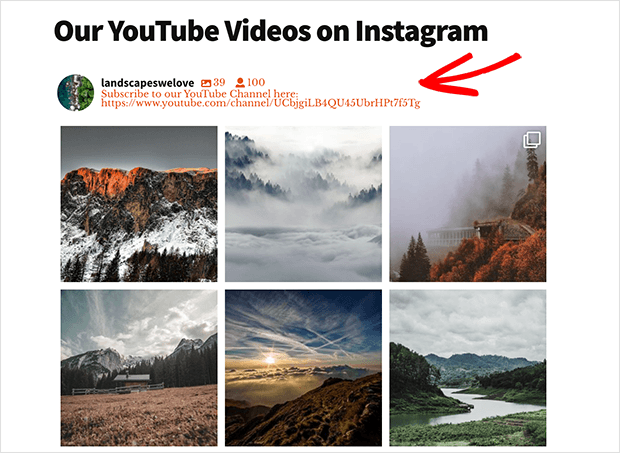 Tease Video Clips in Your Stories
Another way to lure your Instagram audience over to YouTube is to tease them with video clips in your stories. As you may know, Instagram stories are more laid back than your carefully polished main feed. So you can experiment more and find out what works best.
You could share behind the scenes clips from when you film videos for your channel. Or you could create teaser trailers to advertise videos before you publish them on YouTube.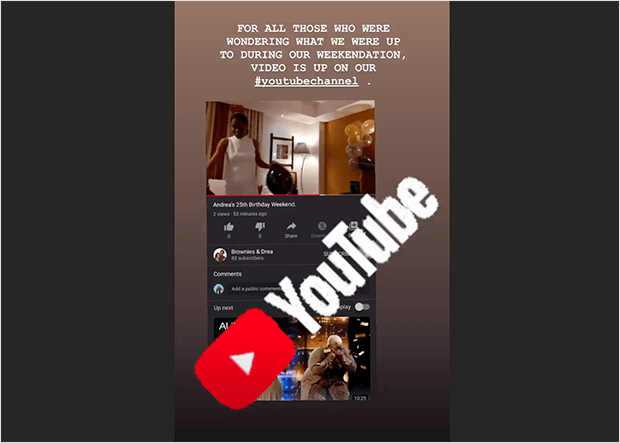 Teaser content creates excitement and expectation in your followers. So naturally, they'll want to learn more for fear of missing out, resulting in more views and subscribers on your channel.
Your website visitors can view your Instagram stories too, if you're using the Instagram feed plugin. When they click your Instagram profile photo, your stories open up in a full-screen lightbox slider for users to browse.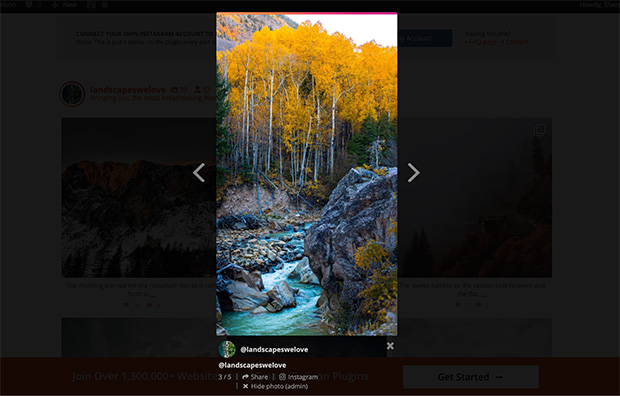 Post Announcements and Updates on Instagram
Posting announcements and channel updates on Instagram is also a great way to excite potential subscribers. Many YouTubers only share important updates on Instagram in an attempt to bridge the gap between both platforms.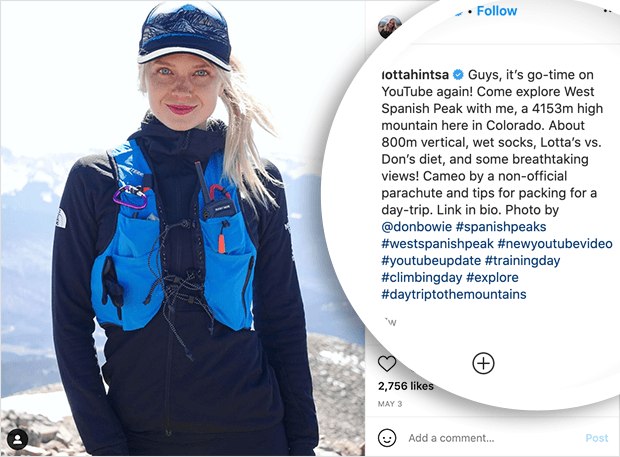 Sharing that type of news on Instagram makes your audience eager to see what's coming next. Again, it increases anticipation, causing the most impatient users to subscribe to your channel for fear of missing that all-important video.
Get Fans Involved With Decision Making
Besides sharing teaser content and updates, you can use your Instagram audience to make decisions for your channel.
You can make the process easy by creating simple yes, no polls in your Instagram stories. With only 2 decisions to choose from, all fans have to do is tap to get involved.
For example, you could run a poll asking what type of content you should create.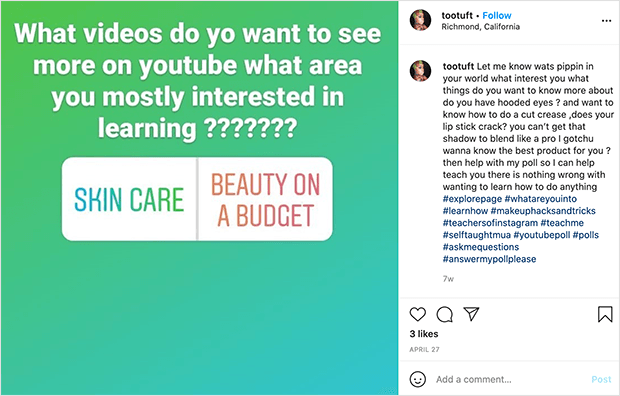 Fans will then have to subscribe to your channel to see that content in action.
When you involve your audience with the decision-making process, you demonstrate that you care about what they think. This makes you seem more authentic, which is crucial for securing more subscribers.
Post Fan Shoutouts on Instagram
Speaking of showing your fans you care, why not dedicate some of your Instagram posts to celebrating your top YouTube fans?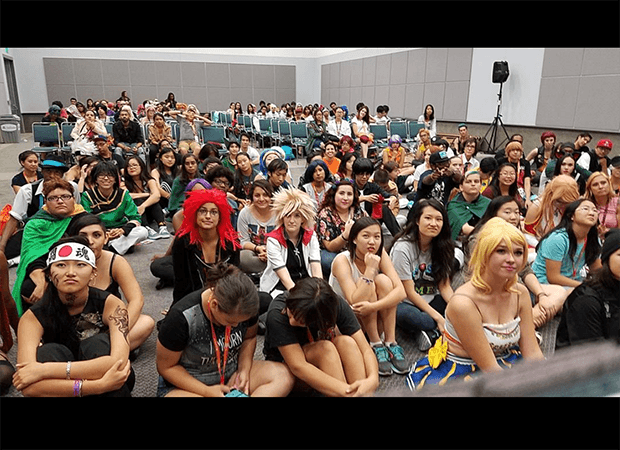 You could create a collage of your top fans' avatars and tag them all in your caption. To go a step further, you can display those posts in a feed on your website, filtered to include only those specific posts.
By recognizing your top fans in this way, you give people more incentive to subscribe. Let's face it, who doesn't want a shoutout on social media from their favorite YouTube star?
Use the Swipe Up Feature to Link Your Channel
For Instagram business accounts with more than 10,000 followers or a verified account, there's another way to link to your YouTube Channel.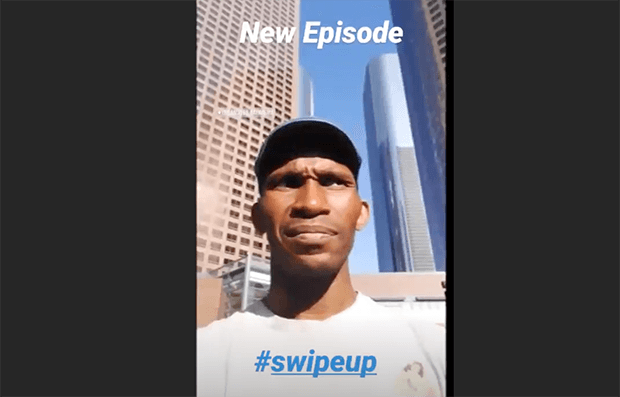 The "swipe up" feature lets you link directly to your URL of choice. This is an ideal way to link your teaser trailers to the full video on YouTube or to direct fans to subscribe. And because it only takes a few swipes to get there, it's an easy way to use Instagram to increase your YouTube subscribers.
Run an Instagram Giveaway Promoting Your Channel
Our final tip is to run an Instagram giveaway that promotes your YouTube channel. Giveaways are excellent for growing your followers quickly on both platforms. And they're ideal for rewarding your audience with a great prize.
The best way to create an online contest is to use RafflePress, the best giveaway plugin for WordPress. It has everything you need to run a successful giveaway on Instagram. And with ready-made actions included in the drag and drop builder, fans can enter in a few clicks.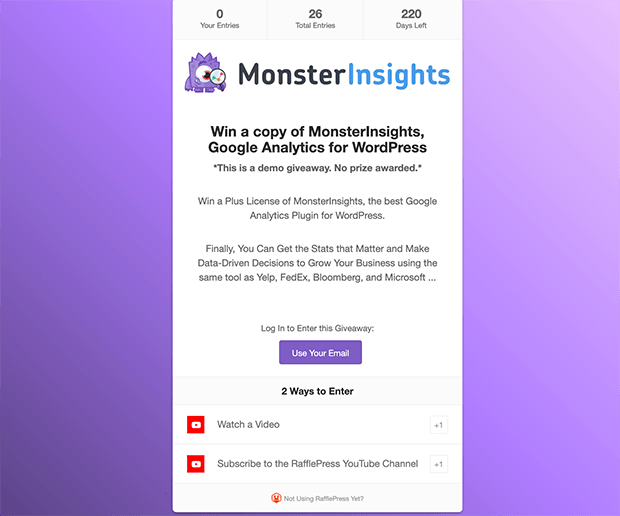 When it comes to publishing your giveaway, you can announce the giveaway on YouTube but promote the giveaway specifically to your Instagram audience, asking them to watch the video to enter.
Then you can add extra options such as:
Refer a friend
Visit a YouTube channel
View an Instagram post/video
For people to earn more entries and to boost the visibility of your contest.
As you can see, running your giveaway creates a direct link between people finding your contest on Instagram and entering by taking action on your channel. And the result is more YouTube subscribers.
There you have it!
We hope this article helps you learn how to use Instagram to increase your YouTube subscribers. Now all that's left is to put these tips in place and watch your channel grow.
What are you waiting for?
Get started with Smash Balloon today.
If you enjoyed this article, feel free to follow us on Twitter and Facebook for more social media marketing tutorials.