Looking for an easy way to add Instagram hashtag feeds to WordPress?
Showing a feed of Instagram images with hashtags on your website can give your visitors valuable content while boosting your Instagram followers.
But Instagram doesn't offer a simple way to embed hashtag feeds on your site. And the solution they have is pretty hard to do without help from a developer.
In this article, we'll show you how to easily add an Instagram hashtag feed to your WordPress site.
And the best part? This tutorial's made for WordPress beginners, so you can follow it even if you're not tech-savvy.
Here are the steps involved to help you navigate this post:
Why Add Instagram Hashtag Feeds to WordPress?
With over 4.48 billion people active users, social media is now a great source of customers and engagement for brands all over the world.
An easy way to use social media to grow your business is by adding social media feeds to your site
In fact, embedding Instagram hashtag feeds can have several benefits for your business, such as:
Increased brand exposure: Even if you display hashtags from other Instagram users, your feeds are still linked to your Instagram account, complete with your branding and profile details, keeping your business top of mind.
More Instagram followers: Offering valuable content to visitors with your Instagram content? They'll want to follow your updates — giving you a boost in Instagram followers.
High engagement levels: If you regularly show high-quality content on your hashtag Instagram feed, you can encourage visitors to engage with your site. You can also develop long-lasting relationships with your customers that way.
Improved customer trust: Adding Instagram photos to your site lets you filter content to include posts like reviews, which helps customers trust you and can increase sales.
Increased relevancy: Fresh and engaging hashtag feeds also demonstrate that your company is relevant and can respond to current industry trends.
More sales: Displaying your user-generated hashtag feed on your website helps boost your conversions by showing positive social proof for your business.
Embedding hashtag feeds on your website can help your business achieve much more than displaying a feed of Instagram posts.
With the right tools to help you, you can embed feeds to easily engage and entertain your visitors, boost your followers, and grow your business.
Should You Add Instagram Feeds to WordPress Manually Without a Plugin?
Many WordPress users think the fewer plugins you have on your website, the better. But that's not always the case.
Sure, poorly coded plugins can bloat and slow down your website.
But well-made, lightweight WordPress plugins can save you tons of time and frustration without any ill effects.
It all comes down to the quality of the plugins you install.
The best WordPress plugins like Smash Balloon's suite of social feed plugins, which have over a million installs, are rigorously tested and optimized for speed.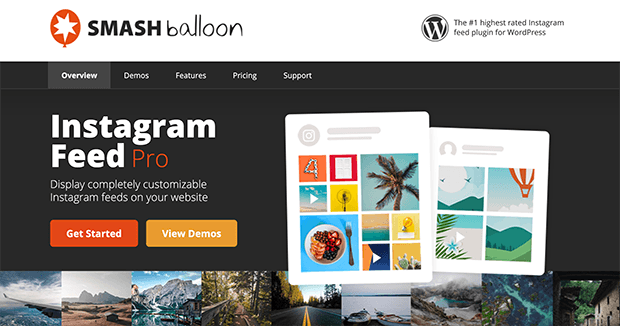 Plus, a faster plugin means a faster site, which is great for your SEO.
If you're not convinced, you can learn more about how plugins affect your site speed here.
So before we jump into the how-tos, let's look at why manually adding an Instagram hashtag feed to WordPress might not be the best choice for your site.
Not as easy: Manually embedding Instagram hashtag feeds to your website without a plugin isn't as easy as with a plugin. The manual way involves working with code languages, which is difficult for site owners with little experience. With the Instagram Feed plugin from Smash Balloon, you can easily set up hashtag feeds with a few clicks.
No customization options: Manually embedded Instagram feeds don't have easy ways to customize your feed design. With a plugin, it's as simple as clicking some settings.
No hashtag filters: With manual feeds, you miss out on the ability to filter hashtags by topic, location, and likes. An Instagram feed plugin lets you filter almost any type of content for your feed with no hassle.
You miss powerful features: If you add your hashtag feed to WordPress without a plugin, you'll miss out on powerful features like tracking and retargeting, Instagram feed caching, offsetting posts, and much more. You'll also miss out on the chance to add multiple Instagram feeds to your site.
Looking for an easy way to add fully customizable Instagram hashtag feeds to WordPress? You can use Smash Balloon's Instagram Feed plugin instead.
You can see a full list of the features of the premium version of Instagram Feed here.
Adding Instagram Hashtag Feeds to WordPress The Easy Way
Now, let's talk about how to add Instagram hashtag feeds to WordPress the easy way with the Instagram Feed Pro plugin from Smash Balloon.
You can also learn to embed general Instagram feeds to WordPress here.
Step 1: Download The Instagram Feed Pro Plugin
The first step in adding hashtag feeds to WordPress is to get your copy of Instagram Feed Pro here and download the plugin to your computer.
Next, upload the plugin to your WordPress website. You can check out this guide to learn how to install a WordPress plugin.
Then come back and move on to step 2.
Step 2: Connect Your Instagram Account
Next, connect your Instagram account to WordPress. You can do that by navigating from your WordPress dashboard to Instagram Feed » Settings.
That takes you to the general settings page. From there, click the blue button labeled Connect an Instagram Account to link your Instagram profile.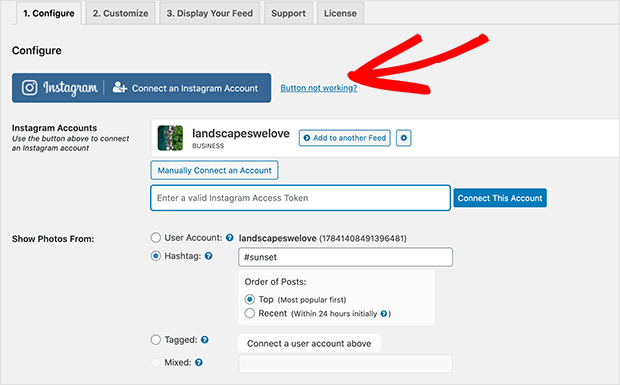 You'll then see an overlay asking you to connect either a personal or business account.
Since you're adding a hashtag feed, you'll need a business Instagram account. So go ahead and choose that option and click Connect.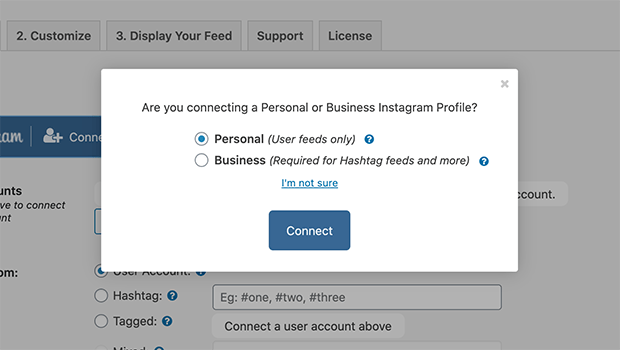 Next, confirm your user account and click the Connect Accounts button.
You can also manually connect your Instagram account by entering your Instagram Access Token and User ID.

Then just click Connect This Account.
The next section on the screen shows all the ways you can display your Instagram feed in WordPress. To show your Instagram hashtag feed, click the Public Hashtag radio button next to the Show Feeds From heading.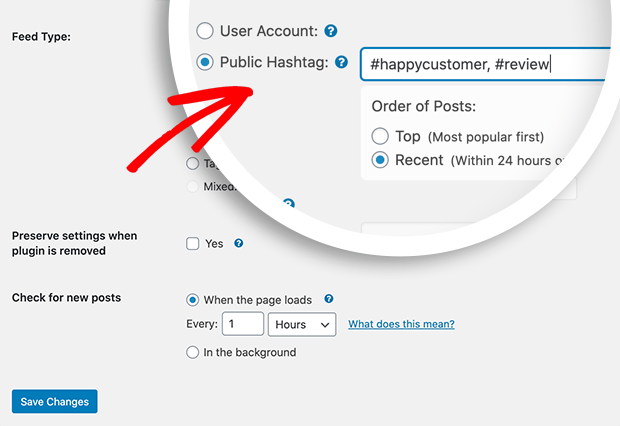 In the box next to the hashtag feed type, you can enter the hashtags you want to show in your feed. Enter as many as you like, separated by commas, and click Save Changes.
Step 3: Customize Your Instagram Hashtag Feed Settings
The next step is to customize your hashtag feed's layout. To do that, navigate to Instagram Feed » Customize or click the Customize tab at the top of the settings page.
At the top of the Customize page, you'll see several settings for changing your feeds' height, width, and background color.
Below are 4 different layout templates that determine how your hashtag feeds look live on your website.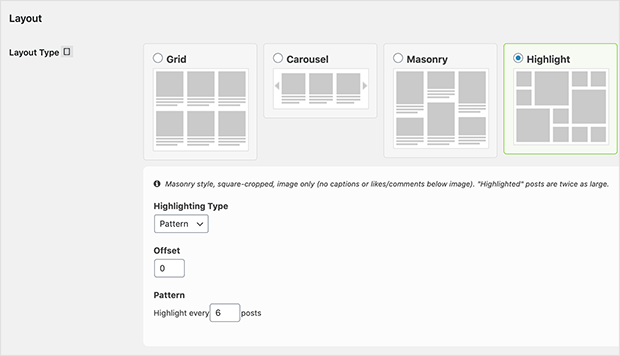 Here's an overview of each layout type:
Grid – Show your Instagram gallery in a uniform vertical grid of square thumbnails with options to control the number of photos and columns on both mobile and desktop.
Carousel – Display an Instagram carousel in WordPress with a horizontal hashtag feed layout, pagination, row, and loop options.
Masonry – A feed of images in their original aspect ratios with the opportunity to set the number of photos and columns for desktop and mobile feeds.
Highlight – Square cropped images with highlighted posts displaying twice as large. You can highlight posts by post ID, hashtag, and pattern at specific intervals.
Below the layout settings, you can customize your feed's header, load more button, and follow button. Click Show Customization Options below each heading to expand those settings and customize them to your liking.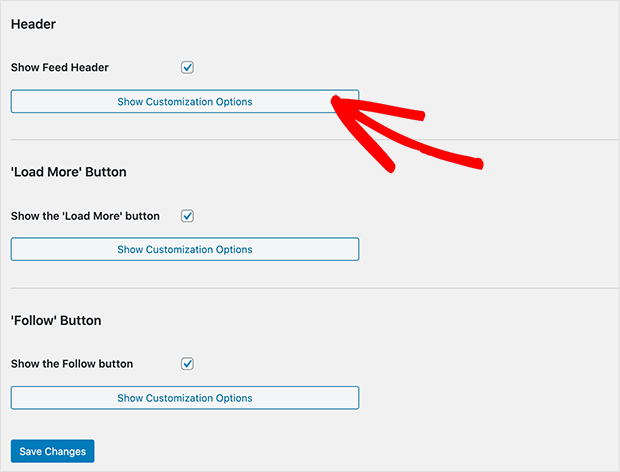 Remember to click Save Changes before you move on to styling the rest of your hashtag feed.
Step 4: Style Your Instagram Hashtag Feed
On the Instagram Feed Customize page, you'll also see several tabs along the top you can click for more settings.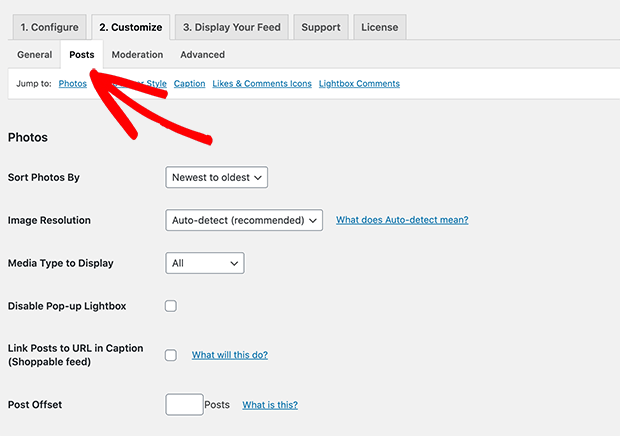 Clicking the Posts tab reveals multiple options for styling your hashtag feeds' posts including:
Photos – Here, you can display photos by newest to oldest, randomly, or by the number of likes they have. You can also select which media to display, disable lightbox popups, offset posts in your feed, and link posts to create a shoppable Instagram feed.
Photo Hover Style – This option lets you set the hover color for text and backgrounds and choose which information to display when users hover over a photo in your social photo feed.
Caption – Choose to show or hide captions and set the text length, color, and size.
Likes & Comments Icons – With this setting, you can show or hide icons for likes and comments, and define the icon color and size.
Lightbox Comments – Here, you can choose to display comments in the lightbox and the number of comments. You can also clear your comment cache.
When you've configured your settings and styled your hashtag feed, click the Save Changes button.
Step 5: Moderate Your Hashtag Feed
Instagram Feed Pro also gives you powerful moderation options that help you control the posts in your hashtag feed.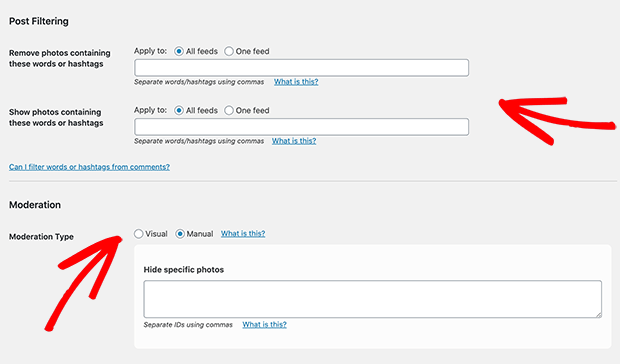 If you click the Moderation tab at the top of the Customize page, you'll see 2 different options for moderating your Instagram feed:
Post Filtering – Enter words, phrases, or hashtags to include or exclude individual posts from your feed.
Moderation – Enter specific posts IDs to hide them from your feed or manually remove posts using visual moderation.
The easiest way to moderate your Instagram hashtag feed is to enable the Visual Moderation option. That will add a Moderation button to every Instagram feed on your site. When you click that button, you can hide posts and create white lists from the front of your website visually.
Just remember to click Save Changes after you pick your moderation option.
Step 6: Configure Advanced Feed Settings
Now let's look at the Advanced settings for your Instagram feed. Click the Advanced tab at the top of the page to access those options.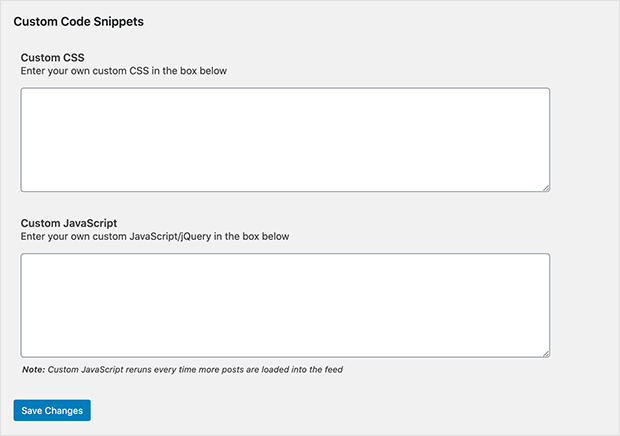 The first section is where you can add custom CSS to customize your feeds further. You can also enter custom JavaScript and jQuery to run tracking codes like Facebook tracking pixels.
Below are several Misc advanced settings, for AJAX themes, image resizing, cache clearing, and more. For an explanation of what each setting means, click the What does this mean? link beside each setting.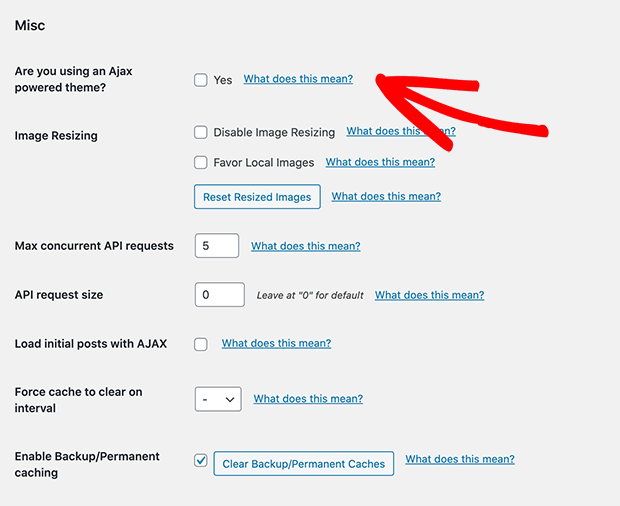 Now click Save Changes and move on to learn how to embed an Instagram hashtag feed in WordPress.
Step 7: Embed Your Instagram Hashtag Feed on Your Website
There are many ways to embed Instagram hashtag feeds in WordPress using Smash Ballon's Instagram Feed plugin.
Let's take a look at the available methods:
Instagram Feed WordPress Block – Embed your hashtag feed in the new WordPress content editor using a content block.
Instagram Feed Shortcode – For users of the old WordPress editor, you can paste a shortcode directly into the content editor. Click the Display Your Feed tab on the settings page for a full list of available shortcode options.
Instagram Feed WordPress Widget – Add your feed to any widget-ready area of your website using the built-in Instagram hashtag widget for WordPress.
Here's how to embed your hashtag feed in WordPress using each method.
Embed Your Hashtag Feed Using the WordPress Block Editor
To embed a hashtag feed in the new WordPress block editor, start by creating a new post or page. In our example, we'll add a new WordPress Page.
So from your dashboard, navigate to Pages » Add New. That will take you to a new page with the block editor.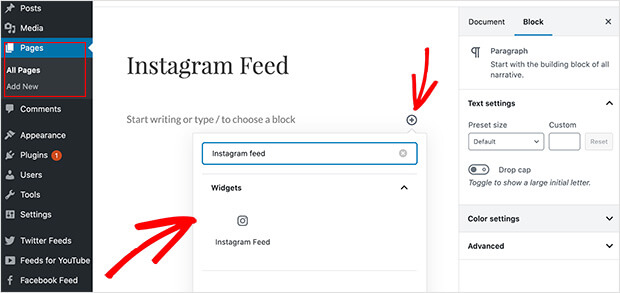 Next, click the Plus (+) icon inside the editor to add a new content block. You'll then see all the different blocks available to you.
To quickly find the Instagram Feed block, type "feed" into the search box. Then click the block to add it to your page.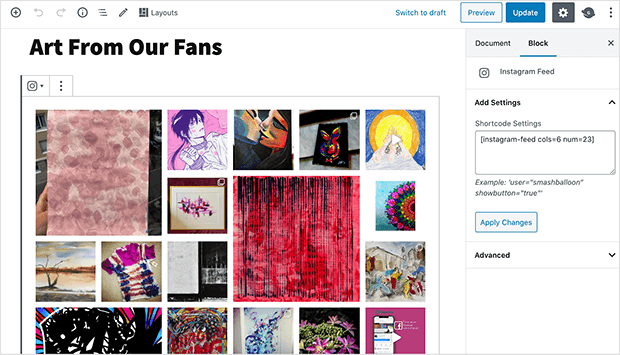 WordPress will now automatically show you a preview of your feed, so you can make any changes before you publish. Click Publish to make your page live.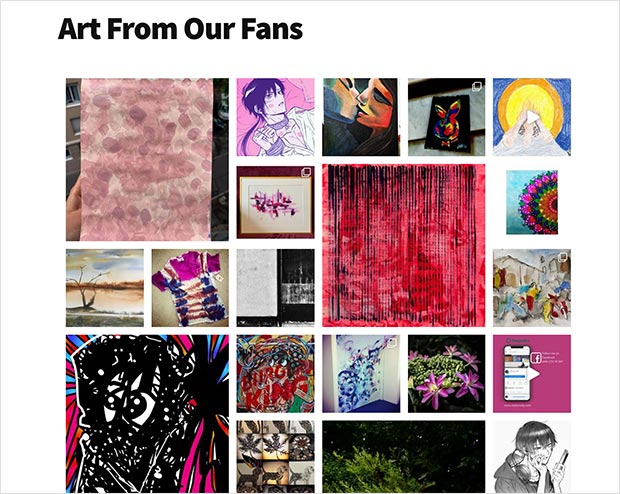 When you visit the live page, your hashtag Instagram feed is displayed beautifully with the rest of your content!
Embed a Hashtag Feed Using The WordPress Classic Editor
If you're using the classic WordPress editor to embed your Instagram hashtag feed, follow the steps above to add a new page.
Then on your new page, paste this shortcode ['instagram-feed] to display your Instagram feed.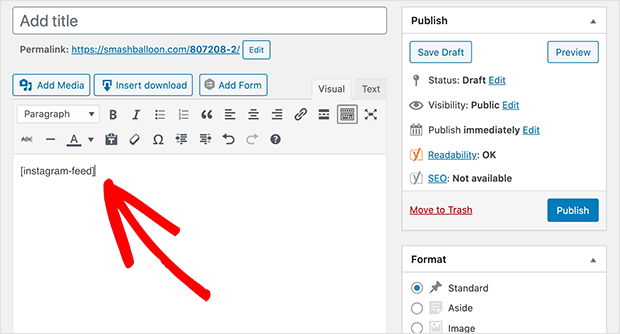 Now click Publish, and when you navigate to the live page, you'll instantly see your hashtag feed.
Display Your Instagram Feed in a WordPress Sidebar Widget
As mentioned earlier, you can also display your WordPress Instagram hashtag feed on your sidebar or footer as an Instagram widget.
For example, you can add a horizontal scrolling carousel hashtag feed to your footer with the built-in WordPress widget.
To do that yourself, navigate to Appearance » Widgets from your WordPress dashboard. Then locate the Instagram Feed widget and drag it to your footer widget area.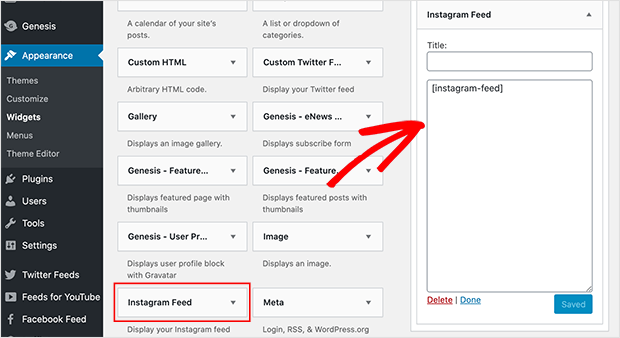 Make sure you click Save and Done before heading to your website to see your Instagram hashtag widget for WordPress in action.

There you have it!
You now know how to add an Instagram hashtag feed to WordPress. Now you can engage your site visitors with valuable content, grow your Instagram followers, and improve your business.
So what are you waiting for?
Get started with Instagram Feed Pro today.
Want an easy way to get started with Instagram feeds? You can take a look at these examples of Instagram feeds that you can copy.
If you're looking for a way to get more from Instagram, we also have a guide on the best types of Instagram posts to boost sales.
And do follow us on Twitter and Facebook for more helpful social media content.