Over the years, our Instagram Feed plugin has helped tons of people create beautiful Instagram feeds with ease.
Today, we're taking things to another level with our Instagram Feed 6.3 update!
Now, you can use professionally designed themes to instantly create beautiful and unique Instagram feeds. As a result, you'll have an easier time keeping visitors engaged and growing your Instagram following.
Let's take a closer look at this update below.
Easily Create Beautiful Feeds With Instagram Themes
In the past, you could use feed templates and our visual customizer for quick and easy customization.
With our new Instagram Feed Themes, you can create engaging feeds with even less time and effort.
Just select a theme you want to import, and you can instantly change your layout, buttons, post style, header design, and more!
Now, it's super easy to choose attractive themes with coordinated design elements for your Instagram feeds.
In just a few clicks, you can showcase your Instagram feeds using professionally built themes that can impress your visitors and help you get more engagement and followers.
With this update, you get 5 attractive Instagram themes that you can choose from:
Default
The first option is the Default theme, which lets you use the standard Smash Balloon design for your feeds. This lets you display Instagram photos and videos in a way that's familiar to your visitors.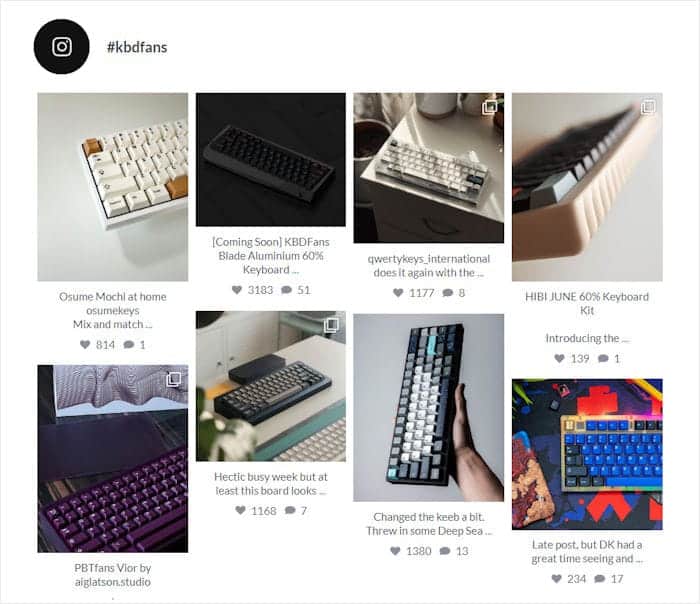 You can show Instagram posts with this tried-and-tested layout on your homepage and get more followers for your brand's account.
Modern
Next, we have the Modern theme that will give your Instagram feeds a sleek look with dates above each post. Plus, your feeds will have clean icons that look similar to the official Instagram ones.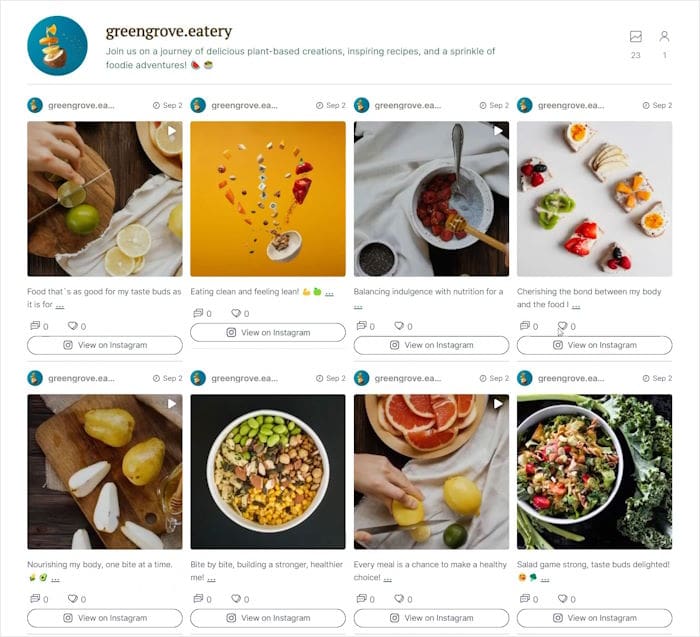 Using this theme, you can add professional-looking feeds to your brand's "About Us" page.
Our Modern theme is also great for an Instagram feed that's placed on your footer, so you can easily capture your audience's attention
Social Wall
You can also go for the Social Wall theme, which borrows the colorful look of our Social Wall Pro plugin. This theme also features rounded thumbnail edges as well as a neat Instagram logo above each post.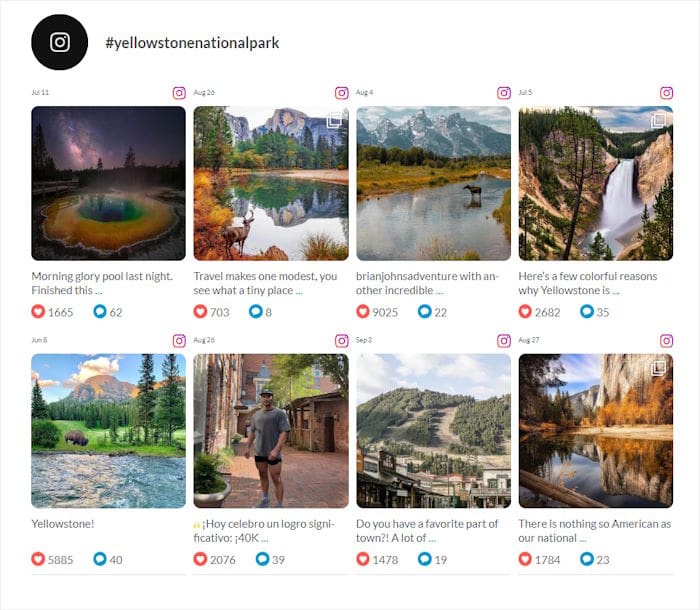 With colorful Instagram feeds on your site's sidebar, you can grab people's attention with ease and get tons of views, likes, and comments.
Outline
Using the Outline theme, your Instagram feeds can have a minimalist wireframe design. You're also showing a "View on Instagram" button below each post so visitors can easily check out more of your content on Instagram.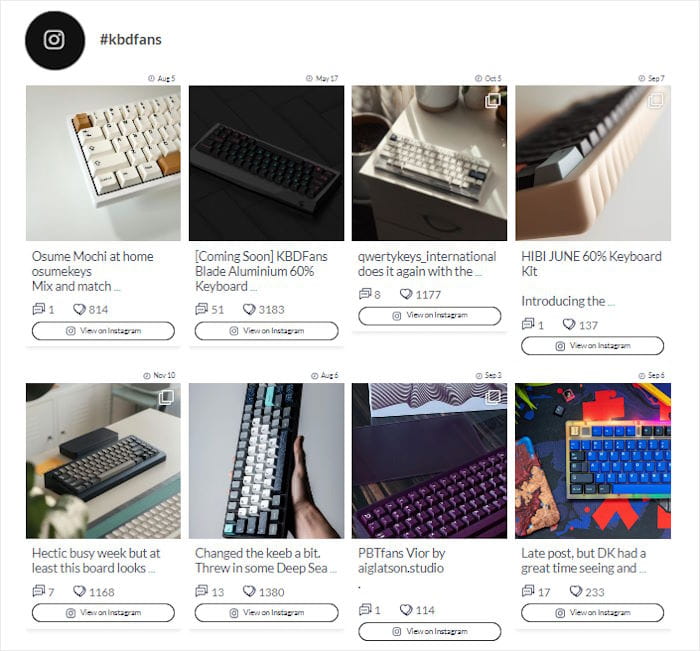 If you're a photographer, you can highlight your Instagram photos using this theme to impress visitors and get more clients.
It's also an awesome theme to add to your product pages so you can feature your brand's best-selling products in your embedded Instagram feed.
Overlap
To add a splash of color to your site, you can go for the Overlap theme. Your Instagram feed will then have a soft look with rounded edges and colorful buttons. What's more, this theme will also place your avatar on the Instagram thumbnails.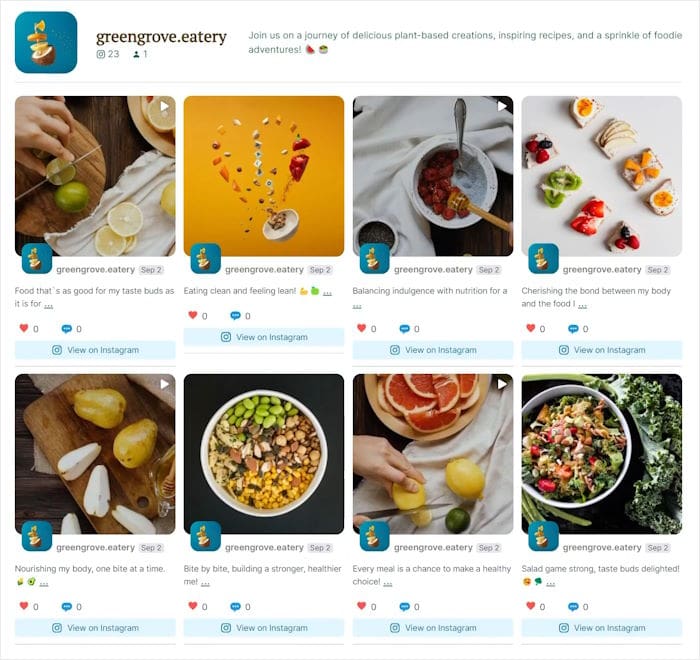 It's a great way to reinforce your branding directly on your site's homepage using Instagram feeds. As a result, you'll have an easier time building trust and converting people into dedicated customers.
As you can see, each theme showcases Instagram feeds in a unique and attractive way to help grow your business.
What's more, it's super easy to use these Instagram themes. When creating your feeds, the plugin will automatically let you choose your theme.
Just select the Instagram theme that you like and then click on Next.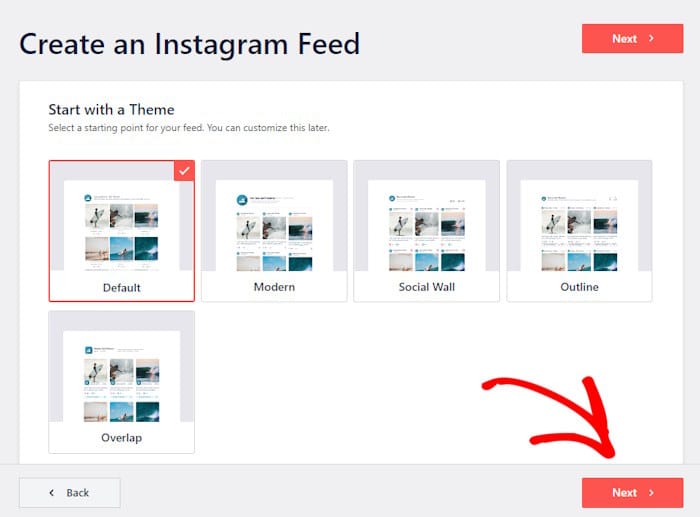 Once you've chosen the professionally-made theme that you like, the plugin will automatically import the theme for your new Instagram feed – it's that easy!
Plus, you can freely change your Instagram feed theme at any time from the visual customizer. On the left-hand panel of the customizer, click on the new Theme option.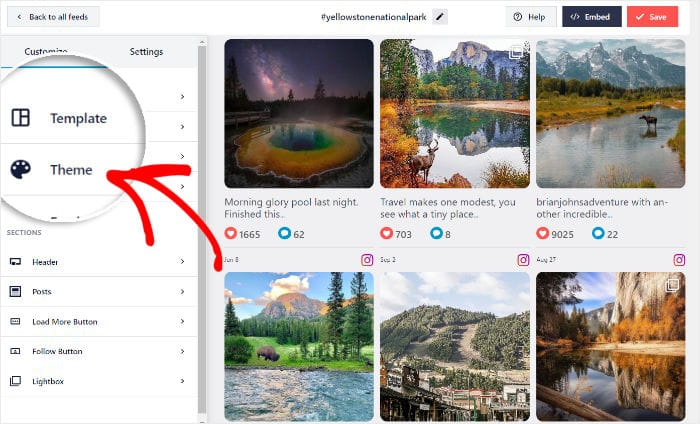 Once you do that, Instagram Feed will show you the current theme along with a quick preview. Simply click on the Change button below to start changing your theme.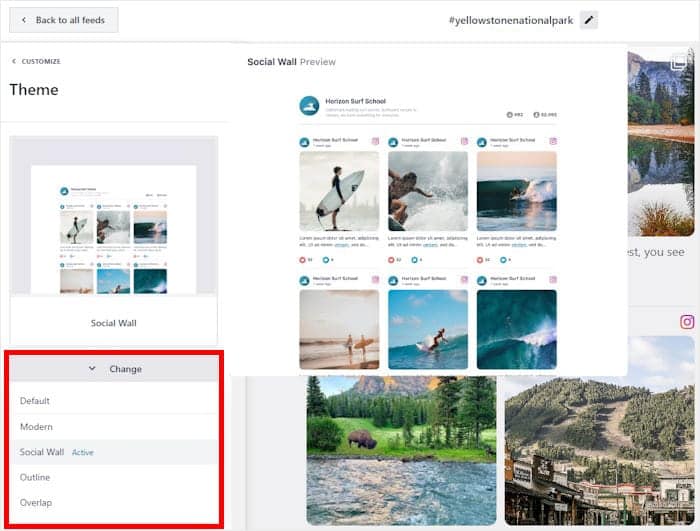 Now, you can see a dropdown menu with all the Instagram feed themes listed out. To get a preview for each theme, you can just hover over any of the options here.
After selecting your new theme, click on Save to confirm your changes, and you're good to go!
With the brand-new Feed Themes feature, you can create beautiful and attractive feeds with just a few clicks, boosting credibility for your site visitors and encouraging more likes and follows too.
Other Plugin Improvements
In this update, we've made some more changes to improve your experience of using Instagram Feed.
For one, we went ahead and integrated CSS grid and CSS flex with the plugin. This change means your feeds will have smoother edges and look even more clean and beautiful on your site.
Plus, your Instagram feeds will also line up perfectly with your site's content – automatically.
We've also added custom avatars for the lightbox view with this update. Now, when your visitors click on an Instagram post, you can also show them a custom avatar you chose specifically to highlight your Instagram content.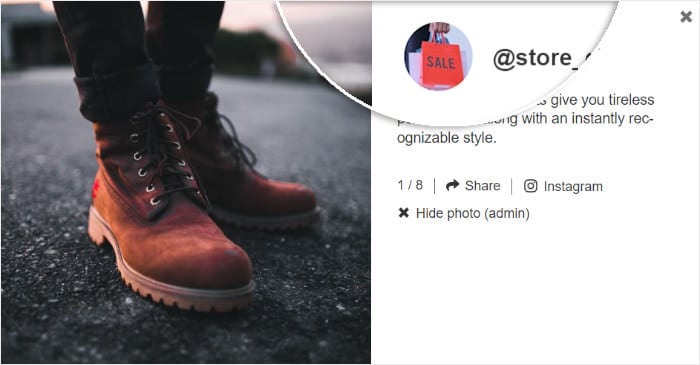 This brand-new feature lets you build brand awareness with just a few clicks. For instance, you can use it to quickly change your avatar to promote a special event or sale using your Instagram feed.
Show Engaging Instagram Feeds to Boost Your Followers Today
With this update, we've taken big steps here to make sure that you're using the best Instagram feed plugin in the market.
Ready to check out the new version of Instagram Feed?
All you have to do is open your website and update the Instagram Feed plugin to its latest version.
For more information about this Instagram Feed update, you can check out the documentation here.
As always, we'd love to hear your thoughts on this update. With your feedback, we can make our plugins even better and bring you more amazing features.
Have any questions? You can get in touch with our customer support team here.
Not using Instagram Feed yet? This is the perfect chance to hop in and join the Smash Balloon community.
Grab your copy of Instagram Feed Pro and grow your brand with the #1 Instagram feed plugin in the world.
We've got some more surprises lined up for you, so don't forget to keep an eye out for more announcements.