Do you want to embed your Twitter feed in WordPress?
Displaying tweets on your website is an excellent way to engage with your visitors and offer them relevant content.
But adding different types of Twitter feeds to your WordPress site can be tricky if you're not sure where to start.
In this article, we'll show you how to embed a Twitter feed in WordPress step-by-step.
This way, you can engage with your website visitors, give them positive social proof for your brand and convert them into loyal customers.
Since there are several methods in this guide, here's a table of contents so you can skip ahead to the section you're interested in:
Before we dive in, let's look at why you need to cross-promote a social media platform like Twitter on your website.
Or, you can click here to skip to the tutorial so you can embed your Twitter feeds right away.
Why Embed Your Twitter Feed on WordPress?
The average life of a tweet is around 18 minutes before it's lost in the news feed.
As a solution, you can display tweets on your website using Twitter feeds. By adding a feed of your best tweets to your website, you can extend their life-time.
So you can keep them around for longer and give visitors more opportunities to engage with your Twitter followers.
Adding your custom Twitter feed to WordPress also draws people's attention to the fact that you're active on Twitter and your tweets are worth following.
Now that you know the benefits of using Twitter feeds in WordPress, let's look at how you can easily embed Twitter feeds on your WordPress website.
Easiest Way to Embed Twitter Feed on WordPress
The easiest way to embed a Twitter feed on your website is to use a WordPress plugin. WordPress plugins extend the functionality of WordPress websites without needing to know how to code.
The best WordPress Twitter feed plugin on the market is Custom Twitter Feeds Pro from Smash Balloon.
As the highest-rated Twitter feed plugin for WordPress, it lets you seamlessly integrate Twitter content into your website.
With the plugin's help, you can easily create, customize and display beautiful and responsive Twitter feeds to your audience.
Since the plugin is lightweight, your Twitter feeds will load super fast. As a result, you'll get much better SEO.
Plus, it also supports Twitter buttons so visitors can interact with your tweets and follow you right from your website.
Follow the simple steps below to embed a Twitter feed on your WordPress site using Custom Twitter Feeds Pro.
Step 1: Download Custom Twitter Feeds Pro Plugin
The first step is to get your copy of Custom Twitter Feeds Pro here.
Then, install and activate the plugin on your WordPress website. If you're not sure how, you can learn how to install a WordPress plugin step-by-step here.
Step 2: Connect Your Twitter Account
The next step is to connect your Twitter account to WordPress. To do that, visit your WordPress admin panel and head to Twitter Feeds » Settings.
On this page, click the blue button to link your Twitter account.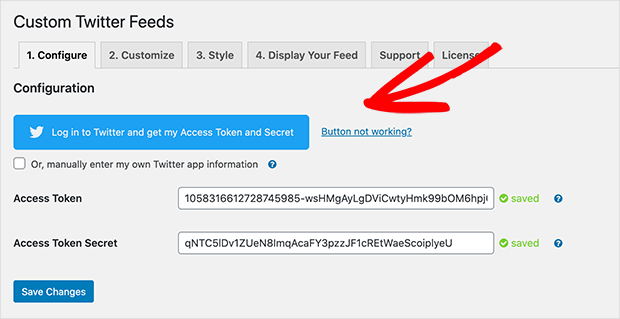 After that, scroll down to the Feed Settings section. Here, you can choose the type of Twitter feed you'd like to display on your website.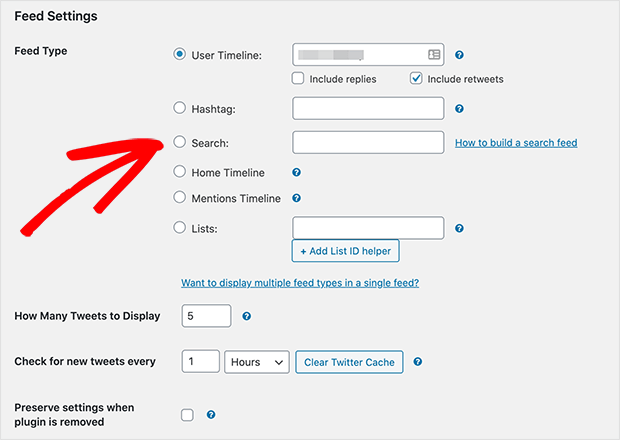 The feed type options include:
User Timeline: Latest tweets from any user's Twitter profile, including the retweets, if you'd like.
Hashtag: Specific hashtags displayed in a Twitter feed. Choose this feed type to show user-generated content like testimonial tweets from your customers to promote your brand.
Search: The results of an advanced Twitter search shown in a feed.
Home Timeline: Show the latest tweets from yourself and the accounts you follow.
Mentions Timeline: Show tweets where other people mention you.
Lists: Display a feed based on your Twitter lists.
When you've picked your feed type, you can set the number of tweets to display in your feed and how often the plugin will check for fresh content.
Now click the Save Changes button and move on to customizing your Twitter feed.
Step 3: Customize Your Twitter Feed
Custom Twitter Feed Pro lets you set specific layouts for your Twitter feed. You can also use the plugin to control the tweets you're displaying to your users.
To access those customization options, head to Twitter Feeds » Customize.
The first section on this page lets you set the height, width, and custom CSS classes for your feed. You can also disable the popup lightbox for media in the feed.
The Layout section has 3 different layout types for your Twitter feed, including: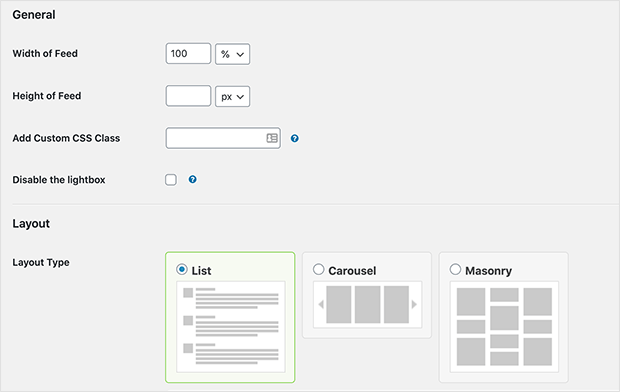 List: A list of tweets spanning the full width of your website's content area.
Carousel: A slideshow of tweets that lets you customize the number of columns for desktop and mobile, loop and arrow types, and carousel height.
Masonry: A Twitter feed with tweets displayed in columns with no space between each post. You can also customize the column options for both desktop and mobile.
Click any layout type to set it for your Twitter feed.
In the next section, you can customize the content included in your embedded tweets.
Check or uncheck any of the checkboxes to show or hide content such as author names, dates, Twitter cards, and more.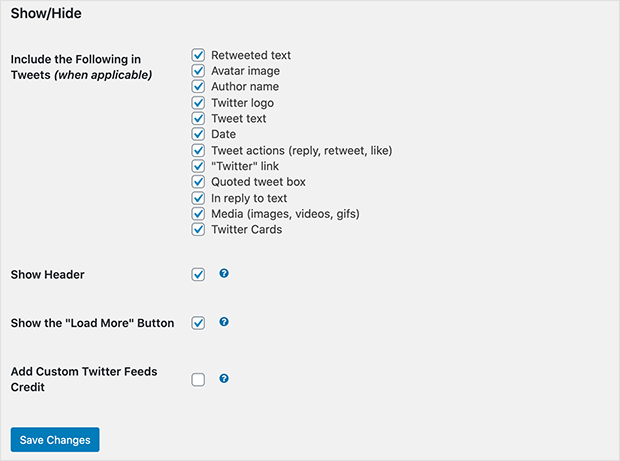 You can also hide your feed's header and load more buttons to create a streamlined feed with fewer distractions.
Below, you can customize the amount of media displayed in tweets and auto-scroll settings.
The section after that is the Moderation area. Here you can show or hide tweets containing specific words, phrases, or hashtags. You can also hide particular tweets by entering the post id into the box provided.

This is an excellent way to control the content in your Twitter feeds and filter out any offensive tweets that could hurt your business's reputation.
Now let's look at styling your Twitter feeds for WordPress.
Step 4: Style Your Twitter Feed
To access the style options, head to Twitter Feeds » Style.
On this page, you can customize the color and font of text and links in your feed, as well as feed backgrounds and buttons. You can also choose how the date and time are shown on your feeds.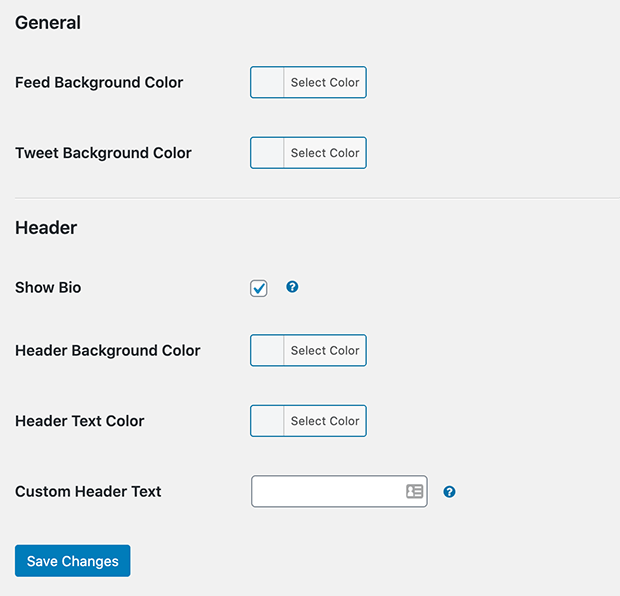 Click the Save Changes button when you're happy with the look of your feed. Then move on to the instructions for embedding your Twitter feed in WordPress.
Step 5: Embed Your Twitter Feed in WordPress
The Custom Twitter Feed Pro plugin offers 3 ways to embed your Twitter feed in WordPress, including:
Displayed in your WordPress post
Embedded in your WordPress page
Added to your WordPress sidebar or footer as Twitter widget
Here's how to embed your Twitter feed in a post or page in WordPress.
Embed Your Twitter Feed in a WordPress Post or Page
To embed your Twitter feed in a new page in WordPress, navigate to Pages » Add New from your WordPress admin area.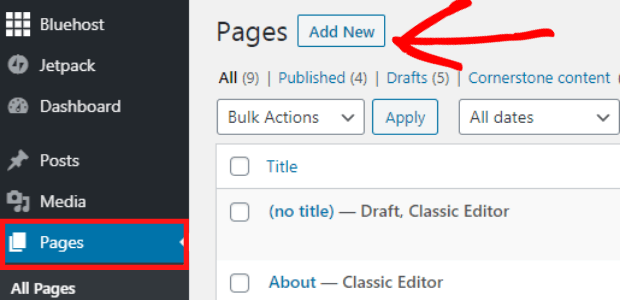 Then on your new page, click the Plus (+) icon to add a new WordPress content block. Next, under Widgets, click Twitter Feed to add it to the editor. Now you'll see a preview of how your feed looks before publishing.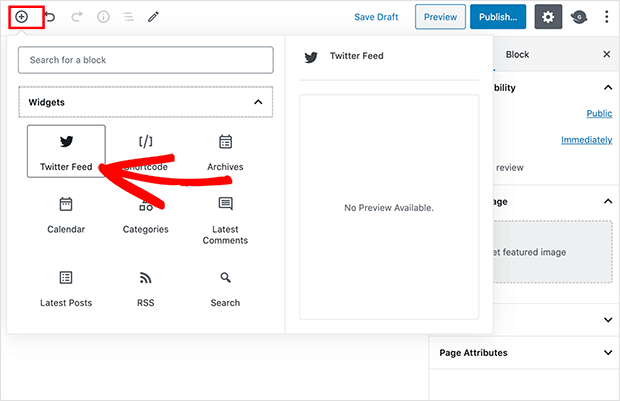 If you're happy with everything, click Publish. And when you view your Twitter feed on the live page, it'll look similar to the example below.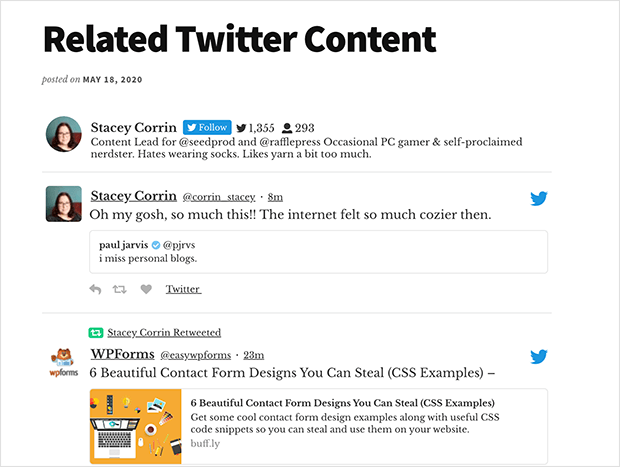 Add a Twitter Feed Widget to Your Sidebar
If you'd prefer to embed your Twitter feed using a sidebar widget, navigate to Appearance » Widgets from your WordPress admin area.
Then drag the Custom Twitter Feed widget into your chosen widget area. For our example, we used the Primary Sidebar.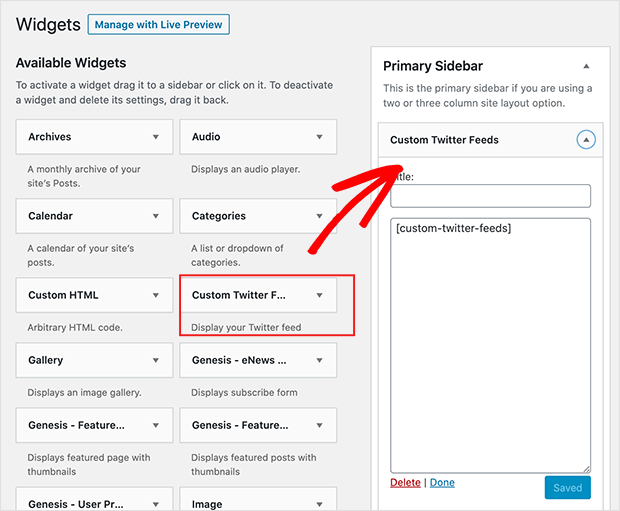 Click Save, then Done to confirm the changes, and when you navigate to your live website, your Twitter feed will be displayed beautifully as a Twitter timeline widget in your sidebar.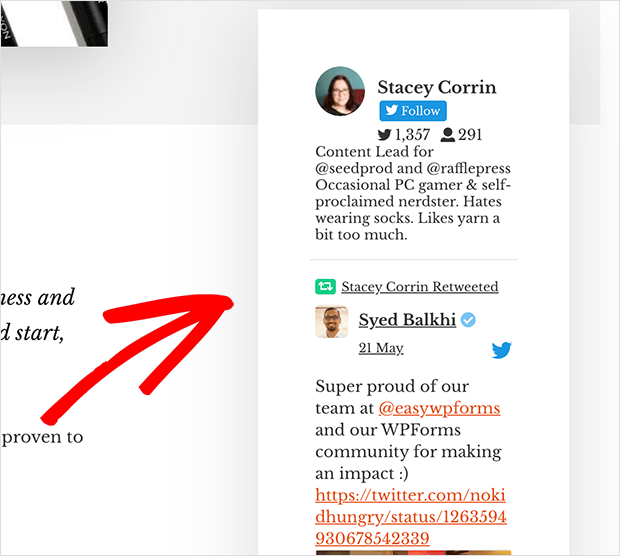 Adding a Twitter Hashtag Feed to Your Website
The Custom Twitter Feeds Pro plugin is also a fantastic way to showcase Twitter hashtag feeds on your website easily.
Hashtag feeds are an effective way to highlight specific social media content from your account or content curated from public hashtags.
For example, fashion retailers can use Twitter hashtag feeds to find trending posts related to the latest styles, which they can embed on their blog for readers to engage with.
Or, they can use hashtags on product pages for specific products to highlight different ways to wear the item.
Embedding a Twitter hashtag feed is easy. Follow the instructions above to connect your account to WordPress, then in the Feed Settings section, choose the Hashtag option.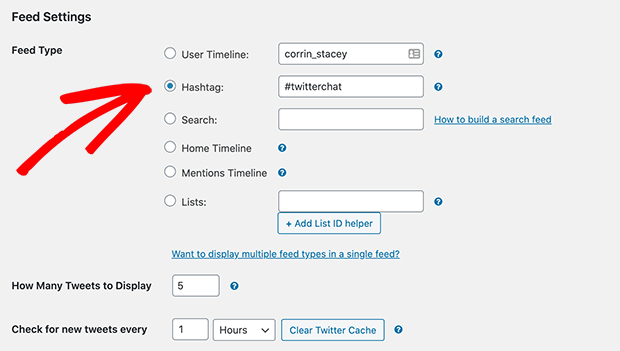 Here, enter your desired hashtags separated by commas, and click Save Changes. Then continue setting up and embedding your Twitter hashtag feed using the steps above.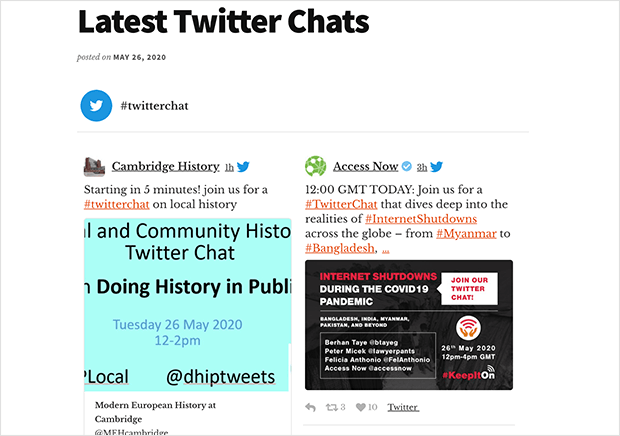 How to Embed a Twitter Feed in WordPress Without a Plugin
There may come a time when you'd prefer to embed a Twitter feed in HTML manually, without a plugin. On Twitter, you can copy and paste code snippets onto your website, but this is something you might not be comfortable doing.
In fact, there are several drawbacks to adding a Twitter feed to WordPress manually instead of using the easy way, with a plugin, which we explain below:
– Not as easy: Embedding a Twitter feed in WordPress manually is not as easy as with a plugin. You have to go through multiple steps, which can be confusing. Plus, you need to switch between different web pages.
When you use a plugin like Smash Balloon, you can do everything within your WordPress dashboard with a few clicks.
– No customization: Manually adding your Twitter to WordPress doesn't give you any customization options to personalize your feed and create a consistent branded look.
The Custom Twitter Feeds plugin has extensive design and layout options for both your feed and the posts within, giving you complete control over how everything looks.
– No filters: Manual Twitter feed embeds don't offer ways for you to filter your feed to display specific content. So you won't be able to target certain audiences with tailored Twitter posts.
On the other hand, Custom Twitter Feeds Pro lets you filter feeds by hashtags and search terms. You can also use it to combine multiple Twitter users in a single feed.
– Open to errors: If you manually embed a Twitter feed on your website, you leave room for human error. For instance, you can easily misplace parts of the code snippet, click the wrong webpage or miss a step in the process.
With a Twitter feed plugin managing all that for you, there's nothing to lose track of! Even better, the Custom Twitter Feeds plugin will automatically notify you if there's an issue with your feed.
So if you're looking for an easy way to embed your Twitter feed in WordPress, the Custom Twitter Feeds Pro plugin has everything you need to get up and running in minutes!
Get started with the Custom Twitter Feeds plugin here.
That said, if for some reason you need to embed Twitter manually, follow the steps below.
Step 1: Visit Twitter Publish

First, visit Twitter Publish. This is an official Twitter website that lets you generate HTML embed code for your different Twitter feed types to add to your site.
Step 2: Choose Your Embed Type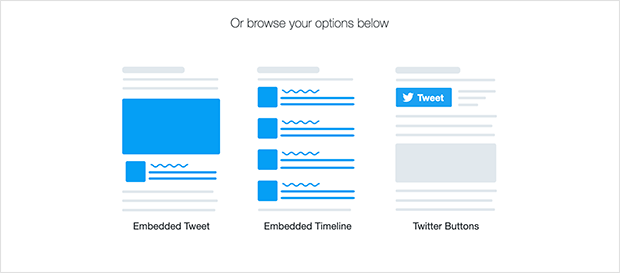 Next, scroll down and choose your embed type. For this example, we're using the Embedded timeline option.
Step 3: Paste Your Twitter URL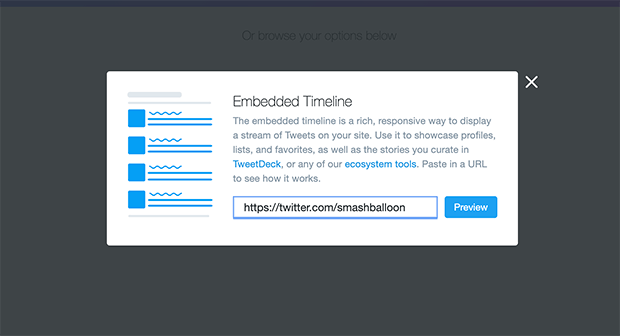 Now enter the URL of the Twitter timeline you want to embed and click the Preview button.
Step 4: Copy the HTML Code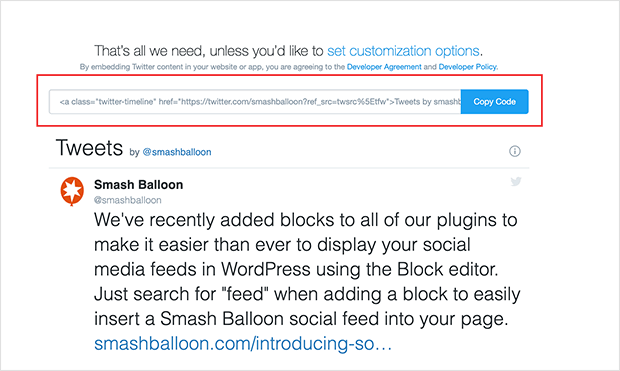 On the preview page, you'll see an overview of your chosen Twiter timeline. At the top of the preview, you'll see a box containing HTML code. Click Copy Code to save the code to your clipboard.
Step 5: Paste the HTML in WordPress
The last step is to paste the copied HTML into WordPress. To embed the code in a WordPress post, head to Posts » Add New.
Then click the Plus (+) icon to add a new content block. For this example, choose the Custom HTML block.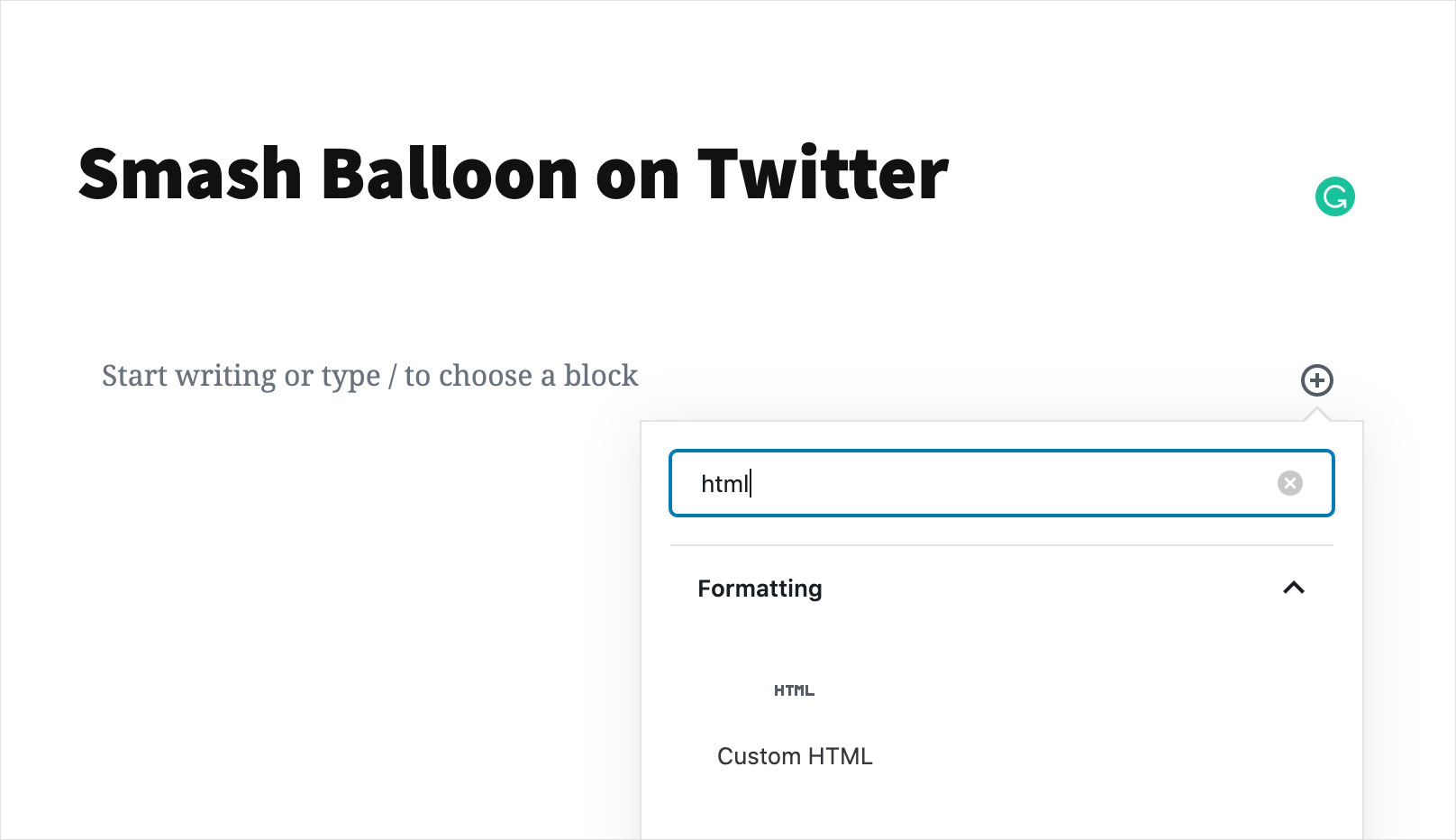 Then paste the copied HTML code into the content block and click Publish.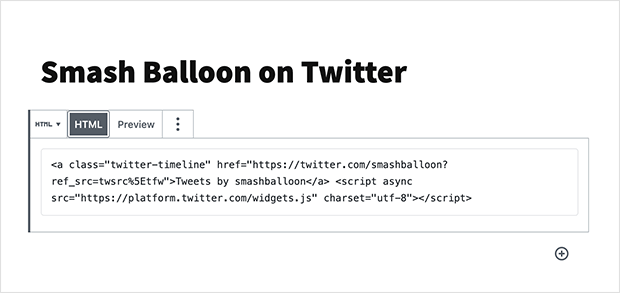 When you navigate to the live post, your Twitter feed is displayed right there in your post.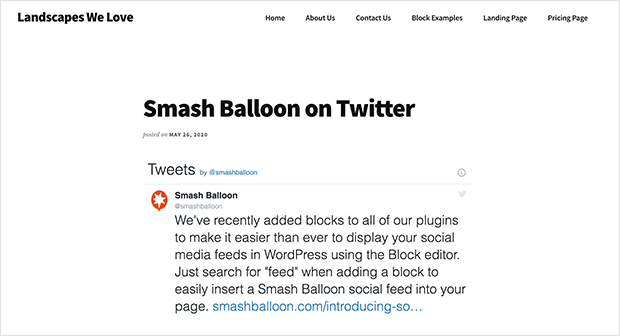 And there you have it!
We hope this article helped you learn how to embed a Twitter feed on your WordPress website. You can now engage your visitors with relevant content, increase your Twitter followers, and grow your businesses.
Get started with Custom Twitter Feeds Pro today.
Pro-tip: Here's a better deal for you. Want unlimited access to Smash Balloon plugins to post unlimited social feeds on unlimited websites?
Go ahead and get the All Access bundle here. It's the best social media aggregator in WordPress.
The best part about Smash Balloon's pricing method? We have a 100% no-risk money-back guarantee, so you can try out the plugins first and see if it's a good fit for you.
Interested in more ways to integrate Twitter into your website? You may want to check out this next post on the best Twitter plugins to promote your business on WordPress.
Enjoyed this article? Feel free to follow us on Twitter and Facebook for more social media marketing tutorials.