Wondering how you can add Twitter to your WordPress site?
With the average tweet having a lifespan of just a few minutes, it can be hard to promote your Twitter account if you rely on Twitter alone. That's why embedding your tweets on your site can get you more potential followers.
In this post, we'll show you engaging examples of how you can integrate your Twitter content to your WordPress.
Also, we'll link every example to a step-by-step tutorial so you can use them on your own website. Here's a table of contents to make it easier to navigate this post.
Let's jump right in.
Why Should You Add Twitter to WordPress?
There are tons of reasons why you should embed your Twitter content in your WordPress. When you cross-promote your tweets to your website, you can:
Extend lifespan of your tweets – In addition to posting your tweet on Twitter, you can also post your tweets on your website by embedding a Twitter feed on WordPress.
Save time – Don't have time to post updates on your site all the time? Save time by posting new content to Twitter and automatically displaying it on your website.
Boost Twitter followers – Get more Twitter followers by increasing user engagement and exposing your tweets to more people when you display Twitter content on your site.
Embedding Twitter feeds on your site is also a great way to market your products so you can grow your business online.
Best Ways to Embed Twitter Content on Your Site
Let's start with one of the most popular ways to integrate Twitter with your WordPress site.
1. Twitter Hashtag Feed
One of the most common ways to cross-promote your tweets into your WordPress is by showing a Twitter hashtag feed.
When you feature tweets that contain your own brand's hashtag, you can use the power of social proof to boost brand authority and encourage more sales.
You can display a Twitter hashtag feed to market your own services, show customer testimonials or even promote a product launch.
For example, whenever Starbucks launches a new drink, they make up a new branded hashtag for it. This way, their customers know exactly what to include in their tweets when posting about it.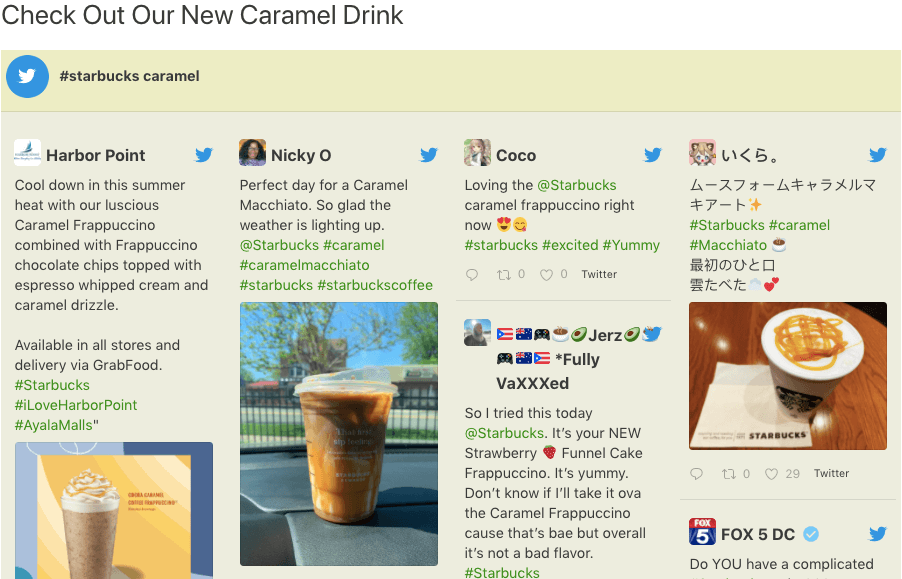 Now, Twitter doesn't have an option that lets you embed a hashtag feed on your website. Using their platform, you can display only single tweets on your site.
No need to worry, though. You can automatically embed a hashtag feed on WordPress by using Twitter Feed Pro.
You just need to install the plugin, connect it to your Twitter account and let it do all the hard work for you. No need to deal with manually embedding code snippets!
The cool thing about Twitter Feed Pro is it works great right out of the box.
The plugin automatically copies your website styles from your WordPress theme, so you can create engaging hashtag feeds that match your brand identity.
For the step-by-step tutorial, check out this post on how to embed a Twitter hashtag feed to WordPress today.
2. Mentions Timeline
Did you know that you can also display tweets that mention your Twitter username?
That's right.
By embedding a Twitter mentions feed on your WordPress, you can show relevant tweets that tag your username — right on your website.
It's an effective way to boost your customer conversions, especially if you add this Twitter feed to your sales page. After all, customer testimonials can increase conversion rates on sales pages by as high as 34%!
In this example, you can see that we added a mentions timeline to our website, with the help of the best Twitter feed plugin for WordPress: Twitter Feed Pro.
We were able to create, customize and display this Twitter tagged feed in less than 5 minutes — no coding needed.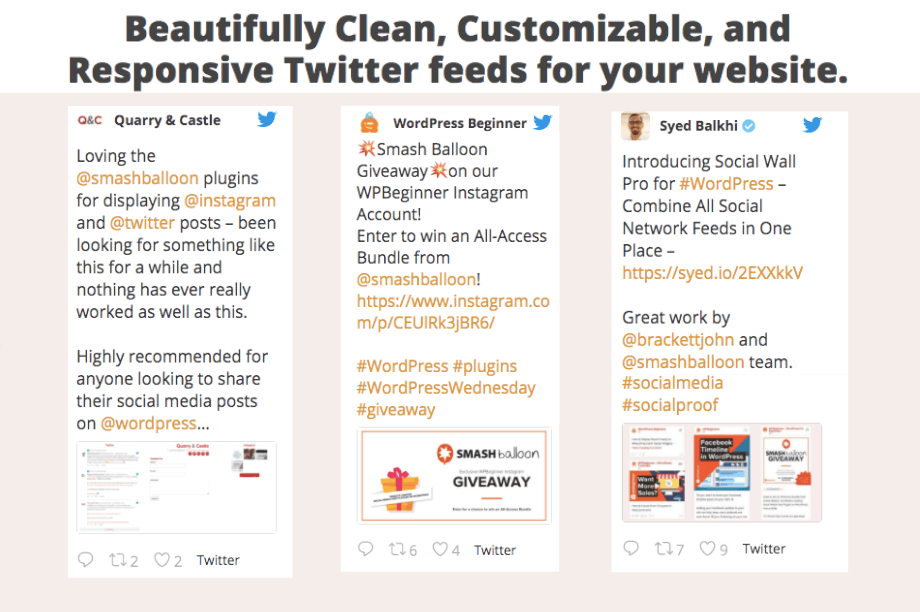 The official Twitter platform can't help you embed a mentions timeline on your website. But don't let this stop you. You can easily use Twitter Feed Pro to display a feed of tweets mentioning your Twitter handle.
The plugin helps you filter your feeds so only mentions that contain specific keywords are displayed on your site. You can even use it to exclude mentions which include specific words, to make sure you're displaying only the tweets you want.
Want to do this for your own business? Take a look at this post on how to add a mentions timeline to your website.
3. Live Twitter Feed
What if you want to add tweets from your own user account?
Then embedding a live Twitter feed on your WordPress is the way to go.
A popular way to integrate Twitter into your website, a live Twitter feed shows tweets posted by your own profile.
You can use this to give regular updates to your customers, such as when you're having a limited-time sale or upgrading your products or services.
Take Spam, for example. Their tweets promote recipes using Spam as the main ingredient, so it's a great tool for brand awareness.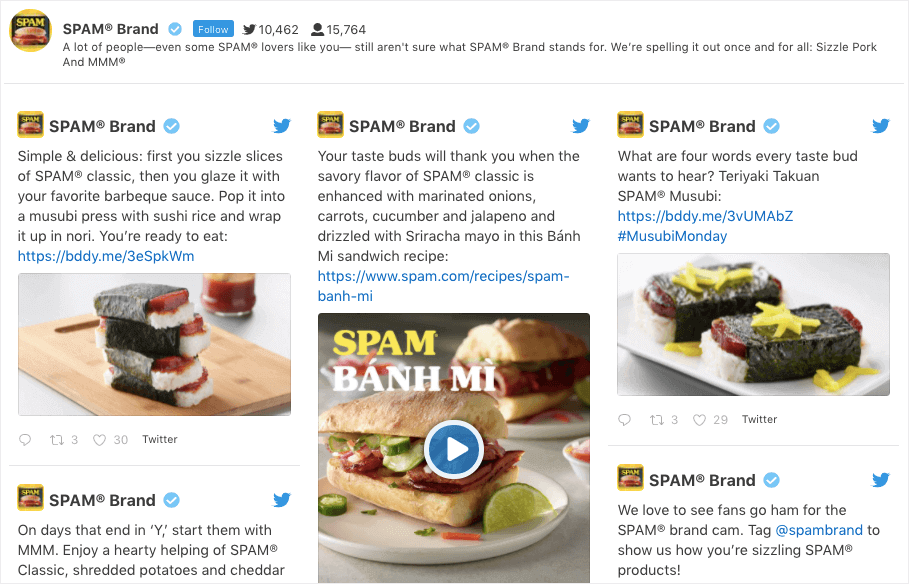 Another benefit of embedding a live Twitter feed on your website?
It also helps you reach a more targeted audience — your website visitors who are already interested in your brand, but may not be your Twitter followers yet.
By reaching a wider audience and including a "follow" button on your Twitter feed, you can get more followers, boost your engagement and increase trust in your brand. You can even convert followers into paying customers in no time.
Interested in growing your business via Twitter?
Use the #1 highest-rated Twitter feed plugin, Twitter Feed Pro, to help you. It's so newbie-friendly — it'll only take you less than 5 minutes to display your Twitter feed on your WordPress.
Learn more about how you can automatically embed your live Twitter feed in this tutorial.
4. Horizontal Twitter Feed
Do you want more people to stay longer on your website?
If you've answered "yes", then you need to start adding a horizontal Twitter feed to your WordPress right now.
It encourages your visitors to stay longer and engage with your website, so it can help improve your site's search rankings.
Since it's pretty common to display your tweets as a masonry-style grid, you can stand out from your competition by showing your tweets in a sliding carousel layout instead.
Even better, you're giving your users the chance to interact more with your Twitter feed.
Why? That's because they can click on your feed's navigational arrows to control how they read your embedded tweets.
Think you need to be an expert in WordPress to add a Twitter carousel feed?
With Twitter Feed Pro, even complete WordPress newbies can create, customize and display Twitter slideshows on WordPress.
Since this plugin is created with mobile devices in mind, every Twitter feed you create will look great on any screen size and any device.
With just a few clicks, you can easily embed a carousel feed that your site visitors can see when they check out your website. Find out how to create a horizontal Twitter feed in this handy article.
5. Twitter Widget
Did you know that you can add your Twitter feeds to your website's sidebar area also?
Instead of displaying an easy-to-miss Twitter icon, you can also embed your collection of tweets as a sidebar widget.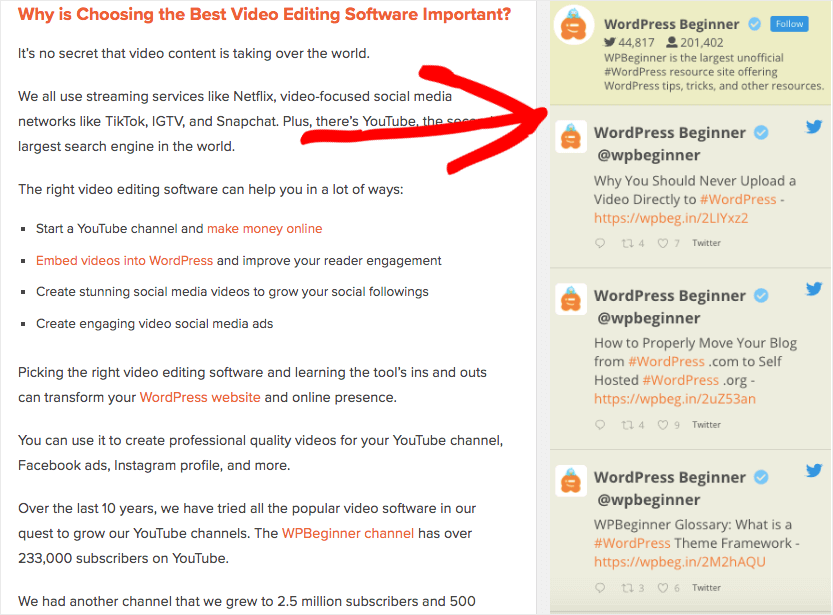 This way, more users can consume your Twitter content, so you can have a wider audience when you promote your business, blog posts, or podcast episodes.
You'll also have a greater chance of getting more Twitter followers since more eyeballs can see your tweets — without leaving your website.
Find out how you can aggregate Twitter feeds on your website's sidebar area here.
6. Twitter Masonry Columns
Finally, to build user trust and display fresh and dynamic Twitter content to your site, you can add tweets organized in masonry columns.
Using the masonry layout lets you show gorgeous walls of posts that allow your users to see each tweet in all its glory — without resizing the tweet or tweaking its original proportions.
The awesome thing about Twitter Feed Pro is that it lets you include retweets in your feeds.
If you're promoting multiple brands on Twitter, it's a great way to showcase your own brand's tweets along with your partner brand's content, just like PUMA's feed below.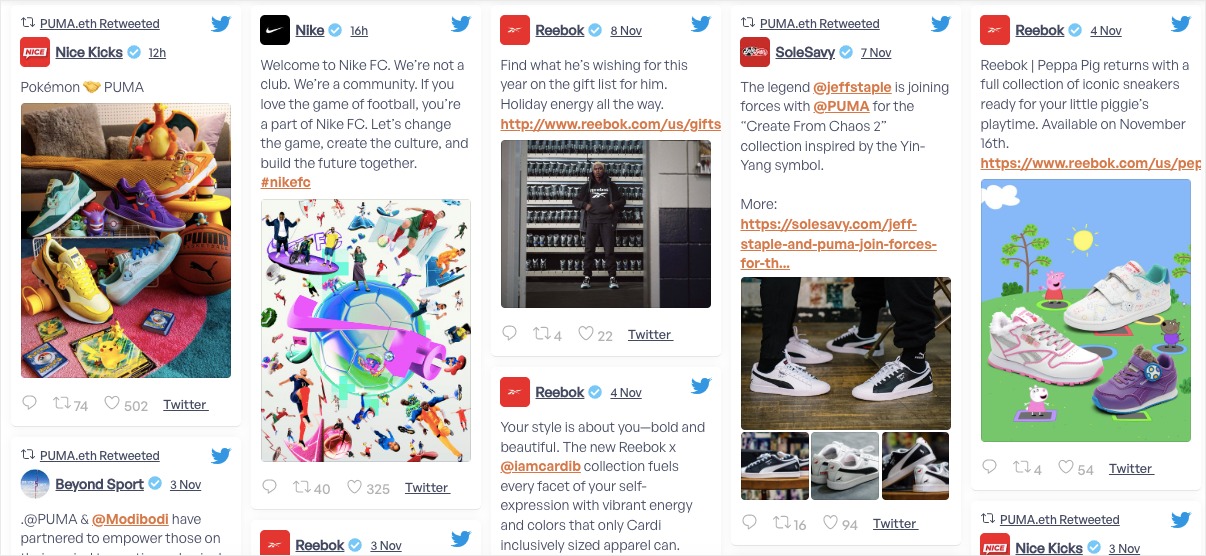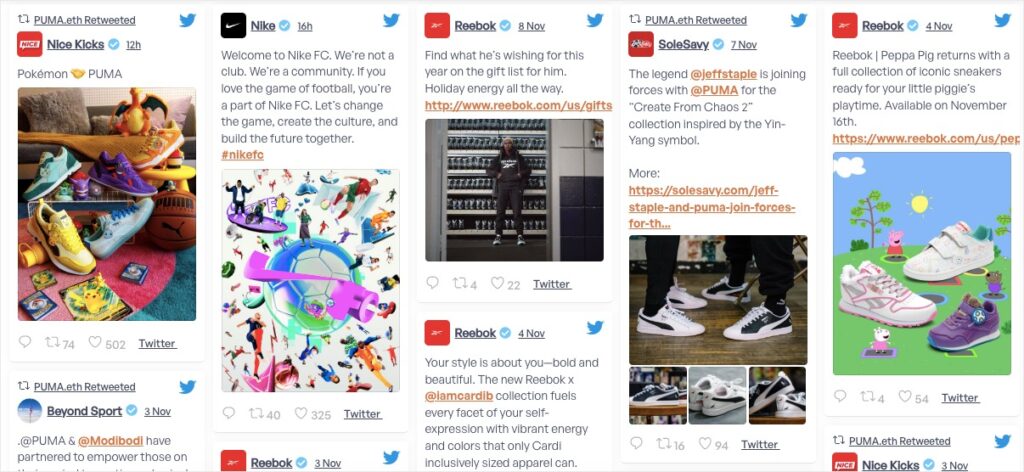 Looking for the simplest and quickest way to do this for your site? Check out this next post on how to add Twitter cards to your WordPress.
And so, there you have it! We hope this post helped you figure out how to add Twitter to your WordPress website, quickly and hassle-free.
Not familiar with Twitter embed codes?
Or you don't have room in your budget right now to hire an expensive developer to help you display your Twitter widget on WordPress?
No need to worry.
Get started with Smash Balloon's Twitter Feed Pro today.
With its user-friendly interface, you can easily embed your Twitter feed on your sidebar — even without any technical knowledge or design experience.
All of Smash Balloon products come with a 100% no-risk money-back guarantee. This means that you can try out the plugins first and see if it's a good fit for you.
You may want to see this next post on how to add your Twitter to Elementor.
We hope you enjoyed this article. Finally, feel free to follow us on Twitter and Facebook for more social media marketing tips and tricks.