Do you want to limit how many tweets show in your website's Twitter widget?
Displaying too many tweets is distracting for users looking for specific content. And as we'll explain later, it's frustrating for people using screen readers to access your site. What's worse is it's not always easy to reduce the number of tweets on display.
So in this article, we'll show you how to limit the number of tweets in a Twitter widget, with no technical experience required.
Here's a table of contents to help you find the section of this tutorial you need:
Reasons for Limiting Tweets in a Widget
There are many reasons why you'd want to reduce how many tweets to display on your website. The most obvious reason is that it can make your site look cluttered.
Since most website owners show their Twitter widget in sidebars, having too many tweets displayed leaves less room for other content. What's more, most of your tweets are likely unrelated to your site. This is a distraction that takes the attention away from your site's core message, potentially losing valuable leads.
More importantly, having tons of tweets littering your website makes it harder for people with screen readers to navigate.
If you use the official Twitter widget, people using screen readers get trapped inside the widget. This forces them to tab through your entire list of tweets to get out, making your site inaccessible. Limiting the number of tweets displayed makes it easier for those users to exit that area of your website.
If potential customers can't use your site easily, they're not going to stick around to buy something, are they?
Now, let's look at an easy way to limit the number of tweets in a WordPress widget, so everyone can comfortably navigate your site.
Limit Tweets in WordPress Widgets (Easy Way)
The easiest way to reduce the number of tweets in your WordPress Twitter widget is to use a WordPress plugin. Plugins extend your WordPress website's functionality and remove the need for you to mess around with code, making it easier for you to create the type of Twitter layout you want.
There are tons of plugins dedicated to showcasing your tweets in the WordPress repository. Custom Twitter Feeds by Smash Balloon is the most highly rated Twitter feed plugin on the market. With over 80,000 websites using the plugin, and an average 4.9-star rating, it's the most user-friendly way to show Twitter feeds on your WordPress site.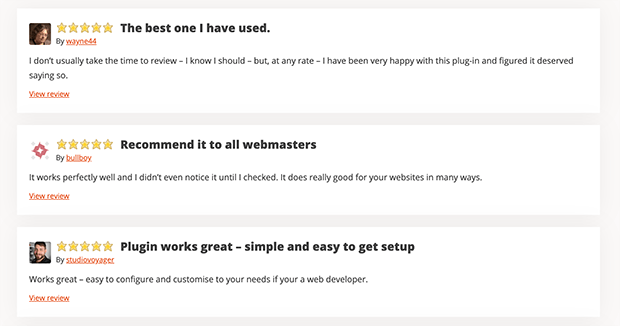 Besides being able to showcase your best tweets, Custom Twitter Feeds lets you easily limit the number of Tweets displayed in a Twitter widget with a few clicks. This means you won't have to edit the widget's code manually. Just choose how many tweets you want to show, click Save and you're done.
But that's not all…
With the Custom Twitter Feed plugin, you get complete control over your feed's design and layout. You can customize colors, fonts, spacing, and more to match your website's theme. And you can add as many feeds to your site as you like, wherever you want.
For example, you can show a Twitter feed on your homepage showcasing your main feed. Then you can have a custom Twitter feed showing tweets with specific hashtags on your blog page to engage your readers. You can even create a feed based on an advanced Twitter search.
More importantly, Smash Balloon has an excellent customer support team to hold your hand through the process. No question is too small. So creating a Twitter feed with a limited number of tweets will take no time at all.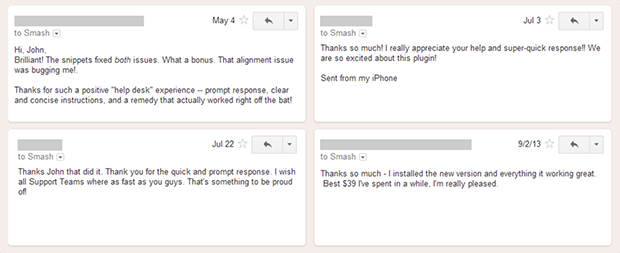 Get started with Custom Twitter Feeds here.
Then follow the instructions below to install the plugin and limit the number of tweets in your Twitter widget.
1. Install Custom Twitter Feeds Plugin
The first step is to install the Custom Twitter Feeds plugin on your website. You can follow this guide to learn how to install a WordPress plugin if you need a little help.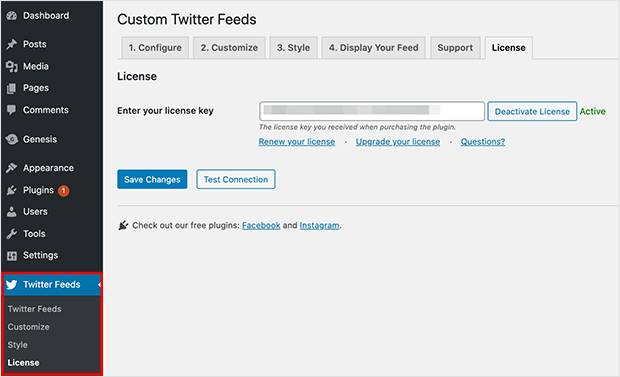 Then, navigate to Twitter Feeds » License from your WordPress dashboard. Enter the plugin's license key here and click the Save Changes button to preserve your settings.
2. Connect Your Twitter Account
The next step is to connect the plugin to your Twitter account. To do that, click the Twitter Feeds link in your WordPress admin panel. You'll see the plugin's configuration page where you can connect your account and choose your Twitter feed type.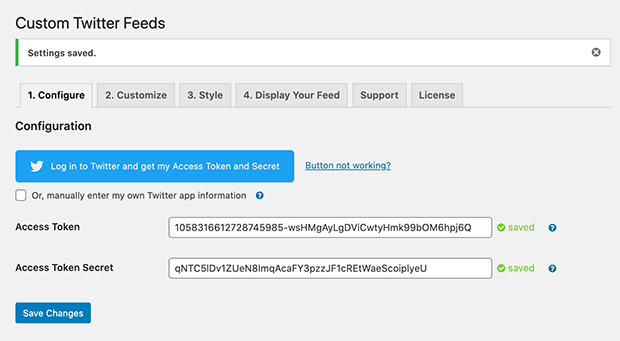 To connect your account, click the button labeled, "Log in to Twitter and get my Access Token and Secret." Then after you authorize the app, you return to the settings page with your account connected.
3. Select Your Twitter Feed Type
Now let's look at the type of feed you want to show on your WordPress website. This plugin comes with 6 different feed types to help you display different Twitter widget examples on your site:
User Timeline: This is the default feed shown on your website. It lists tweets from your main user timeline. If you like, you enter any Twitter user to display a feed of their tweets.
Hashtag: You can use this option to show Tweets that contain a specific hashtag.
Search: Use Twitter's advanced search function here to display a fully tailored feed. For more help on how to build a Twitter search feed, see the documentation here.
Home Timeline: This feed type shows tweets from your timeline and the people you follow.
Mentions Timeline: You can use this feed type to show tweets that @mention your Twitter handle.
Lists: You can enter the ID of a Twitter list to show tweets from users on the list in your feed.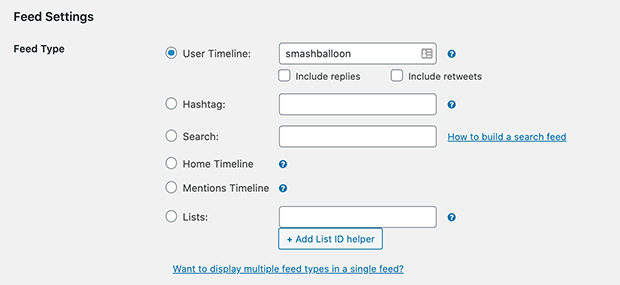 Click the radio button next to your chosen feed type then move on to the next step. For this tutorial, we'll use the user timeline option.
4. Limit The Number of Tweets in Your Twitter Feed
The next step is to choose how many Tweets you want to show in your Twitter widget. This is easy to do with the Custom Twitter feed plugin.
Beside the How Many Tweets to Display heading, simply enter the number of tweets you want to show when the feed first loads.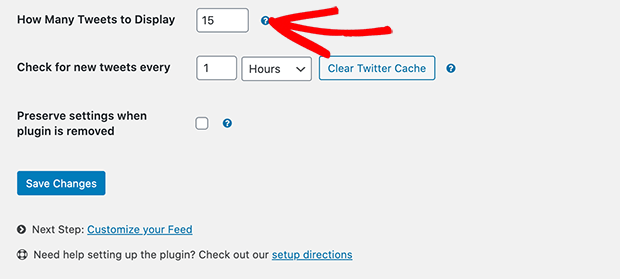 You can also ask the plugin to check for new tweets regularly and clear your feed cache. If you need to deactivate the plugin for whatever reason, click the checkbox to preserve your settings when you remove the plugin. This means when you reinstall it, your settings will be just as you left them.
Now click the Save Changes button.
5. Customize Your Twitter Widget
Now let's look at how to customize the design and layout of your Twitter widget. First, navigate to Twitter Feeds » Customize.
You can change the width and height of your feed, and choose either a List, Carousel, or Masonry layout. Clicking each layout option reveals further settings to adjust the number of columns and rows in your feed.
Below that you can show or hide the information included in your tweets such as:
Retweeted text
Avatar image
Author name
Twitter logo
Twitter text
Date, etc.
It's also possible to adjust the media included in your tweets, and if you want you can automatically load more tweets or add a load more button. To make your Twitter widget more accessible, we suggest using the Load More button.
Click the Save Changes button when you're happy with your layout.
For more design options, you can click the Style tab at the top of the Customization page.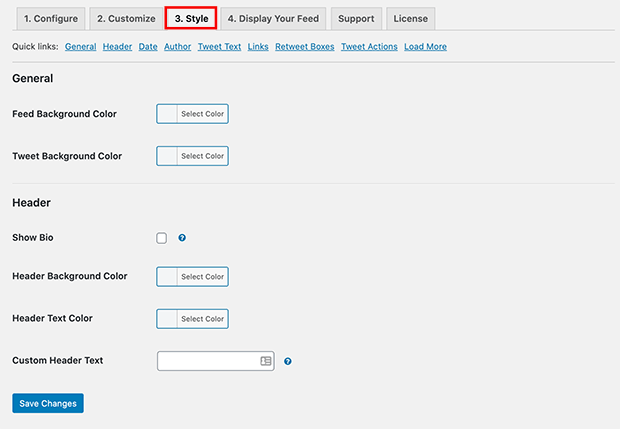 This page lets you choose the color and font of text and links in your feed. You can do the same for your feed backgrounds and buttons too. Plus, you can choose how the date and time are shown on your feeds, and more.
Again, remember to click Save Changes before moving on. You don't want to lose your settings.
6. Add Your Twitter Widget to a Post or Page
Now let's add your Twitter widget to a new page in WordPress. To do that, head to Pages » Add New from your dashboard.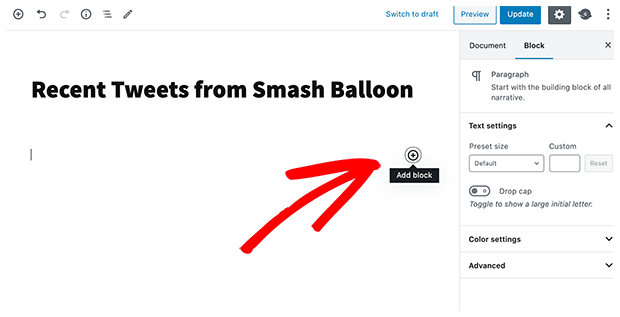 Then look for the Plus (+) icon, which lets you add blocks to the WordPress page editor. This means you can build your page visually for a better idea of how everything looks.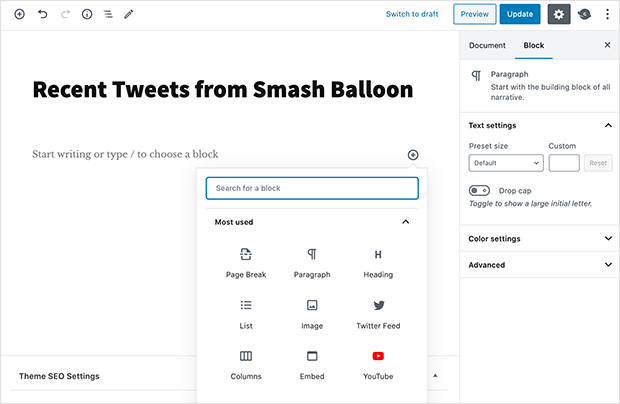 After clicking the Plus (+) icon, you'll see a list of available WordPress blocks and a search bar. In the search bar, type "twitter" and click the Twitter Feed block.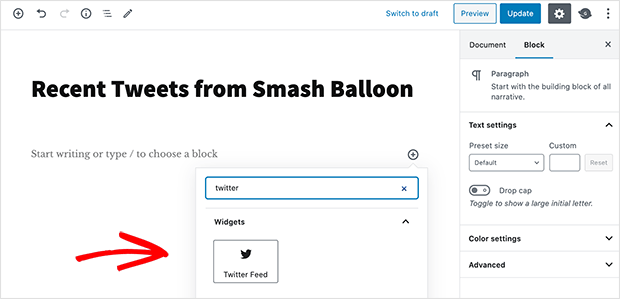 WordPress then automatically adds your twitter feed into the editor with a preview. This is ideal for making sure everything looks right before you publish.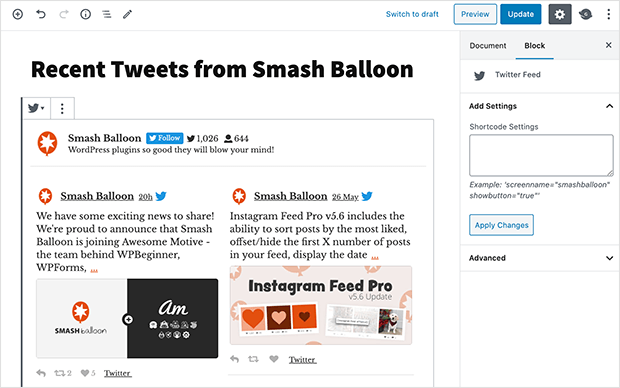 If you're happy with your page, click the Publish button. When you preview the page, you'll see your Twitter widget live on your site, complete with a limited number of tweets.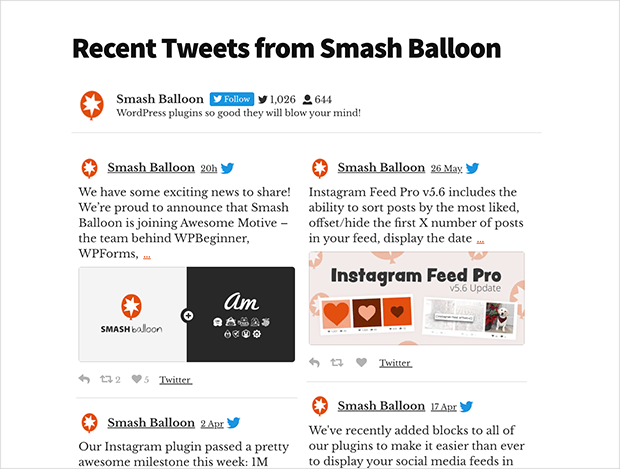 7. Add Your Twitter Widget to a WordPress Sidebar
It's also possible to add a Twitter widget to your Sidebar area in WordPress. The Custom Twitter Feeds plugin comes with a built-in widget you can use in widget-ready areas of your website.
To add a Twitter widget with limited tweets to your sidebar, first, navigate to Appearance » Widgets from your WordPress dashboard.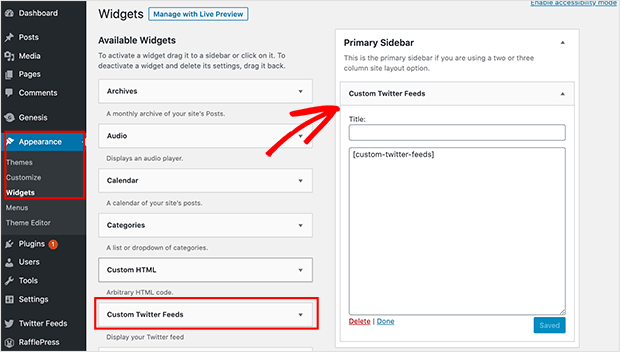 Then find the Custom Twitter Feed widget and drag it to your preferred sidebar. Now click Save to preserve your settings.
When you navigate to your main website, you'll see your Twitter widget published in your sidebar. And since you've limited the number of tweets shown, it won't take up too much room.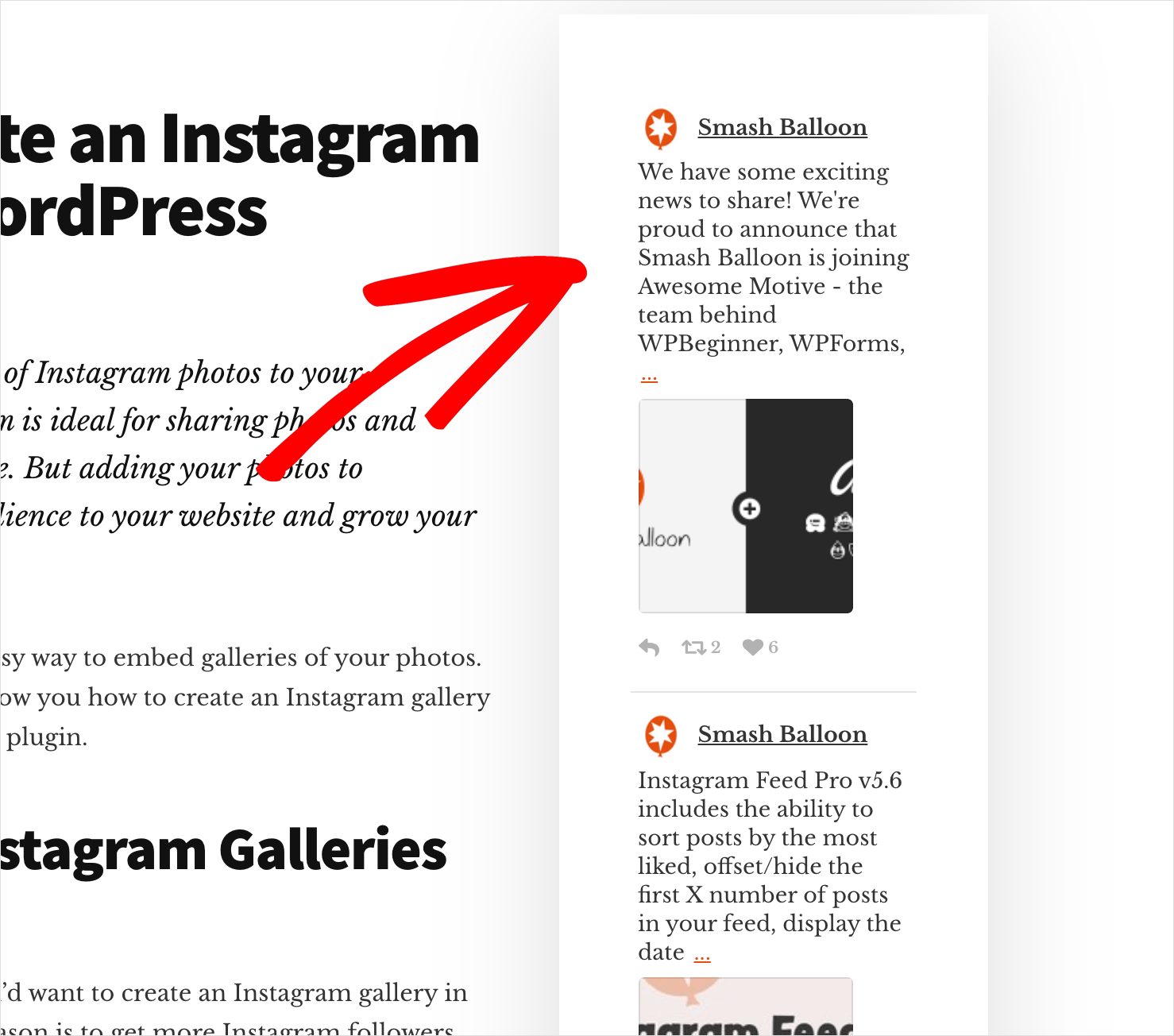 How to Limit Tweets in a Twitter Widget Manually
You can, of course, choose to limit tweets manually in a Twitter widget, especially if you're using Twitter's timeline widget. But to use this method, you'd have to edit the widget's code manually.
This can be a pretty scary task if you're not tech-savvy, with many ways it can all go wrong. There are several drawbacks to limiting the number of tweets in a Twitter widget manually compared to using a plugin, which we'll explore below.
Limiting tweets in your Twitter feed manually is not as easy as with a plugin. You have to manually edit code, which can be confusing. When you use a plugin, like Smash Balloon's, you can do everything in your WordPress dashboard with no coding.
The same is true for customizing your feed. When you use an embed code similar to the official Twitter widget, it leaves little room to change its look. However, the Custom Twitter Feeds widget has tons of ways to tweak your feed's design to look just how you want.
Manual twitter feed embeds also don't offer ways to filter your feed to show specific content. On the other hand, a plugin lets you filter feeds by hashtags, search terms, and more, as well as let you combine multiple users in a single feed.
When you manually embed twitter on your website, you leave room for error. You can misplace parts of the code snippet, miss a step in the process, and so on. With a Twitter feed plugin, there's nothing to lose track of! Plus, the Custom Twitter Feed plugin will notify you if there's an issue with your feed.
Lastly, there's a dedicated team of experts behind the Custom Twitter Feeds plugin, ready to help with any obstacle you might face. So the help is right there when you need it. With a manual feed, you're on your own.
To avoid the issues above, we suggest using the easy way to limit tweets in WordPress and use a plugin.
However, if you really don't want to use a plugin, despite the pitfalls, here's how to edit the embed code for the Twitter timeline widget.
To manually limit tweets in the widget, you can set the attribute in your link as data-tweet-limit= "3" for example.
Here's how the embed code would look using Smash Balloon's twitter as an example:
<a class="twitter-timeline" data-lang="en" data-dnt="true" data-tweet-limit="3" href="https://twitter.com/smashballoon">Tweets by SmashBalloon</a> <script async src="//platform.twitter.com/widgets.js" charset="utf-8">
Now paste the embed code where you want to display it on your website, using your own twitter account details.
There you have it!
We hope this article helped you learn how to easily limit the number of tweets in a Twitter widget. Now all you need is to engage your audience with your best Twitter content.
Get started with Smash Balloon today.
And if you enjoyed this article, feel free to follow us on Twitter and Facebook for more social media marketing tutorials.