Are you looking for easy ways to integrate your Twitter feed into your website?
Embedding your Twitter feed on your WordPress site is one of the best ways to increase your user engagement and boost your followers.
In this post, we'll show you different ways to integrate your Twitter content into your WordPress website.
And the best part? Every Twitter integration has links to step-by-step tutorials so you can easily embed them on your WordPress with just a few clicks.
Why You Need to Embed Twitter Feed on Your Website
There are different benefits when it comes to adding Twitter content on your site. Some of them are:
Displaying your Twitter feeds on your WordPress lets you easily give regular updates to your website visitors, even if they're not Twitter users.
Cross-promoting your tweets to your website is also a great way to boost user engagement so more people can interact with your tweets.
Showing your social media content from Twitter on your site can transform site visitors into Twitter followers.
Done right, it can even help skyrocket your sales and grow your business with the power of social proof.
Ready to start integrating your Twitter feeds into your site?
Let's dive in by talking about the different Twitter integration examples below.
Top Twitter Feeds You Can Integrate on Your Website
1. Live Twitter Feed
One of the most popular ways to integrate Twitter is to embed a live Twitter feed into your website.
Usually, embedded Twitter feeds contain tweets from your own user account, like the example below where we showed the latest tweets from our Smash Balloon account on Twitter.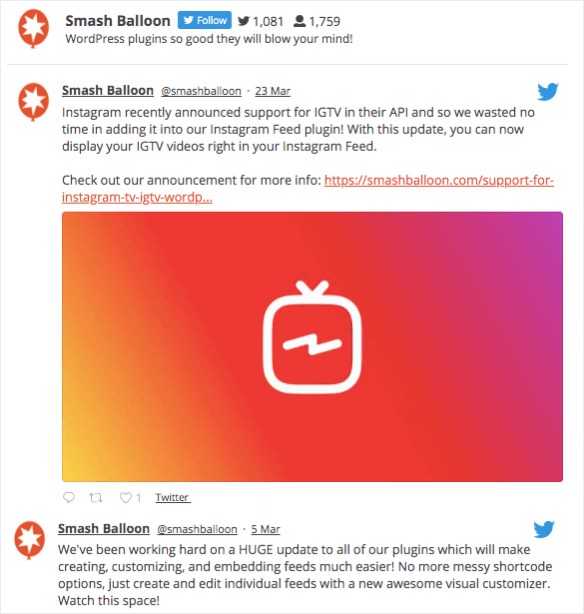 You can display a live Twitter feed to promote your brand's announcements. For example, you can use it to tweet about an upcoming sale you'll have.
Another way you can integrate Twitter feed on your website is by embedding a feed of your tweets to promote a brand new feature that you'll add to your products.
Also, did you know that you can add a relevant Twitter feed to your website to boost your audience reach as well?
It's simple.
Instead of showing your tweets to your Twitter followers only, you can also show your tweets to targeted traffic who are already interested in your brand: your website visitors.
Plus, embedded social media feeds can feature a "follow button" to encourage your website visitors to subscribe to your tweets by being your Twitter followers.
To embed a live Twitter feed on your website, the easiest way is to use a trusted WordPress plugin like Twitter Feed Pro.
Using this newbie-friendly Twitter feed plugin, we embedded and customized WPBeginner's live Twitter feed on WordPress in under 5 minutes!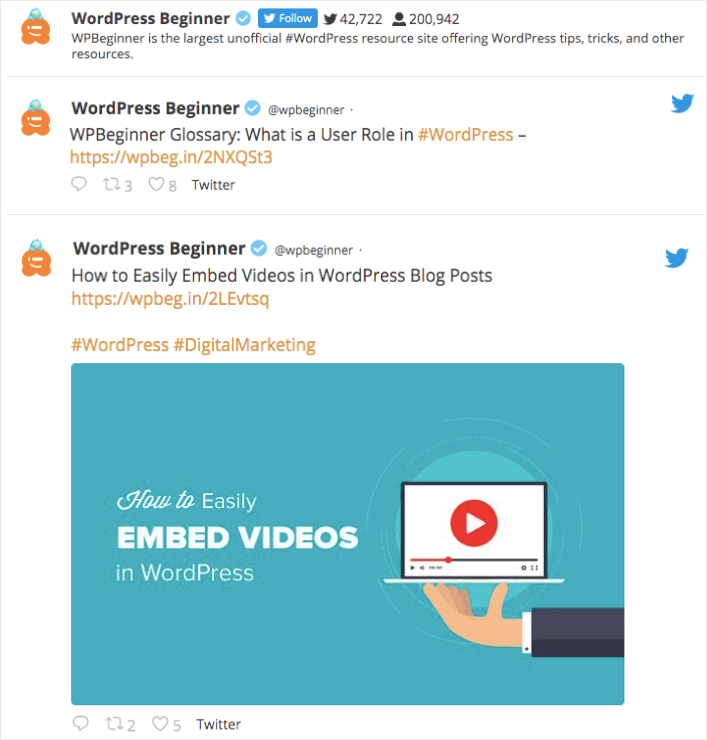 Want to try this for your own website? Take a look at this tutorial on how to embed a Twitter feed on WordPress in just 5 easy steps today.
2. Branded Hashtag Tweets
Another way to integrate Twitter feeds into your website is by adding a branded hashtag feed to your homepage.
It's an effective way to drive more sales and generate more exposure to your business with the help of user-generated content in social media platforms.
For example, Starbucks used their branded hashtag #OatMilk to celebrate the launch of their new featured drink.
To do this, the company added the hashtag #OatMilk to their tweets, which encouraged fans to do the same when talking about their promotional beverages.
As a result, thousands of tweets using the branded hashtag were generated by users worldwide. Talk about free marketing by your brand ambassadors, right?
With the help of Twitter Feed Pro, we easily recreated Starbucks's hashtag feed, like this: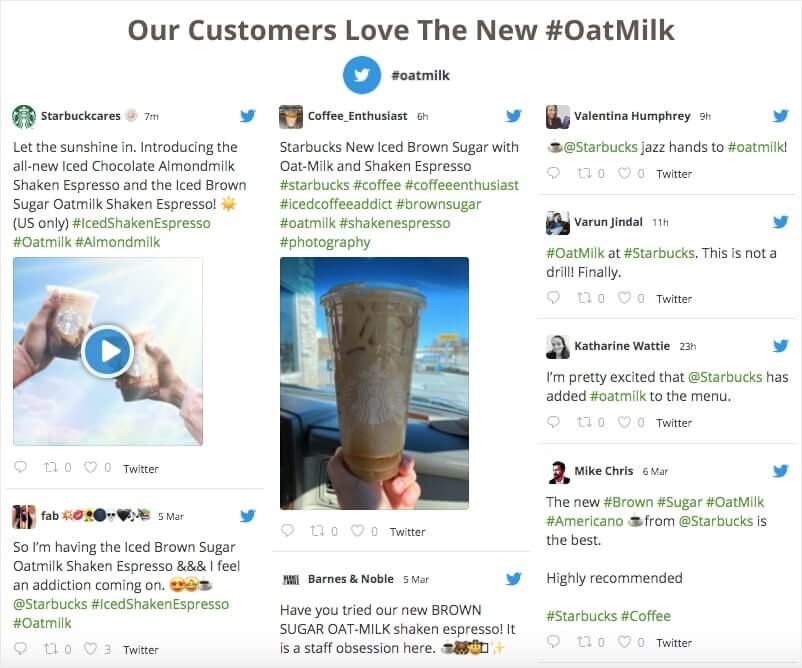 To do this, first you need to come up with a branded hashtag of your own. Encourage your customers to use this hashtag on their tweets. Then, you just need to curate these tweets before adding them to your site.
Since Twitter doesn't let you easily embed hashtag feeds on your website, the best tool you can use is Twitter Feed Pro.
This Twitter aggregator has a visual customizer that lets you control how your feeds look — with just a few clicks.
For a step-by-step guide, check out this post on how to embed a Twitter hashtag feed on WordPress.
3. Twitter Testimonials
Did you know that customer testimonials can increase sales by 10%?
If you're looking into increasing your revenue and making money while getting more Twitter followers, why not embed a Twitter mentions timeline on your website?
By adding a mentions feed, you can easily display positive customer testimonial tweets that mention your Twitter username.
In fact, if you add these Twitter testimonials on your sales page, you can even boost customer conversions by a whopping 34%! This means more sales simply by showing social media feeds on your site.
In the example below, SeedProd, the best website builder for WordPress, showed their customer testimonial tweets by embedding a mentions feed on their sales page.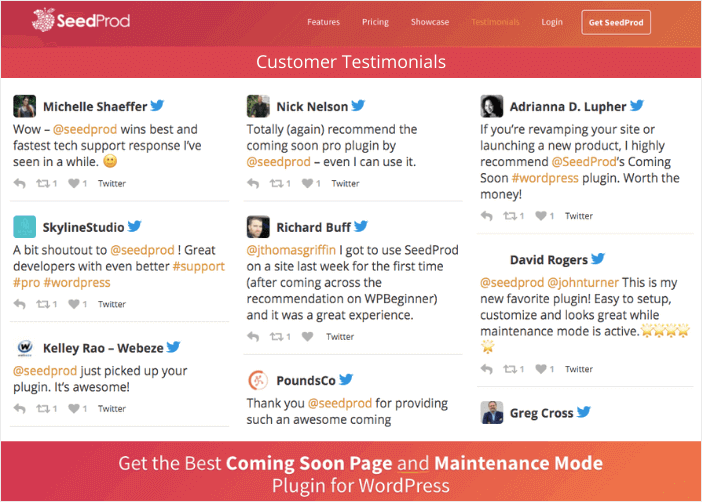 This Twitter integration strengthens brand credibility because it shows potential customers that your business is trusted and happily recommended by your existing users.
And since 83% of people trust reviews over advertising, it's a simple way to get more sales — with minimal effort on your part.
The not-so-good news? Twitter doesn't give you an option to add a mentions feed to your website.
The good news? We've got you covered.
Simply install Twitter Feed Pro on your website, connect it to your Twitter account and let it do all the hard work for you. You just need to check or uncheck customization options and you're ready to go.
Here's how easy it is to use: even with no technical knowledge or background in design, we created a mentions timeline for Smash Balloon's Twitter account in just a few minutes: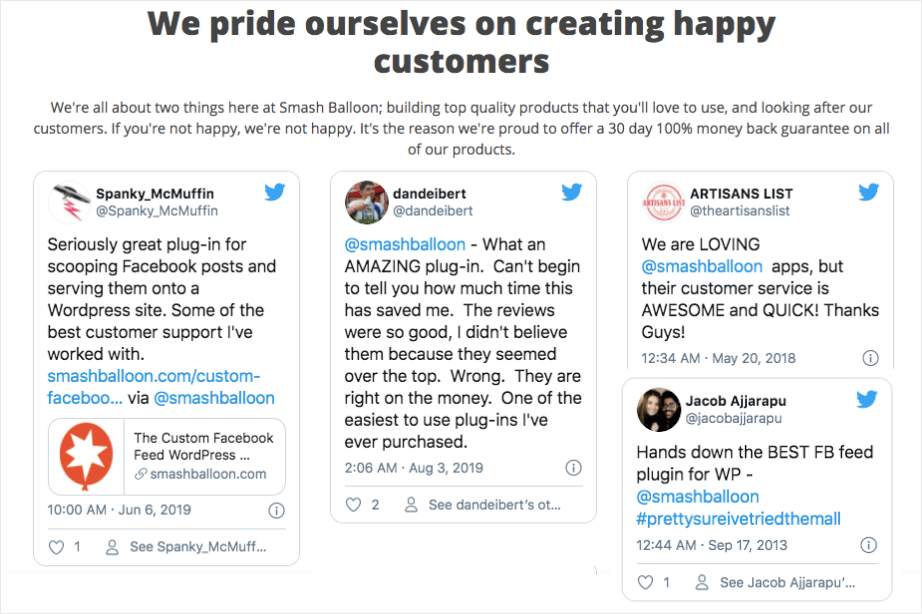 Want to integrate this type of Twitter feed into your website?
Take a peek at this handy guide on how to embed a mentions timeline to your website so you can try it out for yourself.
4. Twitter Sidebar Widget
Another way to integrate your Twitter feeds into your WordPress is by embedding a Twitter sidebar widget.
Since it's added to your sidebar area, your Twitter posts are seen by your visitors — no matter which page they're on.
You can choose to add a hashtag feed, a mentions feed or a user feed to your sidebar area, depending on what business goal you'd like to achieve:
Hashtag feed: Increase sales by showing tweets of users who happily use your brand in their daily lives
Mentions feed: Get more customers by showing tweets of users tagging you and recommending your brand to their friends
User feed: Boost user engagement by showing tweets from your Twitter profile timeline, directing users to your latest products or newest blog posts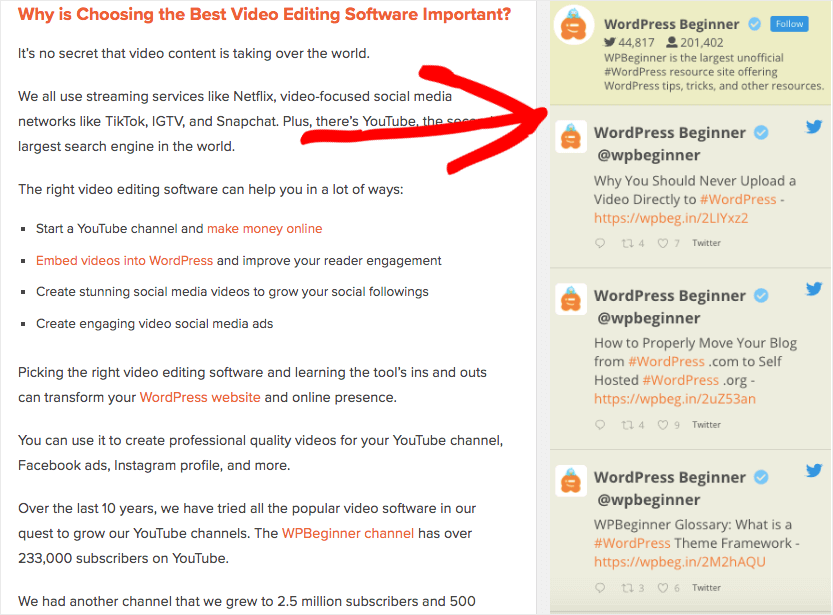 What's helpful about embedding a Twitter widget on your sidebar is that you save lots of time because your tweets are updated regularly. No need to manually add your tweets one by one.
Plus, if you use Twitter Feed Pro to create and customize your Twitter widgets, your feeds automatically copy your website's existing theme, so they effortlessly look fantastic right out of the box.
To get started, check out this nifty tutorial on how to embed a Twitter feed widget on your WordPress website today.
5. Twitter Carousel
Ever wanted to embed a Twitter feed slideshow on your website?
It's a useful way to integrate Twitter into your website so you can market your products and advertise your business without overwhelming your website visitors.
Also, since you're letting your users choose how to consume your tweets, you're encouraging them to interact with your brand more via replies or retweets.
This helps users stay longer on your site, which is great for improving your SEO and boosting your webpage rankings.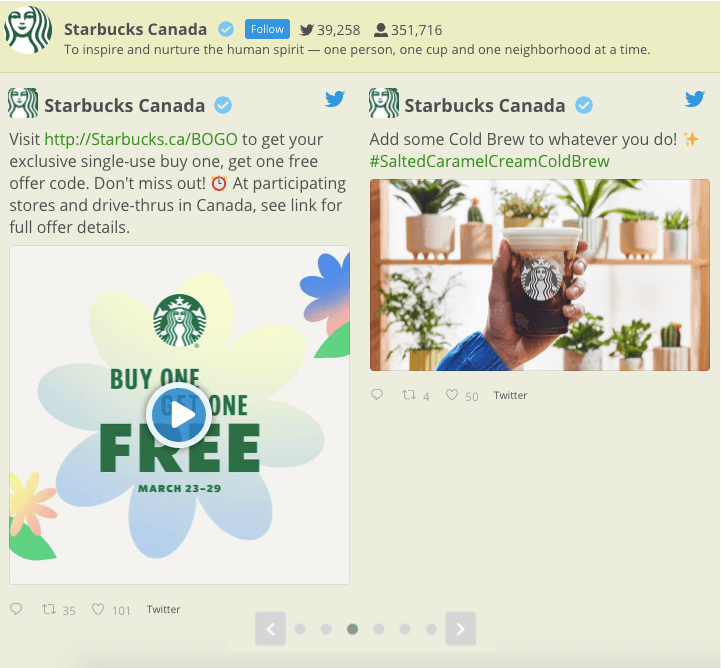 Again, Twitter doesn't have an easy way for you to customize your feed's layout.
When you use their platform, you'd need to manually tweak code snippets like HTML or CSS, or hire a developer to display your tweets in a sliding horizontal layout.
We're here to help you out. By using Twitter Feed Pro, you can quickly set up and display your Twitter carousel feed on your website in 3 easy steps:
Install the plugin to your website
Connect it to your Twitter account
Choose the carousel layout by checking on it
For more details, see this tutorial on how to display a Twitter feed carousel on WordPress.
Common Questions on Integrating Twitter into WordPress Website
In this section, we'll answer some of the most frequently asked questions by Twitter feed beginners.
Can I use Twitter's publishing widgets to integrate tweets on my site?
Yes, you can use Twitter's tools to manually embed tweets, a Twitter timeline widget or Twitter buttons on your website. There are downsides to using Twitter's publishing widgets, like:
Minimal customization – Your Twitter feeds may not match your site's theme
Complicated – You need technical knowledge and coding experience to manually use Twitter's tools and embed code
No support available – If you mess your website by tweaking unfamiliar code snippets, you don't have a dedicated support team to help you.
Can I embed a Twitter feed on my website without a plugin?
Yes, you can embed your Twitter content on your site without a plugin, though we don't recommend it if you're a WordPress newbie. Check out this post on how to manually embed Twitter feeds on WordPress.
What are the benefits of using a Twitter feed plugin?
When you use a Twitter feed plugin like Twitter Feed Pro to integrate your tweets on your site, you can:
Extend the functionality of WordPress, since it's easy to embed tweets on WordPress, even if you're a newbie
Customize your Twitter embeds using the plugin's visual customizer and built-in templates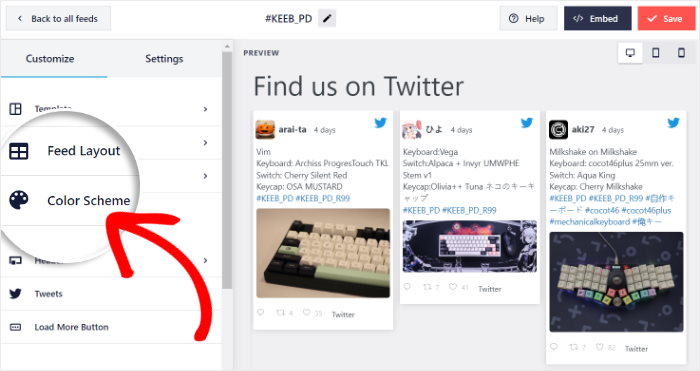 Embed your Twitter feed on your site with just a few clicks, no knowledge in HTML code, iFrame or JavaScript needed
What if I'm using Elementor on my website?
No problem. Twitter Feed Pro works seamlessly with Elementor. Here's how you can add your Twitter feed to your Elementor website in just a few minutes.
And that's it!
We hope this post helped you learn about the different ways you can integrate your Twitter feeds into your website.
By following the linked tutorials, you can create, customize and display your Twitter feeds on WordPress — easily, quickly, and hassle-free.
Get started with Twitter Feed Pro today.
Finally, if you enjoyed this article, feel free to follow us on Twitter and Facebook for more social media marketing tutorials.