Do you want to turn your website visitors into brand ambassadors?
Brand advocates can help you grow your business by driving new customers to your site.
But turning a customer into a brand ambassador can get tough, especially for smaller businesses.
To help you out, we're going to show you how to nurture your customers and turn them into loyal brand ambassadors.
You can then boost your sales and grow your business with their help.
In this article, we'll take you through these tried-and-tested ways to turn customers into brand ambassadors.
Before we discuss those methods, let's talk about what brand ambassadors are.
What Is a Brand Ambassador?
A brand ambassador or brand advocate is someone so passionate about your brand, they choose to celebrate it even without being paid.
Instead, they promote your brand because they love your products or services and want to share that passion with others.
What Does a Brand Ambassador Do?
A brand ambassador can spread the word to promote your business and help you create a positive impression of your brand.
Since they're passionate about your brand, they can:
Refer friends and family to your business
Increase brand awareness through word-of-mouth marketing
Drive traffic to your website
Influence the purchase decisions of social media followers
In fact, successful brand ambassadors can even go on to represent your company at events and trade shows to raise awareness.
Now that you know what a brand ambassador is and what they can do for your business, let's look at some methods to help you turn your customers into ambassadors.
Turning Website Visitors Into Brand Ambassadors
Converting your customers into natural brand ambassadors doesn't happen instantly. You need to build a relationship with your customers and show them the value of your brand,
That way, they can become just as passionate about your brand as you are.
To convert people into brand ambassadors, you can take these 4 steps:
Attract – Drive traffic to your website through content marketing strategies, social media marketing, and more.
Engage – Encourage visitors to interact with your brand through actionable content, conversations, and answering important questions.
Convert – Turn engaged visitors into customers by offering discounts, promotions, free shipping, and incentives to buy.
Inspire – Transform customers into brand advocates and ambassadors with the methods shared below to drive traffic to your website and increase sales.
With that in mind, let's look at how to turn your website visitors into brand ambassadors with easy and proven tactics.
How to Turn Your Website Visitors into Brand Ambassadors
In this post, we'll take you through the easiest ways to convert a customer into a dedicated brand ambassador for your business.
Let's take a look:
Share Your Passion for Your Brand
How you talk about your brand will affect how other people see it.
If your promotion efforts lack passion, you can't expect potential customers to feel enthusiastic about your products.
But if your marketing and communication show a genuine passion for the things you sell, that feeling will rub off on your followers.
When you're talking about your brand on social media, in interviews, and elsewhere, make sure you authentically share your passion.
A great way to get started is by creating a tone-of-voice guide for team members to use. That way, you can keep your messaging positive and consistent across all channels.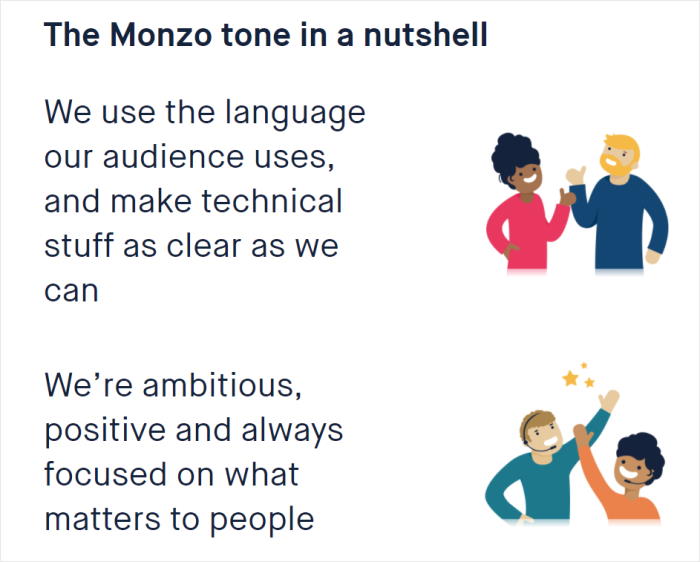 Monzo has an excellent example of this kind of guide, and their online communications reflect it perfectly.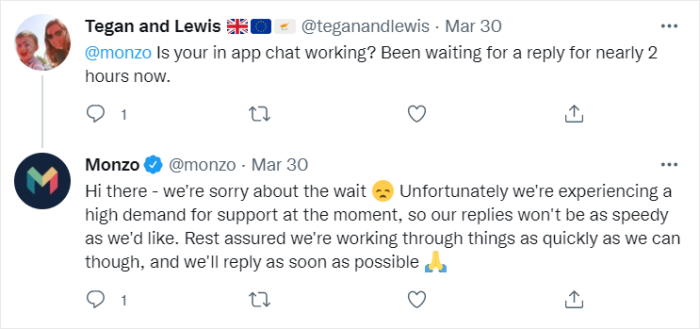 As a result, you can create a great impression of your brand and invite other people to be just as enthusiastic as you are.
Offer First-Class Customer Service
Offering fantastic customer service is another way to turn customers into brand ambassadors.
People like to feel noticed and cared for when there's a problem. So having customer service representatives willing to go the extra mile can help you get a positive reputation among shoppers.
Make sure it's easy for people to get in touch with your support team, so people know where to go if they have any issues.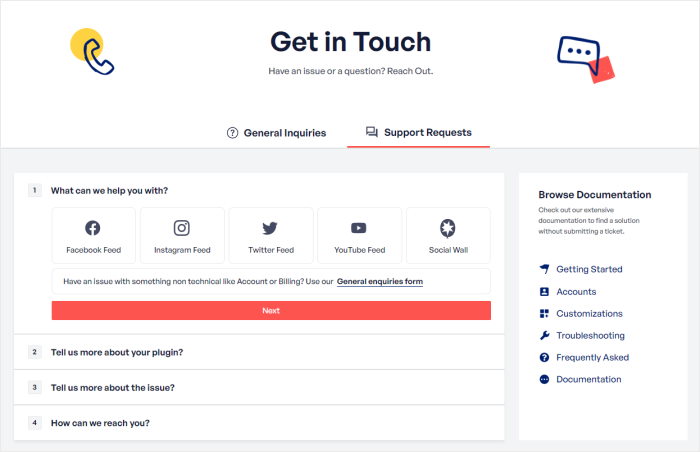 And if they have any questions or issues, responding quickly can leave people with a much better impression of your brand.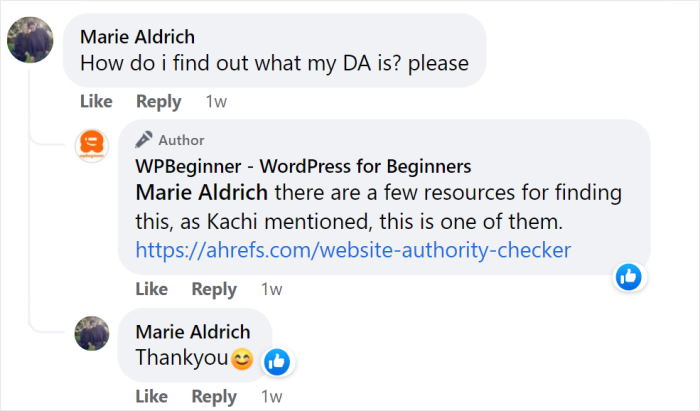 Here are a few more ideas to help improve your customer service experience:
Add a live chat feature to your website to answer questions and solve issues.
Include a frequently asked questions (FAQs) page on your site to address common queries.
Add a click-to-call button to your website for people wanting to speak to a human voice.
Have social media profiles dedicated to customer service queries (for larger businesses).
Create a forum or support area for people to post questions and get answers from other customers.
Just try these, and you can woo your customers with high-quality customer support in no time.
Display Customer Reviews
Think about the last time you bought something online. You probably checked reviews from other customers, right?
People will check other reviews before deciding whether or not they want to buy something.
And if the product has positive reviews and testimonials, that social proof can convince them to make a purchase.
According to Spiegel Research, the chance of purchase for a product with 5 reviews is 270% more than for a product with no reviews.
As you can see, adding customer reviews to your website is a fantastic way to increase sales.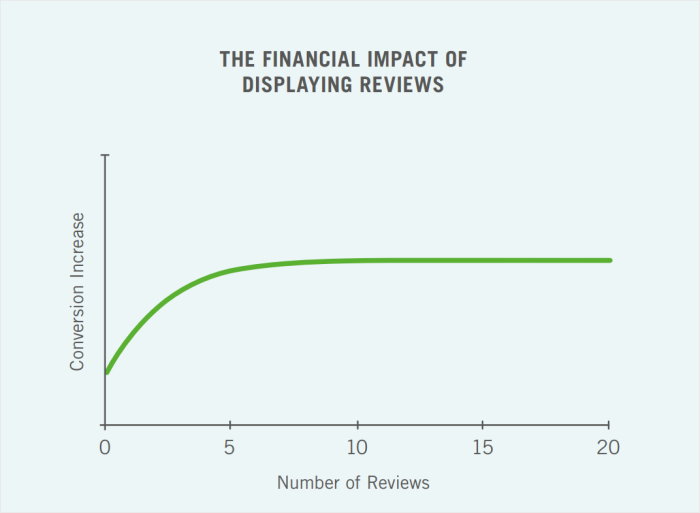 Reviews also play a part in driving brand loyalty. When you post a customer review on your site, they can see that you recognize people's dedication to your brand.
This encourages people to leave more reviews and engage with your brand even more.
If you want the easiest way to display reviews on your site, Smash Balloon has you covered. Our social feed plugins let you display visual social media content on your WordPress site.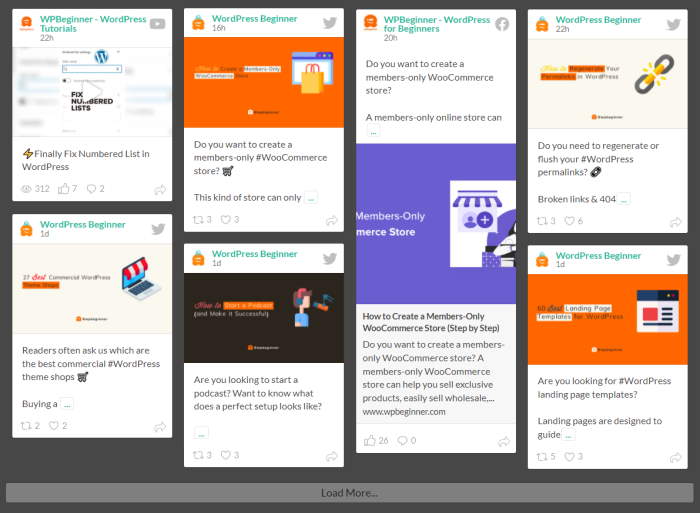 You can learn how to add social media feeds to your website here.
But for this article, let's show you how to add a product review feed to your site using the Instagram Feed Pro plugin.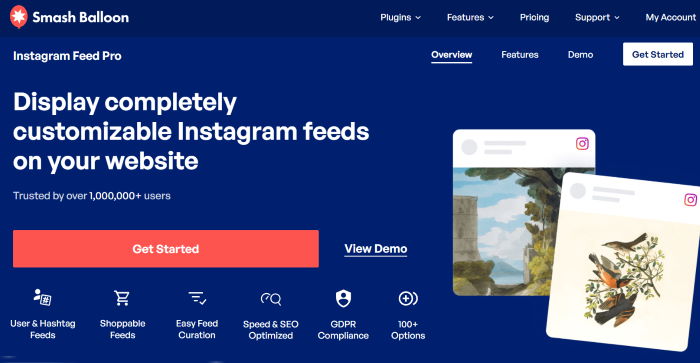 To get started, grab your copy of Instagram Feed Pro here.
First, download, install and activate the plugin on your website. Then head to Instagram Feed » All Feeds from your dashboard area.
From here, click the Add New button to create your Instagram feed.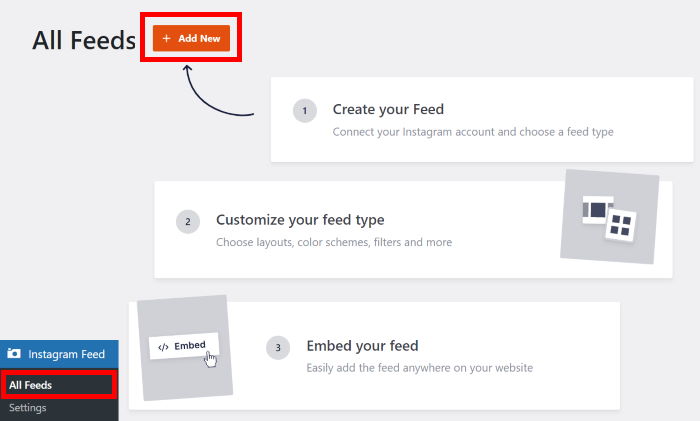 For this guide, we will show an Instagram hashtag feed of product reviews.
Just select the Public Hashtag option on this page and then click on Next.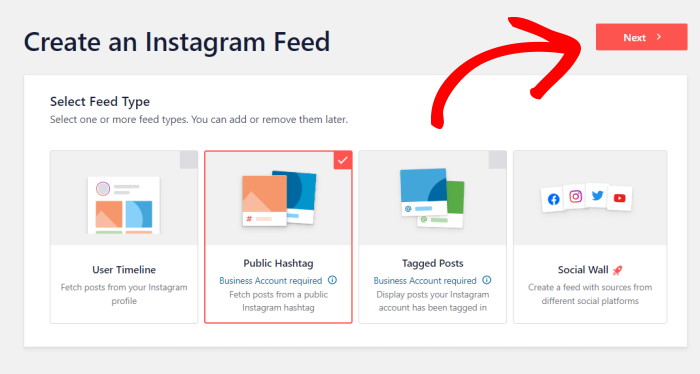 Next, you can connect this Instagram feed to your Facebook account. That way, it can display Instagram posts on your site.
To do that, click on the Add Source button here and follow the on-screen instructions.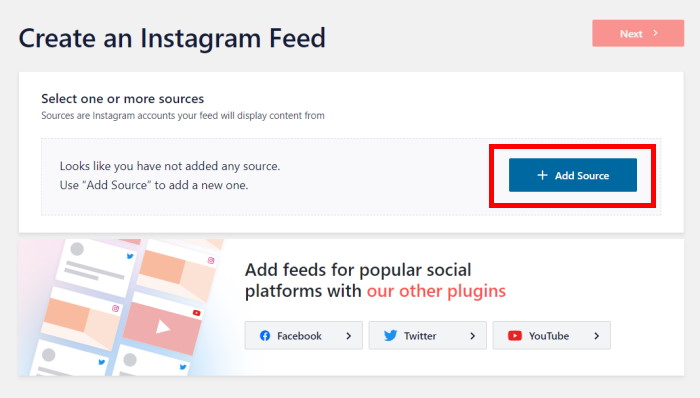 Next, you can pick the hashtags that you want to show on your feed.
Just enter your hashtags in the empty field on this page. You can also separate multiple hashtags with a comma.
Above that, you can choose to show either the newest posts or the top-rated Instagram posts instead.
Finally, click on Next to continue.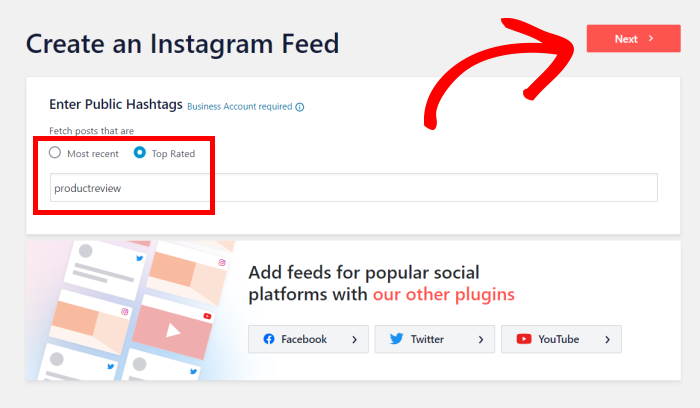 You can now see your Instagram review feed open in the live feed editor for Instagram. Here, you can find all the customization options on the left.
Using these, you can set your feed layout, color scheme, post style, header design, and much more.
When you make any changes, you can see how your Instagram feed looks using the live preview on the right.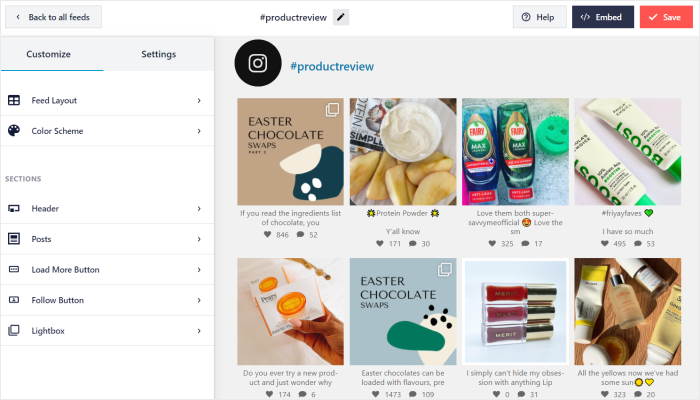 Once you're done customizing your feed, click on the Embed button to add your Instagram review feed to WordPress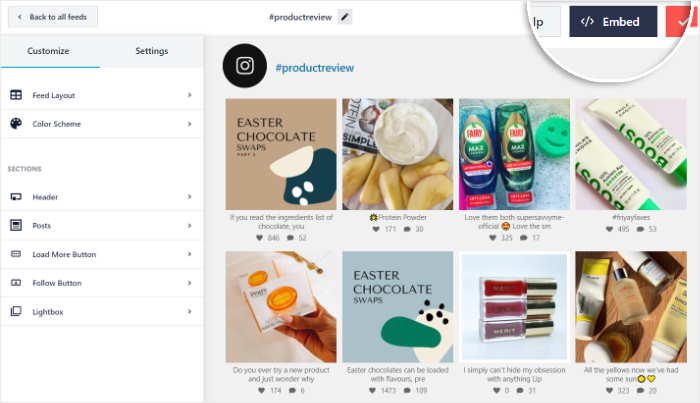 On the popup, you can choose where you want to embed your Instagram feed. You can display it on a WordPress page or a widget-ready area of your site, like sidebars and footers.
For our tutorial, we'll pick the Add to a Page option.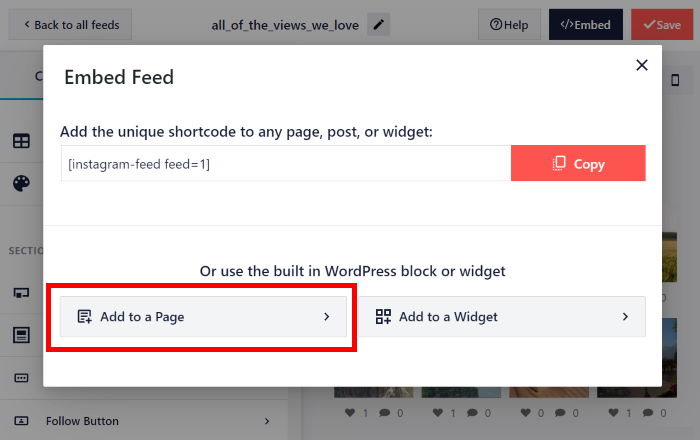 Next, just select the page where you want to display your Instagram review feed.
Then, click on the Add button to continue.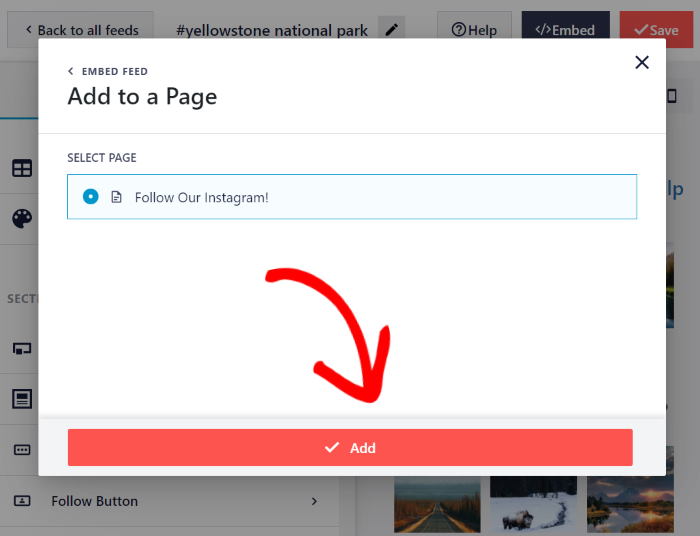 The plugin will now open the page in the WordPress editor. On the editor, click the plus icon (+) to add a new content block.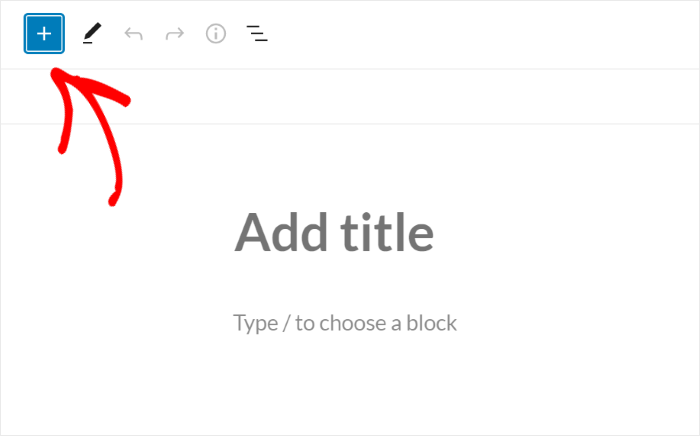 In the search box, type "Instagram" and then click on the Instagram Feed block to add it to your page.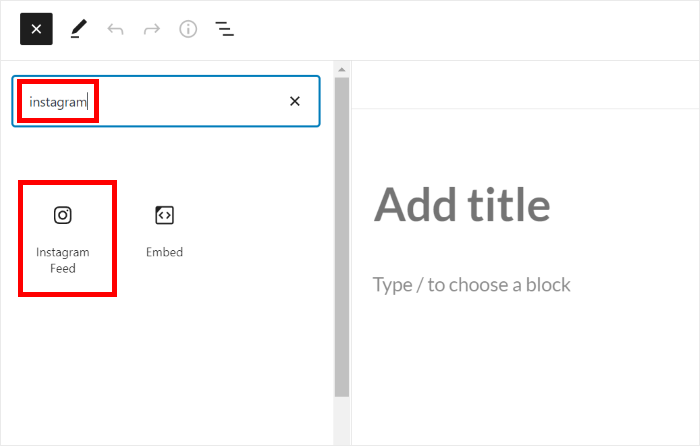 Finally, click on Publish, and your Instagram review feed will be online.
When you navigate to the published page, you'll see a beautiful custom hashtag feed that shows off positive reviews for your products.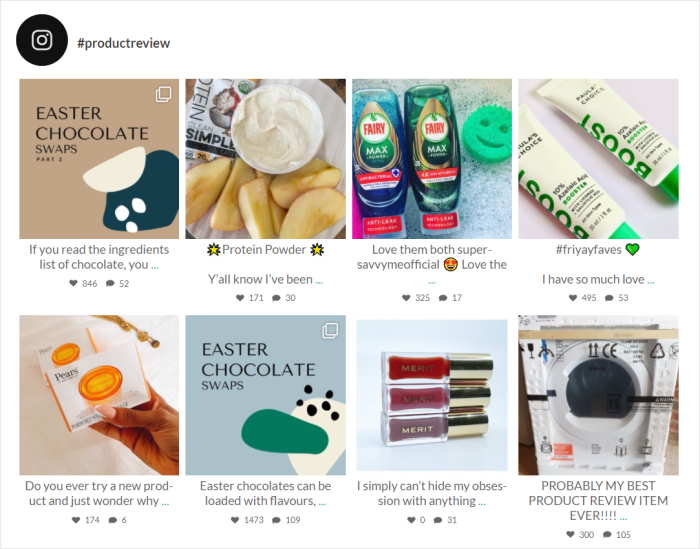 Pro Tip: Add your product review feed to the checkout page to reduce cart abandonment. Want to know how? Check out this guide on how to add a social media review widget to your website.
And if you're interested in Facebook marketing, you can also check out this helpful post on how to embed Facebook reviews on your WordPress for more details.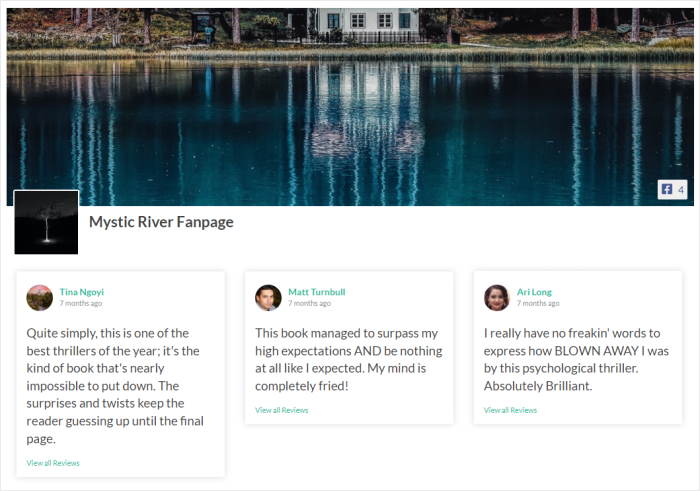 Just like that, you can create a great impression of your brand and convert more people into dedicated customers.
Make Sharing Easy After Purchasing
As social creatures, we love sharing our purchases with friends and family. It makes us feel part of the crowd and that we're keeping up with the latest trends.
To make it easier for customers to share their new purchases, you could add social sharing buttons to the checkout page.
A great example of that is Amazon's purchase confirmation page.

You can even send an email afterward and ask them to leave reviews or share their purchase on social media.
With these social sharing options, you can get customers to help promote your brand.
Encourage User-Generated Content
User-generated content (UGC) is another way to develop brand ambassadors with ease.
When people share their own content related to your products, they become personally invested in your brand. And by encouraging this, you can build a relationship with your customers.
An amazing example of this was the #MyFabletics campaign from Fabletics, where they asked customers to share photos of them using Fabletics products.
Then, they used a social photo gallery to show the user-generated content on their website.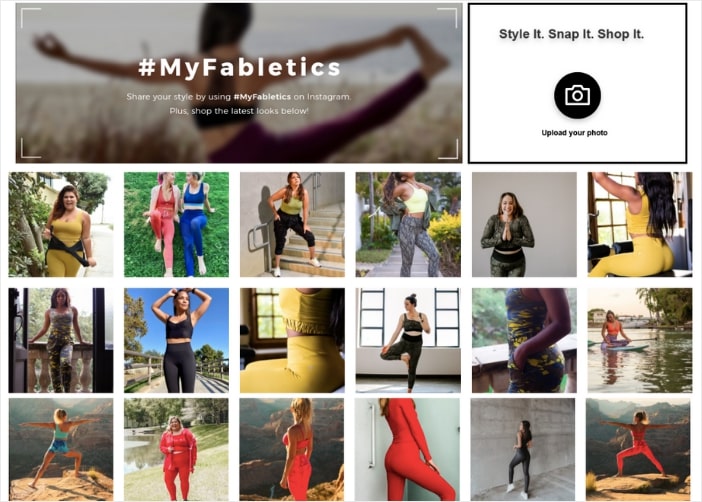 You could also ask customers to submit unboxing videos in exchange for a discount or voucher. Then you can display those videos using a stunning YouTube feed.
For the easiest way to add YouTube content to your site, you can use Smash Balloon's YouTube Pro Feed Pro plugin.
First, get your copy of YouTube Feeds Pro here. Then download, install, and activate the plugin, as explained earlier.
Next, open the YouTube Feed » All Feeds menu from your dashboard and click the Add New button.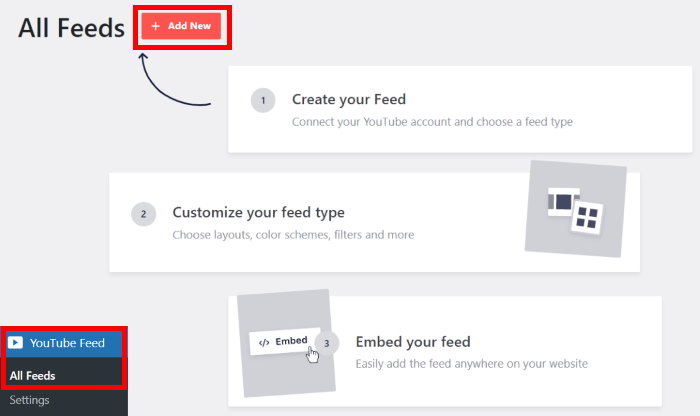 With this plugin, you have the option to display the following YouTube feed types on your website:
Channel
Favorites
Search
Single videos
For this example, we'll display a YouTube channel feed to show you how it works.
First, select the Channel option on the page and click on Next.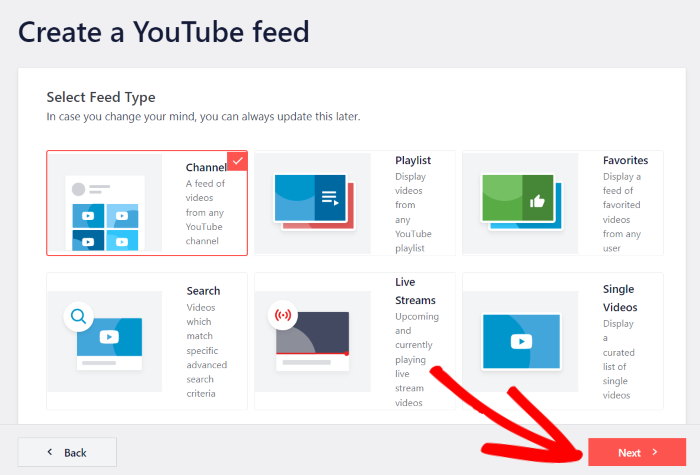 Next, you can connect your feed to YouTube so that it can start displaying videos. There are 2 ways to do this:
Add your YouTube API key
Connect your YouTube channel
By using your API key, you get access to a lot more YouTube feed types which means you can show a variety of content on your website.
To continue, click on the Add API Key button on the popup.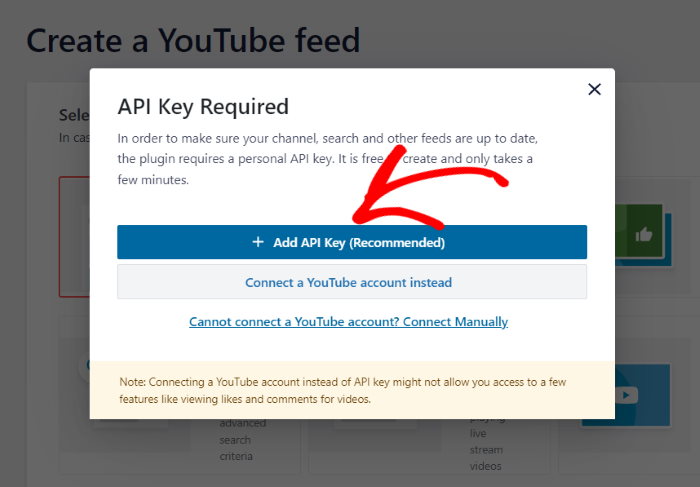 To help you get your API key, we've prepared this simple tutorial on how to generate your YouTube API key. Just take a look, and you can have a YouTube API key in just minutes.
After you get the key, paste it on the popup and click on Add.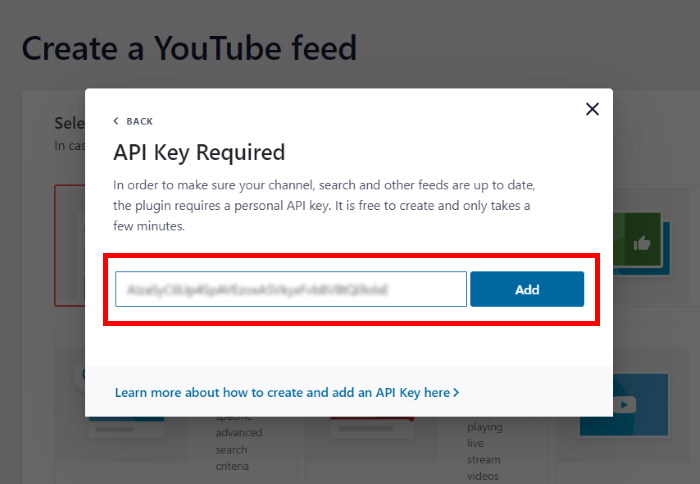 Next, open the YouTube channel that you want to embed on your website.
On the channel's URL, find "/channel/" or "/user/" and then copy everything after that.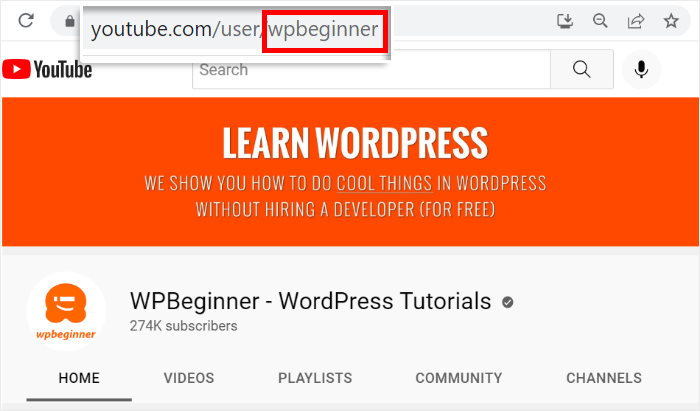 Now open your website once again and paste the code on the Channel ID or Username field.
After that, you can click on Next to continue.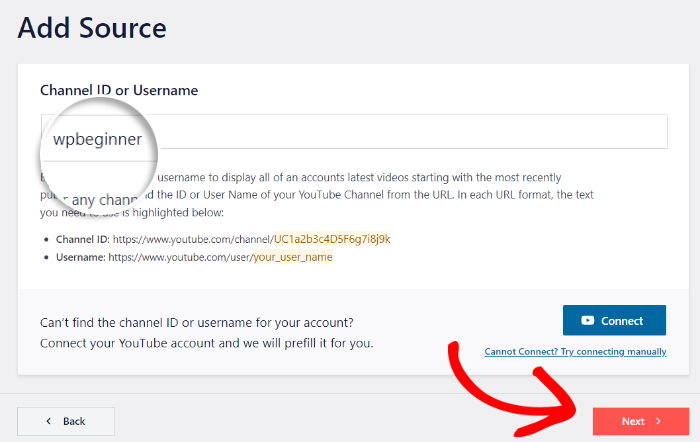 Your YouTube feed is now ready to go online. Since it automatically inherits the design of your website, the feed will look great right out of the box.
On top of that, you can also customize how your YouTube feed looks by choosing from a collection of feed templates.
With these, you can show your YouTube feed as a carousel slider, sidebar widget, video gallery, and much more.
Pick a template you prefer and then click on Next.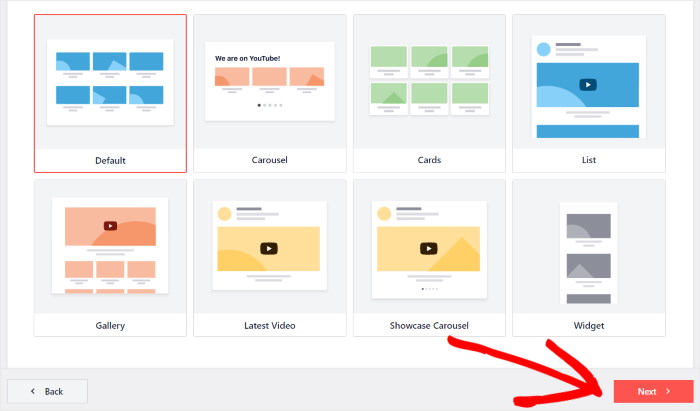 After that, the plugin will send you to the live feed editor so you can customize the design of your YouTube feed.
All it takes is a few clicks, and you can set your feed layout, color scheme, header design, button style, and much more.
Towards the right, you get a live preview of the feed so you can track how it looks.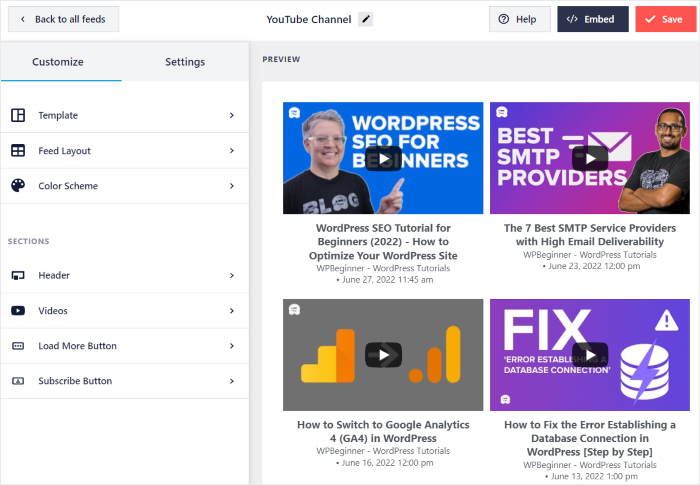 Once you're happy with the design of your YouTube feed, click on the Embed button to start adding it to your website.
As you can see, YouTube Feed Pro makes it super easy to embed YouTube content on your website. Then, you can get tons of likes, comments, and subscribers in no time.
And that's just the start. You can embed engaging video playlists, promote live streams, and even display a feed of user-generated content.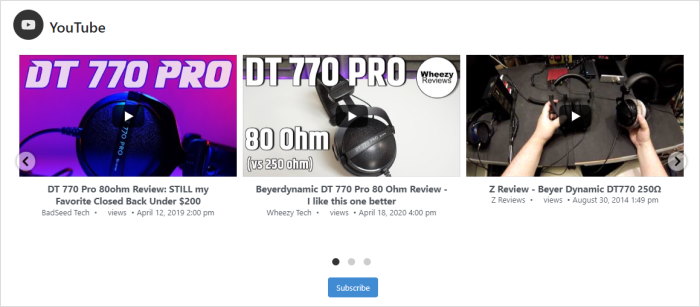 Pro-tip: Want to feature brand ambassadors in your very own video testimonials? Check out this ultimate guide on how to create powerful video testimonials.
Use Giveaways to Encourage Sharing
One of the easiest ways to get people talking about your brand is to promote sharing by running a giveaway. Then people have a reason to interact with you and share the opportunity with others.
Running a giveaway is easy with RafflePress, the best WordPress giveaway plugin. The user-friendly contest builder lets you design and launches your giveaway in minutes.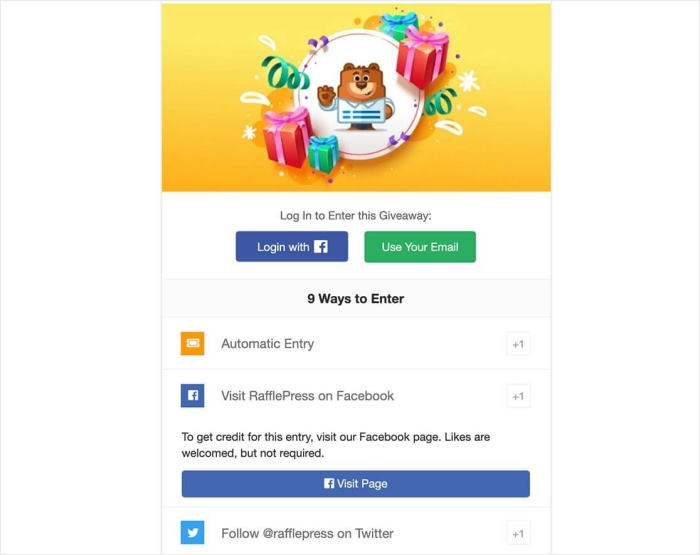 With pre-made giveaway templates, you'll never have to start from scratch again, as each template has ready-made entry options tailored to your marketing goal.
And when it comes to publishing your giveaway, you can embed the giveaway widget in any WordPress post or page.
Using giveaway landing pages, you can create a distraction-free environment to increase contest entries.
You can add the viral refer-a-friend entry method when running your giveaway to secure social media brand ambassadors. That option encourages participants to share the contest in return for more chances to win.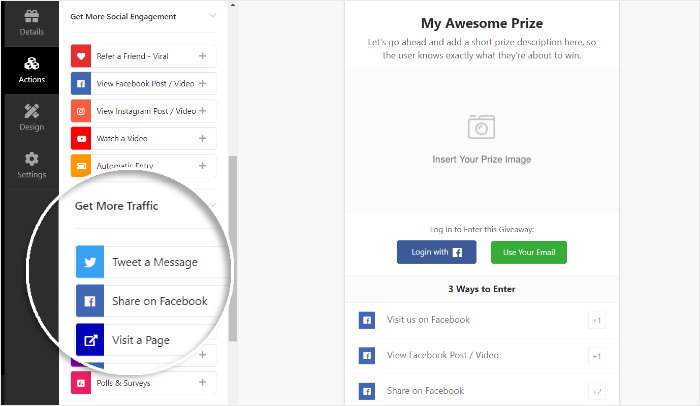 As a result, your dedicated customers will help you promote your giveaway and reach tons of people.
Offer Rewards for Brand Loyalty
Another way to build a reputation that secures brand ambassadors is to offer rewards in return for customer loyalty.
Here are a few ways you can reward return customers and secure their loyalty:
Email a discount code after a customer's first purchase to prompt them to return.
Offer free sample products with each purchase to encourage customers to return to buy a full-size product.
Offer early access to new products after a specific amount of purchases.
Invite loyal customers to press events and trade shows.
Let loyal customers access sales before everyone else.
Get Customers Involved With Product Design
There's no better way to turn customers into raving fans than to surprise them with something fun and unique.
Starbucks did this in their #WhiteCupContest by asking users to draw personalized images on coffee cups.
Then, they promoted the designs on Twitter and even rewarded the best designer as the winner.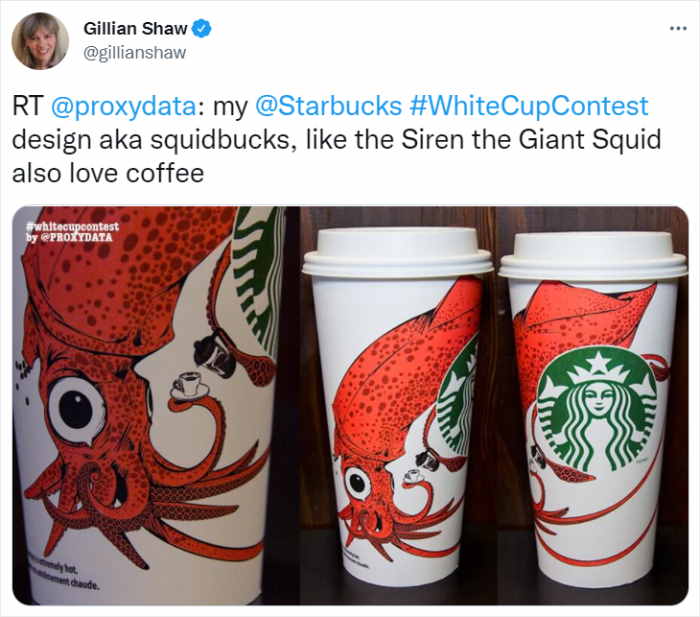 It's the perfect example of how including your customers in something you're passionate about can give them that same passion for your business.
So the next time you're thinking up a new product, give a shout-out to your customers and get them involved.
That's it!
We hope this article helped you discover how to turn your website visitors into brand ambassadors to raise awareness and drive your business growth.
Start seeing your business explode in growth with Instagram marketing. Get started with Instagram Feed Pro today!
While you're here, check out our guide on how to increase your Instagram followers next.