Do you want to add video content to your WordPress website?
Embedding YouTube videos in WordPress is an excellent way to breathe new life into your website and increase visitor engagement.
There are several ways to embed YouTube content in WordPress, so it can be hard to know which method to pick.
In this article, we'll show you how to embed a YouTube video in WordPress easily for beginners, so you can easily get more YouTube subscribers.
Here are the different methods to help you navigate this article:
Embedding YouTube Videos Manually in WordPress
The following methods for embedding YouTube videos in WordPress will show you how to manually add video content to the new WordPress block editor, the classic editor, and sidebar widgets.
Let's dive in!
Add a Video to WordPress Pages and Blog Posts
WordPress comes with a handy feature called auto-embeds, which lets your website automatically get the embed code from video hosting services like YouTube, and display the content in a blog post or page.
To embed a YouTube video in a WordPress blog post or page, all you need is to copy the URL of the video you want to embed.
Then edit the post or page where you want to add the video and paste the URL into the WordPress editor.
As soon as you paste the video URL, WordPress finds the embed code and displays the YouTube video inside the content area.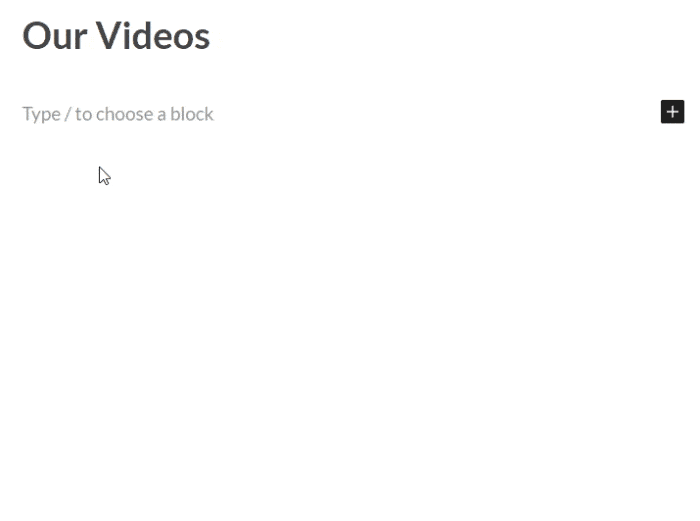 Now when you save the post and click the Preview button, you'll see the embedded social media video as visitors would see it on your website.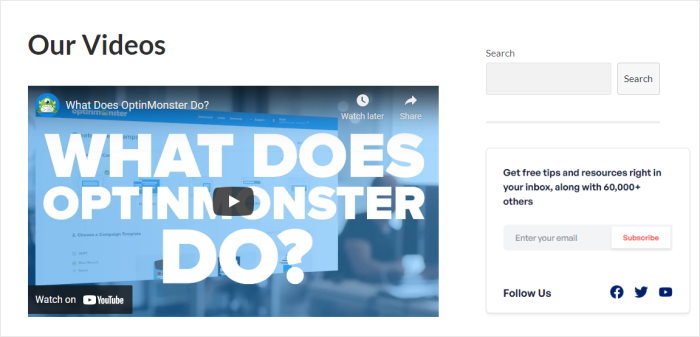 Pretty easy, right?
Once you've added your video, it's easy to change its settings using the block toolbar and media settings column on the right-hand side of your screen.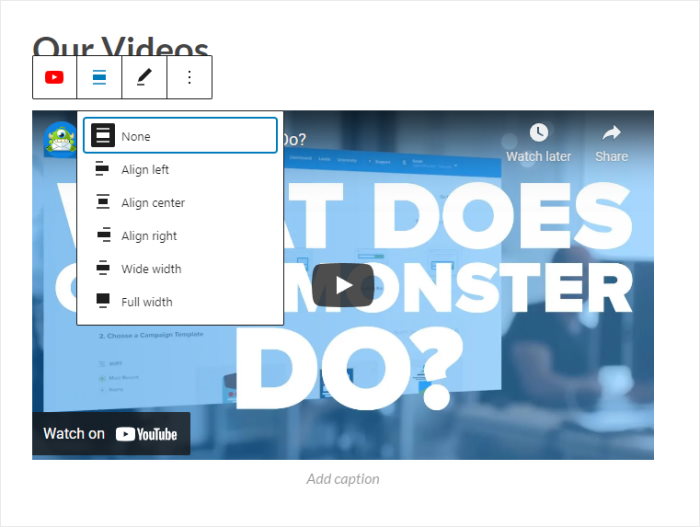 From there, you can adjust the video width, change the alignment, make it full-width, and more. You can also add a caption to accompany the video and preserve the aspect ratio for people browsing on mobile devices.
It's only possible to use the WordPress auto-embed feature for white-listed video platforms, which include:
YouTube
Giphy
Twitter
Vimeo, and more
You can find a full list of white-listed video embeds for WordPress here.
If the site you wish to embed videos from isn't on that list, you'll need to get the full HTML embed code directly from that platform.
Then paste the code into a new Custom HTML block in the WordPress editor.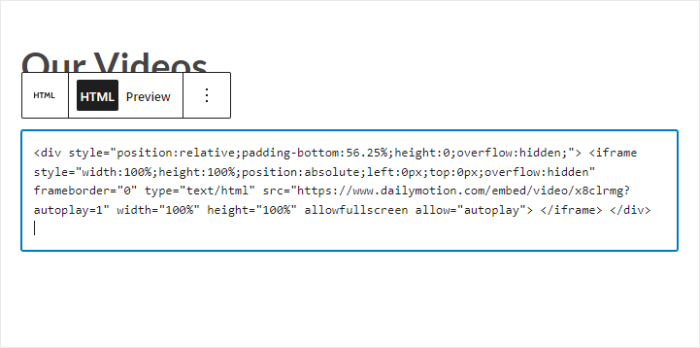 After that, let's see how you can embed your YouTube video as a widget on your site.
Add YouTube Videos in a WordPress Sidebar or Footer Widget
Similar to WordPress posts and pages, you can embed a YouTube video as a widget in your WordPress sidebar just as easily.
To do that, navigate to Appearance » Widgets from the WordPress dashboard so you can access your widgets area.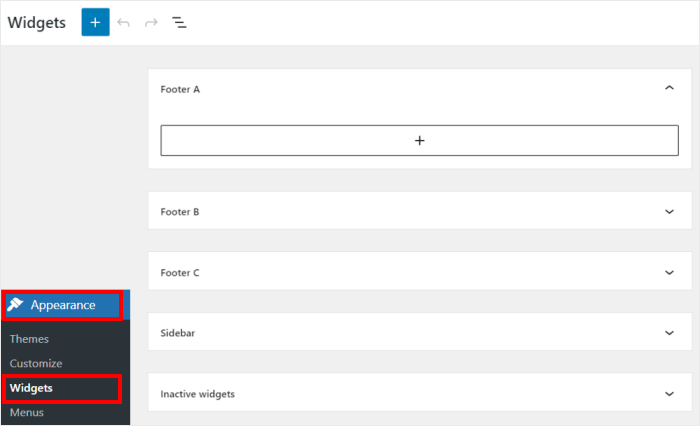 After that, depending on your WordPress theme settings, you can pick where you want to display the YouTube feed.
To show it on the sidebar, click on the Sidebar panel.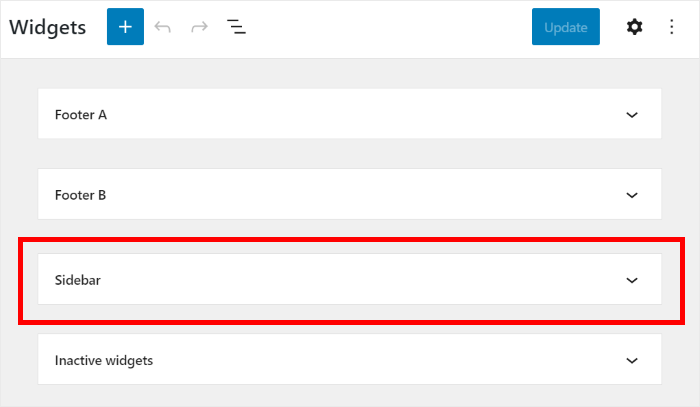 Or you can select Footer instead if you want to embed your own video there.
We'll use the sidebar for our example here.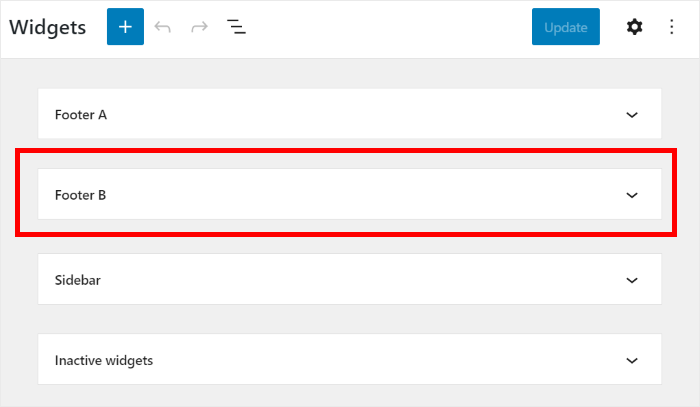 Now, click on the plus (+) icon at the bottom to add a widget.
From the options, select the Paragraph widget and then paste the link to your YouTube video.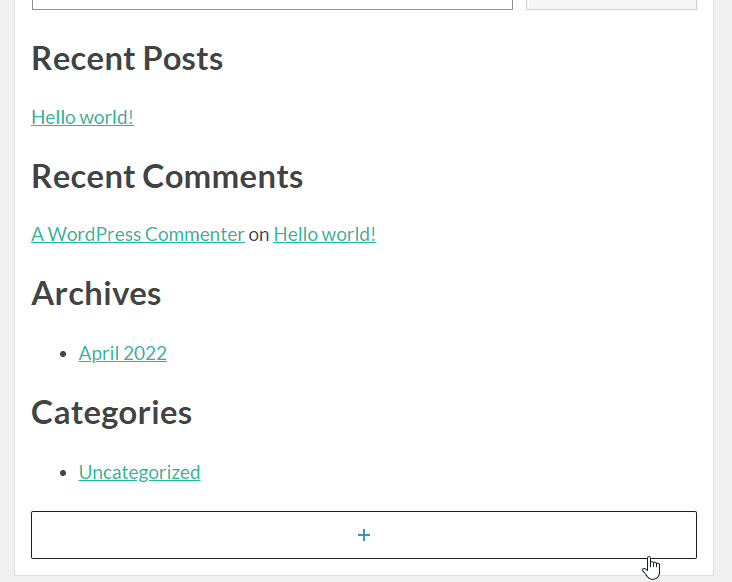 WordPress will automatically find the embed code and display a preview of your video inside the widget's content area.
Make sure you click the Update button to store your widget settings. Then you can visit your website to see the video embed in your sidebar.
Embed YouTube Video Feeds in WordPress (Best Way)
While embedding individual videos in WordPress is pretty straightforward, manually adding whole feeds of YouTube videos isn't as easy.
If you want to embed a YouTube feed to display your latest videos, you'll need to hire a developer to help you out. That's because manually embedding YouTube feeds in WordPress requires coding knowledge, which isn't something every website owner has experience with.
But don't worry. There's a better and easier way that anyone can implement, no matter your level of experience.
And that is to use a WordPress plugin to embed YouTube video feeds on your website.
YouTube Feed Pro is the best WordPress YouTube plugin that lets you display completely customizable YouTube feeds on your website.
With tons of customization, layout, and styling options, you can easily embed your video feeds to look however you like. That means your feeds will look great right out of the box, with no technical knowledge required.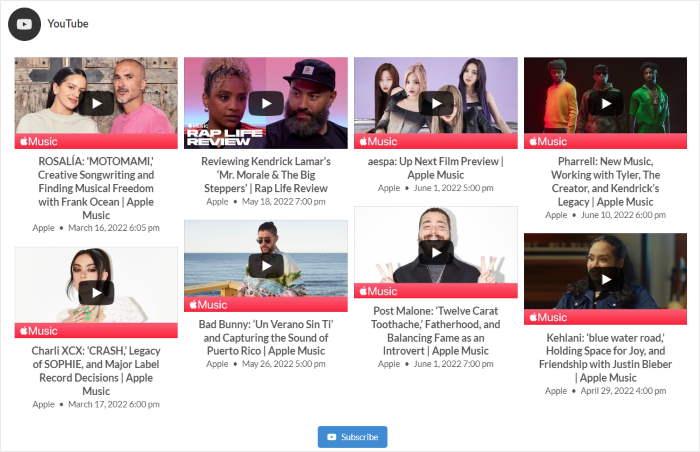 And it's not just regular video feeds you can embed either.
Since it extends the functionality of your site, YouTube Feed Pro also lets you:
Combine feeds from multiple YouTube channels in a single feed
Show a feed of current and future YouTube live streams so you won't have to embed individual videos each time you go live
Build fully tailored video feeds using advanced YouTube search queries
You can also turn your feed's video data into a custom post type, so your videos show up in your regular WordPress posts feed and site search.
That can benefit your site's SEO as it creates a permanent link on your website for search engines to crawl and index.
The best part? YouTube Feed Pro lets you create, customize and embed YouTube videos on your site even without knowledge on coding, HTML code or iFrame. It's the quickest way for newbies to display their YouTube content on WordPress.
Now that you know why embedding YouTube video feeds in WordPress is easier with a plugin, let's look at how to do it.
Add a YouTube Video Feed to WordPress
To begin, get your copy of YouTube Feed Pro here and then install the plugin on your WordPress site.
You can check out this step-by-step guide to installing a WordPress plugin if you need some help.
Once you've installed and activated the plugin, navigate to YouTube Feed » All Feeds menu and then create a new feed by clicking on the Add New button.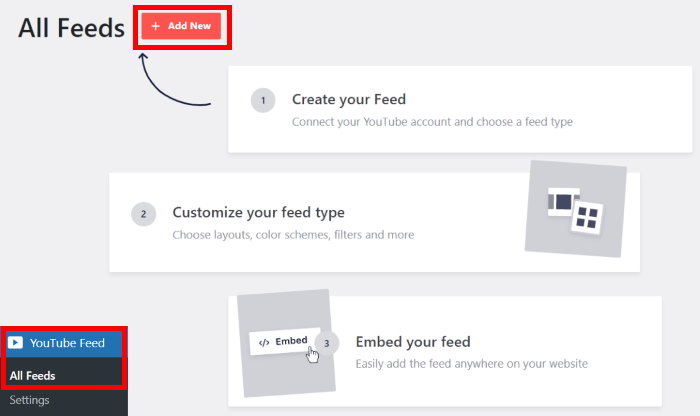 After that, you can choose the type of YouTube feed that you want to display in WordPress. With YouTube Feed Pro, you get 6 options to pick from:
Channel: Show videos from a selected YouTube channel
Playlist: Choose a YouTube playlist and show its videos
Favorites: Embed a video gallery of your favorite YouTube videos
Search: Show a feed of videos that have specific search words or phrases
Live Streams: Display ongoing and past live streams from a YouTube channel
Single Videos: Show a feed of individually chosen videos
Choose your feed type here and then click on Next to continue.
For our example, we'll use a Channel feed here.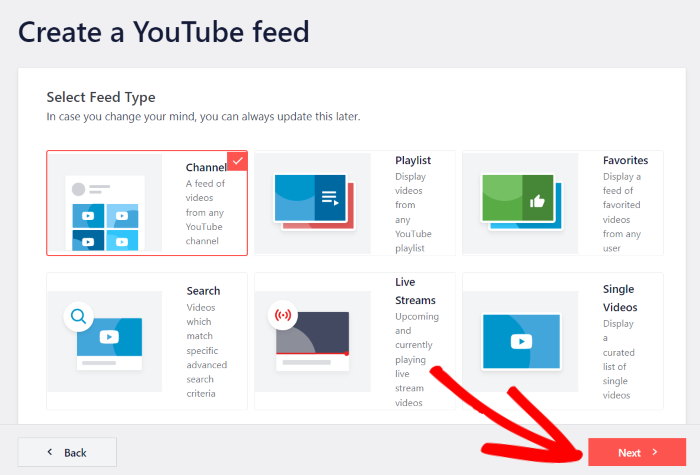 Next, you can add a source for your YouTube feed so that it can show YouTube videos on your WordPress site.
You can choose from 2 sources here:
Add your API key
Connect your YouTube account
To get access to all the YouTube feed types, you can click on the Add API Key option here.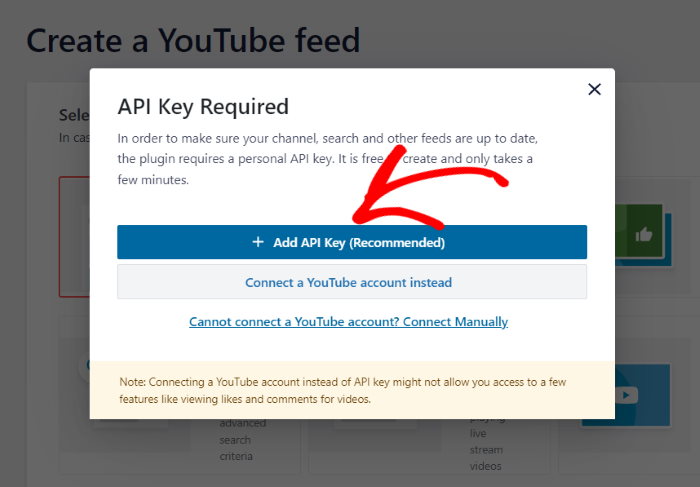 You can learn how to do that in this guide to creating and using YouTube APIs.
After that, simply paste the API key into the popup and click on Add.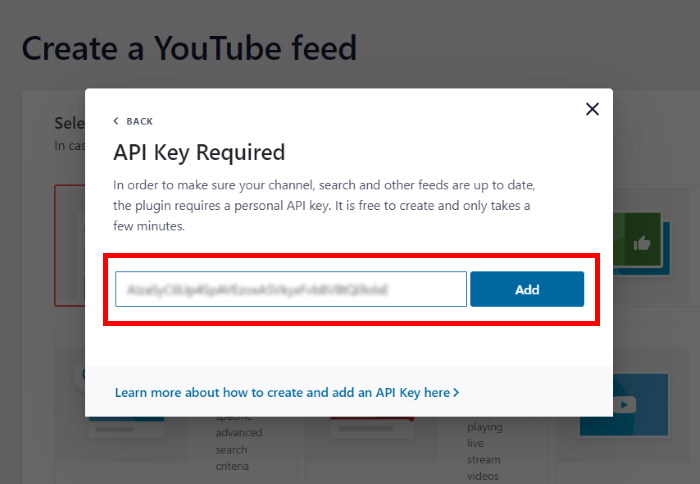 Or, you can click on the Connect a YouTube account instead button.
This way, you can use your own YouTube account instead of creating an API key.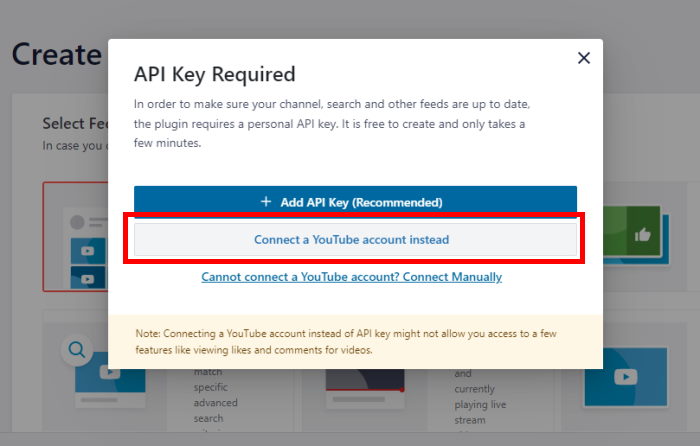 After that, the plugin will open YouTube and ask for read-only access to your account. Using this access, it can't actually make any changes and will only view your YouTube info.
To proceed, click on the Continue button on the popup.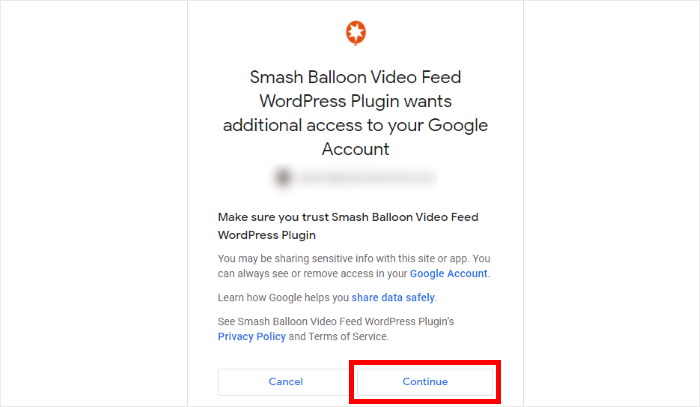 Next, you can pick which YouTube channel, playlist, live stream, single video, and more that you want to embed.
For a YouTube channel, just open the channel in your browser and look for the URL at the top.
In that URL, look for /user/ or /channel/ and copy everything after that.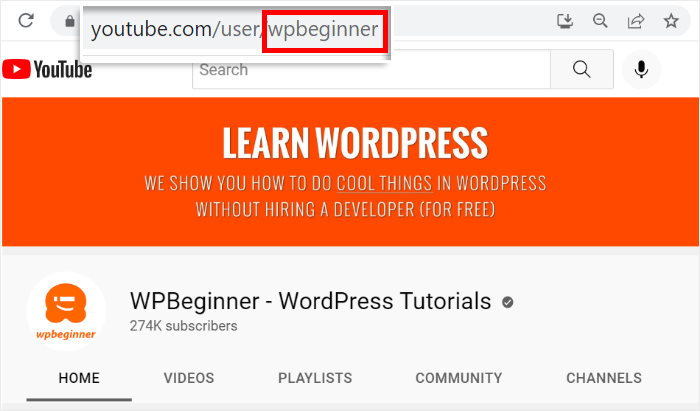 Then, return to your website once again and then paste it into the popup before clicking on Next.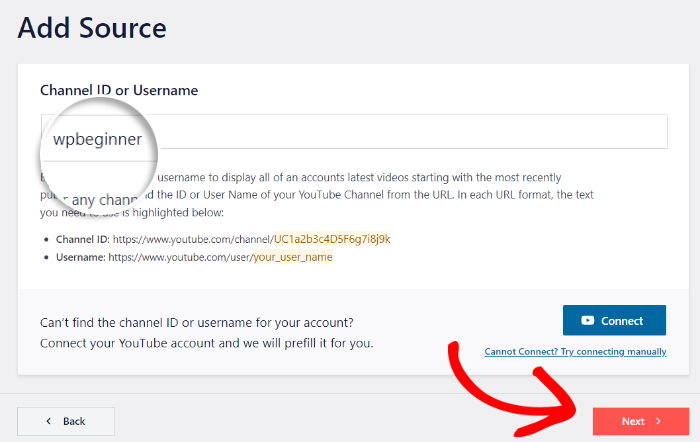 With that, you've created a YouTube feed and connected it to a source. You can now use YouTube Feed Pro to customize the design of your new feed.
Customize Your YouTube Video Feed
Now you're ready to move on to customizing your feed. To get started, you can choose from a collection of feed templates with unique designs.
Simply click on a template you prefer and then click on Next.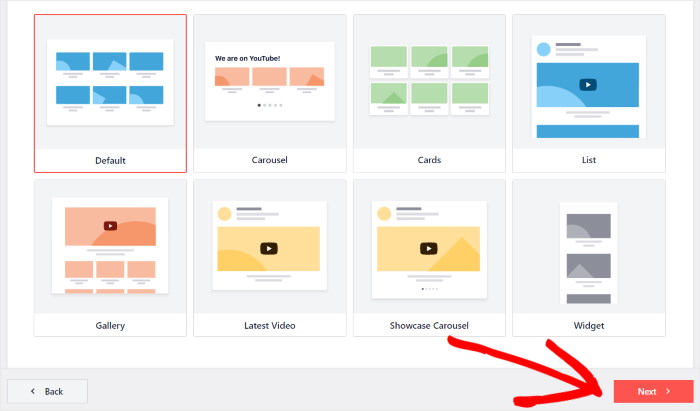 Next, YouTube Feed Pro will show you a visual editor that you can use to set the design of your new feed.
From here, you can find the customization options on the left panel of the feed customizer. You can use these options to change your feed layout, color scheme, header design, feed size, and much more — just by clicking.
When you use these customization options, you can keep track of the changes with the help of the live preview on the right.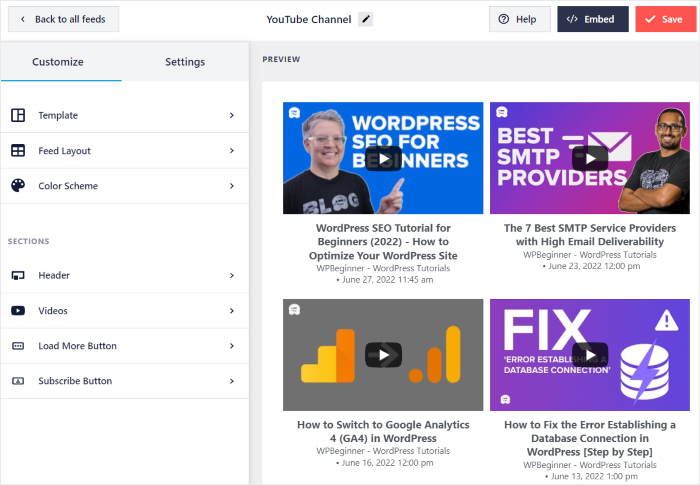 Ready to customize your YouTube feed?
First, click on the Feed Layout option on the left panel to get started.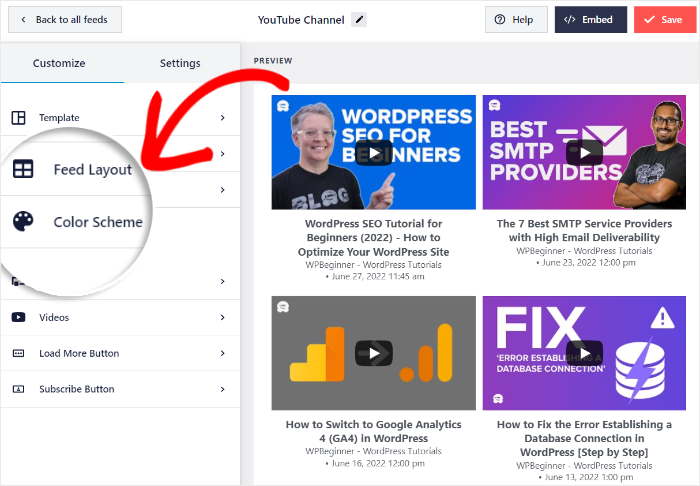 From here, you can pick from the different ways to display your YouTube feed. With this plugin, you get 4 layout options: Grid, Gallery, List, and Carousel.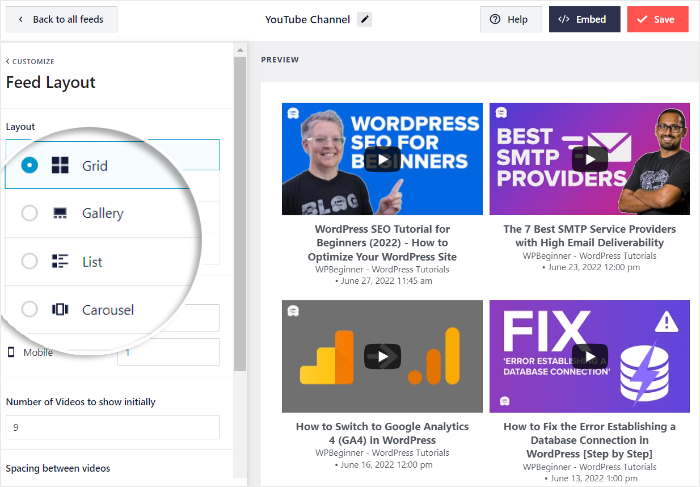 Choose any layout you prefer, and then click the Save button.
After you do that, click on the Customize button at the top to continue editing your feed.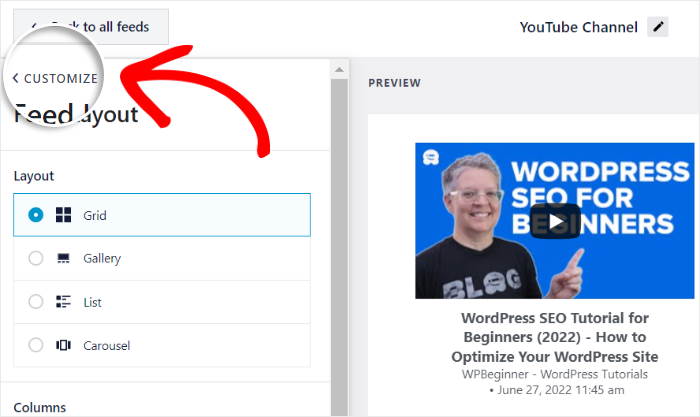 You can now use the remaining customization options for your YouTube feed.
Just click on the Header option on the left to continue.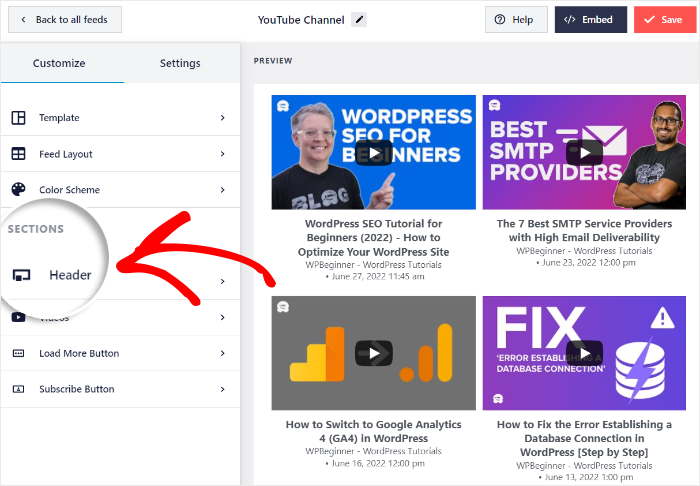 To show a header at the top of your YouTube feed, you can toggle the Enable option here.
Below that, you can choose between a Standard header with your channel name and icon and a Text header.
You can also choose to show your Channel Description or the number of Subscribers.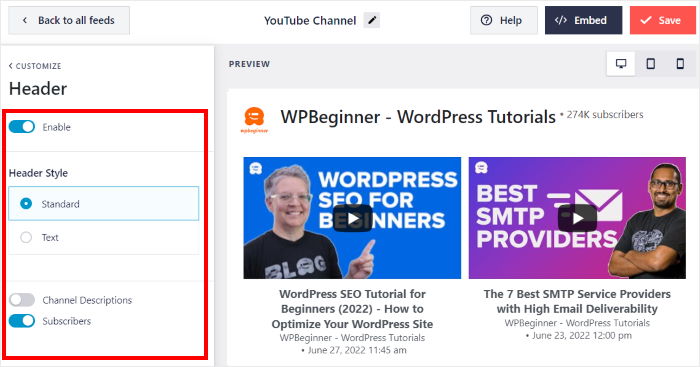 Finally, click on Save to confirm your new header design.
Just like that, you can use the remaining customization options to set your color scheme, feed size, post style, load more buttons, and much more.
Then when you're happy with your feed, click on the Save button once again.
Finally, you can move on to the final step and embed the YouTube feed in WordPress.
Embed Your YouTube Video Feed in WordPress
To embed a YouTube video feed in WordPress, start by clicking on the Embed button at the top of the live feed editor.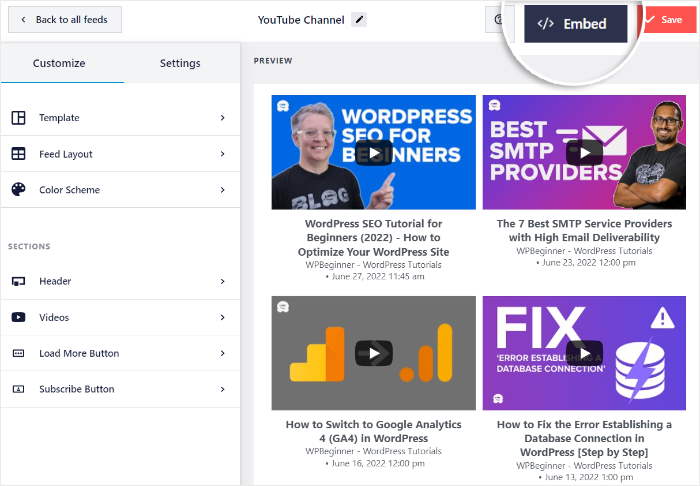 You can now pick the location of your YouTube feed here.
If you want to embed the YouTube feed on a WordPress page, click on the Add to a Page option here.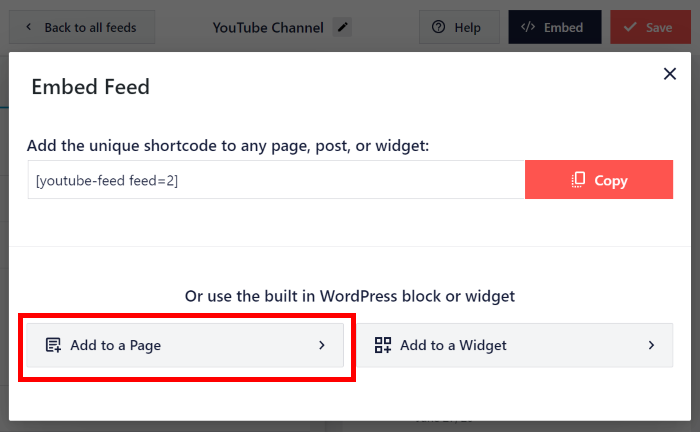 You can also embed YouTube feeds on your sidebar or footer as a YouTube widget. For that, click on the Add to a Widget option instead.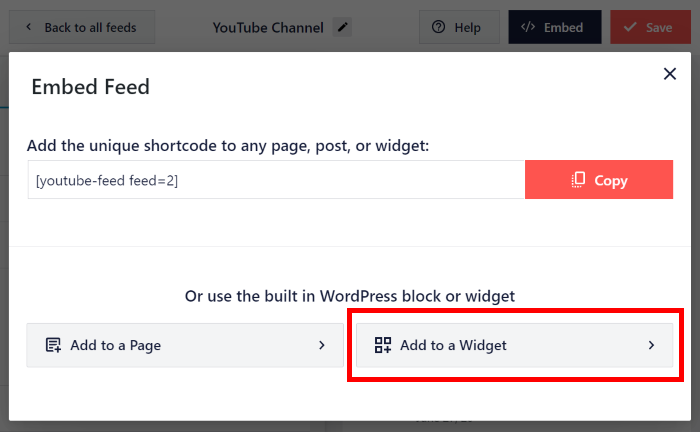 We'll go with a WordPress page for this tutorial.
Next, select the page where you want to embed your YouTube feed and click on Add.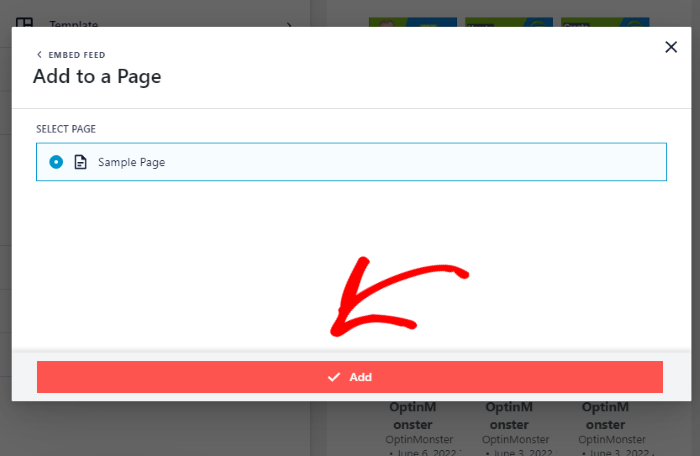 The plugin will now open that page in the WordPress content editor.
Then within the editor, click the plus (+) icon to add a new WordPress content block.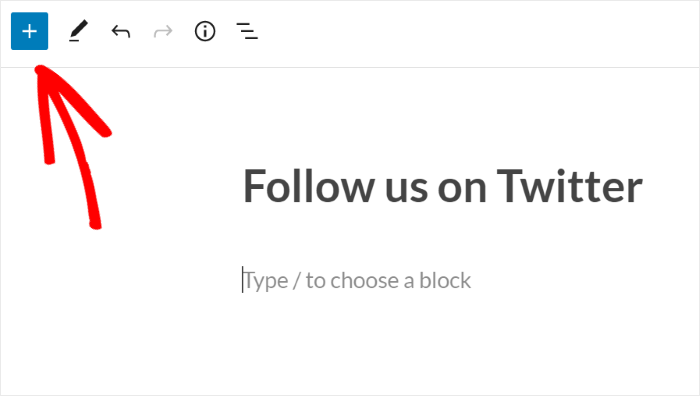 Then in the search box, type "youtube feeds" to locate the Feeds for YouTube block.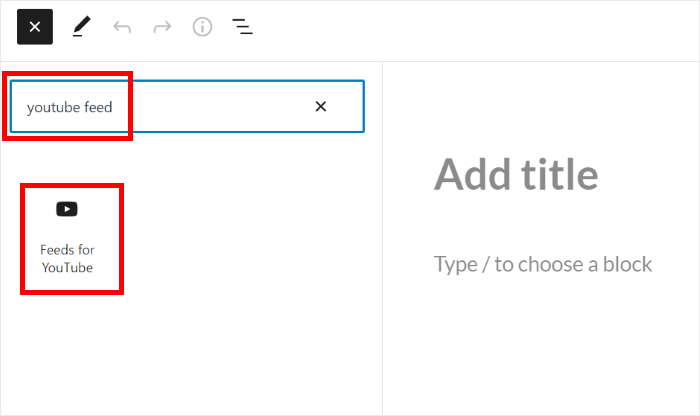 When you click the block in Gutenberg editor, WordPress automatically adds your YouTube video feed into the content editor with a preview of how it'll look on your live website — no shortcode needed.
Now click on the Update or Publish button at the top, and your YouTube feed will be online.
If you open your website, you'll be able to see what your feed looks like. You site visitors can simply click on your video thumbnail and it'll playback the video, right on your site.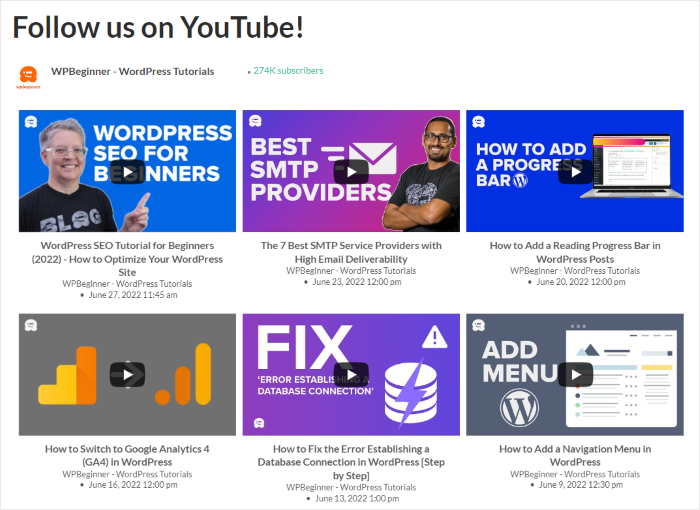 Let's check out the next way to embed YouTube content on your website.
Embed a YouTube Playlist in WordPress
If you'd rather embed a YouTube playlist in WordPress, you can also do that with the YouTube Feed Pro plugin.
First, open your YouTube playlist and then look for the URL at the top.
From there, look for "?list=" and then copy everything after that.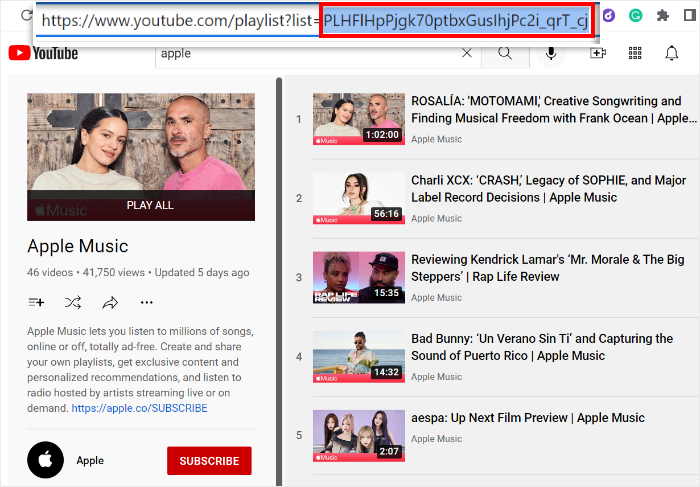 Like above, navigate to the YouTube Feed » All Feeds menu from your WordPress dashboard area and then click on the Add New button.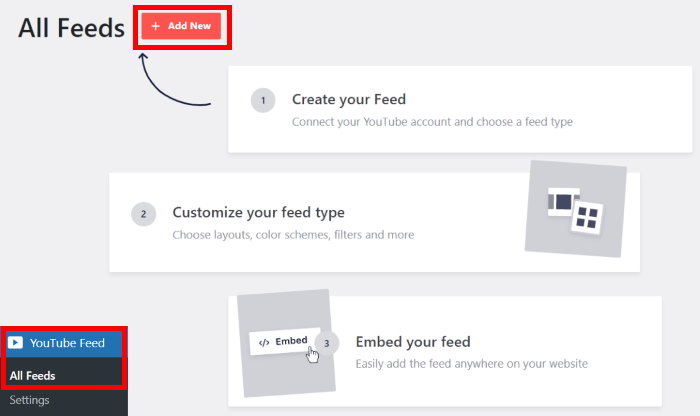 Instead of choosing the "Channel" layout type, select the Playlist type here.
After that, click on Next to continue.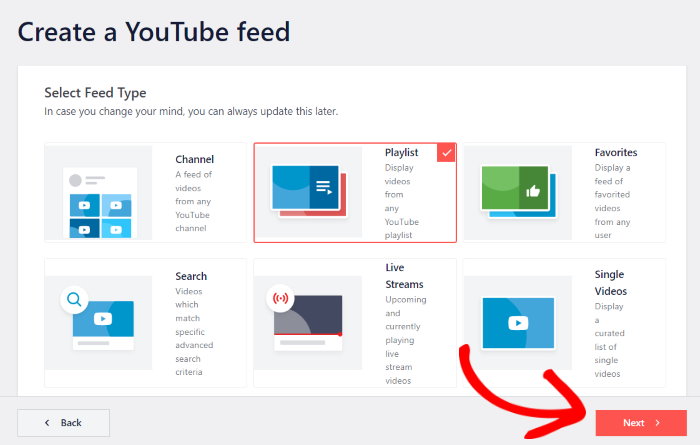 After you do that, paste the ID that you copied earlier into the Playlist ID field.
Then, click on Next to continue.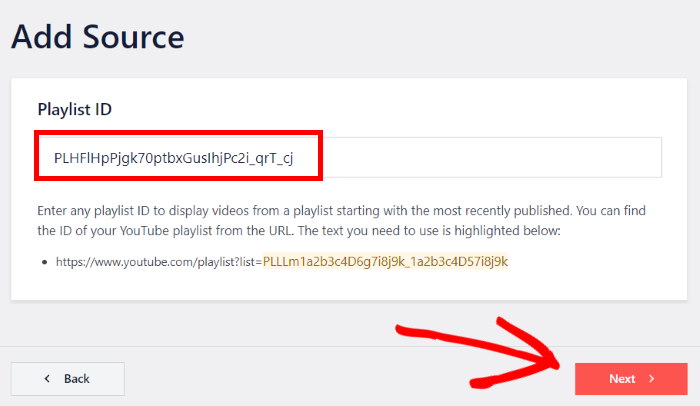 After that, you can pick your feed template and then start customizing the design of your YouTube playlist feed.
Like with your channel feed, you can use the live feed customizer to do this.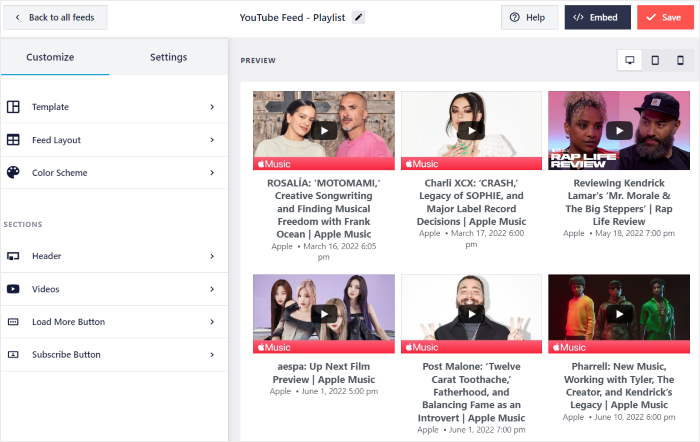 Embedding a YouTube playlist in WordPress using the YouTube Feeds plugin is the same as embedding your channel feed.
In just a few clicks, you can display a YouTube playlist on your WordPress website, just like this: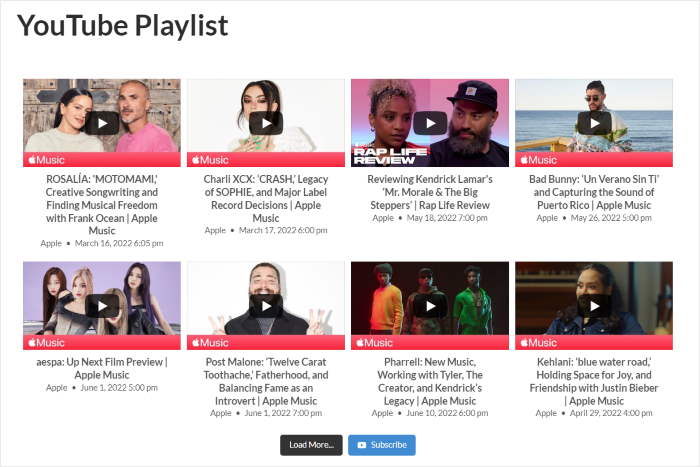 There you have it!
You now know how to embed a YouTube video in WordPress, and with the help of Smash Balloon's powerful YouTube Feed Pro plugin, you can have complete control over what content to display on your site and how it looks.
You can then get more subscribers, boost your views, convert visitors, and much more to grow your business with ease.
Ready to create engaging YouTube feeds? Get started with YouTube Feed Pro here.
And if you enjoyed this article, feel free to follow us on Twitter and Facebook for more helpful tutorials.