Want to know which is the best WordPress hosting provider for your small business website?
Choosing a great hosting service for your business website improves your site speed, gives a better user experience to your customers and boosts your sales.
Since there are hundreds of hosting companies in the market, it may be confusing to find the best one to help you grow your small business, especially if you're a beginner.
In this hosting guide, we've rounded up the best WordPress hosting services so you can find the one that works best for your online business site.
Is WordPress Free With Hosting?
As an open-source platform that's free to download and use, WordPress.org is free.
But, if you want to use it as a marketing site or online store for your business, there are costs such as WordPress web hosting and a domain name that you need to invest in.
Fortunately, the best WordPress hosting services for small businesses are priced affordably, which starts as low as $2.75 per month with Bluehost.
How Do I Choose a WordPress Host?
When selecting the best WordPress hosting provider for your brand's website, there are several factors that you can consider, such as:
Speed and Reliability: A fast and reliable hosting service means your website will load quickly and remain online so you can rank higher and deliver a smooth user experience.
Hosting Security: When your hosting service includes a free Secure Sockets Layer (SSL) certificate, people can see that your business website is safe to browse and trustworthy. For extra security, you can also look for a hosting service that provides regular backups for your website.
Customer support: Having quick and high-quality support means you'll have people ready to lend you a hand if you need help with your site's hosting needs.
Scalability: Sign up with a hosting provider that can easily update your pricing plan as your business grows over time.
Our Picks for The Best WordPress Hosting Services
We did our research on some of the best WordPress web hosts that are suited for business owners.
The web hosting services below are dependable, WordPress-optimized, secure, scalable and solid, so we're recommending them to Smash Balloon users.
While there are tons of other available hosting companies such as GoDaddy, A2 Hosting, Kinsta, Inmotion Hosting and more, we believe that the web hosting services in our list offer the best value and functionality for every business owner — beginner or expert.
Let's start with one of the oldest web hosting provider in the market.
1. Bluehost – Best WordPress Hosting for Beginners

Officially recommended by WordPress.org, Bluehost is one of biggest hosting providers in the world.
Based on our research, we saw that Bluehost offers tons of hosting types such as shared, virtual private server, dedicated, and managed WordPress hosting so it's suited for every type of online business.
The great thing about Bluehost is all their hosting plans allow you to install WordPress with 1-click. That's why it's one of the best web hosting plans if you're starting out with your first website.
Another reason why we recommend Bluehost for website newbies is because of their user-friendly hosting dashboard where you can manage your hosting, set up your website security, update your plan and more.
Pros:
Great pricing for small businesses
Free domain name for 1 year
Free SSL Certificate
One-click WordPress install, perfect for your 1st website
Easy-to-use dashboard
Cons:
Renewal price is higher, so better to lock in your first term for a longer time to save more
Why we like it: As the best WordPress hosting solution for beginners, Bluehost makes it easy for business owners to start their own websites because of its seamless WordPress integration, economical pricing, helpful customer support and easy-to-use dashboard.
Pricing: Bluehost's basic plan starts at $2.75 per month for the first term, without any add-ons. When you renew your hosting plan, you'll have to pay $8.99 per month.
2. SiteGround – Web Hosting with High Performance and Best Customer Support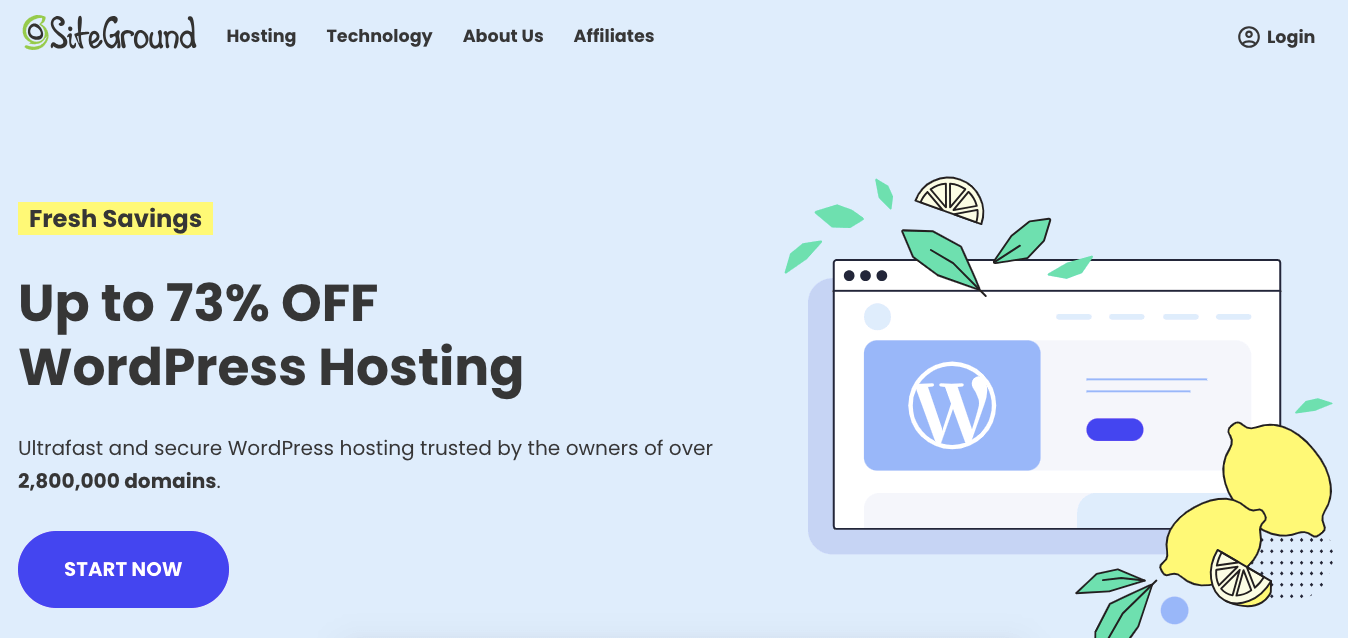 Do you want a highly-rated and popular WordPress web hosting that has exceptional customer support? Then, SiteGround is the best web hosting solution for your website.
Recommended by WordPress and used by the largest WordPress resource site, WPBeginner, SiteGround offers super fast servers via Google Cloud platform, so your online store loads lightning fast for your customers.
We also like its free daily backups, automatic updates and free SSL certificates to boost your WordPress site's security.
In addition to its fast loading time and reliable uptime, SiteGround is famous for their top-notch customer support.
Their support team is available 24/7 though phone, live chat, and tickets. It's one of the reasons why over 2.8 million domains worldwide trust SiteGround for their hosting needs.
Pros:
Also recommended by WordPress itself
One of the fastest WordPress hosting providers in the market
Free Domain, SSL, CDN, and website backups
Automated WordPress installer so you can quickly set up your website
SiteGround Migrator plugin lets you automatically move your website to SiteGround hosting
Cons:
Their hosting plans come with fixed storage
Why we like it: With its speed-optimized performance, site security features and stellar customer service, SiteGround is the best WordPress hosting for online stores and WooCommerce websites.
Pricing: SiteGround's startup hosting plan starts at $2.99 monthly and includes 10 GB disk space for 1 website with 10,000 monthly visitors.
3. Cloudways – Best Managed Cloud Hosting for SEO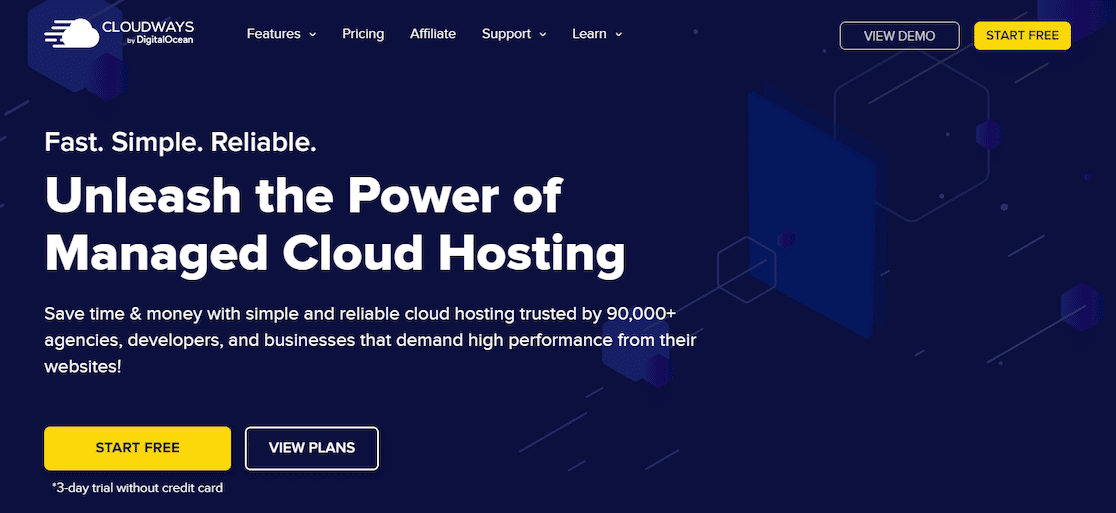 As a managed web hosting platform for businesses, Cloudways is trusted by over 90,000 websites worldwide.
Its flexible model lets users select from multiple underlying cloud hosting packages, including Digital Ocean, Google Cloud and Amazon Web Services.
All of their hosting options come with access to 24/7 customer support, free SSL, free migration, automated backups and more. Based on my experience, whenever I needed help with my personal website, I would use live-chat support and an agent would respond to me in less than 2 minutes.
Plus, Cloudways offers advanced cache and CDN so your site loads fast for your customers, wherever they may be. This makes it one of the best WordPress hosting for SEO.
After all, page load time is one of Google's ranking factors, so having a quick-loading website helps you boost your SEO so you can rank higher and get more traffic.
Pros:
High-speed servers
Flexible pricing, perfect for any type of blogger or business owner
Quick, helpful and friendly customer support
Free SSL certificate and migration
Automated backups
Cons:
Cloudways doesn't have a domain registration service
Why we like it: We like its pay-as-you-go hosting plan — this means you pay for what you use, so your pricing can be budget-friendly or expensive, depending on your business site's hosting setup. This gives you more flexibility in customizing a hosting plan that meets your brand's budget and needs.
Pricing: Their entry-level hosting plan for a server with Digital Ocean server starts at $11/month, with 1GB of RAM, 25GB storage and 1TB bandwidth.
4. Hostinger – Fast Web Hosting with Affordable Price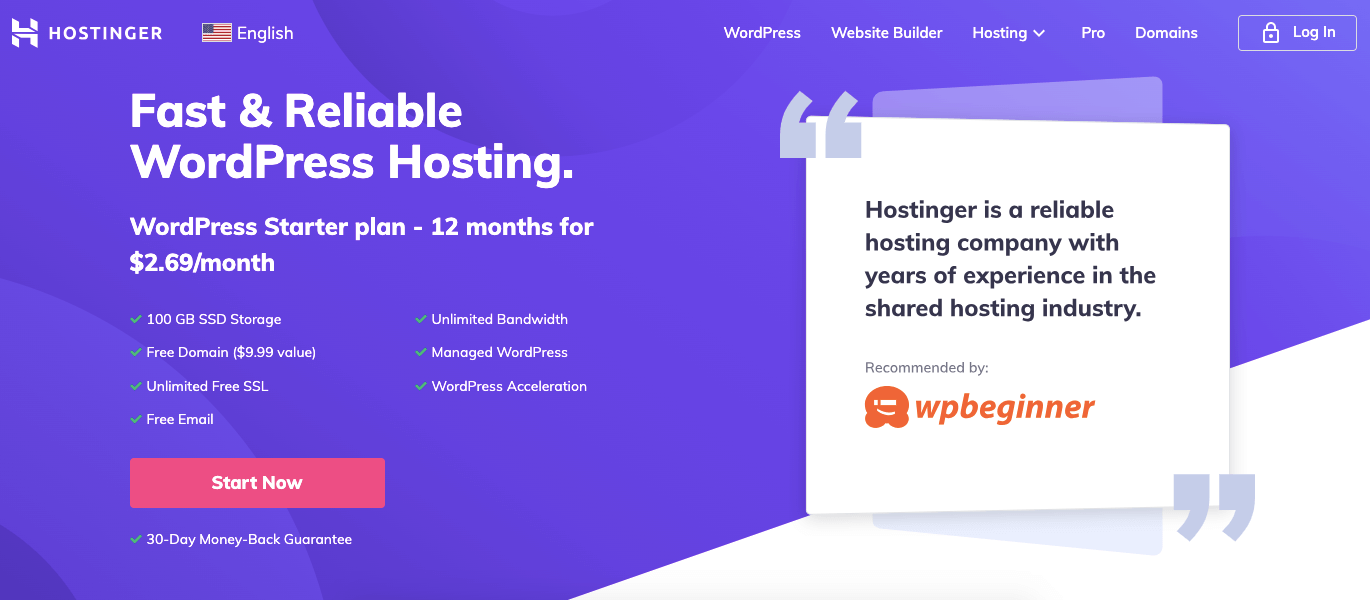 Hostinger is one of the cheapest WordPress hosting services that you can get for your WordPress website. With over 29 million users in 178 countries, it's a popular choice for bloggers and small business owners who are just starting out.
The cool thing about Hostinger is its solid performance and reliable uptime. Sure, it's a low-cost hosting plan — but it's also very fast-loading, secure and dependable.
In fact, our research shows that Hostinger offers 99.9% uptime guarantee. This web hosting platform even has multiple data centers, including the US, Singapore, India, the Netherlands and the UK so you can improve your site performance for your customers.
And like other web hosting services on this list, Hostinger handles WordPress updates automatically. So, you can invest more time in building your social following, getting more sales, and promoting your brand.
Pros:
Free domain
Cheapest hosting plan in the market
Unlimited Free SSL certificate
Unlimited Bandwidth
1-click WordPress installer so your site will be live in minutes
30-day money-back guarantee
Cons:
Higher renewal price, but considering the features you get, the renewal price is still worth it
Why we like it: Hostinger stands out thanks to its budget-friendly pricing, solid performance and feature-rich hosting plans so you essentially get more than what you pay for. Also, its 30-day money-back guarantee makes it the best WordPress hosting for risk-free guarantee.
Pricing: This hosting company's startup plan starts at $1.99 per month.
5. WP Engine – Best Managed WordPress Hosting for High Traffic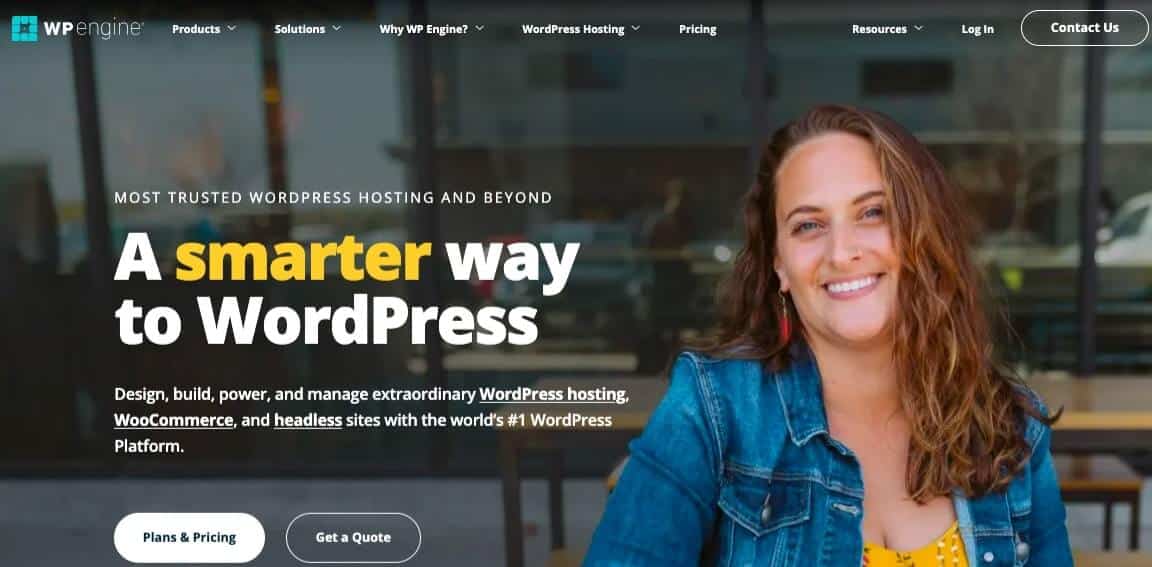 Does your business website have high volume of traffic coming in every month? If yes, then WP Engine might be the best hosting solution for your brand.
As one of the best managed WordPress hosting services in the market, WP Engine is trusted by big brands like Yelp, Pandora and Tiffany & Co. to handle their website's hosting needs.
WP Engine works behind-the-scenes to professionally maintain your online store's speed, performance and security at the server level so it's automatically optimized for your customers' use. As a result, you have more time to grow your business online using social media.
We also like that it offers cloud hosting via Amazon Web Services and Google Cloud Platform to make sure your ecommerce website loads quickly and remains online no matter where people are accessing it from.
Pros:
Free WordPress migration plugin
24/7 customer service
Automatic WordPress updates
Blocks threats and does malware scanning proactively so your online store remains safe
Auto-renewing SSLs and daily backups
Includes customizable website themes
Cons:
Their hosting plan is pricy if you're just starting out your business or online project
Why we like it: Because WP Engine is a managed WordPress hosting solution, it automatically maximizes your website's speed, SEO and safety for you.
Pricing: The basic hosting plan for WP Engine starts at $20 per month.
6. HostGator – Popular Web Host for Blogs and Businesses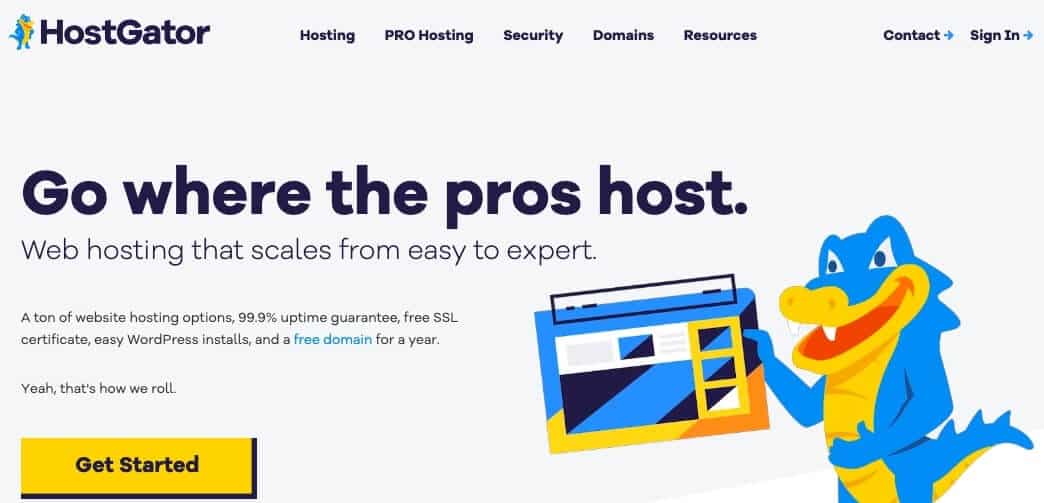 HostGator finds its way to our list of best WordPress hosting plans for small businesses as it's one of the most popular web hosts in the world.
With over 10 million domains hosted, HostGator offers tons of hosting plans such as shared hosting, VPS hosting, managed WordPress hosting and more.
Business owners and bloggers prefer HostGator's shared hosting plan that comes with unmetered bandwidth, 10GB SSD storage and free domain name registration for the first year.
We also love that it offers a 99.99% uptime guarantee — in fact, if your site's uptime is below this, you can get back a one-month credit on your account.
Want to check if HostGator is right for you? They offer a 45-day money-back guarantee, so you can try out HostGator website hosting for your online business risk-free.
Pros:
Free domain name registration
Free SSL certificate
1-click WordPress install
Free site migration to HostGator
24/7 customer support
Cons:
Control panel may be complicated if you're not familiar with your hosting setup
Why we like it: HostGator offers the best shared hosting solution for WordPress users with its reliable performance, unlimited bandwidth and reasonable pricing.
Pricing: If you're a small business with only 1 website, you can sign up for HostGator's Hatchling plan that starts at $2.56/month.
What is the Best WordPress Hosting for Small Businesses?
Now that you've already checked out the top WordPress hosting companies in the market, you may be asking yourself, "Which is the best web hosting for my business?".
Without a doubt, Bluehost offers the best value for your money with its affordable pricing plan, one-click WordPress installation, dependable performance and helpful support team available 24/7.
Its low price makes it easy enough for you to get started with it, and its reliable performance ensures that your online store is in great hands.
Also, all of the web hosting companies in this ultimate hosting guide are great, but Bluehost has our final vote as it's officially recommended by WordPress too.
FAQs on Best WordPress Hosting for Business Owners
Finally, let's talk about some of the common questions asked when it comes to choosing a hosting plan for your brand.
Which WordPress Hosting is Fastest?
When it comes to speed optimization, our top picks for the fastest WordPress hosting services are Cloudways and Hostinger. Cloudways has advanced cache and CDN so your online store loads fast for your users, and Hostinger offers outstanding performance on a budget-friendly price tag.
Can I Get Free Domain and Hosting for WordPress?
Most of the WordPress hosting companies in this hosting review such as Bluehost, SiteGround and Hostinger give you free domain registration when you sign up for their paid hosting plans.
What's the Best Hosting For My Online Store With Lots of Products?
The best hosting solution for your ecommerce site is SiteGround. It may not be the cheapest hosting platform, but it has the best customer service and is one of the most secure and fastest website hosting providers in the market.
And there you have it! We hope this list of the best WordPress hosting companies for small businesses helped you decide on the ideal hosting service for your website.
Looking for the best website builder plugin? Here are our top picks for the best site-building plugins in WordPress.
Best WordPress Plugins to Promote Your Small Business
Now that you have your web hosting in the works, check out how other WordPress tools and plugins can boost your brand awareness, increase your followers and get more sales for your online store with these guides and tutorials: