Looking for the best website builder for WordPress?
While website builders can be amazingly helpful tools, you might have lots of questions if you're a web design beginner.
What is the right website builder for me? How do I choose the best website builder for a WordPress site?
To answer these questions, we've done an in-depth review of all the major site builders out there. Plus, we'll also talk about what you should look for in a website builder so you can find the best option.
Here are the options that we'll cover in this article.
Let's get started!
What to Look for in a Website Builder?
A website builder is a tool that can help you create a website easily without editing the code.
Unlike other web hosting services like Squarespace, Wix, and Weebly, you can get tons of amazing website builder tools with WordPress.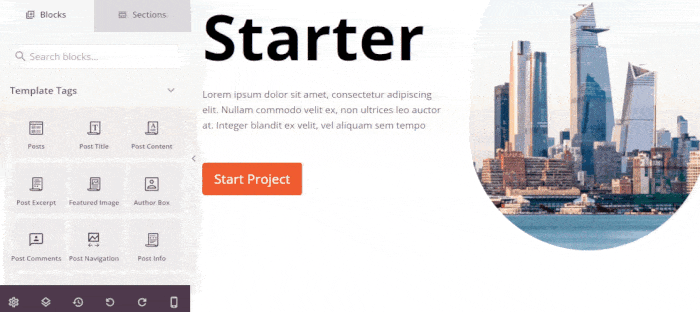 As a result, creating your dream website can be quick and intuitive.
Of course, you'll have to use WordPress.org to take full advantage of these tools.
To learn more, you can check out this guide on WordPress.org vs WordPress.com.
Since there are so many website builders out there, finding the right one can be tough. To lend you a hand, we've listed out the things you should consider before choosing the website builder for your site:
Ease of Use: If your web builder offers a simple drag-and-drop editor, you can design a beautiful website with ease — no need for HTML, CSS, PHP, or any kind of coding.
Lightning Fast: With a website builder that's optimized for speed, your site can load much faster and even boost your SEO.
Pre-Built Templates: For quick and easy customization, you can get a website builder that comes with pre-designed layouts created by professional designers.
Budget-friendly: The right website builder should be cheaper than web designers and have different pricing options so you can find the right option for your budget.
Secure: To protect your website's security, you can look for a website builder with a successful track record and tons of positive reviews.
Customer Support: Your website builder should also have a dedicated support team that you can reach at any time. A great way to make sure is to look at the user reviews and testimonials.
All you have to do is keep these in mind, and you'll be able to find the right WordPress builder for your brand's website.
7 of the Best Website Building Tools for WordPress
So far, we've discussed what a website builder is and what to look for when choosing one for your site.
With that, let's dig into our 7 favorite options.
SeedProd is the best website builder for WordPress and an amazing option if you want a beautiful website for your brand.
With its drag-and-drop editor, designing a perfect website to fit your brand's image is quick and easy. Plus, this user-friendly tool comes with tons of handy customization options that make website building even simpler.
You get convenient content blocks that you can use to add photos, links, buttons, call-to-action, videos, and much more.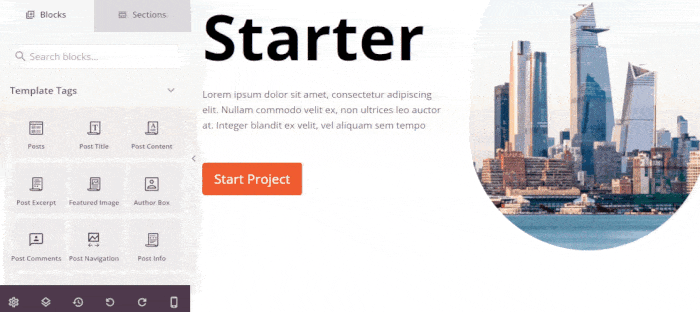 You can even add contact forms, giveaways, social buttons, and more and make your website even more engaging.
Just drag the content block you want and drop it on your page — it's that easy!
In fact, SeedProd comes with 150+ amazing templates with unique designs perfect for every page of your site. You have templates for eCommerce sites, blogs, startups, restaurants, sales pages, and a whole lot more.
Just pick the option you prefer, enter your details, and your page will instantly be ready.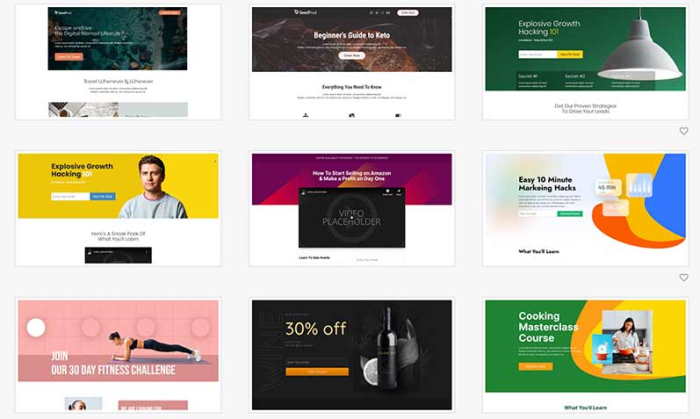 An amazing feature you get with SeedProd is the WordPress theme builder. In just a few clicks, you can set up the design of your entire website, including the sidebar, archive page, footer, header, and more.
Better yet, SeedProd has been designed from the ground up to be lightweight and fast. Your website will load quicker than ever, so you'll have no issues keeping visitors engaged.
As a bonus, a faster website means much better SEO, so you can reach even more potential customers.
By combining powerful features with a user-friendly design, SeedProd stands out as the best option when it comes to website-building tools for WordPress.
For more information, you can read our full review of SeedProd here.
Pricing:
You can get the premium plan for SeedProd starting at the price of just $39.50/year!
Want to build an engaging website with ease? Grab your copy of SeedProd here.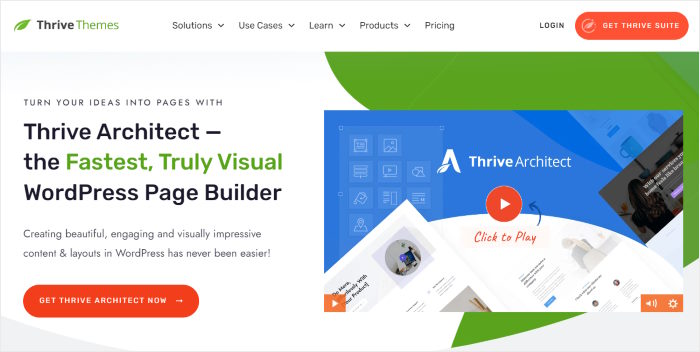 Created by Thrive Themes, Thrive Architect is another useful website builder with some unique features.
Thrive Architect comes with a real-time builder where you can customize your pages directly on the front end without using a customization panel.
For quick and easy site building, you can import a landing page template instead of building everything from the ground up.
While you get fewer templates than SeedProd, you still have 350+ options to choose from, with some standout designs between them.
As a bonus, Thrive Architect integrates with popular email marketing platforms and webinar services. Like with SeedProd, you'll have different options when it comes to promoting your business.
Pricing:
The standard version of Thrive Architect will cost you around $99/year.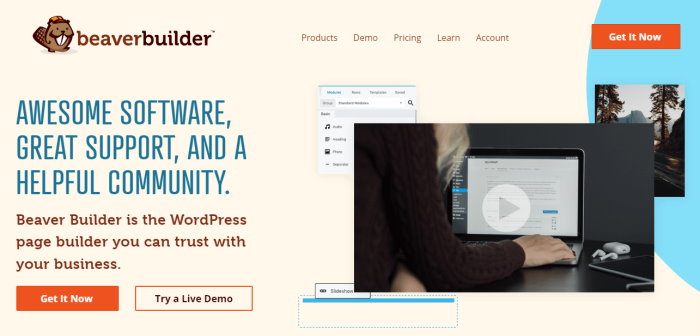 Next, we have Beaver Builder — a solid website builder that can help you create a lightweight site.
Like SeedProd, Beaver Builder comes with a simple editor that shows a live preview of your page. That way, editing is fast as well as accurate, even if you don't have the technical know-how.
Using this user-friendly editor, you can freely create engaging designs for your homepage, single posts, archives page, and much more.
For added flexibility, Beaver Builder also comes with support for Google Fonts.
While it comes with a helpful theme builder similar to SeedProd, you'll need to get the Beaver Themer add-on to access this feature.
Pricing:
You can get the standard plan for this website-building plugin at $99/year.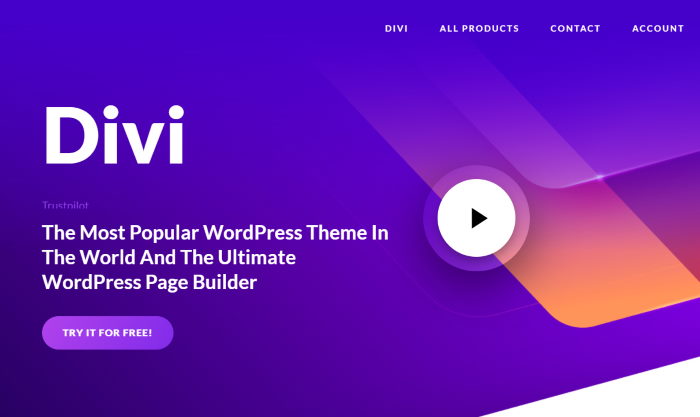 Divi is a popular option when it comes to page builders on the internet.
Instead of a straightforward website builder or page-building tool, Divi is actually a combination of a WordPress theme and a site builder.
So, you can enable the Divi theme for your website and then customize how it looks using the built-in editor.
Like the previous options on this list, Divi has a simple drag-and-drop interface as well. Just add different modules to insert design elements into your website, and you're good to go.
Divi also has something extra for advanced users who want to manually design their sites. There's a powerful code editor with useful features like error reporting, auto-complete, and more.
As you can see, Divi can be a good option for beginners as well as WordPress experts.
Pricing:
The yearly access to Divi will cost $89/year and gives you access to the theme as well as the editor.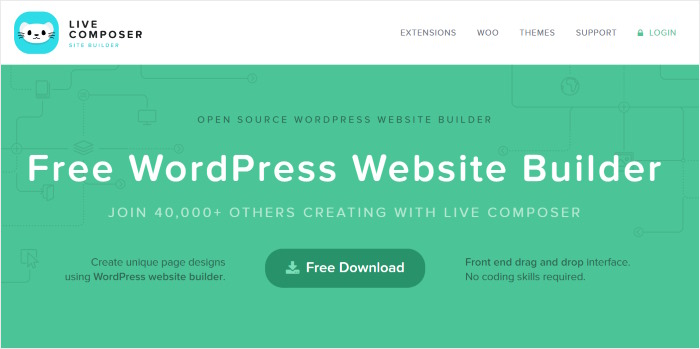 If you're looking for a lightweight website builder that's also free, Live Composer Site Builder has a lot of great features.
You can set your website's design in just minutes using the plugin's simple real-time builder. While not as feature-rich as SeedProd, you can still find lots of neat options to play with.
Better yet, this drag-and-drop page builder is 100% open-source and is constantly being updated with helpful new functionalities.
Similar to other tools like SeedProd, Live Composer Site Builder also helps you design responsive pages for your site so you can keep mobile visitors engaged.
Pricing:
For a basic but useful site builder, you can get the free version of Live Composer Site Builder.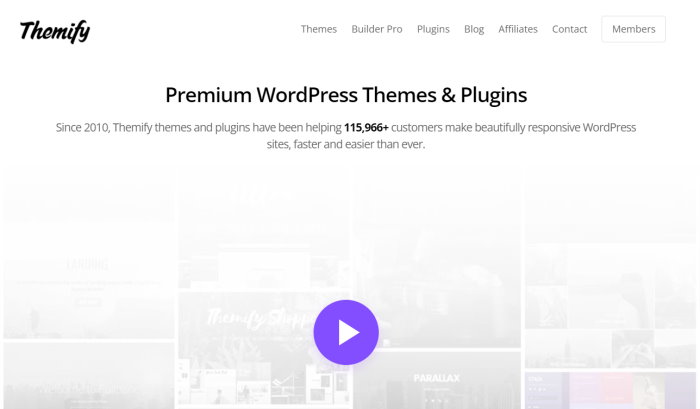 Want another free WordPress page builder that has the basic features and more? You can give Themify a try.
Instead of building pages for your website from scratch, you can import a template, edit the details, and publish the pages — just Like SeedProd!
As a result, it can be a good option for small businesses, bloggers, or small-scale online stores.
A unique feature of Themfiy is that you can choose between a WYSIWYG (What You See Is What You Get) editor and or a custom page builder from your dashboard backend.
That way, you can choose whichever builder you're more comfortable with.
Pricing:
The basic version of Themify is completely free to use.
If you want extra integrations like WooCommerce support and contact forms, you can grab the add-ons for $39.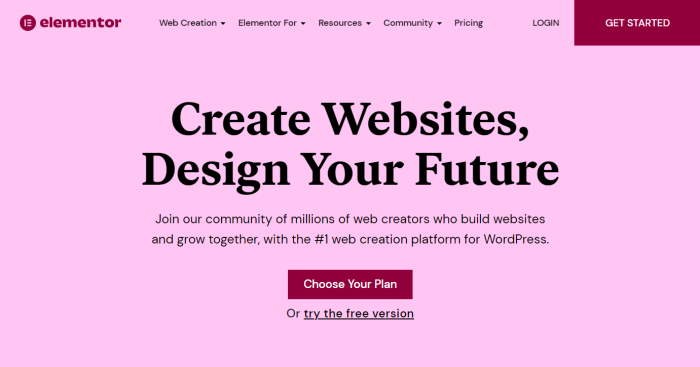 Elementor is another popular option and the last addition to our WordPress page builders list.
To design your website's pages, you add sections for your content, divide them into columns, and content widgets to each column.
Once you get past the learning curve, you'll be able to design beautiful pages with absolutely no coding at all.
This WordPress page builder plugin also has tons of page templates with different designs to import. Like SeedProd, it makes designing web pages quick and easy.
As a bonus, you can also use Elementor to build popup forms for your website. Using the editor, you can design your welcome banner, signup form, redirection popup, and more.
Pricing:
While the base version of Elementor is free, it's also missing a lot of useful features.
Instead, you can get Elementor Pro for a price of $49/year.
Which is the Best Website Building Plugin for WordPress?
Now that we've looked at all the available options, you can see that there are tons of amazing website building tools for WordPress.
But if you're looking for a single option that works the best, SeedProd has to be the winner.
With amazing features like a simple drag-and-drop builder, professionally-designed templates, custom widgets, and more, SeedProd has everything you need to create a beautiful website.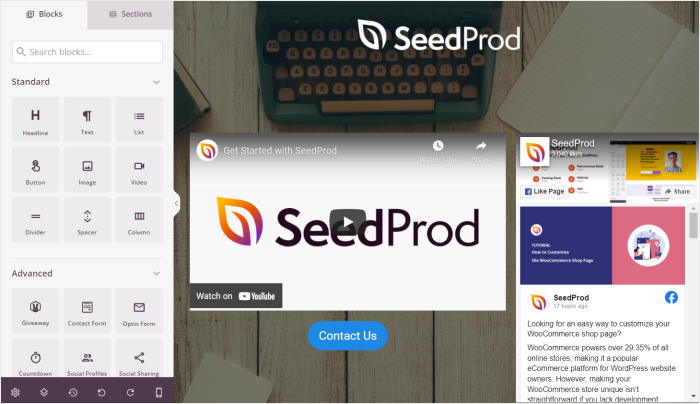 And with the plugin's powerful theme builder, you can instantly revamp your website's look in just a few clicks.
With powerful features like these, it's clear why SeedProd is the best WordPress website builder in the market.
Ready to build an engaging business website? Get SeedProd for your site today.
And there you go!
While there are tons of amazing website builders out there, SeedProd stands out as the best option. You can start creating a beautiful website with just a few simple clicks using this amazing tool.
Since it's so user-friendly, you can get started right away — even if you're a WordPress newbie. And with a beautiful site, you can create a much better impression of your brand and convert customers with ease.
Ready to build your WordPress website? Get your copy of SeedProd here!
While you're here, don't forget to take a look at our guide on the best social media marketing hacks guaranteed to grow your followers
If you found this piece on the best website builders helpful, follow us on Facebook and Twitter. Or, you could leave a comment or ask a question below.