The best website builder is the one that's right for you. But, if you're a web design beginner, you may have questions about the whole process. What is a website builder? How do I choose the top website builder for WordPress?
We performed a website builder review to see what people wonder about. We also determined which website creators are best for eCommerce sites.
This article discusses what a website builder is and how to choose the best website builder.
Then, we provide a list of the top website builders for various purposes and their pros and cons. We wrap up that list with our recommendation for the best website builder for WordPress.
Finally, dig into site builder FAQs and how Smash Balloon also supports online businesses using social media optimization. After all, social media is a great way to get people to your newly created or optimized website!
What Are Website Builders?
Website builders, aka "website creators" or "drag-and-drop website builders," let beginners make websites. They don't need to learn to code.
Instead of a complicated backend, you click something like a text box, drag it to where you want it, and drop it there.
You can do this in real-time, seeing what the website looks like as you build it. Guests won't see changes until you publish them.
While this may sound like something you can only use to create a simple website, you can be as intricate as you want.
You can use templates, customized blank sites, or anything between. You can personalize your site to fit with your brand's colors, messaging, fonts, and more.
Not all website builders work with eCommerce tools. All should work for landing pages. But, many builders are for bloggers or others without eCommerce stores.
Look beyond costs, no matter how tempting free plans or low price plans may be on the surface. Make sure a website builder works for your own site before diving in.
Website Hosts, Domains, and Site Builders: Differences
Website hosting services, builders, and domains aren't the same.
Web hosting services store websites' files. All websites have a web host.
Domain names (sometimes called "domains") are website addresses, like smashballoon.com. You should have a relevant and custom domain name to help users find you. This also can improve your online presence.
All websites have domains, but some use "subdomains." Those are ones people don't pay for, such as websiteexample.wordpress.com.
Your website builder lets you make your website look how you want it to. Not all websites use website builders. Small business owners may choose to hire a website designer or code the sites themselves.
Many companies offer packages with a host, domain name, and website builder. These can save money and time.
How to Choose the Best Site Builder for WordPress
There isn't a perfect formula for picking the best website builder. The best website builder for your own site isn't the best for every site!
If you run a small business that doesn't make online sales, your needs differ from an eCommerce store's needs. Likewise, you likely don't need eCommerce tools if you're a blogger.
But, many people share similar concerns. Here are factors to think about when choosing the best website builder for you.
Best Website Builder for WordPress Costs
Cost is a concern for almost anyone running a small business or personal website.
You need to figure out which web builder fits your current budget. But, that site builder also needs to continue to fit your financial situation as you grow. You may need new functions as you scale up, which often cost more.
Don't let cost be your end-all, be-all. If you do, you may end up with a site that can't do everything you need it to. This could result in fees to add on plugins or switch to a new website builder.
Think of it like buying a car.
You could buy a $5,000 used car with manual transmission or an $8,000 one with automatic transmission.
If you can't drive a manual transmission, you'll need to spend time learning and could break your car by not shifting correctly. Then, you'll have to get help. The $8,000 option may be cheaper in time and expense in the long run.
The best website builder for you may be $8 per month rather than $5 per month, even though it's pricier. For instance, the $8 per month one could have a higher ease-of-use or better customer service built in.
Regardless, website builders are cheaper than web designers. It's like how buying a ready-made car would be more affordable than having one custom-built for you.
Ease of Use for the Best Website Builders
Many consider website building platforms easier than developing a site from scratch.
The easiest to use website builders offer intuitive drag-and-drop interfaces. You don't need to know how to code.
If you hire tech-savvy people, it's worth noting most website builders allow you to alter coding as well.
Small Business Website Builder Design and Feature Options
Before you spend money on anything for your small business, you likely ask "what do I need this for? How can it benefit my company?" Your website builder should have all the functionalities you need.
Small business website builder needs vary by company. But, some standard requirements are:
Customization options
Integrations with plugins and add-ons
Marketing functions, such as automated and email marketing possibilities
Scalability at a reasonable cost
SEO tools to help with your online presence
Templates that meet the brand image
Tutorials or other clear instructions
Shopping cart functionality if making online sales
Several payment pathways like credit cards, Square, and PayPal
Free domain names, at least for the first year
Website Builder Platform Safety for Small Businesses
Your data needs to be secure. Your customers' data needs to be secure. Your website builder (and host) should be able to keep everyone's information safe.
When comparing small business website builders, look for words like:
Automatic threat monitoring
Encryption
Malware protection
SSL Certificate
Every best site builder for WordPress' description should have the phrase "SSL certificate." If they don't, you can reach out to ask. But, that's a basic inclusion.
We would not knowingly recommend any unsafe website builders.
Good Uptime and Downtime Amounts
Uptime means when the site is available. Downtime means when the site is unavailable.
Other than scheduled maintenance, the site should rarely to never be down.
Website Builders' Effects on Speed
Your site builder alone doesn't determine how fast your site is. But it could slow down your site if it's not "lightweight" enough. The longer a site takes to load, the more likely a customer is to bounce.
Quality Customer Support from the Website Builder Company
Even if you find the best website builder for WordPress in existence, you run into hiccups. Your chosen site builder should have well-rated customer service with options you prefer.
Not all customer service teams are available via chat, email, and phone. If you're okay with only having a phone option, that's not a detriment! But, if you definitely want a customer support team you can live chat with, be sure that's available.
Ensure the customer service functionalities are available when you need them.
Top Website Builders for Small Businesses
We've discussed what a website builder is and what to look for in one. Let's dig into our 12 favorite options.
While most of these sites work for a ton of purposes, we've named them "best for…" to help you find what you want faster.
Best Website Builders: Jump Ahead
1. WordPress.org: Best Overall Website Builder
WordPress.org is a self-hosted website builder. Between this and WordPress.com, over 40% of the internet runs on WordPress. This makes it the most popular website builder in the world.
This content management system is open source. This means any user can look at their site code and change it to their liking for their own websites.
WordPress is secure, though. People can't and alter other people's sites. But, anyone can create a plugin, theme, or other add-on and share it with the world if they desire.
You can also choose from the many plugins, add-ons, and integrations. For instance, you could use Smash Balloon to connect your social media feeds to your sites. You can also install Google Analytics, use CSS editors, and more. This is in no small part thanks to the open source setup.
If you opt for WordPress.org, you likely need to also invest in a web hosting service. Using WordPress.org alone means you maintain and watch your own site.
Though WordPress.org is free to use, free hosts are rare. But, the cost is worth it. Having a web hosting service can improve ease of use and free up your time.
Plus, hosts aren't always expensive!
We recommend Bluehost as your hosting service, as it's user-friendly and offers a free domain.
WordPress.org Website Builder Pros and Cons
Pros
Free website builder
Intuitive connections with thousands of plugins and add-ons
High-quality search engine optimization
Many paid and free themes available
Can edit from a phone app
Cons
Most people need a paid hosting service
No one-click setup, like many other builders have
No dedicated customer support
Without a host, you're responsible for updates, security, and everything else
Can only have one blog (some people want more than one divided by type or topic)
Pricing Plans for WordPress.org
Free, but we recommend using a paid domain name and web hosting service.
2. WordPress.com: Best Site Builder Made by WordPress, for WordPress
WordPress.com is the best site builder for WordPress because it is WordPress! Unlike WordPress.org, WordPress.com isn't self-hosted. This means you don't need to go to a 3rd party.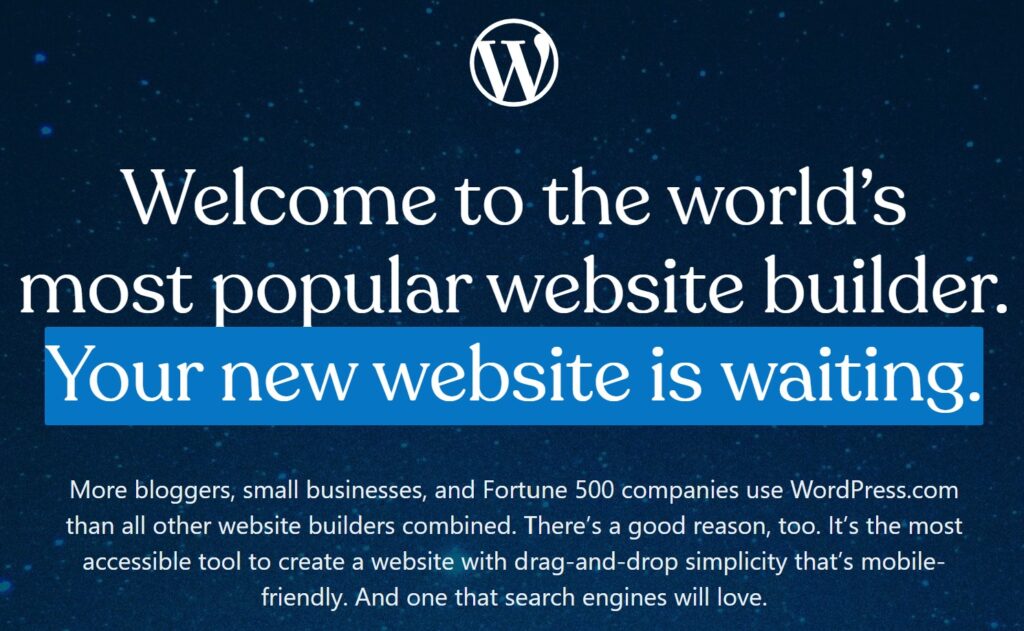 The free version is limited. You need to upgrade to a paid plan to get full functionality.
WordPress.com goes a step further than a tutorial: a setup wizard. This takes you step by step through creating the right site for you. It starts with the type (business, blog, or eCommerce site), then helps you choose features and tools.
Paid plan levels of WordPress.com offer custom domain names (yoursite.com). Meanwhile, the free version only has subdomains (yoursite.wordpress.com).
The former looks more professional and is easier for visitors to find. Still, the latter could work for small business owners on a budget, if you're a blogger, or need a personal site.
WordPress.com is scalable, even from a free domain name to a custom, paid one. If your business plan's budget goes up, you can switch from the free website builder to a paid plan.
Premium plans have social media tools, professional email addresses, monetization functions, and more. You can also change or rewrite the site's CSS on a premium plan.
The free website builder has little storage. But, you can access free themes, edit your page, change widgets, and ensure SEO optimization.
You can transfer from WordPress.com to WordPress.org if needed.
WordPress.com Website Builder Pros and Cons
Pros
The power of WordPress without a 3rd party host
Free website builder has more customization options than most free ones
Handles updates, security, speed, and so forth
High ease of use in its drag-and-drop functionality
Mobile and search engine optimization built in
Cons
Only works with WordPress
Free plans place ads without your approval
Free plan doesn't include plugins or premium support
Some consider 3rd party hosting options more robust
Limited control over your site
Pricing Plans for WordPress.com
WordPress Free: $0
WordPress Pro: $15 per month (annual billing)
3. HubSpot.com: Best All-in-One Website Builder
HubSpot.com is great for marketers because it's more than a website builder. It's also a content management system (CMS) and customer relationship management (CRM) platform.
The CRM has marketing automation tools to help reach customers and improve optimization.
Marketing automation includes email marketing and personalized experiences for visitors. The robust CRM lets you engage with customers and gather necessary information.
HubSpot website builder has templates and a drag-and-drop editor with customization options. These features allow for conversion optimization.
A unique HubSpot feature is its adaptive testing functionality. With this, you can choose up to 5 variations on a webpage, and HubSpot performs A/B testing. It watches each version and determines which works best.
HubSpot Website Builder Pros and Cons
Pros
All-in-one program with host, domain, CMS, CRM, and website builder
Excellent tutorials and educational opportunities via HubSpot Academy
Adaptive A/B testing
Tons of marketing automation options
Large app store
Cons
A bit of a learning curve; using HubSpot Academy before starting may help
More expensive than many other options
Custom integrations may be costly
Most unique tools are in higher-level subscriptions
May not have all reporting you want
Pricing Plans for Hubspot
HubSpot has several plans and bundles. Listing them all would be overwhelming! But, they range from free to starting at $45 per month.
They offer a price calculator on their website for the most accurate information.
4. Gator Website Builder by HostGator: Best Intuitive Website Builder
"Gator" generally refers to the popular domain and hosting service. But, they also offer the Gator Website Builder. Their site builder works with their hosting services and gives you a free domain. From there, you can intuitively build your own website.
The drag-and-drop interface of Gator Website Builder offers over 200 templates for inspiration.
But, you don't have to use a drag-and-drop editor. They also offer layout optimization, in which you answer a few questions, and they build a site for you.
Their smart builder includes a logo maker, analytics, email marketing, and eCommerce functions. And that's just the beginning!
And did we mention Gator Website Builder includes SEO tools?
Though they don't have a free plan, Gator Website Builder is affordable because of its all-in-one setup. Plus, they have a 45-day money-back guarantee.
In short, this company aspires to be the most intuitive builder. Not only is the builder straightforward, but you don't have to leave HostGator to get a host or free domain name.
Gator Website Builder Pros and Cons
Pros
Fully hosted with automatic updates
Customer service offers live chat, phone, and email options
Automatic site building
Company blog with helpful tutorials
Lots of marketing tools
Cons
No free plan or free trial
Very few products allowed except at highest level
Transaction fees at first two levels
Maxes out at 10 email campaigns per month
Less flexibility than other options
Pricing Plans for Gator Website Builder
Start: $3.84 per month (introductory offer)
Site: $5.99 per month (introductory offer)
Store: $9.22 per month (introductory offer)
All include $200 in search engine marketing credits.
5. Zyro by Hostinger: Best Website Builder for Automated Content
Well-written blogs and landing pages are important. But, not all have the time to write or the money to pay a writer. Zyro can help as it generates text.
Choose categories, click "Continue," and Zyro "writes" work for you. You can choose between options or ask it to generate again.
At the highest Zyro paid plan, you can also get automated email writing.
The text is SEO optimized and unique. But, you should proofread before posting–advice we'd give if you had a human writer.
Zyro offers more than automated content writing, though. It has unlimited storage and bandwidth, SEO tools, hosting, and a free domain for the first year.
But, its eCommerce platform support doesn't start until you upgrade to Zyro's Business level. Support is also limited until the Advanced features level.
Read the fine print to decide which option is right for you.
Lower levels may feel limiting but have many functionalities. Plus, Zyro's Advanced level is more affordable than many similar site builders.
You don't need to enter credit card details to start, as you can start for free–though you need to pay before you publish. All paid plans come with a 30-day money-back guarantee.
Zyro Website Builder Pros and Cons
Pros
Automated inventory, shipping, and tax management
Integrates their AI tools and web builder with apps and add-ons
100+ templates
Automatically generates content
Offers a hosting service
Cons
Many limitations at lower levels
Only 100 products allowed at Business and Online Store levels
Free plan places ads without approval
Best for smaller businesses
Free website builder is only for practice, not publishing
Pricing Plans for Zyro
Website: Starts at $2.90 per month
Business: Starts at $4.90 per month
Online Store: Starts at $8.90 per month
Advanced Store: Starts at $15.90 per month
Zyro offers a pricing wizard to help you choose the best website builder plan for you.
6. BigCommerce: Best eCommerce Builder for Online Stores
BigCommerce is one of the most popular website builders for eCommerce functionality. It focuses on helping small businesses grow.
Their website builder allows you to use a 3-step tool to set up your site. It asks for basic information about what you want to do and creates a demo site for you.
Then, you edit through the website builder, including website design, tools, and settings.
BigCommerce offers a variety of themes for different types of businesses. But, more are premium (paid) than are free.
This has a simple website interface, scalability, optimization, and no transaction fees. It works with many payment gateways, like PayPal, Amazon Pay, credit cards, and Square.
Its payment gateways are part of the all-in-one shopping cart software BigCommerce offers. This type of eCommerce tool is essential for all the best eCommerce stores.
BigCommerce is the best website builder for online stores because it's made for them. It isn't impossible to use BigCommerce if you have a physical store, but it's better suited to online stores.
BigCommerce Website Builder Pros and Cons
Pros
Many sales features built in
Allows product variants (e.g., different colors)
No transaction fees
Excellent optimization
Highly scalable
Cons
Automatically charges for higher plan if limits exceeded
Advanced features have a learning curve
No subscription options for customers
Not as customizable as some others
No email marketing tools
Pricing Plans for BigCommerce
Standard: Starts at $29.95 per month paid annually
Plus: Starts at $71.95 per month paid annually
Pro: Starts at $269.96 per month paid annually
Enterprise: Contact BigCommerce
7. DreamHost: Best Website Builder for Uptime
DreamHost hosts your site, lets you build, and offers a free domain name. It also includes free email hosting, and automatic backups.
This website builder offers shared and managed hosting with website builders for WordPress. Shared WordPress hosting means you share server space with other clients. Managed hosting means you get your own space and extra services.
Shared hosting services are great for those starting out. Managed may be more valuable as you scale.
Their sites should work with WordPress integrations, add-ons, and plugins. You can alter your images, fonts, widgets, and other aspects to your heart's content.
In fact, WordPress performs website builder reviews and has recommended DreamPress.
If you scale up high, you don't have to change hosts if you want something developed by an outside group. DreamHost offers pro services to take everything website-related off your plate.
The best thing about DreamHost? They have a 100% uptime guarantee! Your site should never be down!
DreamHost Website Builder Pros and Cons
Pros
100% uptime guarantee
WordPress optimization
24/7 customer support
Academy with tutorials for beginners and experts
Site creation wizard and drag-and-drop editor
Cons
No free version
Migration to DreamHost can be challenging
Pricing plans may be confusing
Control panel and backend not as intuitive to some
Some otherwise standard features are paid add-ons
Pricing Plans for DreamHost
Shared WordPress: Starts at $2.59 per month
Managed WordPress: Starts at $16.95 per month
8. Shopify: Best Website Builder for Online or Offline Stores
Shopify has eCommerce features for online businesses or brick-and-mortar stores. This eCommerce platform works with over 6,000 (yes, six thousand!) apps, various free themes, and everything you need to create an online store.
Startups and small businesses can thrive with it, but it's bit better suited for large businesses.
They help you from start to finish, as they even offer a Business Name Generator. You can also use their Domain Name Generator to help you find the perfect domain for you.
Shopify is for both online and offline stores. You can use their site to sell products or as a marketing tool for your brick-and-mortar business. They also help sales channels, social media marketing campaigns, and search engine optimization.
Shopify Website Builder Pros and Cons
Pros
Access to POS systems
Unlimited products allowed
14-day free trial, no credit card needed
Stock photo library
Grants a subdomain for the live site before you need to invest in domain name
Cons
Transaction fees unless using Shopify payments
Store pages limited in design
Changing templates restructures the site
Not good for services rather than products
Requires a paid app for multi-language capabilities
Pricing Plans for Shopify
Basic: $29 per month
Shopify: $79 per month
Advanced: $299 per month
Note: Shopify Lite is only $9 per month, but it isn't an online store. It's a button to use on an existing site.
9: Wix: Easiest Website Builder
Wix website builder offers artificial design intelligence (ADI). This product makes them the easiest website builder, as Wix ADI creates a website for you.
Answer questions about your goals, preferred colors, other needed features. Wix ADI looks at all these factors and creates your site. You can use its editor to personalize it further if you choose.
You don't have to use Wix's artificial design intelligence to use the site, though. Wix has a drag-and-drop website builder with 1000s of functions and features.
Wix offers a free plan and a few premium plans. The free plan has limited bandwidth and doesn't allow access to all features. You can use it to test out the drag-and-drop interface and ensure the web creator meets your needs.
Wix Website Builder Pros and Cons
Pros
800+ templates, design features, and app store with free plan
All templates are free
Marketing features including social media and email caputre
Wix ADI
Can translate into many languages (depending on plan)
Cons
Uses absolute positioning, not responsive website design
Free plan has prominent ads
Template editing has a learning curve
Templates can't be changed
No code access
Pricing Plans for Wix
Besides the free plan, Wix has several website building plans split into 3 categories.
Website: Starts at $14 to $39 per month
Business and eCommerce Plans: Starts at $23 to $49 per month
Enterprise: Contact Wix
If you need a site with memberships or online classes, check out MemberPress. This website builder focuses on membership and subscription-based sites. Thanks to this, MemberPress helps create everything for a site without public access.
Making a membership site may seem complicated on the surface. MemberPress is the best website builder for this because it's beginner-friendly.
This site lets you have different access levels for different users. For instance, some users may be able to take classes, but others can earn certificates from them. You can also sell digital products. It allows payments from from credit cards, PayPal, and other platforms.
MemberPress works intuitively with the WordPress platform. It's also optimized for search engines and speed, so you can rely on its ease of use for your patrons.
You can build classes, drip content, control content access, and more.
MemberPress Website Builder Pros and Cons
Pros
Integrates with popular software
Built for WordPress
Can make any website a membership site
Includes a course builder
Drip content option
Cons
Not available in every country
Only allows 3 payment gateways at once
No free version and must pay for a full year
Clients or students may see a learning curve
Doesn't easily integrate with less popular plugins
Pricing Plans for MemberPress
Basic: $129+ per year
Plus: $249+ per year
Pro: $349+ per year
11. Jimdo: Best eCommerce Builder for Intuitive Sales
Jimdo focuses on making its site builder user-friendly. eCommerce tools and features for specific business types make Jimdo even more intuitive.
It can create sites for specific small business types. For instance, they have templates for photographers, cosmetologists, and teachers, among many others.
A remarkable feature offered by Jimdo is its Legal Text Generator. Answer a few questions, and the site generates GDPR-compliant legal pages.
Unlike some other eCommerce website builders, you can create international stores. Jimdo allows many payment options, like credit cards, PayPal, and local payment types.
You can also use their logo maker to create a logo, which is free to create and use as needed. This means you can avoid hiring a graphic designer for basic work.
Jimdo also lets you register a custom domain and includes site hosting services.
Even with all these features, there are no transaction fees!
Jimdo Website Builder Pros and Cons
Pros
Allows shipping and local pickup options
Can create logos and legal text
No transaction fees
Can sell on Facebook and Instagram
Great for beginner and expert website creators
Cons
Significant price differences in different countries
Customer support unavailable on free eCommerce plan
No official app store
Free plan has lots of limitations
Few templates
Pricing Plans for Jimdo
Play: Free
Start: $9 per month
Grow: $15 per month
Unlimited: $39 per month
Business listings cost an extra $4 per month and help find customers in other places.
12. Duda: Best Website Builder for Agencies and SaaS Companies
Over 18,000 businesses use Duda. This website builder offers everything you need to keep your business growing, as it's made for sales. It particularly focuses on agencies and SaaS companies.
If your business is already larger, the Duda website builder is worth considering.
Duda lets you connect to their API to automate many tasks and take some work off your shoulders. They update with every external update, too.
This website builder lets you collaborate with clients, build widgets, and save templates. Their award-winning customer support team can help you along the way. Plus, Duda University offers classes, tutorials, and even certificates about their features.
Duda Website Builder Pros and Cons
Pros
Multi-language capabilities
Can help larger businesses
Flexible and intuitive website builder
Straightforward tutorials
Monitors for security issues, updates, and so forth
Cons
Could be overwhelming for beginners
Republishes site each time you post a new page (two lowest levels)
Many standard eCommerce tools are add-ons
Complicated hosting requirements if you don't use them as a host
Custom website builder is most flexible but requires direct contact to create it
Pricing Plans for Duda
Basic: $14 per month, billed annually
Team: $22 per month, billed annually

Includes 14-day free trial

Agency: $44 per month billed annually
Custom: Contact Duda
Additionally, eCommerce tools may cost extra.
13. SeedProd: Best Website Builder for Customization
Tons of companies–over 1 million–use SeedProd to create incredibly customized websites.
SeedProd is a website builder plugin made for WordPress. It focuses on efficiency and customization so you can get your personalized site up and running quickly.
This SEO-optimized website builder is incredibly user-friendly and allows you to work on your whole site at once or individual pages depending on your needs. It offers 80+ pro blocks, premade themes, landing page templates, and built-in pages for coming soon, maintenance, and 404 alerts.
A unique feature is their Smart Sections option. They've built headers, CTAs, and other common sections for you. All you have to do is pick your favorite, customize it, and publish!
SeedProd Website Builder Pros and Cons
Pros
Lightweight to ensure no slowdowns
Can be used on client sites via an Elite or other appropriate license
Integrates with email marketing services to collect leads
Cons
Basic level could be seen as limited
Only works with WordPress
Pricing Plans for SeedProd
Basic: $39.50+ per year
Plus: 99.50+ per year
Pro: $199.50+ per year
Elite: $239.60+ per year
There's also a free but limited lite version on the WordPress plugin library.
Which Is the Best Website Builder for Small Businesses?
We believe the best website builder for small businesses is WordPress.org. But, no website builder is best for every small business owner.
FAQs About the Best WordPress Website Builders
It's common to have questions about which option is the best site builder for WordPress. Here are a few answers to a few FAQs about website builders and how to choose your own.
Who builds websites for small businesses?
Web designers and developers are people who build websites. Website builders are software that allow anyone to create websites.
Using a website designer or developer can result in a unique site. But, hiring someone costs more in time and money than a website builder platform.
What's the best free website builder?
WordPress.org is the best free website builder for people who pay for a hosting service.
Remember, most free website builders are limited when used on their own.
What website builder for WordPress should I use?
You should use the website builder that best suits your needs. Use the criteria and our best-of list above to help you decide.
What's the best website builder for eCommerce?
BigCommerce is the best eCommerce website builder for online stores, especially smaller ones. Shopify is the top website builder for larger companies or with in-person locations.
What's the best website builder for small businesses?
WordPress.org is the top website builder in general, including for small businesses. But, the best website builders specifically for eCommerce are BigCommerce, Shopify, and Jimdo.
The 3 sites offer different features. It's worth looking into each to decide which is best for you.
Which best website builder is the easiest?
Thanks to its artificial design intelligence, Wix is likely the easiest website builder. Enter a few details, and Wix's ADI creates a site for you.
Wix also offers an intuitive, traditional website builder if you prefer that route.
If written content is your struggle, Zyro may be the easiest since it can automate text for you.
But, "easy" is relative. What's straightforward for one person can be a nightmare for someone else.
Small Business Website Builders and Smash Balloon
Once you've chosen a website builder and gotten started, you need a way to integrate with social media. Smash Balloon is here to help!
Over 1.75 million people use Smash Balloon to show social media feeds on WordPress websites.
We work with popular social media sites to show off all your hard social media work on your site. You can even combine them to make one social wall.
Just grab the All Access Bundle to get ALL of the Smash Balloon plugins at a massive discount
While you're here, don't forget to take a look at our guide on the best social media marketing hacks guaranteed to grow your followers
If you found this piece on the best website builders helpful, follow us on Facebook and Twitter. Or, you could leave a comment or ask a question below.