Looking for the best WordPress affiliate marketing plugin for your business?
Using affiliate marketing for your site is a great way to expose your product and brands to other people's audiences. And in turn, grow your business, and gain more customers.
But managing an affiliate marketing campaign by yourself can be time-consuming and complicated.
The good news? You can simply use a WordPress plugin to help you promote products and services with little to no hassle.
In this post, we're going to list the best WordPress affiliate marketing plugins perfect for your business
How to Choose the Best WordPress Affiliate Marketing Plugin
When it comes to WordPress affiliate marketing plugins, there are a lot of options to pick from.
So, finding the best one can be tricky.
To help you make that choice, we'll go through a few things you can look for when picking your plugin:
Easy to Use: To avoid dealing with complicated code, you should go for a plugin that's user-friendly and easy to set up.
Reliable Tracking: You should ensure that you can reliably track the whole process of affiliate marketing from start to finish
Fraud Detection: To prevent revenue loss through affiliate fraud, you should look for plugins that have smart fraud detection technology
Easy Payouts: You must also make sure that the plugin has an easy and fast payout option so you won't have to spend a huge chunk of your time on payouts.
Affiliate Management: To manage the whole process of affiliate management effortlessly, you need to pick a plugin that allows you to easily manage everything from registration and onboarding to payouts.
Customer Support: You should also check reviews to make sure that the plugin is delivering high-quality support to its customers.
Just like that, you can easily find the best WordPress affiliate marketing plugin that perfectly matches your business needs.
Now that you are aware of what to look for in an affiliate plugin, let's take a look at our plugin list.
7 Best Affiliate Marketing Plugins for WordPress
Below, we've listed the best affiliate marketing plugins in the market and
Let's get started!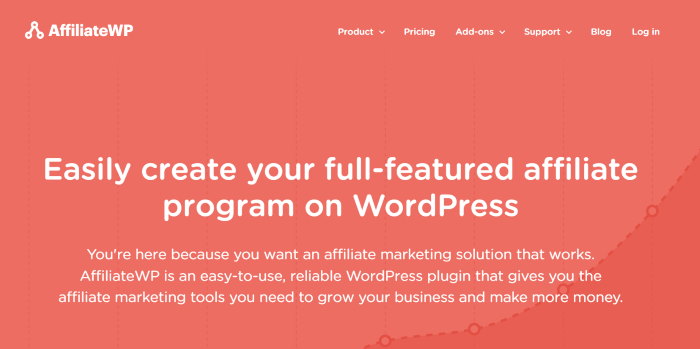 AffiliateWP is one of the best affiliate marketing plugins in the market and a fantastic option for businesses looking to start their own affiliate marketing program.
With this all-in-one plugin, you can set up an unlimited number of affiliates and check how effective they are using the reliable referral tracking system.
Plus, AffiliateWP is user-friendly as well, so you can set up your WordPress affiliate marketing programs in just minutes – no coding needed!
As a result, it's easily the #1 affiliate plugin for WordPress. In fact, over 30,000+ smart business owners are using AffiliateWP to grow their revenue faster.
Features:
AffiliateWP comes with smart fraud detection to protect your business and affiliates from any fraudulent referrals. You can even blacklist and deactivate specific affiliates for fraud prevention.
To help you grow your brand internationally, the plugin supports over 30 languages and direct payments to over 35 countries.
You can set up AffiliateWP and start your marketing campaigns in just a few clicks — even if you're new to WordPress.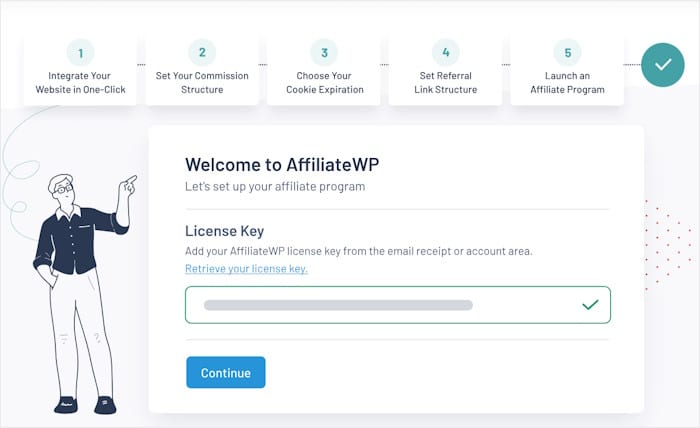 You can also let affiliates create their own unique coupon code names to help them promote your brand more easily.
For advanced users, the plugin comes with hooks, templates, and REST API to enable developers to build in client-specific functionality.
You will also be able to save time during payout as the plugin allows you to make 1-click payouts directly into the affiliates' bank accounts.
The plugin also has no limits on how many affiliates can sign up. With an unlimited amount of affiliates, you can grow your business as quickly as you want.
Why We Like It:
After using AffiliateWP for ourselves, it was clear that it was the best affiliate marketing plugin out there. We were able to easily set up affiliates, monitor sales, manage payments, and more from a single dashboard.
Plus, this is the best affiliate plugin for WooCommerce, so if that is your platform of choice, then AffiliateWP is definitely for you.
Pricing:
You can get the premium version of AffiliateWP for just $149.60/year and start using affiliate marketing right away.
You can also try the plugin for 14 days with a 100% money-back guarantee if you don't feel it's compatible with your needs.
Grab your copy of AffiliateWP here to start promoting your brand effectively today!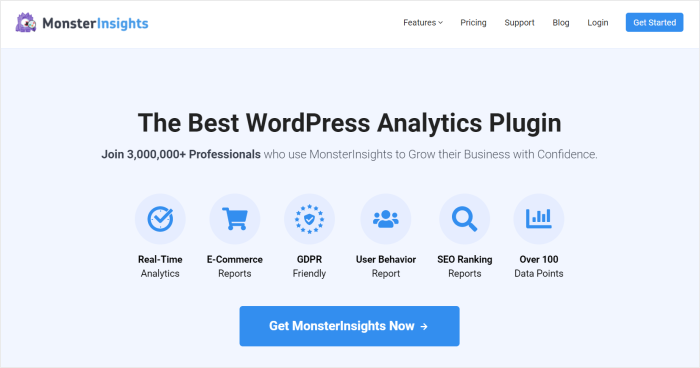 Next on our list, we have another versatile plugin that can help you in affiliate marketing: MonsterInsights.
The plugin has an affiliate link tracking feature and also generates in-depth reports on how all your affiliate campaigns are doing.
With actionable insights, you'll have an easy time figuring out which affiliates are bringing in sales and which ones need improvement.
On top of that, you can use MonsterInsights to connect your site to Google Analytics and supercharge your business.
Features:
The plugin shows you useful insights and reports about your affiliates directly on your WordPress dashboard.
MonsterInsights can be easily linked to other affiliate marketing plugins like AffiliateWP to make sure you can track how effective affiliate marketing is.
The plugin's in-depth reports show your highest-earning pages and most profitable traffic sources. This allows you to find out which products will benefit the most from affiliate marketing.
With MonsterInsights, you will also get detailed stats for each post and page, so you can see the most popular posts, pages, and sections of your site.
The plugin is also able to accurately track clicks on your affiliate links and other outbound links with the help of link tracking.
Why We Like It:
After some tests, it was clear that MonsterInsights is the best analytics plugin in the market and the perfect choice to gain in-depth knowledge of how your affiliates are performing.
With the help of its detailed analytics, you can make the right decisions for your business and focus on affiliates that bring in results.
Pricing:
The price for the premium version of MonsterInsights starts at just $99.50/year.
Want to get actionable insights about your affiliates? Get your copy of MonsterInsights here.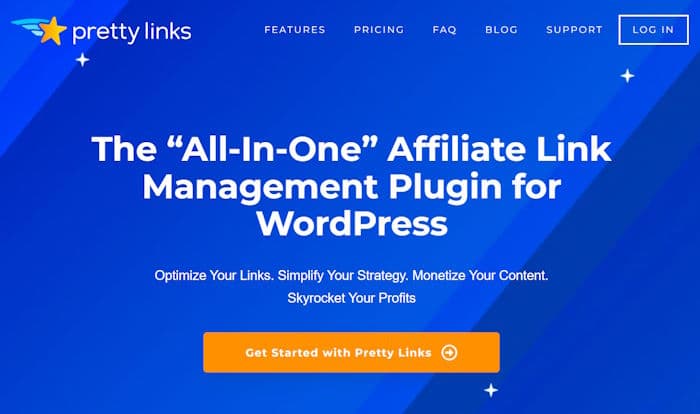 Next, we have Pretty Links, a popular WordPress affiliate link-cloaking plugin trusted by a number of different brands.
The plugin allows you to easily add links to your WordPress posts in just minutes, create short and memorable affiliate URLs, cloak affiliate links, and much more.
So, those long affiliate links can be shortened into something you can easily remember and can make a bigger impression on your visitors.
Features:
The plugin lets you create links directly from your site instantly. It also lets you shorten, cloak, track, and share your links.
Pretty Links is one of the most beginner-friendly affiliate link plugins out there. So you don't need any coding skills to install and use it.
Since the plugin includes built-in performance metrics, you can keep track of what's happening with all your links from one place.
Pretty Links also allows you to manage server-side redirects, which comes in handy if a referral link is returning 404 errors.
The plugin also analyzes your site content and replaces keywords with links automatically.
Why We Liked It:
Pretty Links can be good if you want to drive more clicks and conversions, as it makes your affiliate links look great.
This is a great plugin for someone who is looking more for an affiliate link-cloaking solution rather than a plugin that manages the whole affiliate marketing program.
Pricing:
The pricing for Pretty Links starts from $99.50/year and you can get started with affiliate marketing.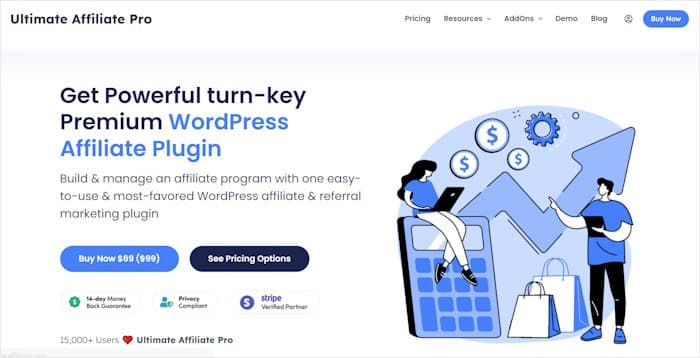 Ultimate Affiliate Pro is a popular WordPress marketing plugin that comes with premium features.
A huge draw of Ultimate Affiliate Pro is that it allows you to quickly and easily set up and start your affiliate marketing program.
In fact, the full version of the Ultimate Affiliate Pro plugin comes with easy setup integrations for a few of the most popular WordPress plugins.
Features:
You can integrate the plugin with WooCommerce, Stripe, PayPal, EasyDigitalDownloads, BuddyPress, and more.
To help you figure out how to use Ultimate Affiliate Pro, the plugin features a support center, online documentation, and video tutorials.
Ultimate Affiliate Pro can be a budget-friendly option if you just want a basic and efficient affiliate plugin.
With this plugin, each of your affiliates can create their own marketing campaigns and bring in more affiliates.
Why We Like It:
Ultimate Affiliate Pro came with a number of helpful features, and we could see how beneficial it can be for certain brands.
On the downside, the plugin's templates can look a little dated at times, and its payment options are limited compared to other options like AffiliateWP.
Pricing:
You can get Ultimate Affiliate Pro with a one-time payment of $48. You can pay a further $12 to get extended support.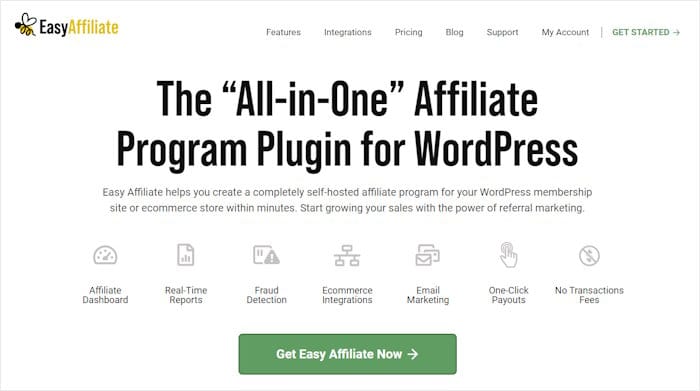 EasyAffiliate is one of the best WordPress affiliate marketing plugins with lots of customization options.
Similar to AffiliateWP, this plugin is built for WordPress sites and fits in seamlessly with WordPress themes.
It also has a customizable affiliate dashboard, secure fraud detection, and excellent customer support.
Features:
EasyAffiliate is super easy and quick to install and use. You can build a fully functioning affiliate program in just minutes.
The affiliate dashboard allows you to share metrics, creative assets, payments, and other account activities with the affiliates to keep them motivated.
EasyAffiliate plugin comes pre-styled, so it looks great from the get-go, but you also have the option to adjust how it looks to fit your brand even more.
The plugin's Affiliate Application process lets you allow people to become affiliates directly from your site.
Easy Affiliate helps you prevent fraud by flagging or rejecting suspicious affiliate behavior before you make any payments.
Why We Like It:
After checking out all the plugin's features, it was clear that EasyAffiliates is another great option with some unique features.
While it's not as powerful as some other options here, it comes with everything you need to run affiliate marketing campaigns.
Pricing:
The basic plan for EasyAffiliate starts at $99.50/year and supports a single WordPress website.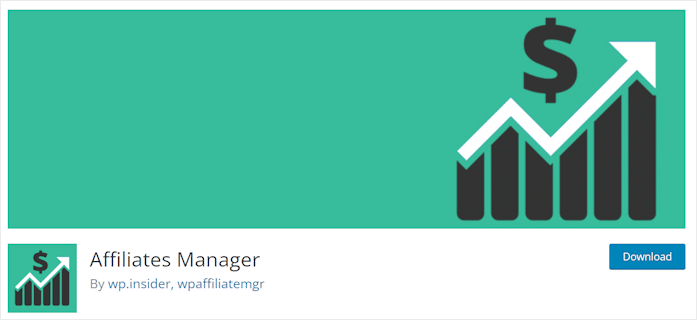 If you just want a basic plugin that helps you create easy and basic affiliate programs, then Affiliates Manager has you covered.
In fact, the core plugin itself costs nothing, so you can start creating affiliate programs without having to make room in your budget.
As good as the features are, the user interface might look a bit outdated and can take some time to get used to.
Features:
Similar to AffiliateWP, there is no limit on the number of affiliates that you can have, so you can grow your sales as high as you want.
Affiliates Manager approves newly registered affiliates automatically and allows them to start promoting your products, freeing your time for other important parts of your business.
You can choose whether you want to pay your affiliates a flat rate per order or a percentage of the order. You also have the option to set a different payout amount for each of your affiliates.
The plugin can integrate with 23 different e-commerce solutions, including WooCommerce, EasyDigitalDownloads, and Stripe.
Why We Liked It:
The basic Affiliates Manager plugin turned out to be a really handy and lightweight tool once you get past the user interface.
On the other hand, the premium version of Affiliates Manager isn't the most feature-rich option out there.
Pricing:
While there's a free version of Affiliates Manager, it comes with just the basic features.
For the full plugin, you can get the premium version for $39/site. Plus, there are premium add-ons that you can buy as well.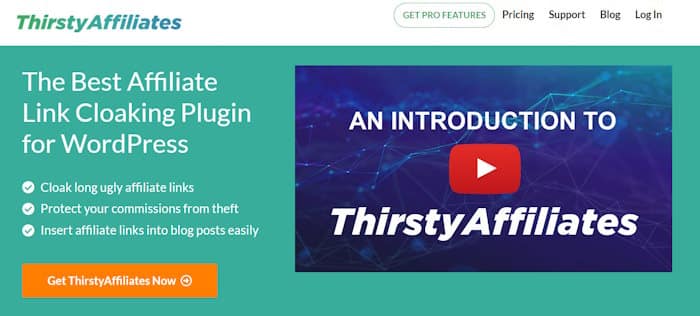 Finally, ThirstyAffiliates gives you a powerful solution to manage and control your affiliate links.
The plugin also has a clean and simple interface that allows you to manage your affiliate links within the WordPress admin dashboard easily.
Like the other options on this list, you can easily cloak long links and make them look more engaging.
Features:
You can quickly insert links into posts, cloak links, auto-insert affiliate links, and even see how each link is performing on your site.
With ThirstyAffiliates, you can also provide alternative destinations for international clicks via country targeting.
You can also sort your links into categories, which makes it easier to organize your affiliate partners.
ThirstyAffiliate also allows you to better manage your affiliate links as it has the option of grouping affiliates into hierarchical categories.
Why We Liked It:
ThirstyAffiliates is a straightforward plugin without a lot of drawbacks, and there's a good reason why it's so popular.
Pricing:
ThirstyAffiliates is available as a free plugin. For the paid versions, the price starts at $79.50/year for the basic plan.
Which is the Best Affiliate Marketing Plugins for WordPress
So this was our list of the top WordPress affiliate marketing plugins for small businesses. All in all, there are plenty of fantastic choices available for you.
Plus, there are other good plugins that didn't make the cut, including Referral Candy, Tapfiliate, Solid Affiliate, Affiliate for WooCommerce, SUMO Affiliates Pro, and more.
But at the same time, there is one option that stands out among all the listed plugins: AffiliateWP.
Using AffiliateWP, you will be able to get the best of both worlds with a simple and beginner-friendly user interface and innovative tools that aren't available in other similar plugins.
Just set up the wizard in a few clicks and start using the powerful tools to run a great affiliate marketing program and reach your marketing goals.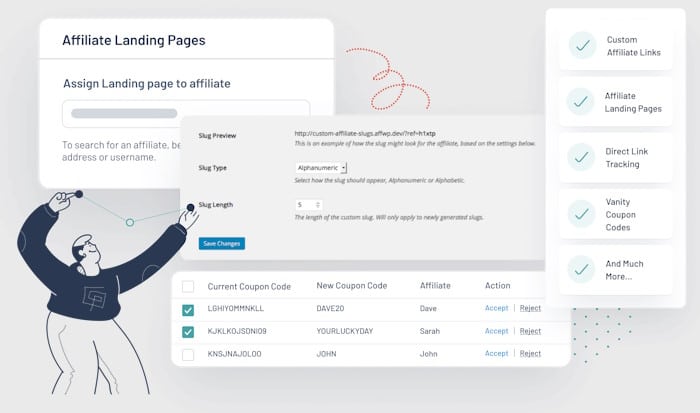 AffiliateWP also comes with advanced affiliate and referral tracking so you can see for yourself how effective your marketing campaigns are.
In fact, the plugin also stays on top of your affiliate campaigns and provides you with at-a-glance reporting and graphs in real-time.
The best part? You can try the plugin for 14 days with the no-questions-asked money-back guarantee.
So, you will be able to see whether the plugin is right for your business without taking any risks.
Grab your copy of AffiliateWP here and start growing your business right away.
And that's it!
As you can see, when it comes to WordPress, there are fantastic options that you can choose from. All these plugins will help you plan and launch affiliate marketing plugins, reach more customers, and grow your sales.
But after a lot of testing, it is very obvious that the AffiliateWP plugin is the best for affiliate marketing in WordPress out there.
Go ahead and grab your copy of AffiliateWP and get started with affiliate marketing today!
Want to get more from social media? Take a look at this list of the best social media affiliate marketing tips and tricks.
FAQs on the Best Affiliate Marketing Plugins for WordPress
Which plugin is best for affiliate marketing?
After trying out all the options, AffiliateWP turned out to be the best plugin for affiliate marketing — especially if you're looking for an all-in-one tool.
How do I add affiliate marketing to WordPress?
The easiest way to add affiliate marketing to WordPress is to get a user-friendly plugin like the ones we've listed above.
Can I do affiliate marketing for free on WordPress?
If you don't have room in your budget right now, you can use the free version of Pretty Links to do affiliate marketing for free on your WordPress site.
Better yet, you can even try out AffiliateWP for up to 14 days with its no-risk money-back guarantee.
Is WordPress the best for affiliate marketing?
Since it has all these amazing plugins and addons that you can use, WordPress really is the best platform for affiliate marketing.
Can you realistically make money from affiliate marketing?
Yes, with some work, it's possible to make money from affiliate marketing and promote your brand. More than 80% of brands are using affiliate programs for this reason.
For more details, you can check out this article on affiliate marketing for beginners:
Best WordPress Marketing Tips and Guides