Do you want to know if it's OK to use Smash Balloon for free by downloading an Instagram Feed Pro nulled license key?
Actually, nulled WordPress plugins are pirated copies of paid WordPress products. And since they're unofficial versions, they can ruin your website and your business, so it's best that you avoid them.
In this article, we'll show you why you must avoid Instagram Feed Pro nulled, especially if you're serious about growing your online business.
Let's get started.
What's a Nulled Plugin?
Unethically distributed over the internet, a nulled plugin is an unofficial copy of a premium WordPress product.
For example, Instagram Feed Pro nulled is a pirated copy of Smash Balloon's Instagram Feed Pro plugin.
Usually, nulled plugins are made to work without an official license key, so they're hacked. And because they're hacked, they can contain modified code that can make your website vulnerable to security attacks.
Can You Use a Nulled Plugin?
Technically speaking, since WordPress and its plugins and themes are licensed under the General Public License (GPL), you can.
That's because a GPL gives users the right to download, modify and redistribute software, so some folks argue that it's okay to use pirated plugins.
But just because you can use a nulled plugin doesn't mean you should.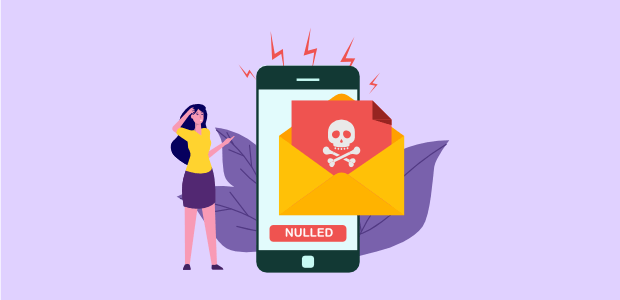 In fact, using these unofficial copies of plugins often comes at a huge cost.
When you use nulled plugins and themes, small honest businesses lose money. Most importantly, you increase the chances of your business getting hacked when you use pirated plugins on your website.
Why Should You AVOID Instagram Feed Pro Nulled?
It's understandable that you want to keep your costs low while you're building your website.
But if you do your proper research, you'll realize that using Instagram Feed Pro nulled isn't a great way for you to save money.
Since it'll cause more harm than good, you may actually lose more money if you decide to use an unofficial copy of Instagram Feed Pro.
Here are some of the main reasons why you must avoid Instagram Feed Pro on your website.
1. Compromised Security
Did you know that nulled plugins usually carry malware?
This means that Instagram Feed Pro nulled can also contain malicious code that can lead to hacking attacks on your website — that's why it can seriously damage your site's security.
As a result, malware in nulled plugins can cause you to experience the following:
Slow or unresponsive website
Sudden drop in traffic
Suspicious links added to your site
Worst of all, Google may even detect malware on your website so they can remove your site from search engine rankings as a penalty.
As a result, all your hard work and invested resources so you can build a strong, secure website can go down the drain if you use a nulled plugin. Yikes.
2. Weak or No Privacy
Another reason why you should avoid Instagram Feed Pro nulled on your website? It usually contains hidden codes that steal information from both your websites and Instagram accounts!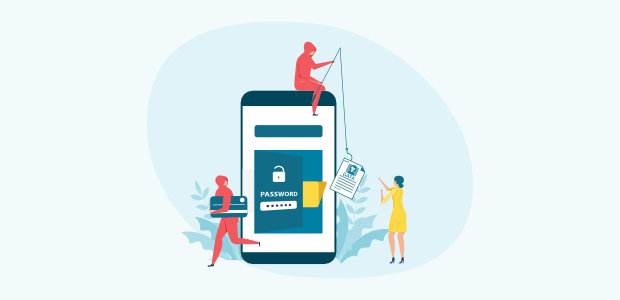 With the help of nulled plugins, hackers can steal the following data from you:
email address
website username
passwords
Instagram email
passwords in Instagram
Instagram business profile data
Plus, if your business involves running membership sites or affiliate websites, then hackers can also steal the sensitive information of your registered users.
It'll be hard to protect your users' data when you use a nulled plugin on your website.
And when a customer data breach happens in your company, your business' reputation will take a hit and your existing and potential customers will have a hard time trusting you with their vital information.
We recommend using the official version of Instagram Feed Pro because all Smash Balloon plugins are completely safe to install and activate on your site.
3. Zero Updates
Did you know that nulled plugins have no valid license keys?
This means that if you download and use Instagram Feed Pro nulled, your unofficial plugin won't receive any updates from the official developer.
Need new plugin features? It's not available in a nulled plugin.
Want to have access to bug fixes? Your pirated copy won't help you with this.
Need your plugin to always be compatible with the latest versions of Instagram and WordPress? Instagram Feed Pro nulled doesn't have this guarantee.
As a result, you can end up with an outdated copy of the plugin that may not even work anymore. This means your website can crash and perform poorly when you try to embed Instagram feeds on your WordPress.
4. Bad for SEO
Downloading nulled plugins like Instagram Feed Pro nulled can add suspicious spam links to your website.
Also, they're known to hijack your website visitors and redirect them to dangerous websites that are designed to steal their personal information.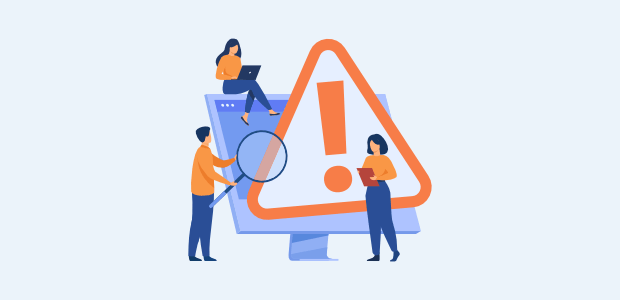 As a result, you can get penalized by search engines like Google.
And the worst penalty you can get?
Being removed from the search results altogether, which means getting zero traffic, no matter how hard you try to recover your website's search engine rankings.
In some cases, you may even need to build your website from scratch because it's super hard to detect and remove spammy links hidden in the nulled plugin's code.
5. Zero Customer Support
Finally, when you use a nulled plugin to add Instagram feeds to your site, you're on your own.
This means that you won't get access to Smash Balloon's customer support team made up of WordPress experts who love helping our users get the best of what our plugins have to offer.
And you're missing out on something awesome.
With an outstanding 4.9/5 star rating, Instagram Feed Pro is happily recommended by its 1 million+ users, after all.
Here's what some of our awesome users have said about Instagram Feed Pro plugin:
"I have been using the Instagram Pro plugin from SmashBalloon for a year or two and have nothing but praise for the plugin and the company. The plugin works perfectly. The documentation is very clear." (@dcpw)
"I searched for a while to find a decent plugin for an Instagram Feed. This is by far the best, the most stable and very intuitive to use. That being said, the support that I received when asking about a certain functionality I was looking for was fantastic. They were quick to respond and immediately gave me potential solutions. Very professional. Thanks guys!" (@Deanobenzino)
"Incredibly good service and a super solid plugin that does exactly what you want it to do. One of my very best (plugin/theme) customer experiences ever! Thanks!" (@skafte)
You can read more Instagram Feed Pro testimonials here.
How to Get Instagram Feed Pro for Free?
Here at Smash Balloon, we're a team of real people who want business owners like you to use Instagram Feed Pro in a secure and effective way.
As much as possible, we'd like everyone to have access to the best Instagram feed plugin for WordPress.
And since we understand that sometimes, business costs can add up, we've made a free version of Instagram Feed to help you out — from one business to another.
Smash Balloon Social Photo Feed plugin is the free version of Instagram Feed Pro. It's the best tool to help you create and display customizable Instagram feeds on your website — absolutely free.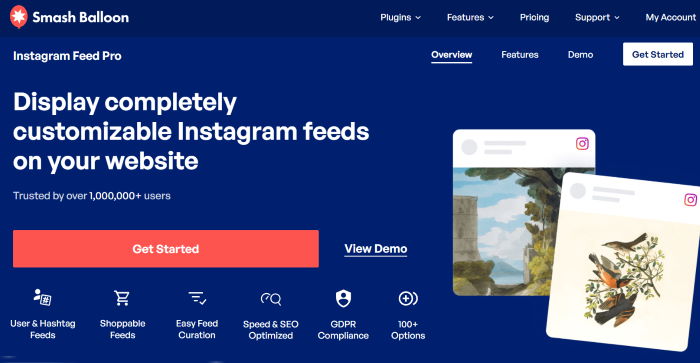 The best part?
It's got powerful features that even complete beginners can use, so you can set it up and embed your Instagram feeds in under 5 minutes!
And if you want to unlock more features such as:
Then do your business a favor and get your own official copy of Instagram Feed Pro today.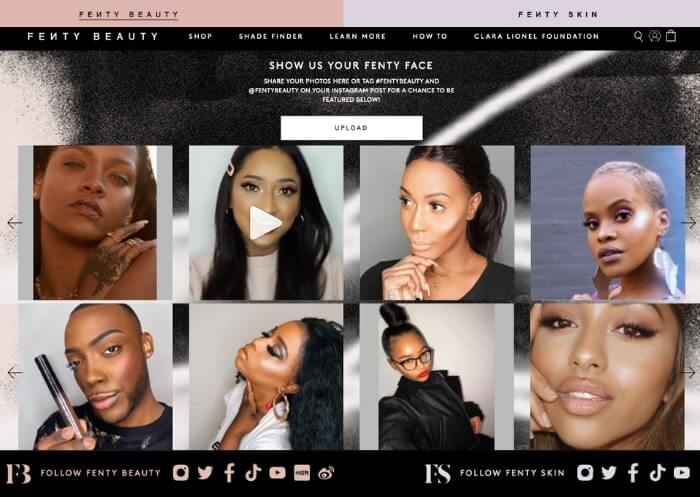 In addition to the priority support you get and the detailed tutorials you have access to, your purchase is also protected by a 30-day money back guarantee so you can get a refund if you feel like Instagram Feed Pro isn't the best fit for you.
So, there you have it.
We hope this article helped you realize why you must avoid using Instagram Feed Pro nulled on your website.
Go ahead and take advantage of our 100% 30-day money back guarantee by getting started with Instagram Feed Pro right now!
It's secure, regularly updated and smoothly integrates with both WordPress and Instagram so you can add Instagram feeds that will grow your business in no time.
Do you have a Facebook page? Here's how you can add Facebook feeds to your website.
Finally, if you enjoyed this article, connect with us on Twitter and Facebook for more helpful social media tips.