Want to know how you can use Instagram for business to skyrocket your sales?
You're not alone.
With over 1 billion monthly users, it's important that you know how to promote your brand via effective Instagram marketing. After all, 200 million users visit a business on Instagram daily. And you want your business to be on your audience's list, don't you?
But it can be hard to know how to get started using Instagram for business. Especially if you're a newbie.
In this article, you'll learn specific and actionable Instagram marketing hacks you can do to supercharge your brand's growth over time.
Ready to ramp up your Instagram marketing skills? Let's dive in.
1. Optimize your Instagram profile
The first step to optimizing your profile? Switch to an Instagram business profile.
Why?
If you have an Instagram business profile, you can easily access your account analytics so you can make data-driven decisions about marketing your business on the platform.
Plus, it's easier for your followers to contact you directly.
Not sure how you can do this? Just follow this step-by-step tutorial on how you can convert your personal profile to a business profile on Instagram.
Once you've made the switch, it's time to optimize your Instagram profile. Check out what WPBeginner did with their Instagram profile below: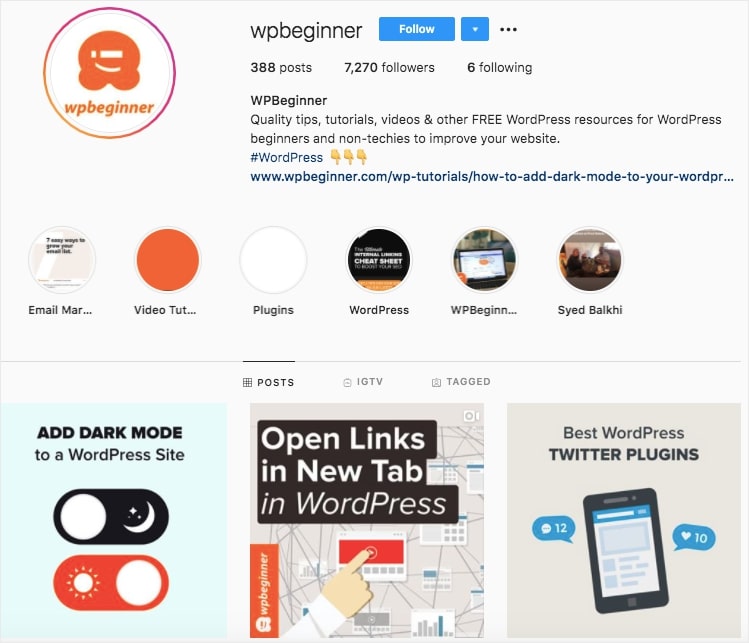 They were able to optimize their profile by including:
A consistent name and photo: Make sure your brand name and profile photo remain consistent across all social media accounts you manage.
A relevant link: Adding a site link helps drive traffic to your official website.
An informative bio: What makes you stand out from the crowd? What value will you give to your audience so they'll be encouraged to follow you? Include this on your account bio.
Want more hacks to use social media marketing to your advantage? Check out this post on how to market your business on Instagram.
If you've already optimized your business account, the next tip is about customizing your Instagram feed.
2. Create an Instagram theme — and follow it
An Instagram theme includes visual elements that represent your brand's personality. And you need to follow it consistently so you can establish brand awareness.
Every element of your Instagram profile should resonate with your target audience.
That's why creating a "look" or a theme for your brand — and sticking to it can help your followers easily recognize and relate with your content.
For example, Starbucks uses an autumn-theme color palette to produce a visually cohesive feed on their profile.
Their photos have a consistent look, feel and theme so their followers can instantly identify them.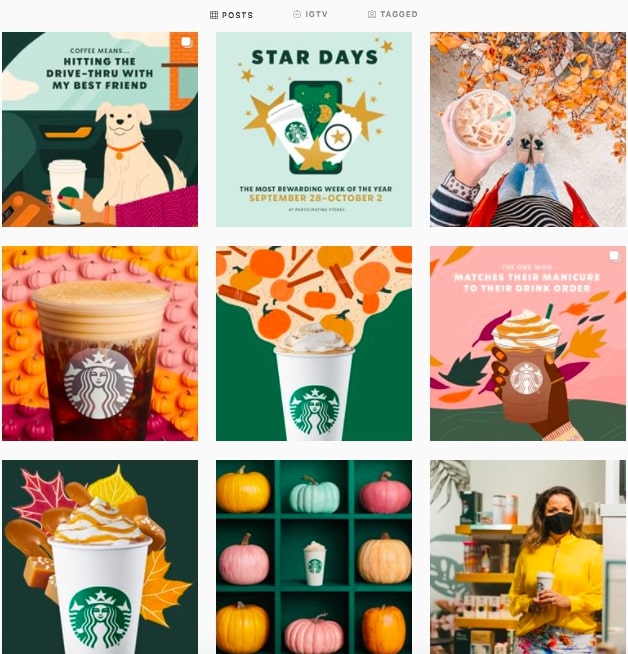 To know more about how you can create branded images on a budget, check out this helpful post on free visual content creation tools you can start using today.
3. Use branded hashtags
Another way to effectively use Instagram for business is by creating a branded hashtag unique to your business. This way, it's easier for your target audience to discover you.
Then, when they become your followers, it's easier for them to engage with you via shared visual content using your branded hashtag.
For example, Coca-Cola did a powerful marketing campaign with the hashtag #ShareACoke.
This got over 650,000 posts on Instagram — and counting, as the company's customers wanted to share their best pictures with the hashtag as well.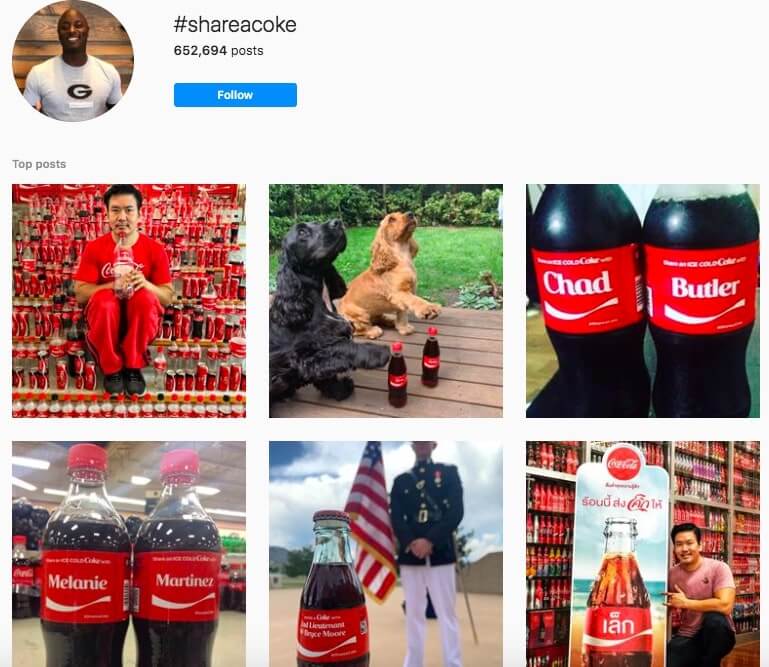 Pro tip: To get more traffic and engagement for your branded hashtag, you can display your hashtag feed on your website, too.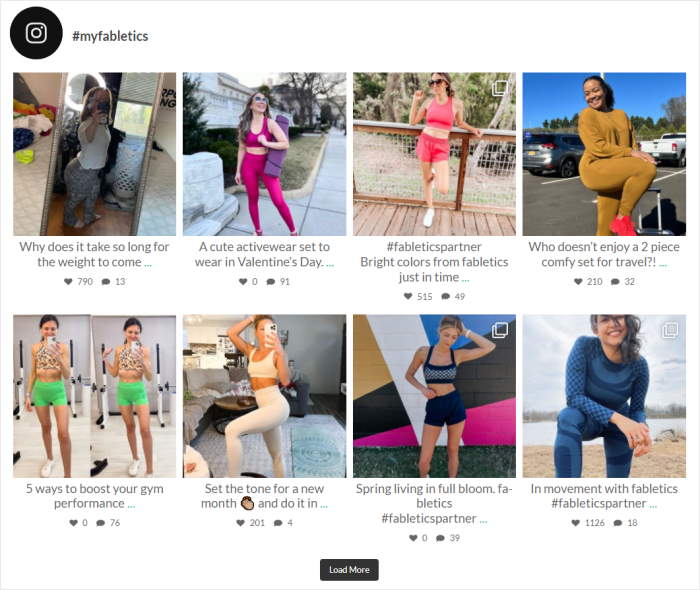 Using the Instagram Feed Pro plugin, check out this easy-to-follow tutorial on how you can add an interactive hashtag feed to your WordPress website.
Branded hashtags make it easier for you to get free advertising, too. How? Find out more by moving on to the next tip below.
4. Share UGC on your brand's feed
When you have a branded hashtag, it's easier for you to search for images that you'd want to re-post on your official Instagram page.
It's also quicker for you to curate user-generated content (UGC) and add authenticity to your brand.
For example, sportswear retailer Fabletics cleverly used their branded hashtag, #MyFabletics, to encourage their customers to post photos about how they use the company's products in their daily lives.
This strategy helped drive engagement — especially since Fabletics shared UGC on their Instagram feed and company website.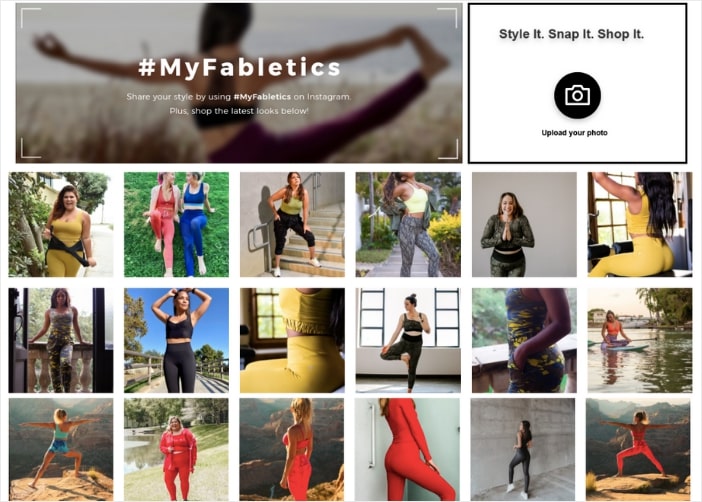 Did you know it's incredibly easy for you to add a UGC feed to your WordPress website, too?
With the help of the Instagram Feed Pro plugin, we were able to recreate Fabletics' feed into our own version below: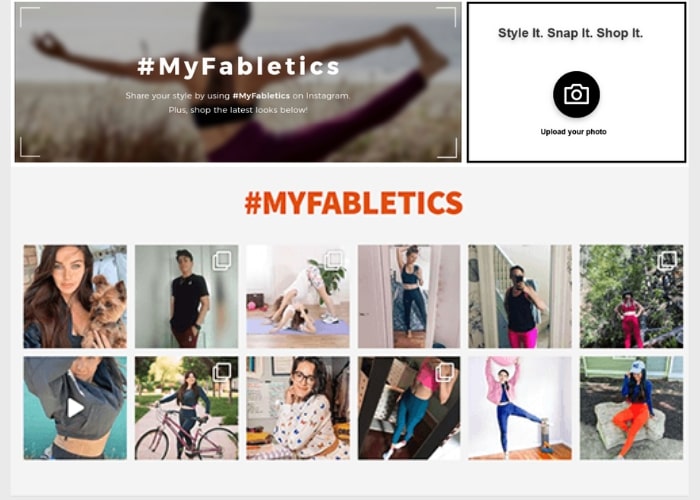 Try it out for your Instagram account, too. Simply follow this helpful tutorial on embedding an Instagram hashtag feed today.
5. Run viral giveaways
Want a low-hanging fruit on using Instagram for business?
By running viral giveaways, your Instagram business account can effectively attract new customers and engage with existing followers.
That's why lots of brands on Instagram regularly run giveaway campaigns on the platform, like this: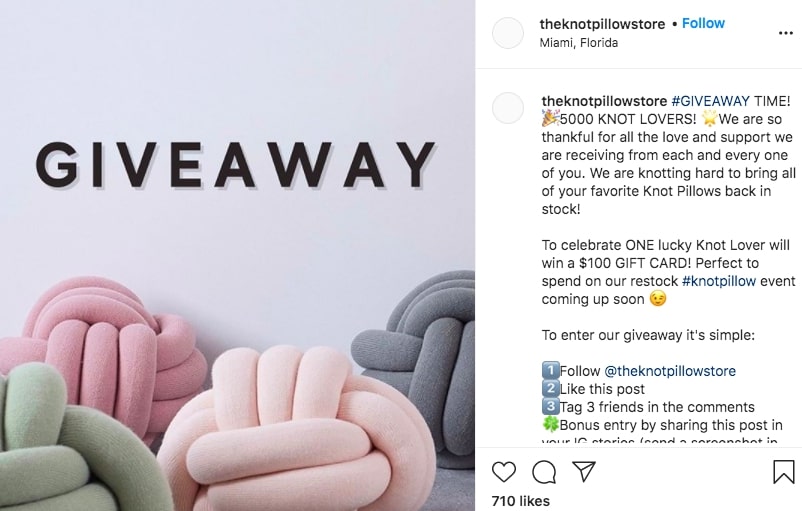 Don't know how you can start creating a giveaway campaign? It's easy.
By using using RafflePress, the best WordPress giveaway plugin, you can easily set up and launch your giveaway in just a few minutes!
The best part? RafflePress already has a ready-made Instagram giveaway template you can use to drive traffic to your Instagram account.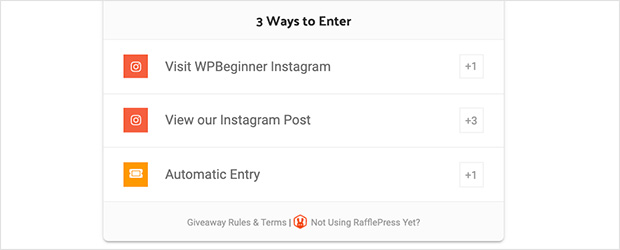 Ready to start creating an Instagram giveaway campaign? Here's a list of the best giveaway plugins on WordPress.
6. Boost your Instagram engagement organically
If you'd like to get more engagement for your Instagram business account, then you need to engage with your followers as well.
It doesn't matter how beautiful your Instagram pictures are — if you're ignoring comments and other profiles, your Instagram account's engagement will remain below average.
You need to be "social" on Instagram. It's a social networking platform, after all.
At the minimum, you need to respond to relevant comments on your Instagram posts. Much better if you mention your commenter's username so they'll get a notification when you reply to them.
Just check out what entrepreneur and social media personality Gary Vaynerchuk did below: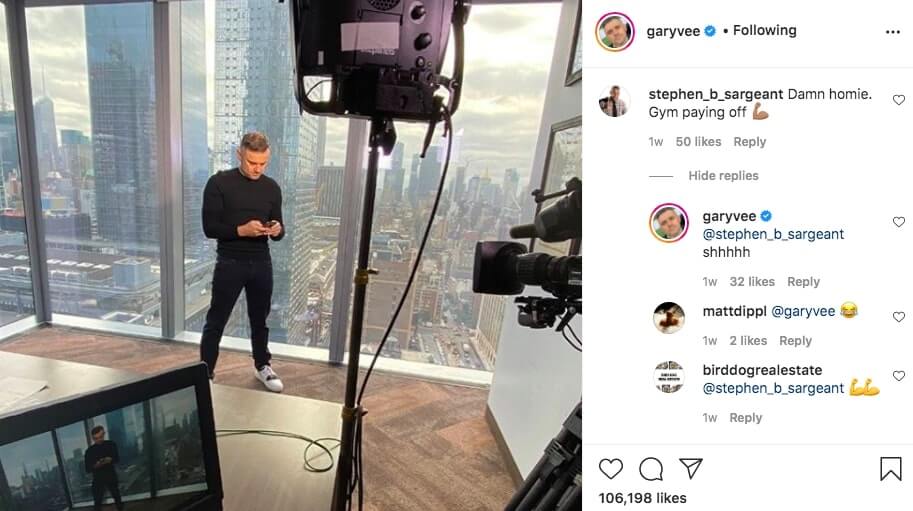 You can also follow Pepsi's example and respond to your followers' comments with a playful remark, like what they demonstrated here: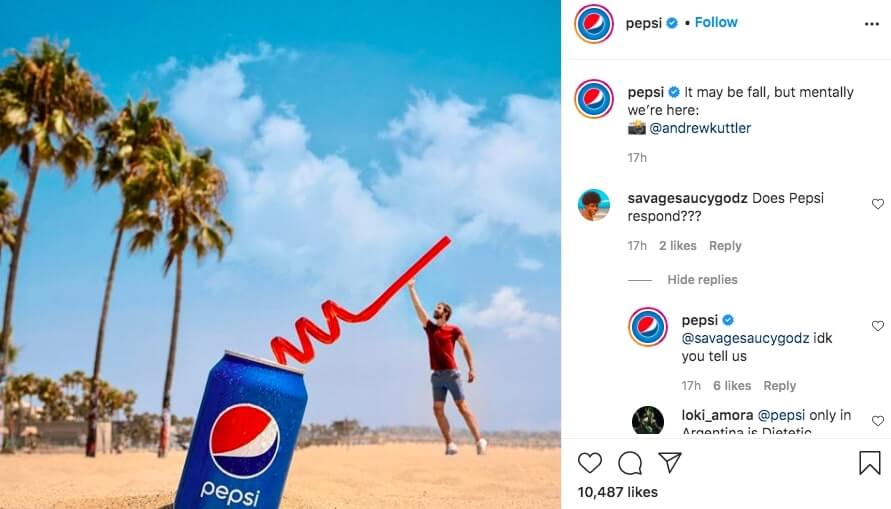 Pro tip: To expose your Instagram account to targeted traffic, you can use the Instagram Feed Pro plugin to show your Instagram feed on your website.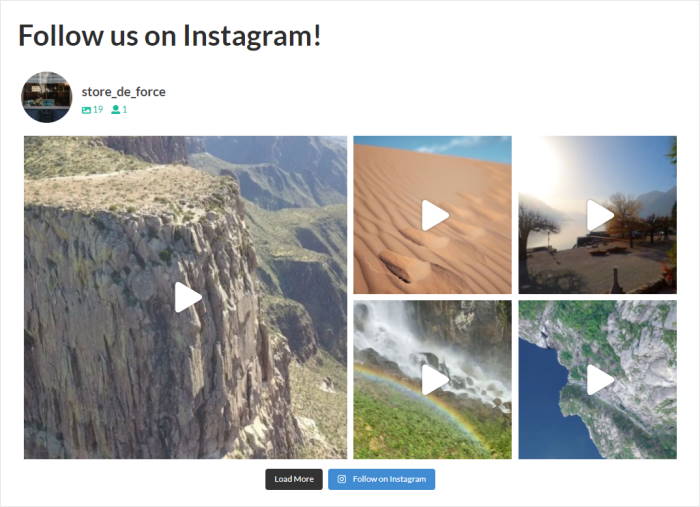 This way, you can get targeted traffic to engage with your posts — your website visitors who are already interested in you can interact with you.
For more details, see this next post on how to add a live Instagram feed to WordPress.
7. Post customer testimonials
One of the best ways to boost your sales using Instagram is by posting customer testimonials on your feed.
Considering that testimonials can increase conversions by 34%, you're leaving money on the table if you're not highlighting customer reviews about your product or service.
You can do this by posting a photo of your customers and sharing their testimonials on your caption, like what SoulCycle did below.
By adding a photo and including the customer's name and Instagram username, SoulCycle made their brand more trustworthy in their followers' eyes: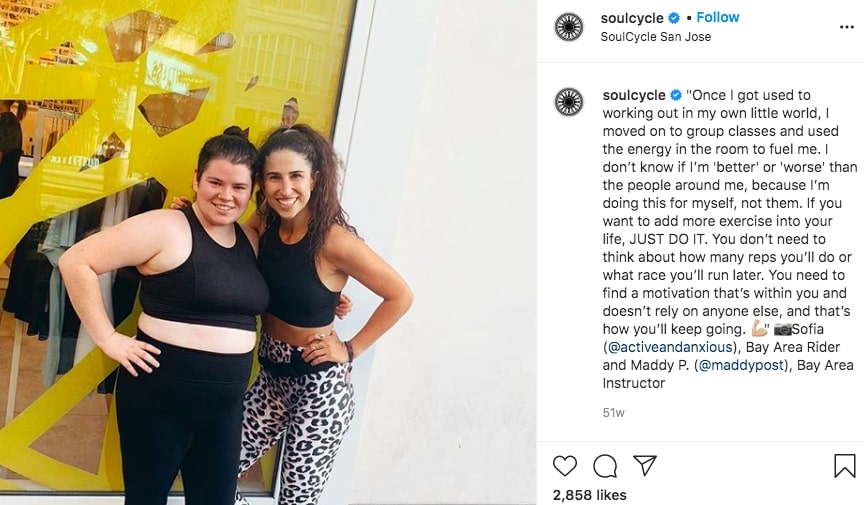 Pro tip: Does your website have a dedicated sales page?
You can add a custom Instagram feed of your testimonial and review posts here to give your prospects the little push they need to do business with you.
No need to do this manually — just use the Instagram Feed Pro plugin and follow this nifty tutorial on how you can embed an Instagram gallery on your website.
8. Run Instagram polls with your audience
Ever wanted to get inside your followers' heads so you can find out their preferences?
With Instagram's Stories features, you don't need to spend lots of resources to do this. You can simply use the "polls" feature on Instagram stories to get ideas for what your target audience likes and doesn't like.
For example, WPBeginner asked their followers' preferences when it comes to using "dark mode" in their WordPress website: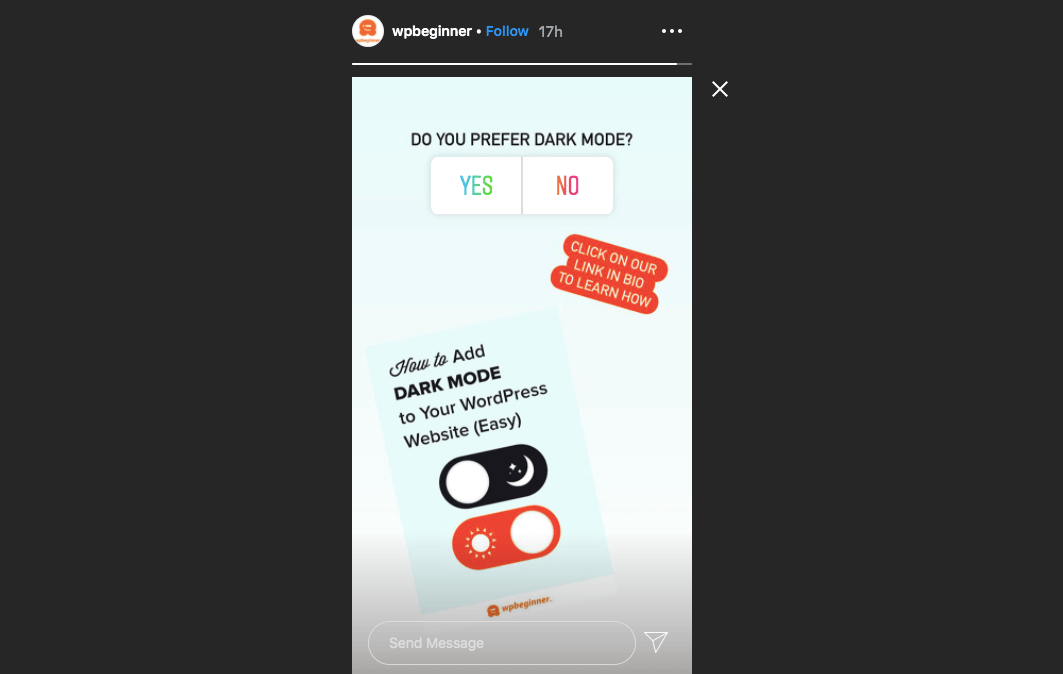 Using the popular Instagram Feed Pro plugin, you can easily display your Instagram feed on your website sidebar.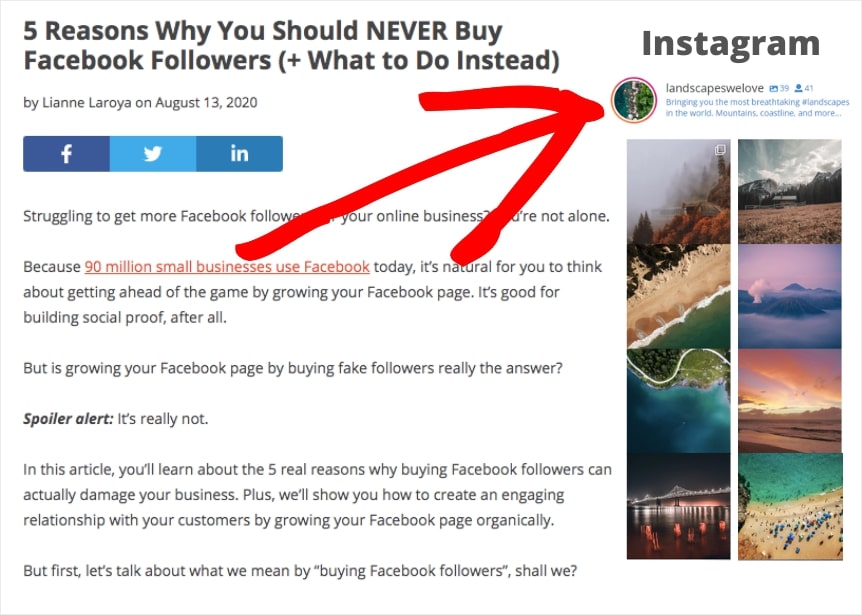 This way, when your website visitor clicks on your highlighted profile picture in the feed header, they can easily access your poll and choose their preferences — without leaving your site.
It's super easy to get started with this. Head on over to this step-by-step guide on adding an Instagram widget on your website.
9. Upload goal-specific Instagram Stories
There's a reason half of businesses on Instagram post stories: 1/3 of the most viewed stories are uploaded by businesses!
If you do them right, Instagram stories are a great promotional tool that can play a part in boosting your sales.
After all, stories are displayed at the top of your followers' timelines — once you've mastered them, you're getting free advertising, too.
What's the key to successful Instagram stories?
You can't just pop in a random photo or video and expect conversions to come. Before uploading stories, you need to have a clear goal in mind first.
For example, Gary Vaynerchuk posted an Instagram Story to let his followers know that he uploaded a new post.
Because Instagram's algorithm is always changing and your new posts may not always be shown to your followers, promoting them in your stories can drive engagement back to it.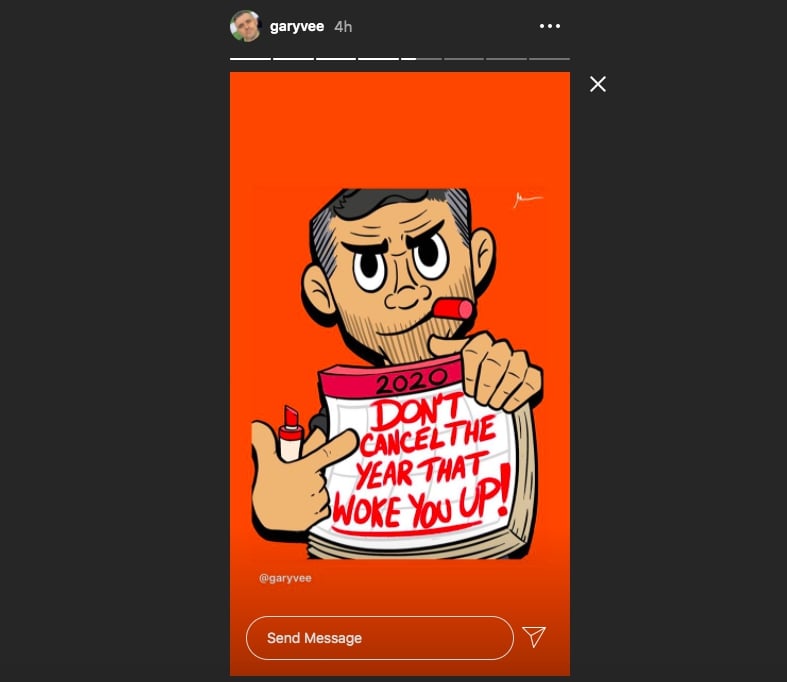 What if you have new products that you'd like to market to your followers?
You can do what Fenty Beauty did and highlight them in your stories. Make sure to include a call-to-action element in your text and gifs to encourage your followers to check out your new products: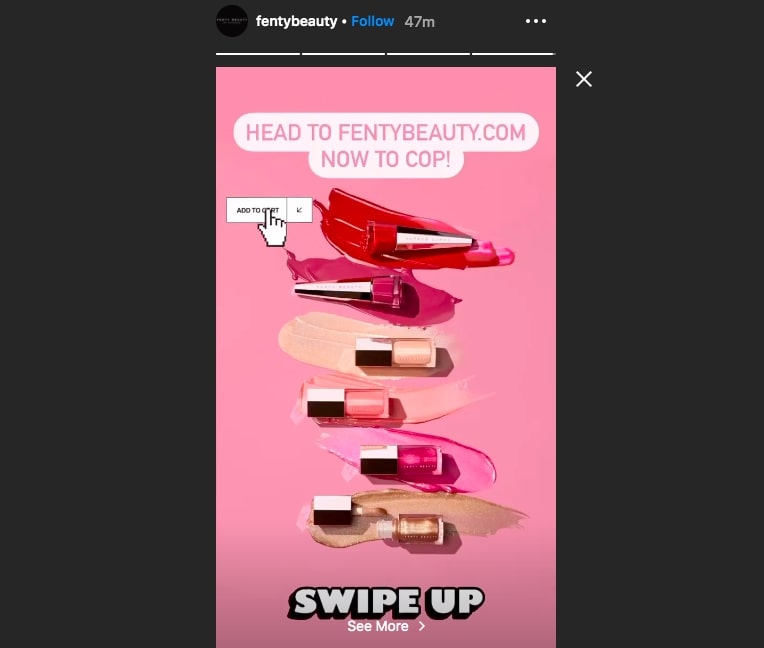 Here are other tried-and-tested tips to help you get more Instagram followers.
10. Optimize Instagram Stories via Highlights
Now, Instagram stories are great marketing tools — but how do you go around the fact that they're only available for 24 hours?
You organize them into categories and create Highlight albums for them so your followers can still see them right under your bio on Instagram.
By making the most out of your Highlights feature, you have more chances to give valuable information to your followers.
For example, Letterfolk regularly adds Highlights on their bio. This way, the stories are organized into highlight albums and displayed on their profile for easier navigation.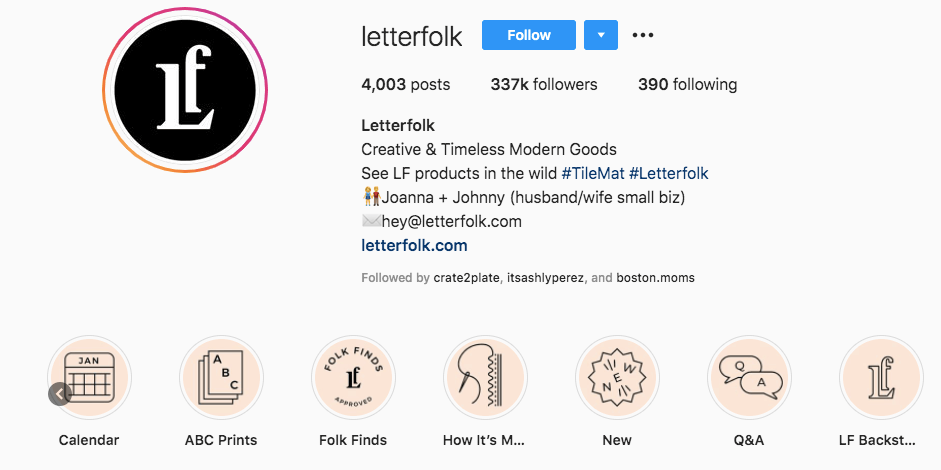 Not sure what types of album you should include?
Start by dedicating a highlight album for customer testimonials, your most popular products and FAQs about your company.
11. Post high-converting product photos
Did you know that posting product placement photos on Instagram can also encourage your followers to buy from you?
Yes. But you have to do this effectively — meaning, no pushy captions or generic product photos that don't provide any value to your followers.
Instead of directly selling on your posts, you can upload an enticing picture and focus on talking about how your customers can enjoy your product.
How can they use it better?
What setting should it be enjoyed in?
Can they use your product with the people they love?
Here's how Nutella did it: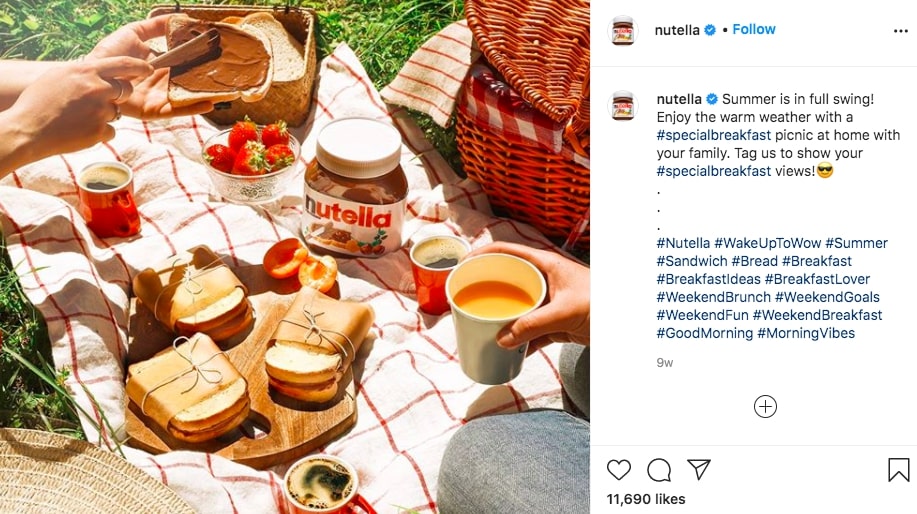 You can also follow what Starbucks does and post your products without forcing people to buy them.
Sometimes, a descriptive caption together with a beautiful photo is all it takes to tease your audience and convince them to buy from you.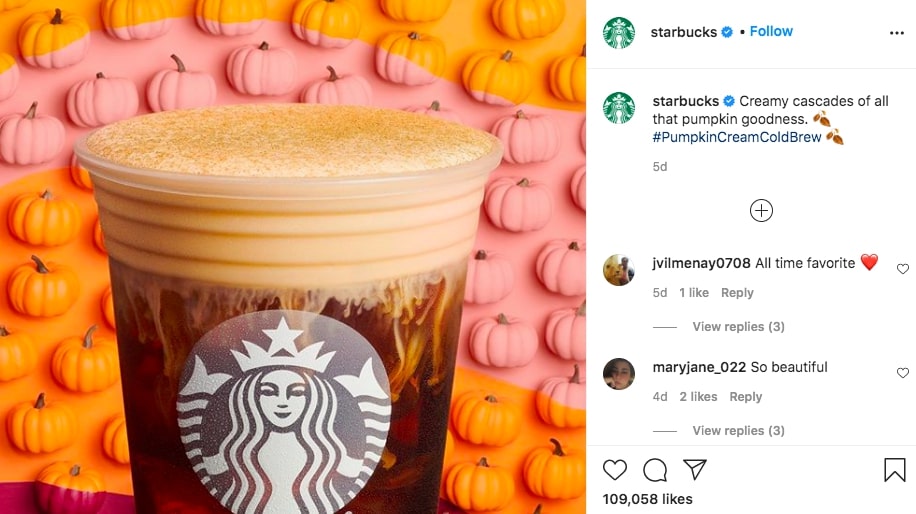 Aside from posting your product photos on Instagram, why don't you display them on your website, too? By using Instagram Feed Pro plugin, you can easily set up your Instagram product photos feed on WordPress in under 5 minutes.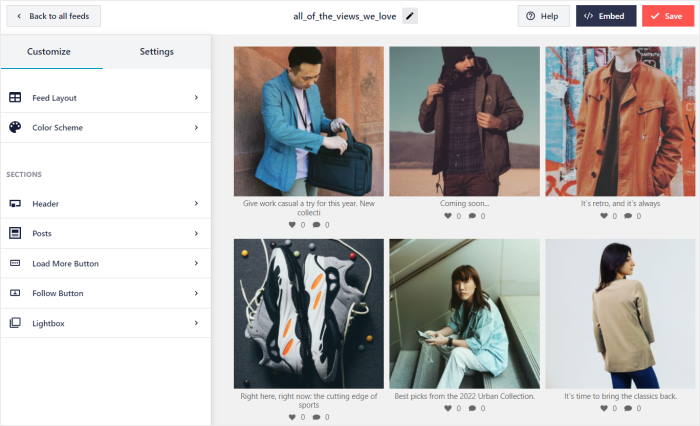 Find out how you can embed your Instagram feed on your website here.
12. Create shoppable Instagram posts
If you're using Instagram for business, you need to upload shoppable Instagram posts.
How do these work work?
Shoppable Instagram posts are linked to your product pages. When an Instagram user clicks an image tag you set up, they're redirected to your website's product page.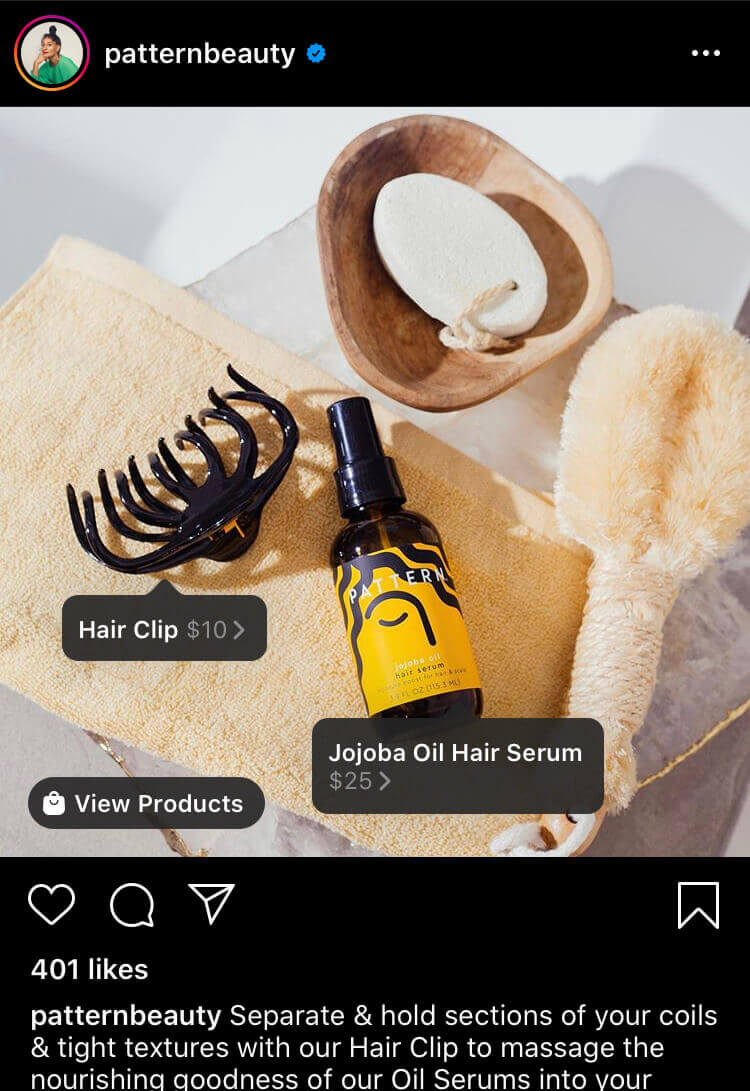 Usually, for you to make shoppable Instagram posts, you need to activate Instagram shopping on your profile first.
But you can't do this automatically. You have to follow Instagram's policies — and these policies are limited to certain products and specific countries only.
Don't worry! There's great news: you can use the Instagram Feed Pro plugin to link your Instagram posts to any page you choose on your website.
Try it out for yourself by following this step-by-step tutorial on how you can easily add shoppable Instagrammable posts on your website.
13. Partner with niche-relevant influencers
What if you want to reach potential customers on Instagram, but your follower size is still growing?
You can partner with a niche-relevant influencer to raise brand awareness for your business and boost your sales down the line.
Make sure that the influencer you're partnering with has the same audience profile of your target customers.
For example, Our Family Foods partnered with Molly Yeh, a cookbook author, blogger and the host of the Food Network cooking show Girl Meets Farm.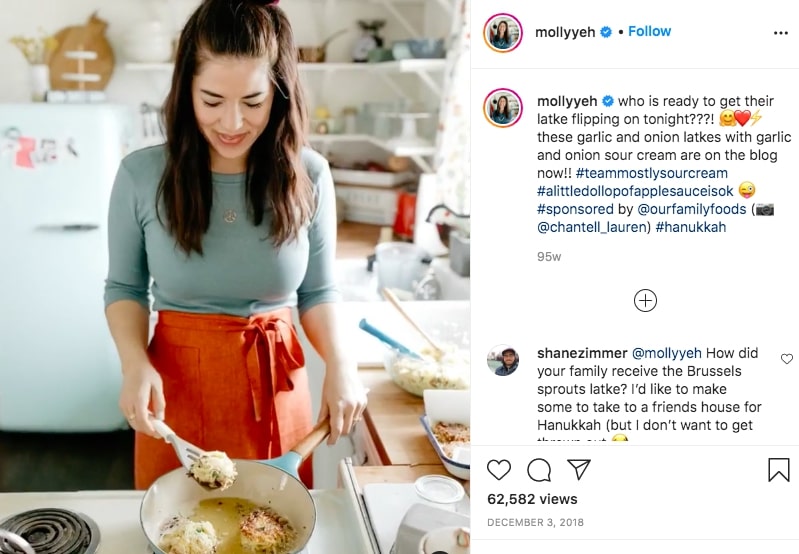 Molly exposed the brand to her 600,000+ Instagram followers. Plus, they have the same niche and target audience, so Our Food Family reached a targeted audience that's more likely to engage with them, too.
14. Cross-promote your Instagram to your site
Ever felt like your Instagram posts need to be exposed to a wider audience, instead of limited to your followers?
Then you need to integrate your Instagram content to your WordPress website, with the help of Instagram Feed Pro.
This way, your Instagram posts reach targeted traffic — your site visitors who are already interested in your brand.
Also, you can increase your followers by displaying your Instagram feed on your site, because you've already given them valuable content that they'd like to consume by following your Instagram profile.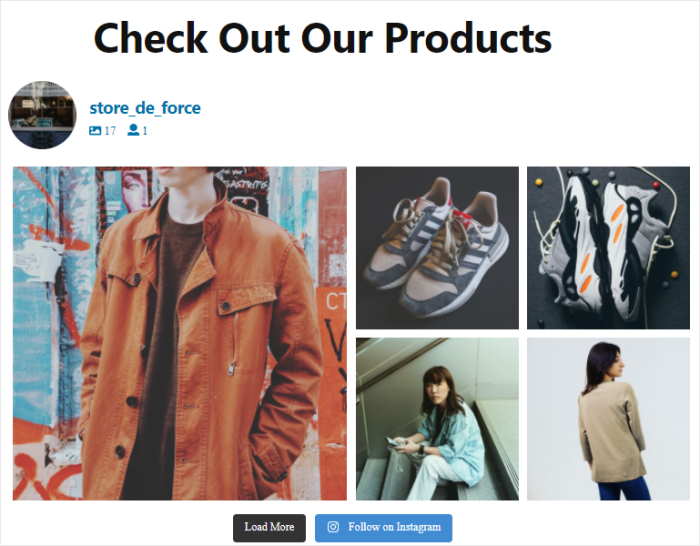 Want to take it a step further?
You can also get Smash Balloon Social Wall Pro to display your feeds from 4 social channels: Facebook, Instagram, Twitter and YouTube, right on your website!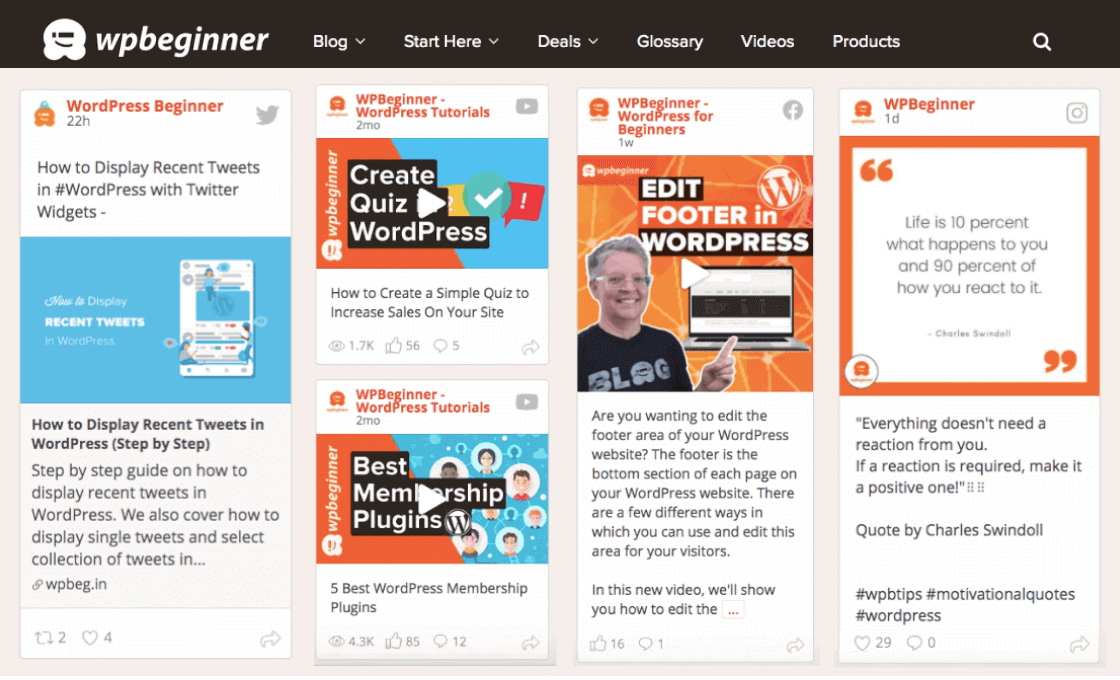 By using Social Wall Pro, you can boost your brand visibility and skyrocket your followers in all 4 social media platforms, so you can grow your business faster.
So, there you have it. Congratulations!
By reading this article, you now know how to use Instagram to boost your sales over time.
With these marketing hacks that you've learned, you can successfully leverage the power of Instagram to give your business the growth it deserves.
What are you waiting for?
Get started with Instagram Feed Pro today.
Want to stand out from your competition with Instagram reels? Here's how you can get more views on reels today.
Finally, if you enjoyed this article, feel free to follow us on Twitter and Facebook for more social media marketing tutorials.