Want to learn how to post your Instagram pictures to WordPress? Well, it's really simple and we're going to show you how.
Adding Instagram pictures to your website is great for social media marketing. After all, it helps drive your website traffic towards your Instagram account.
This way, you can get more followers, boost engagement and encourage more sales.
In this article, we'll show you the best way to add Instagram posts to WordPress. You can do this even if you're a WordPress newbie, so no need to worry.
Ways of Adding Instagram Posts to Your Website
When it comes to adding your Instagram pictures to WordPress, there are 2 different ways you can do this.
Old Way: In the past, you could paste your Instagram URL into your site and WordPress would embed it. This was time-consuming, and WordPress has stopped supporting it.
Easy Way: You can add Instagram Feed Pro to your site to make it simpler. Set it up with a few clicks and you can embed your Instagram posts automatically.
How to Post Instagram Pictures to WordPress (Old Way)
You could easily add Instagram posts to WordPress without a plugin in the past. It was due to the oEmbed feature of WordPress.
Back then, you could just paste the URL of your Instagram post and WordPress would automatically embed it.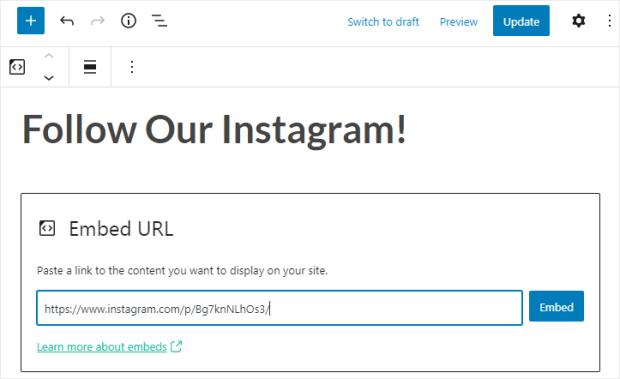 Unfortunately, WordPress has discontinued its support for Instagram and Facebook oEmbeds since October 24, 2020. So, you can no longer embed Instagram posts on WordPress just by pasting the link.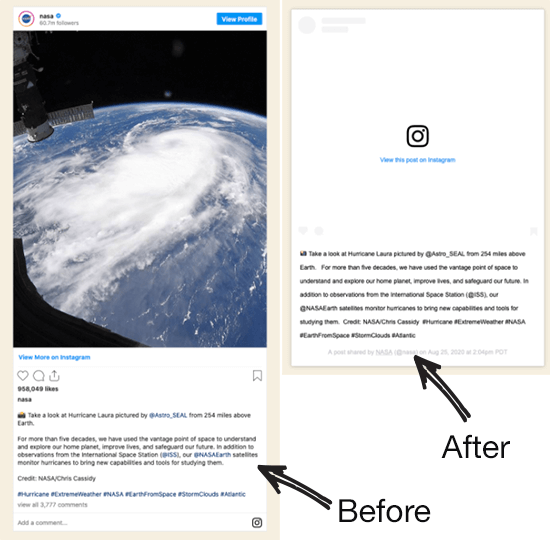 As you can see, that makes it much more complex for anyone who just wants to show Instagram posts on their website. So, you're going to have to use another method here.
If you want to continue embedding your Facebook and Instagram content to your site, you have 2 options:
You can register to Facebook as a developer with an actual app.
Or, you can just use a trusted WordPress plugin like Instagram Feed Pro to help you automatically post Instagram pictures.
How to Post Instagram Pictures to WordPress (Easy Way)
Here, we'll show you the simple way to automatically post from Instagram to WordPress.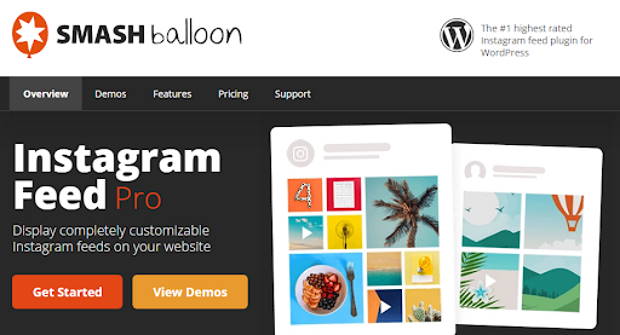 With Smash Balloon's Instagram Feed Pro, you'll have a much easier time posting Instagram content on your site.
The plugin brings back support for oEmbeds for Instagram and Facebook. Meaning, you can just paste the URL of the Instagram post and it will be automatically embedded for you.
But that's not all! You can use it to show a lot more than just simple Instagram posts. In fact, you can even create an Instagram feed and show a lot of different posts at once.
Still not convinced? Well, here's a few more things that Instagram Feed Pro brings to the table:
Different feed types: You can do much more than just add posts from your Instagram profile. With it, you can add feeds of public hashtags, tagged posts, shoppable Instagram feeds and more.
Customization options: You can show your posts in grids, masonry feeds, carousel sliders, and more. You can even set the colors, header style, dimensions, columns and more to suit your website.
Optimized for speed: Despite all these features, you won't have to worry about lags or slowdowns. Since the plugin is built for speed, Instagram posts can still load as fast as possible on your website.
Customer support: If you run into any problems or have questions about Instagram Feed Pro, the dedicated support team will always be there to give you a hand.
Due to all these features, Instagram Feed Pro is the top-rated Instagram plugin for WordPress, with an average rating of 4.9 stars out of 5.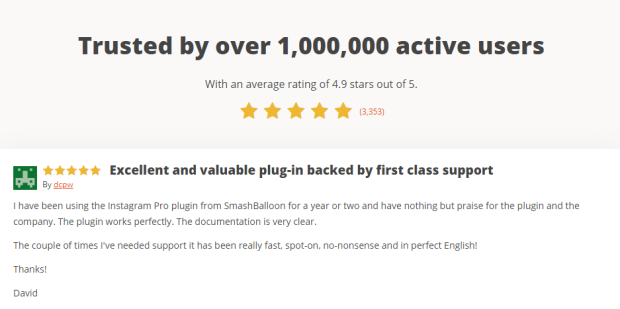 All in all, it's definitely the best Instagram feed plugin for WordPress. For that reason, it's trusted by some of the biggest brands out there.

Now, we'll show you how to add posts from Instagram to WordPress with this plugin.
Step 1: Install and Activate Instagram Feed Pro
The first thing you need to do is download a copy of Instagram Feed Pro. After that, it's time to install the plugin to your WordPress site.
If you're not sure how to do it, you can take a look at this helpful article on how to install WordPress plugins.
Once you've done that, you'll have to activate your license. You can find the license key in your email inbox. Remember to copy it.
Now, go to Instagram Feed » Settings from your WordPress dashboard. Here, click on the License tab.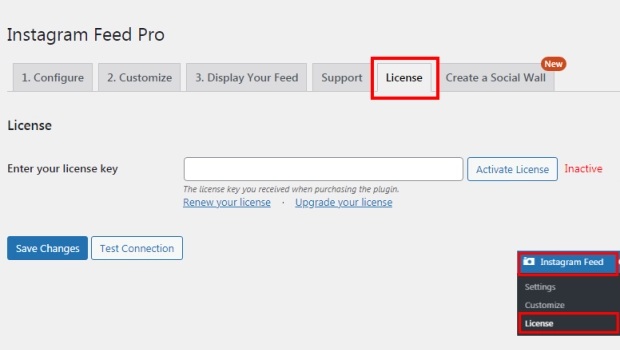 All you need to do is paste your license key here and click on Activate License.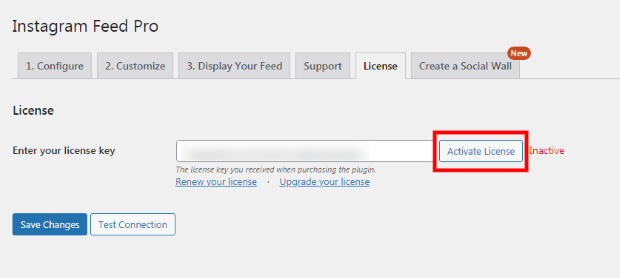 After that, click on Save Changes and you're done.
Step 2: Connect Your Instagram Account
Now, it's time to connect your Instagram to this website. It only takes a few clicks, so you'll be done before you know it.
Go to Instagram Feed » Settings from the dashboard and click on the large Connect an Instagram Account button.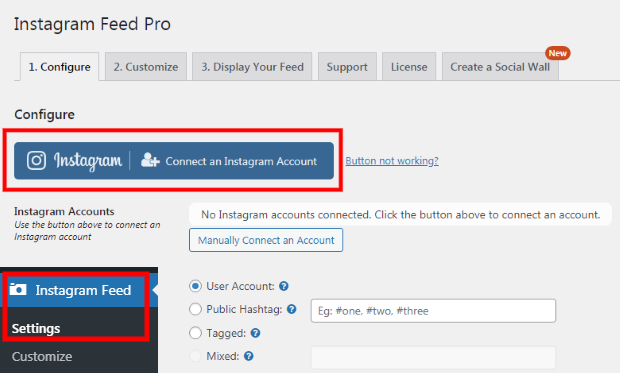 Once you do that, you'll see a pop-up asking you to choose if you're connecting a personal profile or a business profile.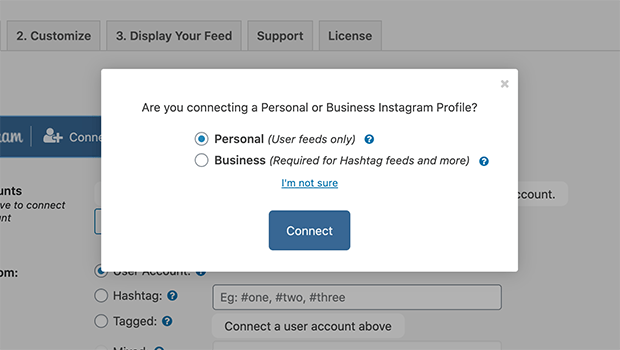 Not sure what the difference is?
A personal profile has all the basic features you normally use on Instagram. With a personal profile, you'll only be able to show feeds of your own Instagram account.
By switching to a business profile, you can get access to additional features like analytics and a contact button. Like the name suggests, it's geared towards businesses that use Instagram.
A business account allows you to show all kinds of feeds, like hashtag feeds, shoppable feeds, and more.
Select the right option and click on the Connect button.
This will redirect you to the Instagram site. Here, you have to click on Allow and give the plugin read-only access to your account.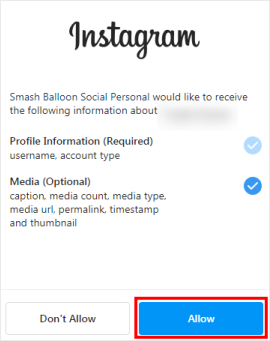 Finally, confirm the Instagram account and click on Connect This Account to finalize your connection.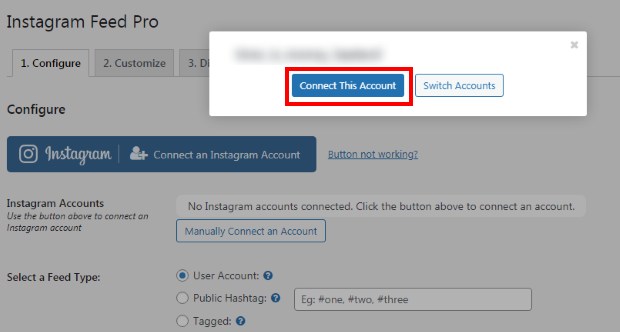 Now, your Instagram account is finally connected. It's really that easy.
Let's move on to the next step.
Step 3: Enable eEmbeds for Instagram
With your account connected, go to Instagram Feeds » oEmbeds from your WordPress dashboard.
Once you're here, just click on Enable Instagram oEmbeds.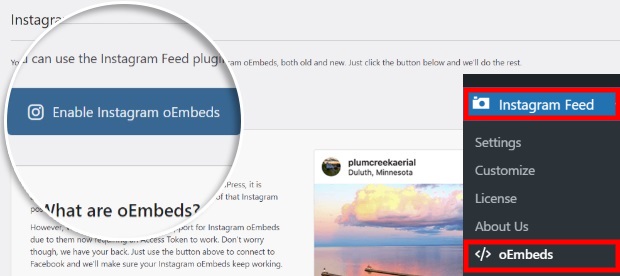 Since Instagram is a part of Facebook, you'll need to connect to Facebook to activate this feature. The good news is that you'll also be able to add Facebook posts to your site after this.
Just click on Connect to Facebook on the new pop-up.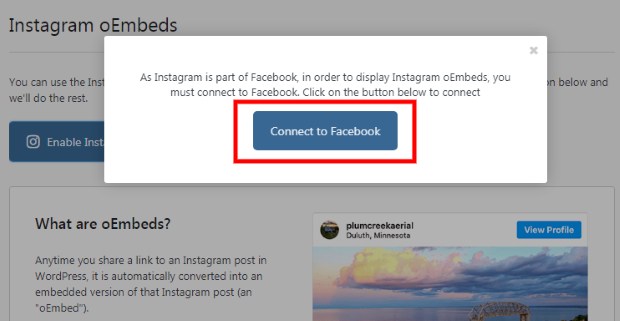 This will redirect you to Facebook. If you want, you can also connect your Facebook page to your WordPress site. Just select the pages here.
After that, click on Next to move on.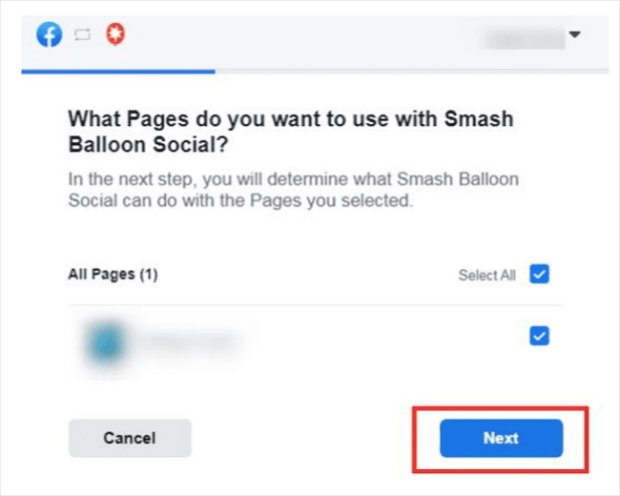 Finally, you can click on Done to finish things up.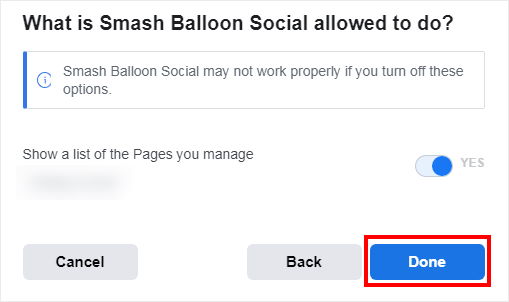 Congratulations! You've now enabled Facebook and Instagram oEmbeds on your WordPress website.
Step 4: Post Instagram Pictures to WordPress
After this, you can now go ahead and add Instagram posts to WordPress. This part is pretty easy.
In this tutorial, we'll create a new WordPress page to show the pictures. First, go to Pages » Add New from your dashboard, and it'll open up the editor.
You can also add a new post instead, if that's what you want.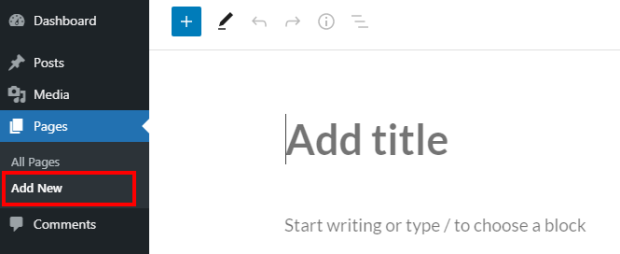 Now all you need to do is paste the URL of your Instagram post here. Instagram Feed Pro will automatically embed it as an Instagram post.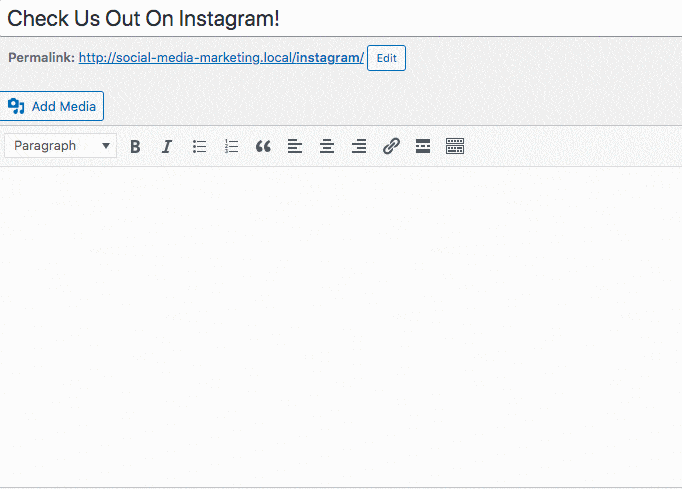 It's more than just posts and pages. Instagram Feed Pro allows you to add your Instagram photos and videos on the sidebar as well.
Go to Appearance » Widgets from the dashboard to see the complete list of the available widgets.
Scroll down here and look for the Text widget towards the bottom. Now simply drag the widget and drop it on the Sidebar panel on the right.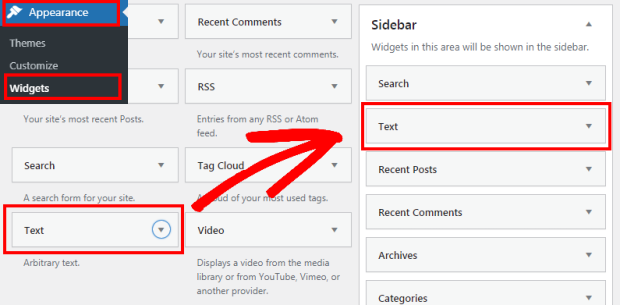 Now just open up the Text widget and paste the link to your Instagram post.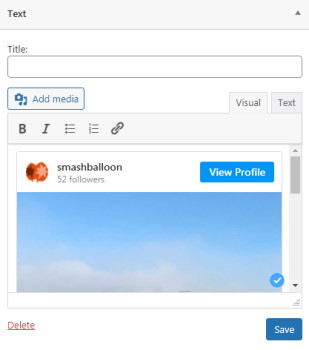 Like last time, your link will automatically be transformed into an Instagram post. Now click on the Save button, and your Instagram picture will be shown in your WordPress sidebar.
How to Post Instagram Feeds to WordPress (Easy Way)
That's just the start! You can add much more than single Instagram posts to WordPress — Instagram Feed Pro lets you add entire Instagram feeds as well.
In case you didn't know, an Instagram feed is a collection of Instagram posts.
To add these Instagram feeds to your website, you need to use the following shortcode.
[instagram-feed]
Just paste this Instagram shortcode into your WordPress page or post.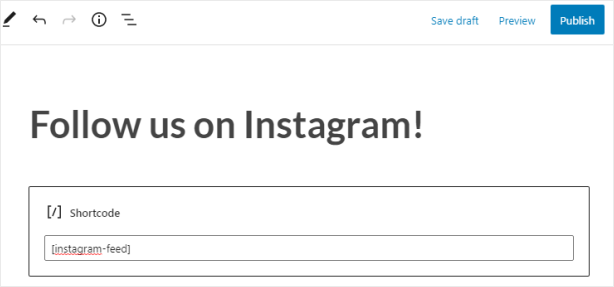 Once you do that, your entire Instagram feed will be embedded for your visitors to see.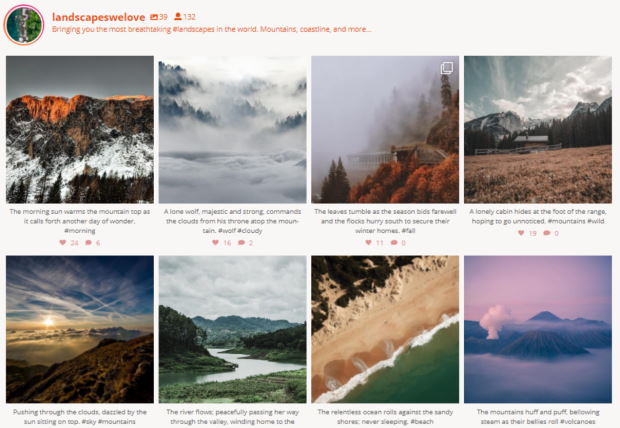 Even your new Instagram posts will automatically be shown on this page. It's really that convenient.
You can do a lot more than that. With Instagram Feed Pro, it's possible to integrate Instagram with WordPress in tons of different ways.
There's a lot of options to explore here. You can have beautiful carousels, masonry grids, lightboxes, video feeds, tagged posts, hashtag feeds, and much, much more.
And that's it!
We hope this article helped you figure out how to post Instagram pictures to WordPress. With the right plugin, it can be done automatically without any hassle.
To get started, just go and grab the amazing Instagram Feed Pro today!
In addition to Instagram, Smash Balloon also has plugins for Twitter, Facebook, and YouTube that can help your social media marketing reach the next level.
You can even grab the Social Wall Pro Bundle and get unlimited access to all of Smash Balloons present and future plugins — so you can use them on unlimited websites.
Want to do better in social media and attract more followers to your Instagram account? You can check out our article on how to increase Instagram followers.
If you found this article to be helpful, give us a follow on Twitter and Facebook and stay tuned for more social media marketing tips and tricks.