Want to know how you can embed your Facebook reviews on your WordPress website? You're not alone.
Since 88% of shoppers are influenced by reviews, displaying them on your website encourages your prospects to buy from you. Reviews can skyrocket your sales, too. Customers would spend 31% more if they see you have good reviews, after all.
But, Facebook doesn't offer an easy way for you to add your Facebook reviews on WordPress.
So in this post, you'll learn how to embed Facebook reviews on your website. Even if you have zero technical knowledge, you can easily do this with just a few clicks!
Let's jump right to it.
Easiest Way to Embed Your Facebook Reviews
Want to embed your Facebook reviews to WordPress? Choose from the 2 options below:
Manual embed: Spend lots of time copying-and-pasting single Facebook review codes. One by one. Or,
Automatic embed: Use a trusted plugin to display all your reviews, automatically.
Make life simple for you. The easiest way to show your Facebook reviews on WordPress? Use a beginner-friendly WordPress plugin like Smash Balloon's Custom Facebook Feed Pro and add the Reviews extension so you can display Facebook reviews on your website easily.
As the most popular Facebook feed plugin for WordPress, Custom Facebook Feed Pro is ultra-fast. It's light and fast to load, so your website's performance is optimized.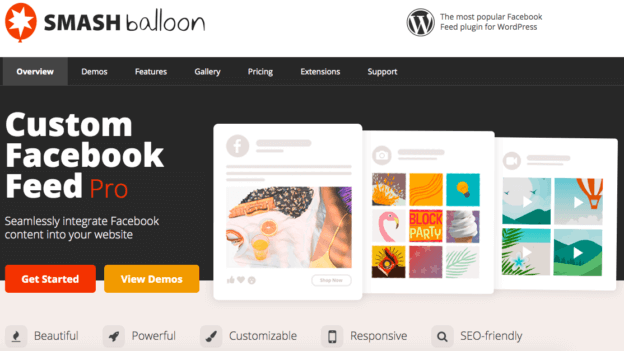 Think the plugin's only for tech-savvy people? Actually, with over 200,000 users and a positive 4.8/5 star rating, Custom Facebook Feed Pro is designed to be user-friendly. With just a few clicks, you even can customize how your Facebook page's reviews feed will look like.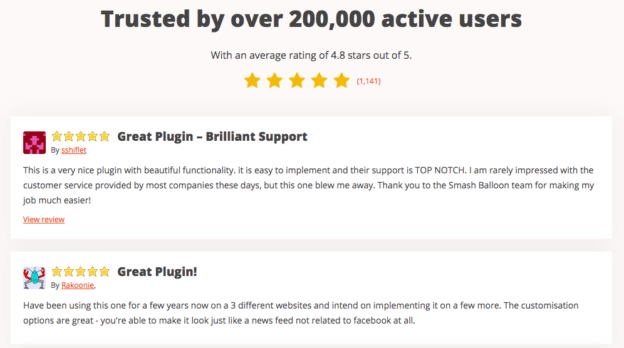 Wondering what else Custom Facebook Feed Pro can offer? Here are some of them:
Super easy to set up: Install the plugin, add Reviews extension and set everything up in less than 5 minutes.
Simple and speedy to customize: It automatically looks great out of the box. And if you want to tweak it? No need to handle confusing code. You can customize your Facebook reviews feed's design with just a few clicks.
Lightning speed loading: Since the plugin efficiently gets data, your Facebook reviews load super fast on your WordPress.
Responsive theme: You don't need to manually change anything. It automatically looks great on any screen size on any device.
Smart backup: Worried your reviews won't show up if there's an issue with Facebook? Don't be. The plugin has a smart backup in place so it can continue to show your reviews on your site.
Check out this full list of the plugin's features to find out how it can boost your brand's online presence.
Finally, with the plugin's 30-day money-back guarantee, there's really no risk in testing out if it's the perfect fit for you.
Want to use the power of social proof to skyrocket your sales? Display your Facebook reviews on your website. Let the plugin do the hard work for you and follow the easy tutorial below.
Step 1: Install Custom Facebook Feed and Reviews Extension
First, get your own copy of Custom Facebook Feed Pro here. Download the plugin to your computer and install it to your WordPress.
Not sure how you can install and activate WordPress plugins? Check out this helpful step-by-step tutorial on how to install a WordPress plugin to help you do this.
Already activated the plugin? Great! The next step is getting your own copy of Facebook Reviews extension here.
Using the same instructions here, you can easily install and activate this plugin on your website, too.
Step 2: Activate Your License Key
Done activating both the Custom Facebook Feed plugin and the Reviews extension? It's time to activate your license keys.
To start, go to your WordPress dashboard. The Facebook Feed menu should already appear there. Navigate to Facebook Feed » Settings » License to enter your license key.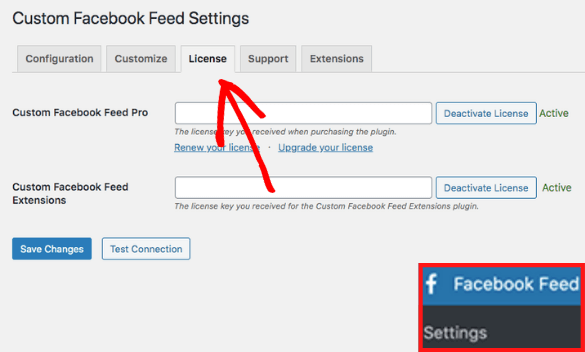 Where can you get your license keys? Check out the Smash Balloon emails you received when you got the Custom Facebook Feed Pro plugin and Reviews extension.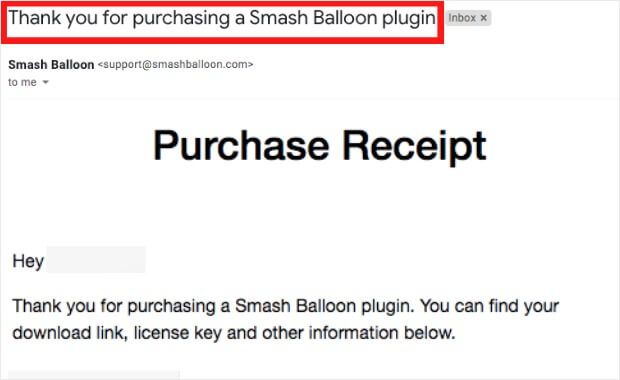 Remember to click on Save Changes to preserve your settings.
Step 3: Connect Your Facebook Account
After activating your license keys, it's time to connect your Facebook account. Go to your WordPress dashboard and navigate to Facebook Feed » Settings. Then, click on the blue Connect a Facebook account button.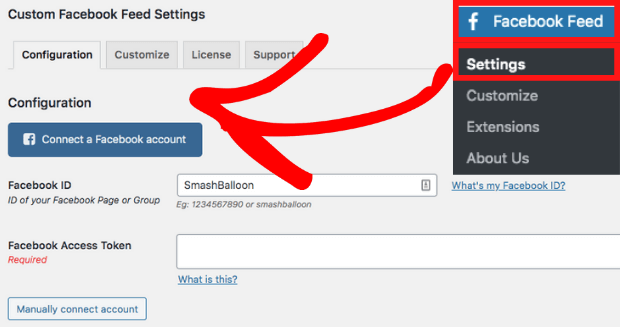 The plugin will ask you to choose between displaying your Facebook group or page. Now, since this tutorial is about embedding Facebook reviews from your page, choose Facebook Page. Then, follow the onscreen instructions to connect your page to the plugin.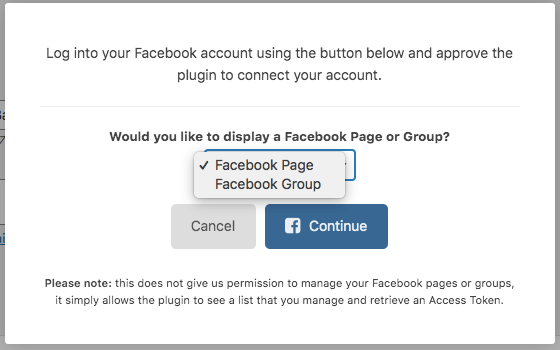 Click the Save Settings button and move on to the next step.
Step 4: Add Your Facebook Page to Reviews Feed
Already connected your Facebook account to the plugin? Great work. Now, you can choose which Facebook page you'd like to embed your reviews from.
See the Facebook page you want to display? Click on both Make Primary Feed and Use for Reviews Feed buttons beside the page.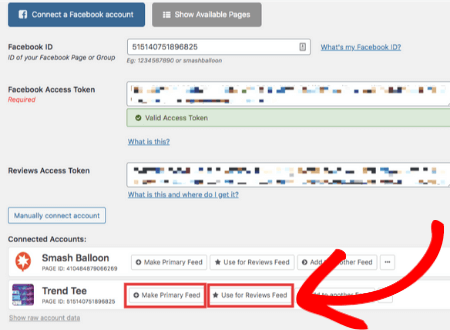 Don't forget to click on Save Settings once you're done.
Step 5: Customize Your Facebook Reviews Feed
The plugin allows your Facebook Reviews feed to automatically copy your theme's existing design. So it already looks great. And if you want to control your feed's design, you can do this as well.
To start customizing your Facebook Reviews feed, scroll up to the topmost area of the settings area first. Then, click on the Customize » General tabs.
Under this tab, you can easily change your Facebook reviews feed's width, height, padding and even background color.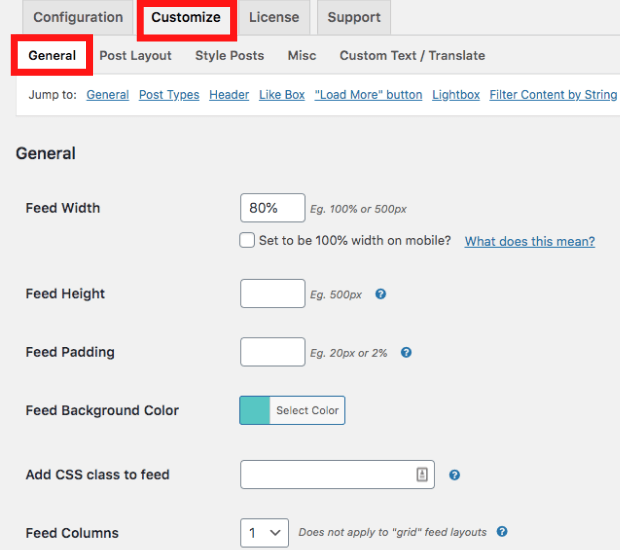 Want to see the most important part? Scroll down until you see the Reviews section. This allows you to control the content of your Facebook reviews in your feed.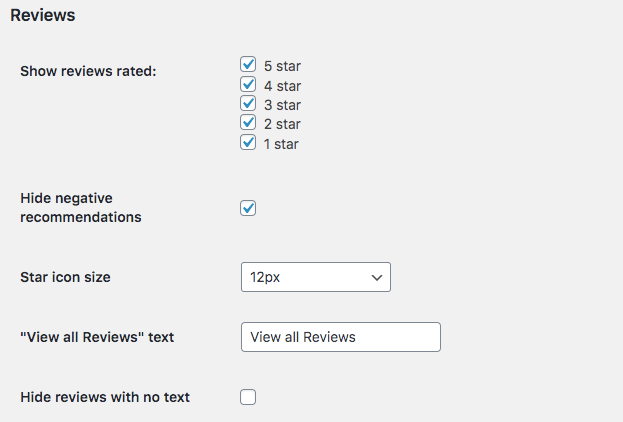 If you'd like to embed all Facebook reviews on your WordPress, you can. You can also filter reviews based on their star rating. Plus, you can hide negative recommendations so they won't be shown to your website visitors.
And to add more customization choices, just scroll down again. Under the Reviews section, you can also customize your feed's header, "like" box and "load more" button on this page.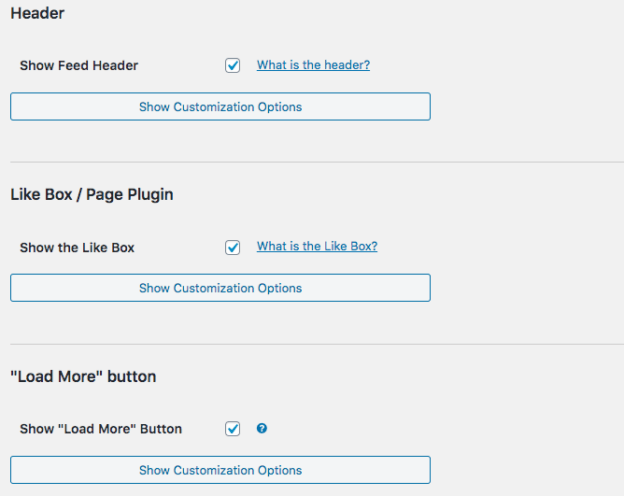 For example, here's what a Visual header of your Facebook reviews looks like. It shows your page's cover photo, name and avatar and number of fans.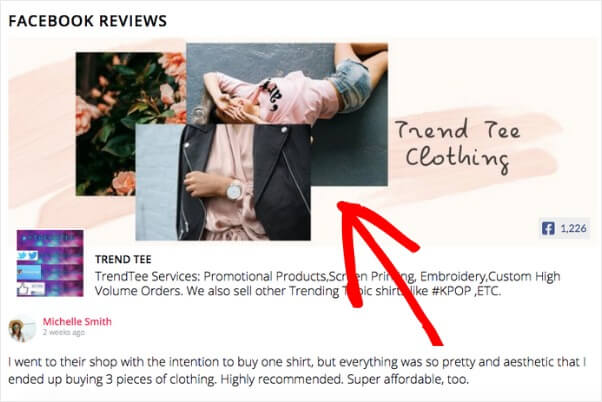 Or, you can choose to display a Text header for a minimalist design, like this: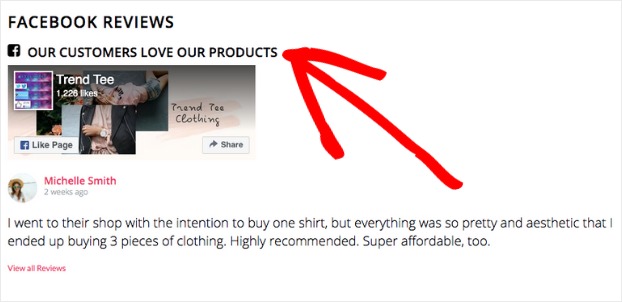 Always remember to click on Save Changes so the plugin remembers your choices.
Done customizing? Let's move on to the final step below.
Step 6: Embed Your Facebook Reviews Feed on WordPress
You can add your Facebook reviews feed to your website's widget-ready areas or pages.
How to Embed Facebook Reviews on WordPress Page
Start by copying the plugin's shortcode here:[custom-facebook-feed type=reviews]
Then, make a new page by navigating to Pages » Add New from your WordPress dashboard.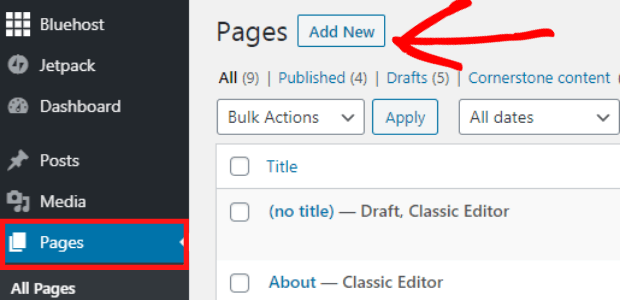 Paste the shortcode on your new page's editor, like this: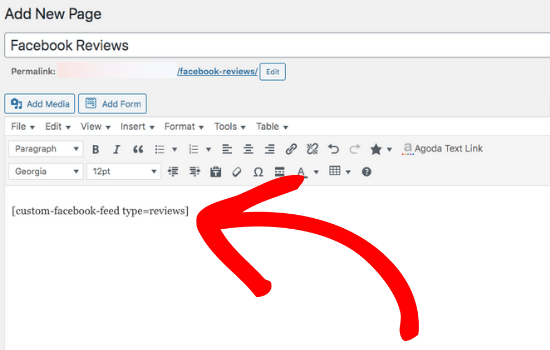 Once you're happy with how your Facebook reviews feed looks like, click on Publish. Now, when your customers visit your website, they can see your Facebook reviews feed embedded. Here's an example: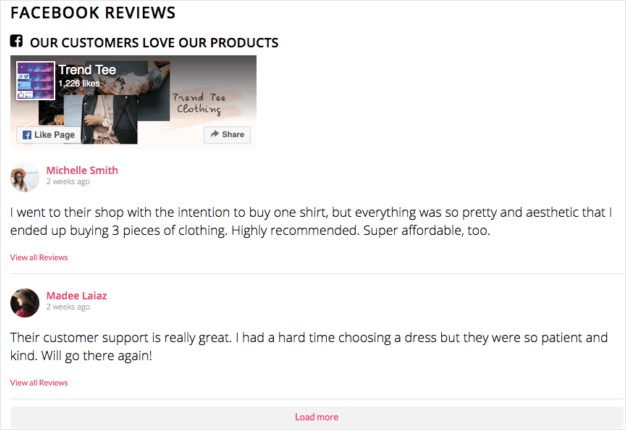 What if you want your visitors to see your Facebook reviews on your website's sidebar? You can do this, too.
How to Embed Facebook Reviews on WordPress Sidebar
First, copy the plugin's shortcode again here:[custom-facebook-feed type=reviews]
Then, from your WordPress dashboard, go to Appearance » Widgets and look for the Text widget. Once you've found it, drag it to your chosen sidebar area. Inside the widget, paste your Facebook reviews shortcode and click Save.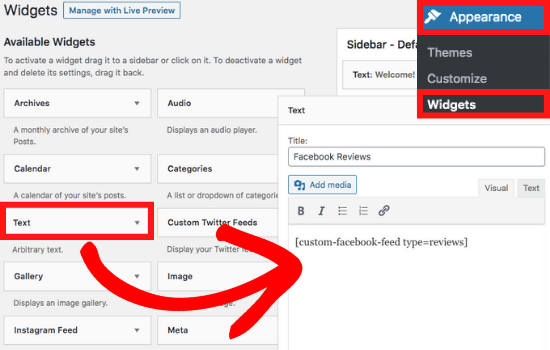 Once you've saved your settings, visit your website and check out the sidebar area. Here, you'll see your Facebook reviews feed displayed, like this: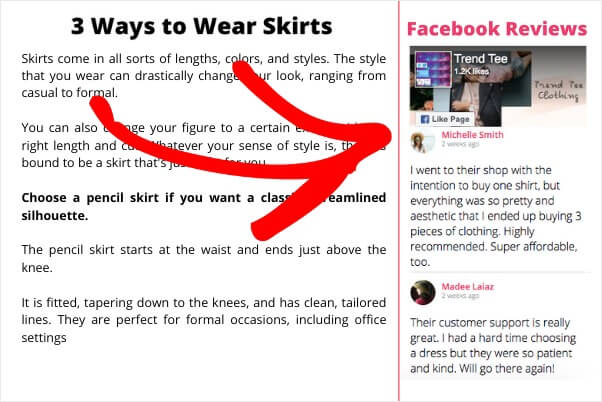 And that's it! Through this step-by-step guide, you've now learned how to embed Facebook reviews on your website — easily and hassle-free, even if you're not techie!
Ready to turbocharge your sales by using the power of social proof? Display your Facebook reviews on WordPress easily by using Smash Balloon's Facebook Feeds and Reviews Extension today.
Or if you want unlimited access to Smash Balloon plugins so you can use them on unlimited websites, go ahead and get the Social Wall Pro bundle here.
The great part about Smash Balloon's pricing method? It comes with a 100% no-risk money-back guarantee so you can try out the plugins first and see if it's a good fit for you.
The Social Wall Pro bundle is the best partner to help you take your business to the top. Get it for a hugely discounted offer today.
Want to take your Facebook page marketing to the next level? Check out this post on how to get more likes for your Facebook page here.
Finally, if you found this tutorial useful, feel free to follow us on Twitter and Facebook for more helpful social media marketing tutorials.