Looking for an easy way to make a testimonial carousel for your WordPress website? You're in the right place. 83% of shoppers trust customer reviews over advertising. So it's only natural to post them on your site.
But with different options available, it's confusing to figure out which testimonial plugin is the best for WordPress.
So in this post, we'll show you the easiest way to create a testimonial carousel for your website. With just a few clicks, you can show your customer reviews. In just under 5 minutes. Yes, even if you're not an IT expert.
Before we dive in to the tutorial, let's find out what type of testimonial you should place on your site first.
Or, you can click here to skip ahead to the tutorial.
Generic Reviews vs. Social Media Testimonials
In creating a testimonial slider for your site, you can just add generic customer reviews and call it a day. Right?
Not really.
In today's online world, you're missing out if you're just posting generic customer reviews on your website.

Why? Generic reviews are easy-to-fabricate and usually too-good-to-be-true. They're also more likely to be seen as fake. After all, who's to say that the reviews were written by real people who actually used the product?
What about displaying social media testimonials?
Now, more than half of the world's population uses social media. Out of these active social media users? Almost 55% are on Facebook.
In addition to boosting user engagement, posting Facebook testimonials on your website increases profit, too. Majority of online shoppers say that Facebook is still the most influential social media platform.
That's why getting Facebook reviews for your business page and displaying them on your website can skyrocket your sales.
Embedded Facebook reviews are more believable. They're also easier to trust. It's not just a random name that posts the testimonials. There's a name, a picture and a Facebook profile that publicly praises your brand.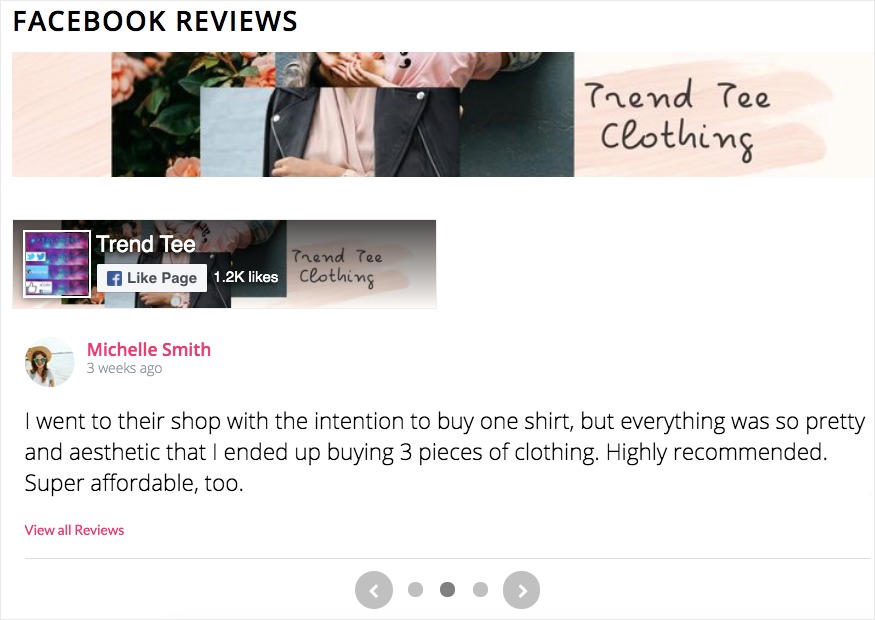 Now, the question isn't "Will your brand use Facebook?"
It's "How well should you use Facebook to grow your business?"
Ready to start creating your Facebook testimonial carousel on your website? Check out the next section below to find out the easiest way to do this.
Easiest Way to Make a Facebook Testimonial Carousel
Facebook doesn't give you an easy way to create a testimonial carousel on WordPress. Using the platform, you can only embed single Facebook reviews on your site.
The good news? You can still easily create a Facebook testimonial carousel. How? Install a newbie-friendly plugin like Smash Balloon's Custom Facebook Feed Pro. Then, add the Reviews extension so you can display Facebook reviews. And add the Carousel extension to show your reviews using the sliding carousel layout.
Once you do this, you can make a Facebook testimonial carousel and display it on your website. Easily. Hassle-free. Even if you're not tech-savvy.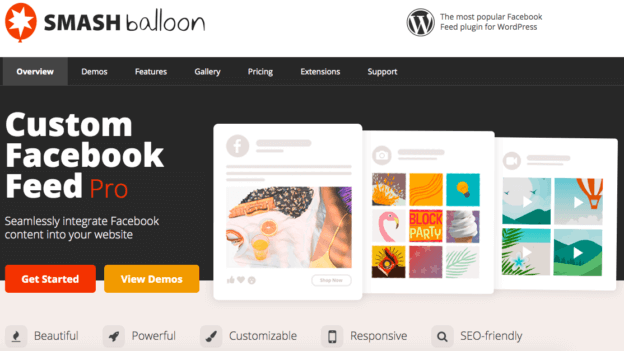 As the most popular Facebook feed plugin for WordPress, Custom Facebook Feed Pro helps you display customizable testimonial carousel feeds on your site. With just a few clicks, and in just a few minutes. No need to hire a developer — the plugin does it for you.
The best part about this plugin? It's designed to be ultra-fast. So you don't need to worry about the plugin slowing down your site. Don't just take our word for it. Over 200,000 users give the plugin a solid 4.8/5 star rating.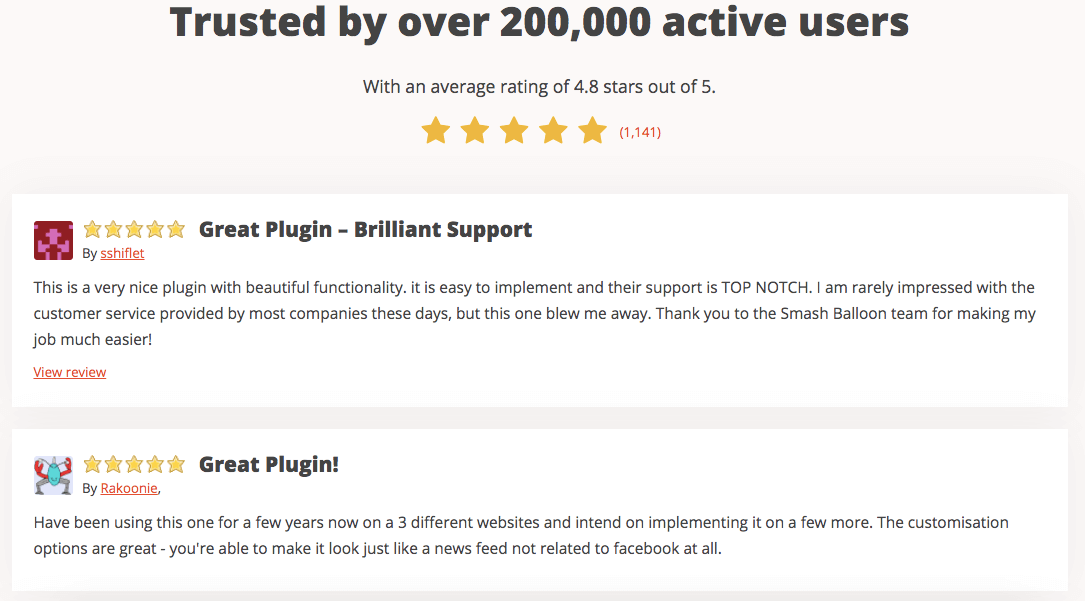 By using the plugin, you get to enjoy the following features:
Super easy to set up: Even with zero technical knowledge, you can install the plugin, add Reviews extension and set everything up in just a few minutes.
Responsive: The plugin inherits your existing theme's style. Plus, it looks awesome on any screen size and on any device.
Risk-free: Want to change your testimonial feed's background color? Or font color? No need to tweak lines of code and risk breaking your site. You can easily customize your feed just by checking or unchecking options.
Ultra fast loading: Using smart technology, the plugin loads your Facebook reviews feed super fast — in a carousel layout on your website.
Updated on time: WordPress or Facebook updated their platforms? No worries. The plugin's guaranteed to be also updated in the right time to continue working smoothly with them.
These are just some of the plugin's features. Check out the plugin's full list of features that can help grow your business here.
Want to have access to all of Smash Balloon's plugins? By getting the All-Access Bundle, you can download the Custom Facebook Feed Pro plugin, together with all the Facebook extensions including Reviews Extension and Carousel Extension.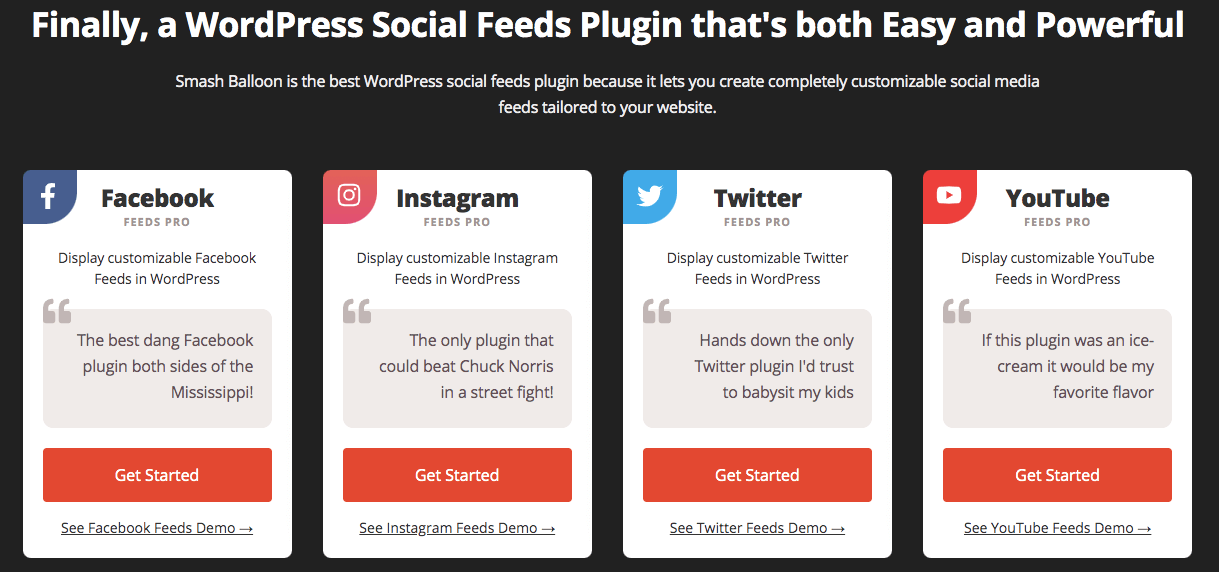 The All-Access Bundle also comes with the Instagram Feeds Pro, Twitter Feeds Pro and even YouTube Feeds Pro plugins. These plugins help you display customer testimonials from all 4 social media accounts!
How to Add Facebook Testimonial Carousel to WordPress
Since majority of shoppers are influenced by Facebook, we'll focus our tutorial on adding a Facebook testimonial carousel to your website.
Ready to display a customer review carousel on WordPress? Start using the power of social proof by following the step-by-step tutorial below:
Step 1: Install Custom Facebook Feeds Plugin
First, get your own copy of the Custom Facebook Feed plugin here. Then, download your own copy of the Reviews Extension here. Finally, get the Carousel extension here.
Or, if you want to get full access to all of Smash Balloon's plugins and extensions, just get the All-Access Bundle here.
Finished downloading all the plugins? Great! Install and activate them on your WordPress. For your guidance, follow these step-by-step instructions to install a WordPress plugin.
After installing the plugins, navigate to Facebook Feeds » Extensions from your WordPress dashboard. Then, look for the Carousel and Reviews extension. Click their Activate checkboxes to start using them. Finally, click the Save Changes button.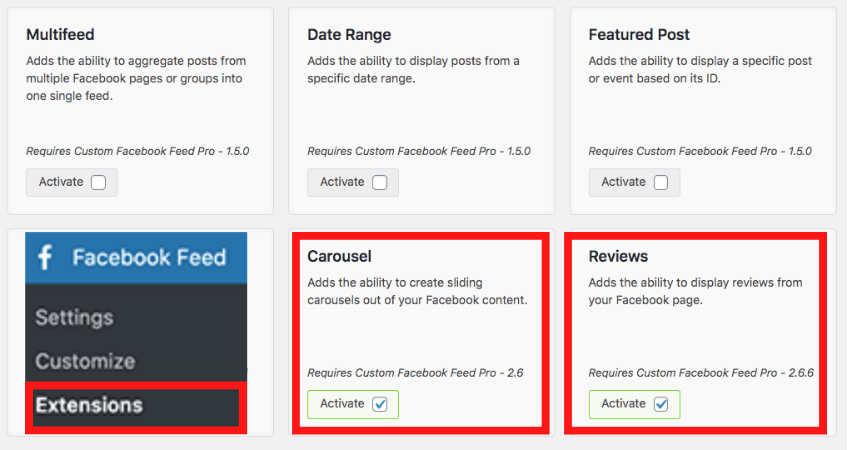 Step 2: Activate Your License Key
Once you're done installing and activating all plugins, it's time to enter your license keys. To do this, navigate to Facebook Feed » Settings » License.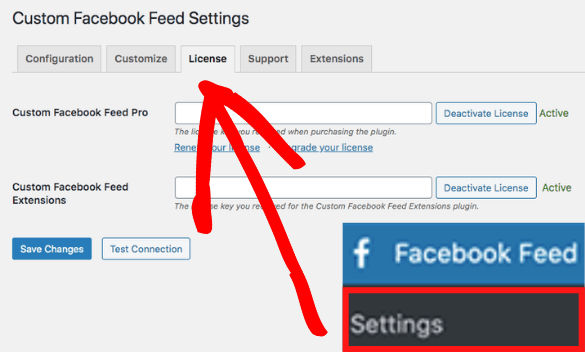 Not sure where you can get your license key details? Just check out the emails you've received from Smash Balloon when you got your own copies of the Custom Facebook Feed Pro plugin, Reviews extension and Carousel extension.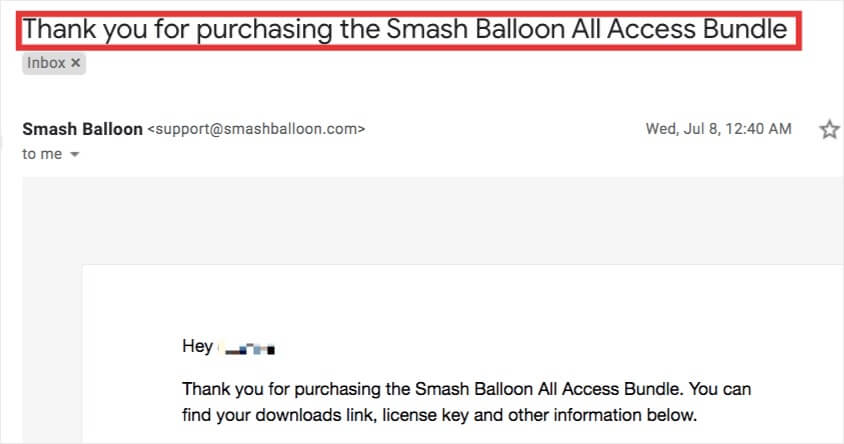 Enter your license keys and click Save Changes to start getting access to the plugin's powerful features.
Step 3: Connect Your Facebook Account
The next step is connecting your Facebook to the plugin. First, scroll to the top of your License page and click on the Configuration tab. This will bring you to the settings page. Then, click on the blue Connect a Facebook account button.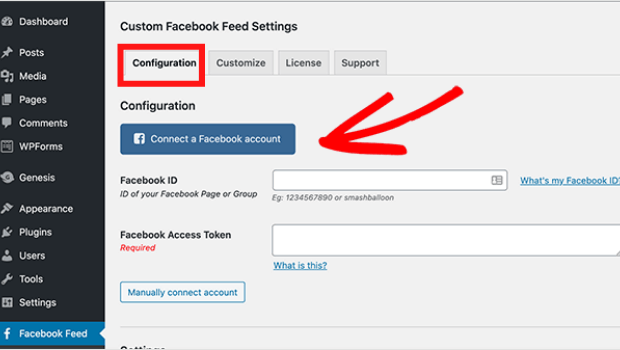 This tutorial focuses on creating a testimonial slider in WordPress. So, choose to display your Facebook page content — this is where your reviews are posted. Then, follow the on-screen instructions to connect your Facebook page to the plugin.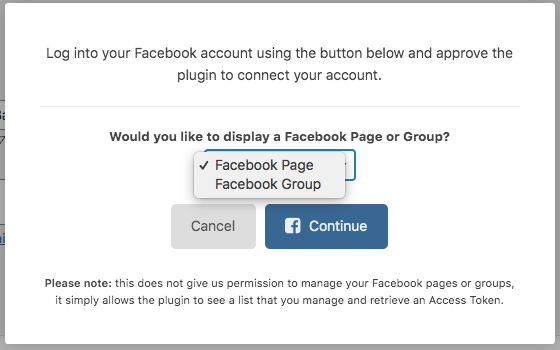 Finally, click on Save Settings to finalize your account connection. Now that you're done connecting your Facebook account, move on to the next step below.
Step 4: Add Your Facebook Page to Reviews Feed
Your Facebook account may have more than 1 pages connected to it. So, you need to choose which Facebook page you'd like to display the reviews from.
It's easy. After connecting your Facebook account to the plugin, scroll down to the Connected accounts section. Then, just find the Facebook page you want to add. Once you've found it, click the Make Primary Feed and Use for Reviews Feed buttons next to it.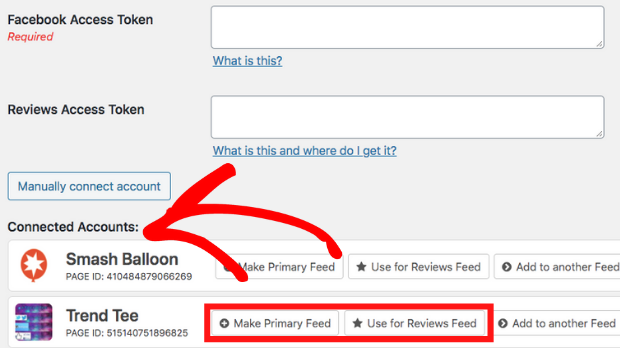 Remember to click on Save Settings to preserve your choice.
Step 5: Customize Your Facebook Testimonial Carousel
Sure, the plugin already looks great out of the box. And if you want to have more control over its design, you can also customize it. To start, scroll up to the topmost area of the settings page. Then, click on the Customize » General tabs.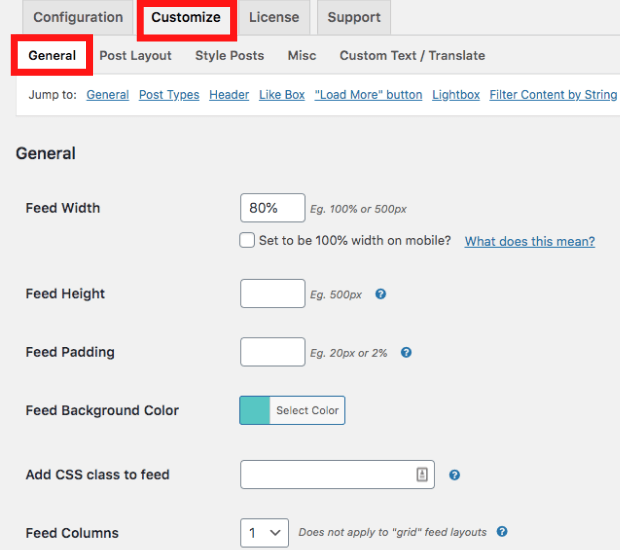 On the top part of this section, you can change your Facebook testimonial carousel feed's width, height, padding and even background color.
Want to see the most important part of this page? Scroll down to access the Reviews section. Here, you also have more control over the content of customer testimonials you want to show.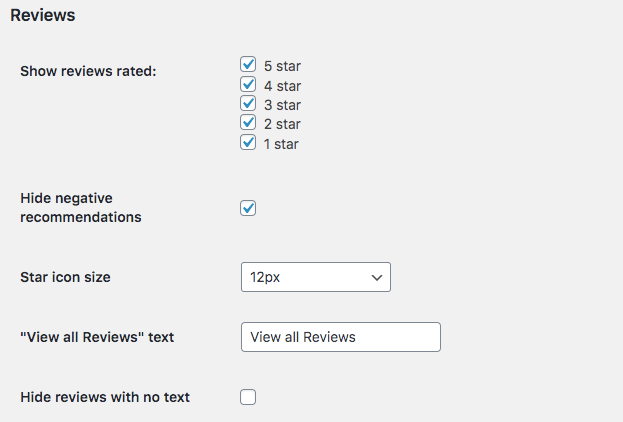 For example, if you want to filter your testimonials to show only those with a 5-star rating, you can. Plus, the plugin helps you hide negative recommendations. So, they won't be displayed in your testimonial carousel feed.
If you scroll down further, you can also customize your feed's header, like box and "load more" buttons.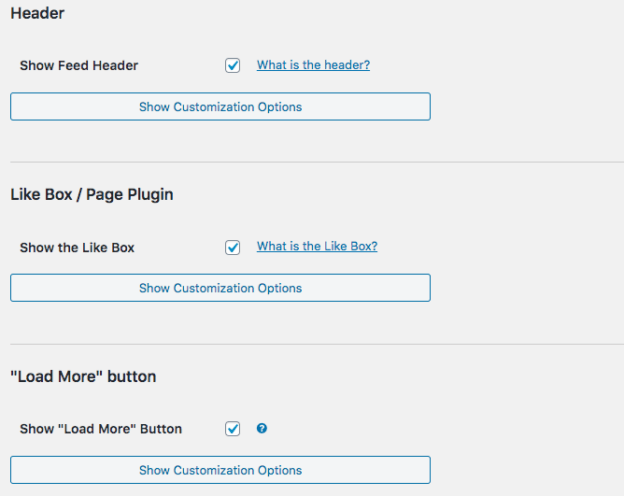 For example, here's what a Visual header looks like: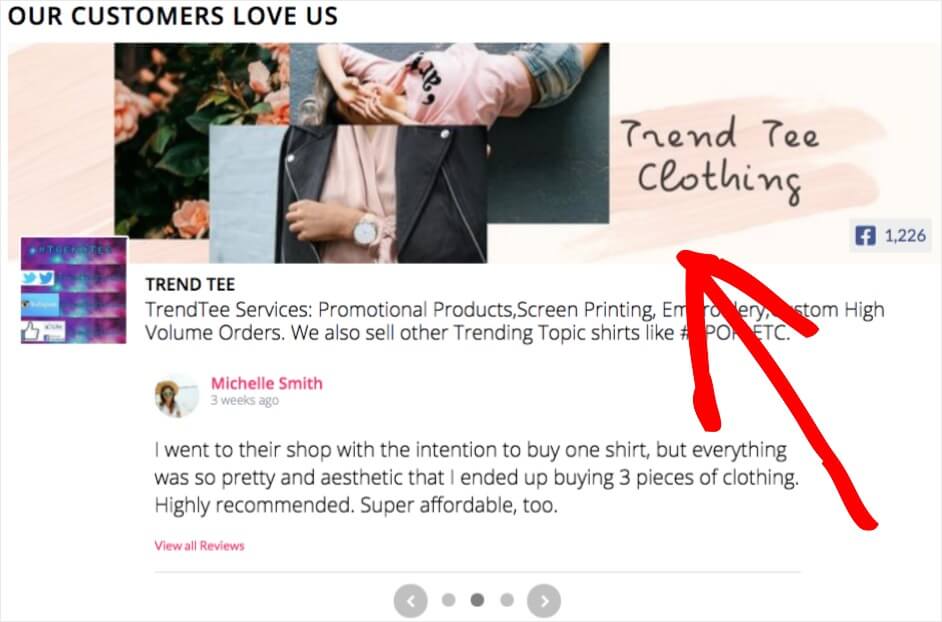 Compared to a visual header, the Text header is more of a minimalistic style, like this: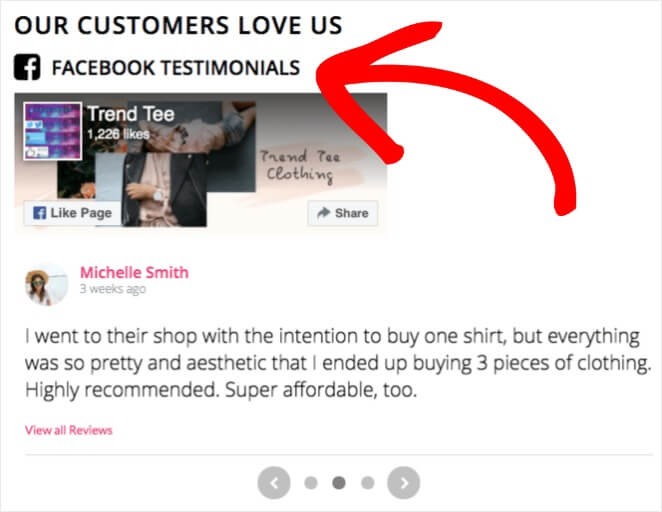 Finally, how do you make sure your testimonial feed's layout is a slider? First, you scroll up to the topmost part of the page. Then, click on the Post Layout tab. On the top part of this page, you can choose the layout of your Facebook reviews.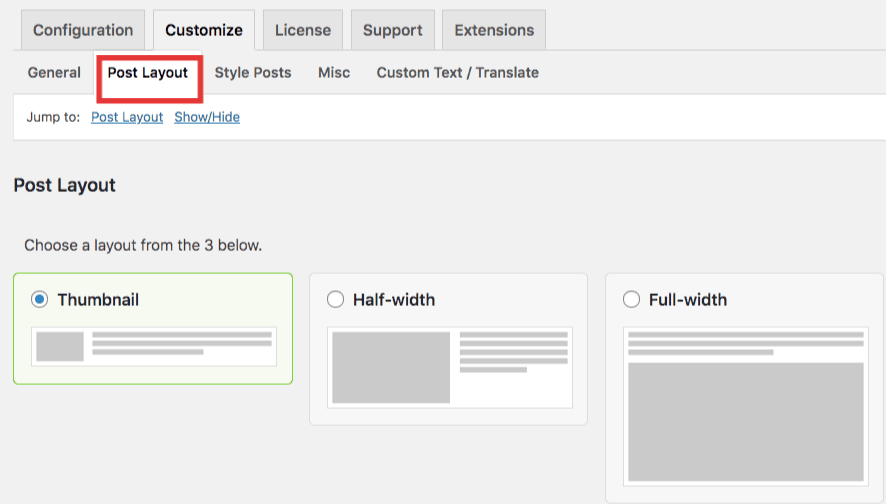 To make sure that your testimonial feed will have a carousel layout, scroll down until you can see the Carousel section. To activate the carousel layout, click on the Set Carousel as Default checkbox.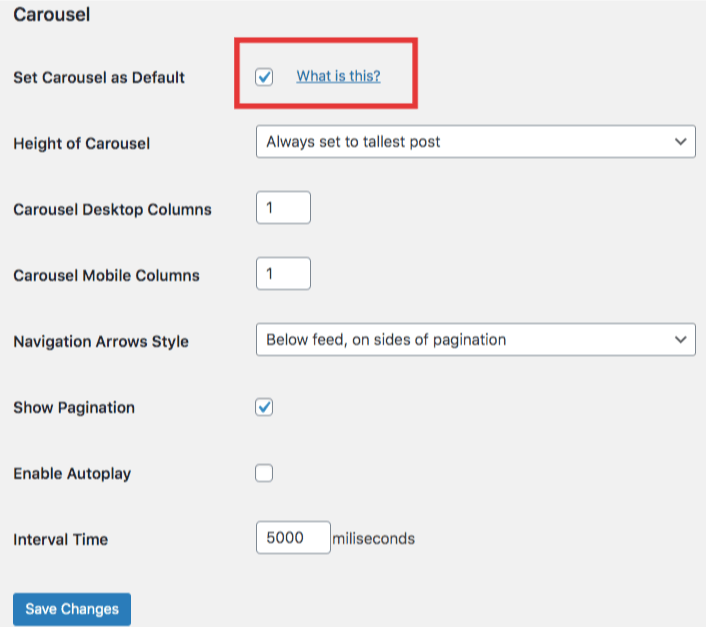 For more customization choices, you can also set your testimonial carousel's height, number of columns, arrows style and interval time.
Remember to click Save Changes to preserve your choices.
Step 6: Add Your Testimonial Carousel Feed to WordPress
In displaying your Facebook testimonial carousel feed, you can add it to your website's pages or widget-ready areas. We'll talk about both methods below:
Add Your Testimonial Carousel Feed to Your Pages
To start adding your Facebook testimonial carousel on your website, copy your shortcode first.
Here's the plugin's shortcode:[custom-facebook-feed type=reviews]
Next, go to your WordPress dashboard. Then, navigate to Pages » Add New to create a new page. This is where you'll display your testimonial slider on.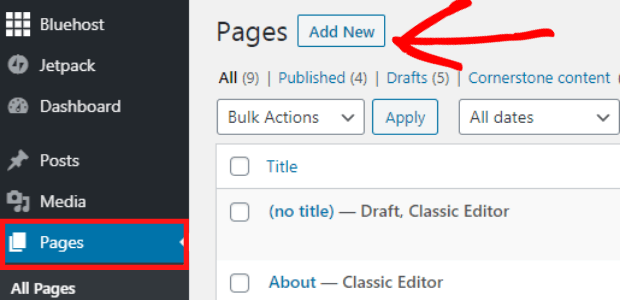 In your content editor area, paste the shortcode you copied earlier.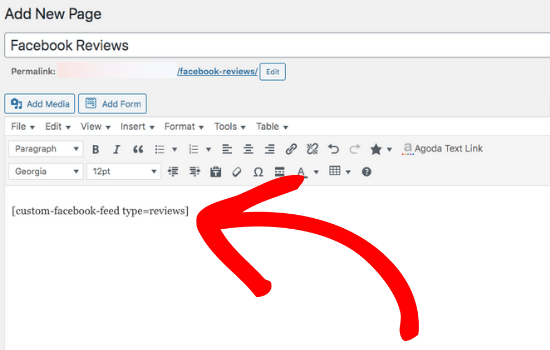 Once you're happy with your testimonial carousel feed's design, you can click Publish to make your feed live on your website, like this: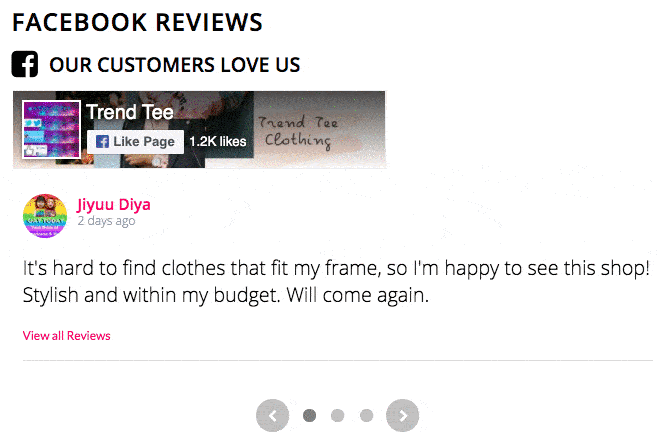 Add Your Testimonial Carousel Feed to Your Widget-Ready Areas
You can also show your testimonial feed on your website's sidebar or footer areas. Since your sidebar is the most popular widget-ready area, we'll focus our tutorial here.
Start by copying the plugin's shortcode here:[custom-facebook-feed type=reviews]
Then, from your WordPress dashboard, navigate to Appearance » Widgets. Under Available Widgets, drag the Text widget to your chosen sidebar area.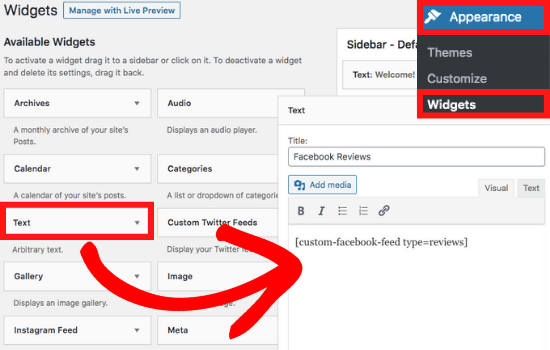 Inside the Text widget, paste your Facebook reviews shortcode and click Save. Doing this will make your testimonial carousel feed live on your WordPress. So when your customers visit your website, they'll see it displayed like this: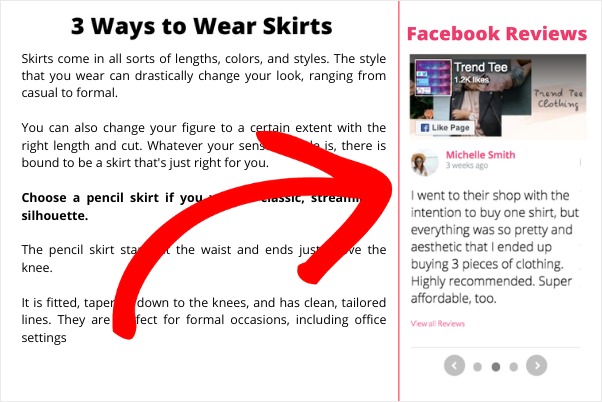 And that's it! By reading this tutorial, you now know how to create and display a Facebook testimonial carousel feed on WordPress. And you can do this easily, conveniently and hassle-free, even if you're not tech-savvy!
Want to add more social feeds to your site?Use social proof to skyrocket your brand's credibility and sales over time. Get Smash Balloon's All-Access Bundle here!
And if you found this article useful, please connect with us on Twitter and Facebook for more helpful social media marketing tutorials.