Want to know what types of Facebook posts can help you increase your business page engagement?
Do you feel frustrated that your page promotion efforts aren't giving you results? You're not alone. With over 80 million Facebook pages worldwide, the world of Facebook marketing is tough.
But don't lose hope yet! In this article, we've handpicked the top types of Facebook posts guaranteed to skyrocket your engagement for your Facebook business page.
These types of Facebook posts can help you expose your brand to more people and boost your Facebook page fans. Over time, they can become a handy tool in establishing your digital presence and growing your business.
Ready to take your business to the next level? Let's dive into it!
1. Inspirational Facebook Videos
When it comes to the best Facebook content type, it's no doubt that video is king. After all, Facebook video posts get 59% more engagement than other post types.
Plus, there's a reason Facebook dedicated an entire "Watch" section to videos alone: Facebook loves it when users post and watch videos since videos keep users longer on their platform.
And what kind of videos get the most engagement when posted on Facebook? Inspirational videos. Take Goalcast's video, for example. In just 5 months after posting, this inspirational video collected over 422,000+ reactions and over 13,000 comments!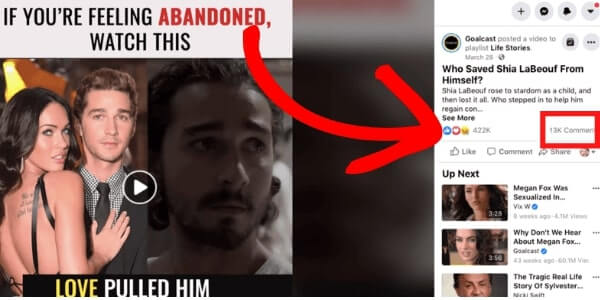 For you to take advantage of this tactic, publish fewer videos — but make sure they're speaking to your audience's emotions. Ensure that your video gives them value. Uplift them. Motivate them. Inspire them to live their best lives.
Want to expose your Facebook videos to highly targeted traffic — easily, and in just under 5 minutes?
Add your Facebook videos feed to your website using Smash Balloon's Custom Facebook Feed Pro.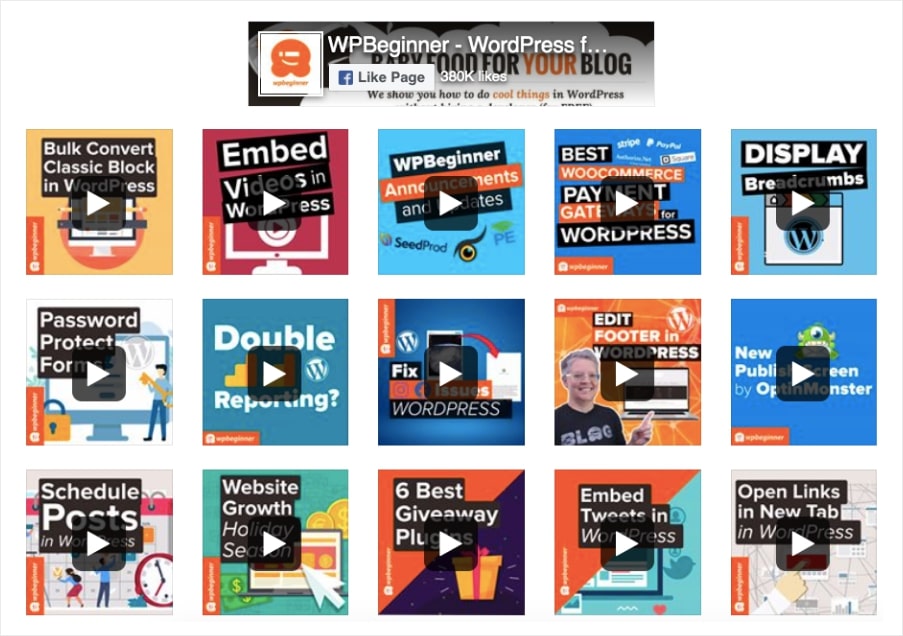 Check out this step-by-step tutorial on how you can embed Facebook videos on WordPress.
2. Branded Images with Quotable Quotes
Next to posting videos, posting images on Facebook is another great way to increase your page engagement. Facebook posts with images get twice more engagement than posts without images.
That's why it's worth it to invest a bit more time and effort in creating branded images to grow awareness for your brand.
Don't know how you can start doing this? Create motivational quotes that credit the author and inject your brand's visual identity at the same time, just like WPBeginner's Facebook post below.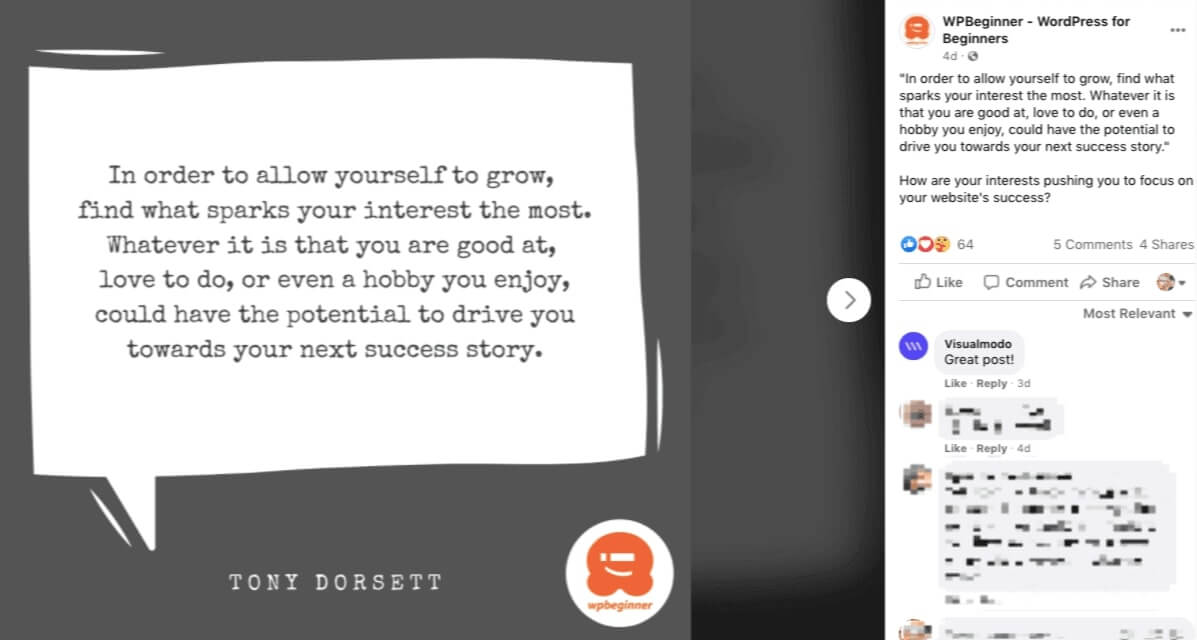 For more details on which tools you can use to help you design images and videos, check out this helpful post on the best free visual content creation tools to make marketing easy.
3. Trending Topics
Are you updated with current events? If you want to grow your user engagement, you need to be. One of the fastest ways to get people to talk about you is to talk about what's happening in your community right now.
Sure, posting about trending topics can get above average Facebook reactions. But that's not all. This tactic can help you get more people to comment on your post as well.
Worried about complicated design? You don't need to. Less is more, remember? Just check out McDonald's Facebook post below as an example. The fast-food giant jumped on the trending topic of social distancing by separating its iconic arches — to symbolize the importance of social distancing.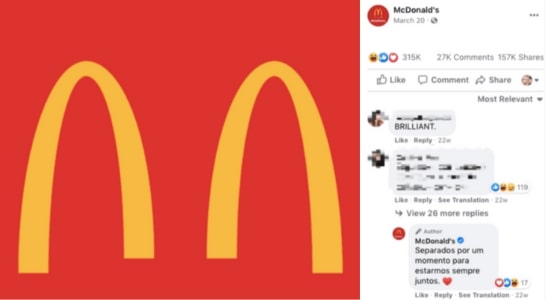 Start by checking out national days and international days for inspiration. No special day at the time of your posting? You can also check what's trending in Twitter.
4. Viral Contests and Giveaways
There's a reason different Facebook pages regularly hold contests and giveaways for their users. 81% of marketers say it's a surefire way to grab people's attention — and it's true. Numbers don't lie, after all.
To customize your contest, make sure that the prize you're giving away is relevant to your brand.
In the coffee shop industry? Give away your best-selling coffee beans.
Selling makeup? You can give away a makeup kit. Or a free session for a full makeover.
Have a newly launched item you want to promote? Follow WPBeginner's example and do a giveaway of your latest product.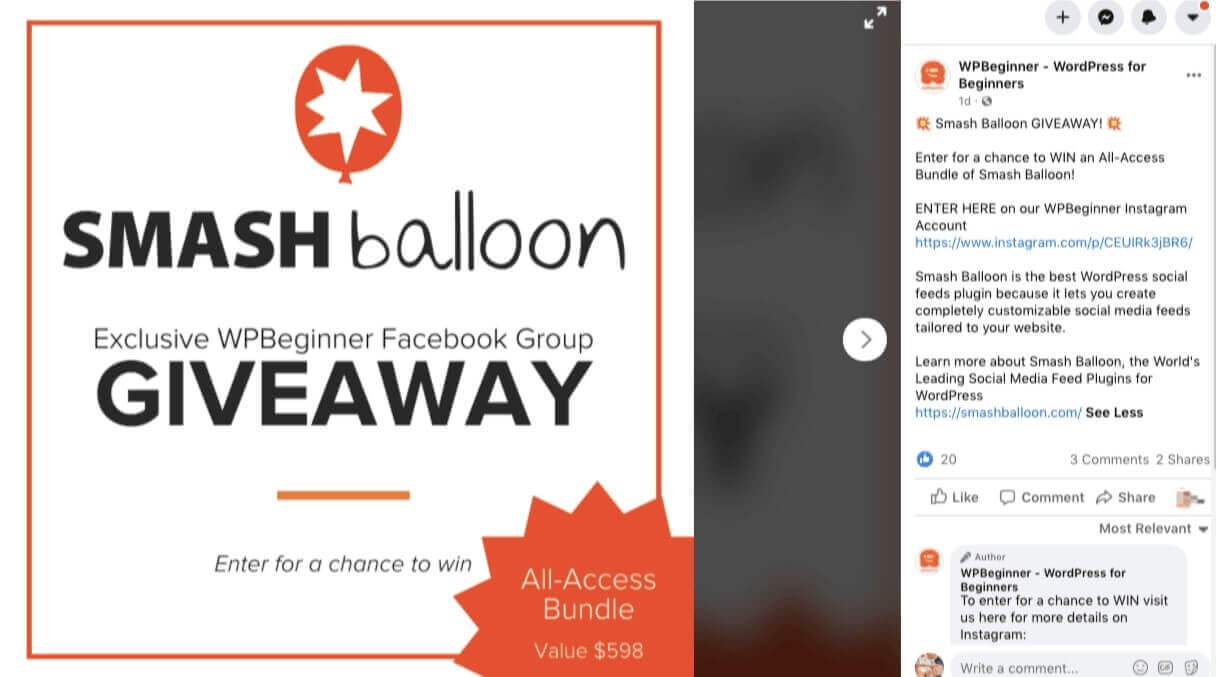 And if you're not tech-savvy, don't worry. You can use a beginner-friendly tool like RafflePress, the best WordPress giveaway plugin. For starters, you can try our their Grow Your Facebook Page template to help you successfully run a giveaway on Facebook.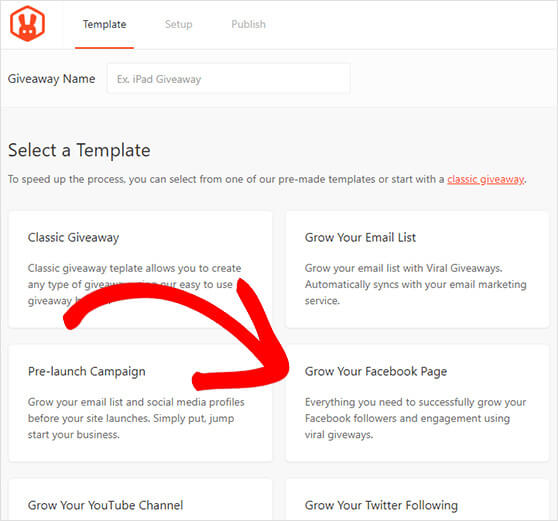 Want to know how you can successfully host a Facebook giveaway? Check out this article on 20+ Facebook giveaway ideas that are guaranteed to grow your Facebook page.
5. Product Teaser Posts
People are naturally curious beings. It's why curiosity-driven posts get the highest engagement: for example, Upworthy's Facebook posts receive 152% more likes than other similar sites
This type of Facebook post helps you kill 2 birds with 1 stone: you can boost your user engagement, and build buzz for your new product before launching. You can build excitement about your upcoming product and make people want to learn more about it.
This doesn't mean you should always create controversial headlines, though. You can also use this tactic by posting a teaser about your latest product, just like Puma's post with the "coming soon" caption.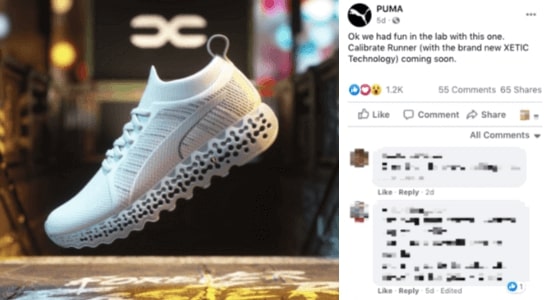 Want more exposure to your product teaser post? Display a Facebook feed of your photos on your website using Smash Balloon's Custom Facebook Feed Pro. Check out this guide on how to add your Facebook photos to WordPress here.
6. Exclusive Discounts or Upcoming Sales
Ever heard of FOMO marketing?
FOMO stands for "Fear of Missing Out". And as you can guess, Facebook provokes the most FOMO, 72%, since it's also the world's biggest social media platform.
FOMO marketing says that people hate missing out on an exciting opportunity. And this is true. After all, the majority of Facebook users "like" business pages to get access to limited sales and promotions.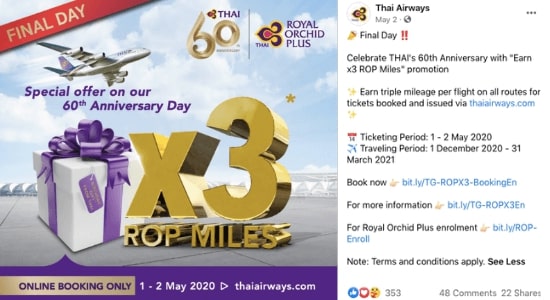 Since you already know why majority of your fans engage with you, use the power of FOMO marketing to your advantage.
Run limited-time sales and post them on your Facebook page. This way, people are more likely to engage with you. People don't want to miss out on great deals, after all.
7. Helpful How-To's and Hacks
Practical or "how to" post types are usually included in the top Facebook posts. Why? People want to continuously improve their lives.
Also, "how-to" posts answer the people's desire to connect with others through social media. By sharing useful content in the form of practical tips or helpful hacks, your users can foster relationships with people they care about.
And it's a great thing for you, too. The more your Facebook post is shared, the more Facebook will display it in your audience's timeline.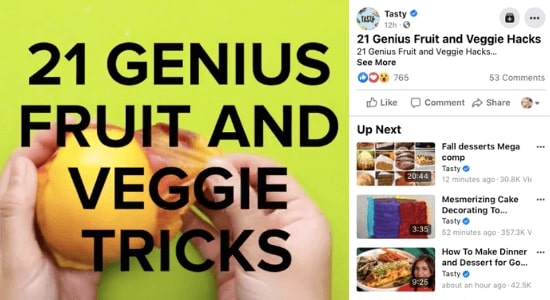 Don't know which content you should post first? If you have a blog, start by repurposing your most-shared blog posts. You can transform them into images or even video posts.
If you're starting from scratch, you can also check out industry-related forums. Look for frequently asked questions and answer them in your Facebook posts.
And for extra boost in your brand exposure, you can also use Custom Facebook Feed Pro plugin to show your helpful videos on your website, like this.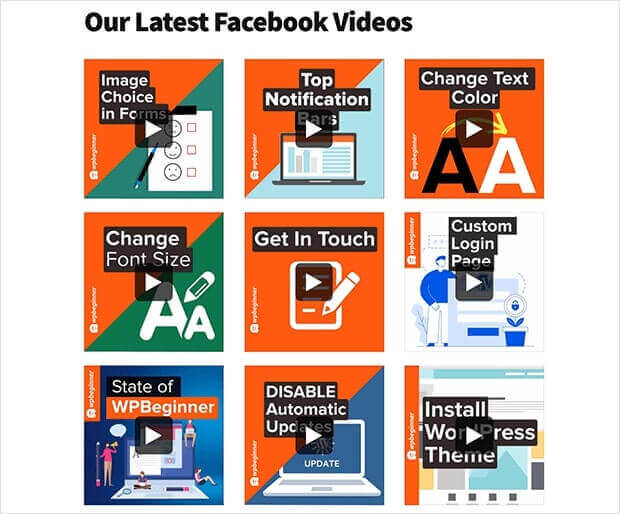 To help you start learning how you can easily display Facebook videos on your WordPress, check out this handy tutorial.
8. Facebook Live Videos
Here's another type of Facebook post that'll easily boost your engagement: Facebook live.
Live videos get 6x as many interactions as regular videos, according to Facebook itself.  And you know what this means: the more engaging your post is, the higher they'll appear on your fans' newsfeed.
Make sure your live videos are relevant to your brand, too. For example, since Tastemade covers cooking and coffee, their Facebook live about latte art is on point. That's why it managed to get over a million views and thousands of reactions and comments at the time of its broadcast.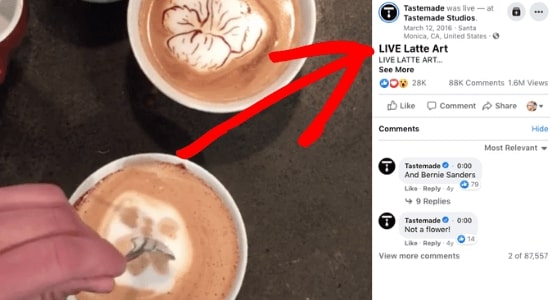 Aside from Facebook notifying your fans about your live broadcast, why not take it a step further? You can also use Custom Facebook Feed Pro plugin to display your Facebook live video on your website to promote it to your visitors.
9. Free Online Workshops
Posting free online workshops on your Facebook page combines 2 types of marketing: video marketing and "free" marketing.
As such, it can effectively attract viewers because video is already good for engagement in Facebook. And to add "free" to it would entice your Facebook fans to take a look for a while and watch it, since it won't cost them money, anyway.
Are you selling makeup? Talk about how to apply makeup to achieve multiple looks for the season.
Offering clothes online? You can do an online style guide for different body types.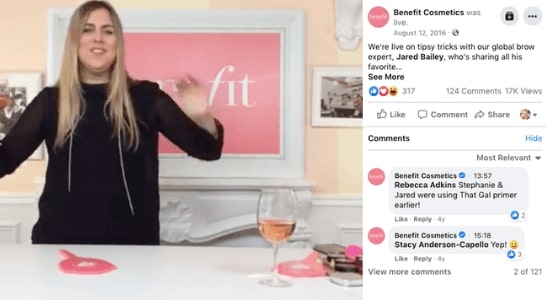 When your fans find value in your free Facebook webinars, they'll get a positive impression of your brand. After all, if your free content is already good, imagine how much better it'll be when they become actual customers!
10. Behind-the-Scenes Posts
People love being a part of something exclusive, so behind-the-scenes posts can do wonders for your Facebook engagement.
You can use Facebook videos to show how some of your products are made. For example, Dunkin' Donuts successfully increased their engagement by posting a behind-the-scenes tour of their test kitchen.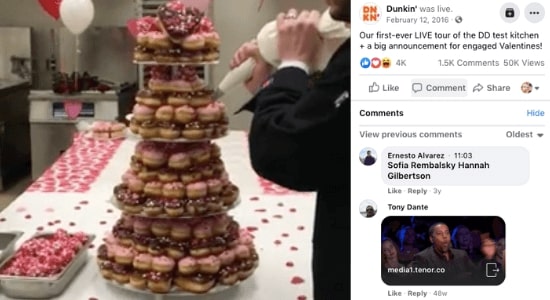 If you don't have a test kitchen to show them, that's fine. You can also give them a sneak peek of what's it like inside your office.
Or, shine the spotlight on your friendly employees. Behind-the-scenes posts help humanize your brand and bring you closer to your chosen audience, too.
11. Customer Reviews and Testimonials
Want a guaranteed way to skyrocket your Facebook page engagement and your product sales?
Post customer testimonials on your business page. 92% of customers read online reviews before buying, after all.
Want to start getting testimonials or product reviews from your customers?
Here's a quick tip: make sure your Reviews tab is activated for your Facebook page. For more useful tips, you can take a look at this ultimate guide on how you can get Facebook reviews for your business page.
You don't need to display overly formal testimonials in texts, though. Remember: images get better engagement rates than texts. You can follow The Coffee Bean & Tea Leaf's style and incorporate customer testimonials in images as well.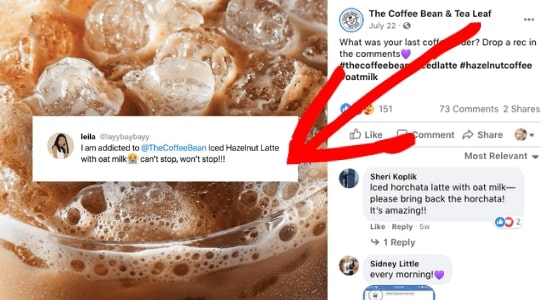 As a bonus, did you know that you can embed Facebook reviews on your official website, too?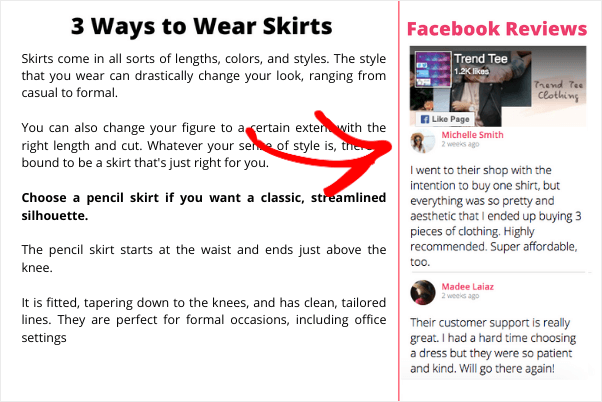 Check out this guide on how you can add social media reviews to WordPress today.
12. "Personal" Stories
In today's social media landscape where "perfect posts" and #bucketlist posts are too common already, authenticity is the name of the game. Showing a vulnerable side of your business allows you to connect with your audience on a deeper level.
People don't like brands that are too perfect — since they seem fake. To back this up, 80% of customers believe authentic content is the main factor that'll influence them to follow or engage with a brand.
That's why personal stories are gold. They're another type of Facebook posts that do well in growing page engagement.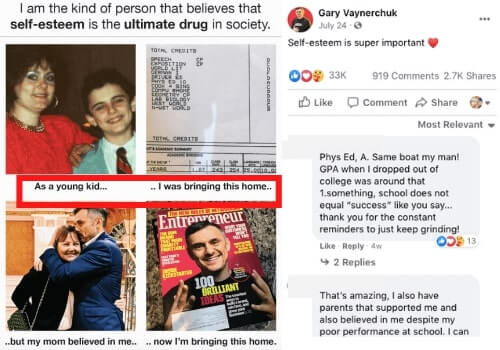 You don't need to reveal super personal stories if you don't want to. What are some ideas you can start with? Tell your own stories of how your business came to be. Or talk about how your business has tremendously improved the lives of your customers.
13. Relatable Posts
"Thumbs up if you agree…"
"Spread the word if this is you…"
"Show some love to this post if you can relate…"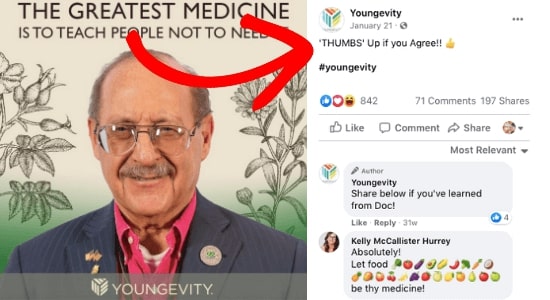 Based on a New York Times study, people tend to share things they identify themselves with. So, by asking your Facebook page fans to engage with your posts if they relate to it, they're more likely to do it. Especially if you got your Facebook fans using the right way.
14. User-Generated Content
As mentioned, authentic posts are a great way to get more engagement on your Facebook business pages. That's why user-generated content (UGC) works, too.
These types of Facebook posts show how your real users use your product in their daily lives.
Want to start getting UGC from your social media fans?
Check out this post on the best UGC campaign examples you can use for your brand. This way, you can start collecting UGC content to boost your Facebook page engagement. It can also help you grow your business — you're using the power of social proof, after all.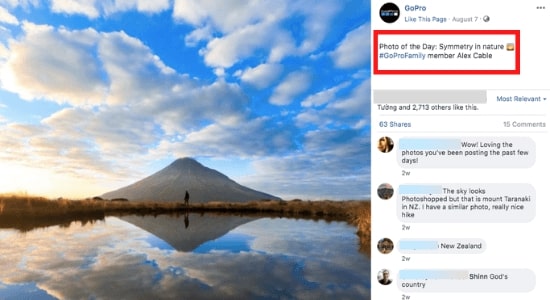 By posting about UGC, you're not only using resources that are readily available to you. You're also giving off the impression of authenticity because you're not just posting about perfectly shot images captured by your company.
What happens when your Facebook fans know that you care about UGC, too? They'll also be more inspired to submit their own content to you.
15. Relevant Questions
Make people feel more involved in the way you do your business by asking them question.
And not just any question — no. You need to ask relevant questions that can potentially add value to your relationship with your Facebook page's fans.
Not sure what types of questions you should be asking your Facebook fans? No worries. To give you an idea, head on over to this post about the best survey questions you can ask your customers.
Since Facebook posts with questions boost page engagement by 162%, you need to add highly targeted questions in your status posts.
Follow WPBeginner's example here. Instead of asking their fans about their general goals for August, they asked about website-specific goals. Why? Because they're a digital publisher.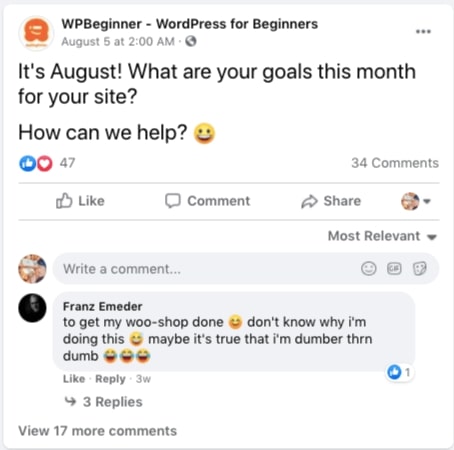 You can also follow Thai Airways' example by adding a relevant question to an image post. This time, it's in the form of a puzzle. Note that the picture is also related to their niche — air travel.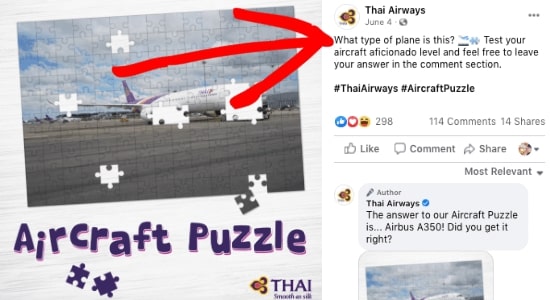 16. Product Placement Posts
Facebook post types that promote your brand can also increase engagement — as long as you do them right:
Only 1/3 of your content should promote your products. The remaining 2/3 of your content is for sharing other's content, and interacting with your fans.
Highlight your product in a creative way so you can get more fans to engage with you. For example, instead of posting a plain picture of Nutella, the brand decided to do a flat-lay with the top-view shot for better visuals.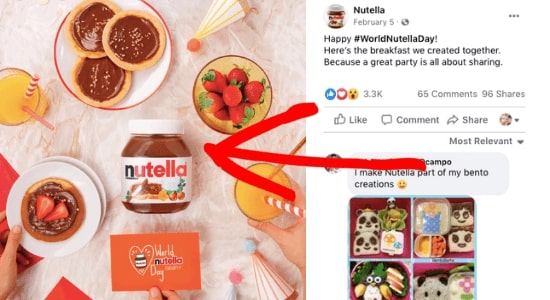 Worried that your product placement posts which took a lot of time and effort will just be posted on Facebook?
You can also use Smash Balloon's Custom Facebook Feed Pro plugin to display a Facebook feed of your photos on your official website.
17. This-or-That Posts
Posting Facebook polls is an easy way to encourage your fans to interact with you.
Asking Facebook users to answer your poll is easier than asking them to answer a survey form. Remember: users love being on the platform to have fun, chat and give their opinion. So, this type of Facebook post is a low-hanging fruit to boost your page engagement.
For your post to be more effective, relate the poll answers to your brand's niche.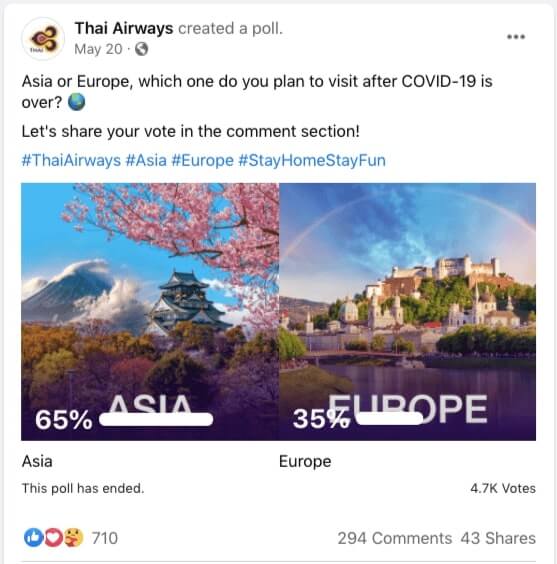 If you're in the travel industry, talk about popular travel destinations.
If you're in online marketing, talk about top ways to market digital products.
Or what if you're selling cookies? Ask your fans if they prefer chunky cookies or chewy ones.
Everyone wants their preferences to be known. And your Facebook fans are no exception. So make sure to ask them questions and listen to what they have to say.
And, there you have it! You've now learned the best types of Facebook posts that are guaranteed to increase your business page engagement and grow your brand over time.
Want to read another Facebook marketing post? This one talks about why you shouldn't buy Facebook followers — and what you should do instead.
Take your Facebook page marketing to the next level. Get Smash Balloon's Custom Facebook Feed Pro today!
Here's an even better deal:
If you want unlimited access to Smash Balloon plugins so you can use them on unlimited websites, go ahead and get the Social Wall Pro bundle here.
The cool part about Smash Balloon's pricing method? It comes with a 100% no-risk money-back guarantee so you can try out the plugins first and see if it's a good fit for you.
Finally, feel free to follow us on Twitter and Facebook for more helpful content about social media marketing.